As a lover of dresses and all things whimsical (hey, Whimsy is part of my blog name after all), I've been eyeing Selkie puff dresses for years now.
They just speak to my inner child with all the puffy tulle and bright colors. But, coming in hot at a price tag of over $200, I've always held off.
Then, a couple weeks ago I was shopping around for my Bridgerton ball outfit and stumbled upon the most perfect Selkie dress dupe for under $40. I've never added anything to cart so fast.
Overview Of Selkie (The Original Signature Dress)
Selkie was started by Kimberley Gordo who is famous for making dresses that "transform into your favorite dessert, float through parties like cotton candy."
They're puffy, pretty and basically a modern take on a princess dress – and famous for sparking delight on everyone who sees or wears one. It"s like cottagecore for grown ups.
The Selki signatures have long gowns and short / mini designs with puff sleeves, organza fabric and zipper backs. Each one has a different fabric option ranging from classic blush or white, to magical feeling patterns like cloud or rainbow.
Of course, the styles with interesting patterns are the most expensive, with prices over $325.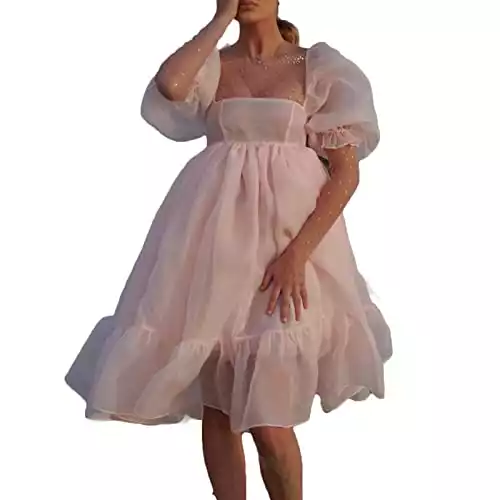 The Best Seklie Dress Dupes For Styling The Look For Less
This brings me to this dress that I found for my Bridgerton Ball! This pink Selkie dress dupe AliExpress has looks super similar in real life to what Selkie originals look like online. A lot of Selkie dress dupes fall short on the puffy magic, but this is great.
They have the same puffy sleeves, straight collars, and fun fabric options. But, they're all under $40 to make their copycat dresses a whole lot more affordable. I sometimes even see them on sale for a few dollars off!
Funny enough, I wasn't the only one who turned up to the Bridgerton ball in a Selkie dress dupe. My friends Ruby and Bri both were sporting similar dupes but in different colors (Ruby went with the Cinderella blue and Bri had a Power Puff girls dress pattern!)
But I loved my pink puffy dress so much and have found more places to wear it over the years – like to this almond blossom farm!
Quality Of The Selkie Dupe
I have never touched a real Selkie dress in person before so I can't compare the quality of this Aliexpress dupe to the real thing.
But I do feel like this puff sleeve dress is made really well for a knock off from AliExpress. It fits well, and doesn't have any janky zippers or loose strings or anything like that.
You can view the full fabric care instructions and information here on this link. But, since you ordered from Amazon, if something doesn't fit right you can always return them!
How To Wear Selkie Dresses
There's no wrong way to wear your Selkie dress dupe! I love seeing how everyone styles theirs. You can dress it up with heels and jewelry for a nice event (as I did for the Bridgerton ball), or you can pair it with sneakers for a casual princess look.
I personally love styling it with the cowboy boots I bought in Austin and my white cowboy hat for a cheeky, playful outfit.
What Bra To Wear With Selkie Dresses
Honestly? I'm team no bra, or using pasties if you want a little coverage. Due to the design of the sleeves, it's hard to wear a bra with straps since they show. If you're in the big titties club and need a bra, go for a nude strapless or sticky bra like this to support the girls.
Selkie Puff Dress Dupe Plus Size
The original Selkie Dresses go up to size 6XL which is awesome (we stand for size-inclusive fashion brands!) But, all the Selkie dupe dresses I've found don't go past XL. This is sadly common with not just fast fashion brands but all fashion brands to only offer small sizes for women.
It's just another form of Fat Tax and is frustrating for all my plus-size babes out there. If you find a great dupe that has inclusive sizing, please let me know in the comments!
I've always imagined doing whimsical Selkie pictures in California flower fields or something and now I'm excited to have a dupe to bring on future Instagram photoshoots, along with a fun outfit to wear for other future events that call for a bit of fun. Like weddings or birthday parties!
I have yet to find a dupe for the French Puff or other longer gowns, but this mini dress is working like a charm! I can't wait to wear it all over the world. It's just so fun!