I think I gasped when I saw Shark Fin Cove with my own eyes. It really looks exactly like a shark fin!!
Davenport California is a tiny town on Hwy 1 that I've driven past countless times on my way to Santa Cruz over the years. Finally, I started making it a habit to stop in town, whether it's to pick up fresh strawberries, grab lunch or take a quick beach-side hike.
Keep reading for my Davenport travel guide where I'm sharing my favorite places to eat, fun things to do in the area and more travel tips to help your visit to this charming Hwy 1 town be as wonderful as possible!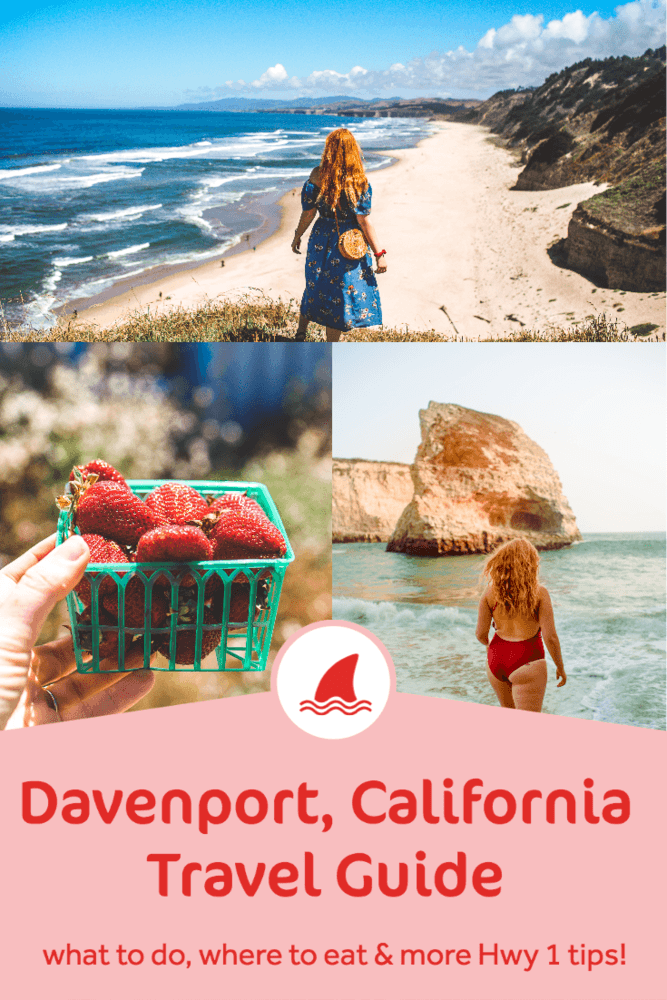 The Interesting Whaling History Of Davenport
Before we kick off fun things to do, I want to tell you a quick history of the area (because it made my giggle to be honest.) Now it's a sleepy town in Santa Cruz County along Hwy 1, but Davenport used to be a bustling whaling village.
It was established in 1867 by a whaling captain named John Pope Davenport & back then it was known as Davenport Landing Beach.
BUT they built their wharf in an area called Muddy Creek and it was SO dang muddy it clogged the port and steamers to the point it forced them to close. John Pope Davenport went bankrupt and moved to Santa Cruz, leaving behind a tiny town that still reflects that history with its architecture.
How To Get To Davenport
From San Francisco – About 1 hour 20 minutes, south on Pacific Coast Hwy 1
From Monterey Bay – 1 hour North via Highway 1
From San Jose – 1 hour on Highway 17 South
From Santa Cruz – 15 minutes North via Highway 1
If you can swing it, I recommend coming to the area on a weekday rather than a weekend. It gets crowded on a sunny warm summer weekend!
Davenport, California Travel Guide: What To Do, Where To Eat & More Travel Tips!
1. Shark Fin Cove Beach
One of the main attractions of Davenport is the famous Shark Fin Cove beach! This has to be one of the coolest beaches in California in my opinion.
You park up top off the side of Hwy 1. Look for a large dirt flat area that you can safely pull off at. It's a short (but steep) hike down to the beach. You can do with sandals on just be careful and take your time! The cove is actually pretty large and has plenty of space to spread out with a blanket if you want to bring a picnic.
Or, if it's a hot day, take a dip in the ocean!
There are some trails up top of the bluff that are fun to walk. This area is especially beautiful in the evening when the cove floods with stunning golden hour light.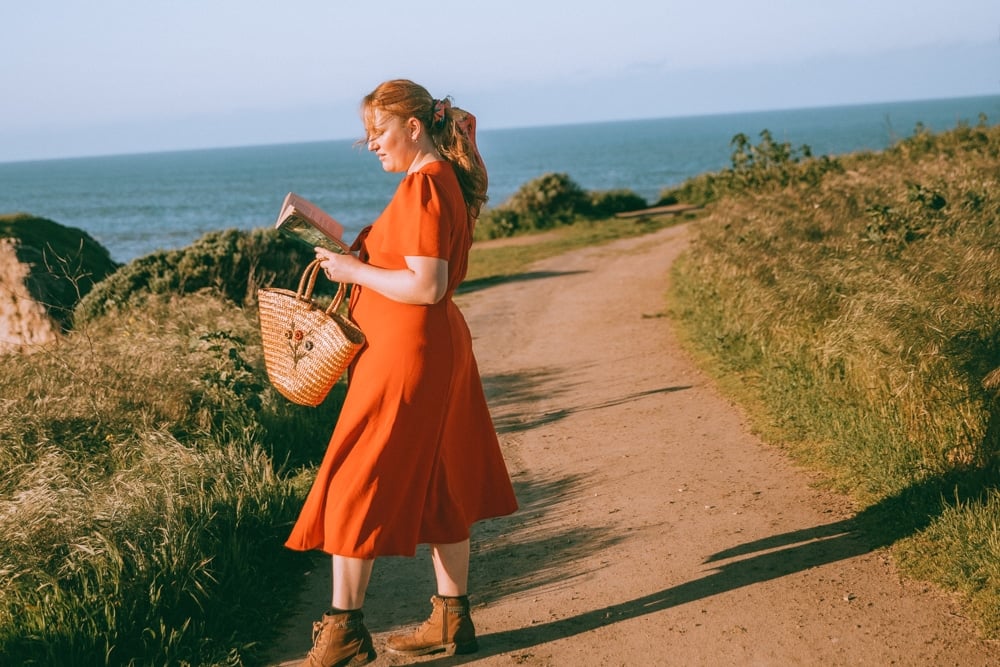 2. Davenport Swing At Davenport Pier
The Davenport California swing is made up of what I *think* was the old whaling wharf pier… you know, the only that got so muddy it bankrupted everyone.
This is a swing that I haven't personally been to because the hike down is scary AF and I'm wildly out of shape. It's on my bucket list!
Like all the swings in California, they are sometimes cut down or removed for safety reasons (mud????) so it may or may not be intact when you visit. But it's worth a shot!
3. Visit Swanton Berry Farm
Swanton Berry Farm is like, the CLASSIC U Pick spot along highway 1. Families have been coming here for years each summer to pick strawberries and grab freshly made pies.
Take it from me and learn from our mistakes: get a slice PER PERSON because they are so good you won't want to share!
We visited during 2020 (aha the pandemic year) so they didn't have U Pick available but we were able to pick up fresh strawberries and pie.
I can attest that this fruit is AMAZINGLY tasty and worth a drive down from the city alone. Next summer we'll be coming back to pick.
Pro-tip: There are a lot of fresh fruit stands in the area along Hwy 1, and you'll probably spot a few driving down. Hold off on buying strawberries until you get to Swanton Berry Farm.
4. Grab Food At Davenport Roadhouse Restaurant & Inn
Wondering where to eat in Davenport? Well, there aren't many restaurants in Davenport but the Roadhouse is like, THE spot. Seriously – it's the place everyone loves to recommend along the Pacific Coast Hwy.
They have a large menu and serve breakfast, lunch and dinner. It's standard American fare (with a Taco Tuesday) so you're sure to find something you love here!
They also have a hotel here! I think it's the only hotel in Davenport so if you are looking to stay in town proper, this is the place. Otherwise, I'd recommend finding a nearby Airbnb or lodging in Santa Cruz or Half Moon Bay instead.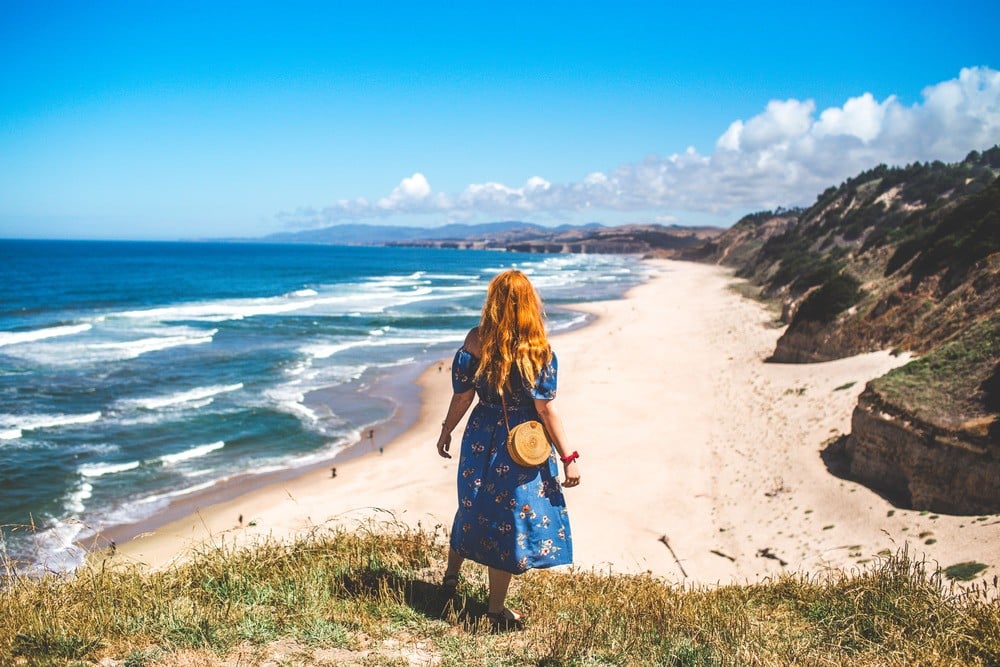 5. Whale City Bakery
If you're coming to town early in the morning, you'll want to swing by Whale City Bakery! They open up at 6:30am and close at Noon each day. Everything from avocado toast to eggs benedict, this is the best early morning breakfast spot in Davenport!
6. Wine Tasting at Bonny Doon Vineyard Tasting Room
Alas, another spot that wasn't open for tastings due to pandemic closures but it's high on my list to try in person! The Bonny Doon Vineyard is next door to the Roadhouse and their tasting room looked super cute.
Their vineyards are further inland but they have a tasting room where you can sample and shop their French-style wines right on Hwy 1!
Other Fun Things To Do Near Davenport
Ahh, so this chunk of the Pacific Coast Highway has SO MANY cool gems! If you're looking for more fun things to do in the area, check these out:
The cute town of Pescadero complete with a flower farm, a cute coffee shop and a goat farm where you can pet baby goats in the springtime and buy allll the cheese you could ever want. There's actually a lot of fun things to do in Pescadero after your sunrise Shark Fin Cove visit!
Pie Ranch, a cute barn selling pies and fresh berries! I recommend the lime pie, it's amazing.
In October you can visit the pumpkin patches in Half Moon Bay or the U-Pick Sunflower Fields!
Swing by Scotts Valley for Redwood forest hikes
I hope this helps you find fun things to do while you stop in Davenport! Hwy 1 is always so beautiful no matter the time of year or day.
If you have tips to add, leave a comment below so everyone can see. Got questions? Comment or DM me on Instagram @thewhimsysoul and I'll be happy to help!