It was 6:05am and we were racing against time to make it to Morro Rock Beach for sunrise. Hotel coffee in hand and sleepiness in our eyes, we drove past dark fields and outlines of houses, the sun creeping up faster than we anticipated.
Finally – we made it. We pulled into an empty parking lot, walked past a large dune and BOOM – there she was. Morro Rock in all her glory right with a pastel pink sky behind her. We made it for sunrise – and I'm now convinced it's simply the best time to visit Morro Rock beach.
Why Is Morro Rock So Special Anyway?
Well, it looks really cool, doesn't it? Standing at 581 feet tall, this rock is actually a volcanic plug (something made when magma hardens within a vent on an active volcano) YUP, California has those fault lines and Morro Bay State Park is on one, the Hosgri Fault.
About 27 million years ago, Morro Rock was formed. Due to its position along the coast, the landscape around the rock turned into a Tied Island, making this beach area feel more like a saltwater marsh. Birds and local animals, like sea otters, hang out here, and there are tons of tide pools in the water to view sea life up close. Morro Bay is even a butterfly migration stop (come December – March to see them!)
You've probably have heard of Haystack Rock on Cannon Beach up in Oregon. They're both really similar in shape and ecology, but if you live in California as I do, Morro Rock is probably hell of a lot closer to drive to than Cannon Beach (though I love an Oregon Coast road trip – it's a must-do at least once in your life!)
So in short: the Morro Rock history is cool and it's just a cool rock in general. That's why it's so special and worth a visit!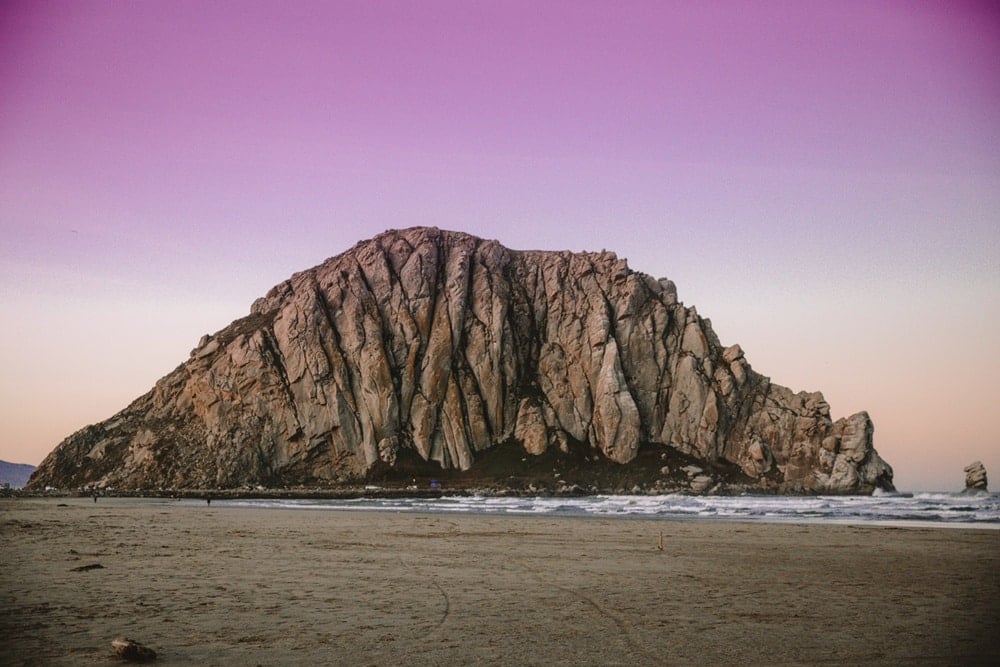 Morro Rock Directions
The best lot to park in is the one marked below. It gets you closer to the Northside of the beach which is where you can find that classic view of the rock. The other lot is more on the Southside of Morro Beach, and you'll have to walk much further to get that classic view.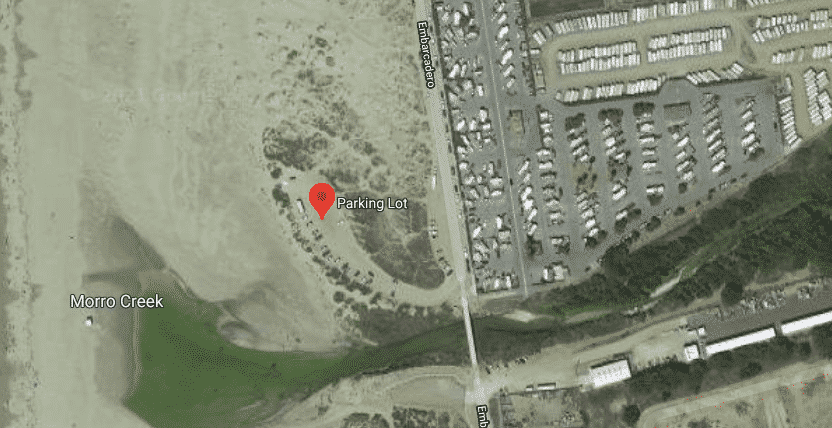 4 Reasons You Need To Visit Morro Rock At Sunrise
It's worth the early wake-up call trust me! We miscalculated how long it would take to drive from Pismo Beach, a small city further down the coast in San Luis Obispo County. Learn from our mishap and set out 20 minutes earlier than you think you need to, just to make sure you catch the sunrise in all her glory.
1. No crowds
First and foremost – visiting Morro Bay Beach at sunrise means you'll be avoiding 95% of the crowds. This is on one of the most popular state parks in SLO, and especially on a nice weekend day, it attracts SO many people.
But if you come at sunrise, you'll probably have the whole beach to yourself for a while, minus a few other early risers and locals walking dogs. The parking lot will also be empty so you can easily snag a spot. It's not the biggest parking lot in the world and I imagine it's hard to grab a spot on a busy day.
2. Better Wildlife Spotting
If you love birdwatching to just soaking up the magic of wildlife, you know that sunrise is primetime for animal activity. When we went at sunrise, I lost track of the variety of birds we saw flying around the beach.
Morning is also a great time to catch sea otters playing around the docks. I go kayaking up in Sausalito and I've noticed that the sea lions up there are playful in th morning and snoozy in the afternoons, I think the same concept applies to sea otthers!
There's a sea otter nursery here, too! Morro Bay National Estuary Program opens at 10am if you want to stop by after breakfast. It's highly rated as one of the "cutest places" along the coast!
3. Seashell collecting
Morro Rock Beach is a prime spot for seashell collecting! Right away in the morning is the best time to go shell collecting. That's because it's before other people come (who may pick up shell treasures before you) but also before the tide comes in again and carries shells out to sea.
We saw a local couple filling up a big bag of sand dollars during our visit. There was also a fair amount of driftwood on the beach if that's what you're on the hunt for.
4. Pastel sunrise MAGIC
Yes, the sunsets behind Morro Rock are stunning. They really are – don't get me wrong. The Central Coast has some banging sunsets. But there's something about the sunrises here — they're so soft and pastel and calm. Watching the sky turn from black to purple to pink to teal to blue all behind Morro Rock is magic. Sometimes you even get the moon still out!
Combined with a near-empty beach, the smell of seawater and the sound of the ocean mixed with seagulls — Morro Rock at sunrise is simply the best time to experience this beach.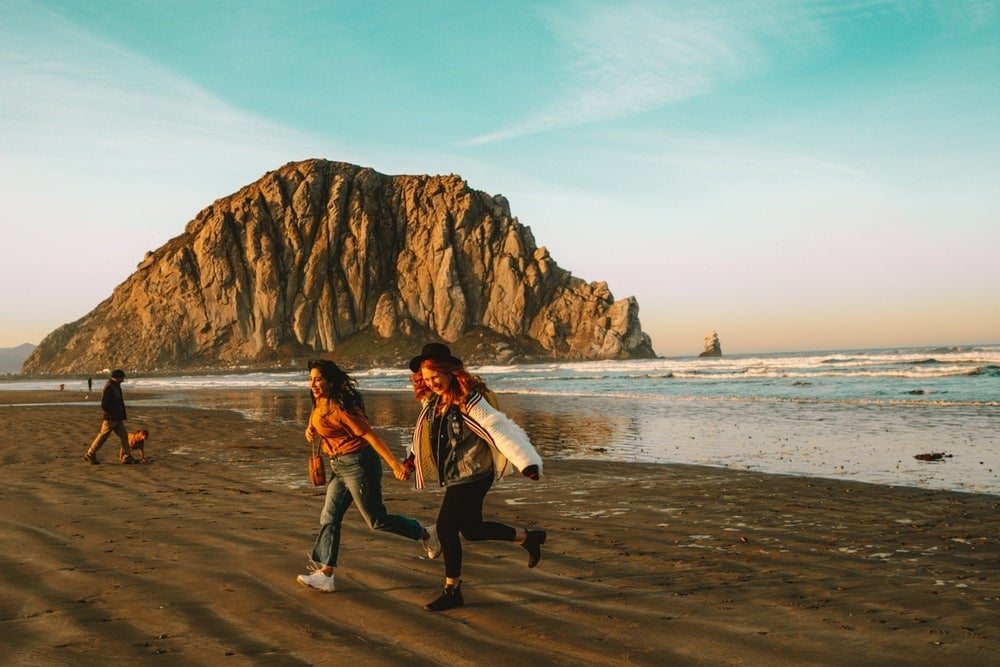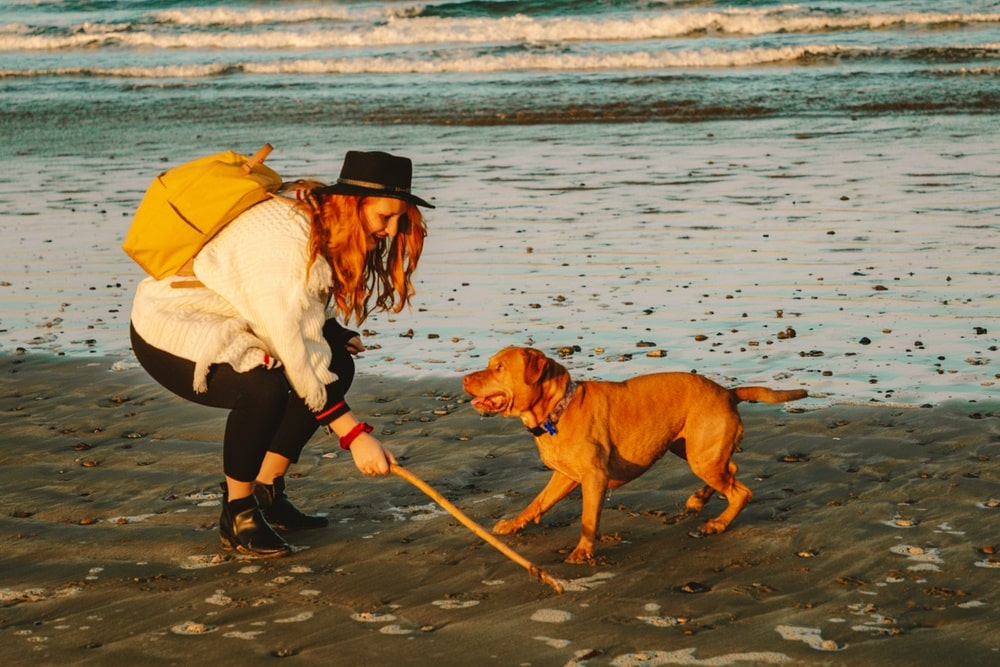 Best Morro Bay Hotels
Want to stick around Morro Bay longer than sunrise? There's tons of fun things to do here! From whale watching tours to fresh seafood joints to tons of local hiking trails with sweeping views of the ocean, Morro Bay is a bangin' spot to spend a weekend. Here's my recommended hotels:
Blue Sail Inn: Right on water, this Morro Bay hotel has ocean-facing rooms that feature a stunning view of Morro Rock! Imagine waking up to the rock RIGHT THERE – no need to trek to the beach if you aren't up for it. Sip your coffee and enjoy the pastel sunrise from the comfort of your room.
Inn at Morro Bay: A simple hotel on the inside, but it has balcony rooms with stunning views of Morro Rock. It even has a restaurant with sweeping ocean views for happy hour steps from your room!
Morro Beach House: Have a large group? This airy beach house can fit up to 12 people and has beautiful views of the beach and is just a short walk to the water, along with all the best places to eat in Morro Bay.
Morro Rock Climbing Is Illegal
On a parting note, Morro Rock is part of an ecological preserve. Areas like this are protected and climbing the rock (even at sunrise before anyone else is on the beach to catch you) is super illegal. And dangerous (one man tried to climb it, got stuck and had to be rescued via helicopter.) You will get caught and you will get fined or jailed. Keep the beach to view her.
Isn't Moro Rock in Sequoia National Park, Not The Coast?
Different rock! Moro Rock Sequoia National Park is spelled similar, just one less "r". Sequoia and Kings Canyon National Parks are located in the Sierra Nevada Mountains in Tulare County. I just visited for the first time this winter and holy moly, it's a fun park!
Moro Rock is closed in the winter in Sequoia National Park, but I hope to climb it when I visit it in the summer. Yes – you can climb Moro Rock but you can't climb Morro Rock. It's a bit confusing, I know.
Don't forget to bring a sweater (it can get cold in the mornings) and a LOT of coffee for your sunrise visit. If you're extra on top of it, bring a blanket and some pastries for a little breakfast picnic. Or you can swing by a local spot for brunch after sunrise is over.
While you're in the area, consider visiting the Pismo Beach Dunes at sunset! Another crazy-cool natural attraction that feels out of this world.
More United States & California Travel Posts You'll Love