Summersalt swimsuits: the trendy swimsuit company you've probably seen all over your Instagram page over the past few years. Heck, you've even seen them on my Instagram, too. I shamelessly own about 8 different Summersalt bathing suits. But, coming in hot at an average of $100 per swimsuit, you're probably wondering: is their swimsuits actually worth it?
For my next "Saw It On Social" series post (where I give you the honest unsponsored tea on all the brands/products you see on social media) I'm sharing my thought on Summersalt swimwear, if I think they're worth the price tag AND showing you how their swimsuits fit on 3 totally different body types so you can compare for yourself.
Honest Summersalt Swimwear Review + How These Swimsuits Look On 3 Different Body Types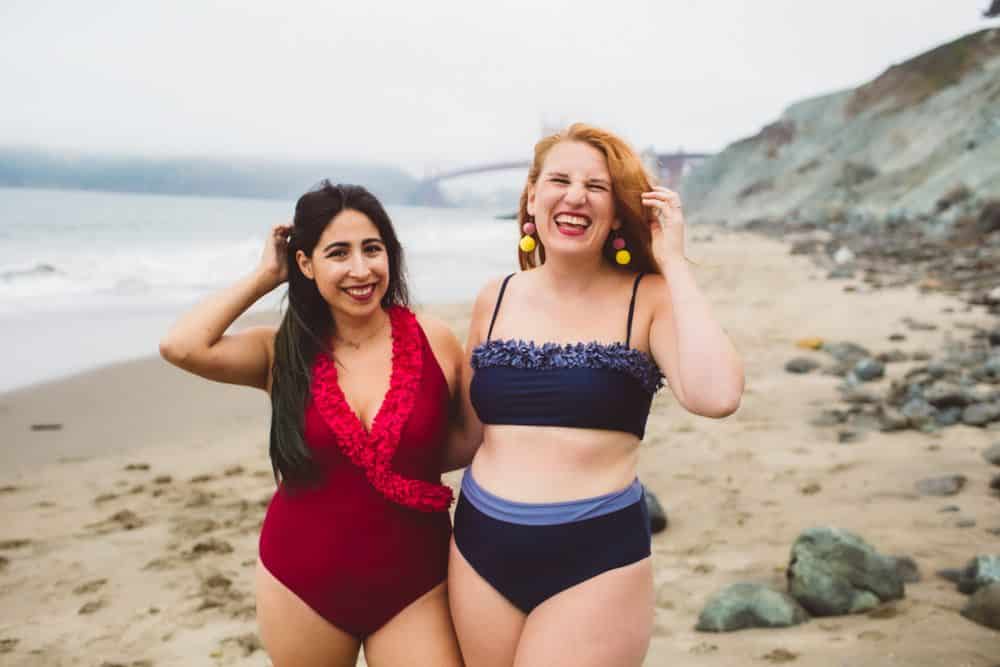 To cut to the chase, for the most part I love Summersalt suits and think they are absolutely worth the purchase. My home is stocked with probably too many pairs. BUT, a few styles really miss the mark for me, so in this post I'll chat about that, along with highlighting my standouts that I think every womxn needs in her closest.
Before we dive in, let's chat a bit about Summersalt swimsuits and what makes them different from other companies.
Size-Inclusive: Unlike a lot of other brands that shout body-positive mantras on Instagram, but don't offer anything above an XL, Summersalt actually offers inclusive sizes. They go up to size 24.
They're magic fitting: On the note about being size-inclusive, I was super shocked to find (almost) every swimsuit I tried fit like a glove. And they fit my friends, who have totally different body types, like a glove as well. They're kinda like the Sisterhood of the Traveling Pants, but for swimsuits.
Diverse Marketing: For the most part they also do a pretty good job with diverse faces in marketing on their site and socials. It's not just a bunch of white women sporting their bikinis. (That being said, there is room for more plus-size models and diverse bodies, in my opinion.)
Sustainability Efforts: Summersalt uses sustainable fabrics to make their swimsuits and their packaging is made from recycled materials. Additionally, you aren't shopping-cheap fast fashion here. This swimwear is made to last for years to help reduce consumption (I know, I've had my sidestroke for almost 3 years and it's holding up so good!) View more about their materials here.
Should I Buy A Bikini or One Piece?
At the end of the day, this totally depends on your style and bathing suit needs. That being said, I think Summersalt knocks One-Pieces out of the park. As a curvy gal, it's really really hard to find a one-piece that holds it all in but doesn't squeeze AND looks cute.
If you're really into active watersports, like snorkeling, you'll want a one-piece from Summersalt. I took a Sidestroke One Piece snorkeling in Maui last year and was shookith by how my swimsuit stayed in place no how many times I was went diving around chasing fish (usually my swimsuits fall off when I go diving!) After that first experience, I now pack a Summersalt one piece on every warm-weather vacation.
My friend fellow blogger friend Brianna and I own the same confetti plunge one piece and I think it looks AMAZING on both of us. You can see us both wearing it below. Also below is my friend Justina wearing Swan Dive one-piece swimsuit and she looks BANGIN. We all have different body types but Summersalt looks good on all of us.
I'm wearing a size 12 and 5'6″.
Brianna
is a size 8 about my height as well.
Justina
is a size 4 and around 5'2″.
I do own a basic solid blush one piece that just fits wonky. (I believe it's the Oceana style). It looks a lot better on Brianna (since she has a larger chest than I do ha!) but it's not one I really wear. It's the pink swimsuit Brianna is pictured wearing at the hot springs above and further below, for reference. It's the only style of one-piece from Summersalt that I don't like.
I also own a few bikinis as well, too. My confetti bikini top and high-waisted bottoms are a go-to for summer days hunting down swimming holes around California. I always felt held in and confident in these babies.
That being said, there are a few bikini styles that I don't think are all that original – like this – so when I'm shopping for bikinis from Summersalt, I make sure to buy only the unique designs (otherwise I can find something much cheaper that looks similar elsewhere.)
Summersalt Sidestroke Review: Verdict
If you can't tell already, our verdict is Summersalt swimsuits are totally worth your money. They make great investment in swimsuits that will last years and years. They're magic and look great on literally any body type, and they have tons of styles so you can find one you love.
Summersalt returns are easy and they ship quickly. We also stan their inclusive sizing and sustainability efforts.
My Favorite Summersalt Swimsuits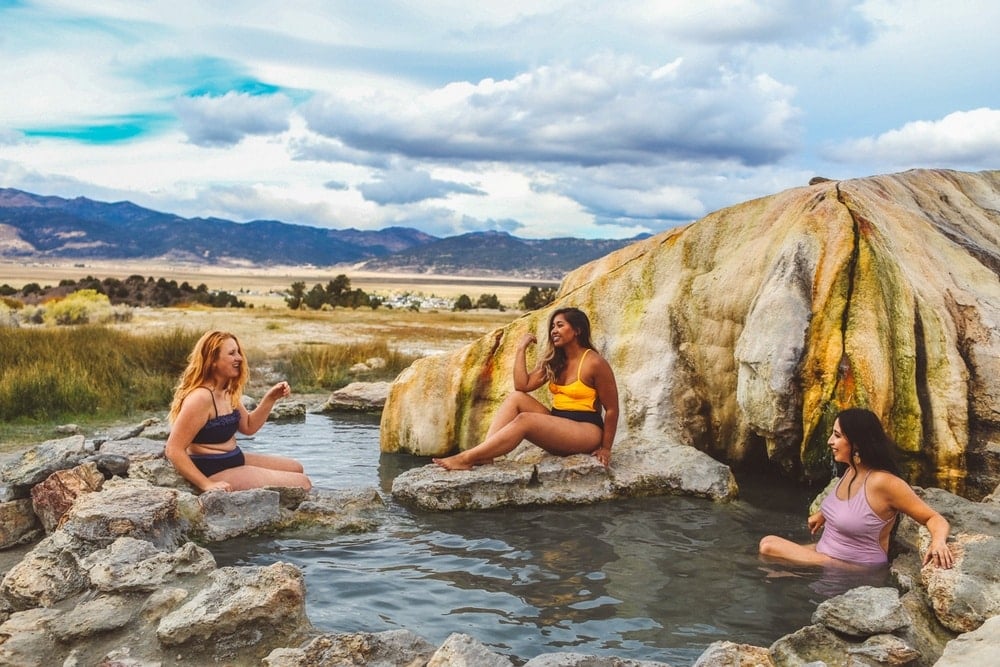 What I Don't Like About Summersalt
No brand is perfect. As with every Saw It On Social Series review, I always highlight the things I don't like about the product or think the brand could improve on. There are three areas to chat about here.
Travel Loungewear Is A Bit Of A Miss
I have to be honest, I was disappointed in their travel loungewear outfits. The fabric of their 24 hour jumpsuit just clunge to my curves in a way that wasn't terribly flattering. Plus, the legs are way too long on me without heels and the fabric drags. I loved the breathability of the fabric on my skin it just didn't fit well on a curvy body like mine. It's just not my favorite piece from them.
I haven't tried any of their sleepwear, activewear or sweaters so I can't comment on those fits. If you have tried them, leave a comment below with your thoughts so everyone can see!
They Aren't Exactly Affordable
Sustainability and products that are built to last just can't be the same price as a $20 swimsuit at Target. I just want to buy up all the things but I can't afford to drop $2000 on swimsuits and coverups, ok?! That's a me problem, not a them problem. Unless you have a large disposable income, you're probably like me and can only swing 1-2 swimsuits per purchase.
Could Use More Diverse Models
As I mentioned above, I think Summersalt does a good job at diverse models compared to most swim companies, but there's room for improvement. I want to see a size 22 gal rocking their stuff or a non-able-bodied model. I want to see body hair and just a better representation of ALL women. The activewear company Girlfriend does a great job at this so I know it's possible from clothing companies!
I hope this helps you figure out what styles to get from Summersalt and what could be skipped or swapped for a cheaper one from another brand. If you own a Summersalt swimsuit I'd love to hear from you in the comment below. What style did you get? How does it fit you?
Got any questions for me? Drop a comment or DM me on Instagram @thewhimsysoul and I'll be happy to help!