Posted 2018. Updated 2022.
Palm Springs, CA is paradise. Tucked away in the desert is a city full of modern architecture, rainbow doors, chic boutique hotels, and colorful murals.
While Palm Springs is small, it's packed with fun things to do, unique areas to visit, awesome pools, cool hotels, and more top-notch restaurants that one person can eat through.
At this point, I've spent a lot of time running around Palm Springs with Instagram and blogger friends to find all the best IG-worthy spots and great a big city guide for you!
Top Things To Do In Palm Springs, California (+ Greater Palm Springs Area!)
These are my top things to do in Palm Springs: A Travel Instagramer's Guide to this desert city! Read on to find all my Palm Springs travel tips, where to take photos, plus what to pack for your trip!
Palm Springs At A Glance
When visiting Palm Springs, you're getting more than what you see on TV. Sure, there's the mid century modern architecture and beautiful hotel pools to get some sun, but Greater Palm Springs California is also home to one of the cutest downtown areas and a huge outdoors destination!
What Greater Palm Springs Has To Offer
So what does the Great Palm Springs area have to offer? From shopping and eating in Downtown Palm Springs to hiking in Coachella Valley Preserve, Joshua Tree National Park, San Jacinto Mountains (aka Mount San Jacinto State Park and Wilderness) and the list goes on and on.
So let's get into it!
9 Best Things To Do In Palm Springs
There are so many fun things to do in Palm Springs! I've been back multiple times, and still haven't done nearly all the things on my bucket list.
If you have questions or looking for recommendations for different tours, stop by the Palm Springs Visitor Center at the start of your trip. The iconic location on Palm Springs Drive was formerly the Tramway Gas Station, but in the meantime here's everything you need to do in Palm Springs.
1. Go On A Bike Ride Down Palm Canyon Drive
Palm Springs is pretty easy and safe to bike around. Plus, a lot of hotels even offer bikes to ride for free (if not, Bike Palm Springs has fun, colorful bikes to rent). I recommend riding down Palm Canyon Drive through Downtown Palm Springs and hopping in and out of the shops, museums and more!
As you can imagine, the vintage shopping and thrifting in Palm Springs is unbelievable and you'll never know what you'll find. Towards the end of Palm Canyon Drive is perfect for photo ops with the San Jacinto Mountains in the background!
2. Explore Indian Canyons
Whether you're taking a hike or trying to capture all the Instagram famous spots, Indian Canyons is a fantastic place to spend a day exploring. I have a full guide with all the essential hiking tips you need for visiting Indian Canyons. The Tahquitz Canyon trail is one of the most popular – a literal oasis!
What you need to know: Indian Canyons is on the Palm Springs Indian reservation of the Agua Caliente Band Of Cahuilla Indians and if you choose to visit this park, please give the land respect and love.
3. Hop On The Palm Springs Aerial Tramway
The Palm Springs Aerial Tramway is a two and half miles of breathtaking views! It takes you to Mount San Jacinto State Park where you'll be at more than 8,000 foot elevation!
4. Soak In The Desert Hot Springs
In North Palm Springs, you'll find the small town Desert Hot Springs where you'll have your pick of hot springs to choose from! You already know I love hot springs, but there's something about the hot healing waters in the desert. It's like magic ✨
5. Wander Around The Palm Springs Art Museum
Not only that, but I also find the desert attracts artists! Making it a perfect place to wander around the local art museum. Especially if you're visiting in the summer and want a reprieve from the hot, summer sun!
6. Day Trip To Joshua Tree
Joshua Tree is about an hour away from Palm Springs, so it's the perfect day trip to take! I recommend visiting Skull Rock as a starting point. Go for either just the sunset like we did, or bring hiking gear to explore the park more.
And, of course, I have a whole guide for doing a day trip to Joshua Tree to help you plan everything out in more detail including tips on my favorite spots to eat!
7. Do Some Pool Hopping
Not all hotel pools are equal. Many allow outsiders into their pool area for a day fee. If your hotel pool isn't that great, or you're a little bored of sitting by the same one all week, grab your towel and start exploring Palm Springs via pools!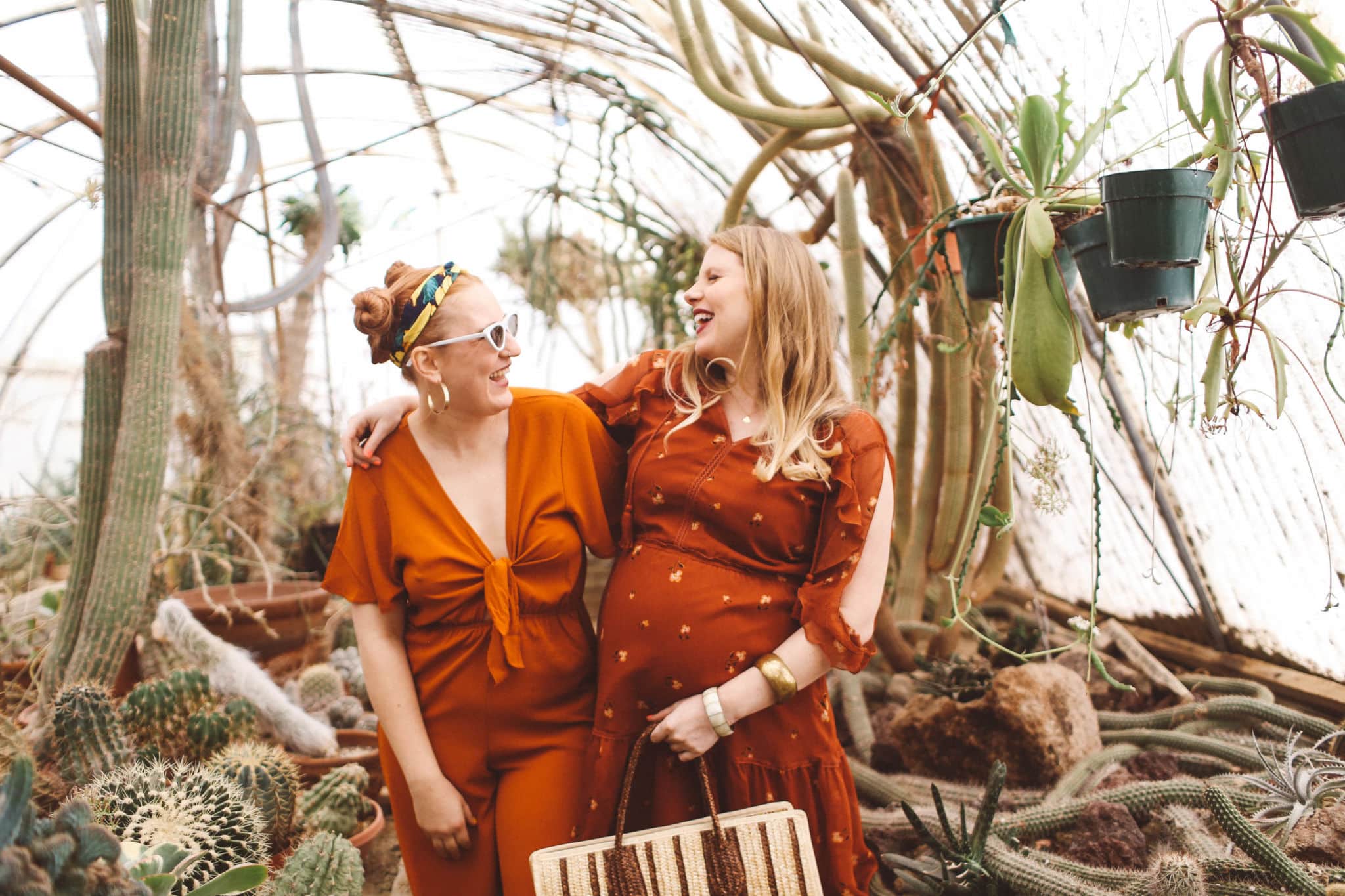 8. Visit The Moorten Botanical Garden
This cactus garden is such a magical place. It's only $5 to enter and makes such a fun place to do a self-guided or full tour. If you're driving, you can also buy cacti here! I took home a bunch of plants for my apartment. Read more about this fun place + see photos here.
9. Take A Self Guided Palm Springs Door Tour
Palm Springs has the BEST doors! There'll be one of every color in a neighborhood. Modernism is a very popular design style of homes. Many owners paint their front doors bright, fun colors.
Some even dress them up with floaties or other decor. My favorite part of Palm Springs was biking around the Indian Canyon area to visit all the best doors – like that famous pink one! You can read my full Palm Springs Doors Tour Guide here.
10. Attend Desert X
Every other year, Palm Springs plays host to Desert X, a totally free art festival that takes places all over the desert.
Like, art pieces are literally scattered around the city so it's like a big treasure hunt. I've gone the past 2 years with my girlfriends and it's always so much fun to run around and find these art pieces.
Some are really surprising and cool. My favorite is from 2019 when there was a big rainbow sculpture in Catherdral City. It was so on brand for me and I had to take a million photos with it!
Best Places To Eat in Palm Springs
Oh my, does Palm Springs have amazing places to eat! We tried really hard to visit as many as possible, but we could spend a whole month eating out. Below are the places we ate or restaurants that came highly recommended to us by friends or locals.
King's Highway
Located in the Ace Hotel, King's Highway has major 70's vibes in all the right ways. I felt instantly relaxed, the best way to start the day. I loved my huevos rancheros and hot cuppa coffee!
Chef Tanya's Kitchen
Someone in the comments let me know about Chef Tanya's! I love it when you guys share your favorite places so I can add it to my list. This vegan restaurant serves up delicious sandwiches and salads plus tasty drinks. Vegan or not, you don't want to miss out!
Mr. Lyons Palm Springs
We didn't get to stop here, but friends said Mr. Lyons Steak House has the best steak in the whole town. They also apparently have amazing cocktails, and the rat pack used to hang out here back in the day, so the history of this little joint is off the hook.
The Barn Kitchen
The Barn is part of sparrows lodge, and serves lunch from 11 a.m. to 4 p.m. and dinner from 5 p.m. to 9 p.m. As the name kind of implies, it's farm-to-table with fresh local foods on the menu.
Trio
Craving some patio time? Stop by Trio! I think mainly locals come here and I could see why – it's not on any list of top places to eat in Palm Springs (so I don't think a lot of tourists swing by.) The service was wonderful. We sat on the patio, great for people watching. Try the mac and cheese with a cold beer.
Birba
Another one we didn't have time to visit, but comes highly recommended. Birba is a great date-night spot. It has a beautiful patio with string lights and a large variety of Italian dishes.
Workshop Kitchen & Bar
If you're looking to dress up a little and have a world class meal, Workshop Kitchen & Bar is the place. They recently expanded with a new location in Los Angeles because the food is THAT good.
Ice Cream & Shop(pe)
Retro vibes, tasty ice cream and outdoor seating. Need I say more? Ice Cream & Shop(pe) is a combination of an ice cream parlor and gift shop! So while you're there, you can also grab something cute for back home or gift for a friend!
The Tropicale Palm Springs
The name is giving me, Cafe Tropical (from Schitt's Creek), and it might not be far off (except with better food)! Reviewers praise The Tropicale's food and drinks of this local favorite, and I'm definitely stopping by next time I'm in Palm Springs!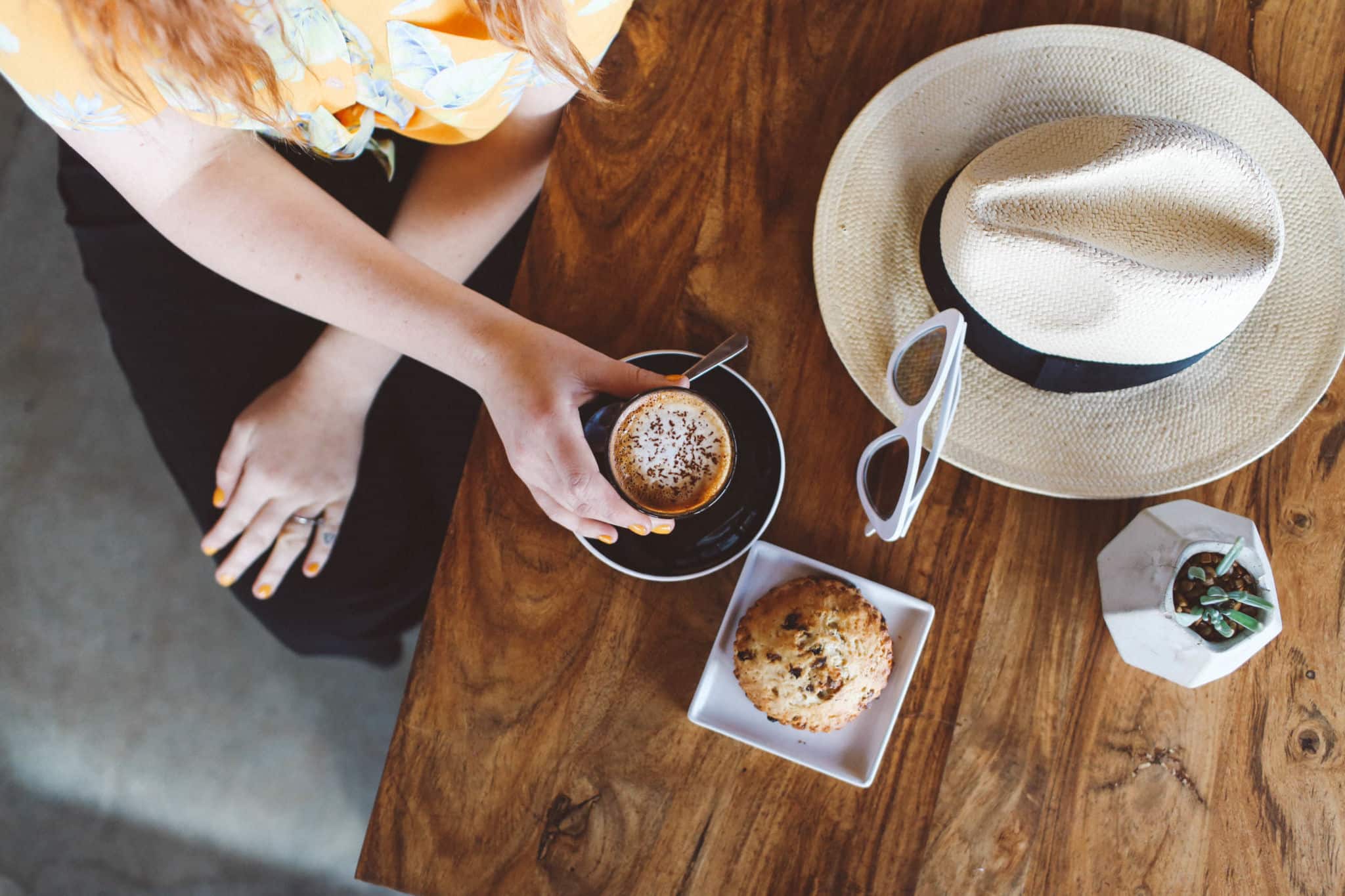 Where To Stay In Palm Springs
It's no secret that Palm Springs is a popular destination. With that comes an abundance of places to stay in Palm Springs.
Vacation Rentals in Palm Springs
If you're coming to Palm Springs with a bunch of friends, the best option is to rent out a whole house together. Something with plenty of space to sprawl out, lounge by the pool all afternoon and hopefully an outdoor fire pit or hot tub for evening hangs.
Not to mention, the once-in-a-lifetime chance to stay at houses with Palm Springs' iconic mid-century architecture, or groovy 1960s inspired home decor. Vacation rental owners in Palm Springs really go off with the theme!
Best Hotels In Palm Springs
Hotels are also an obvious choice! There's so many cute hotels in Palm Springs to choose from, but here are some of my faves.
Palm Springs Hotel
You can't go wrong with a classic, and it's got the name! The Palm Springs Hotel "promises to be the ultimate Palm Springs boutique experience." And the views from the pool are a total vibe.
The Parker
A luxury hotel that's full of yellow – my favorite color!! The Parker on the pricey side, but the decor and amenities can be worth it. If you can't afford to stay the night here, make sure to at least visit the pool one afternoon or dine at one of their restaurants.
Saugaro Palm Springs
This is the rainbow hotel you see everywhere on Instagram. It's also where I stayed during one of my first visits to Palm Springs. I loved the colorful walls, cute decor corners and the theme that even carried into the rooms. Ours was a pink and purple room! Another nice thing about the Saguaro is they have cute bikes you can use for free.
Despite having all the visuals, I do have to mention our problems with staying here. Long story short, I've traveled all over the world and the service and experience of staying here as a guest is probably the worst I've ever encountered.
They lost our reservation in their system more than once, so much we were half expecting them to turn us away when we checked in. Each day we would get a knock on our door at 8am asking us when we'd check out even though we were staying for almost a week.
Almost every day the front desk would deactivate our room cards because they thought we were checking out that day. When getting new ones, they never once asked for ID, which is a big safety red flag.
One faulty card is a mistake, 4 times is bad service. I could list many more problems, but the bottom line is that the Saguaro has their decor game on lockdown, but not their service game. For that, I suggest stopping by here for an afternoon at the pool or photos but stay the night somewhere else.
Ace Hotel
We've had breakfast here and I love how cute this place is! They have a wonderful sunshine mural and great big ACE letters in the parking lot. Rooms are scattered about at the Ace Hotel, so there are a lot of trees on the property.
Some of the rooms had outdoor patios, others had outdoor fireplaces. I also have a friend who got married here and loves this hotel!
Korakia
This hotel is where I want to stay next time we visit Palm Springs! Korakia Pensione is a Mediterranean-style resort with tons of nature, pretty strings lights and the feeling that you just walked into Greece. Plus, the pool looks like heaven!
What To Pack For Palm Springs
Palm Springs is a desert city, which means that the days are hot and, unless it's the dead of summer, the nights are cool. Because of that, you need to pack warm weather clothes and some light jackets for the evening. This city is colorful and vibrant, so it's the perfect place to pack those loud pieces! Check out my Palm Springs outfits plus a FULL beauty packing list here.
I hope this helps you plan your trip to Palm Springs! Leave a comment below if you have any questions or things to add!