I love mushrooms. I'll buy just about anything with a mushroom on it: mushroom decor, mushroom kitchenware, mushroom prints…
Of course, I love eating mushrooms too, and yes, drinking them! If you've never had mushroom tea (not the "magic mushroom" kind), then my healthy-ish mushroom mocktail recipe might just convince you to try it. Or for a boozier bev, I've got tips to turn this drink into a mushroom cocktail.
And to really put the FUN in fungi, I compiled a list of my top 10 favorite depictions of mushrooms in popular media. (The Last of Us made me do it.)
Health Benefits of Mushrooms
Whether edible or medicinal, many types of mushrooms are believed to have positive effects on the body and mind.
Mushrooms are incredibly nutritious and contain vitamins and minerals necessary for good health, including vitamin D, vitamin B6, selenium, potassium, and zinc. Some studies have shown that eating mushrooms can improve brain, heart, and gut health and may decrease the risk of cancer.
Portabella, maitake, oyster, cremini, and shiitake mushrooms were shown to have health benefits in the studies linked above. I'm no medical expert, but I am a vegetarian, and I can say one thing for sure—they all taste great!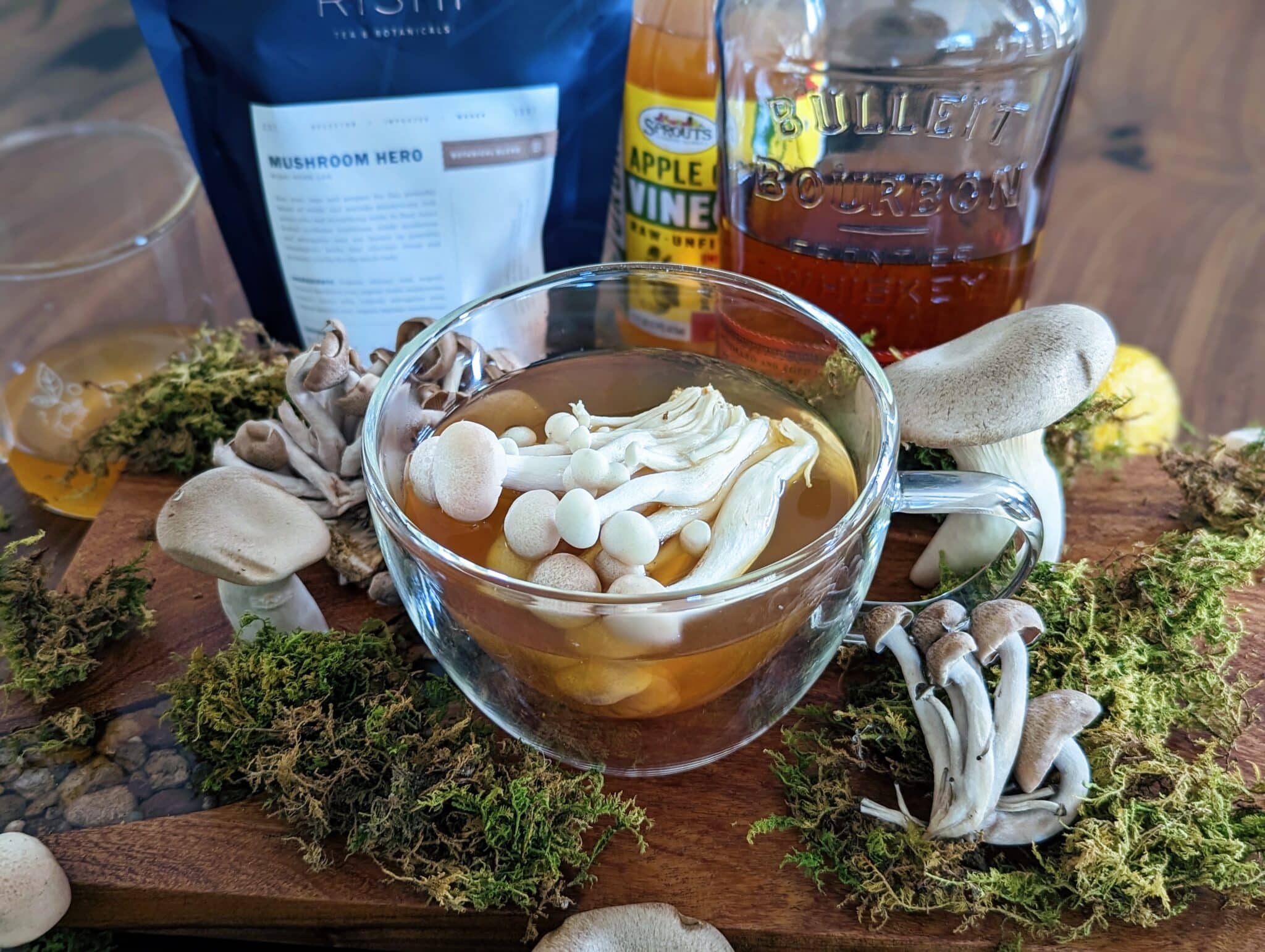 Adaptogenic mushrooms, or "functional" mushrooms, are more commonly consumed via products like capsules, teas, tinctures, and powders. These mushrooms are believed to help reduce inflammation and the physical effects of stress. Adaptogenic mushrooms you'll find in these types of drinks include such varieties as lion's mane, chaga, turkey tail, cordyceps, and reishi.
However, there are some risks to taking adaptogenic mushrooms and it's always best to consult your healthcare provider. Also, foraging for wild mushrooms may be a popular trend, but it should only be done under the guidance of a knowledgeable expert. Be safe out there, kids!
Top 10 Mushrooms in Popular Media
Did I mention I like mushrooms? Well, I also enjoy mushrooms in pop culture. Here's my totally subjective top 10 favorite mushrooms and fungi in movies, TV shows, books, and video games, including some lesser-known picks you may not have heard of.
10. The Badger Song
If you were terminally online in the early 2000s, then I don't need to explain this internet fad to you. Yes, it's called "The Badger Song" but mushrooms are the real star imho.
9. Fantastic Fungi
This documentary takes viewers on a journey into the magical and mysterious world of fungi through stunning time-lapse cinematography and thought-provoking interviews.
8. Alice in Wonderland
When Alice meets the Caterpillar, he is sitting atop a magical, edible mushroom that makes you grow taller or shorter. Whether it's the Disney classic or the song by Jefferson Airplane, most Alice adaptations feature mushrooms.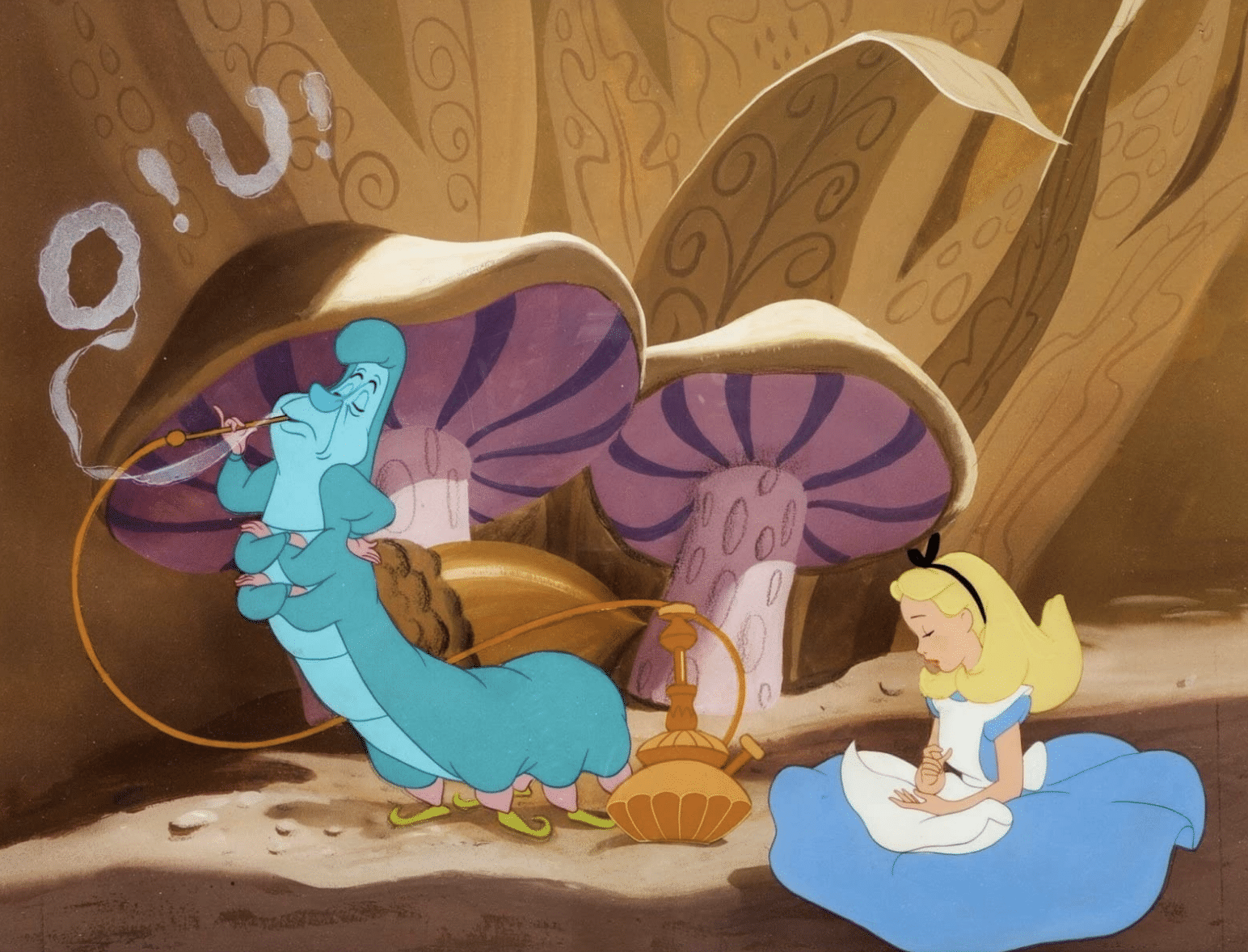 7. Fantasia
Who doesn't love these cute little animated mushrooms dancing to The Nutcracker Suite?
6. In the Earth
This sci-fi eco-horror film is… really weird. But if you like strange, trippy horror movies that tackle bigger themes, this might be up your alley.
5. Entangled Life
In this non-fiction book, biologist Merlin Sheldrake explores the world from a fungal point of view and illustrates the mind-blowing interconnectedness of all living things. It's really cool!
4. Various Works by Jeff VanderMeer
From the "fungal horror" in Annihaltion to the "gray caps" in Finch, mutated mushrooms are kinda Jeff VanderMeer's thing—and he's quite possibly my favorite author alive today.
3. Star Trek: Discovery
The USS Discovery uses a "spore drive" to traverse a universal mycelial network and travel through space, time, and even other dimensions.
2. The Last of Us
Fungus zombies! Need I say more? If you haven't yet started watching HBO's wildly popular adaptation of the wildly popular video game, what are you waiting for?!
1. Super Mario
Of course, Super Mario had to be in the number-one spot! Mushrooms give players special power-ups in the 200+ games that make up the much-loved Mario franchise.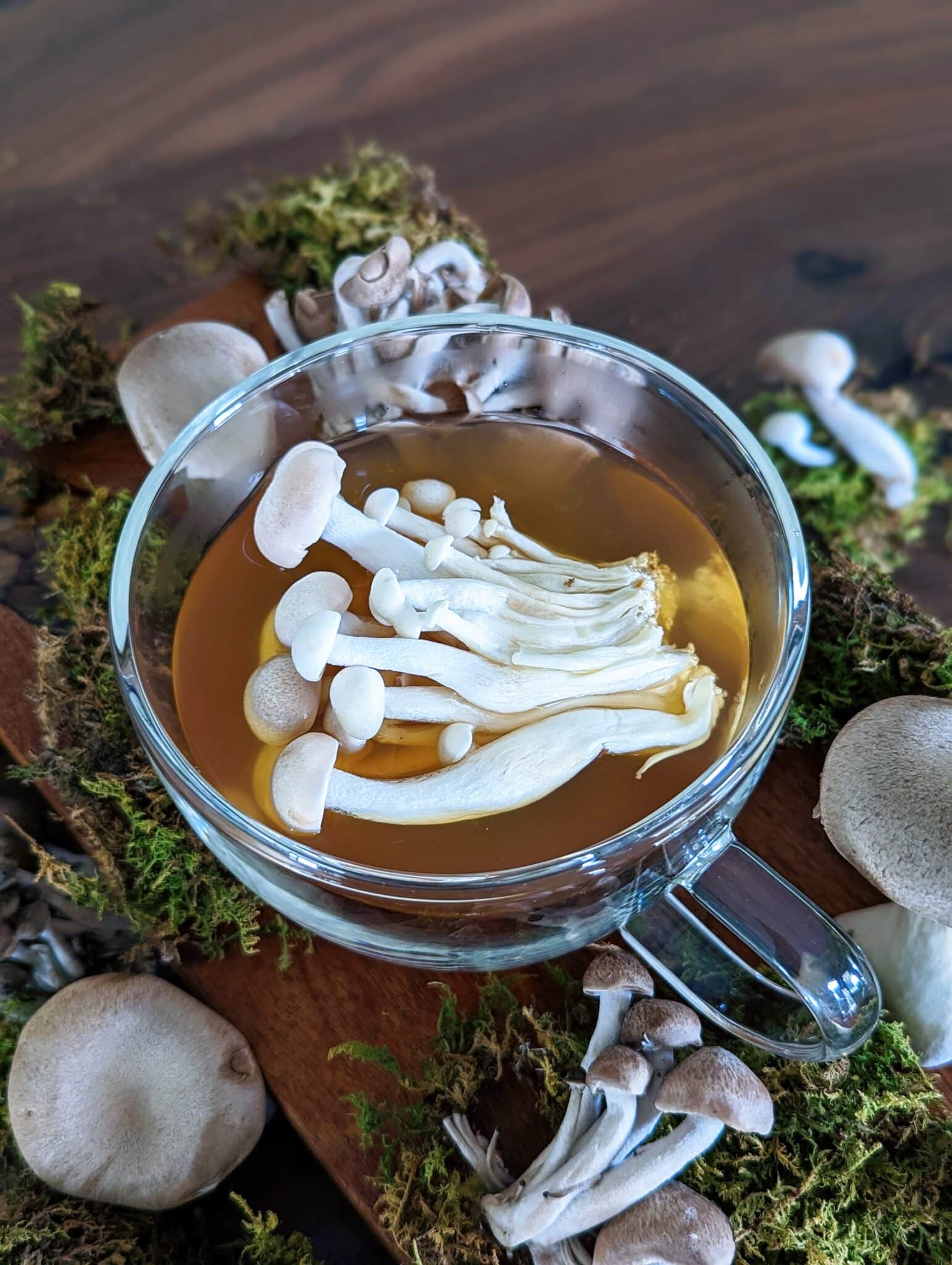 How to Make a Mushroom Mocktail (or a Mushroom Cocktail)
I seldom explore wellness trends, but I've been drinking mushroom tea for the past several months and loving every sip. Though I can't say I've noticed major health benefits, I do enjoy relaxing at home with a nice hot cup of tea, and mushroom tea is similar to herbal varieties. Well, except for the taste.
Unsurprisingly, mushroom tea is savory, earthy, and a bit umami. I'd say, flavor-wise, it's more like drinking broth than tea.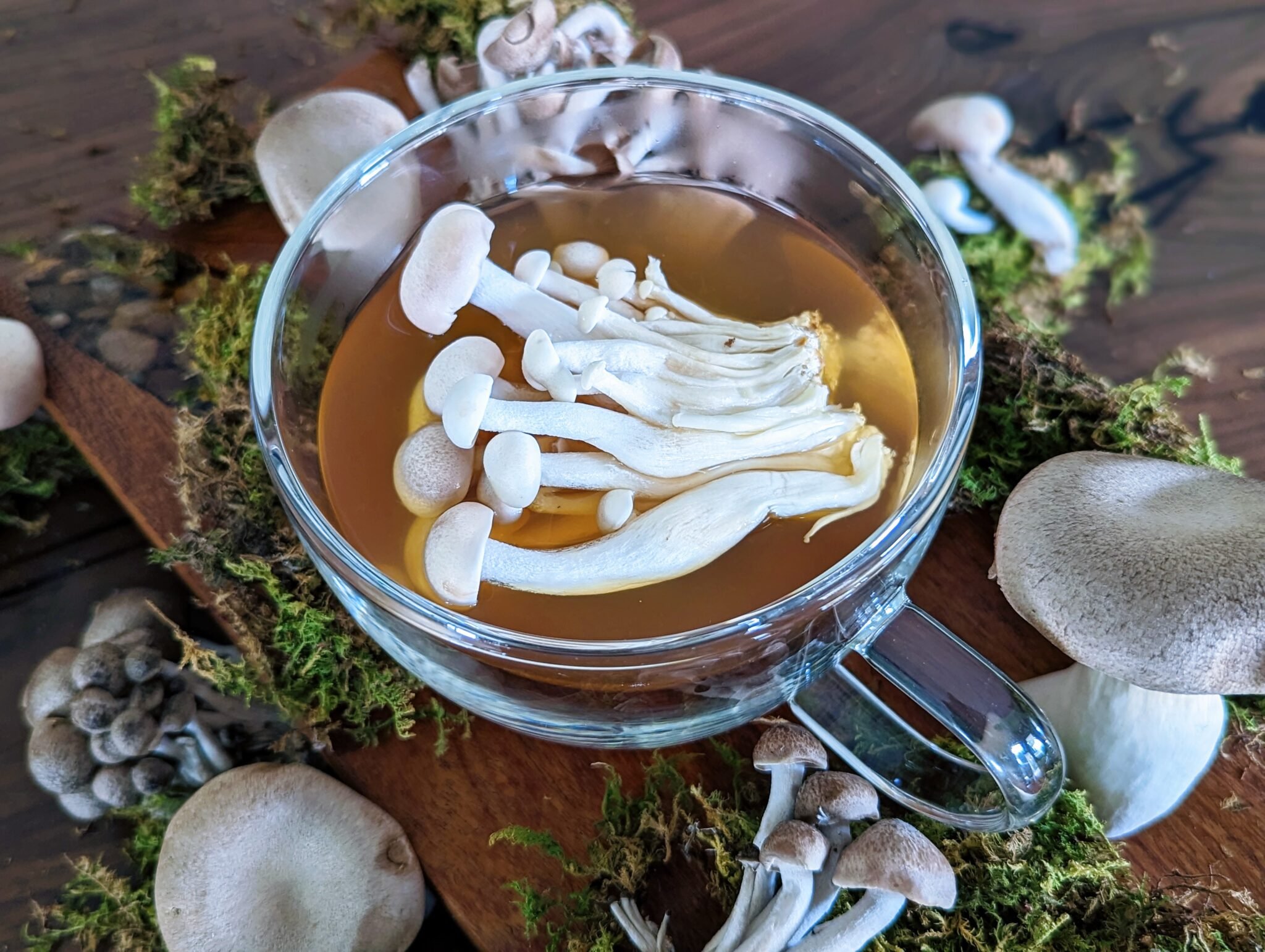 Mushroom tea is prepared like regular tea and often comes in tea bags—just add hot water! Or if you're more of a coffee drinker, mushroom-infused coffee is another option.
I typically take my mushroom tea straight, so I thought I'd shake things up by making a mushroom mocktail recipe that I could share with you too! This mushroom-infused drink also has apple cider vinegar and black pepper for an extra kick of antioxidants.
If you're like me and love unusual cocktails, you can easily transform this mushroom mocktail into a nightcap. Simply add bourbon and you've got yourself a mushroom cocktail!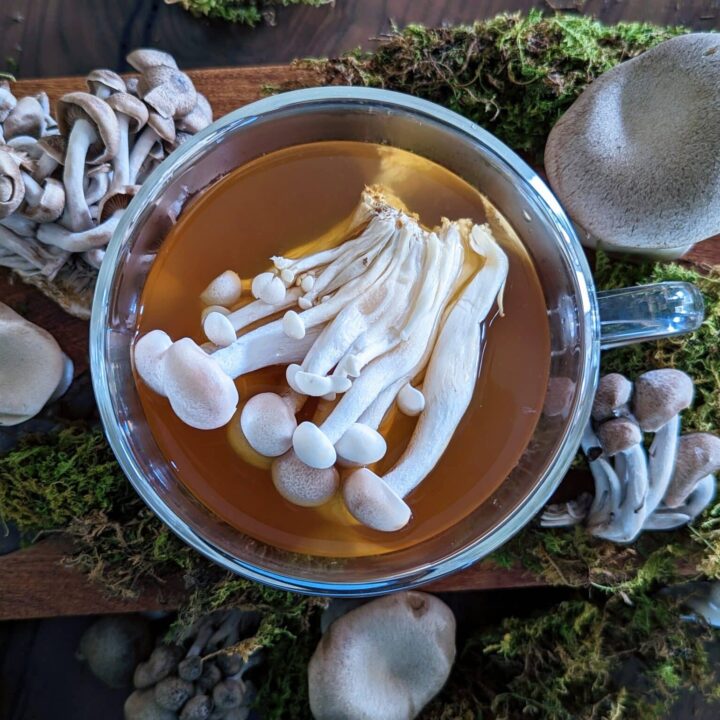 Spore Me Another: A Mushroom Mocktail Recipe
Earthy, peppery, and tangy, this warm mushroom drink is sure to soothe your mind and body.
Ingredients
Black Pepper Syrup Ingredients
1 tbsp black peppercorns
1/4 cup honey
1/4 cup water
Mushroom Drink Ingredients
1 reishi tea bag
1/4 oz apple cider vinegar
1/2 oz fresh lemon juice
1/2 oz black pepper syrup
1 oz bourbon (optional)
Instructions
Make the black pepper syrup:
Lightly crush peppercorns.
Combine peppercorns, honey, and water in a small saucepan over medium heat.
Stir until honey is dissolved and slightly frothy (just below boiling).
Remove from heat and cool to room temperature, then strain.
Make your mushroom mocktail (or cocktail):
Prepare mushroom tea according to package directions.
While the tea steeps, add apple cider vinegar, fresh lemon juice, black pepper syrup, and bourbon (optional) to your serving mug.
Pour the hot mushroom tea into the serving mug and stir until syrup is dissolved.
Garnish as desired and enjoy while hot!
Notes
I recommend Reishi Mushroom Hero by Rishi Tea & Botanicals. In addition to reishi and maitake mushrooms, this tea combines cocoa and a variety of roots for more complex flavors.
I served my Mushroom Mocktail in a glass mug that can probably find on Amazon, but any mug or even wine glass would do!
If you love the taste of mushrooms but have never tried mushroom tea, then this mushroom mocktail recipe is for you.
Or maybe you're hosting a watch party and want to serve a The Last of Us cocktail. You won't find many other mushroom cocktail recipes like this one!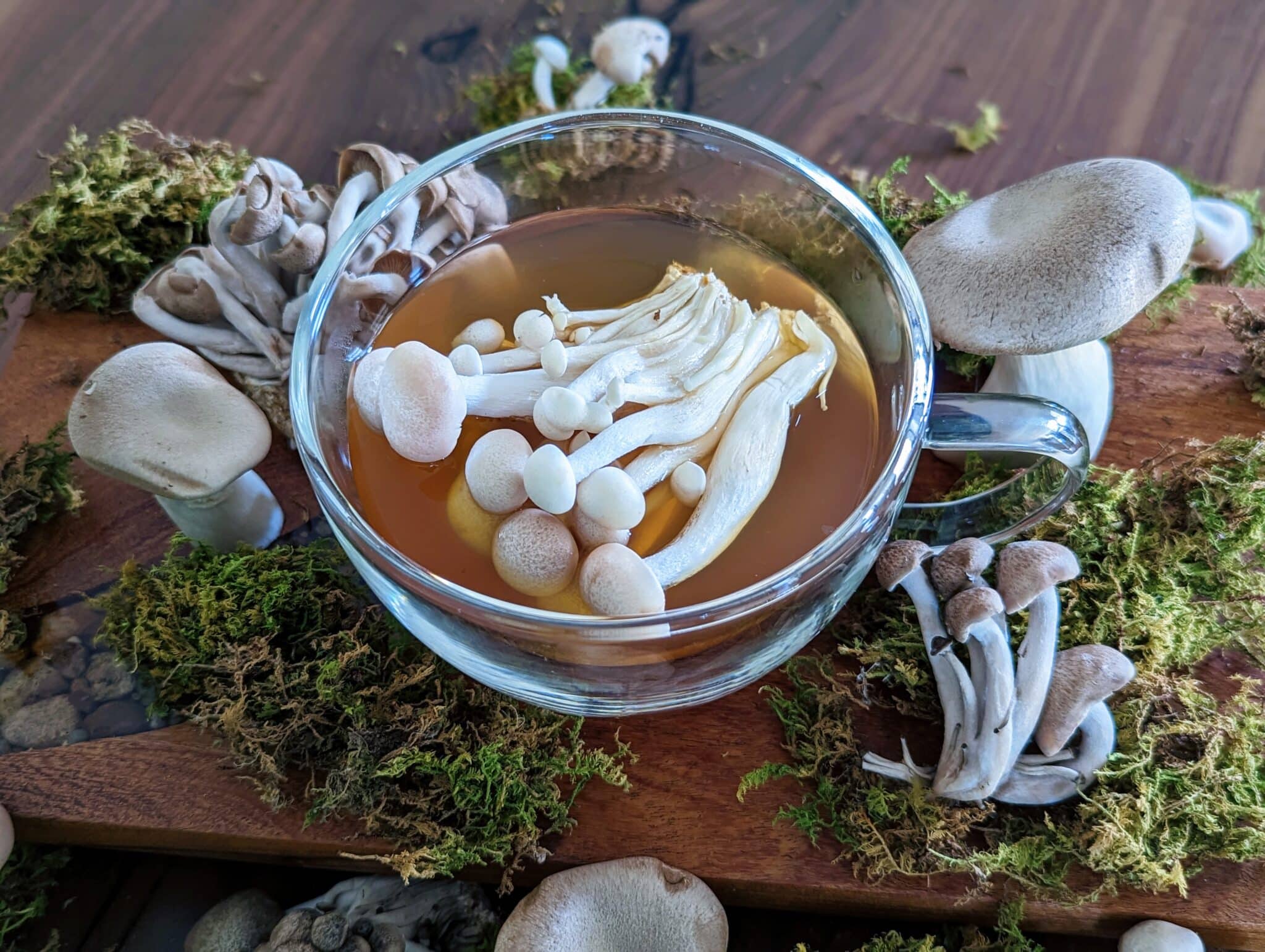 For even more mocktail recipes, check out my honest Seedlip review. And for experienced mushroom hunters headed to the PNW, be sure to stop at one of these top cabin rentals in Oregon.