Long gone are the days I can cram into any ole seat at the back of a plane and walk off it 12 hours later feeling roughly the same as I walked on.
Now that I'm in my 30's everything hurts if I don't get a proper nights sleep, so when my friend and I were planning a trip to Berlin this winter, I knew I wanted to bid on a business class upgrade from Lufthansa on the way there.
In case you are wondering if the upgrade is really worth it, let me take you on my Lufthansa business class review.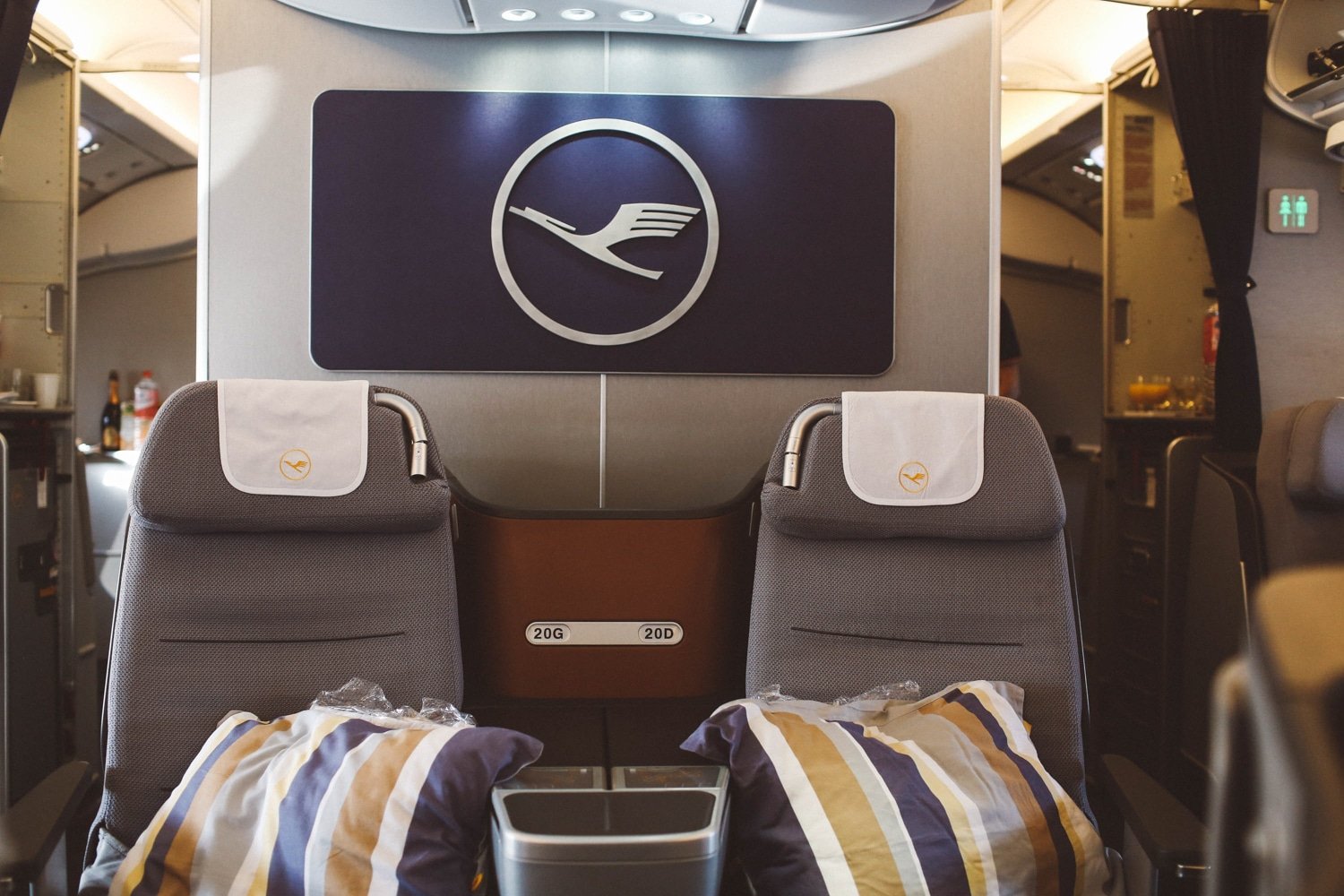 Lufthansa Business Class Review: My Flight From San Francisco to Munich
Funny enough, the only other time I've flown on Luftansa was in Business Class Seats.
Robin and I were working with them circa 2018 on a project and they flew us out to the Frankfurt airport for like, a day (it was a whirlwind day and the only reason I felt like a human was that I actually got to sleep on the flight there!)
So, you'll see images from my flight 5 years ago and also from my most recent flight. It was fun seeing what's new in the upgrades.
Tip: Utilize The Bid On An Upgrade Feature
First off: how to fly business without breaking the bank.
Did you know that most airlines have a business class seat upgrade you can win on a bid? (It's ok, I was like, 29 and have flown at least 100 times in my life before I learned about this hack).
How it works is after buying your economy seat, you can submit an offer to the airline for an upgrade. If they don't sell enough business class cabin seats, they'll take the highest bidders up on their upgrade bid.
In this case, Lufthansa has a minimum bid of $540 for Business Class upgrades, which is what I chose and was offered about 2 days before my flight.
This is such a wonderful hack for getting the business class experience without paying thousands of dollars.
We use the Chase Sapphire credit cards for travel, but friends that have Amex have told me you can use your American Express Membership rewards and upgrade flight with those points as a backup option if you want.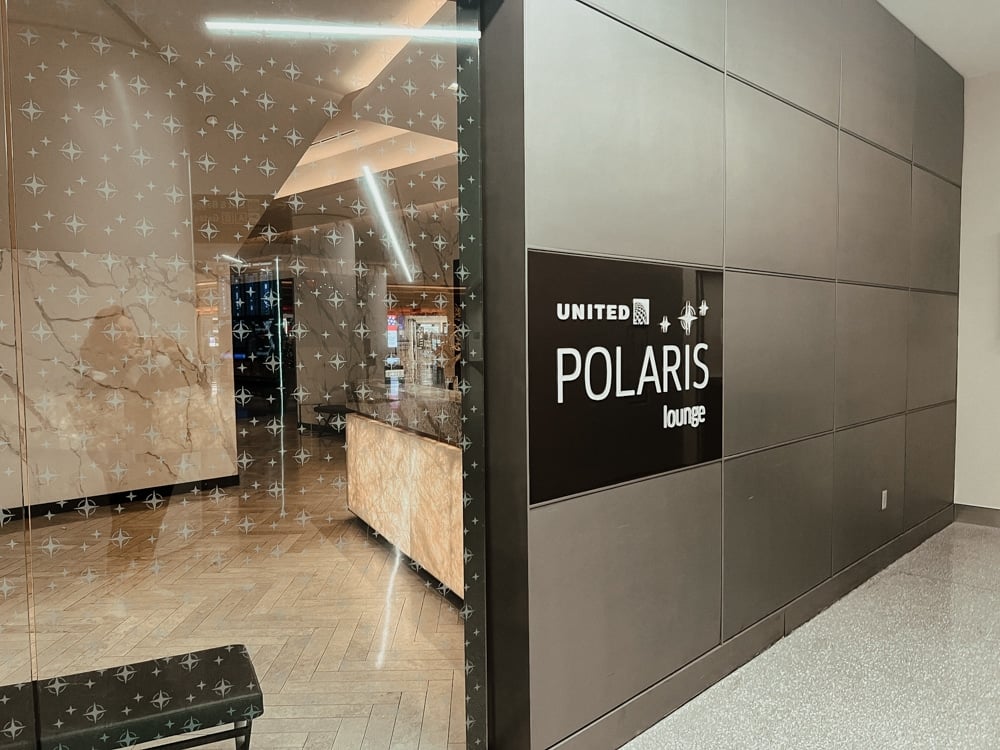 Ok, now onto my flight from SFO to Munich last year.
Lufthansa Airport Lounge Access
I'm a Priority Pass member so I'm not new to airport lounges, but lately, lounges have been getting so full it's hard to use your pass to get access.
Thankfully, all business class passengers will get access to the Lufthansa lounge, or another Star Alliance lounge if the Lufthansa one is closed or being remodeled at your airport.
I find these especially wonderful on layovers after a huge long-haul flight. Nothing feels better than holing up in a peaceful lounge with unlimited espresso, drinks, food, outlets and sometimes things like nap pods or showers.
And, lucky me, I think the best Lufthansa lounge is the one at San Francisco International since it's a United Polaris Lounge. These are like, the DADDY of airport lounges.
Only business and first-class passengers can enter (no guests, no passes, no buying your way in). It's huge so you never have to fight for a seat but the food and drink is what won me over here.
There's a buffet and restaurant section the SFO business class lounge, and a full bar with fancy cocktails and top shelf liquor. I choose to opt for nibbling the buffet and sipping on Lagavulin since I wanted to stay hungry for my meal on the flight. But there is a whole restaurant with seated meals and robust menu offerings if you want to try that, too.
I arrived a little early to the airport just so I could soak up time in the lounge and I'm happy I did. I also noticed I was one of the few women in the lounge and I loved representing my gender (while sipping good Scotch, too).
Finally, it was time for me to board my flight…
In Air Experience on Long Haul Lufthansa Business Class Flights
Ok, now to the good stuff: what's it like flying the new business class on Lufthansa?
Expect:
Seat that can turn into a bed
direct aisle access in all seats only on some flights
welcome amenity kit (small so bring your own fave products)
robust inflight entertainment offerings
separate business class flight attendants for top service
top tier meals that taste really good
quality wine and drink menu
Pillow
Blanket
Dedicated overhead storage for your stuff
Socks
Pajama top (but no bottom)
Noise canceling headphones
I'll be honest – it's not nearly as fancy as flying business with Emirates so set your expectations here. Not all the planes are upgraded to the new layout and the inflight amenity kit is a little lacking. But I still loved my flight because I got to sleep!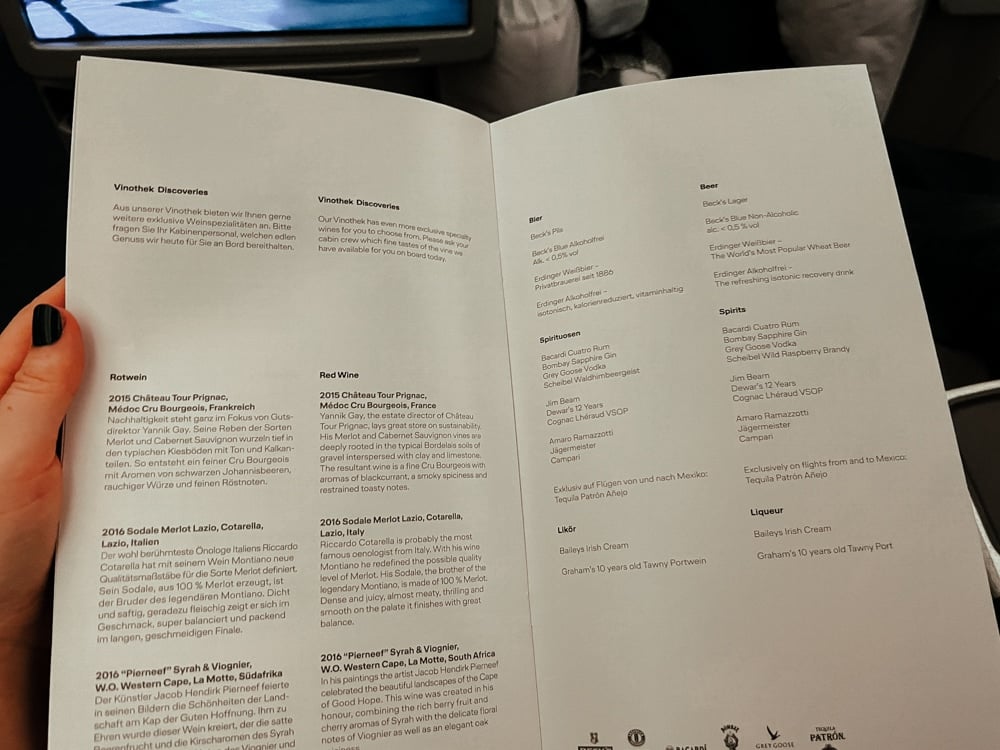 Hey – one of the main reasons I opted for an upgraded on this flight was to get beds that lie flat so I would be guaranteed to have a good night's sleep. I wanted to hit the ground running in Berlin without feeling like death and good news – I arrived in Berlin feeling amazing.
Wine Menu Is Robust
As a wine lover (hey, I do write about Napa Valley and Sonoma all the time on this blog!), I was really happy to see a robust wine list offered with German wines along with Californian and French. I ended up trying 4 different wines during my flight and was really happy about that.
Meals Are 8/10
When it came to the food, it was of course a million times better than economy swill. For my first course I chose a tuna appetizer, my main was a take on scallop paella, and for dessert, I had this yummy pumpkin cheesecake thing.
The tuna was just ok, but the latter two dishes were good for a plane. Breakfast was a little underwhelming so overall, I award the food an 8/10. Way better than the economy, but I've had business-class meals on other airlines that knock food out of the park.
In-Flight Amenity Kit Is Lacking
The aspect I was most disappointed in was the inflight amenity kit. I was expecting designer skincare products as some airline has (this is just Lufthansa after all)but I was expecting more.
The kit comes wrapped in a branded tote bag, which is apparently randomly chosen since I got a Japan one even though there was a San Francisco and Munich design available (which would have made more sense since that's the route we flew).
Inside was a tiny chapstick, comb and a few other random amenities that I didn't end up using. I had to go to the bathroom to find mouthwash, which I did use before I slept. I was expecting them to restock the mouthwash in the morning but alas, it wasn't so I wish I had grabbed an extra bottle to use later.
Then we also were given a pajama top, but no bottom. It was a very plain and thin blue shirt that I didn't see anyone change into and I personally left it on the plane.
I would have loved to see matching bottoms to make a complete set because otherwise, why would I want a random cheap blue shirt? I was confused here.
Business Class Updates Are Only On Select Flight
Thanks to new business class products with updated seats that have aisle access, some plane models are now entering a new era for travelers. But only some flights.
The plane I flew to Munich was not an upgraded plane and the people in a window seat had to hop over the aisle seat person to get out, which was a problem if that person was sleeping or eating.
This is why I actually recommend you book a middle-row seat if you are flying Lufthansa business class so you are guaranteed to have aisle access and your seatmate will as well, so nobody will bother you.
The messaging online from Lufthansa makes it seem like ALL the planes are upgraded but that's not the case, so do pay attention when you book.
I also was hoping my flight was a Boeing 747 with an upper deck, which looks an entirely different plane than the lower deck, but they didn't offer that on my flight. But, you may be lucky and get to sit on top during your ride!
The Business Class service is top notch
I've seen videos online where people complain that the Lufthansa Business Class service is really bad. I have no idea what happen to those folks, but I thought my flight attendants were lovely. They were friendly, made good wine recommendations and came fast the few times I used the call button.
Lufthansa Business Class Short Haul Review
I haven't flown a short haul with a Business Lufthansa ticket, but I imagine it's similar to my short haul flight with KLM earlier this year.
You'll get lounge access, priority boarding, seats with more legroom, direct aisle access on some flights, separate bathrooms and an inflight meal that's going to be pretty tasty.
You don't be sitting in huge plush seats like on Lufthansa Business Class long haul flight but these upgrades are usually under $70 and are fun little travel treat to yourself so I would still recommend upgrading these if you are on the fence.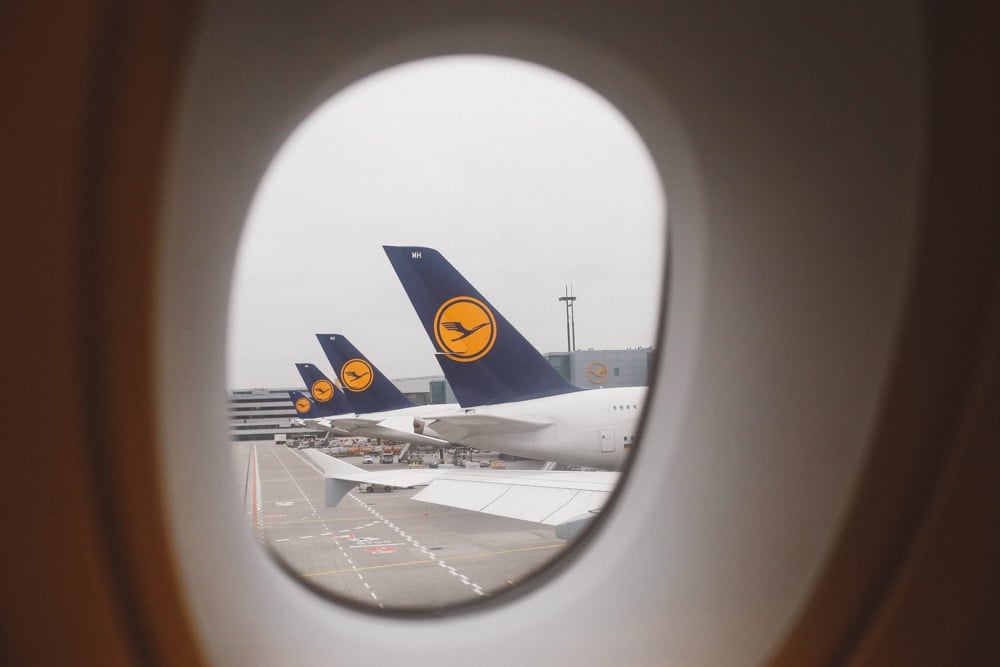 So was it worth it?
Totally! Both times have been just wonderful.
On my flight to Copenhagen this past summer, I was in the middle seat in the economy at the back and the people behind me didn't stop talking the entire time. It took my body a few days to recover (the joy of aging!)
Being able to rest and basically be in first class was key for me on this trip to Berlin.
I spent $540 out of pocket, though you may be able to use credit card offers from your credit card issuer (Chase, Amex, etc) to get points and thus access these upgrades for free.
But yes, that $540 was worth every penny for Lufthansa international business class. I wouldn't want to pay much more, though, if I'm being transparent here. Again, there are other airlines that offer WAY more amenities and rich girl vibes in business class but for under $600, I was thrilled with my bed, my food, my wine, my lounge and the whole experience.
I had to sit economy on the way home but at least if I don't sleep well, I can just crash in my own bed afterward.
So, do you have your own business class Lufthansa business class review to add? Drop a comment so everyone can see!