As a body-positive fashion blogger, I've been on a mission for years to help fellow women and people feel comfortable in their own skin.
I'm writing this post in March and that means spring break is around the corner and before you know it, it'll be summertime. And I know not everyone is feeling confident about bathing suits.
At the end of the day, it's up to YOU to do the inner work for yourself, but I do have some tips and tricks up my sleeve on how to feel confident in a swimsuit, even when you haven't worn a bikini in public in years.
How To Trick Yourself Into Feeling Confident In A Swimsuit
More like tricking your brain. Patriarchal double standards run DEEP in our society and I've found a lot of what it takes to help you feel comfy in your own skin requires fighting against what's engrained in us from birth. (Soapbox rant over – kinda)
1. Practice At Home
This one throws people for a loop when I tell them this hack, but trust me – practicing wearing a swimsuit at home is the first step to confidence in public.
Start by ordering a new swimsuit (I love Cupshe) or putting on your favorite one you already own. Then, stand in front of the mirror and really soak yourself in. Get comfy with looking at your body in a swimsuit.
And then, keep it on for a while. Clean your house in it, or put your makeup on while wearing your bathing suit. Do things that force you to A) get used to wearing one without constantly tugging at it and B) catch yourself in the mirror as you move about.
You'll get more and more used to the idea that YOU can wear a swimsuit and you look good in it! The key is only saying good things to your body when you see it – like "dang girl, you're rocking that Cupshe floral bikini, you so CUTEEE"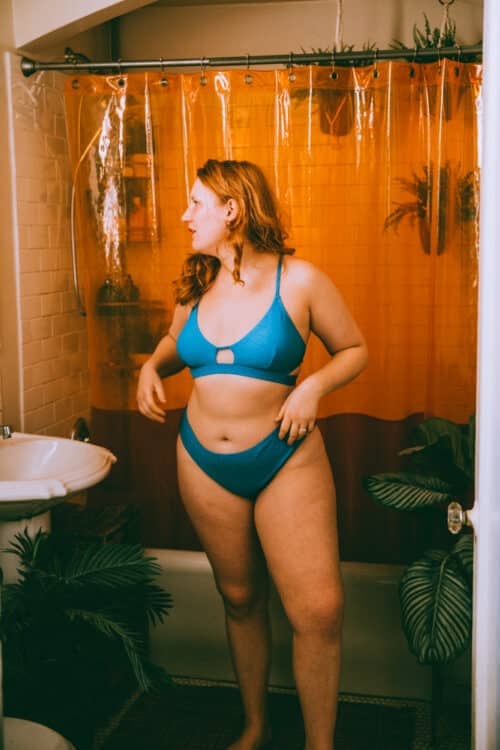 2. Take Tons Of Photos & Publish Online
This one scares people the most when I suggest this but TRUST ME. Put on some swimwear you feel good in and start taking photos of yourself.
And then – post them. It doesn't have to be a public account, it can be totally private and something you only can access but there's something that changes your brain chemistry when you take a photo of yourself, get used to looking at an image of you in a swimsuit, and then putting it out into the world.
I'm fairly certain that blogging (and taking photos of myself every day for the past 8 years) is what cured my body dysmorphia. Of course, if you are ok with putting them on your regular account, do it! You'll be surprised by how many people hype you up.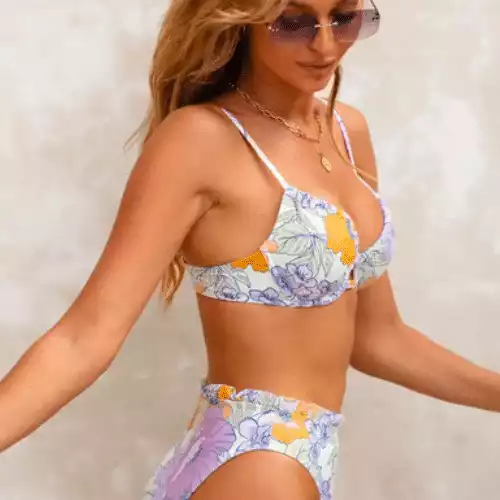 High Waist Cheeky Bikini Set
I adore this floral bikini! It had a high waisted bottom from Cupshe but it's still a little cheeky. The top has an underwire to support the girls but still leaves a lot of skin exposed to avoid weird tan lines.
Shop Now
3. Buy A High Waisted Bikini
As a curvy size 14 girl, I'm a huge fan of the high waisted bikini. I love something that sits above my belly button as it makes me feel secure and like everything is in.
I do sometimes wear low-cut bottoms but in general, I find that when I have a high waisted bikini on like this cute one from Cupshe, I'm never fidgeting with it and most of the time. I just forget that I'm wearing a swimsuit since it's so comfy, which is how it should be.
Wearing a bikini with a tummy hanging out is not bad or ugly at all – but it can lead to bathing suit anxiety. You don't have to jump into something super tiny. Get a high waisted set for all that bikini confidence.
Want more curvy girl approved bikinis? Check out this article with my faves!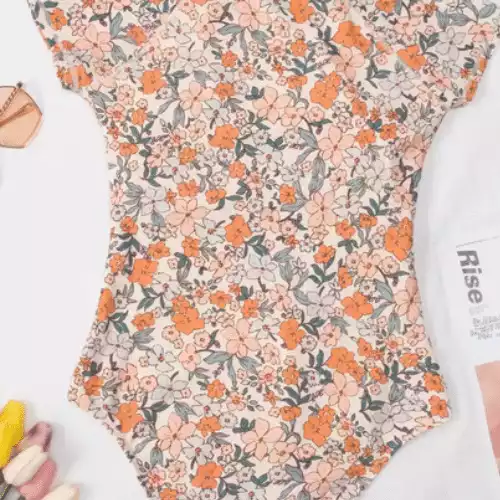 Elodie Zipper One Piece Swimsuit
This sporty one piece has tons of coverage but doesn't look frumpy. Wear it snorkeling, surfing, or just at the pool when you want more coverage (great for busty gals or anyone looking to avoid sun exposure!)
Shop Now
4. Or A Full Coverage One Piece
Or, if a bikini sounds too scary, go with a one piece! One piece swimsuits are so fun and are great for keeping more tucked in (especially if you have large girls!) Plus, you can easily pair them with a coverup bottom or skirt to transition from beach to beach bar.
I usually opt for a cute one piece from Cupshe when I'm doing water sports like swimming in the ocean, snorkeling or jumping off boats. I want my swimsuit to stay ON and bikinis do have a tendency to fall off in the ocean waves.
5. Actually Go Swimming
Still not sure how to feel confident in a bikini or one piece when you're actually out there? Well, actually go swimming in it!
Whether you're a pool party or the beach, I find that when I'm out in the water I usually am having too much fun to remember how I feel in a bathing suit. Instead of hiding on your towel, get out in the water and let the joy of movement radiate through you.
If you're trying to figure out how to feel confident in your body, start by doing what your body is made to do: move!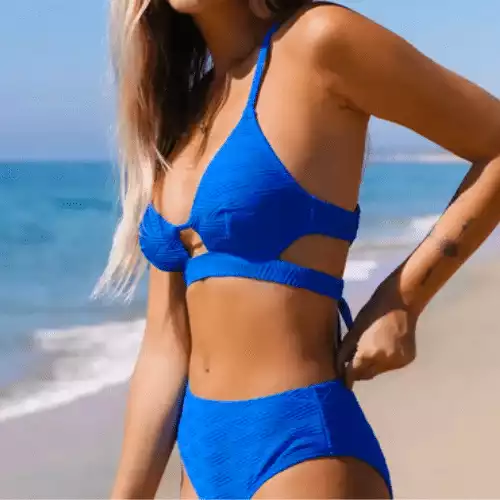 Sea Surface Hipster Bikini Set
I adore the vibrant blue color of this Cupshe bikini! It sits a little lower but had a very supportive top so everything stays in, even when I'm swimming.
Shop Now
6. Nobody Is Looking At You – I Promise
Picture the last time you were at the pool and felt uncomfy about your body: how many strangers did you spend time looking at and thinking "omg EW they are so gross, how dare they come to the beach on such a nice day and think they could wear a bikini with stretch marks or rolls"
Probably never, right? Yet (speaking from experience) I've said things like this to myself at the beach before. Bathing suit confidence is hard to build, but it did help me when I realized that literally, nobody is paying attention to me because most people are wrapped up in how they feel wearing a swimsuit and their own body image.
They really aren't paying attention to you and if they are, they probably aren't thinking the nasty things your brain is telling you about yourself. So, if you hear that voice creep up say "shove it, I'm enjoying the sunshine today" and put that bikini on (with SPF).
7. Hype Other Women & Folks Up
I don't know about you, but compliments feed my soul. I love when a stranger compliments my outfit – it makes me feel so giddy.
So, do that for others. Next time you're at the beach or a pool party, tell someone you love their look, or you think they are radiating. Trick your brain into associating joy and love with swimwear instead of fear and judgment.
Spread JOY in the world and you'll feel that joy come back to you. Karma, right?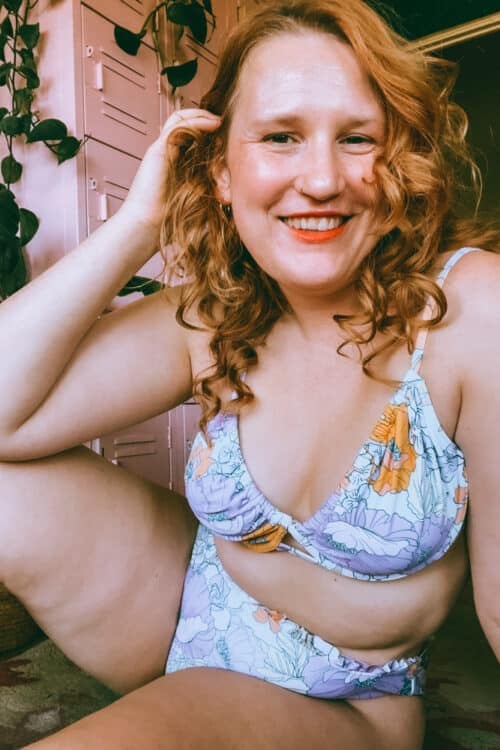 8. Wear Your Favorite Color Or Print
Something about wearing the right swimsuit with the right color or print sends me into this mode where I feel like I'm Beyonce or something.
My confidence gets an ultra boost and I feel like others can sense that, too. I still feel 100% ok wearing a swimsuit that's not my favorite cut or color (that's what body neutrality leads you to) but it's like I get a level up of confidence when I'm in my favorite styles.
Personally, I love bright, bold colors and patterns along with high-waisted bikinis like this pink one. Anything that can turn a head, I'm here for it. If you're wondering how to feel good in a swimsuit, start by finding the right swimsuit for you.
My Fave!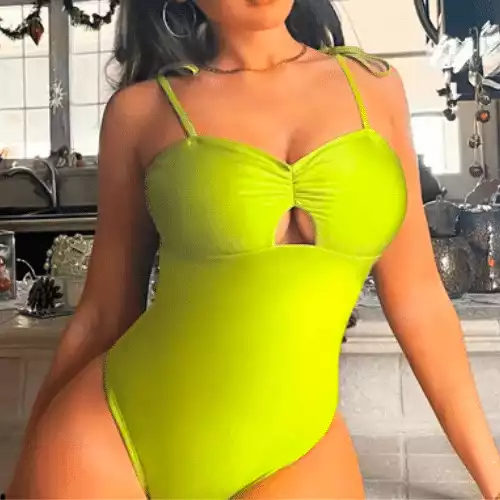 Boho Rhapsody One Piece Swimsuit
I swear this lime green color looks amazing on every skin tone. The ties are adjustable so you can make it hug your curves perfectly and the neckline draws the eyes upwards.
Shop Now
9. Toss Out The Trash "Bikini Ready" Mindset
The " Bikini Body " mindset is trash. I could rant forever about fatphobia in our society (but thankfully our Whimsy Writer Kerasa has already done so if you want to read up).
But, please never catch yourself saying you need weight loss to be bikini-ready. There's no such thing as a body that is ready for a swimsuit and one that isn't. The idea that only extremely thin bodies deserve to go to the beach and wear a certain piece of clothing is ridiculous.
No matter your size, shape, skin tone or physical abilities, you are already bikini ready. As long as you have a body, you're good to go.
10. Go Out With Friends
Thinking" how do I stop being insecure in a bathing suit? Go out with your besties! Swimsuit anxiety is hard to cling to when your girlies are hyping you up, taking cute photos of you and being your squad.
Safety in numbers, right?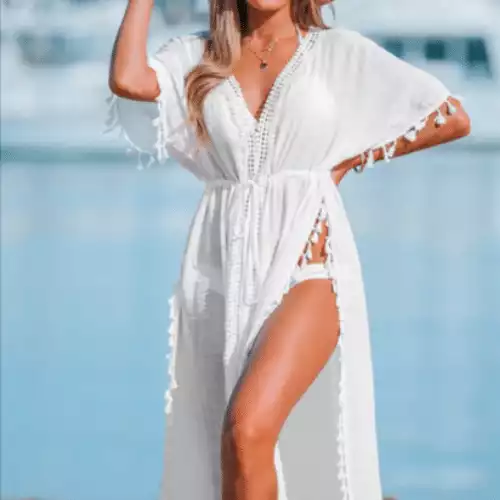 Tassel Drawstring Cover-Up Dress
I love boho swimsuit coverups like this tassel one that has full body coverage for when you need it.
Pros:
This looks like a real dress so you can throw this on and transition to the bar!
Shop Now
11. Rock A Cute Coverup
Having swimsuit confidence doesn't mean you have to be only sporting a bikini all the time when you. Invest in a few great cover-up pieces that you can wear to complete a full outfit. They're really handy when you want to pop into your resort bar or trek across the beach to the bathroom.
I love having a pair of linen pants or a skirt, a pair of shorts, a cardigan/kimono to quickly pull on, and also a cover-up dress so it can work in restaurants that require you to be fully dressed.
If you shop for swimsuits or cover ups from Cupshe, I have a great discount code for you! Use code Whimsy15 for 15% off on orders $70+ or WHIMSY20 for 20% off $109+
12. Go Somewhere On Your Bucket List
Who has time to worry about swimsuit confidence when you're on a yacht off the coast of the Almafi Coast about ready to jump into the cool waves? Or when you're doing a fjord sauna swim in Norway? Or snorkeling after clown fish in San Diego?
If you're still in the thick of building body confidence, book yourself a vacation to somewhere you've always wanted to go. Buy a new swimsuit and coverup to wear there and then when you are actually doing the thing, focus 100% on that activity.
You'll come out of it proving to yourself that you can indeed do bold things like swimming with giant fish off the coast of the Cook Islands AND wear a swimsuit.
13. Just – Put One On
At the end of the day, the first step for how to be confident in a bathing suit starts by actually putting one on. Facing that fear head on and telling yourself "I look great and I'm going to have a great day on this planet. And I will wear sunscreen"
And remember – bodies are supposed to jiggle, suppose to age, suppose to have bruises and bumps. It would be really weird if we all just looked like teenagers for the rest of our lives with no hips and scar-free skin.
I hope this helps you figure out how to feel comfortable in a swimsuit! If you have more tricks or tips to share, please drop a comment below so everyone can see.
Shop My Favorite Swimsuits Right Now