I've been on long journey for the perfect pair of high-waisted pants. Every now and then I find a great pair – one that is actually high-waisted, doesn't pinch and fits my curves perfectly. I've found a pair of white pants and green pants, but as a warm tone gal, red pants have been on my list.
Finally, over a year later of searching I found them. And just in time for my trip to Cabo San Lucas with my friend Amy!! I saw these red pants on Amazon, bought them hoping they would fit and now I've worn them every day since being here in Mexico.
Shop My Pants + Outfit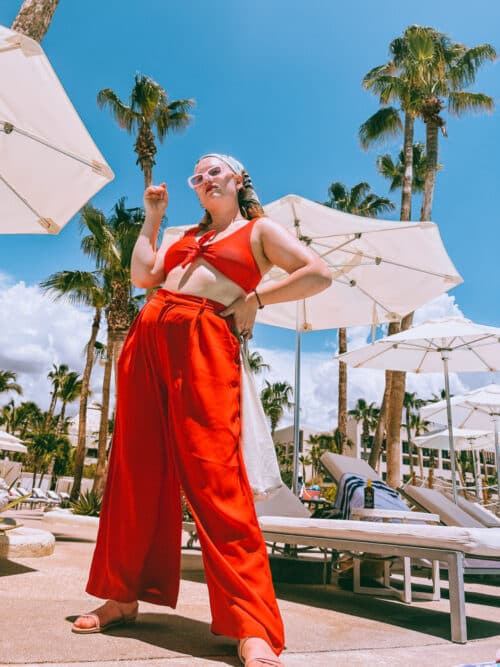 I'm around 5'5″ and I don't need to hem the pants (bless up) and they're a true high waist (aka cover my belly button and sit high on my body.) I usually prefer pull on pants, but these have a zipper and clasps but they're super minimal and don't squeeze at all.
The fabric is really light and flowy, perfect for warm weather like here in Cabo when it's almost 90 degrees each day. I'll be honest – I don't think these pants will last years and years (they are from Amazon after all) but for $30, these babies have brought me so much joy already. Get ready to see a lot of these red pants on Instagram and TikTok!!!