Summer sales are upon us, and what better time than now to add some staple clothing pieces to your wardrobe?
With so many new trends on the rise, I know how chaotic it can feel to keep up or figure out what your own style is in the process. That's why I created the best clothing capsule featuring timeless pieces that can elevate any outfit or add another staple to your closet.
I even put some outfits together to give you some fashion inspiration if you don't know where to start.
Capsule Wardrobe Essentials
I'm sure you've heard of a capsule wardrobe before, but in case you haven't, it's essentially a list of "basic" or staple pieces that every closet needs. It's a collection of items that can mix and match effortlessly with other clothing in your closet.
Think of a sweater, for example, that can be paired with denim jeans, but could also be paired with a floral skirt or to your everyday work outfit. It's versatility at its finest!
There's beauty in the simplicity and whether you are hitting the beach this summer, going wine tasting, or traveling someplace new, I'm here to help you find your next summer piece.
Not to mention, you can easily merge many of these items into your Fall outfit rotations as well. Keep scrolling and I hope you find something that you like!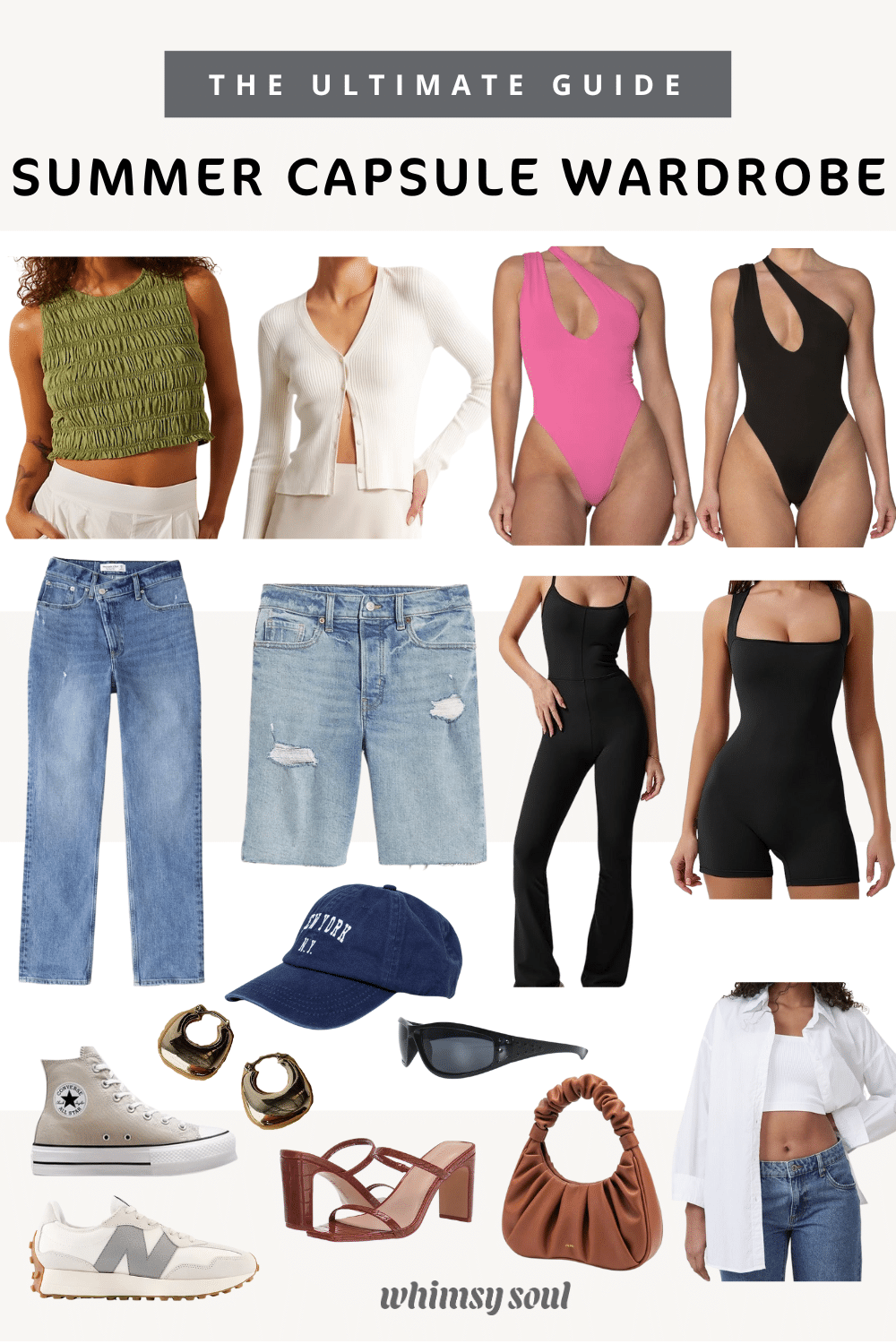 20 Summer Clothing & Accessories For The Ultimate Summer Capsule Wardrobe (Plus 10 Outfit Ideas)
It's a capsule wardrobe summer! Although there are plenty of basics on this list, I added some fun colors and semi-bold prints that are perfect for summer and can be added as a statement piece or for inspiration.
Using these 20+ pieces, I also created some quick and easy outfit ideas pictured throughout (that you can absolutely play around with) just for you to enjoy the warm weather, or even that transitional time between summer and fall.
Of course, my style choices are not for everyone, but I love how you can easily swap out an item you don't mesh with for something you feel more comfortable in or a personal piece that you already love from your own closet.
Tip: A good rule of thumb that I follow is if your pants are a bold print, stick to pairing it with a neutral or simple top and vice versa. Of course, some patterns can complement each other, so play around and see what works with one another.
If you need extra help, reading up on color theory to see which colors work best with one another or browsing our Pinterest boards should give you some ideas.
I found 20+ items that could create a pretty solid capsule wardrobe from basic tops, jeans, denim shorts, linen, shoes, and other accessories (psst, I also added swimsuits that can be worn as bodysuits!)
It might look like a lot of different pieces, but I wanted to give you plenty of options and include items that I think can be worn with each other in several different ways (be sure to look at some of the outfits that I put together for inspo!)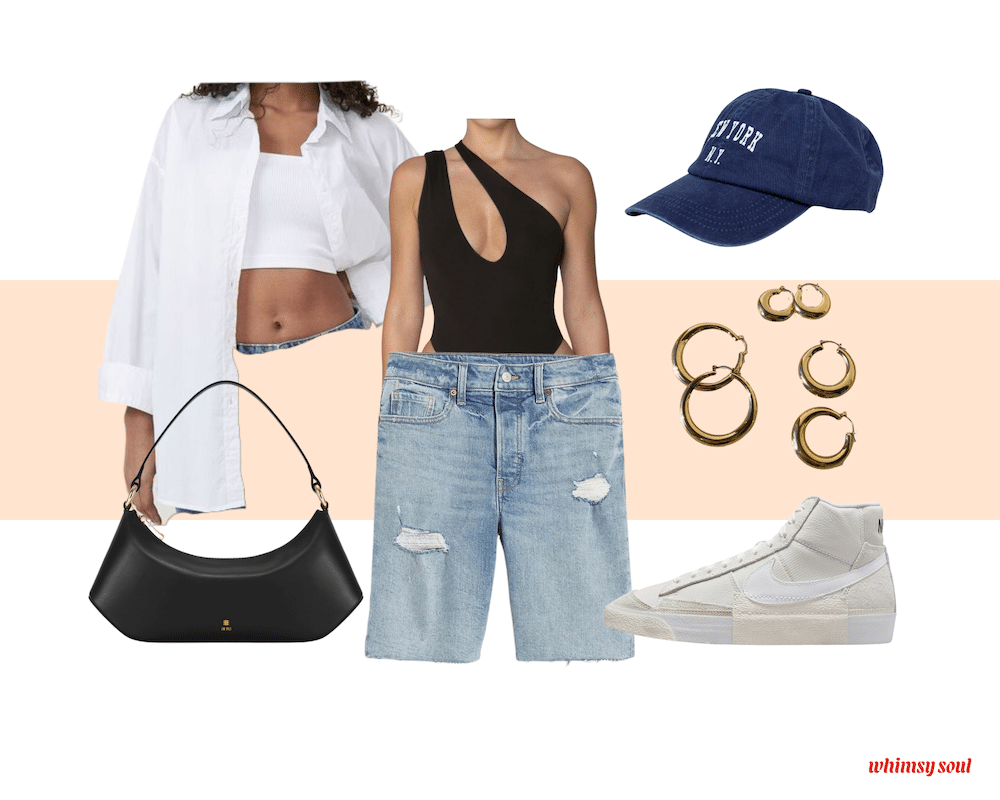 Tops For Your Summer Capsule Wardrobe
When I think of what to wear in the summer, I'm always looking for something that is lightweight (bc let's face it, being sweaty in a heavy T-shirt or tank is not the move).
For the tanks, I picked out a black cowl-neck satin cami that looks perfect tucked into some denim and is so versatile, a white linen tank with tie-up straps (I also like this style as well here), and a crochet vest tank with middle cutouts to add some texture or some fun elements to your fit.
To add a pop of color (you can absolutely play around with this), I chose a lime green ruffled tank top from Free People.
For your basics, I opted for a staple short sleeve white tee from Cotton On (made with organic cotton and they have so many colors and lengths to choose from!) which can be paired with literally anything like linen shorts or layered under a button-down shirt.
Speaking of button-downs, this breathable linen button-down (which comes in white, black, and pebble), also from Cotton On, can be layered or worn alone.
I also added two long-sleeve options and two bodysuits. A black sheer long-sleeve top with flare sleeves for a fun addition (this style is a little more on the trendy side). Lastly, a button-up cardigan to pop on during a chilly night. It can also be layered or simply worn on its own (another cute option here).
My favorite thing about these two bodysuits is not that they are from a small business, but it's that they are actually one piece swimsuits. The cutout is pretty trendy but is so flattering (if this style isn't you, they have several diff options).
Since it's still summer, you can absolutely buy this for the pool, but how cool is it that it can also be worn solely as a body suit too!?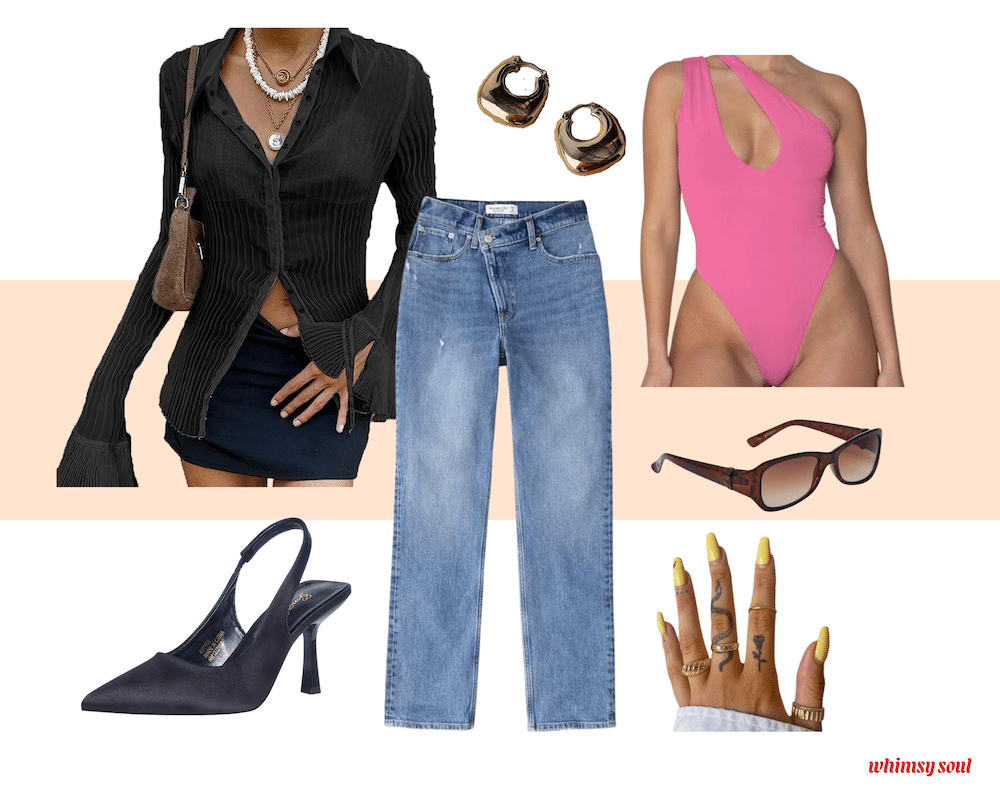 (I also have a 71+ item list of the cutest swimsuits for curvy women if you're in the market for a new suit).
My favorite picks were the white and pebble linen relaxed shirts from Cotton On, but the brand Quince is also great! Quince has so many staple wardrobe pieces and is even a sustainable and eco-friendly brand.
Our editor Taylor created a list of all her faves and her reviews on some of their pieces that you can check out here!
No one said that capsule wardrobes had to be boring, but when playing with neutrals (which can seem boring), you can always play around with the style and fabric to add your personal touch, but if you want the most outfit options, I'd stick to neutral colors when trying to build a timeless capsule wardrobe.

Dresses For Your Summer Capsule Wardrobe
Who would I be if I didn't include some dresses? I think dresses are the perfect clothing item to play around with colors and patterns and are so easy to put together an outfit with.
I included this cream seagrass mini dress with cutouts from Oak + Fort. I love the cutouts for a little peekaboo moment and the puffy sleeves for added detail. This red floral dress from Princess Polly is also perfect to make a statement. I love the flowyness of the tiered skirt and the style on the back of the dress.
These are mini dresses, but Oak + Fort has plenty of maxi dress options and you can definitely find a longer floral or midi dress from your favorite brand or shop as well. What I love about a longer dress is you can make it work for any season!
Shorts & Pants For Your Summer Capsule Wardrobe
As for denim, shorts, skirts, and linen pants, I added a variety of options that you can pair with the tops I loved.
If you haven't heard, Abercrombie & Fitch has re-emerged from the early 2000s and has begun putting out some good quality denim. Having a pair of light-washed and darker-washed denim is the perfect addition to your capsule wardrobe.
I love these criss-cross high-rise denim in a medium wash from A&F. The waistband is trendy, but not too obvious and the straight-leg pants look so good paired with boots or heels. This style also comes in a black wash as well.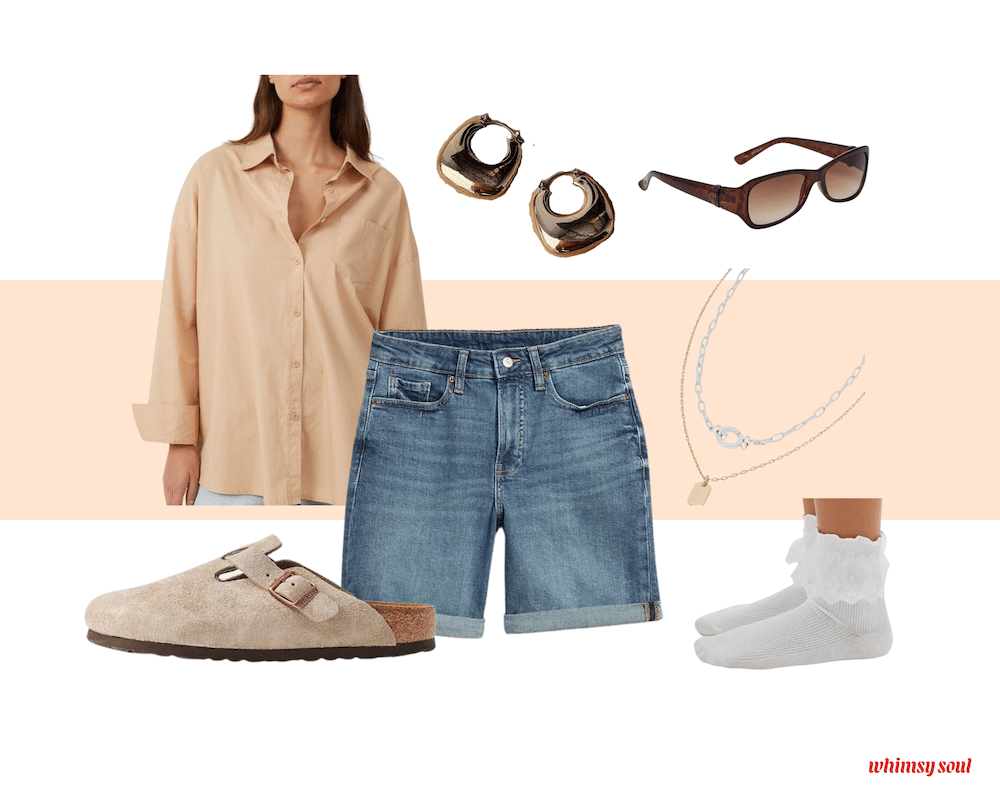 If you're not a fan of the crisscross button, these high-rise 90s straight jeans are another great option. I personally love the stone color because of its chic look (do NOT wear these to a wine tasting).
Trouser pants are a necessity for any capsule wardrobe. I included these black high-waisted linen trousers from Old Navy (also come in a beige color).
Since the weather is still a scorcher, I included some shorts as well. These distressed cut-off jean shorts are long enough to prevent chafing (so important) but are also perfect for that casual outfit. If you aren't into the distressed cut-off, these high-waisted straight shorts are timeless and are beautifully hemmed.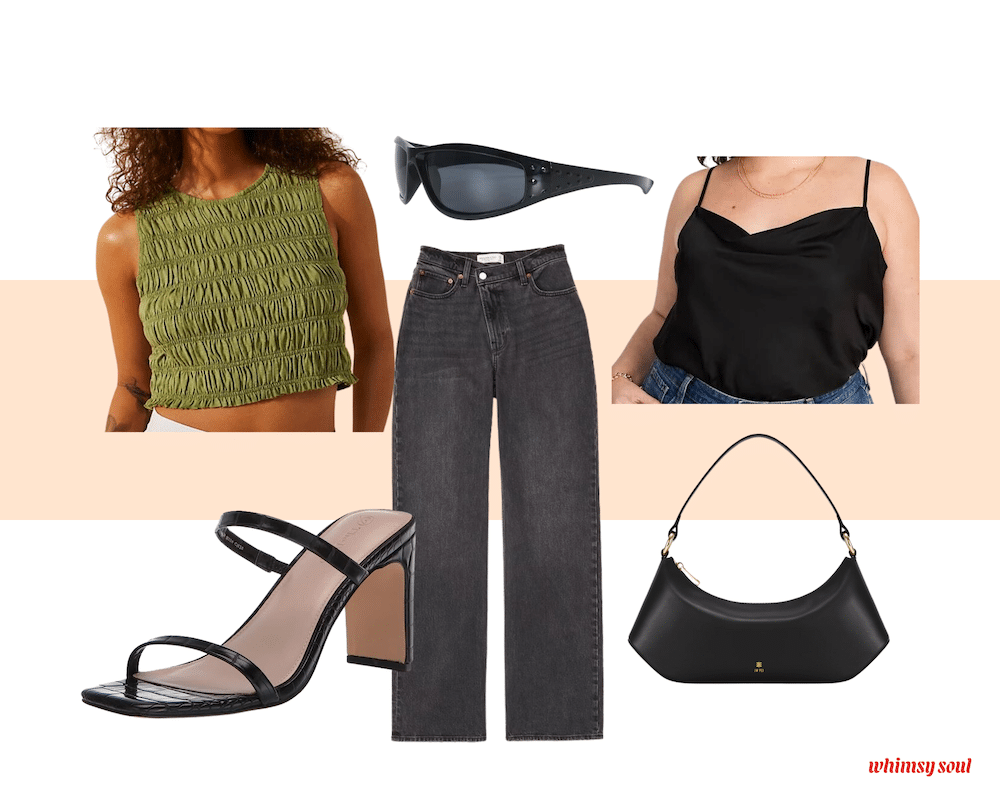 Before I end on the pants, I wanted to include some one-piece options for those days you want to put in minimal effort to get ready.
I love a good jumpsuit that is comfy, especially for running errands or even just lounging around so I added a full-length pant jumpsuit, as well as a jumpsuit romper with a square neckline that you can wear on those "low energy" days, but will still allow you to look put together.
Skirts For Your Summer Capsule Wardrobe
Long skirts are becoming a trend again, so I added some longer, non-tiered skirts to this list. Skirts (similar to dresses) are also perfect to play around with patterns and colors and are so easy to elevate or "dress down."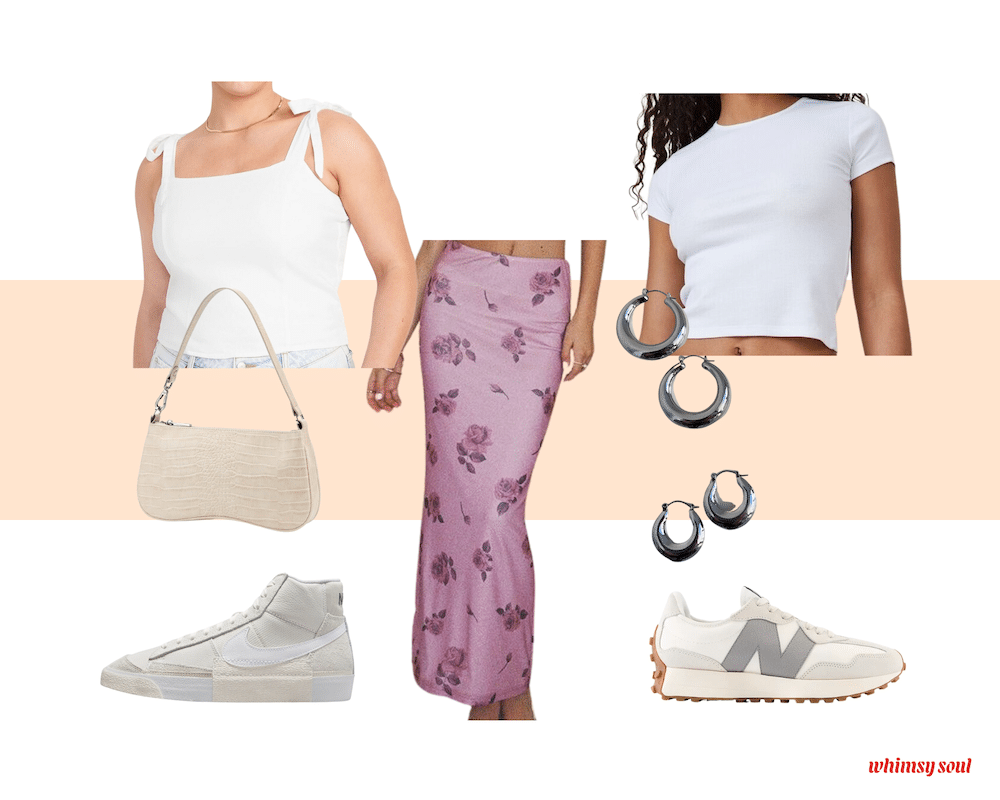 This denim white skirt with an open slit for your leg looks so good paired with a white cardigan to create a monochromatic look. Or pair it with a simple tee for a more casual look. For some color, I added this pink floral midi skirt for inspo.
Accessories For Your Summer Capsule Wardrobe
Believe it or not, accessories are the absolute game changer! They can make any outfit go from "eh" to "amazing". This is why I included some everyday accessories that can be paired with almost everything on this list.
For hats, I chose a simple baseball "dad cap" which I think can make any outfit look a little more sporty casual. I opted for one with a logo, but you can absolutely choose one with no logos or one with more print.
I really liked these brown vintage slang sunglasses from Urban Outfitters (perfect to match with some of the neutral items in your closet) and the black wrap-around sunnies. Black basically goes with anything, so you can easily pop these onto any of your outfits.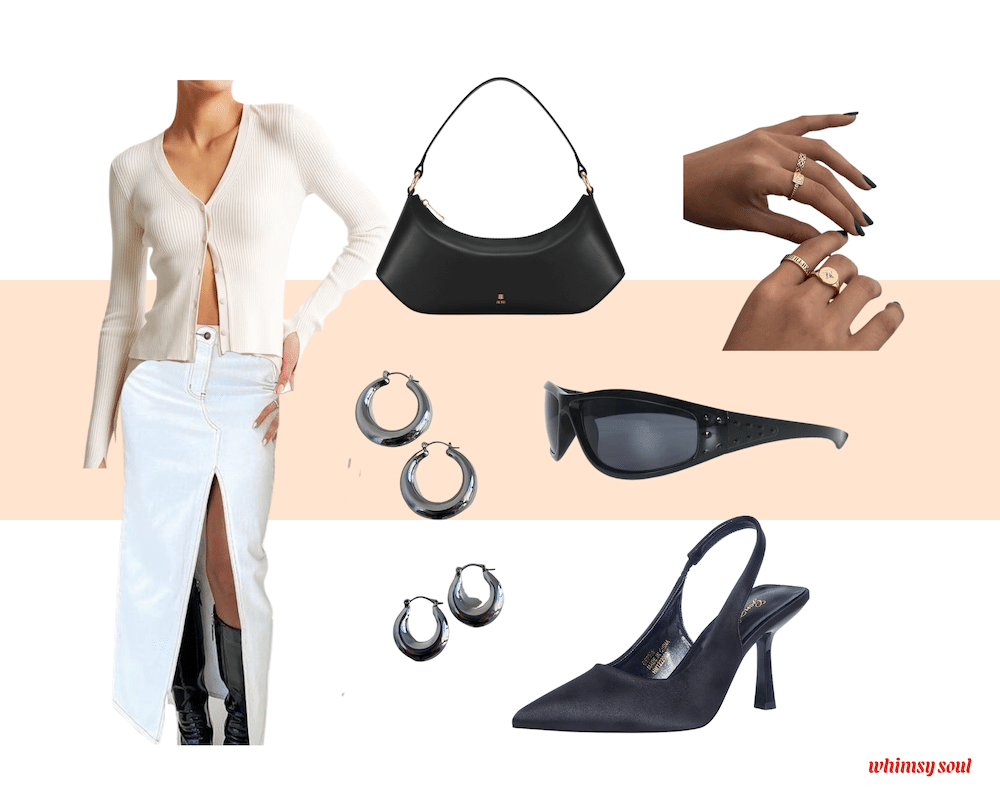 For jewelry, I wanted to keep it simple with some classic gold and silver hoops, depending on which one compliments your skin tone the best. These chunky gold earrings are also the perfect addition, something about popping on some gold earrings instantly completes any outfit.
For necklaces, I loved these layered sets from Gorjana, a woman-owned jewelry company. These layered sets are perfect if you're the type of person who loves to layer their necklaces but doesn't like the hassle of untangling them from time to time.
It comes in gold and silver options as well! If you like to wear both gold and silver, this mini layering set is perfect for that! Not to mention you can also personally engrave it.
As for rings, I included some sets for inspiration, but depending on the quality you're searching for, you can literally buy a pack of rings for a cheaper price or invest in some good quality rings from your favorite jewelry store.
This set of gold rings including this pack is a great start. I love rings because they're almost like these hidden details that people tend to gloss over, but are such a fun way to show off your taste and personality.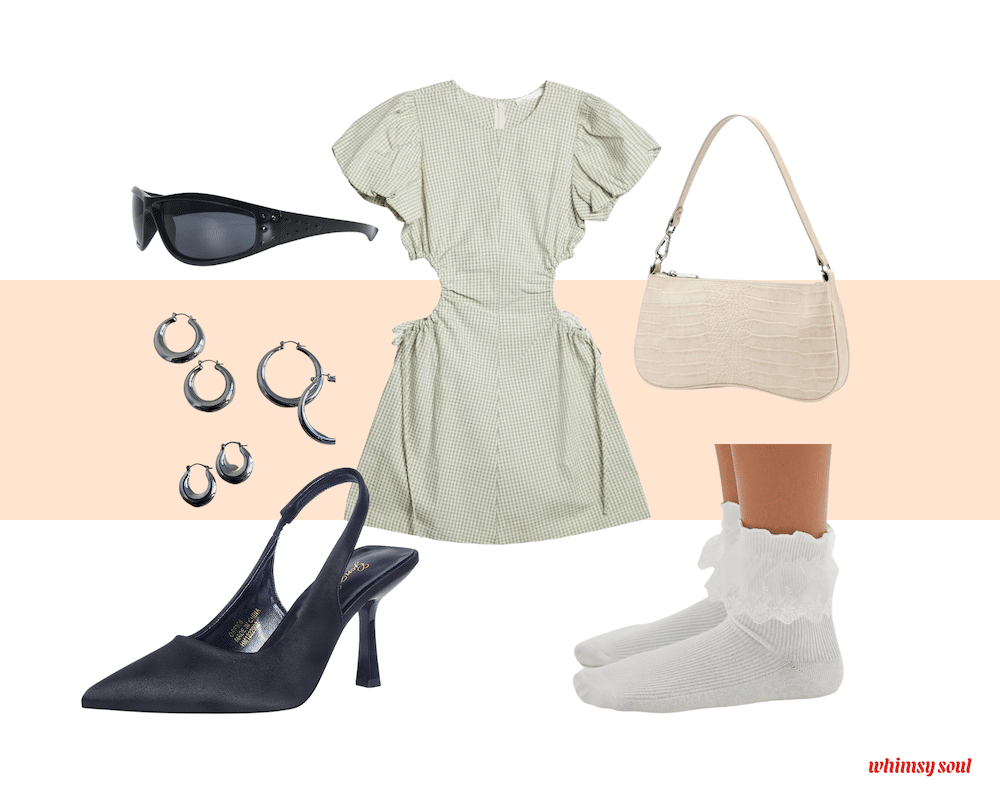 Bags & Shoes For Your Summer Capsule Wardrobe
Speaking of ways to express your personality through accessories, another amazing way to do so is through your bags or shoes! I honestly love these Birkenstock suede clogs that you can pop onto any of your casual, "running errands" outfits.
For sneakers, I included the 327 New Balances and the Nike Blazer Mid Pros, and you can't forget the classic Hightop Converse (I personally like the ones with the platform bottom for added height).
I think white sneakers and leather sandals are wardrobe staples. They can be tricky to keep clean which is why you can absolutely swap these out to add a pop of color instead!
Heels can be tricky, especially if you prefer a certain heel height over others or styles, which is why I added three different styles that I hope you'll like. For a close-toed option (the pointed toe is back in I hear), I really like these black slip-on kitten heels.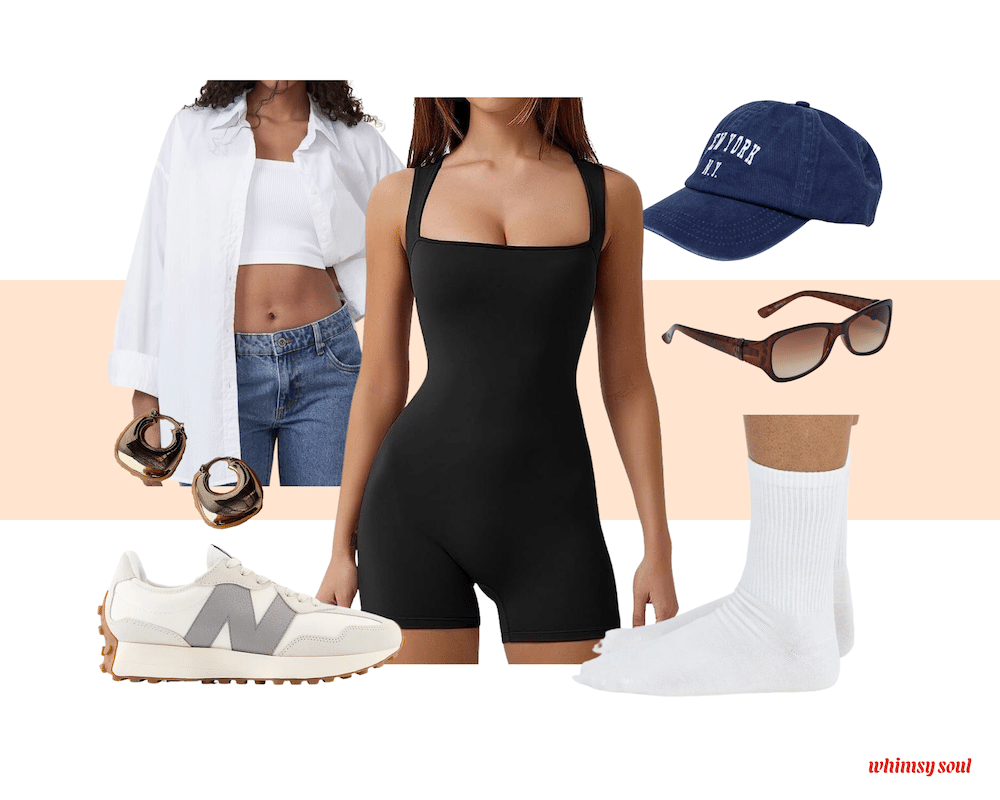 I think they look so chic and would look so good paired with some denim. For open-toe options, I really like these chunky sandals with small heels that go perfectly with dresses or skirts and these two-strap heeled sandals (these also come in so many colors) which can be great for your winery or night-on-the-town outfit.
For purses, the brand that I had some favorites from is JW Pei (who has really upped their game recently). They offer more affordable options for those in-season styles and have tons of fun color options, but they also have so many timeless pieces.
I really like this brown ruched handbag for a unique option, the ivory croc shoulder bag, and lastly the classic lily shoulder bag in black.
Whether you're hitting the beach or not, a trendy basket bag is always easy to pair with a casual capsule wardrobe 2023.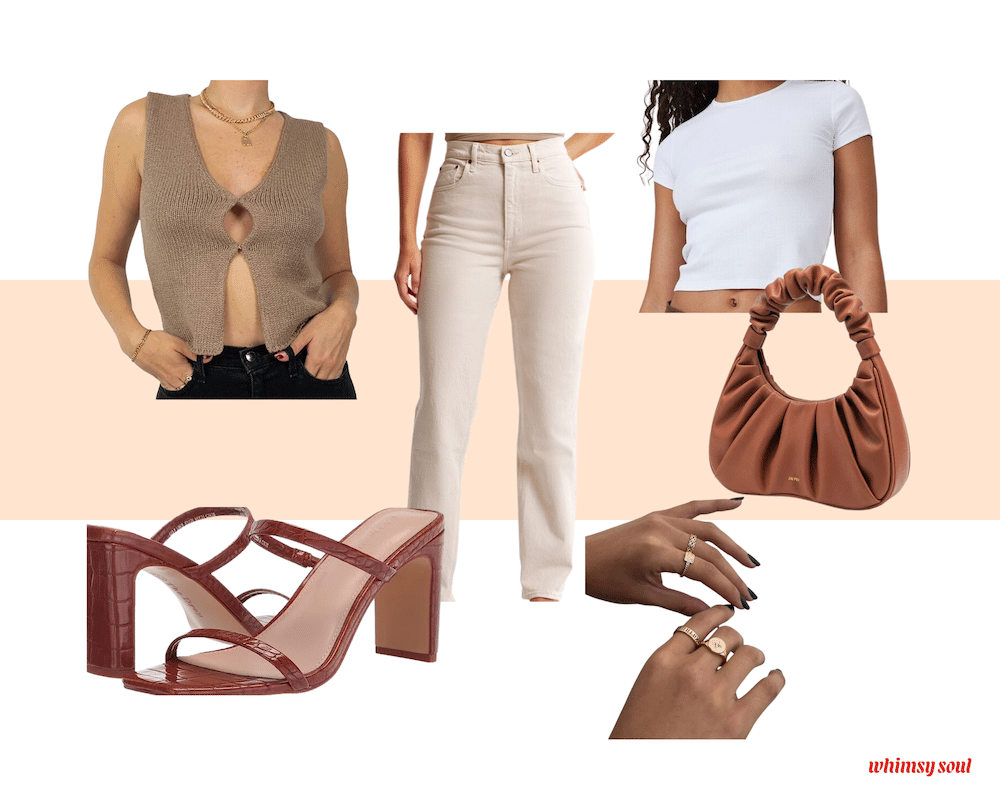 I hope this helps inspire you to get started on your very own summer capsule wardrobe or for the upcoming fall and winter months.
Or if you're just looking for inspo to add to your pre-existing one. If you're in need of more examples, Instagram, Facebook, and Pinterest are amazing places to look (don't forget to follow us!)
I would love to know what items you liked in the comments or any other tips for picking out staple clothing items!