Before autumn officially arrives, we have to recognize Virgo season! All you organized Virgos out there probably already have your Halloween decorations up and have scheduled out your entire month based on your horoscope. But what about how you're going to unwind?
If you're a Virgo, born between about August 23 and September 22, keep reading for a meticulously made Virgo cocktail that will satisfy even your critical tastes. This one goes out to Kara, Whimy Soul's very own Virgo!
What Are the Best Cocktails for a Virgo?
Never lower your standards, Virgo!
As an earth sign, you love to indulge in good food and drink. And as a Virgo, you have exacting expectations when it comes to quality and taste. Cement Mixer shots? No way! The ideal drink for you is straightforward and refined.
You're also, well, a bit of a neat freak. The drink that best suits your zodiac sign might actually be port-finished bourbon served "neat" (no other ingredients, not even ice). But we're here to make mixed drinks!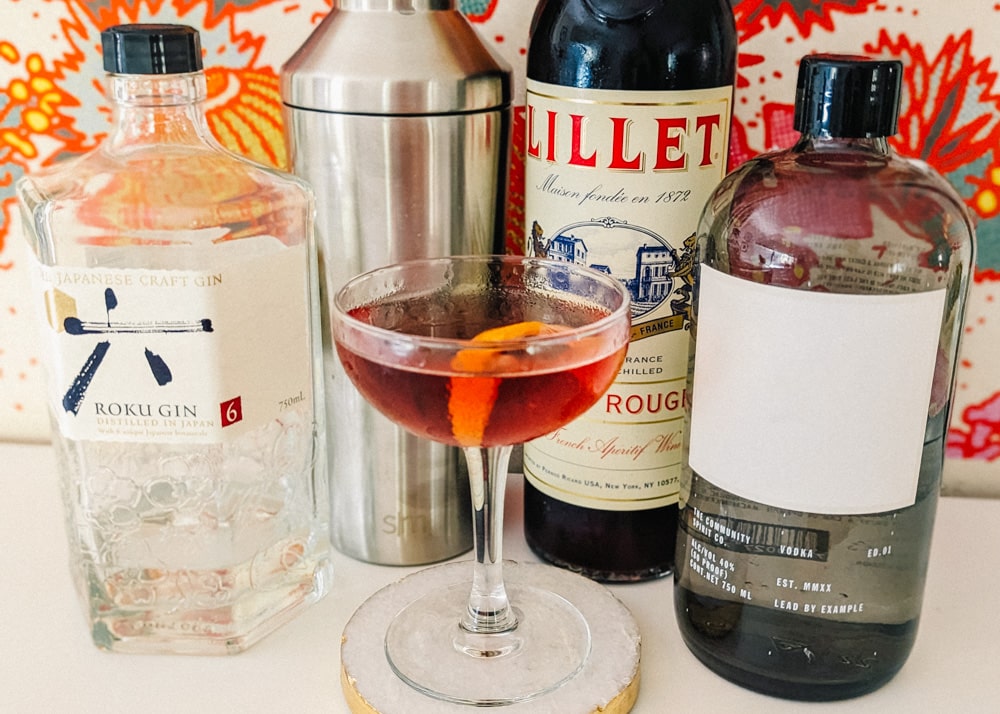 Enter the Vesper: a strong, spirit-only cocktail that's a variation on the martini. Because this drink is all alcohol, choosing high-quality liquor is key. You always want the best of the best anyway, Virgo, so you shouldn't mind splurging on top-shelf spirits for this cocktail.
The Vesper is also served ice-cold. Kind of like you, Virgo 😉 Just kidding! You may have a chilly exterior sometimes, but your helpful personality more than makes up for it. Your friends certainly won't have any complaints when you serve them this perfectly prepared cocktail.
The History of The Vesper
Plenty of famous authors are known for their drinks of choice, but not many can be credited for inventing their own cocktail recipes. Ian Fleming, the creator of James Bond, introduced the Vesper martini in his 1953 classic novel, Casino Royale. The cocktail is named for the fictional double-agent Vesper Lynd, the very first Bond Girl.
James Bond may be a Scorpio, but he sure can act like a Virgo sometimes! When Bond orders his signature drink, he tells the bartender, "A dry martini. One. Three measures of Gordon's, one of vodka, half a measure of Kina Lillet. Shake it very well until it's ice-cold, then add a large thin slice of lemon peel. Got it?"
Talk about detail-oriented, right, Virgo? But if Bond were truly a Virgo, he probably would've jumped over the bar and done the bartender's job for him (you know you can relate).
Because this drink contains four-plus ounces of liquor, it's effectively a double. As a shrewd and hard-working person yourself, you can appreciate the appeal of unwinding with a nice, strong drink like the Vesper martini.
Of course, we have to shake up this classic cocktail a bit to make it truly our own. The original recipe calls for Kina Lillet, which was a fortified white wine apéritif combined with macerated fruit liqueurs and quinine. I say "was" because Kina Lillet doesn't really exist anymore; its updated recipe cuts back on the bitter quinine and is now called Lillet Blanc.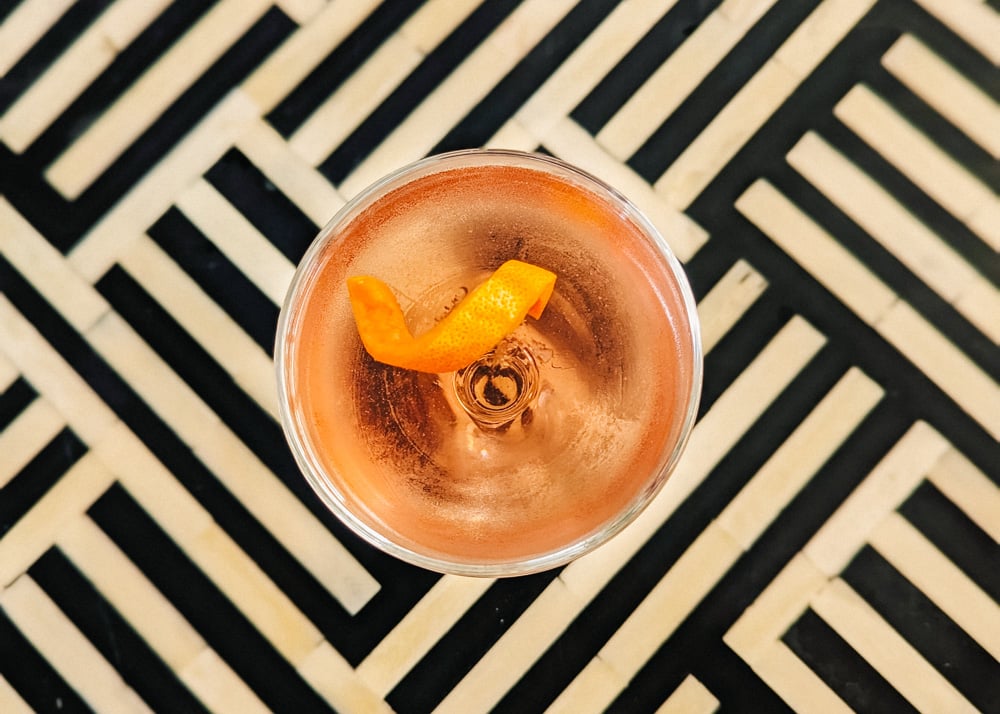 Here, we're subbing Lillet Blanc for Lillet Rouge, made with red Bourdeaux wine for richer taste and color. We're also swapping the lemon peel with pink grapefruit to complement Lillet Rouge's garnet hue, because Virgos love to coordinate.
How to Make a Virgo Cocktail
The Virgo Vesper is as elegant as it is potent, with notes of fresh orange, black pepper, and ripe, dark berries. Lightly bitter quinquina, piney gin, and crisp vodka balance out the cocktail's rich, fruity flavors.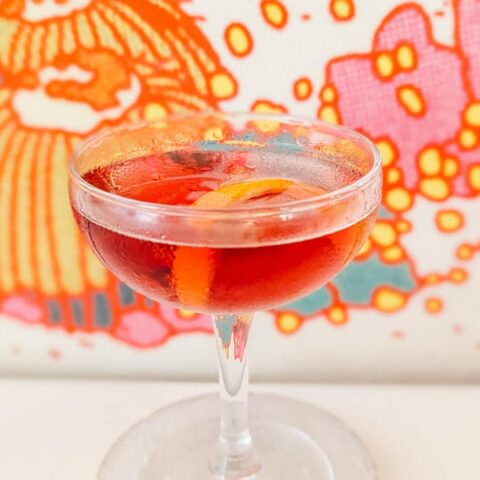 The Virgo Vesper: A Virgo Zodiac Sign Cocktail
Herbal, fruity, and delicately spiced, this spirit-forward gin and vodka martini is sure to satisfy your high standards, Virgo.
Ingredients
3 oz gin
1 oz vodka
1/2 oz Lillet Rouge apéritif 
grapefruit twist to garnish
Instructions
Combine gin, vodka, and Lillet Rouge in a cocktail shaker filled with ice.
Shake vigorously for 20-30 seconds, until ice-cold.
Strain into a chilled cocktail glass.
Express the oils from the grapefruit twist over the drink, run the twist along the rim of the glass, then drop it into the cocktail for garnish.
Notes
For a lighter, more summery take on this Virgo cocktail, substitute Lillet Rosé for Lillet Rouge.
If you'd like to keep it classic, you can sub the grapefruit for lemon or if you prefer a different take try a lime or fresh mint sprig on top for a pop of color! 
The general rule of thumb is to always stir a spirit-only cocktail, because shaking with ice dilutes the drink and makes it colder. But that's exactly what we want with the Vesper martini! Diluting and chilling this spirit-heavy cocktail helps it go down smoother. Remember what Bond would say: "Shaken, not stirred."
Also remember: Because there are no mixers, juices, or simple syrups to cut the taste of the alcohol, be sure to use good liquors that are palatable on their own.
When to Enjoy Your Virgo Cocktail
Of your friend group, you're the one who always has a plan for everything. And because Mercury rules Virgo, you're always thirsty for knowledge. You love information, education, and learning new skills, which is why you're constantly signing up for workshops, classes, online training modules, conferences…
Well, you can combine study time with social time and bring your squad to a mixology class (is Groupon still a thing?). You will impress everyone with your perfect, plush pink Vesper martini, though you're too modest to admit it. You'll secretly enjoy judging how your friends do too, don't lie.
Virgos also love to be entertained. Consider hosting a movie night with your gals to serve up your signature martinis. James Bond marathon, anyone? Sere these up in a a coupe glass to feel extra fancy!
Did you know that Gemini is ruled by Mercury too? Check out our Gemini cocktail recipe, or go here to find out WTF is up with Mercury retrograde.
You can also check out Whimsy Soul's complete guide to Astrology 101 for all the deets on houses, rising signs, moon signs, sun signs, cusps, and everything else!
No matter your zodiac sign, you'll want to follow along with our ongoing series of signature cocktail recipes for every star sign (aka our take on Zodiac cocktails!). We're welcoming the arrival of autumn and Libra season—up next!
Looking for a fall inspired cocktail? Check out The Black Flame, a spooky take on the espresso martini!