Welcome to California's Gold Country. Calaveras County holds a special place in my heart and I can't wait to help guide you to so many fun things to do in Murphys, Arnold and the surrounding area.
What makes me an expert in Calaveras County? I'm a professional travel writer and I just spent a year living in Arnold while renovating my cabin, Whimsy Homes.
I've spent a LOT of time running around the mountain finding all the best places to eat, wine taste, swim, hike and all the other hidden gems you need to know when visiting. Let's get into it!
Calaveras County At A Glance
This county is pretty large but most things happen along Hwy 4. This mountain pass will take you through the Sierra Foothills, Angels Camp, Murphys, Avery, Arnold, Doorington, Camp Connel, and up the mountain to Bear Valley Resort. (It's hard to get lost here – just find the highway and drive up or down!)
The county is on Miwok land and is known for a failed gold rush, wine tasting, stunning Giant Sequoias, beautiful caverns, alpine lakes, hiking trails, skiing and frogs. Yes, frogs.
Circa 1865 Mark Twain spent some time in the county and wrote a short story called "The Celebrated Jumping Frog of Calaveras County" You'll spot frogs everywhere, from statues on fence posts to giant sculptures welcoming you into stores. There's even a whole frog jumping contest every spring.
It's actually kind of a fun game to county how many frogs you can spot during your visit (let me know the number you land on! I've counted over 50).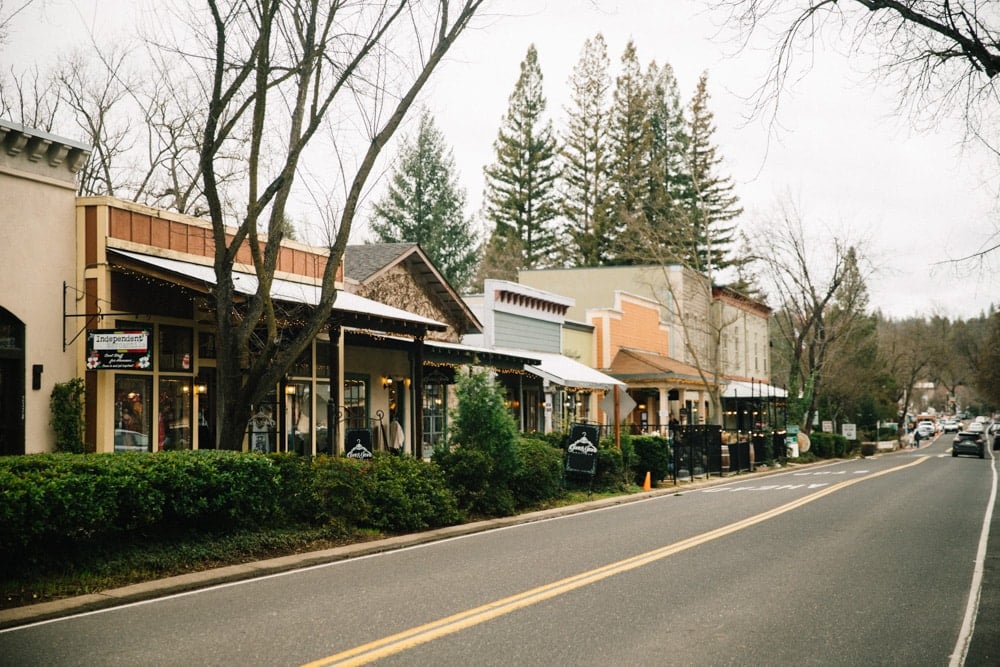 What I love about Arnold and Muprhys is it's a 4 season county. The summers are hot and perfect for alpine lake days, while the winter gets tons of snow and it's perfect for ski season and getting cozy in a cabin (my cabin perhaps? It does have a hot tub, just saying…)
So, depending on your visit, you have a lot of options of recreation and activities. Here's my favorite things to do.
Top Things To Do In Murphys & Arnold, California
Note: Hwy 4 to Ebbetts Pass will be closed at Lake Alpine in the winter but will open in the warm months. Keep that in mind when traveling!
1. Experience Giant Sequoias At Calaveras Big Trees State Park
Yes, Giant Sequoia Trees are in the Sierra Nevada Mountains outside of Yosemite National Park and Sequoia National Park! But the difference is here at Big Trees, there is a fraction of the crowds so you're never fighting other tourists for trail room.
It's seriously the best. Big Trees State Park is just a few minutes up the mountain from Arnold and is open year-round. I adore the North Grove Trail. This loop is flat and takes about 1-1.5 hours to stroll around.
Park near the visitor center and pick up a map if you want one. I recommend starting at the Big Stump and then jumping into the loop there.
There's also plenty of swimming holes along the North Fork Stanislaus River that are sometimes safe to swim in depending on the water levels. Ask a ranger first!
Kara's Fave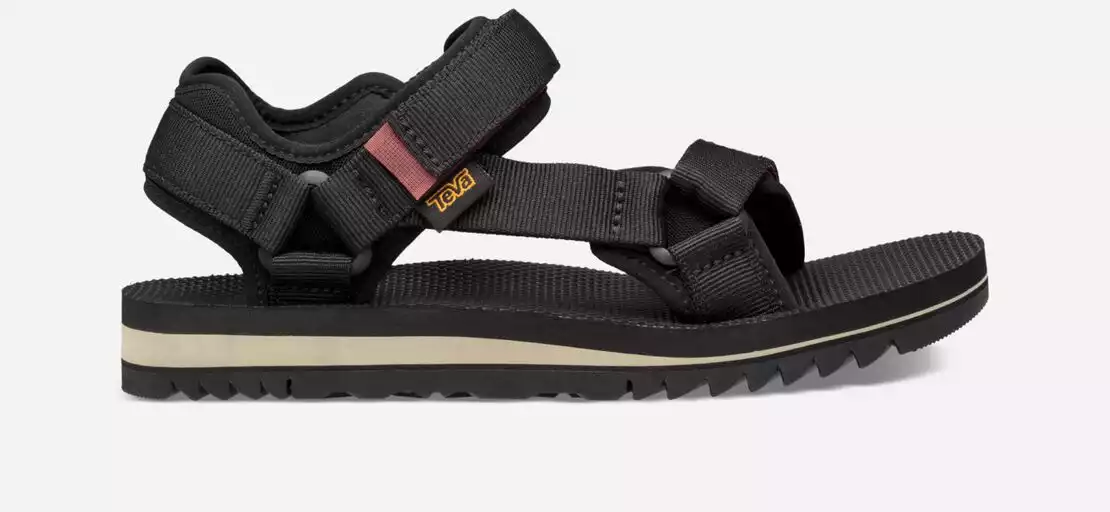 Teva Universal Trail Sandal
I adore my Teva Universal Trail sandals and wear them everywhere (from trails to cities to waterfalls since they're waterproof!) They're sturdy, comfy, non-slip and the perfect outdoor travel sandal on the market. Tip: size down when ordering.
Shop Now
My Review
There's also a South Grove Trail with more Giant Sequoias to check out. This trail is even less frequently visited so you'll probably have it all to yourself! The road to this part of the park will be closed in the winter, though.
But you can hike it on snowshoes or cross-county skis in the winter! Or, take a FREE snowshoeing tour at the Calaveras Big Trees State Park visitors center every Saturday morning when snow allows for it. They provide the snowshoes.
2. Wine Tasting Calaveras County
There's an amazing and very underrated wine scene up in Calaveras County. (I'm a WSET wine expert and adore all things wine so trust me on this!)
This used to be Gold Rush country but it majorly flopped. So, instead, folks started planting vines. This terroir produces excellent California and Spanish varietals and today there are over 30 wine tasting rooms in the county.
Most wineries don't need reservations unless it's a busy holiday weekend. Here's the notable stops:
Locke Vineyards:

Our favorite winery in the county (we're also memberrs!) They're incredibly nice and are located on a large property covered in lavender fields, sunflower fields, gardens and they even have events and classes in their barn! They make great wines, head here first.

Twisted Oak Winery:

This winery is quirky, laid back, has good views and even a few winery cats that are available to snuggle while wine tasting.

Hovey winery tasting: This tasting room is in a historic house and has a beautiful back garden!
Allegorie:

Downtown Murphys tasting room with indoor and outdoor seating. They make fantastic Rosé and – as of the last time we stopped by – do free tastings.

Lavender Ridge: This tasting room has a great little cheese shop and also sells lavender.
Ironstone Vineyards:

If you love music, check out their summer concert schedule! They sometimes get big names in to play.
Hitting a few winery tasting rooms is one of the best things to do in Arnold CA for couples who like wine! It's also fun with the girls. I have a whole article on wine tasting outfit ideas if you want inspo.
Pro-tip: There's a huge wine tasting weekend on President's Day every year, plus a Grape Stomp at harvest season!
3. Explore a Cavern
One of the most unique things to do in Arnold CA area is visit the nearby caves! There's tons of cave systems here to explore, with two companies hosting really cool tours. This is a great activity for hot hot summer days since the caves stay around 60 degrees year-round.
Moaning Caverns Adventure Park boasts the largest single cave chamber in California. They're famous for their spiral staircase that takes you down, down, DOWN over 1000 feet below surface level.
This is the tour I went on, and I loved it. The guides are very knowledgeable and make you feel very safe. Plus, this cave is insanely cool. You will want to grab reservations if you're visiting on a busy weekend but can probably get away with rolling up weekdays without one.
Moaning Caverns also offers an intense spelunking cave tour that lasts about 4 hours and takes you through narrow tunnels. My claustrophobia could never but the people on the tour when I visited looked like they had a blast, if that's your thing.
Mercer Caverns is outside of Murphys and is another cave tour company! This cave is a little smaller than Moaning Caverns, but also doesn't have that spiral staircase. If you're afraid of heights this is probably a better cave tour for you.
4. Explore Downtown Murphys
Murphys California is one of the coolest small towns in California. It's an old Gold Rush town and many of the buildings on historic Main Street are, well, historic! So it feels like you are stepping back in time.
Shopping in Murphys is fun – there's a fantastic bookstore, boutiques, jewelry stores and – my favorite – an antique shop called Dea-Bathroom Machineries. Ask to see the upstairs, it's full of vintage toilets, sinks and bathtubs for sale. SO COOL.
You also simply must stop by the Spice Tin. We always stop by to stock up on specialty spices and soup mixes, it's our favorite!
Of course, downtown is full of wine tasting rooms, restaurants, and many cute boutiques It's worth a couple of hours to stroll and explore and shop!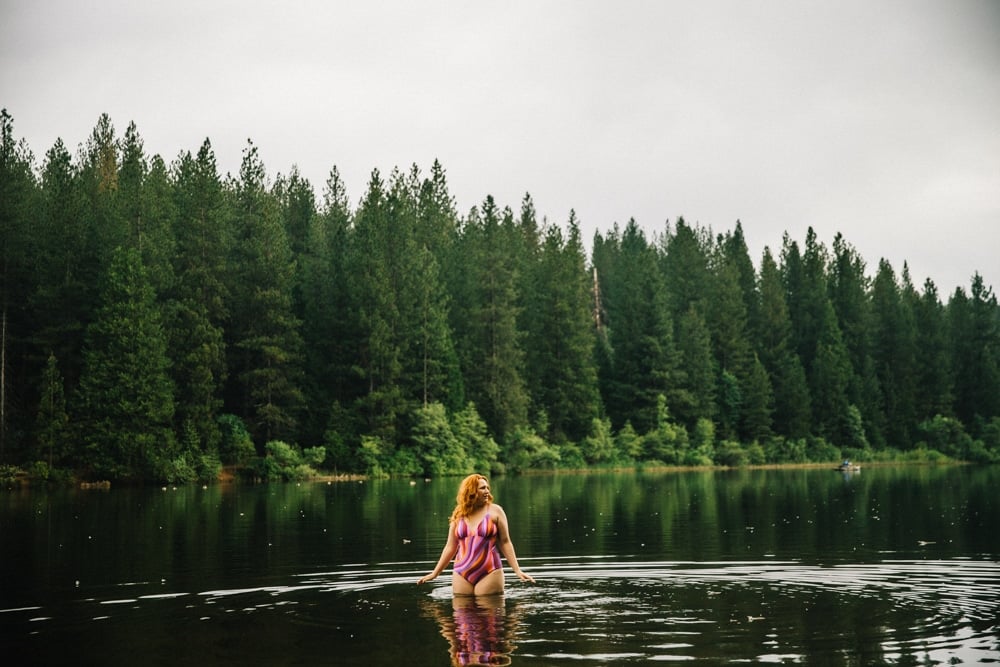 5. Swim In Alpine Lakes
One of my favorite things to do in Arnold is swim in a lake! Our cabin is right up the road from Fly-in Acres, a lake with floating platforms and it's the PERFECT way to cool off on hot summer days.
There's also White Pines Lake in town, and nearby Lake Alpine at the top of the mountain for swimming. There's something so nice about taking a dip in these lakes surrounded by mountain views and trees.
You can drink at all the lakes, and it's literally my favorite way to spend an afternoon in Arnold. We'll bring some floaties or a paddleboard, pack up the coolers and picnic blankets and head to a lake!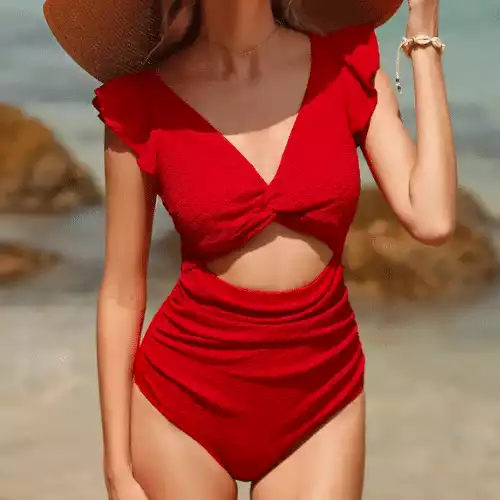 6. Hike, Bike or Ride The Arnold Rim Trail
This 35 mile hiking trail through the Stanislaus National Forest is made for hikers, mountain bikers and equestrians! There's plently of smaller loops and entry points, so don't feel like you have to commit to all 35 miles in one go.
On the Arnold Rim Trail, discover breathtaking vistas with panoramic views stretching from Mt. Diablo in the East Bay Area to snowy Mt. Lyell on the high eastern slopes of the Sierras near Yosemite, then head down into canyons with streams running through the shade of older growth forests.
A popular hiking trail is up to Cougar Rock at sunset, since the views are *chef kiss*. You can learn more about the trail on their website!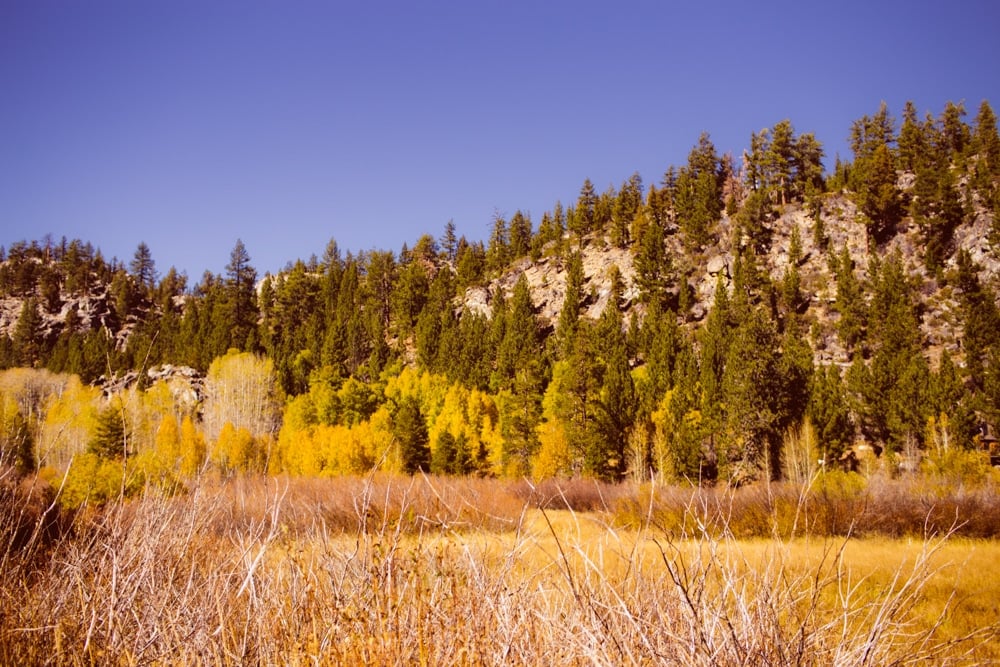 7. Drive the Ebbetts Pass National Scenic Byway
I'm a sucker for the Sierra Nevada Mountain Range. I'm endlessly captivated by the drier Eastern slopes and the lush, green Western slopes. In autumn it's a sea of orange and yellow as the aspens pop off with colors.
In the summer, green pines and blue skies against the Sierra Nevada Mountain range. An Ebbetss Pass drive makes such a fun day activity. Stop by Bear Valley Resort and Lake Alpine on your drive!
8. Go Boating
Beyond lakes that are perfect for swimming and paddleboarding, you can find many boating lakes in Calaveras County! Lake Tulloch, Glory Hole Recreation Area at New Melones Lake, New Hogan Lake and Spicer Meadow Reservoir all allow motor boating and have boat docks!
9. Bear Valley Resort
Yes, we have a ski resort!! Bear Valley Ski Resort is at the top of Hwy 4 and almost feels like a hidden gem in California as it often gets overlooked for Lake Tahoe.
But it has over 75 trails with all levels and a fantastic kids ski patrol program. While renovating our cabin, I kept thinking winter was slow season until we drove up to the resort one day and realized all the locals were hitting the slopes!!
Even if you don't ski (I don't), in the winter head to the resort and grab a drink or hot chocolate at the ski resort bar. They have an outdoor patio with firepits and it overlooks the mountain. SO pretty.
In the summer, they have a summer concert series you can check out.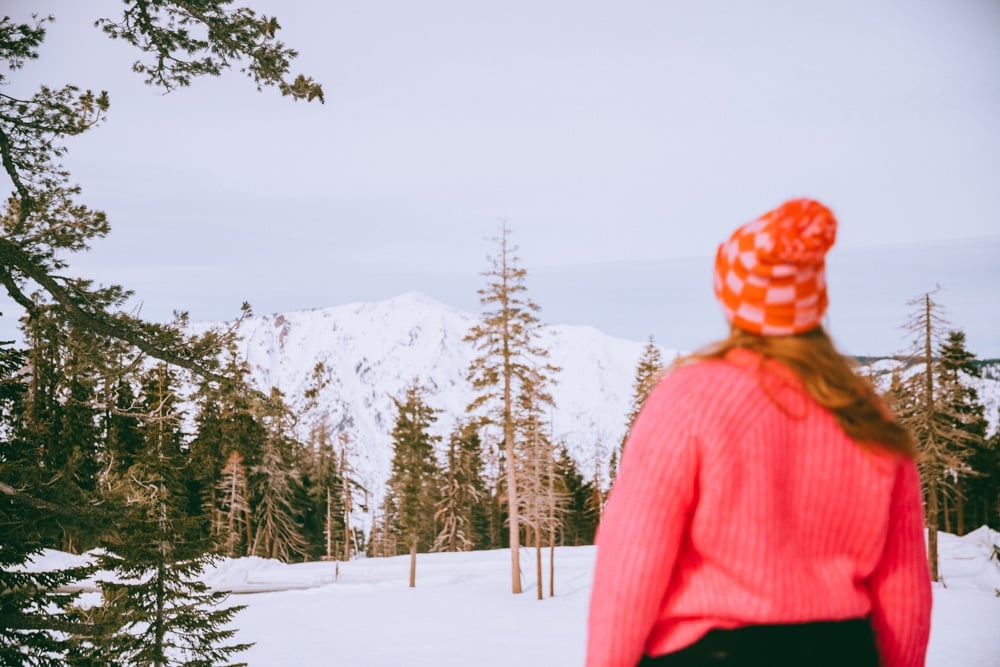 10. Snow Play Areas
Grab your sleds (or, if you're staying at my cabin, we provide some for guests!) and head out to one of the many Snow Play areas in Calaveras! Most are free, some are in parks that have an entry fee.
But any given day in the winter between Arnold and Bear Valley you can spot many snow play areas and folks sliding down hills. It's such a great thing to do with kids or kids at heart, like myself.
11. Historical Logging Museum
If you love local history, head to the Sierra Nevada Logging Museum right on White Pines Lake in Arnold. You can't miss it, there's a large train outside for display and tons of education on the inside detailing the history of logging, gold rush and more.
If it's pouring rain or really hot outside, this is a great thing to do in Arnold to escape the weather elements.
12. Day Trip To Columbia
Just outside Calaveras county is the Columbia State Historic Park! It was founded as a boomtown in 1850 when gold was found during the California Gold Rush, and was known as the "Gem of the Southern Mines."
These days, it retains the look and feel of the gold rush times and is filled with museums, a saloon, shops, and events happening all the time. Seriously – there's ghost tours, holiday parades, autumn festivals and more!
There is also the historic San Andreas town, Angels Camp Museum, and Mokelumne Hill but I personally think it's lacking in tourist activities compared to the other towns and it's a bit of a drive out of the way so I wouldn't prioritize it.
13. Swim In A Cave
Outside Vallecito is the stunning Natural Bridges Cave swimming hole! This is one of my favorite swim holes in all of California since you get to swim IN A CAVE!!!
The river runs through the lenght of the cave so you can access it from either side. It's best to bring a floatie and float from one end to the other, but it's not needed. On a hot summer day, this is a wonderful place to cool off under the stalactites.
Note: parking is limited there so it's best to arrive early, especially on a weekend. And wear sturdy shoes like Tevas!
14. Calaveras County Fair & Jumping Frog Jubilee
Yes, they're actually a frog jumping contest. For real. It's a huge thing here in Calaveras County. People spend all year capturing and training frogs just for this day.
Anyone can compete in the Jumping Frog Jubilee, but it's usually the intense pros who win. I haven't been able to attend (yet) but you can watch a whole episode about this contest on Watch We Are the Champions via Netflix!
Best Places To Eat In Calaveras County
There are a LOT more restaurants in Murphys compared to the other towns in the county but you can find gems all over. There's some great food spots to check out:
Pablito's Basecamp Taco Truck: A year-round taco truck in downtown Murphys with outdoor seating. It's a local favorite spot, and while everything they serve is great, we LOVE their burritos.
The Lube Room Saloon: one of my favorite things to do near Calaveras Big Trees park is end the day with happy hour and music at the historic Lube Room!It' an eclectic historic bar and pub with backyard music and lawn games in the summer.
They have fantastic burgers and great beer and cocktail options. The kitchen is very small, which means on busy evenings, the wait for food can be long. We recommend heading there on the earlier side on weekends or for lunch!
Gold Country Roasters: They roast their own beans so their coffee is fantastic, plus they have basic pastries and cookies.
Hinterhaus Distillery: We love this spot for a happy hour drink or flight tasting! Note: They are a distillery, not a bar, so they are only licensed to serve one drink per customer per visit. But they make some dang good cocktails. You can also purchase bottles to bring home or to the cabin.
The Mystic Saloon: It's like Halloween year-round here. They have good cocktails and beer options (and a sister bar in Oakland!). They're dog-friendly and have indoor/outdoor seating; it's a fun place for happy hour. They sometimes have live music on weekends so check their schedule.
The Pourhouse: A local taproom with tons of outdoor seating and movie nights in the summer!
The Red Apple: If it's autumn (or you're just craving fall goodies) this is the place! They have fresh apples, cider, donuts, mixes, and pies. We love visiting in the mornings to pick up donuts and cider.
Bistro Espresso: Breakfast, lunch, and dinner. They have really really good coffee flavors (our current fave is their cheesecake latte). The Bistro also does summer music in the back patio some nights, usually on Taco Tuesdays starting around 5:30 pm. Also check out the Bistro Ice Cream next door at the Bistro Creamery!
Sarafinas Italian Kitchen: If you're craving Italian, this is the spot! They have tasty pasta and are the most popular dinner spot in town (i.e., make reservations or get there on the earlier side for quicker seating!).
The Watering Hole: If you love beer, you need to visit this taproom right by the creak. They have a huge beer menu including taps and cans. Their food is also some of the best in the county—it's all fresh and locally sourced, and the menu is constantly changing (though you can expect things like kimchi cheesesteaks, salmon burgers, and ribs).
Big Trees Market Deli: They make dang good sandwiches, perfect for packed lunches on busy days exploring. They start at $6.99.
P.S. The brats at the Deli are fantastic, like seriously the best. We love their Swiss cheese and mushroom brats the most.
Lemon Tree Bakery: Located in downtown Angles Camp, this cute bakery has tasty smoothies, coffee and toasts for breakfast!
Where To Stay In Calaveras County
The county is light on hotels and resorts, which is why most people rent cabins!
Whimsy Homes Cabin in Arnold
If you're visiting Murphys or Arnold area, come stay at my very own cabin rental!! We built Whimsy Homes Tree Castle cabin for visitors who are fellow travelers and packed so much love, color and luxury amenities into this place.
We have a nordic cedar hot tub out back, sustainable furniture that's brand new, a fancy espresso machine, full kitchen, kids' toys, and are dog friendly! We can sleep up to 9 and it's such a fun place for a girls trip, family weekend or getaway with your boo. Book it now!
Camping At Big Trees State Park
If you're visiting in the summer, camping inside Calaveras Big Trees State Park is SUCH A cool experience. There's not many places in California where you can camp under giant sequoia trees.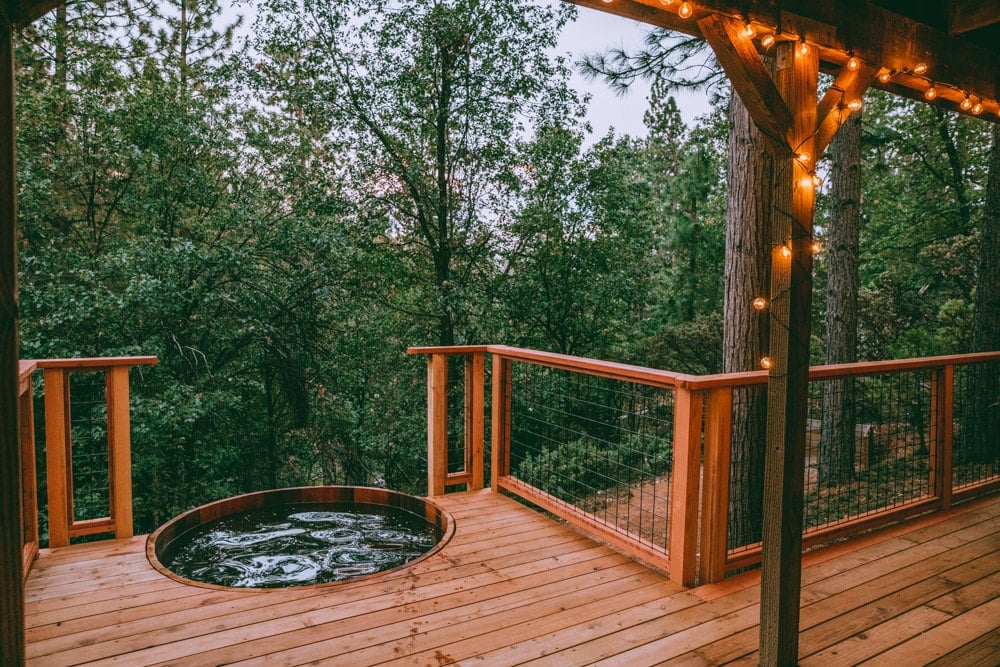 Top Events In Murphys CA & Arnold You Can't Miss
Presidents' Day Wine Weekend: Every Presidents' Day Weekend, around 22 wineries in Murphys gather to hold a large wine festival with tastings, booths, food, and events. It costs $25.
Murphys Irish Days: The biggest party of the year! Every 3rd Saturday in March, downtown Murphys turns into a giant Irish-themed festival with tons of artisan booths, food trucks, beer, live music, and events. Wear comfy shoes and sunscreen, and bring cash for drinks.
Fourth of July Fireworks & Parade: The Saturday closest to July 4th is the annual Arnold Independence Day Parade downtown with floats, candy, and music. There are many local parks and vineyards that host fireworks at night. For a casual atmosphere, head down to Murphys and the Murphys Historical Hotel. They'll have free live music playing on the back patio, and at night, will set off fireworks in the parking lot.
Independence Hall Flea Market: Every August is the famous Independence Hall Flea Market in Arnold. The town waits all year for this since it's full of treasures for very good prices. From mid-century modern furniture to snow gear to clothes, come early on the first day to snag goodies. Bring cash, there are no ATMs on-site.
Bear Valley Music Festival: Bear Valley hosts a music festival that lasts a couple of weeks through July and August. They have a selection of classical, rock, blues, and country. You can learn more on their website.
Arnold Library Book Sale: Usually on Labor Day each year, the local library has a huge book sale where you can grab books for $1 or less. If you're a book lover like we are, this is THE sale to hit up!
Grape Stomp: The first Saturday of every October is the annual Grape Stope at the Murphys Community Park. Just as the name suggests, you can compete in a Stomp Team to stomp grapes in barrels, or just watch the fun from the sidelines. There's also wine, food, and music.
Murphy's Holiday Open House: The first Friday of every December, downtown Murphys closes off to cars for a Christmas street fair. It's decked out lights, fire pits are installed and it's full of holiday magic.
To help you plan your activities during your vacation, I've broken down all the best things to do in Calaveras County for each season in a quick list!
Best Things To Do In Summer
Boat or swim in alpine lakes or swimming holes
Fourth of July parade + fireworks at the Murphys Historic Hotel on Main Street
Hike around Calaveras Big Trees State Park (only in mornings when cooler)
Movie nights under the stars
Wine tasting
Backyard music at various restaurants and bars
Best Things To Do In Fall
Grape stomp event at the Murphys Community Park
Apple cider donuts at Red Apple
Hike in cooler weather at Big Trees State Park
Merced Caverns
Best Things To Do In Winter
Hit the slopes at Bear Valley Resort
Murphys' Holiday Open House days downtown
Snow play areas
Snowshoe Big Trees State Park
President's Day Wine Weekend
Best Things To Do In Spring
Hit the slopes before summer!
Murphy's Irish Days
Calaveras County Fair
Wine taste
Moaning Caverns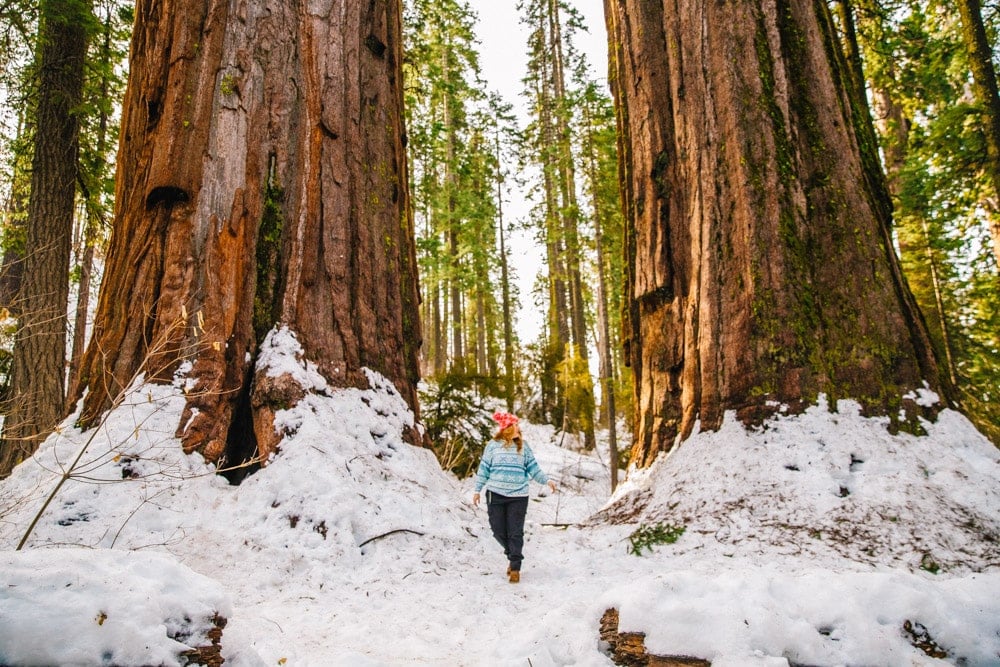 Top Things To Do In Arnold Area
Hike Calaveras Big Trees State Park
Swim in White Pines Lake or Fly-in Acres
Backyard music & taco Tuesdays at the Bistro
Happy hour at the Lube Room (Doorington)
Hike The Arnold Rim Trail
Top Things To Do In Downtown Murphys
Shop at cute, local boutiques
Go wine tasting
Dine at the Watering Hole
Attend an event (Irish Days, July 4 fireworks, etc)
Top Things To Do In Angels Camp Area
Explore Angles Camp Museum
Wander the historic downtown
Eat at Pocked Porch Cafe or the Lemon Tree Bakery
Moaning Caverns Adventure Park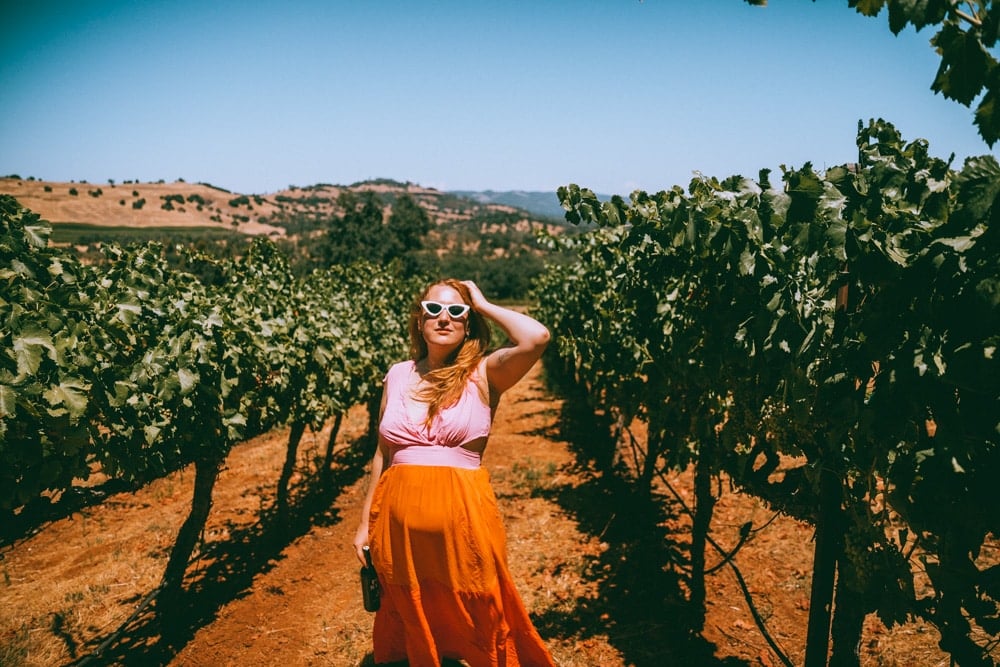 I hope this gives you tons of ideas of fun things to do in one of my favorite places in California!! And, honestly, the whole United States.
Drop a comment or send me a DM @whimsy_homes if you have any questions!