As a lifestyle blogger in her 30's, I'm constantly trying out skincare products for my readers. I bought some Three Ships clean beauty products to test out, put them in my pink locker and immediately forgot about them.
And then, a couple of months ago while cleaning, I pulled them out, started using the Dew Drops and was floored by the results. I've tried many, many a serum with hyaluronic acid and vitamin c but this stuff is just… different. It's *hair flip* not like other girls.
Let me tell you why I love the Three Ships Beauty Dew Drops Mushroom Hyaluronic Acid + Vitamin C Serum (Dew Drops for short, because that's a mouthful) and how I use these mushroom acid drops to get a flawless glowy look for summer.
Three Ships Beauty At A Glance
Three Ships skincare has probably one of the most humble, inspiring origin stories out there. Connie Lo and Laura Burget were both in their early 20's in 2017 and pooled $4000 to start Three Ships in their kitchen to make a plant based skincare brand built on transparency.
Five years later, Three Ships cruelty free products are sold in over 1,000 stores across North America including Whole Foods, Hudson's Bay and Target (where I discovered the brand.) You can also shop them online directly or at Credo, which is a fantastic hub for finding clean beauty brands.
I grabbed myself:
Shop Thee Ships

First Impressions On Three Ships Skincare Products
I started with the lip scrub kit and toner first. I've been back on a kick of lipsticks so I've been extra focused on lip care. I find the lip scrub to be moist and hydrating, but nothing out-of-the-world type of unique. The buttercream is super hydrating but I also have like a million chapsticks so this wasn't something I exactly needed.
The toner smells really nice and isn't as shocking to my skin as straight Witch Hazel can be, so I liked that. They also have the Awake Rose Hydrosol Toner which sounds nice. But when it came to the dew drops?
I'll be honest – I was hesitant to use the Mushroom Dew Drops in the first place. I've been burned bad in the past by super strong hyaluronic acid serums which are supposed to be good for all skin types but actually aren't. Sometimes I've been at fault and used too many vitamin C things at once.
I have eczema and got a lot of flare-ups as a child. I've mostly grown of out rashes (thankfully) but that means my skin is a bit more sensitive than the average gal so I have to be careful when testing new products. When it came to testing the Dew Drops Hyaluronic based serum, I proceeded lightly. Especially since Three Ships is still a relatively new brand that I haven't heard about and couldn't find much online.
And within a few days immediately started kicking myself for not using my Dew Drops bottle sooner. I quickly noticed my skin changing. It looks brighter, healthier and smoother within a few days. I honestly don't think I've ever found a skincare product that delivers results so dang fast.
Three Ships Dew Drops How To Use For Glowy Skin
I use the Three Ships Dew Drops Mushroom serum as part of my evening skincare routine. I love my YesTo cucumbers face wipes to remove makeup, and then will apply the dew drops after before laying on other night creams or hydrosols (I adore evanhealy hydrosoul!) I wake up with dewy, moist skin perfect for summer.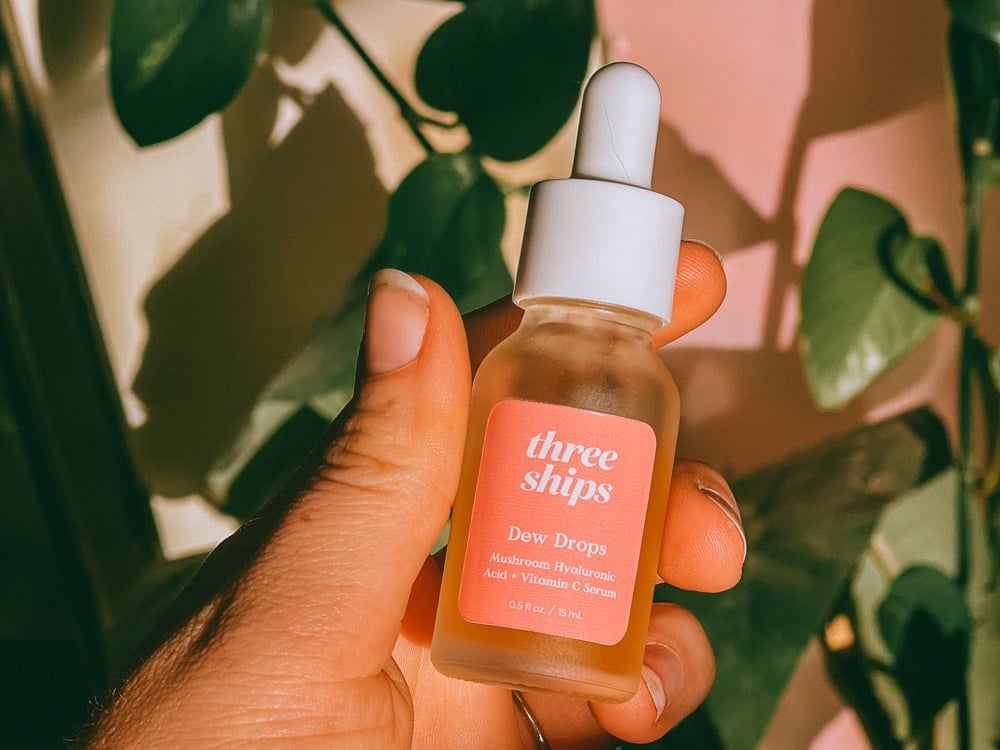 Hyaluronic acid replenishes moisture deep in the skin to create a natural plump, smooth and glowy look in the skin. It works differently than retinol and tretinoin (like is in the Hers acne cream I sometimes use) by hydrating the skin, reducing wrinkles and healing wounds faster. Retinol works to speed up skin cell turnover.
You should actually use your favorite retinol and the Dew Drops together as they work as a team to create *chef kiss* flawless skin. A favorite higher-end retinol I love is the one from Drunk Elephant, but Versed Beauty makes a nice one for under $20.
Three Ships Dew Drops Ingredients:
The main skin care ingredients working to make glowy magic is Hyaluronic Acid and Vitamin C Serum along with Tremella Mushrooms and Red Algae Extract. Here's the full breakdown:
water/aqua, pentylene glycol, tremella fuciformis ( tremella mushroom ) polysaccharide, terminalia ferdinandiana ( kakadu plum ) fruit extract, aloe barbadensis ( aloe vera ) leaf juice, cocos nucifera (coconut) fruit juice, kappaphycus alvarezii ( red algae extract ), caesalpinia spinosa (tara) fruit extract, sodium levulinate, sodium anisate, vitis vinifera (grape) fruit cell extract, glycerin, picea mariana (black spruce) bark extract, acer rubrum (red maple) bark extract, pinus banksiana (jack pine) bark extract, betula alleghaniensis (yellow birch) bark extract, salvia miltiorrhiza (red sage) root extract, butylene glycol, eucalyptus globulus (eucalyptus) leaf oil, citrus aurantium dulcis (orange) peel oil
Is Three Ships Mushroom Dew Drops Worth It?
OMG yes! You need to add these to your skincare routine ASAP. Shop them now.
Where To Shop Three Ships Beauty
Have your own Three Ships reviews to add? I'd love to hear how you're using their products and if there's anything from their lineup that I need to try next. Maybe the Grape Stem Cell day cream or one of their amino acid cleansers? tell me below!