"In the name of the moon, I'll punish you!"
One of my besties loves Sailor Moon. Like, LOVESSSS Sailor Moon. So, when it came time to throw her a surprise 30th birthday party (2 years late thanks to the panny) we knew it had to be themed around the Sailor Guardians. And as the resident cocktail junkie of the group, I crafted this sweet and fizzy Sailor Moon cocktail recipe that's easy but packs some fun magical (and solar) twists.
Sailor Moon Refresher, Please?
As a 90's kid, I remember watching Sailor Moon on tv (like, 4 channels and running to the bathroom between commercial breaks kind of tv). I gander you saw some episodes too, but may need a refresh.
Sailor Moon started as a manga but was turned into a 90's Japanese Anime tv show. It's all about Usagi Tsukino (or, Serena Tsukino in the original English dub) who is a teenage girl who gets the ability to transform herself into the Guardian of Love and Justice (aka, Sailor Moon). With the help of her sidekick cat Luna, she protects her friends, family, and world against evil forces.
There's other members of the Sailor Guardians all based around colors and astrology signs (Sailor Mars, Sailor Jupiter, etc) each one with different strengths and personalities. Oh, and Tuxedo Mask is the heart throb lead. At the time of writing this article, the show is available on Hulu if you wanted to catch up.
Inspiration For This Sailor Moon Cocktail
Crafting superhero-inspired or anime cocktails are fun, and in my opinion, offers a chance to throw in some subtle elements that fans will appreciate.
For instance, our Bourbon'd By Glorious Purpose Loki cocktail not only has a punny name fans will recognize as a play on a quote, but it uses gold brewery glitter to add an extra magical Asgard touch.
For Sailor Moon, I was inspired by both the astrology and solar aspect of the show along with how the main characters transform themselves from regular kids to super star-powered heroines. So I knew I had to do something with Empress Gin.
Empress Gin is special since it uses butterfly pea powder, which is activated by acid. When you mix the purple/indigo gin with lemon, tonic water, lime juice, etc it'll turns a nice shade of pink. It's a fun little party trick and since I was bringing this recipe to a party, I knew it would hit the spot.
But I didn't want to stop there. Sailor Moon is Japanese and we all know the Japanese culture is whimsical, creative and slightly over the top but in all the best ways. To make this drink extra special and even more on theme, it uses brew glitter and is topped with cotton candy and a little moon cake topper for that ~wow~ factor.
I wanted to find different colored cotton candy (blue, pink, red, etc) each to represent one of the girls in the Sailor Guardians but alas, I could only find one brand stocked in my store, so I pivoted and made this more inspired by Luna. Regardless, I think the cotton candy looks a little like a cloud – something you find in the sky, just like you find stars and the moon in the sky.
Oh, and when the cotton candy touches the drink it instantly melts for an additional interactive element. Plus, this is where you get the sugar for the recipe from.
Making The Luna Fizz: A Sailor Moon Inspired Drink
To make this Sailor Moon drink recipe, start by adding lemon juice and the Yuzu Sake to a cocktail shaker with ice. Shake well and strain over ice cubes in your glass.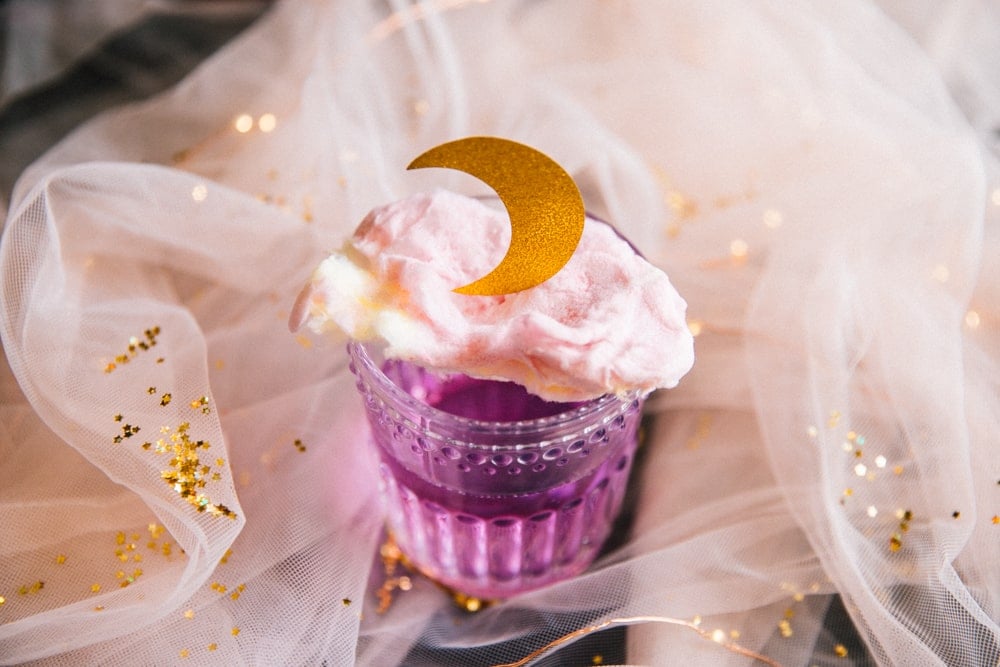 Then, slowly pour the Empress Gin into the glass and stir. You'll watch the color turn clear to pink to represent how our heroine turns from Usagi the kid to Sailor Moon the heroine. Then, add a bit of Lime & Yuzu tonic water to taste and a dash of lavender bitters. You can use tonic water to make the drink stronger or lighter.
Since I was making this cocktail for a party full of 30-year-olds whose alcohol tolerance is NOT the same as it used to be, and there would also be wine and beer served, I knew none of us wanted super-strong drinks that would put us on our butt by 9pm. Tonic water is great to help water down a drink without losing too much flavor.
So, don't be afraid to tweak the ratio of tonic water to help you out (hey, fellow millennial here. I GET IT). Optional at this part to add in a pinch of the gold brewery glitter for a fun shimmery look to the drink! It's flavorless and a little goes a long way.
Last it's time to garnish the drink with cotton candy. Make sure the chunk is large enough it can sit on top of the glass and not touch the liquid until the drinker is ready to mix it all in. Lightly place a moon cake topper on top of the cotton candy and serve!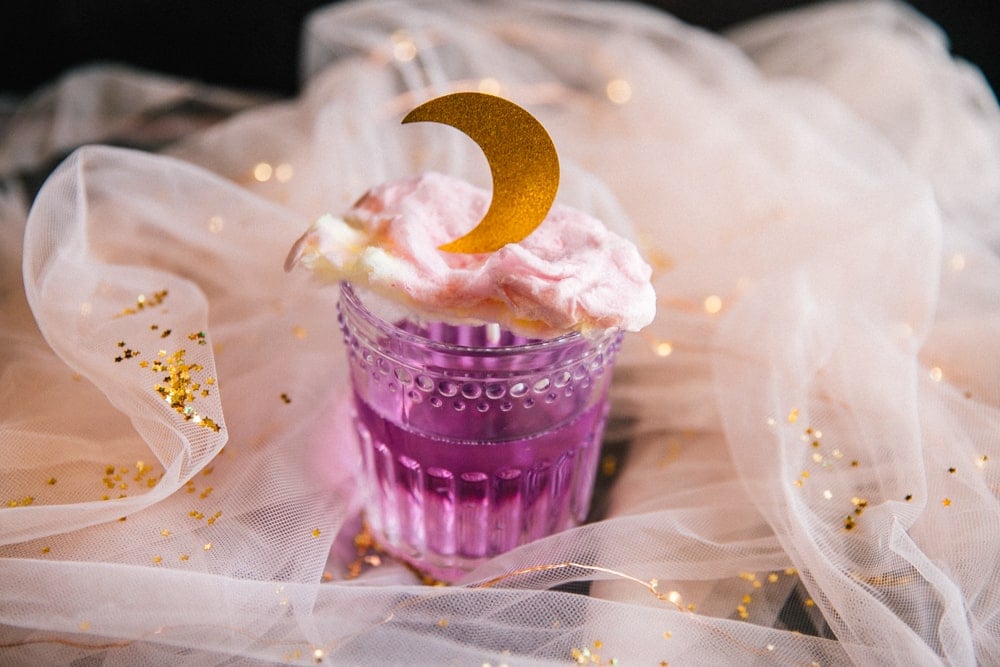 Sailor Moon Cocktail Recipe With Gin & Yuzu Sake
This sweet & fizzy Sailor Moon Cocktail Recipe features gin, yuzu sake and cotton candy (plus a little solar magic inspired by the Sailor Guardians!)
Ingredients
1 half lemon juice from fresh lemon
Cotton Candy to top
Instructions
Mix Yuzu Sake, lemon juice and ice into a cocktail shaker.
Shake well.
Add ice cubes to a glass and strain the shaker mixture into your glass.
Add the Empress Gin (to make it turn pink!)
Pour in tonic water (amount as desired to your taste preferences) and gently stir.
Add 1 dash of lavender bitters.
Top glass with cotton candy, careful to not get it wet.
Add the moon cake topper for flair and serve.
Notes
Sake is traditionally kept warm but we found for this cocktail, it tastes best when you chill the sake.
Recommended Products
As an Amazon Associate and member of other affiliate programs, I earn from qualifying purchases.
More Cocktail Recipes & Drinks You'll Love