The moon is something of a gateway drug…
Yeah, I said it! Pretty much everyone I know who identifies as a witch, (myself included), got started on this spiritual, self-care path because of the moon.
The moon has long been associated with witches and magick, from its significance as a symbol of Diana, the Roman goddess of the hunt, (and of wild, free women), to famous modern, Wiccan writings like Drawing Down the Moon, by Margot Adler.
These days, you'll find witches on Instagram and TikTok talking about the moon all the time, Target is full of moon phase mobiles and pillowcases and all the things, and there are dozens of moon phase apps to be found in the App Store – it would seem we just can't get enough of the moon!
All right, so what is it with the moon? Why are we so fascinated?
The answer, I believe, lies in the cyclical nature of the moon. The moon is reliable and yet ever-changing. It returns to the same spots on the horizon month after month and year after year, changing from crescent to full and back again – never quite the same from night to night and yet trustworthy all the same.
Of course, the moon is not the only cycle that guides our lives. The seasons, the movement of the planets through the twelve constellations of the zodiac, and even our own calendar year are all important cycles.
The moon cycle has also been associated with menstruation by cultures all over the world back into the depths of pre-history, since both the moon cycle and a typical menstrual cycle are approximately 28 days.
And yet the moon is perhaps the most universal cycle of all – the calendar year is certainly not universal, the seasons are different in different corners of the world, and not everyone experiences menstruation.
So the moon has an equalizing effect, one thing that we all have in common.
This continual cycle of the moon can be used for many different purposes in your life: reflection, manifestation, wellness, self-care, even nourishing your intuition. In this article, we're going to explore the four basic moon phases and how you can use them, especially for self-care!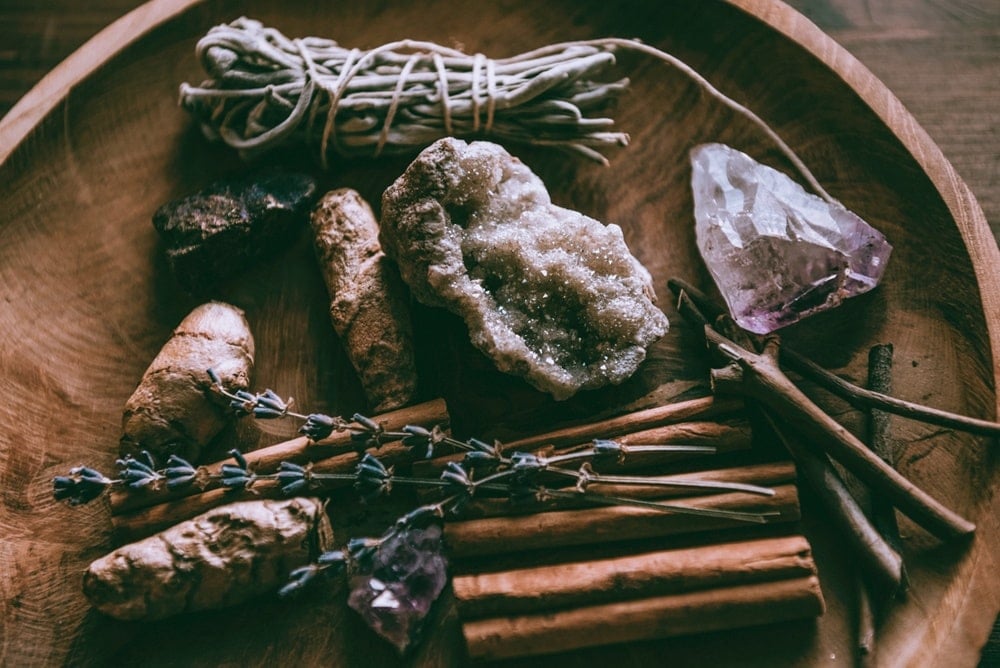 The Four Moon Phases
While we can break them down further, the four basic phases of the moon are the most essential to know, (especially when you're first getting started):
The new moon lasts for about three days and is for setting intentions
The waxing moon lasts for about two weeks and is for taking action
The full moon lasts for about three days and is for celebrating your progress
The waning moon lasts for about two weeks and is for releasing
As we move through this roughly 28-day cycle, we each individually experience waxing and waning energy levels and moods. The moon rules over our emotions and intuition and impacts each of us in unique and personal ways.
However, we all move through the cycle at the same rate and experience the same phases across the world so there is both a collective and an individual experience of the moon.
Let's explore how you can work with each phase to nurture yourself and create a rhythmic, supportive self-care practice!
The New Moon
The new moon is the beginning of a new moon cycle, (gee, go figure.) This is when the moon is completely dark in the sky. The new moon occurs when the sun and moon are exactly lined up together from our perspective here on earth so it actually happens at a precise moment every month.
However, magickally speaking, we usually consider the new moon energy to last about three days.
The new moon is all about new beginnings. It's an opportunity for a fresh start – a fresh beginning on a project or relationship, a fresh perspective on a situation, or a fresh direction in life. There is something profoundly supportive about this idea that we get a fresh start every single month!
This is the ideal time to set intentions for what you want to create, receive, manifest, or experience over the next moon cycle.
First, you want to get super aligned with what you want in your heart, make sure it all syncs up with your intuition, then set some practical intentions of what actions you actually plan to take. You can easily turn this fresh start energy into a ritual to formalize your intentions. New moon intentions are super powerful.
New Moon Intention-Setting Ritual
For this ritual, you will need:
Paper and pen
Sage or cedar smoke bundle or cleansing spray
Headphones and calming instrumental music (optional)
White tealight or birthday candle
Before you get comfy, let's cleanse and purify your sacred space. (Yes, we can create sacred space anywhere!) If using a smoke bundle, go ahead and light it with a match or lighter and extinguish the flame, so the smoke billows gently. Wave the smoke over your body and into each corner of the room.
Alternatively, you can spritz a cleansing spray over yourself and around the room instead. Say something out loud or in your head like, "I cleanse this space of negative energy", or simply focus on clearing your mind and becoming present.
When the space feels light and clear, take a comfortable seat and pop on your headphones if you're using them. Take a deep cleansing breath in through your nose and sigh it out of your mouth. Come to center and allow your eyes to close.
In your mind's eye, begin to picture yourself going about your life just a few weeks in the future. Ask yourself, what do you hope for this slightly future version of you? What have been doing over those few weeks to take better, more nourishing care of themselves?
When you feel ready, open your eyes and write down all the thoughts and ideas that came to you. Looking over the list, choose one or two things to focus your intention on. Light the white candle and write your intention on a separate paper. Read it aloud or to yourself, repeating as many times as you feel called to.
Stay here in this moment until the candle burns out completely to release your intention into the universe, (do not leave it burning unattended – if you really need to walk away, do extinguish it first.) When you are finished, post the paper with your intention on it somewhere you'll see it every day like your bathroom mirror or nightstand.
The new moon really is the best moon phase for cleansing.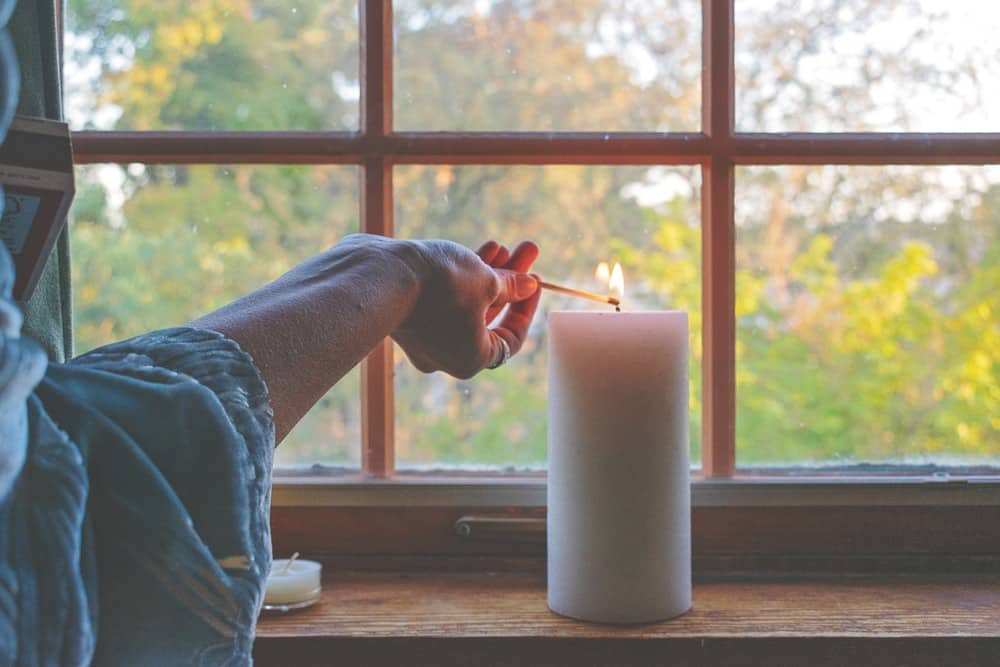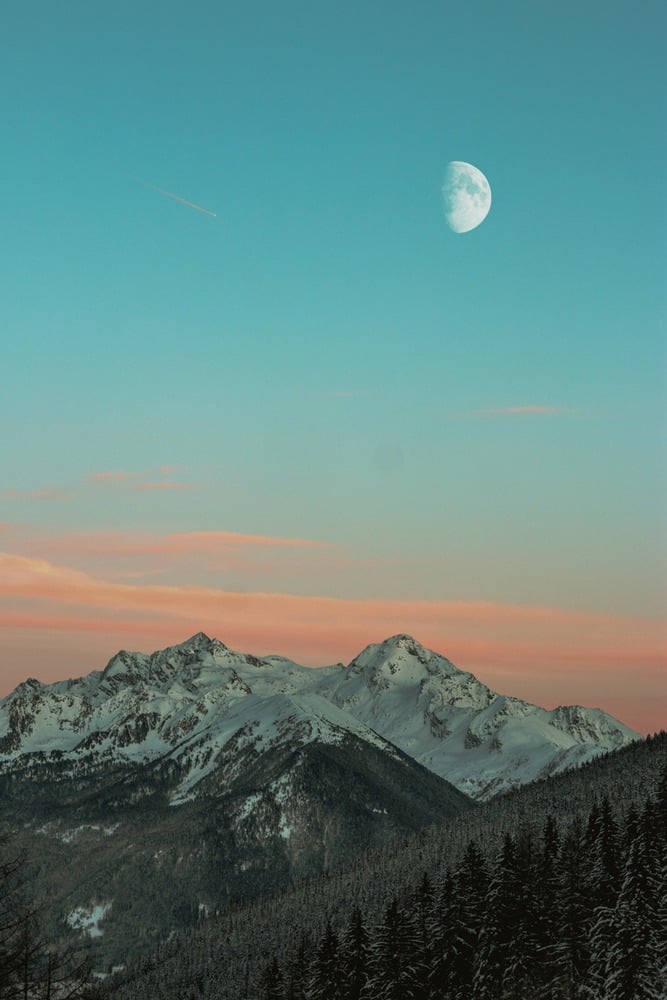 The Waxing Moon
The waxing moon lunar phase is the period when the moon appears to be growing larger and larger in the sky. This is the entire period between the new and full moons so it lasts about two weeks, give or take a few days.
As I mentioned earlier, we can actually break the four basic phases down into smaller, more complex ones. The waxing moon phase is actually made up of the waxing crescent moon, (when it's a small sliver), the first quarter moon, (when it's a half circle), and the waxing gibbous moon, (when it's a slightly lumpy shape, just before it's actually full).
Although there are some slight nuances between these different phases, the energy of the waxing moon overall is about taking action.
Where at the new moon we set intentions and made plans of actions to take, now we are actually taking the practical steps to create what you desire.
Set an intention at the new moon to eat healthier? During the waxing moon you might start buying more vegetables or meal prep your lunches.
Set an intention to disconnect from work more mindfully? During the waxing moon you might turn off your notifications or set up an app blocker in the evenings.
You could do a waxing moon ritual at any time during this phase. However, I find that the waxing moon is really just about living your life and taking intentional action so moon phase rituals aren't always necessary here!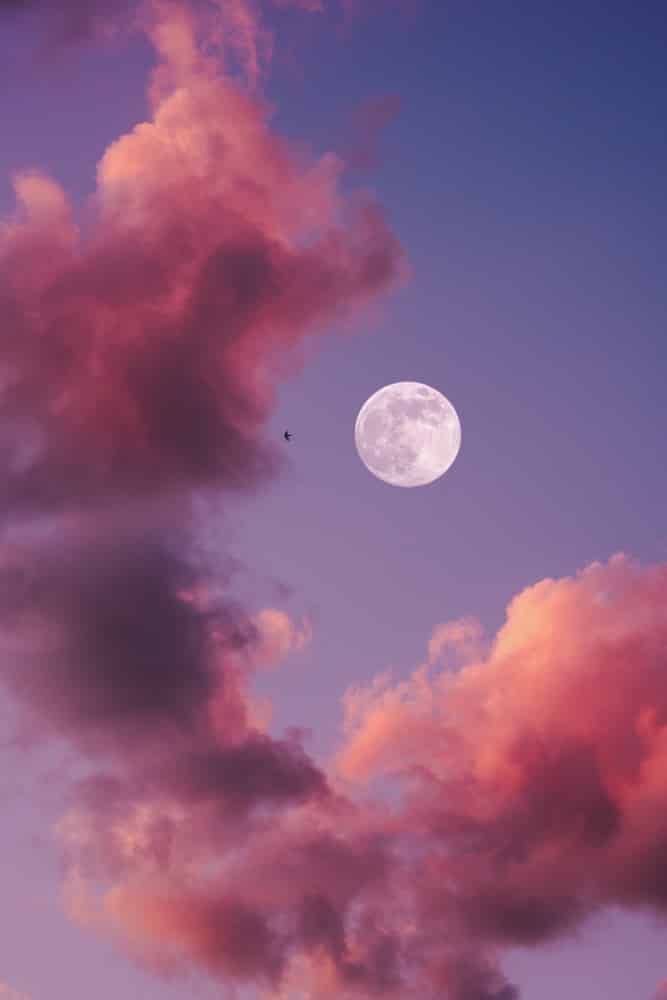 The Full Moon
The full moon is the culmination of the moon cycle. This is when the moon is completely illuminated in the sky – the most brilliant and beloved and magickal phase of the moon.
The full moon occurs when the sun and moon are exactly aligned opposite one another from our perspective here on earth so, like the new moon, it happens at a precise moment every month. However, for magickal purposes, we consider the full moon energy to last for about three days.
This is certainly the most traditional phase of the lunar cycle to do rituals and it's a beautiful opportunity to do rituals for healing, for love, or for self-care. The full moon is all about celebration and amplification. This is a really important element of self-care that I think a lot of us tend to skip over. You might be pretty good at setting intentions, at taking action, and you might even have done some work around releasing what you no longer want.
But if we don't stop in between there to reflect on what we've accomplished or received and to celebrate all our wins, big or small, then it can be hard to see how far we really have come.
Often, we think that we've achieved less than we have but when you stop to make a list of things you're grateful for or wins you've accomplished, the list is a mile long! The full moon gives us a built-in opportunity to make sure we're doing that reflection, celebrating our wins, and giving gratitude.
(You'll often hear people say that the full moon is a time for release but there's an important distinction to make: the full moon can be a great time to release expectations, outcomes, or control over your intentions so that you can fully surrender and trust the universe…. but it's not the phase to release things you no longer want!)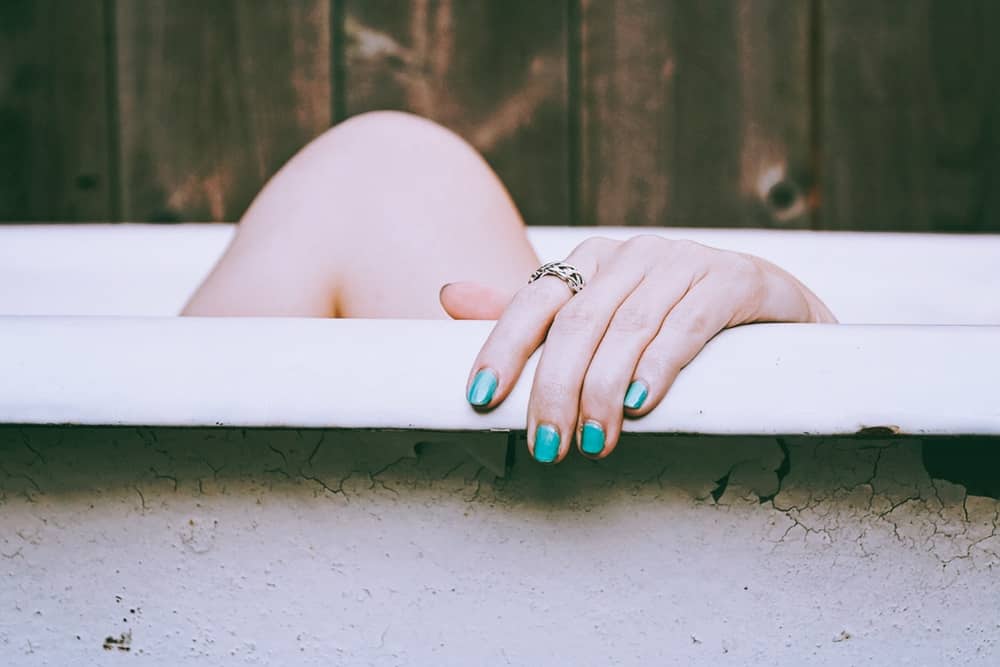 Full Moon Gratitude Ritual
For this ritual, you will need:
Candles
Your favorite crystals, essential oils, or other magickal self-care tools
Paper and pen
A cup of tea or glass of wine
I recommend doing this ritual either in bed or in the bath or wherever you feel coziest. Full moons often stir up a lot of emotions and energy so it's a good idea to pick a restful, relaxing spot. To start, complete the cleansing ritual I described in the new moon section to clear away any negative vibes.
Then, set up your crystals, candles, and any other tools you're using around your sacred space. Make it extra cozy! Get comfortable, take a sip of your chosen beverage, and take a moment to just be present in this time and place.
When you're ready, grab your paper and pen and think back initially about two weeks, (since the new moon). Start jotting down all of your wins in that time – big, small, totally mundane, everything. Then, think back further and further. Where were you six months ago and what were you doing? What has changed and shifted since then? What are you grateful for from this time?
When you feel complete, read back over your list and reflect on all the beauty, lessons, rewards, and experiences that have come into your life recently. Close your eyes and take a pause to celebrate these wins deep in your heart!

The Waning Moon
The waning moon is the period when the moon appears to be growing smaller and smaller in the sky. This is the entire period between the full and new moons so it lasts about two weeks, give or take a few days.
Just like the waxing moon, we can break the waning moon down into several smaller phases: the waning gibbous moon, (the slightly lumpy phase just after it's full), the last quarter moon, (when it's a half-circle again), and the waning crescent moon, (when it's a sliver, just before the new moon).
Some witches even work with an additional phase called the dark moon, which is the last day or two before the new moon! Although there are some slight nuances between these different phases, the energy of the waning moon overall is about releasing and letting go.
This is where you want to be releasing the ideas, patterns, behaviors, situations, and even people who are no longer serving your highest good. In some ways, the waning moon phase is the ultimate self-care phase, when we are really focused on our inward needs and innermost thoughts and feelings.
As with the waxing moon phase, you could do a waning moon ritual anytime during these two weeks. Waning moon rituals can be powerful catalysts for healing and letting go of negative energy that can stagnate and hang around if we aren't mindful.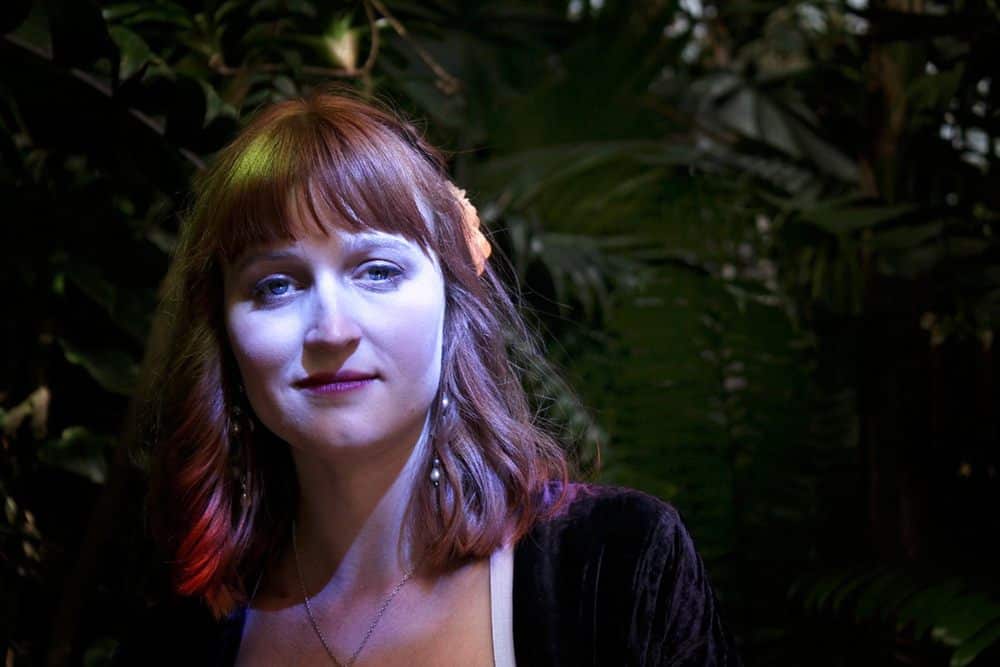 The moon phases offer us such beautiful, gentle ways to be in flow with our own energy and the collective energy of the universe. If you've wondered why your energy levels seem to ebb and flow for no reason, then you might be really impacted by the moon phases and I would encourage you to explore working with them!
Start just by becoming mindful of what phase the moon is in each morning and pay attention over time to your moods, energy, and sleep patterns during each phase.
In future articles, we'll talk about blue moons, eclipses, and lunar astrology so stay tuned! In the meantime, take advantage of my free masterclass all about how to work with the moon phases in your real, daily life!