Unless we're on a trip, I make a homemade stuffed crust pizza every single Friday night, and have been for over 5 years.
I've started with my mother's homemade pizza recipe but have been tweaking it and perfecting over the years. Everything is from scratch – the dough, the sauce – but guess what, it's really easy to master and doesn't take that much extra time to make! And I promise you it tastes 10000% times better than any frozen pizza you may usually cook up on a Friday night.
Keep reading for my secret homemade stuffed crust pizza recipe that I make every Friday night!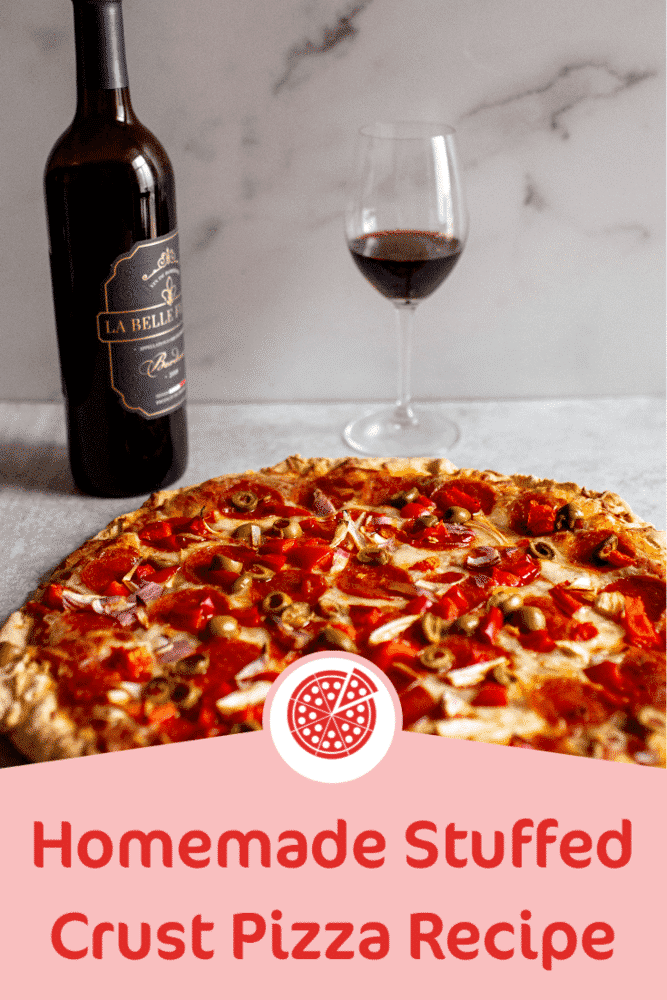 >> Got a question this pizza recipe that you need answered quickly? DM me on Instagram @thewhimsysoul and I'll be happy to help!
It sounds daunting, but making your own stuffed pizza crust recipe is super easy. I know this because I've made this pizza after having drunk 3 glasses of wine many times before and have always been successful. (Maybe I shouldn't announce that to the public? HA!)
Usually, Robin sits in the kitchen with me and we'll put on a podcast and have a little date night. I've got this process down so well that I can usually get the pizza made and in the oven within 40 minutes. An episode of Unhappy Hour is almost perfect!
Start by preheating your oven to 425. Side note: I really wish we had a backyard because I would totally buy a pizza oven instead of a grill. Oh, a girl can dream.
Prep The Dough & Sauce
Anyways, start by mixing the yeast with sugar and a cup of warm water and set aside so the yeast can activate. That usually takes about 5 minutes so I take this time to start mixing up the pizza sauce.
We have an immersion blender (one of my favorite kitchen gadgets ever!) I put a few cloves of fresh garlic and freshly chopped onions in, along with San Marzano tomatoes. San Marzano is a bit pricier but SO SO tasty you guys, they make any tomato-based recipe instantly better.
Then then I blend those up with more Italian seasonings (oregano, basil, salt, pepper, red pepper flakes, onion powder, garlic powder, fennel) and if I have it, a bit of fresh sage. By this point, the yeast has bloomed so it's time t mix up the pizza dough!
Add in olive oil and salt to the dough. Sometimes I put in some Trader Joe's mushroom Unami seasoning into the dough for an extra kick. THEN you mix in the flour and knead the dough until it's mixed well and can be formed into a ball. Roll the ball with a bit of olive oil so it doesn't stick to the bowl.
Some people like to use plastic wrap, but I just cover it with a tea towel and place the bowl of dough over top of our radiator heater to rise. The longer you let it rise, the fluffier the dough will be. When I have a lot of time I'll let it rise twice (punching it in between) but 20 minutes is usually enough when you're in a pinch.
While the dough is rising, chop up the toppings. You can put anything on your pizza, but I use it as a chance to sneak in more veggies. Mushrooms, olives, peppers, etc, along with feta, mozzarella cheese and pepperoni. When those are ready, set aside next to the sauce.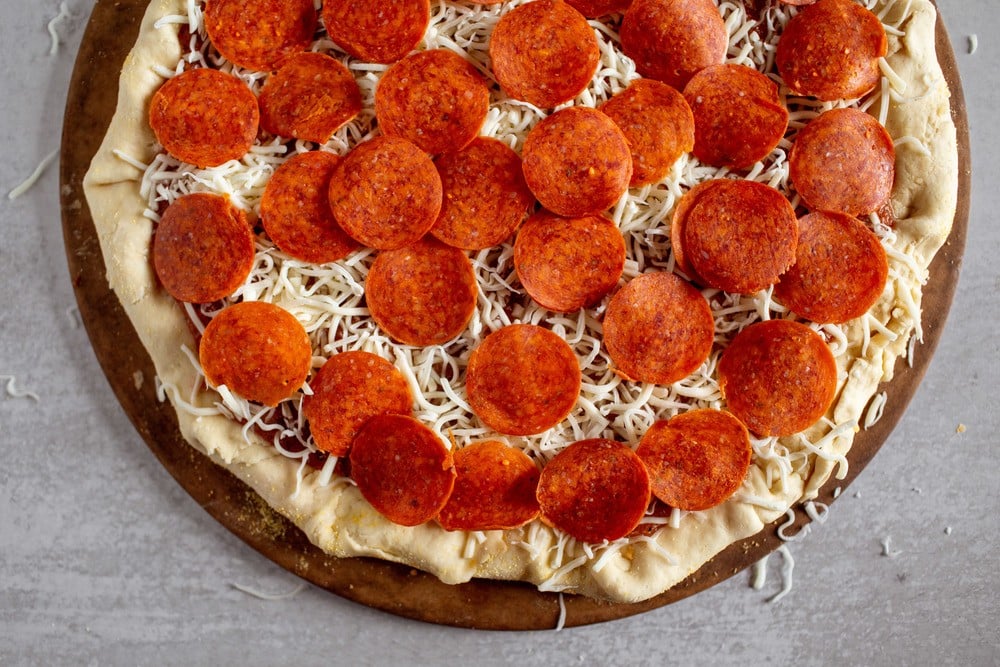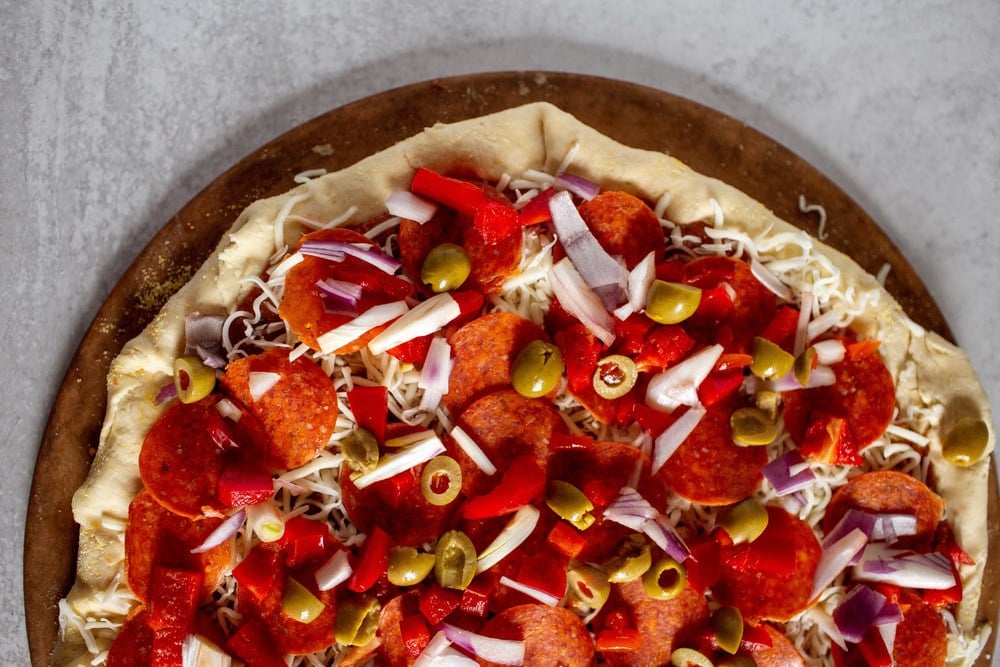 Making The Pizza Come Together
Now, it's time to roll out your dough! Roll it out ot be about 1-2 inches larger than your pizza pan on all sides. We have a pizza stone and I make sure there is extra dough hanging off the sides. This will be used to make the stuffed crust with string cheese!
Transfer the dough to your pizza pan. Make sure to coat your pan or stone with some cornmeal first, this will help prevent it from sticking!
Ok, so this is how to make a stuffed crust pizza. Cut the string cheese sticks into 3 pieces each. Place the pieces of cheese around the edges of your dough in even sections, leaving about an inch in between each. Then, fold the dough over on top of the cheese and pinch down, essentially making pizza cheese crust bites.
Once the dough is made, then simply sauce it up and top your pizza.
After 12 minutes of baking, we turn the pizza and bake it for 12 more minutes. Everyone's ovens are different, so monitor your pizza as it may need to stay in longer or shorter. Look for the edges to be a golden brown and the bottom of the pizza to be golden brown as well. This can be checked with a spatula by lifting it up.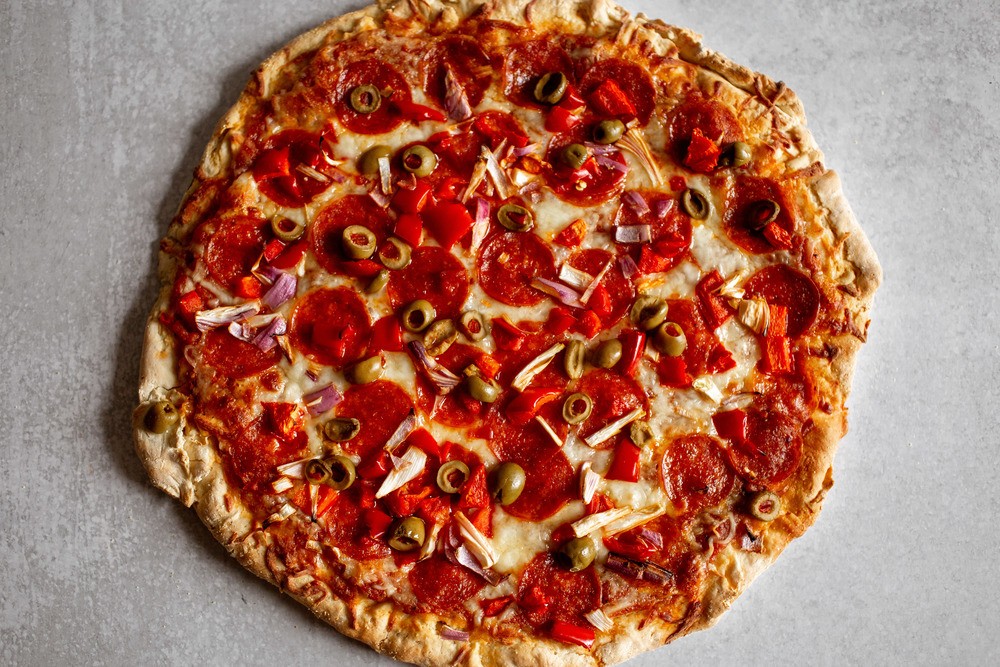 Once it's golden brown on the crust and the bottom looks cooked as well, take it out and let it cool at least 5 minutes but then it's ready to eat. Woohoo!
I know the steps look long, but this recipe is super easy to master. We still order a deep dish pizza from a local joint a few times a year but other than that, we only eat homemade pizza. I like to this it's healthier since everything is made fresh?
Here's the recipe card: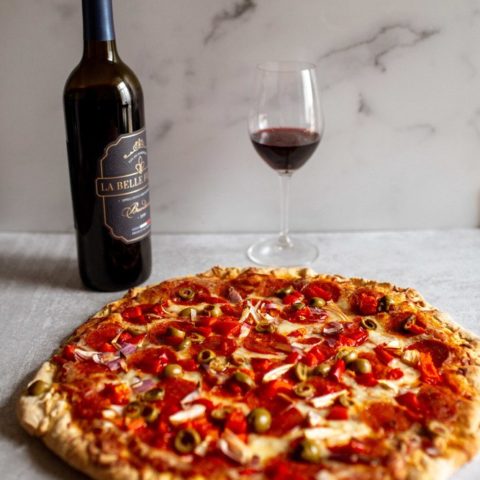 My Homemade Stuffed Crust Pizza Recipe That I Make Every Friday Night
Total Time:
1 hour
10 minutes
Don't order out, it's easy to make your own homemade stuffed crust pizza recipe that I make every Friday night!
Ingredients
1 yeast packet
2 Tablespoons sugar
1 Cup Water
2 Tablespoons Olive Oil
2 Teaspoons Salt
3 Cups Flour
1 Bag Shredded Mozzarella
1/2 Can San Marzano Diced Tomatoes
Fresh onion
Fresh garlic
Oregano
Basil
Sage
Garlic Powder
Onion Powder
Black Pepper
Red Pepper Flakes
1/4 Cup Cornmeal
Pepperoni
Olives
Red Pepper
Mushrooms
4-7 Cheese Sticks
Instructions
Pizza Dough Recipe
Preheat oven to 400 degrees.
In a large bowl, mix the yeast and sugar together well.
Add 1 cup warm water to the bowl and mix. If the water is too hot, it'll kill the yeast. Too cold, and the yeast won't activate.
Let sit about 5 minutes or until the yeast fully blooms.
Mix in 1 Tablespoon olive and the salt.
Mix in the flour until the dough comes together. Once the dough is formed, remove from the bowl and kneed into a ball.
Splash remaining olive oil in the bowl and roll the dough ball around in it. Cover the bowl and place in a warm setting to rise.


Prepping Pizza Toppings
While the dough is rising, prep the toppings!
Chop desired amount of fresh garlic and fresh onions (we love both, so we use 4-5 garlic cloves and half an onion.) Once chopped, place in the immersion blender bowl.
Add the San Marzano Diced Tomatoes
Add your desired spices. I use all the ones listed above in no particular amounts. Sometimes I even swap the dried spices for fresh herbs if we have them. Just don't forget to add the remaining salt in this step!
Blend together until you make a fresh sauce! Set aside.
Chop your desired toppings. We typically put olives, bell peppers, mushrooms, pepperoni and feta on our pizza.
Chop the cheese sticks in 3-4 chunks per stick. Start by cutting up 4 cheese sticks and if you need more at assembly time, you can cut more then. (Amount varied depending on how big you roll out your dough!)

Making The Pizza
By this point, your dough should have risen. Sprinkle a bit of flour on your countertop and roll your dough out to be about 1-2 inches larger than your pan on all sides.
Sprinkle a layer of cornmeal on your pizza pan. This helps the dough not stick!
Transfer the dough to the pan carefully.
Place the cheese stick chunks evenly around the edges of your pizza, leaving about 1 inch space between them.
Fold the parts of the dough hanging off the pan over the cheese sticks and form your stuffed crust! Make sure all cheese is covered otherwise it will ooze out while baking.
Next, spread the sauce out on your pizza evenly.
Sprinkle the bag of mozzarella evenly on.
Add pepperoni and your remaining toppings on the pizza.
Bake for 12 minutes, then turn it 180 degrees (so you can get an even bake!)
Bake for another 12 minutes or until the crust turns golden brown. Every oven is different so you may have to keep it in the oven a bit longer. Keep an eye on it!

And that's it!
Notes
Top your pizza with whatever toppings you like! Sometimes we add feta, sometimes even bacon. Go crazy with what you want!
Nutrition Information:

Yield:

8

Serving Size:

1 Amount Per Serving:

Calories:

349

Total Fat:

12g

Saturated Fat:

5g

Trans Fat:

0g

Unsaturated Fat:

6g

Cholesterol:

27mg

Sodium:

519mg

Carbohydrates:

46g

Fiber:

3g

Sugar:

5g

Protein:

14g

I hope this helps you have a tasty at home pizza party! I love this pizza recipe and hope you do, too! If you have any questions, leave a comment below or DM me on Instagram @thewhimsysoul and I'll be happy to help!