San Francisco is my favorite city in the world, that's why I moved here from the Midwest 4 years ago! While it's only 7×7 miles, it packs in literally anything you could want. I'm always still discovering San Francisco things to do. History, modern art, craft cocktails, vibrant cuisines, a park filled with wacky things like bison, views for days… the list could go on and on. As a local, these are what I consider the top 19 things to do in San Francisco – an ultimate list to help you have a great trip to the San Francisco Bay Area!  

Consider purchasing the CityPass San Francisco to bundle on admissions and save a lot of money! Learn more here.

There are so many things to do in SF, I'm literally still discovering all the corners of the city! If you're looking for free things to do in San Francisco, check out this post. Keep reading for my top places to visit in San Francisco tips! I'm sure some of the things on this list aren't on any others. Got more SF questions? DM me on Instagram @TheWhimsySoul + I'll be happy to help!
Find my full San Francisco City Guide here for tips on everything from hotels to the best eats.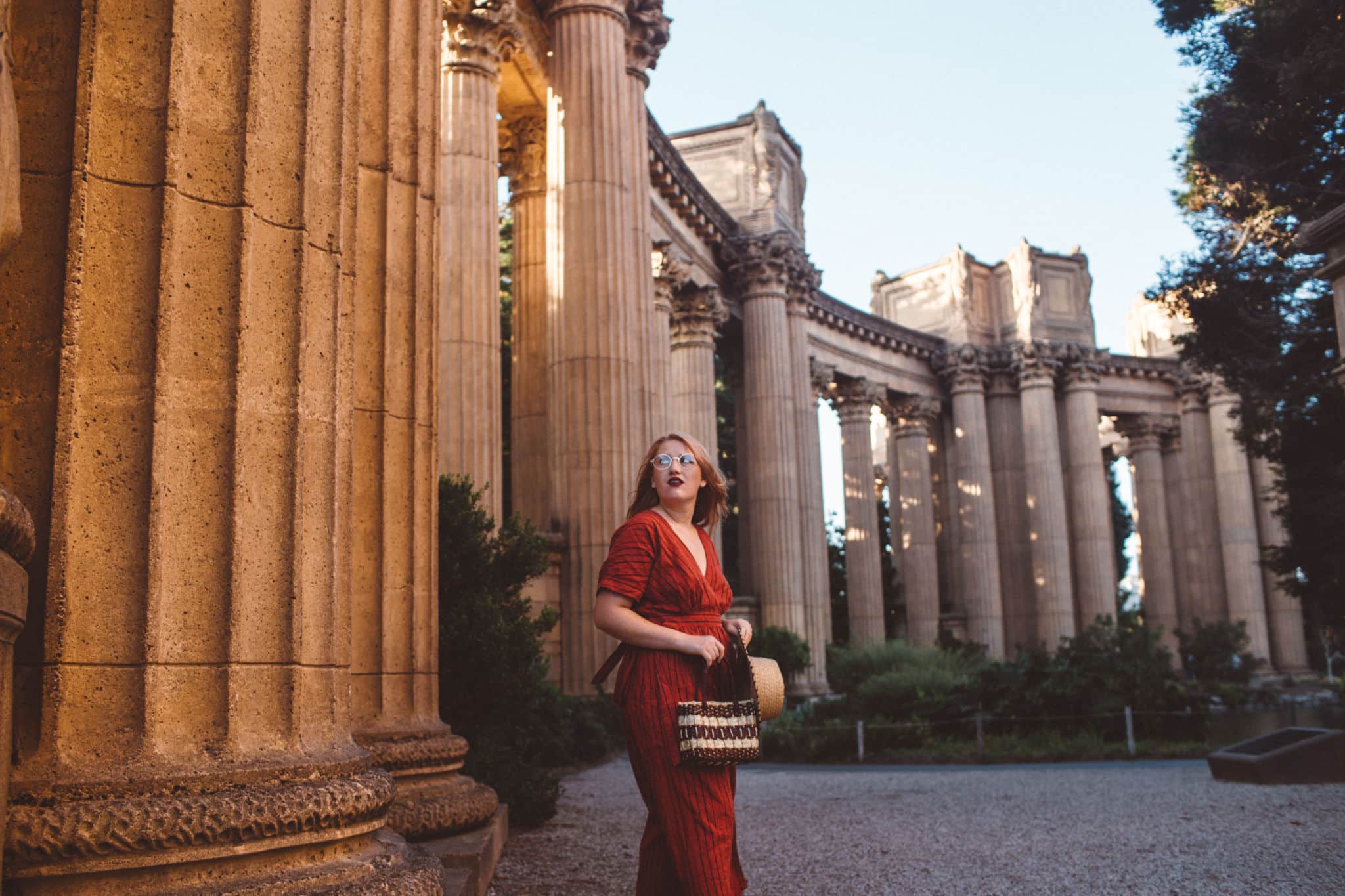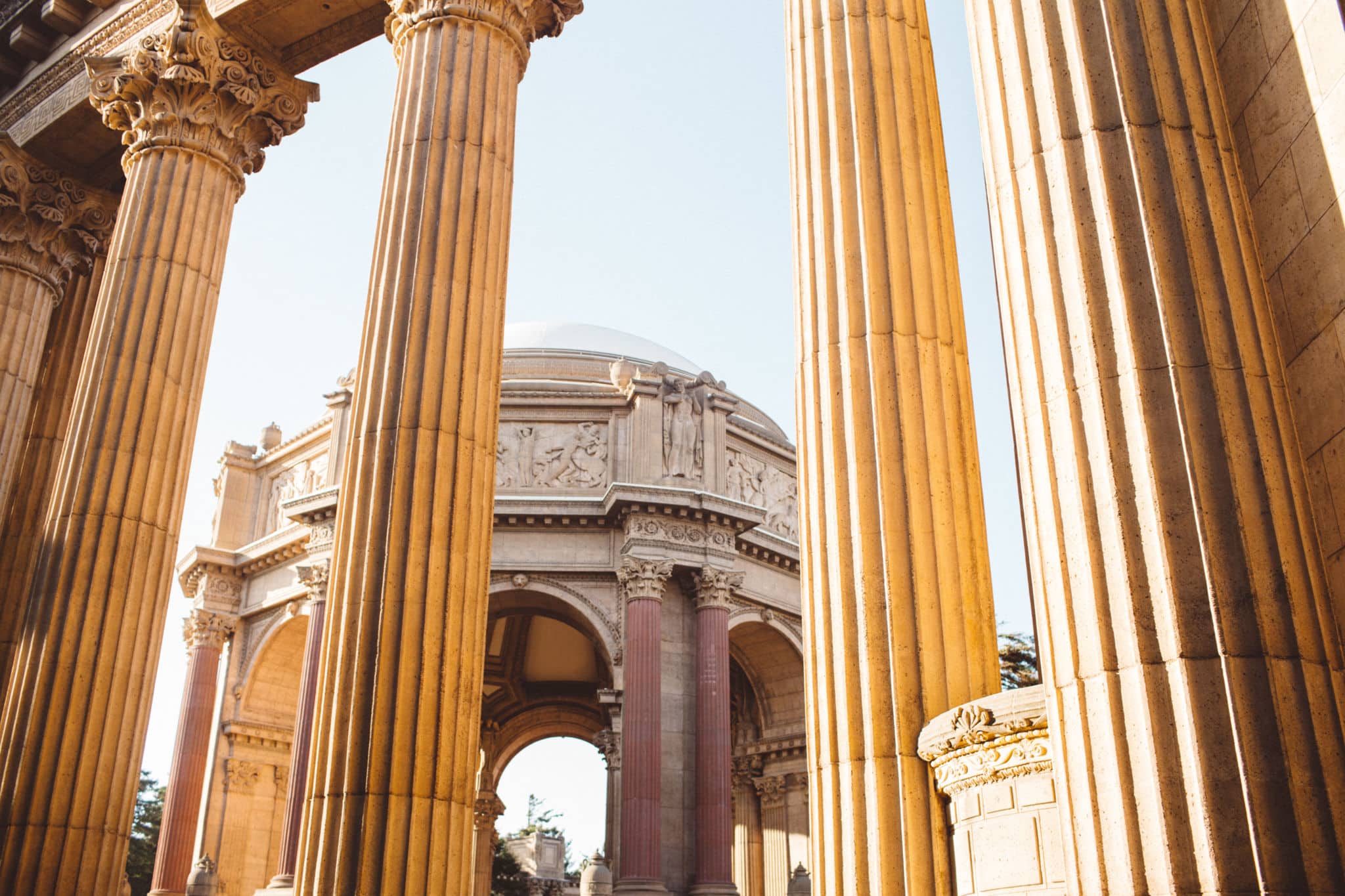 Palace of Fine Arts
While walking around the Palace of Fine Arts, it feels like you were whisked away to Italy. The tall columns and dome rotunda have a Roman Forum vibe. It's really very breathtaking and hence a popular place for wedding party photos and engagement photo sessions. The best time to visit is the golden hour as the crowds from the day will be lighter and the warm glow of the sunset makes the buildings look even more beautiful. Put this on the top of your sightseeing in San Francisco list!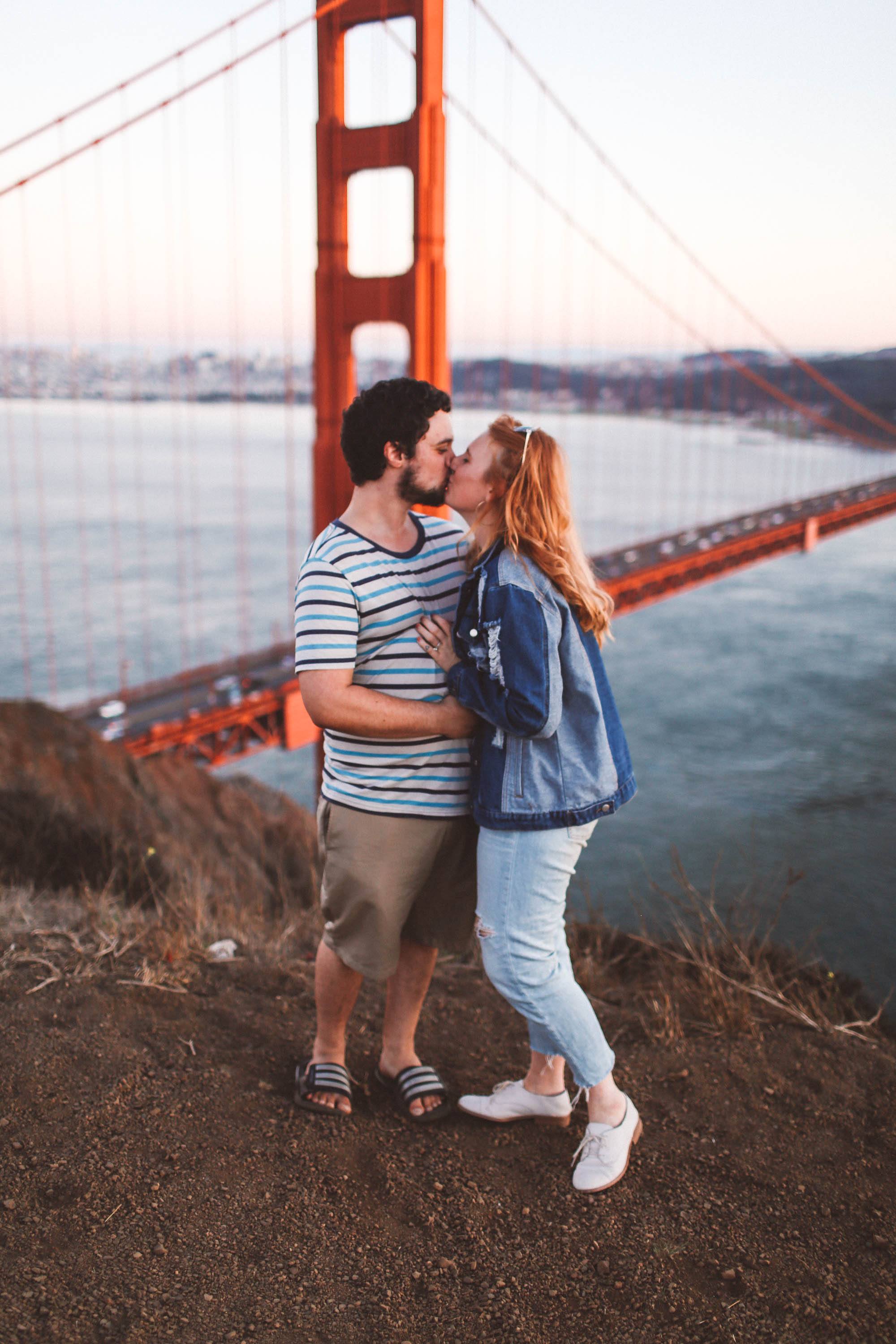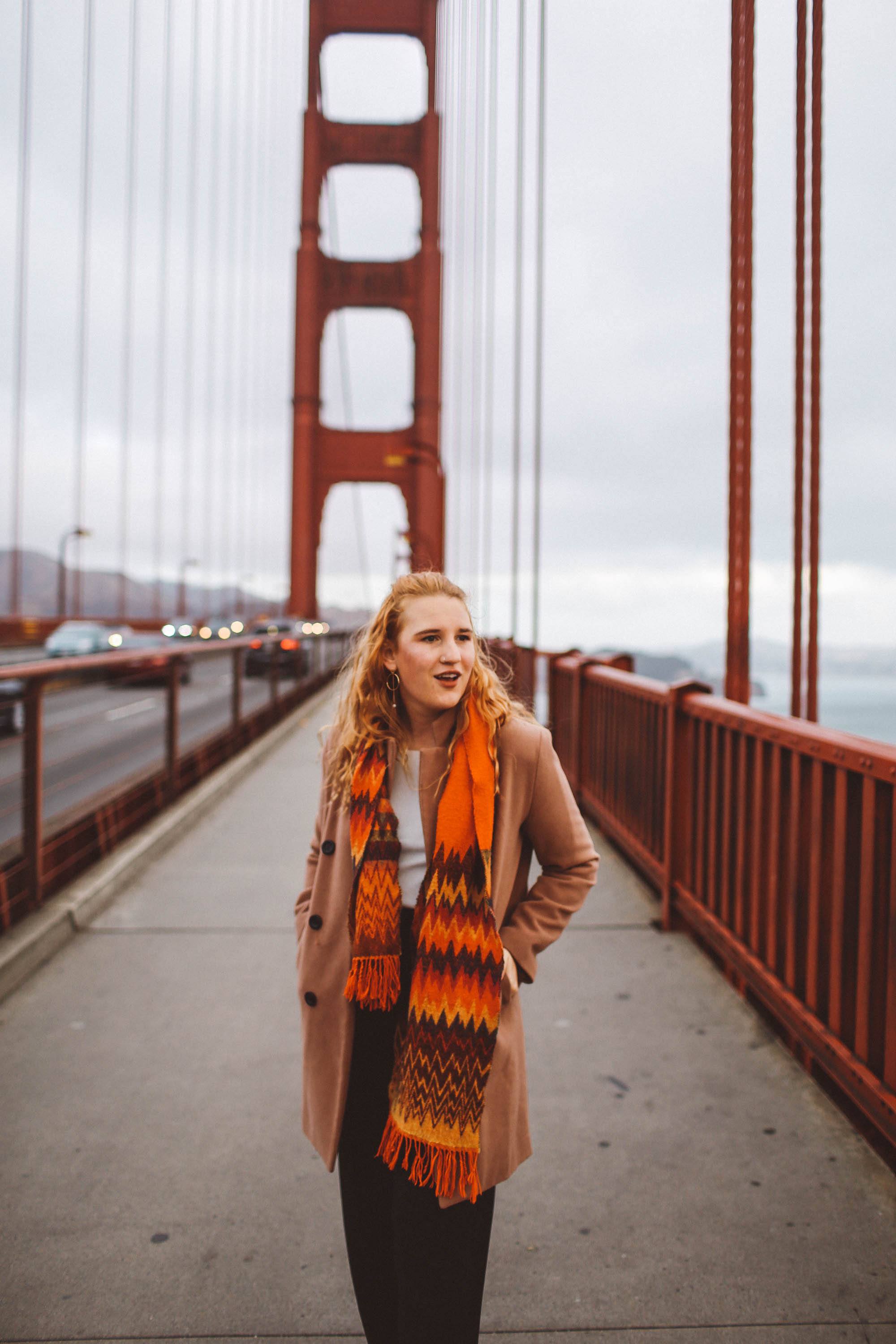 Golden Gate Bridge
Good ole' Golden Gate Bridge is always fun to see! The best time of day to visit is right away in the morning before 8am. It gets CRAZY crowded as the day goes on and the sidewalk isn't very wide, so you'll end up bumping shoulders with other tourists. The parking lot is free before 8am. It's small, though, so I recommend taking the 28 bus to the bridge or an Uber. Also, bring a jacket and a hair tie and it's usually always windy and chilly up there! If you're looking for a better view (one where you can see the whole bay, Angel Island, and all across the city – from North Beach to Buena Vista to the Outer Richmond) head to the Battery Point lookout on the North Side of the bridge!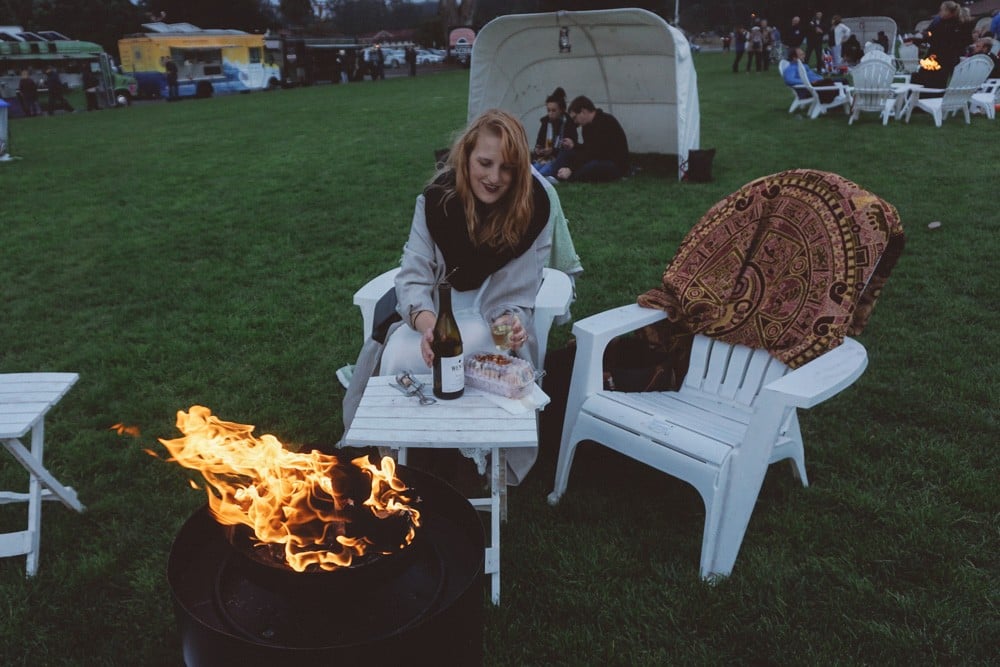 Off The Grid
Off the Grid is a food truck organization that brings pop-up food truck events to different parks across the city throughout the week. My favorite Off The Grid is the Thursday night Presidio Twilight. They pop up cabanas and fire pits for you so you can grab food from a few trucks and stay cozy next to a fire while watching the sunset. Grab an Irish coffee or a glass of wine from a truck, paired with unique food… it's the best things to do in San Francisco at night (well, a warm night at least!!)
Chinatown
I've been to Chinatowns all over the United States and the one in San Francisco is by far my favorite. It's one of the oldest in the country and also the most quaint. I love the main street with all the paper lanterns. Make sure to enter at the Dragon's Gate on Bush Street and walk up Grant Ave. You can go shopping but my favorite thing to do is eat! There are upscale restaurants but I prefer finding a $6 all you can eat dim sum special. You can also visit the famous Fortune Cookie Factory here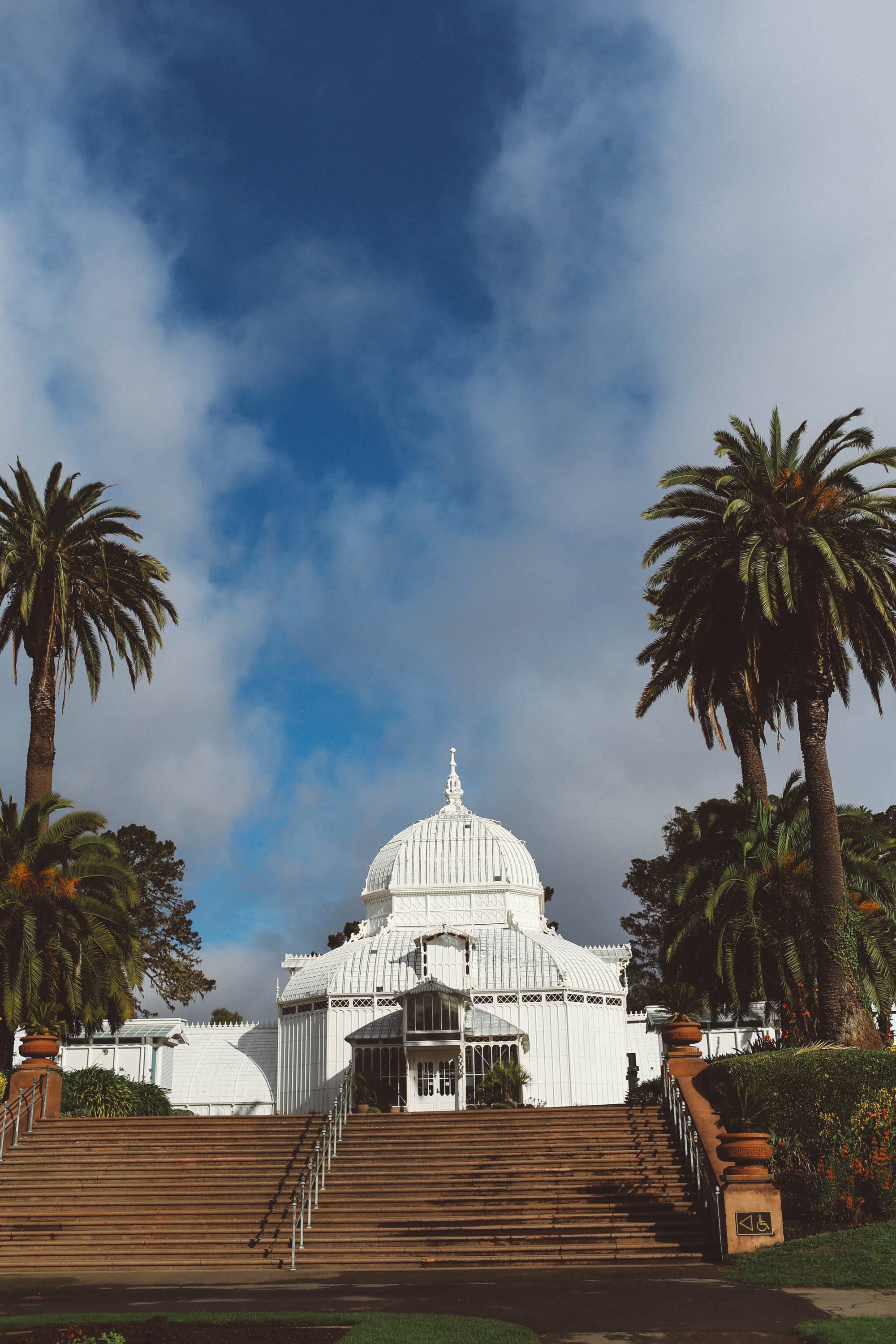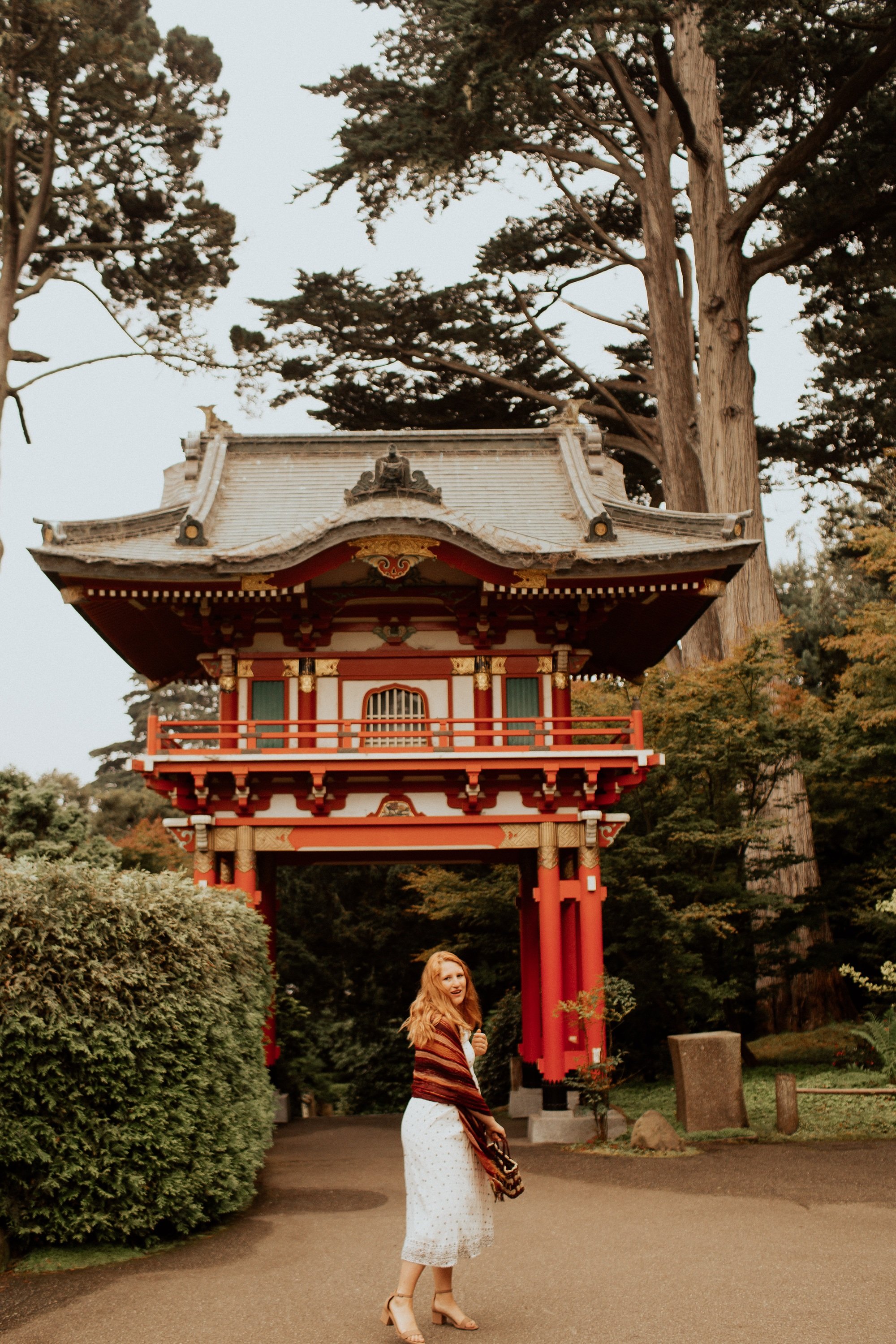 Explore Golden Gate Park
Did you know Golden Gate Park is bigger than Central Park in New York? It's HUGE! And there are so many hidden gems inside, making it one of my favorite San Francisco activities. Like a bison paddock (yes, real bison!), a Japanese Tea Garden, a few museums, plenty of gardens and even windmills – just to name a few things. I personally enjoy walking around the park and entering via the 9th and Lincoln entrance, but you can also swing by the bike rental stand on the corner of Stanyan and Haight if you'd prefer to cruise around. So many great San Francisco attractions are hidden in the park, it's worth an afternoon to explore!
SFMOMA
What to do in San Francisco on a rainy day? The Museum of Modern Art!! It's packed with beautiful pieces. You can easily spend a whole day here, there are over 6 floors if my memory serves correctly. I'm sure MOMA makes the list of " 100 things to do in San Francisco ", we're especially fond of it as it was under construction for years! Buy tickets at the door or ahead of time here.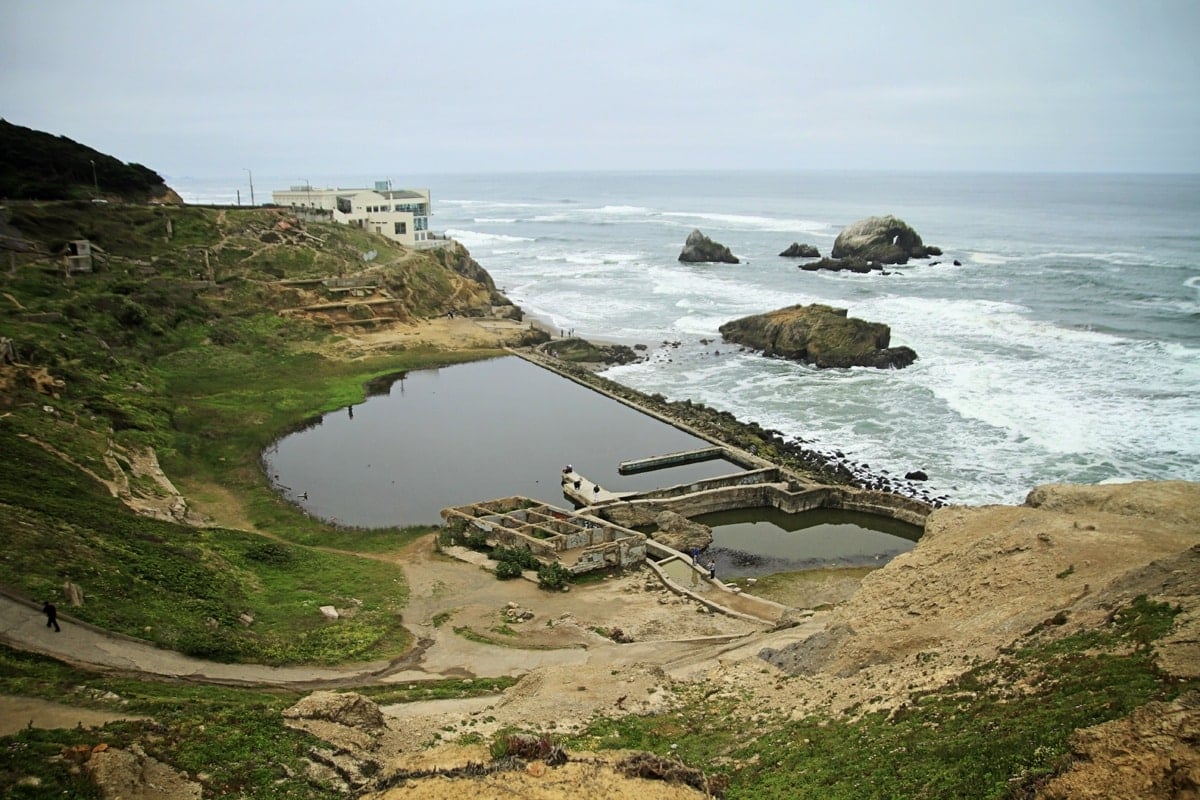 Land's End / Sutro Baths
Most tourists never make it to this part of the city and it's a shame! Hiking is one of my favorite active things to do in San Francisco. The Sutro Baths have a very interesting history. They used to be big oceanside glass bathhouses that eventually burnt down. Now, their ruins still remain and are open to the public to explore! They're really very beautiful and unique. The Sutro Baths are located right on the edge of Land's End, a park that offers coastal views. Make sure to walk down to the Labyrinth, a stone maze on the edge of a cliff that offers views of the Golden Gate Bridge.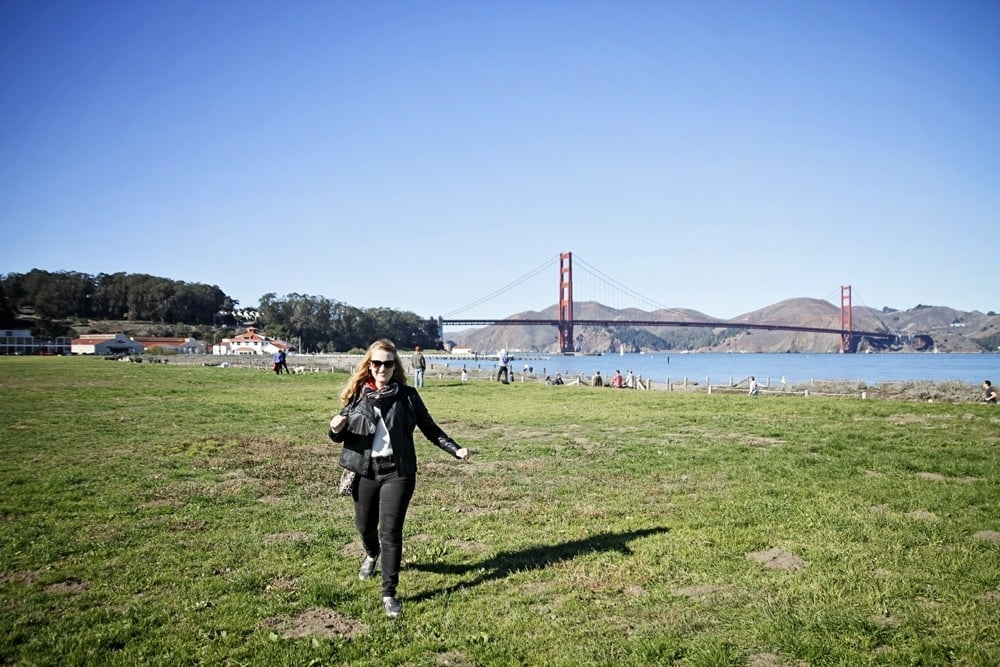 Walk Crissy Field
Crissy Field is a large park that stretches from the Marina to the base of the Golden Gate Bridge. There are grassy areas, beaches and trails along with some coffee shops and breweries. It has the most beautiful views of the Bay and makes a great walk on sunny days! If you are looking for things to do in San Francisco this weekend, a walk in this park is always my go-to. Or try renting a bike if you don't want to walk!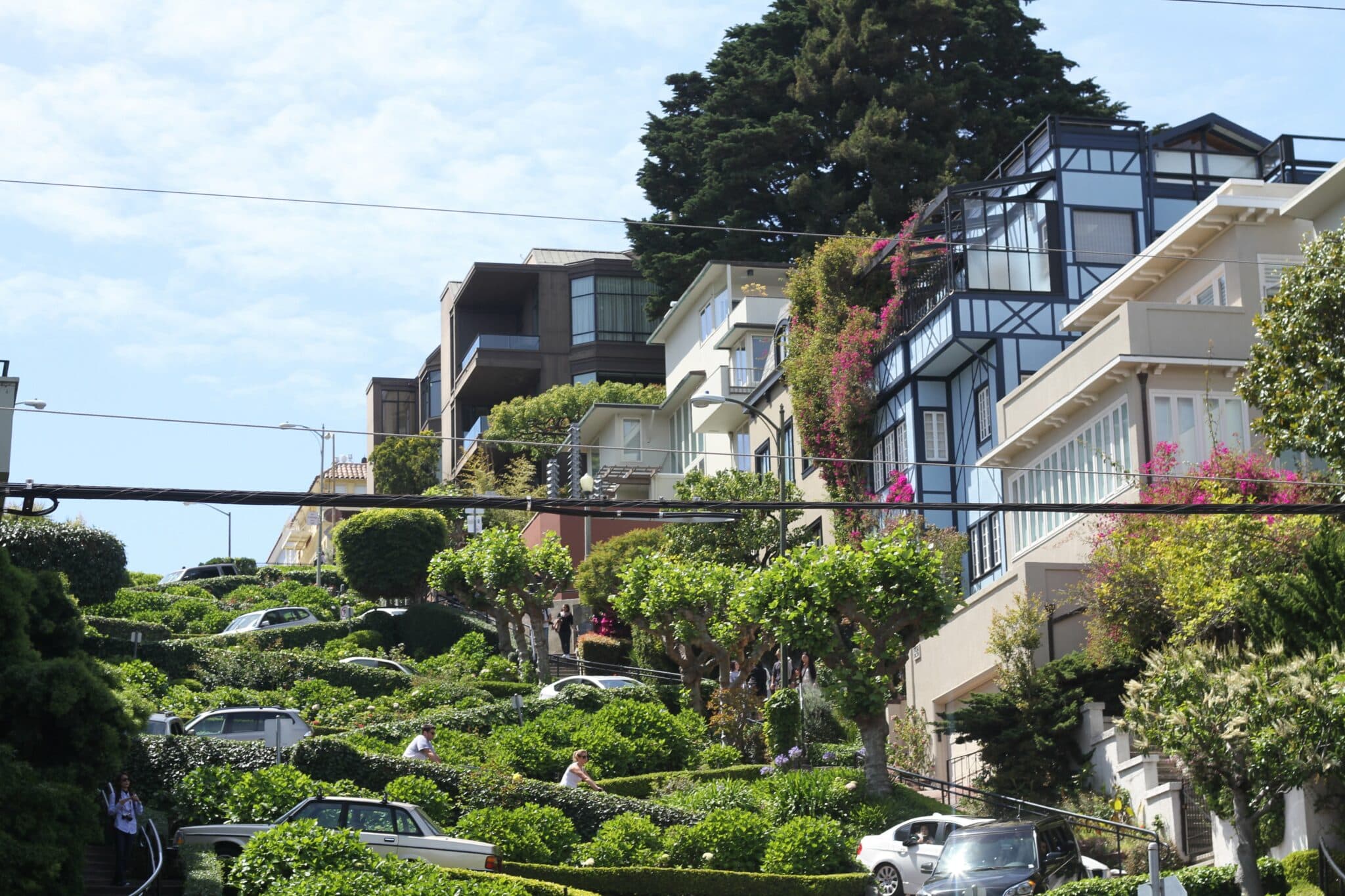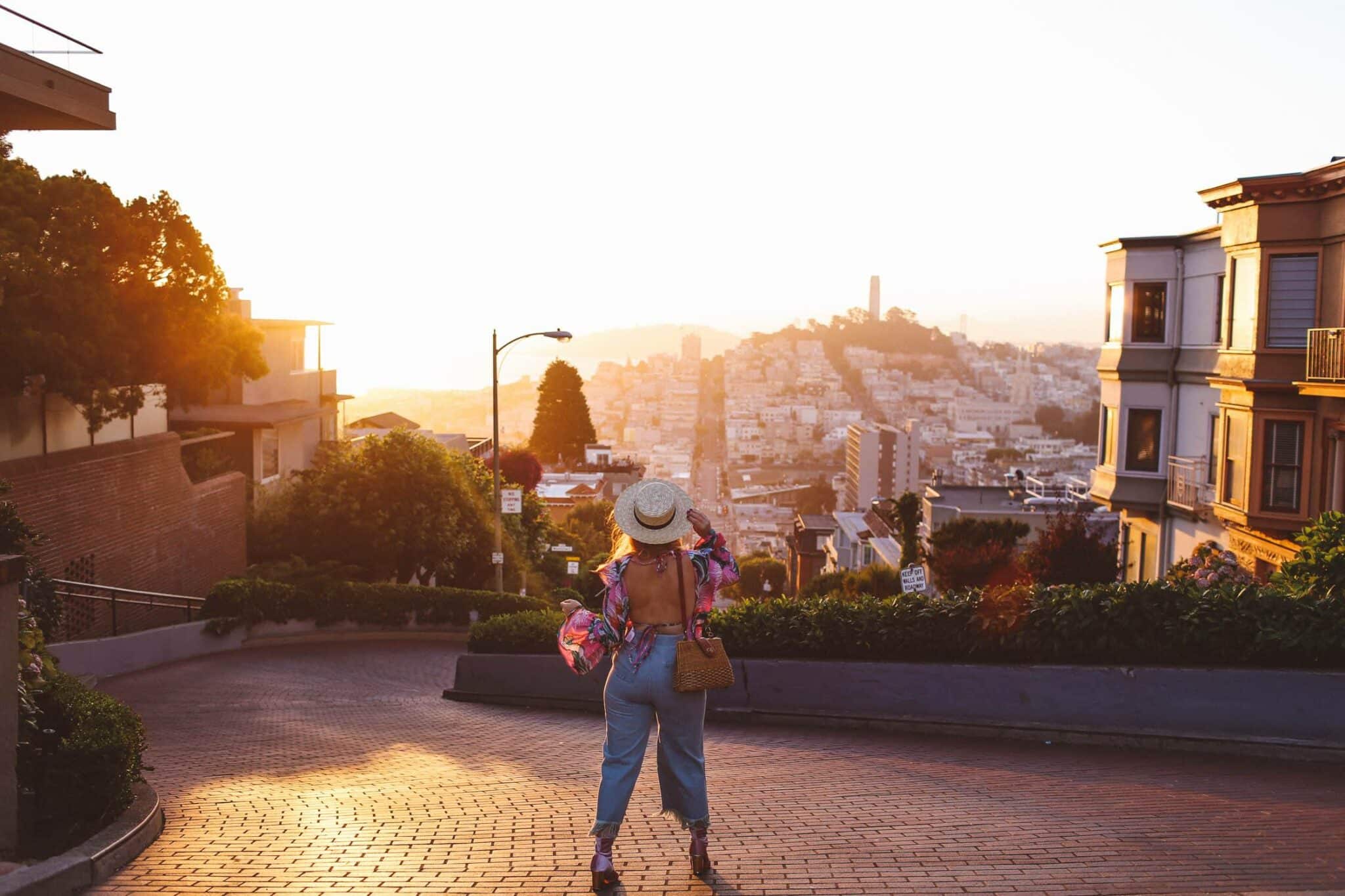 Lombard Street
This street is known as the crookedest street in the world! It's very tight and winding and makes for a fun photo opp. It also offers incredible views of the city from the top and the houses that dot it are grand and beautiful (and probably worth like 10 million dollars!) The best time of day to visit is right away in the morning, before 8-9am. As you can imagine, this road gets crazy packed! I suggest starting at the top and then walking down into North Beach for coffee after.
Coit Tower
You can see Coit Tower on the San Francisco skyline. It's filled with lots of beautiful murals and has a 360 viewing deck at the top. It used to be the tallest building on the SF skyline before modern skyscrapers took over. You can take a cable car near there from Market Street and then walk the rest of the way up the hill to the tower. Learn more here.
Day drink in the park
San Francisco has really chill open container laws. If you're looking for things to do in San Francisco today but are coming up short, just grab a six pack and head to the park! On any given weekend day, most parks will be filled with people drinking on picnic blankets. It's one of my personal favorite ways to hang out with friends. Skip the pricey brunch and instead enjoy a bottle of wine, fresh air and a good view. On sunny days, it's wonderful and one of my favorite Bay Area things to do with visitors. If you are visiting on a sunny weekend day, check out Dolores Park in the Mission District to hang with the locals.
Exploratorium
We LOVE the Exploratorium, a fun science museum that's unlike any other science museum you've been to before. We have After Dark annual passes so we can attend the Thursday night adults-only events. You drink, you run around the museum sans children and it's such a blast. If you're looking for fun things to do in San Francisco tonight, learn more here.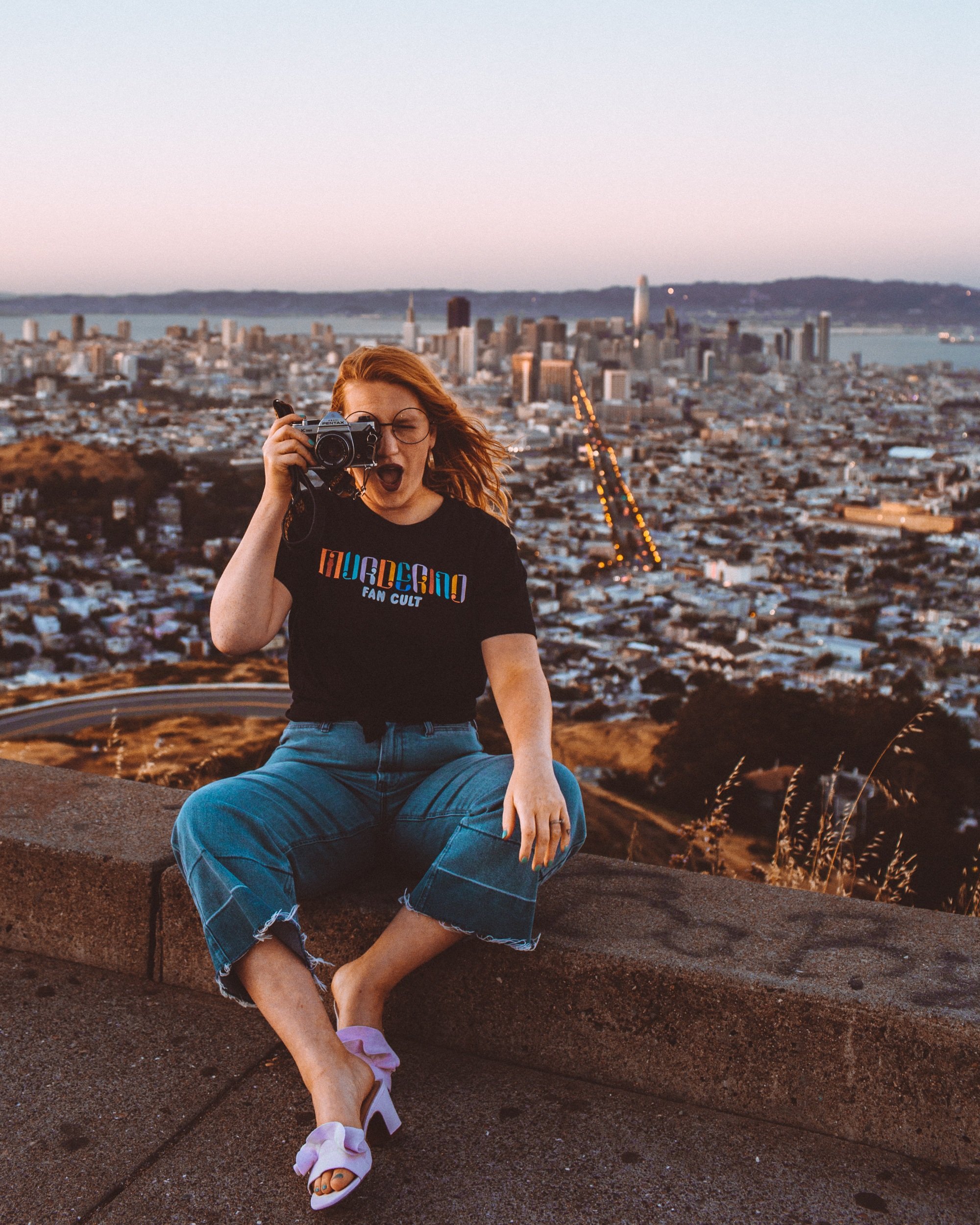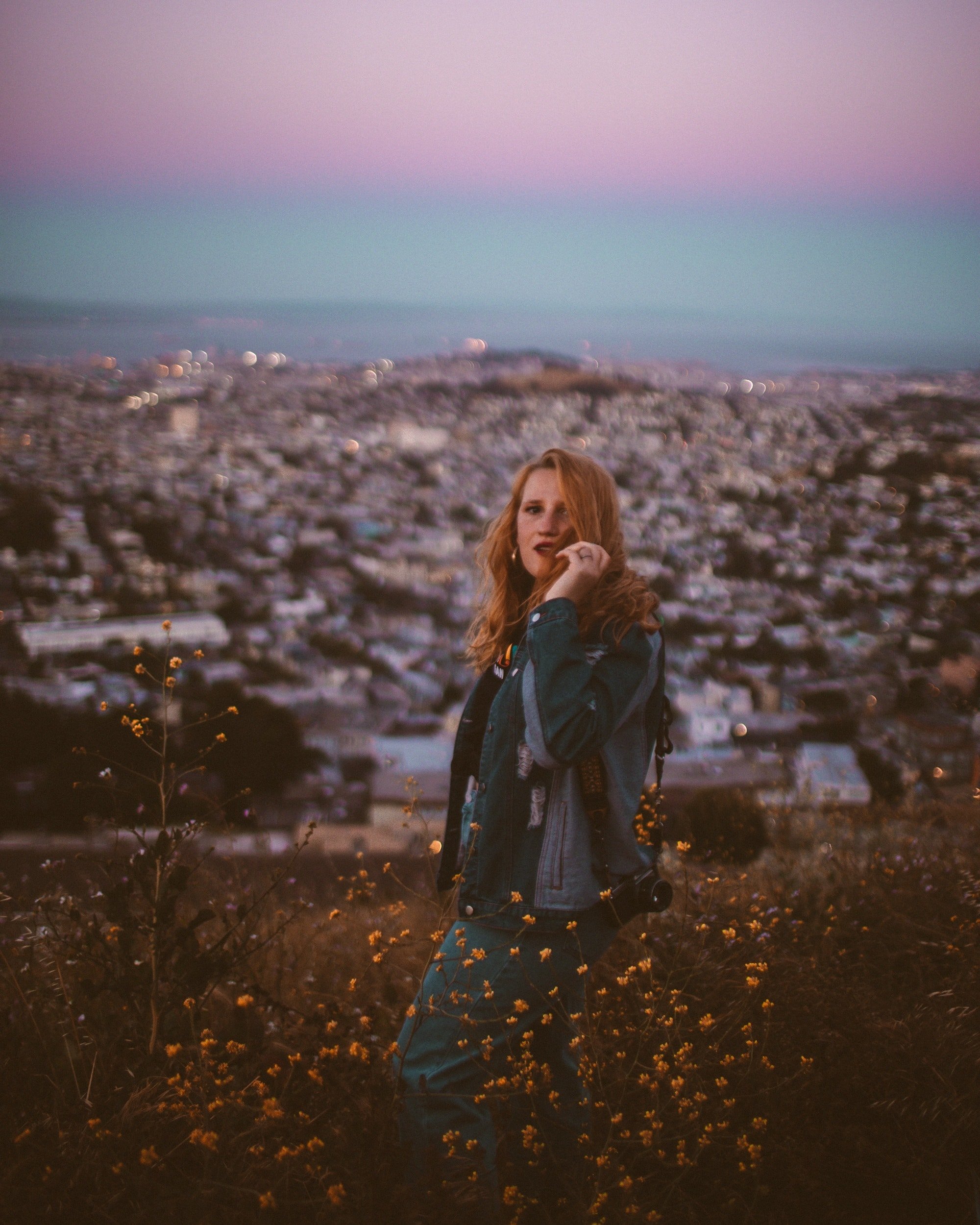 Twin Peaks / Bernal Heights / Grand View Park overlooks
San Francisco California has a LOT of hills and there are a few standout parks that offer the very best views of the city. Twin Peaks is my favorite. The best time is to visit at sunset as it's beautiful watching the sunset over the city. You can see downtown San Francisco from one peak and the ocean from the other side.
Bernal Heights is another great downtown overlook spot and Grand View Park has great views of the ocean.
Anchor Brewing
As beer fans, we love visiting local breweries while traveling and the Anchor Brewing tour is a standout. They do a great job at educating you on the history of the steam beer and Anchor's importance to the city, and the walking tour is a lot of fun. Afterward, you get to sample a LOT of beer in the tap room. It's delightful! I hear they also have a rooftop deck now which would be great on sunny days. Of all the brewery things to do in the Bay Area, this is the best.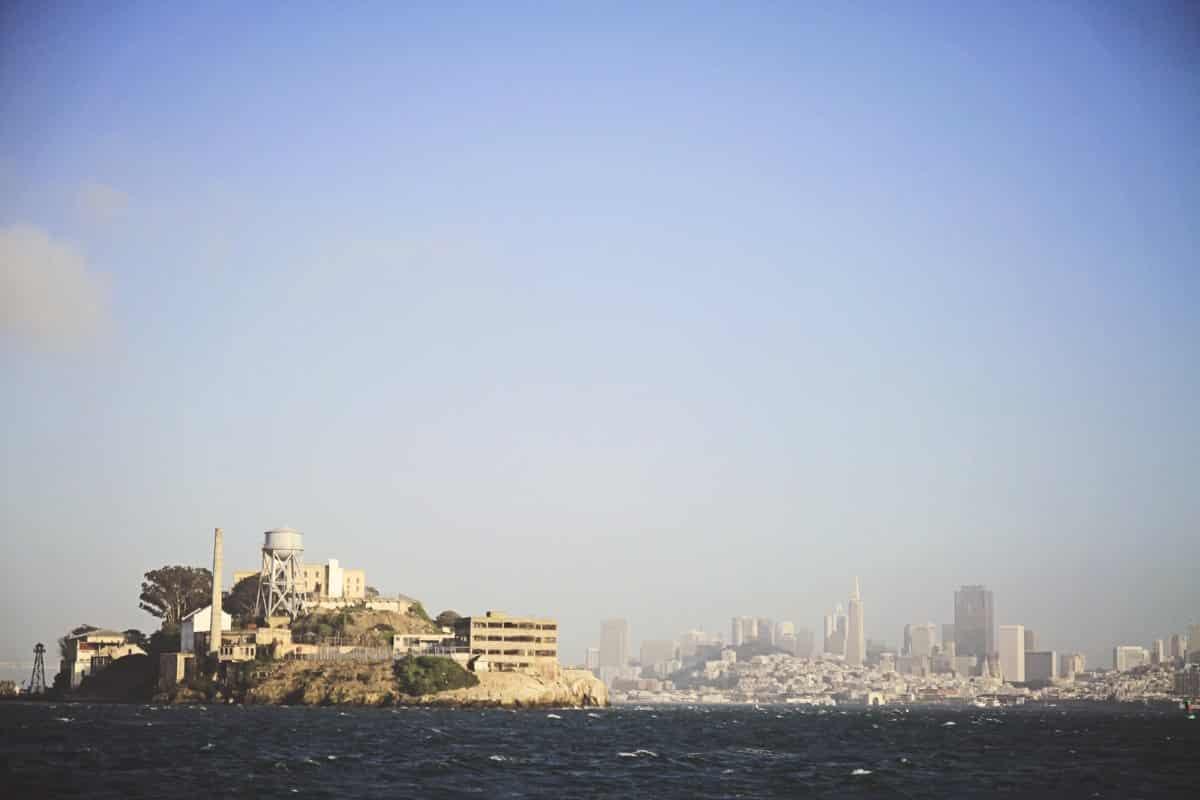 Alcatraz
Alcatraz is one of the best tourist San Francisco attractions I have ever been to. I love everything about it (I'm also a true crime fan, so that helps.) Make sure to buy tickets in advance from THIS company, as tours will fill a good 3-4 weeks in advance. You ferry over and get a stunning view of the city from the boat. The tour is a self-guided audio tour that does such a good job at guiding you through the history, riots and major events. From the island, you can everything – East Bay, North Bay, The Bay Bridge, San Francisco and the Golden Gate Bridge. I always tell friends visiting of what to do in San Francisco and always tell them Alcatraz is fun! Don't miss out.
Baseball Game
If you're trying to think of things to do in San Francisco on Monday, check to see if there's a game happening! We're home to the San Francisco Giants and the AT&T Stadium is one of my favorites as it's right on the water and has a fantastic view. Seats can be as cheap as $15 and evening games are the best to visit as you'll get to watch the sunset over the Bay. Make sure to bring a jacket as it can get chilly!
Union Square
Union Square is the major shopping center of the city. While I personally don't think you need to spend time shopping at national stores you can visit at literally almost any mall in America, it is a really fun area to walk around for a bit. During the holidays they put up a huge Christmas tree (which is a big SF attraction) and an ice skating rink! Sometimes in the summers, artists will take over the square with exhibits. It's fun to swing by on your way to Chinatown.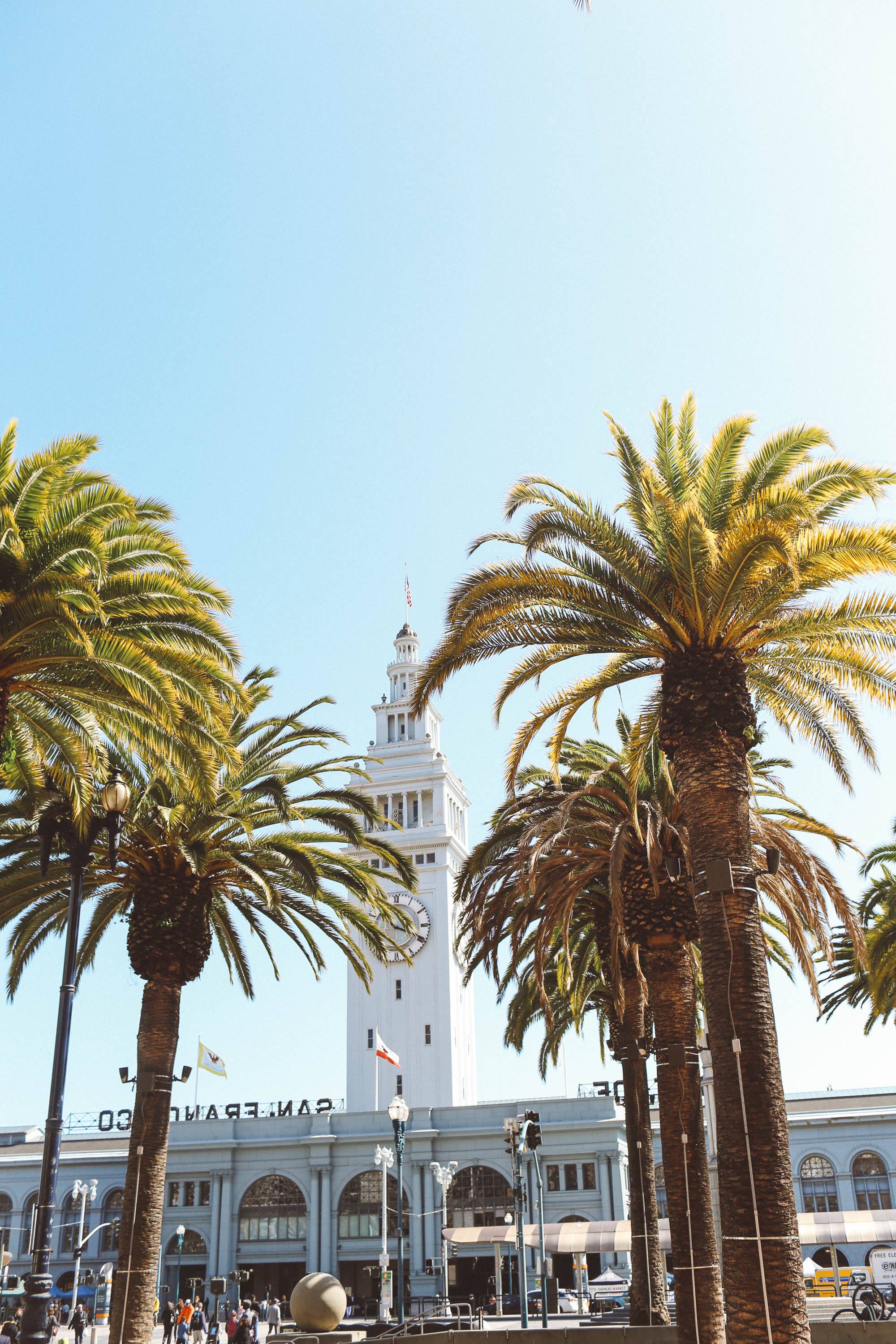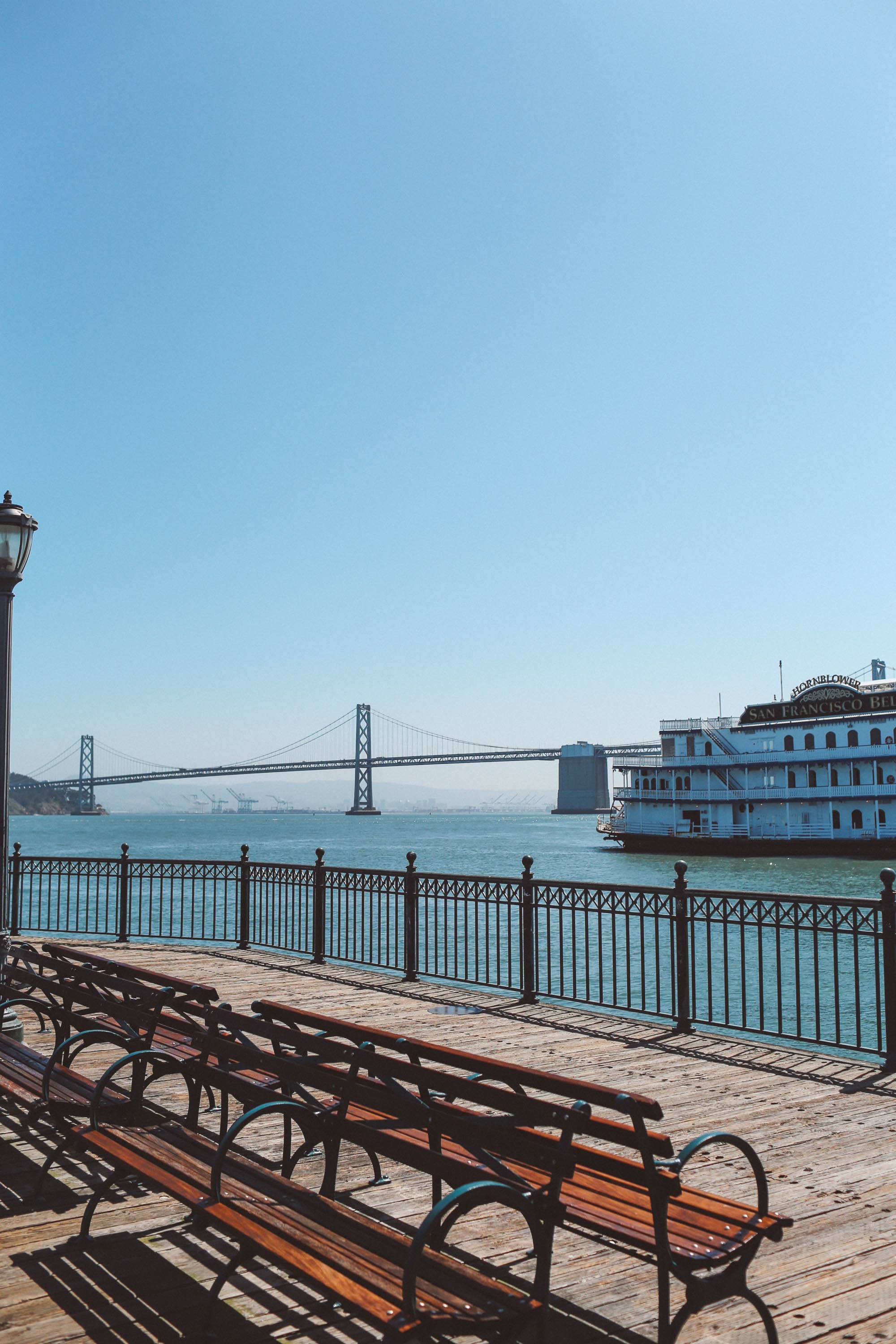 Ferry Building
I LOVE the Ferry Building! It's the white building that sits on the end of Market Street and it houses loads of artisan shops and restaurants, on top of being an operational ferry terminal. What to do San Francisco on Tuesdays, Thursdays and Saturdays? The Ferry Building's farmers market outside is a must!! At the very least, on any day of the week, it's fun to stop by, shop a bit and dine at Hog Island Oysters as you have a killer view of the Bay Bridge.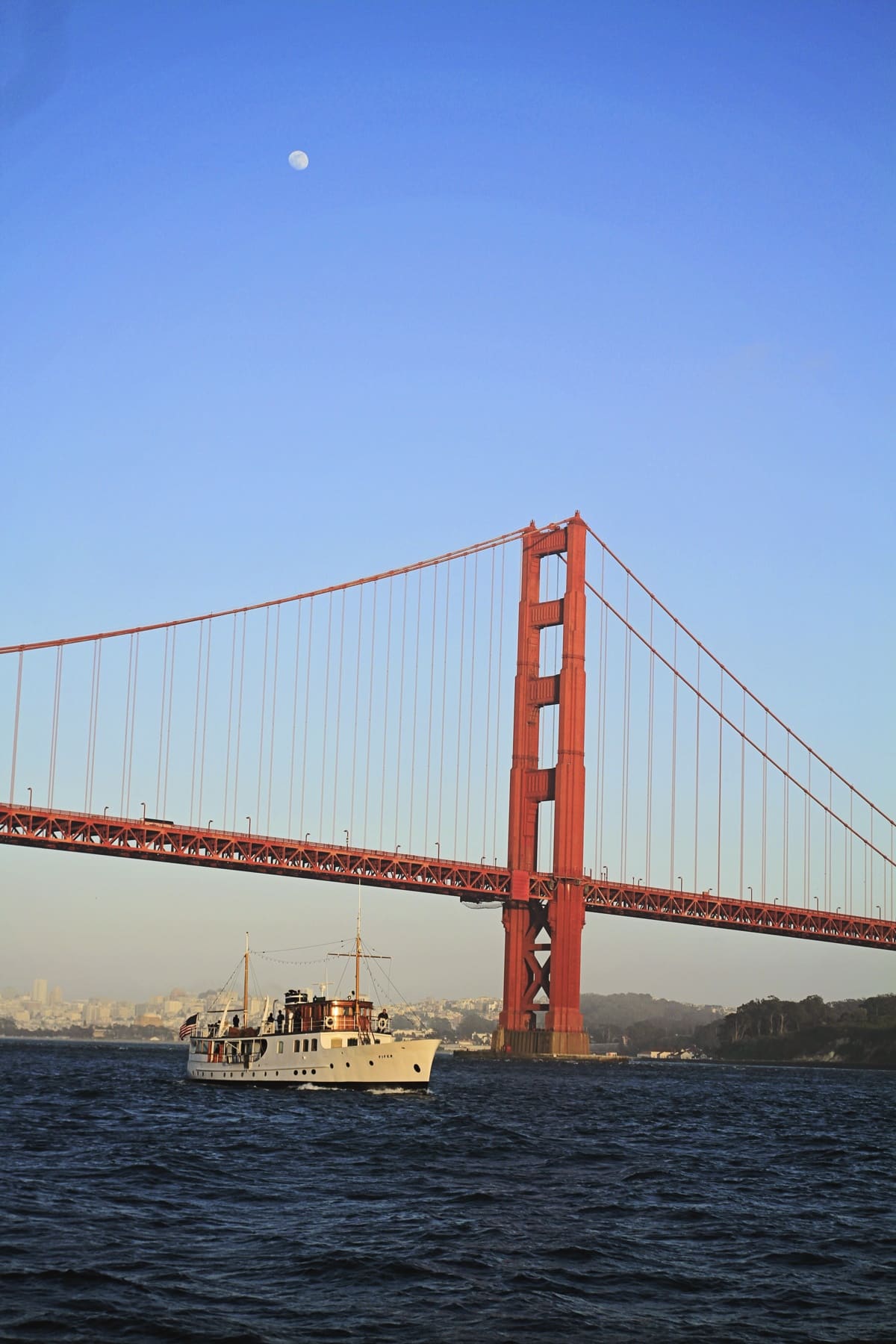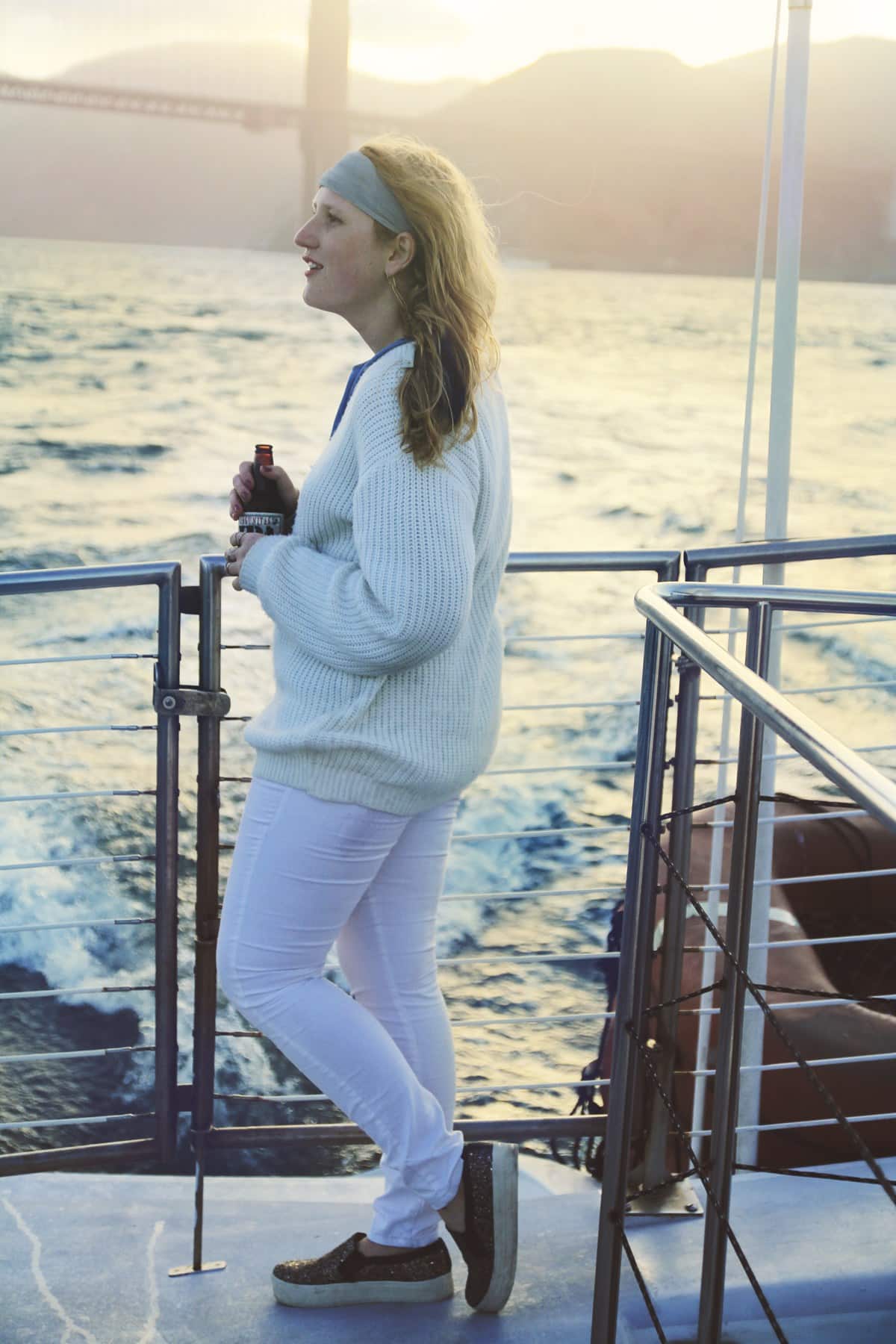 Cruise Around The Bay
Viewing San Francisco from the Bay is a must for locals and visitors alike. We've been on several different cruises around San Francisco and have fallen in love with exploring the city this way. A particular favorite is the Red & White Fleet which takes you around Alcatraz, Sasoualitao and under the Golden Gate Bridge at sunset. On a clear evening, this is a magical cruise. You can sometimes even spot whales! Book a cruise here. There is also the Horn Blower for important celebrations. Make sure to wear a warm jacket and the Bay is ALWAYS windy and cold!
---
I hope this helps you plan a fantastic trip to San Francisco. It's a city that should be on your bucket list and is one of my most favorite places in the world. If you have any questions, leave a comment below or DM me on Instagram @thewhimsysoul!