Get a job, buy your own shit, stay out of the forest. Oh, and stay sexy, don't get murdered.
It's more than just good advice—these are the mantras by which all Murderinos live.
Murderinos are fans of the insanely popular true-crime podcast My Favorite Murder. As in, 35-million-downloads-a-month popular. But what makes real-life stories about serial killers and gruesome deaths so compelling?
I'm going to take a stab at answering that question, and of course, I'll be making a Murderino cocktail while I'm at it. Because nothing says "My Favorite Murder" quite like dark themes mixed with dark humor.
My Favorite Murder's Meteoric Rise
When Karen Kilgariff and Georgia Hardstark first met at a Halloween party in 2015, they were faced with everyone's greatest fear: awkward small talk. But when Kilgariff recounted the harrowing details of an accident she'd witnessed, they quickly bonded over their mutual obsession with the macabre.
In January 2016, these comedians-turned-cohosts released the first episode of their podcast, My Favorite Murder, where they discussed the cases of JonBenét Ramsey and the Golden State Killer. Later that same year, My Favorite Murder topped the iTunes charts as the #1 comedy podcast, raking in about 450,000 downloads per episode.
Kilgariff and Hardstark have since co-authored a New York Times bestselling memoir, launched their own podcast network Exactly Right, and earned a whopping $15 million in 2019 alone. In short, they're killing it.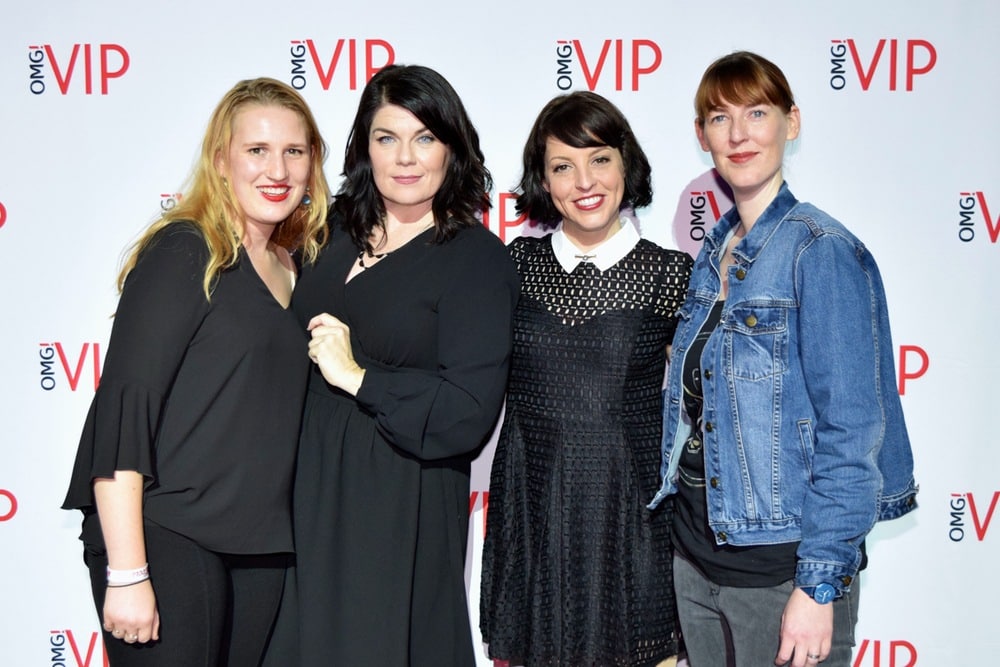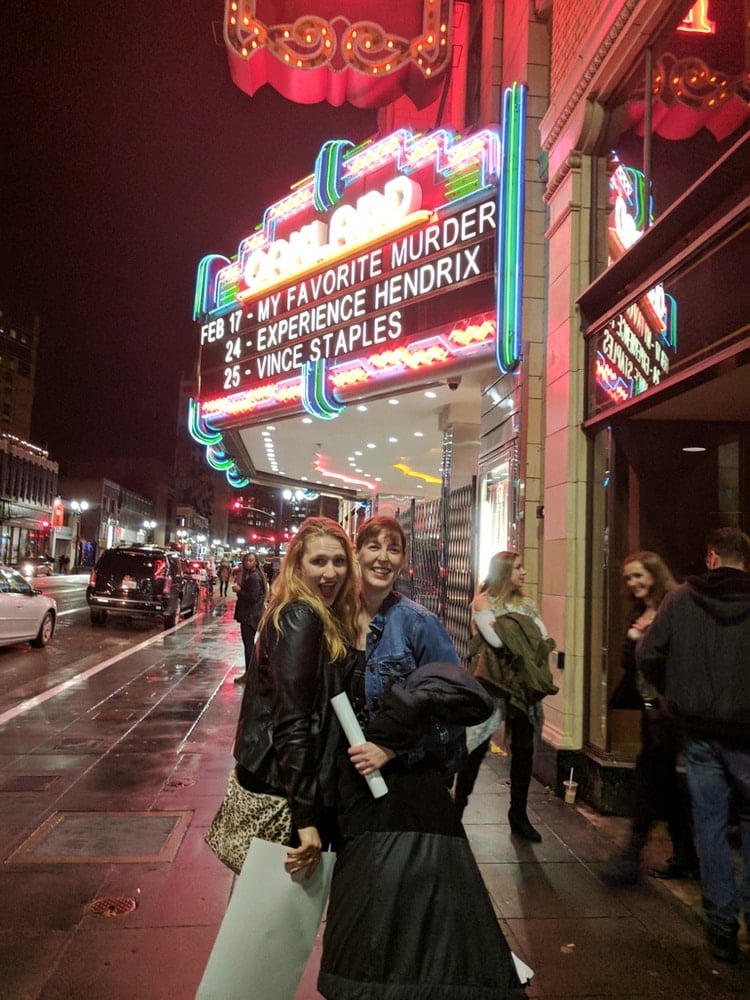 The Truth About True Crime
The majority of My Favorite Murder's fanbase, like most true-crime consumers in general, are female. This may seem odd, considering that women are, by and large, the victims in the very stories that My Favorite Murder peddles.
But ask a Murderino why she gravitates toward these grisly tales, and she might say something about how it's a way to process the prevalence of misogynistic violence throughout society (as borne out in a study by the Social Psychological and Personality Science journal).
Or maybe she enjoys My Favorite Murder because, like a horror movie, it touches on the taboo and the thrill of being scared, all from the safety of home.
But for some Murderinos, the biggest draw of the podcast isn't the content itself but the community of like-minded women that has sprung up around it.
Passionate fans of the podcast have come together through Facebook groups, sold-out shows across the globe, and the "Fan Cult": My Favorite Murder's official online club for paid members, offering exclusive merch and content.
this is where I plug my own MFM merch 😅😉

"We as women have long felt we had to be cheerful and avoid heavy topics," Kendra Granniss, founder of one of many Meetup.com Murderino groups, said in this New York Times article. "Then came these two normal women, you know, just talking about murder. It was like, 'Oh, we can talk about this and embrace the darker regions.'"
Kilgariff and Hardstark don't shy away from the so-called "darker regions" of their own lives either. Both are unflinchingly candid about their experiences with anxiety, depression, and addiction—their irreverent quips often segueing into frank discussions about mental health and the importance of self-advocacy.
Much of My Favorite Murder is Kilgariff and Hardstark simply chatting. About themselves, their relationships, their struggles. Because while My Favorite Murder has many snarky suggestions for how not to die, it has more to say about how to live.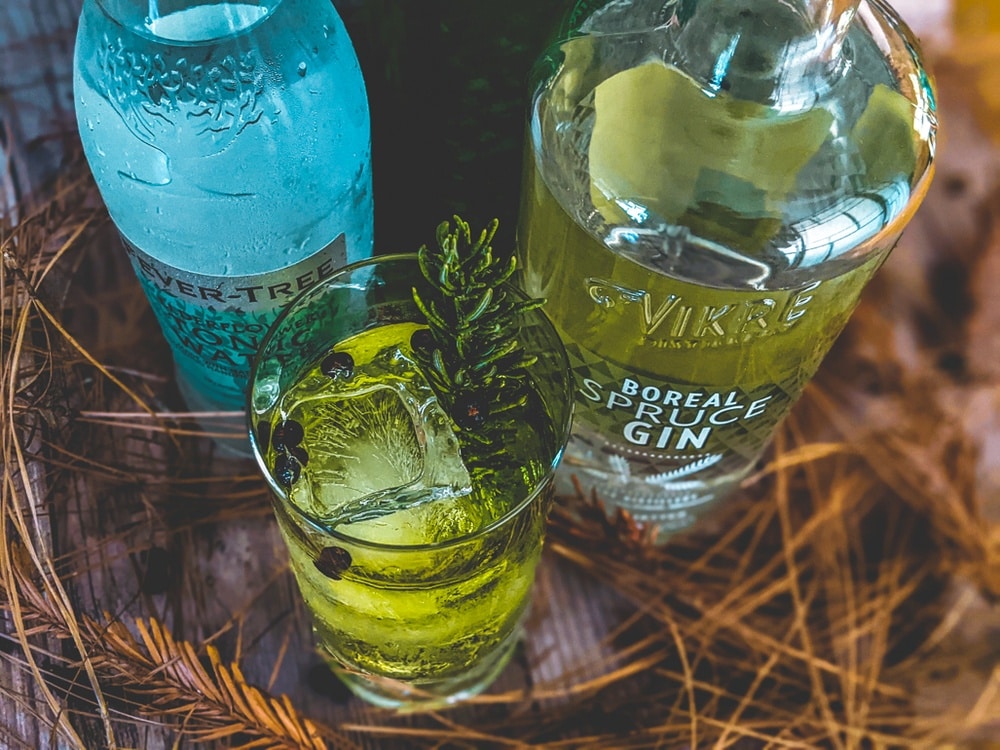 How to Make a Murderino Cocktail
Though Karen and Georgia will warn you to stay out of the forest, I'm inviting you to step inside!
With one sip of this cocktail, you'll be transported to a spooky, foggy forest in the dead of night. Where gnarled tree branches reach out like fingers, eerie noises cry out in the dark, and you swear you can hear footsteps on the fallen leaves behind you… Eep!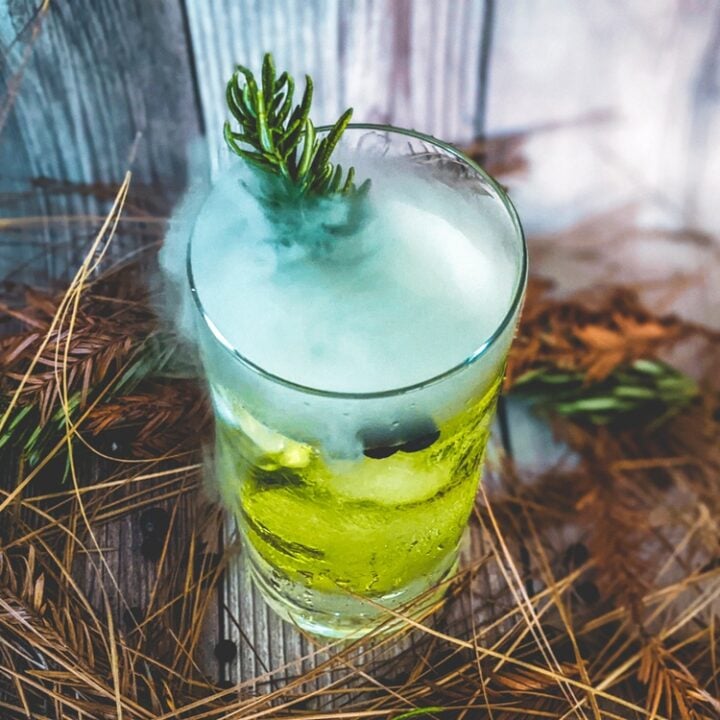 Stay Out of the Forest Cocktail Recipe
A woodsy take on the classic G&T that brings the forest to you. Piney and herbaceous, this simple cocktail is perfect for any Murderino mixologist. SSDGM!
Ingredients
Instructions
Fill a highball glass with ice.
Add gin and liqueur(s).
Top with tonic water; stir gently to combine.
Garnish with rosemary and juniper berries as desired.
Notes
I want this cocktail to taste like you've just licked a forest floor (but, like, in a good way). So the more botanical, the better!
All gin is made with juniper berries, but I chose Boreal Spruce Gin for an especially piney kick. And if you have Green Chartreuse liqueur, use it—maybe you have some leftover from my Loki cocktail? You can also swap in elderflower tonic water for more floral flavors.
For a really creepy cocktail, add some dry ice.
Recommended Products
As an Amazon Associate and member of other affiliate programs, I earn from qualifying purchases.
Whether you're bingeing a true-crime docuseries on Netflix or listening to the latest episode of My Favorite Murder, this cocktail will pair perfectly.
Or if you're hosting a Halloween party, add this Murderino recipe to your menu! Green drinks are totally on-theme for spooky season, amirite?
So take a sip, and stay sexy. And let me know in the comments whether you're a Karen or a Georgia!