The mountains are calling! While some associate California with the Hollywood sign, Rodeo Drive, San Diego surfers, and the Golden Gate Bridge, others have something far more elusive on their minds: the great outdoors.
California is the coolest state in the country (there, I said it) because while it has no shortage of amazing cities, some of the most beautiful and must-see locations are located on the fringe of society. California has lakes, mountains, ocean, and bay– that's more than a few opportunities for outdoor beauty.
Particularly in Northern California, some of the best areas are nowhere near the city. While there's plenty of epic hiking trails around San Francisco and LA (I'm thinking Land's End and Sandstone Peak), if you're looking for a vacation slightly off the beaten trail, this is a list of the best mountain towns in California.
12 Best Mountain Towns In California
Whether it's secret hot springs or intense backpacking, these towns have everything an outdoorsy gal (who thrives at a high-er elevation) could ask for!
1. Murphys & Arnold
Situated down in the foothills between Lake Tahoe and Yosemite National Park, you'll find the historic Murphys, a town made famous by the gold mine rush of the 1940s. And, right up the hill, the smaller town of Arnold.
While starting your outdoor adventure, you should begin with the Calaveras Big Trees State Park. Just a twenty minute drive away in Arnold, it's a must see.
Throughout the tons of different trail options, you will come across the Stanislaus River, Beaver Creek, natural meadows and trails, and as the name suggests, some very big trees.
For hiking at higher altitudes, the Stanislaus National Forest is unbelievably stunning, and noticeably less crowded than the more tourist populated Yosemite. But just as beautiful.
You can't stop in Murphys without visiting the famous Mercer Caverns. Discovered in 1885 by an unlucky (or extremely lucky depending on how you look at it) gold miner, the Caverns are one of the most incredibly vast caverns in the state.
They're spooky, too– remains from humans dating back to the year 300 were found throughout the caves. Don't worry, though. It's been cleared out since then.
When considering where to stay, our cabin in Arnold is a must stay (obvs) so keep an eye out for our launch date, but in the meantime The Victoria Inn is a cozy and rustic spot right in the middle of Murphys. Nothing says mountain town quite like a claw foot bathtub.
The fact it's a one minute walk away from The Hatcher Winery is purely coincidental, but the final selling point for me.
2. Truckee
The best part about Truckee is that there isn't a bad time to visit. Whether you're checking out the fall foliage, or skiing post-holiday season, Truckee has enough mountains to keep you busy.
Just outside of South Lake Tahoe, Truckee is one of the best towns in the Reno area, and a certified northern California mountain town.
In terms of activities, you should start with the Angela, Flora, and Azalea Lakes loop. It runs alongside a few choice lakes, and is typically empty if you show up early enough in the morning.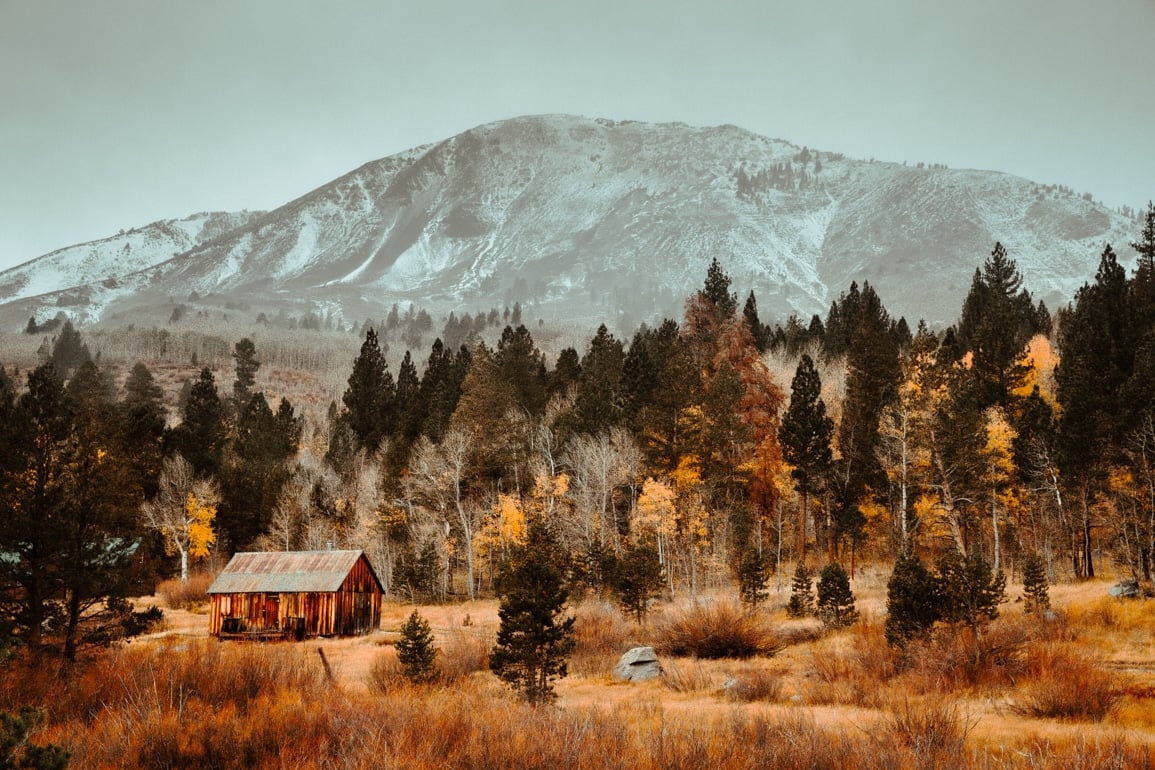 Donner Lake is another one of the spots you should prioritize. The docks are free and open to the public, so they're a great place to catch some rays and views depending on the season.
Speaking of the Donners– and yes, you're thinking of the right Donners– the historical side to Truckee is pretty amazing. The Emigrant Trail Museum in particular, right next to Donner Memorial State Park, is a great immersion into early Truckee life.
As far as where you should stay, the Hampton Inn & Suites Tahoe-Truckee is the best bang for your buck with an utterly perfect view of the mountains.
Or you could stay at Donner Lake Village. (Again, those Donners 👀) This hotel is in the perfect location to visit Donner Memorial State Park as well as the Donner Lake, so it's definitely one to keep in mind.
3. Three Rivers
They don't call Three Rivers "the gateway to Sequoia" for nothing. This is the top California mountain town if Sierra Nevada hiking is on your list. As much as I love southern California, nowhere in the state beats the Sierra Nevadas (not far from the Sierra National Forest).
Kings Canyon and Sequoia National Park is the most obvious first stop for very good reason. The seqoiuas are so uniquely Northern California, and many of them are older than any living human being. It's breathtaking.
There are plenty of hiking trails, some of the most popular being the Foothills Day Hikes and the Cedar Grove Day hikes. Just be sure to always check the weather before heading out.
Kings Canyon is a bit remote (it takes about 90 minutes to get there from Three Rivers), so plan accordingly.
In a town as secluded as Three Rivers is, the hotel options are definitely on the rustic side. The Lazy J Ranch Motel is a perfect no fuss motel with a pool and a gorgeous view of the Sierra Nevada Mountains. You can also book a glass airbnb which is magical.
4. Mariposa
Mariposa is the perfect mix of kitschy and adorable. Just outside of Yosemite, it's one of the oldest and most charming mining towns in California. If you're headed down to hike the national park, don't leave this stop off your trip.
Of course, as the state historic park that it is, hiking or camping in Yosemite will be at the top of your list. Understandably so. But there's plenty to do right in Mariposa, too.
The art gallery scene is big here, but it's different from art in the city. Most of the paintings and photographs are nature-centered, and almost as beautiful as the real views they portray.
Live music is a big deal in Mariposa. They have events lined up year round, and plenty of fun venues. Check out The Grove House if you're an IPA fan, too.
In terms of where to stay, the Historic Adair House Airbnb is where history and homeyness collide. It's chocked full of fun details for all of the history fans out there.
5. Oakhurst
Situated in Madera County at the foot of Yosemite, Oakhurst practically has too much to do.
Bass Lake is less than a ten minute drive from the center of town, and has tons to do. Depending on the season, you can fish, hike, bike trails, wakeboard– there's more things you can do here than things you can't.
Fresno Flats Historical Village and Park is another great place to catch the historic goldmine vibes of Oakhurst. It's a little cheesy, but only in the best ways possible. Perfect for photo ops and to maybe even learn a little about the gold rush.
It wouldn't be a Northern California travel guide without mentioning at least one wine tasting. The Madera Wine Trail is a tasting that starts in the farmlands and heads into the foothills of the Sierra. It doesn't get more NorCal than that.
For a unique stay, consider the Sierra Meadows tiny home. A bed, mini-fridge, nightstand, and some AC/Heat is all a person needs. And that's exactly what you'll get in these special, super fun cabins.
6. Bishop
Bishop Creek Canyon is perhaps the most underrated of all the Sierra hot spots. As it says on their website, it's "a small town with a big backyard." Possibly the understatement of the century.
The town itself is exactly as advertised. As far as cozy, small mountain towns go, Bishop is the coziest and maybe the smallest with a very low population. Great Basin Bakery is top of the list for quick eats on the go to your hiking destination.
One of the coolest and most unique sights in Bishop has to be the volcanic tablelands. Just a short trip out of Bishop, the volcanic tablelands are amazing plateaus of frozen volcanic rock. You'll feel like your own Mars!
And it wouldn't be a California mountain town without mountains. There are tons of great trails to hike, but I'd start with the Little Lakes Valley Trail.
For those brave enough to boulder, there are a variety of different spots to choose from. Just be sure to have plenty of ice packs handy.
7. Mammoth Lakes
Of all the California mountain towns, Mammoth Lakes might be my favorite. Similar to other locationso on this list, there's no shortage of breathtaking hiking and tons of fantastic views.
But Mammoth Lakes has one thing in particular that the others just can't compete with: an abundance of hot springs.
Located on the Eastern side of the Sierra Nevadas, Mammoth lakes sits on top of a hotbed of geothermal water. Which makes it the perfect hot springs destination.
Wild Willy's is one of the best spots in the entire state of California. After hiking in, you'll find multiple hot springs to bath in. Even one in the shape of a heart. If you go at sunrise, you should get the place to yourself, but be prepared for neighbors– it's a popular spot to bring beers and wine out for the sunet.
Another very popular destination is Crab Cooker Hot Springs. It's too hot to directly touch, but a manmade valve has been input to control the temperature. Situated in the heart of the Sierra Nevadas, it's not a bad place to post up for the day.
After you've done enough bathing, the Mammoth Mountain Resort is a cozy ski resort at the base of the mountains. There is absolutely no reason to book elsewhere, even out of ski season. The resort has ziplining, hiking, and amazing spa amenities year round.
8. Big Bear
So while this list is a mostly NorCal leaning list, you can't talk about beautiful mountain towns without mentioning Big Bear and Big Bear Lake. Big Bear is probably the most common mountain town you hear of in California, and is considered the Lake Tahoe of LA, so it's definitely worth adding to your California bucket list.
Up in the San Bernardino Mountains, there's plenty of hiking trails and mountains to gaze at. There are a ton of trails to choose from, but Castle Rock Trail is among the best of 'em. It''s short and not too difficult, but with some insane views throughout the 3 mile out-and-back.
After a day of hiking up, be sure to dedicate some time to sliding down. The Alpine Slide at Magic Mountain is one of the most iconic ways to enjoy the great outdoors in Big Bear. The massive slides down the side of the mountain will bring out your inner child! Just don't scream too loudly.
The town itself is one of the most adorable places in the world. If you visit in autumn, it's covered head to toe in fall foliage, and surrounded with cutesy little shops. Absolutely pay the Village Shops a visit, but know that it's pretty much always crowded.
In terms of where to stay, there are plenty of hotels in and around the town, but I'm more in favor of booking a cabin or house for your visit. It's just a little cozier to me to be in a cabin.
Also, this way you can decide what your priorities are– where you book will determine if you're closer to the Village Shops, Big Bear Lake, or the San Bernadino trailsl
And if you want to extend the trip, Joshua Tree is a quick ride away!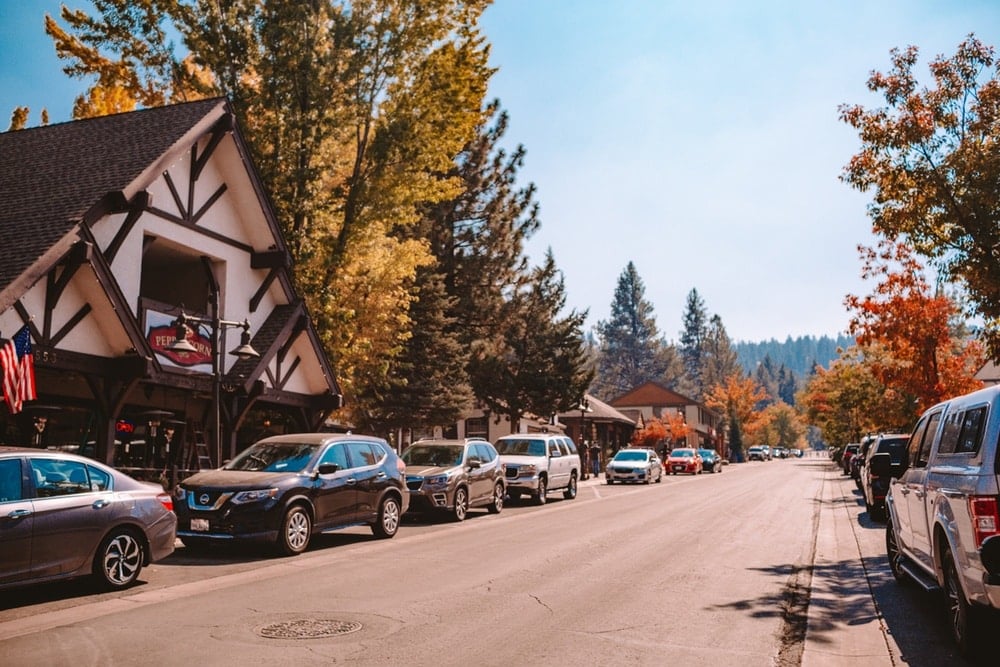 9. Shasta
If you're looking for remote, than Shasta is the place for you. This tiny, small mountain town is up on the northernmost tip of California, and just so happens to be at the start of the Pacific Crest Trail. Think Reese Withersppon in Wild. Very remote, and very incredibly beautiful.
One of the top reasons to visit Shasta is to explore the McCloud Falls. The Falls consist of three spectacular waterfalls all within a 4 mile hike. Summer is the best time to visit– most of the water in Shasta is glacial runoff, so it's freezing AF. But a super cool blue color that looks practically fake in parts!
If you have the time to check out the town itself, I recommend hitting up the adorable farmer's market. Nothing says California quite like farm fresh produce.
As to where to stay, the Fowlers Campground is right by the Lower Falls. It fills up fast, so book early. It's $15 a night, which is a bargain unless you consider the abundance of free camping throughout California.
If a hotel is more your speed, the Comfort Inn Mount Shasta is a no frills, simple stay that will get you super close to the mountain.
10. Sonora & PineCrest Lake
Sonora is the poster child for a small gold rush town. It's one of the most historic towns in the area, so the fact it's adjacent to the gorgeous PineCrest Lake feels too good to be true.
Before exploring the outdoors, you have to check out the town. Mark Twain lived here! Steam trains operate with tour guides through goldmining country! Columbia State Historic Park is a literal preserved township with shops from the 1800s! This place is oozing with gold rush history.
Once your ready to skip town and hit the mountain, Dragoon Gulch Trail is one of the best known trails for a reason. It's a moderate loop through the Sierra Nevada Mountain foothills.
I'm a huge fan of Lakes, something that has only gotten more serious since Taylor Swift released a song called lakes. PineCrest Lake is absolutely stunning, and has plenty of opportunities to picnic or just chill. If you're into fishing, that's an option too.
You're super close to Nevada City, so if that's on your list, be sure to check it out while in Sonora.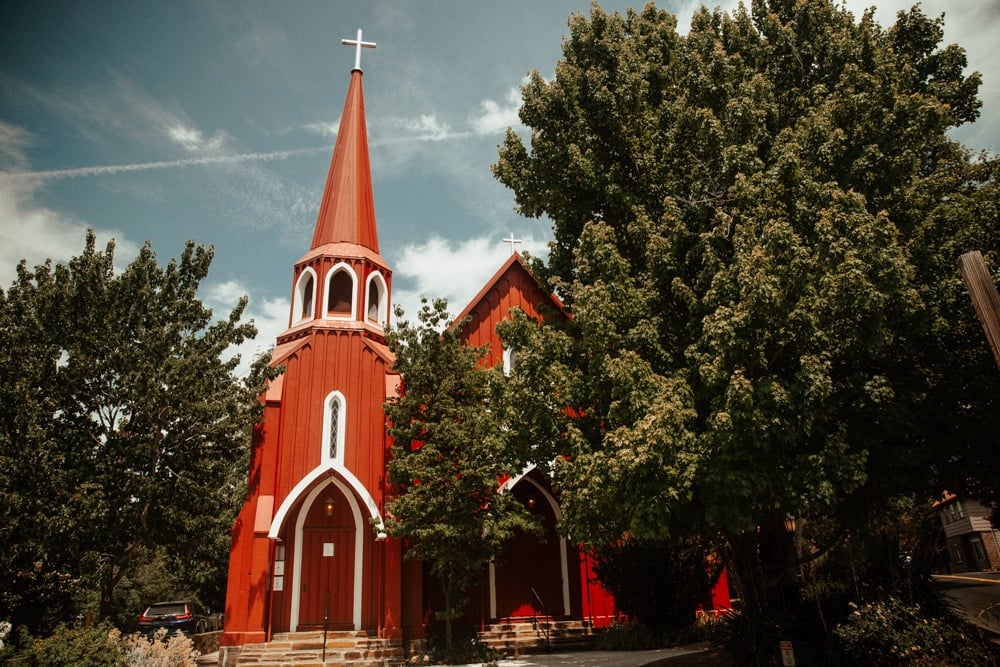 11. Lake Arrowhead
Another SoCal top hit, Lake Arrowhead is similar to Big Bear in some ways, but is very arguably cuter. It's called the "Alps of Southern California" because, as you could probably guess, it's very similar in vibes to an Alps mountain town.
The lake itself is miles and miles of brilliant blue waters. I suggest taking the Queen Boat Tours so you can explore the entire lake at a reasonable price. I also just think a steamboat is giving nostalgia at its best and is always a good reason to hit the water.
The Village has a ton of cute local shops and restaurants, and is always overflowing with live music. Plus, it's right on the water, so you'll still feel like you're getting your mountain/nature fix.
AirBnb over hotels any day in Lake Arrowhead. There's an over-abundance of options to choose from, and they all have that super unique California cabin feel. This A-Frame cabin in particular feels like it was made to be a home away from home.
12. Dunsmuir
About four hours outside of San Francisco is the gorgeous town of Dunsmuir, where you will find some of the most beautiful hiking trails in Hedge Creek Falls.
Further down the line is Mossbrae Falls which, to my knowledge, is not technically legal to hike as it is on private property. Still, plenty of people manage to hike it and tell the tale. The risk is worth it, as it's said to be one of the most majestic of all hiking trails in the area. Just be careful and don't say I didn't warn ya!
One of the other main draws of Dunsmuir is the fishing. I'm not much of a fisher woman myself, but apparently fly fishing is a big deal around here.
Lodging is somewhat slim pickings, but the Mossbrae Hotel looks like a cozy and well-kept hotel with plenty of outdoor seating to enjoy the mountain sunset with a bottle of wine.
BONUS: San Luis Obispo
Not your typical charming mountain town, this coastal destination smack dab between San Francisco and Los Angeles, does boast some good hiking. It's a fairly small town with the cutest downtown and so much to do like visiting the iconic Madonna Inn.
It's also home to the "Nine Sisters" – a chain of volcanic mountains and hills spread from SLO to Morro Rock in Morro Bay. You can hike nearly all of them too! While it's strictly forbidden to hike Morro Rock, nearby Black Hill Trail (which Whimsy Editor Taylor wrote about in her Morro Bay guide!) in Morro Bay State Park is an easy hike with the best view of Morro Bay.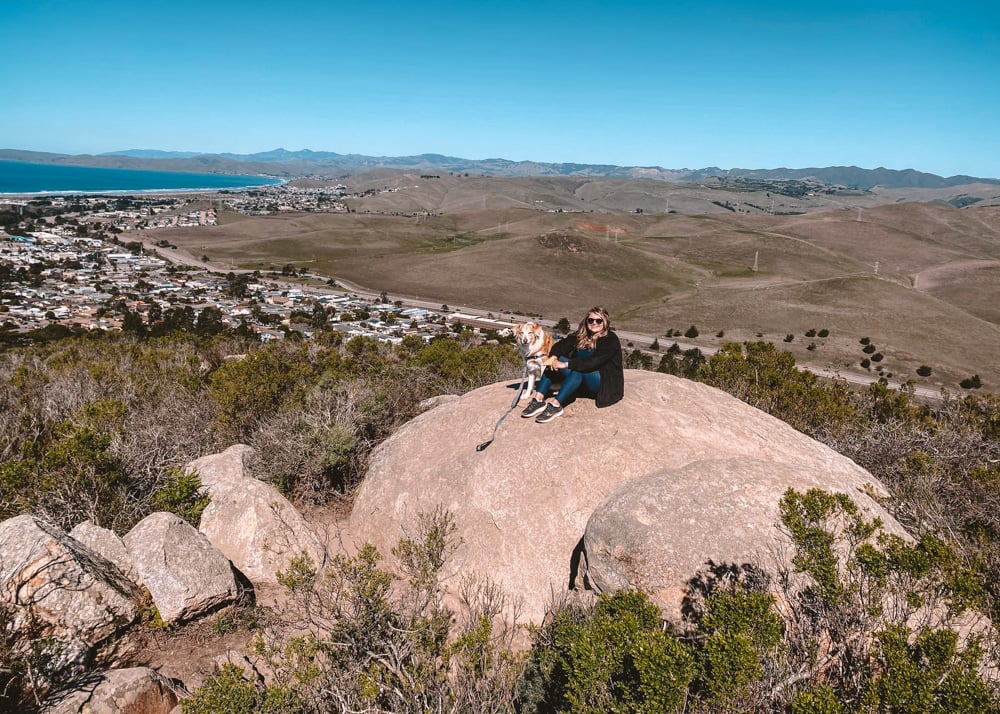 Bishop Peak is the highest peak amongst the sisters. It's a moderate hike located near the Cal Poly campus. The trailhead is located in a neighborhood so parking is limited, and please be respectful of those who live nearby!
Not far from downtown, you'll find Cerro San Luis! If you're looking for a good workout, this is the spot for you. There's not a lot of shade, so plan on going in the early morning or evening and wear lots of SPF!
Other than the Nine Sisters, there's still TONs of hiking options in and around SLO like the Cal Poly Architecture Graveyard where you can hike to Serenity Swing, Johnson Ranch Loop Trail (super green "Irish Hills" vibe in the springtime!) and Sycamore Crest Trail where you can find another hidden swing like this rope swing I found kayaking Avila Beach.
The latter is a bit tricky because the trailhead is located at Sycamore Springs where there's no public parking, so take Bob Jones Trail where there's plenty of parking. There's a bridge to cross over to Sycamore Springs along that trail, you can't miss it!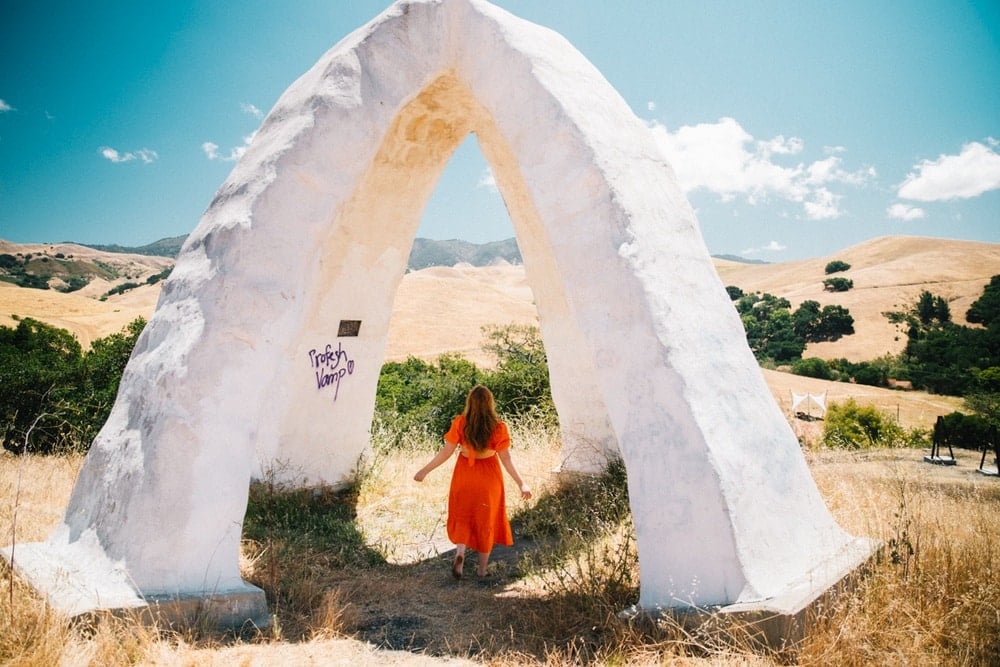 California is truly (in my biased opinion) the most beautiful state. Every year, we get visitors from all around the world to visit San Francisco and LA. And for good reason! Both are amazing cities with a lot to offer.
But if you're looking to get a little less time on the sidewalk and a little more time on some trails, these are the best California has to offer. The best part is, whether you visit in the winter or the summer, spring or fall, there is just so much to do in each location.
While this is a mountain/lake list, I have to quickly plug that you visit San Francisco or Los Angeles just for a few hours while you're there.
You have to fly in anyways, so if you're landing at SFO or LAX, you may as well look around a few hours before you head to the mountains!
I hope you have an amazing trip to the California mountains! Who knows– you might just become a California convert. Take lots of pictures and remember to pack sunscreen and bug spray!