*updated 2023* So, you're heading to London? Chip chip, cheerio, have a cuppa tea ye ole chap and settle in for my perfect London itinerary!
I spent 4 days in London with my husband on the last leg of our European honeymoon and fell in love with this historic city. I also ate, like, WAY too many pasties because I'm obsessed with them and low-key want to riot whenever I think about the lack of meat pasties here in America.
Anyways, I feel super confident in this itinerary, especially if it's your first trip to London. I'll be sharing basics like where to book a hotel and how to get around, along with insider tips on all the best things to do and places to eat and OBVI where to find the tastiest pastie in town.
4 Days in London Itinerary: What to Do, Where to Stay, Where to Eat & More Travel Tips!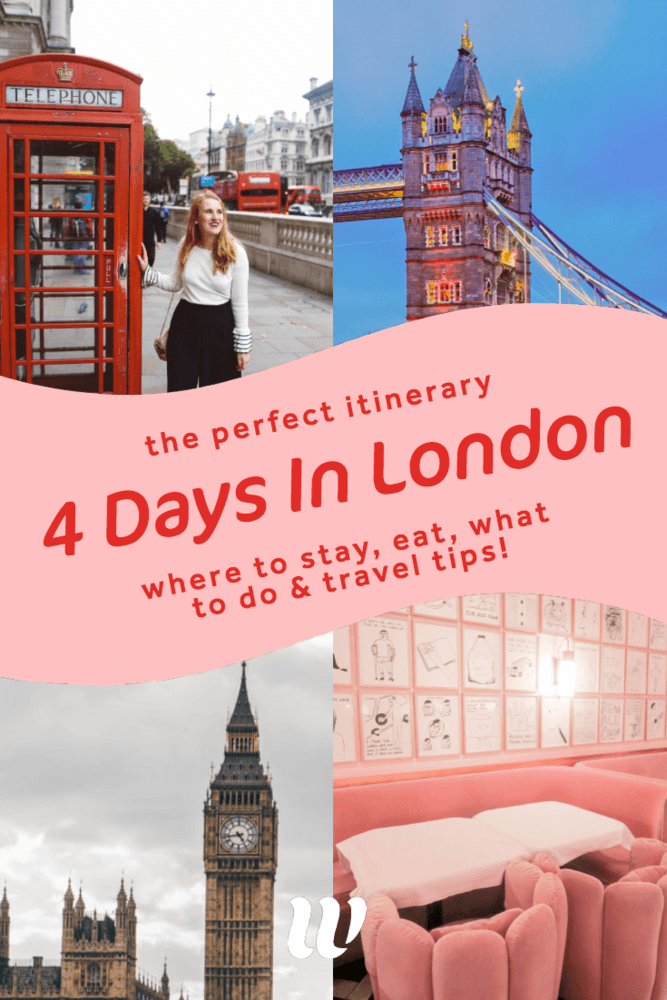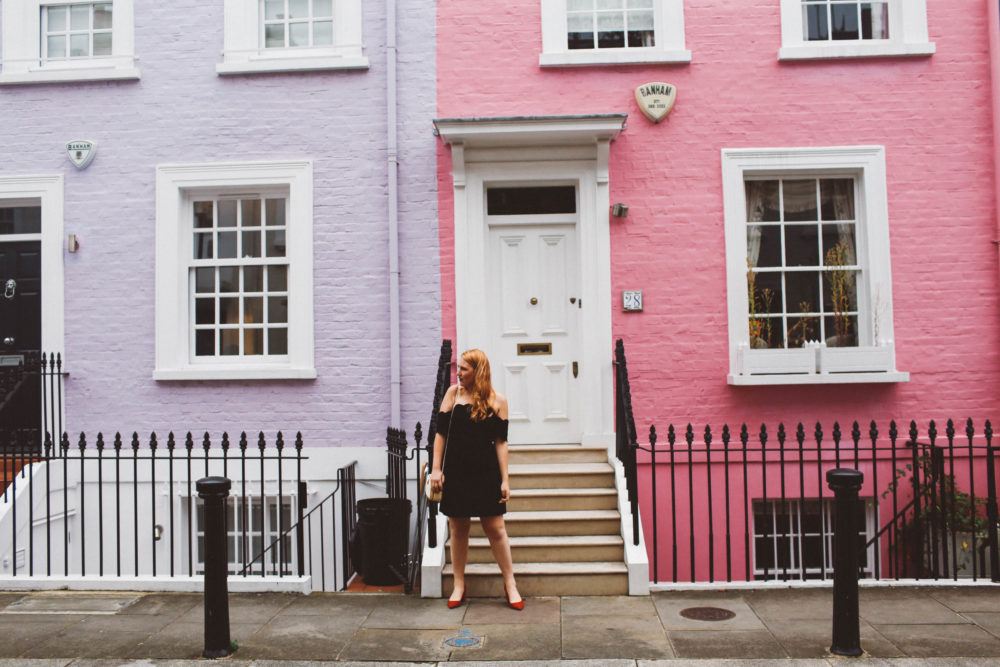 Is 4 Days in London Enough Time?
Short answer: yes! If you're willing to walk a lot, eat a lot and see a lot. London is HUGE. It's like New York City or Paris – you could spend a year in London and still be constantly discovering new things to do. Heck, I've lived in San Francisco for 5 years and I'm always finding new corners of the city!
But, a 4 day weekend is enough time to see most, if not all, of the good stuff London. Make sure to pack comfy shoes, layers and a water bottle because this 4 days in London itinerary is going to be taking you alllll over.
If this is your first time to London, also considering reading my First Timer's Guide to London, which helps you with more detailed information about what to expect.
4 Days in London Itinerary
My husband and I went to London for the first time as the last leg of our European honeymoon. We had taken the train down from Edinburgh and it was so neat to see the difference between the cities. (London is a beast, while Edinburgh is magical and a little sleepier.)
We spent 4 days running around the city, stuffing ourselves with pasties, afternoon tea and beer. It was splendid! I think you'll enjoy our itinerary as well.
>> Got a question about London that you need answered quickly? DM me on Instagram @thewhimsysoul and I'll be happy to help!
DAY ONE (Arrival, Big Ben, Westminster, Riverfront, Covent Gardens)
Arrive to London via train or plane and try to get in before Noon to maximize time! We took the train from Edinburgh which arrived at King's Cross Station and since we arrived at night when it was raining, we opted to grab a taxi instead of figuring out the Underground with all of our luggage.
This cost about 40 pounds.
But, usually, the Underground is the better option when coming into the city from Heathrow or King's Cross (cheaper and probably faster!)
So I recommend taking the tube if you can. Scroll down to the end of this blog post for my tips on what Oyster Card pass to buy & other handy info.

Check Into Your London Hotel
After getting into the city, head straight to your hotel and check-in or leave your luggage. Remember to get in before Noon to follow this guide and maximize your time in London! You want a hotel or Airbnb within a few blocks of a train station to make it easy to get around the city.
Our time in London was at the VERY end of our 3-week honeymoon (after Oktoberfest in Germany and a road trip around Ireland and Scotland) so we booked a cheap 60 Euro a night hotel to save money, but I've honestly always regretted.
It was economical, sure, but was the kind of dirty that I never went barefoot inside the hotel room and everything had a sort of smell to it… I wish we stayed in a nicer place as a lot of my London memories are around how gross our hotel was.
CitzenM Tower Bridge: CitzenM is a boutique hotel chain known for great locations and cute AF decor. The Tower Bridge hotel has views of – you guessed it – TB itself from many of the rooms. The rooms are small but packed with personality, making it a great choice for couples.
Park Plaza Westminster Bridge: An upscale hotel with views of Westminster Abbey! This centrally located hotel makes a chic home base for exploring London.
Airbnb: We love using Airbnbs when we travel, especially when traveling with groups as they allow more room. There are so many cute AF and affordable Airbnbs in London, like this central flat!
The May Fair Hotel: This hotel packs colorful punches and has a beautiful rooftop deck so you can soak up London views!
After you're free of your luggage, grab your anti-theft travel purse (I swear by this one!) and comfy shoes, it's time to see the city!
Big Ben & Parliament
Head straight to the main attraction, Big Ben itself! I've dreamt of seeing this iconic clock tower for years so it was awesome seeing it in person, even though there was some scaffolding around it.
After year of the entire tower is covered so visitors can't even see anything, which is a huge bummer – the construction is finally compelte in 2023! This is a must-see London icon!
Big Ben sits right next to Parliament. They do offer audio and tours that you need to book in advance if you are super curious what the inside of the British Parliament looks like. Consider booking the Afternoon Tea Tour for something extra special!
Westminster Abbey
Down the street from Big Ben is the famous Westminster Abbey! It's a UNESCO World Heritage Site and has tons of history inside the walls. Royal weddings and funerals happen here (but it's actually no the final resting place for Royals, they get buried somewhere else bu Sir Isaac Newton is buried here!)
We ended up not touring the inside because a church service was going on so we had to wait until it was finished. Also, tickets are 23 Euros a person!
We didn't know about the London Pass back then but I totally would have got it for us to save a ton of money on tickets. It's one pass that covers entrance fees to over 80 places in London, including The British Museum, Kensington Palace, Westminster Abbey, The Tower of London and more!
Telephone Booth Photo Opp
Nows a great chance to snap that iconic red telephone booth picture! No London trip is complete without one, right? There's these booths all over the city but I love the placement of the ones around Westminster and Big Ben because you can get them in the background.
If you went to London and didn't take a photo with a phonebooth, did you even go?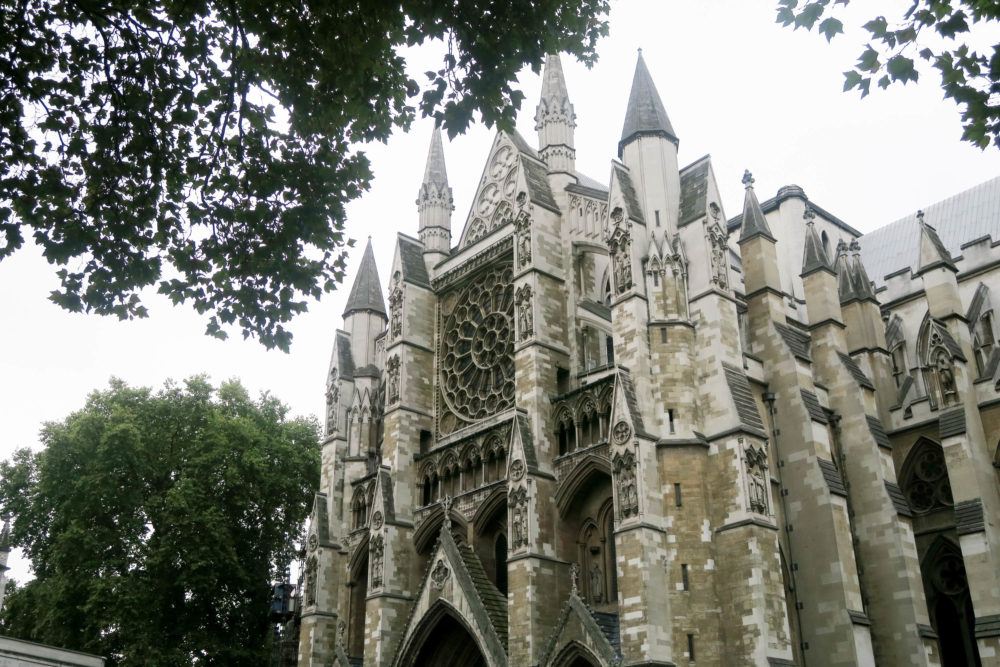 Thames Riverfront
After visiting the church and Big Ben, take a stroll along the River Thames riverfront! I think the bridge next to Big Ben is super cute, so cross that (grab a photo, too!) and head across the river. The London Eye is right there, so if you've always wanted to give that a ride, now's your chance!
I loved stretching my legs and wandering the riverfront (our train ride from Scotland was about 4 hours!) Take this time to pop into stores or coffee shops and just soak in the skyline views, basically making your own walking tour of the riverfront.
Walk until the Waterloo Bridge or Blackfriars Bridge – your end destination is the Covent Gardens district!
Covent Gardens
I really loved Covent Gardens. It's full of restaurants, shopping, theaters and other fun things to do in London. Plus, some of the side streets were just charming AF.
Grab a coffee at The Grind shop if you need caffeine for jet lag (or just looking for a cute pink coffee shop for photos!)
Stick around Covent Gardens for happy hour and dinner! After a long day of traveling and sightseeing, you deserve a drink! I recommend checking out one of these hot spots: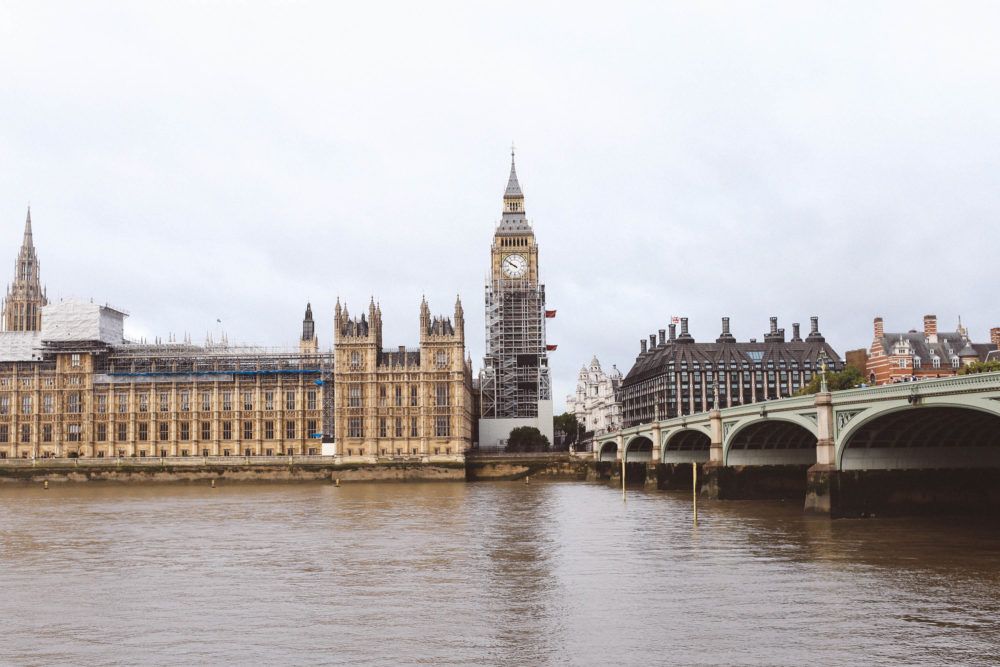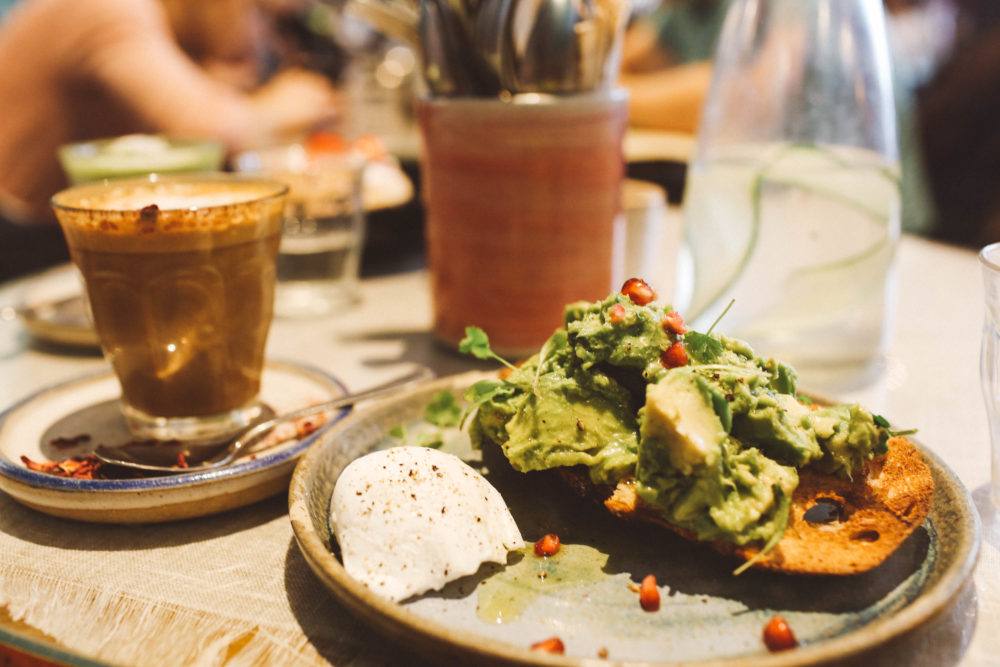 DAY TWO (Tower Bridge, Tower of London, Regents Park, National Portrait Gallery, Sketch)
For breakfast, find somewhere near your hotel or head to St Katharine Docks area (near the Tower of London) and find a breakfast place that calls your name! Or, one of the many breakfast cafes in the Underground. The train stations here are like mini-malls, they have EVERYTHING.
This is where you can find the best meat pasties, by the way! Specifically the pastie shop at the Victoria Street Station. They're so tasty, great for grabbing on the go and best of all, filling AND affordable!
Tower of London & Tower Bridge
The Tower of London opens up at 9am, so try to finish up breakfast by this time. I love visiting popular city attractions right away in the morning to avoid crazy crowds. Your London Pass will cover the entrance to the Tower of London, so don't forget that at your hotel!
The Tower of London is actually a lot shorter than I pictured it. It looks like a pleasant little castle by the river from the outside.
We actually didn't go inside – I was still recovering from a nasty cold we got in Ireland and by this time during our trip, all I wanted to do was sleep, so I had to go back to the hotel for a nap. BUT, next time we visit I really want to see the inside and do the full Yeoman Warder Tours!
Next to the Tower of London is the Tower Bridge (which Americans think is the London Bridge but that's actually further down the river and much smaller.) This bridge is just simply stunning.
You can walk across it and even pay 10 Euros to go up one of the towers. If you are trying to get a really good photo, consider heading here before the Tower of London aka when fewer tourists are out and about.
Curious about visiting the famous Whitechapel district, aka where Jack the Ripper preyed on victims? It's near the Tower of London, so you can quickly pop over for a walk!
We had breakfast here the morning before visiting Tower Bridge. It wasn't my most favorite area of London but, as a true crime fan, I did enjoy the history of this area.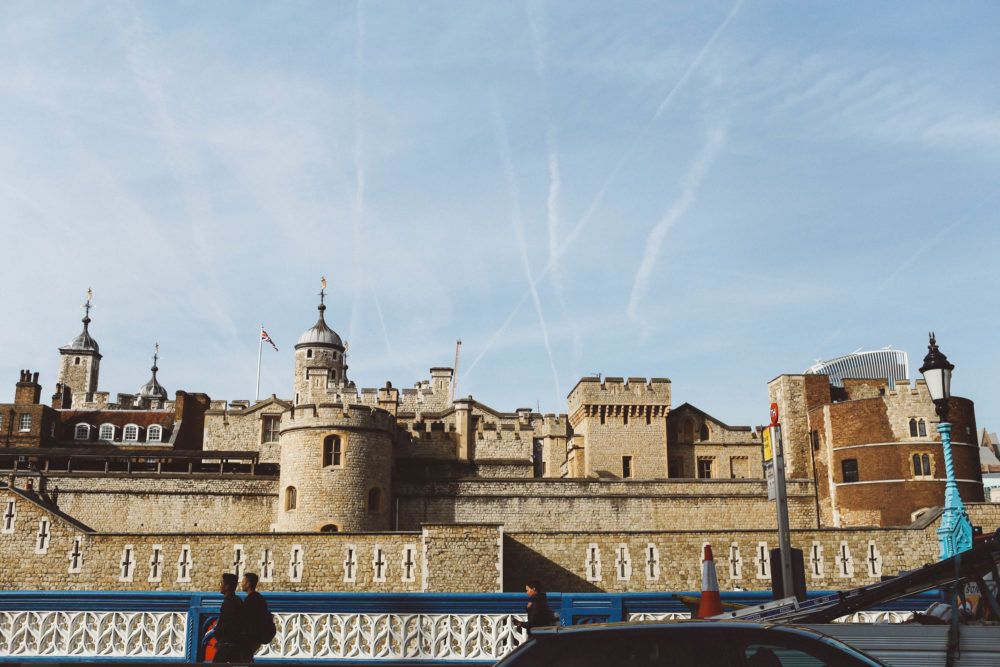 National Gallery
Another London must-see is the National Gallery (it's free to enter!) Take the tube and spend as little or as much time as you want to wander the halls and to soak in famous artwork. It's open from 10am-6pm daily.
My favorite must-see paintings in the gallery are the self-portraits by Rembrandt, and also Vincent van Gogh's Sunflowers. They also have some paintings by Caravaggio and da Vinci. If you're looking for even more artwork, head nextdoor to the National Portrait Gallery, also free!
Regent's Park
After visiting the gallery, head to Regent's Park. I loved wandering this large, beautiful park in the heart of London. There's a lake in the middle and tons of swans and birds to watch or feed.
We sat on a bench for a bit and just people watched. It was here that I totally fell in love with London, as I could see myself visiting Regent's Park on a Sunday if I lived here and just strolling about.
Make sure to explore this park fully. There's a gorgeous rose garden called Queen Mary's Gardens that was still in bloom when we visited in October! Primrose Hill is also here, which boasts views of the city. On the other end is the London Zoo, if you have kids and are looking for things to do in London with kids.
My favorite part of the park, though, was the Boardwalk, a long pedestrian-only road in the park that's flanked with trees. Since we visited in the fall, they were all sorts of bright orange, yellow and red. It made for a stunning walk!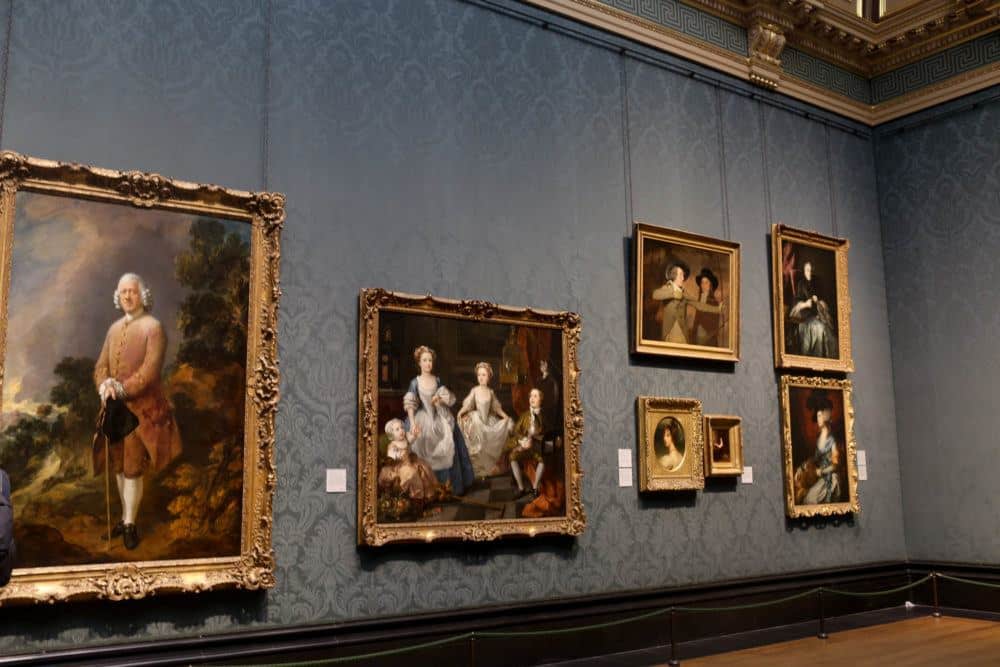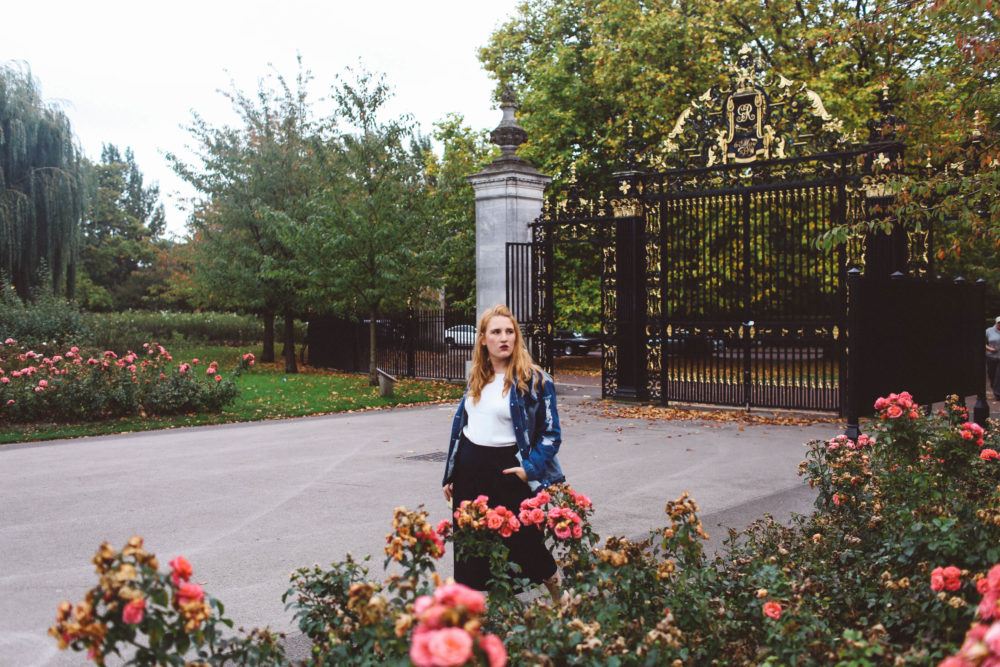 Afternoon Tea at Sketch
After your stroll, walk the 20ish minutes over to Sketch in the Mayfair District. Sketch quickly became famous worldwide for their afternoon tea service and unique decor, specifically the pink tea room and the egg-shaped bathrooms.
I won't sugar coat it – it's expensive to take tea at Sketch (about $170 for two) but it was my favorite meal of our entire honeymoon, so I highly recommend it!
You MUST have reservations online and you'll want to make these a couple of months in advance, as the slots fill up quickly (it's famous worldwide, remember?!) I recommend you grab a 2pm or 3pm time slot so you can have a light lunch and skip dinner later, basically evening out the hefty price tag.
Sketch totally set the bar of Afternoon Tea service for me. Since returning home to the USA I've done a handful of afternoon teas and nobody does it as well. At Sketch, there's multiple courses and you can eat as much as you want and drink as much as you want. I think we spent over 3 hours there slowly eating and soaking in all the decor.
After tea, you probably won't need dinner (we sure didn't after eating so much!) but you should go out for a drink! Pop over to one of the pubs near Sketch, there's tons in this area. Try starting at The Crown, known for good drinks and being a site where Mozart once gave a recital (casual.)
It's also located right near Piccadilly Circus, which is fun to walk by after hearing about it in British novels so much.
DAY THREE (Notting Hill, Buckingham Palace, Borough Market, Globe Theather)
Set your alarms early, it's going to be another long day of exploring! It's also your last full day in London, so buckle in.
Notting Hill
The only thing I knew about Notting Hill was the movie with Hugh Grant, and also that the houses are colorful and expensive (sort of like here in San Francisco!)
We grabbed breakfast at Farm Girl, a well-decorated coffee shop with fantastic specialty lattes (like Tumeric) and good avocado toast. This is a great place to grab an #IGworthy breakfast photo!
After breakfast, stroll around the Portobello Road Market in Notting Hill, a street full of antique shops. I *almost* bought a nice English tea set, but I was worried it would break on the plane ride home, so I skipped it and have been sort of regretting not bringing one home ever since. England IS the place to buy a proper tea set after all!
Another popular place to find antiques is Camden Market, but we didn't have time to visit this neighborhood. It will be a stop we make next time we return to London! And Old Spitalfields Market is great if you're a foodie!
After getting your fill of antiques (maybe you found the perfect tea set?!) make sure to set time aside to look at the houses and wander the neighborhood before heading to the Underground.
This is a mostly residential neighborhood, so it's slow in the mornings and peaceful. Odds are you'll spot a cute car or garden out front of a house at least once.
There's also a Daylesford Farm cafe to check out nearby in Notting Hill. They have an actual farm you can visit in the Cotswolds if you are heading out of the city, but if you aren't you can still grab their tasty fresh foods and cocktails here.
Hyde Park & Kensington Palace
We didn't visit Hyde Park but it's the other major park in the city (and the largest of the 4 Royal Parks.) Hyde Park is most known for Serpentine Lake (yes, Central London has lots of little lakes in the parks apparently!), Speakers' Corner (a place for people to speak, rant about religion, politics, etc) and Rotton Row, a horse riding area.
It's also home to Kensington Palace aka the childhood home of Queen Victoria and other royals for over 300 years. Your London Pass will cover tickets to the palace. It honestly looks stunning on the inside, and I'm personally bummed we didn't go visit. I can't remember why, I honestly think I wasn't feeling well enough to go walking some more.
For lunch, head to Maggie Jone's, a whimsical restaurant that looks like it was stuck in 1800 and boasts tasty dishes like lamb chops and peas.
Buckingham Palace
Next, walk over to Buckingham Palace, a place that I'm sure needs no introduction. As you know, peasants like us (yes, including you) aren't allowed inside (minus the highly limited stateroom tour), but we can gawk at the gates as much as we want to!
While visiting, we didn't get to see the Royals make an appearance, but we did catch a horse-drawn carriage going in also the changing of the guards, which is worth the wait.
We walked almost around the entire palace and couldn't find a spot to get up close and personal to a guard.
You know how in movies there's always a scene where the American tourist tries to get a guard to laugh or take a photo? I'm not sure that's actually true, but let me know if there is down in the comments.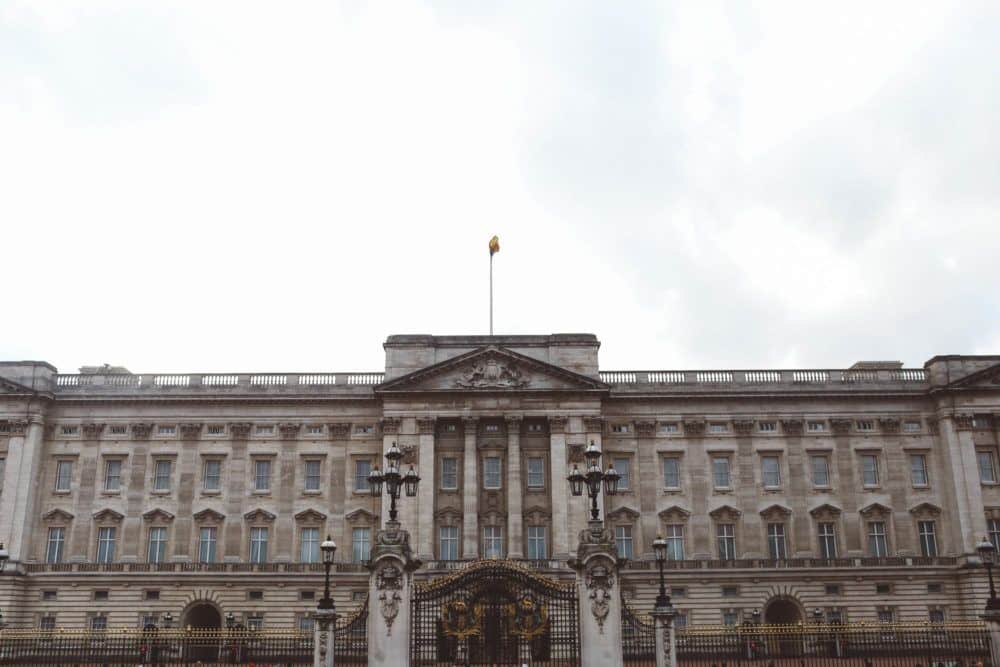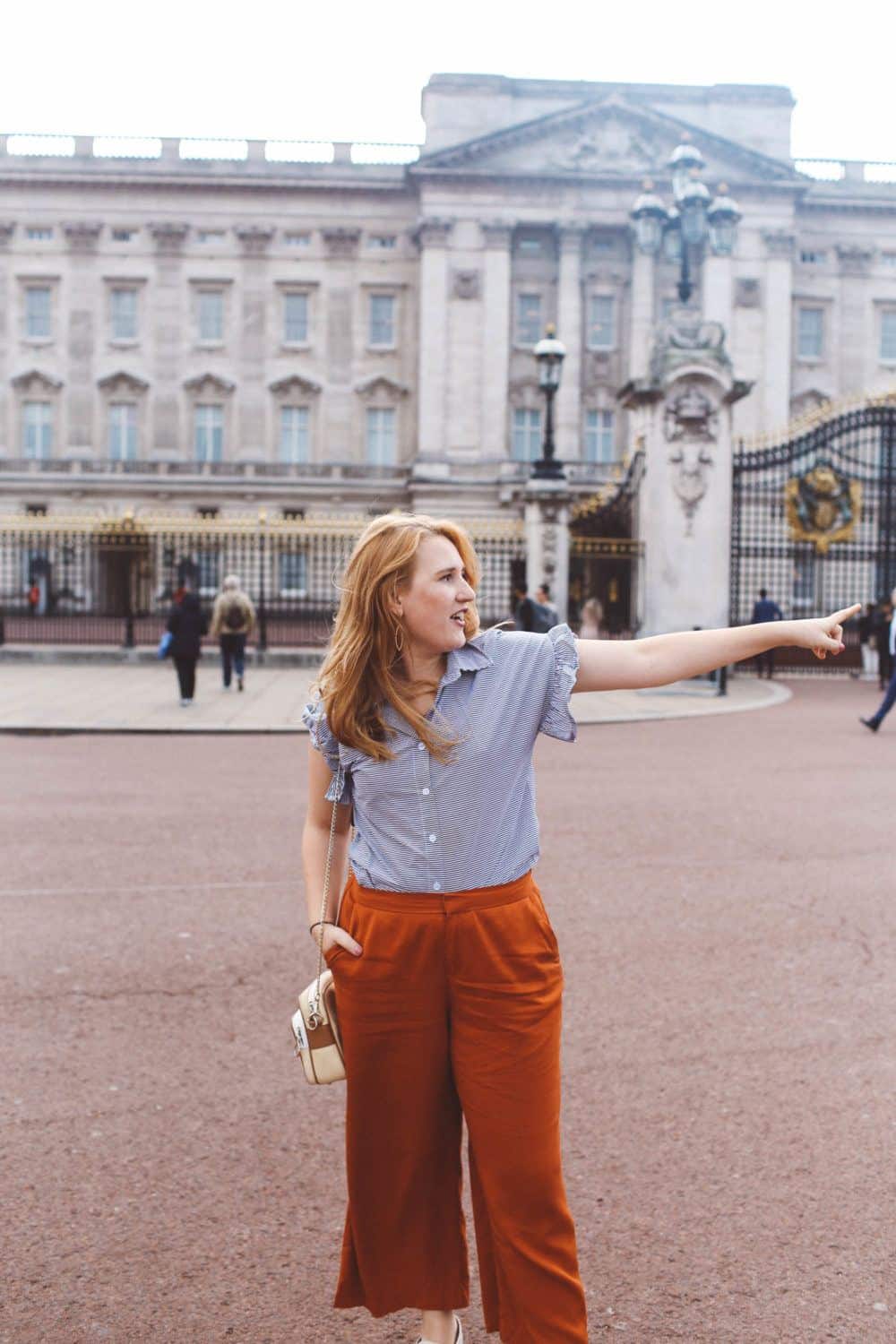 Borough Market
For dinner, head to Borough Market, one of my favorite spots to eat in London.
It's basically a giant permanent farmer's market meets food truck park, with everything from sandwiches to paella to turkey legs available along with artisan goods and other things like curried meats and cheeses.
Make sure to bring cash! We both ordered different dinners and also a glass of sangria each. We also picked up some cheese and bread from one of the stalls. Make sure to get here on the early side to avoid crowds and make sure you eat before your evening play at the Globe Theather (where I'm sending you next on this London itinerary!)
Looking for a good neighborhood bar? Try The Rake, which has a large selection of craft beer, outdoor seating and is on the way to your next stop!
Globe Theater Play
You may not see this in other London itineraries but you simply must go see an evening play at the Globe Theater. We saw Much Ado About Nothing and this was my FAVORITE part of our London trip and is just a few blocks down from the Borough Market.
I know they offer day tours but it's not the same as actually seeing a play yourself in this famous theatre. I have this vivid memory of a scene with a woman singing. The whole theater was silent except for her song. It was nighttime and I could see a few stars twinkling above in the London sky and I just remember feeling so alive and happy.
Of course, purchase tickets in advance. I recommend getting seats on the first level and dead center if you can, as those are the seats with the best view. You can do standing general admission for just a few Euros, but I'm not 18 anymore, I can't stand for like, 4 hours straight these days. Seats all the way!
Other important tips for visiting the Globe Theather
Right when the gates open, head to the stand that sells seat cushions and backs. The benches in the theatre don't have backs and as I get lower back pain easily, this little cushion and seat was a godsend.
Next, go to the bar and reserve a hot mulled wine for intermission. Trust me on this one!
If you are visiting in the fall, bring a jacket as it'll get cold in the evening.
Bring cash!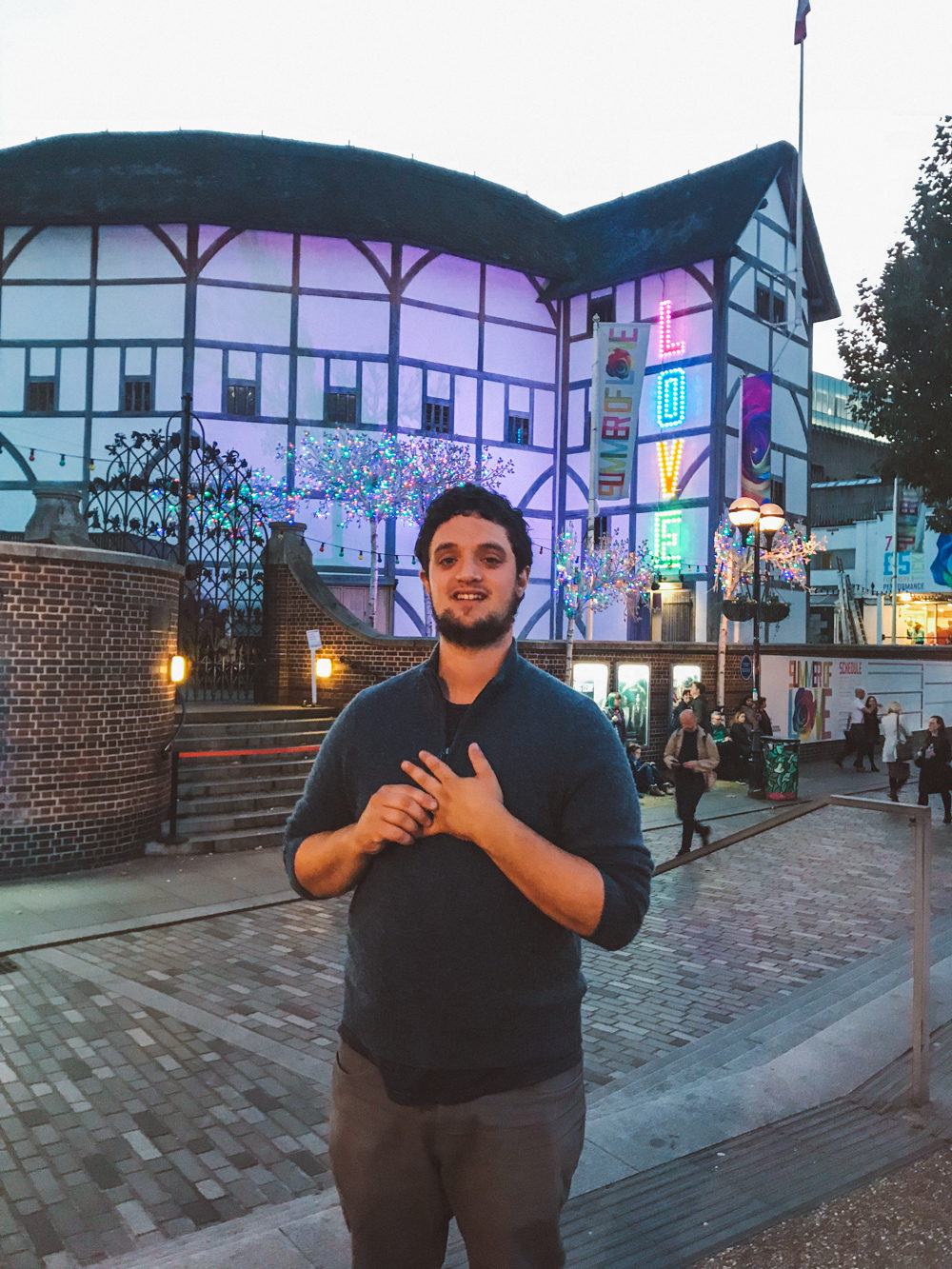 DAY FOUR (Natural History Museum, Kings Cross Station, Harry Potter)
Well, this morning wraps up your final day in London! If you're anything like me, by now your feet will be a bit sore from all the walking you've done. I always like to leave the last day of my itinerary a bit open, so readers can do anything they missed the previous days or anything else they are wanting to do that may not be included in my guide.
For breakfast, if you don't have a spot in mind, try Muriel's Kitchen which is near the Natural History Museum in South Kensington. This bistro is known for good food, good service and even gluten-free options that don't disappoint.
Natural History Museum
There are a LOT of museums in London but the Natural History Museum is probably one of the most famous. It's most notable for the grand atrium lobby with tons of windows and a sweeping staircase.
Come here to see everything from exhibits about the moon to huge dinosaur skeletons. this is also a great place to go if you have kids as they'll probably go giddy over all the fun things inside!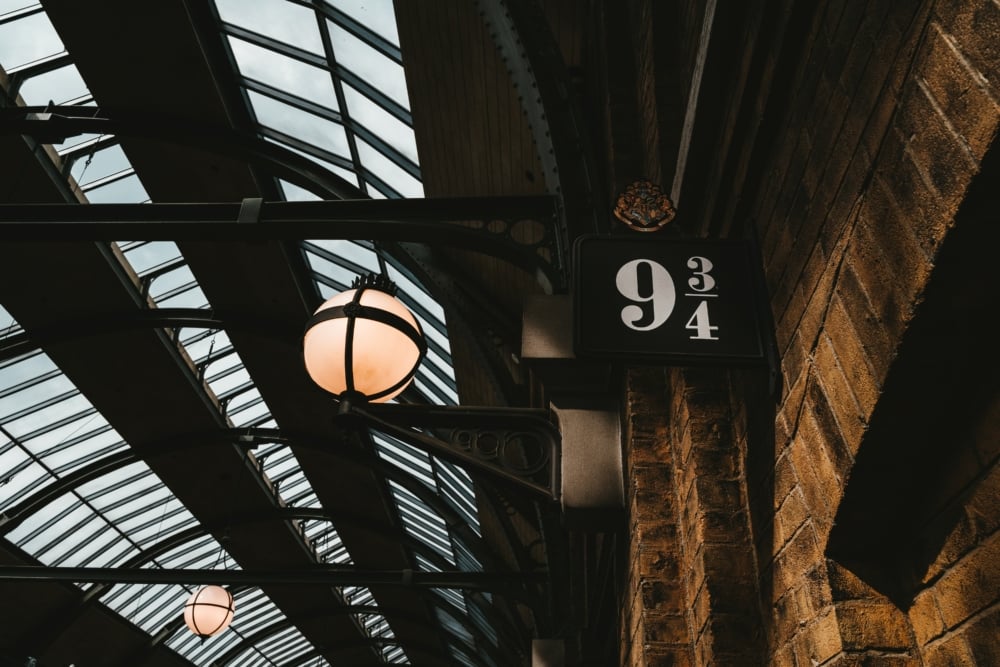 Platform 9 3/4 at Kings Cross Station
I'm not sure how you are leaving London. Maybe you're heading up to Edinburgh or Paris next by train? Maybe you're flying home and need to get yourself to London Heather Airport using public transit?
Whatever method, there's a good chance you'll be catching a train at Kings Cross Station (unless you fork for a taxi to the airport.)
If so, now's your chance to visit the famous Platform 9 3/4 area! It's a must stop for all Harry Potter Fans. The platform area for photos is at the back of the station near the bathrooms and probably where the line of people is at.
Here is where you can find a luggage cart sticking out the ~magical~ wall and someone will be there to take your photo pushing it through. It's not on the actual train platforms like in the Harry Potter Movies (that would probably cause a lot of issues) but it's really fun. There's also a Harry Potter gift shop next door to geek out over!
If you have extra time and are a huge fan, it is worth it to visit the famous Harry Potter Studio but that's a whole day trip in itself. Or you can use my guide to Harry Potter places in real life to channel that nerdy wizarding energy.
And with that, your trip to London is over!
How To Use an Oyster Card
London travel is super easy with the Underground! An Oyster Card is the metro pass for the London Underground (aka the train system aka The Tube!) Here in San Francisco our train system is called Muni and our cards Clipper Cards, but I think Oyster Cards is a funnier name.
It's really easy to use the Underground, as London has figured out public transportation (unlike here in America!) You can use it to visit all your London bucket list spots.
Just pop down into any train station and head to an Oyster Card machine. I recommend getting a Pay As You Go card vs the 7 Day Travel Pass.
Most visitors – including what I have you doing on this itinerary – only go to Zones 1 and 2 in London. Oyster Cards have a daily price cap, so you can't be charged more than that cap, which currently is 7 pounds per day per person in Zone 1 and 2. That's about 28 pounds for 4 days in London vs the 35 pounds for a 7 Day Travel Pass.
Pro tip: keep your Oyster Card in your passport case, the card itself can be used again in the future and save you a few pounds in case you ever come back to London!
I'm one of those people that used to just opt for a travel pass as it sounds easier in the short term, but in reality, you'll be walking a lot in London and with the price caps in mind, it saves you some money to use the Pay As You Go option instead. If you are staying longer than 4 days, then the 7 Day Travel Pass is a better option!

Should I Do Half Day Trips From London?
Here's the thing: London is HUGE and you'll be doing it a disservice if you try to do a half-day or a whole day trip outside the city when you only have 4 days to explore. If you only have a few days in London, stay in London and come back to England again another time to visit other parts!
How much money for 4 days in London?
Your 4 days in London budget should be at least 800 Euros for a decent hotel, 1oo Euros for the London Pass per person (this saves you a LOT of money on tickets, so it's worth it!) and, depending on how much you like to drink or eat, 300-400 Euros on dining for two.
With Tube tickets and other fees, like for the play and souvenirs, set aside another 200 Euros to be safe.
All in all, expect to spend at least 1,600-2,000 Euros for 4 days in London for two people.
Is London LGBTQ Friendly?
Yes! London is often considered one of the most gay-friendly places in the world. If you're coming with your partner, you can find so many fab gay bars to hit up after sightseeing.
If you're looking for more LGBTQ London activities, the Nomadic Boys have a fantastic gay travel guide to London to check out!
Copy and Paste 4 Days London Itinerary
And for easy reference on the go, here's everything I just shared with you! It's helpful to copy and paste my four days in London guide and email it yourself or save on your phone so you can reference it while in London!
DAY ONE
Check into your hotel
Visit Big Ben & Westminster (use London Pass for free entry to Westminster)
Walk the River Thames waterfront (ride the London Eye if you want!)
Wander Covent Gardens & have dinner here. I recommend Red Farm, Temper or Cora Pearl
Go to bed and rest after a long day of travel.
DAY TWO
Breakfast at St. Katherine Docks at any cafe that catches your eye.
Tower of London and Tower Bridge (both covered in your London Pass)
Visit the National Gallery and/or National Portrait Gallery (both are free!)
Walk Regent's Park (don't forget to check out the rose garden and Boardwalk)
Afternoon Tea at Sketch
Piccadilly Circus & drinks at The Crown, a historic pub
DAY THREE
Breakfast at Farm Girl in Notting Hill
Antique shopping at Portobello Market & exploring Notting Hill's cute houses

OPTIONAL: Swap Notting Hill for Camden Market

Hyde Park & Kensington Palace (free entry with London Pass)
Lunch at Maggie Jone's
Gawk at Buckingham Palace
Dinner at Borough Market (don't forget cash!)
See an evening play at the Globe Theather
DAY FOUR
Breakfast at Muriel's Kitchen
Visi the Natural History Museum
Anything else you wanted to see but missed or isn't mentioned!
Platform 9 3/4 at Kings Cross Station before you head out
Say goodbye to London!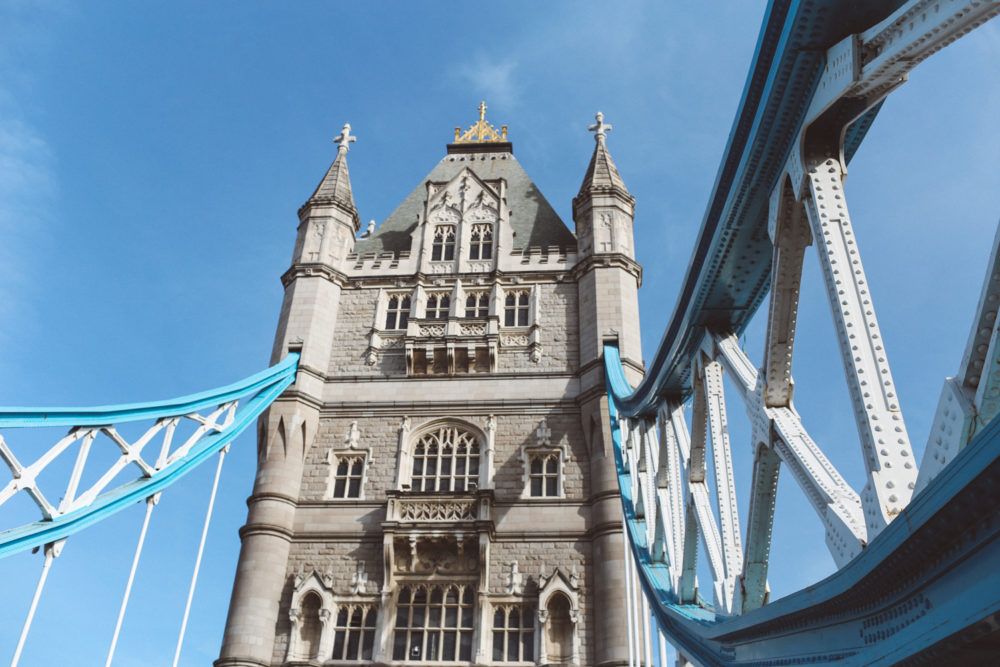 Of course, you can tailor this to your preferences and time of year. I really want to visit London during Christmas and would love to go the Royal Opera House to see a ballet then, or perhaps a holiday concert at Royal Albert Hall. You know, in between all the holiday markets, wine and famous Trafalgar square Christmas tree!
I hope my 4 day London itinerary helps you have a fantastic trip! I loved exploring this city and I really want to go back, this time healthy (being sick made it no fun) and with a bigger food budget so I can drink all the fancy cocktails and eat 100 more meat pasties from train stations.
If you have any tips to add to this, leave a comment below so everyone can see! If you have questions, comment below or DM me on Instagram @thewhimsysoul and I'll be happy to help you plan a London in 4 days trip!
Other posts you may like