Come October and this basic fall betch LOVES to go pumpkin patches and stock up on an unnecessary amount of pumpkins for my small studio apartment in San Francisco. It's a whole mood. Since Half Moon Bay (aka the World Pumpkin Capital) is just a short drive down the coast, we love to visit each fall.
In this post I'm sharing my 3 favorite Half Moon Bay Pumpkin Patches for you to visit, what makes each of them special and insider tips on how to have the best fall day running around these California pumpkin patches. I also share some of my favorite things to do in Half Moon Bay so you can make it a whole day trip with the family or friends!
3 Half Moon Bay Pumpkin Patches I Love & Visit Every Fall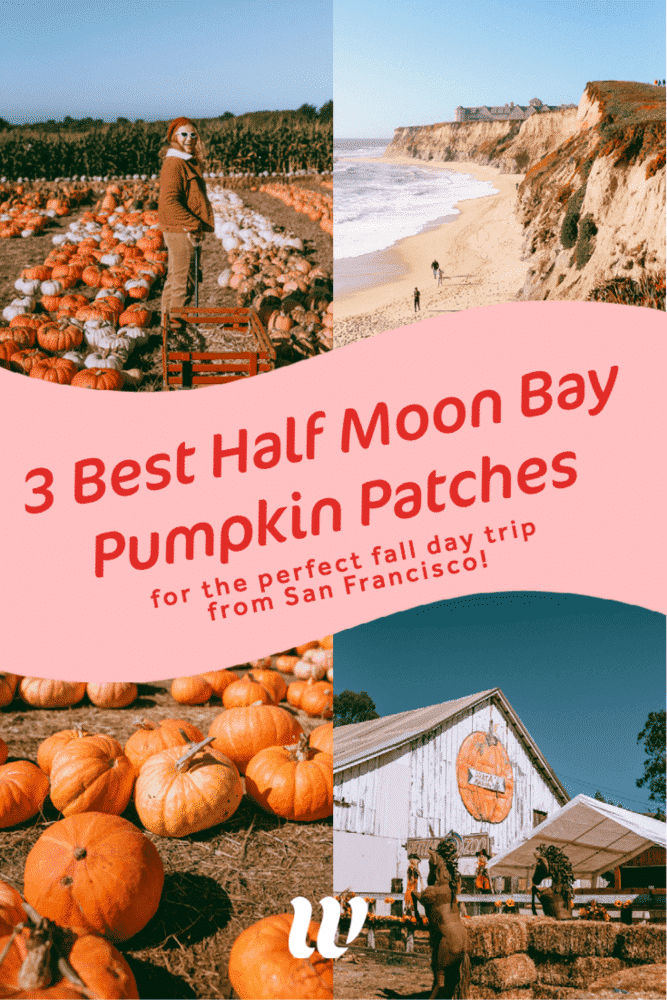 >> Got a question about pumpkin patches in Half Moon Bay that you need answered quickly? DM me on Instagram @thewhimsysoul and I'll be happy to help!

When Are The Half Moon Bay Farms Open For Visitors?
Pumpkin season varies a bit each year depending on weather and the growth of pumpkins. That being said, most farms tend to open up around the first day of fall / the fall solstice (around September 21st annually) but make sure to check websites each year to confirm opening dates. They usually end the pumpkin season after Halloween.
Go On A Weekday If You Can
While I have you, it's important to note that Half Moon Bay only has two major roads connecting the town to the rest of the Bay Area (Cabrillo Highway and San Mateo Road) That means on busy weekends close to Halloween, traffic can be crazy. If you have the flexibility to go pumpkin picking on a weekday I highly recommend you do so. Or, if you are visiting on a weekend, leave your house early to do an AM visit to avoid crowds!
Distance To Half Moon Bay From Bay Area Cities:
From San Francisco: 28 miles South ( about 45 minute drive)
From San Jose: 48 miles West (about a 50 minute drive)
From Santa Cruz: 49 Miles North (about an hour's drive)
Top 3 Half Moon Bay Pumpkin Patches
Alright, time to chat my 3 favorite Half Moon Bay pumpkin farms!
Address: 850 Cabrillo Highway N, Half Moon Bay, CA 94019
Price: No entry fee, pumpkins range in price but around $5 each.
Amenities: pumpkins, wagons, tipi, hay pyramid
Farmer John's is my top favorite pumpkin farm in the city! He really caters to people like me who get overly excited around different colored pumpkins. I grew up in Wisconsin and only remember those classic orange pumpkins at patches, but Farmer Johns has pumpkins of every color.
Black, white, deep red, pastel green, dark green, yellow, blush, every color of pumpkin here!
I love coming to Farmer John's to buy pumpkins of all colors to make a beautiful aesthetically pleasing pumpkin shrine in the corner of my apartment. I find that the prices at Farmer Joh's are the best in the city, I can usually pick up 5-7 different pumpkins for around $35, while some other farms charge $12 for a single pumpkin.
Plus, Farmer John himself will probably be at the patch and let me tell you, he is like the nicest human ever. He truly loves his job as a pumpkin farmer and his excitement just oozes out into you, it's impossible not to be excited for fall when you leave this Half Moon Bay patch.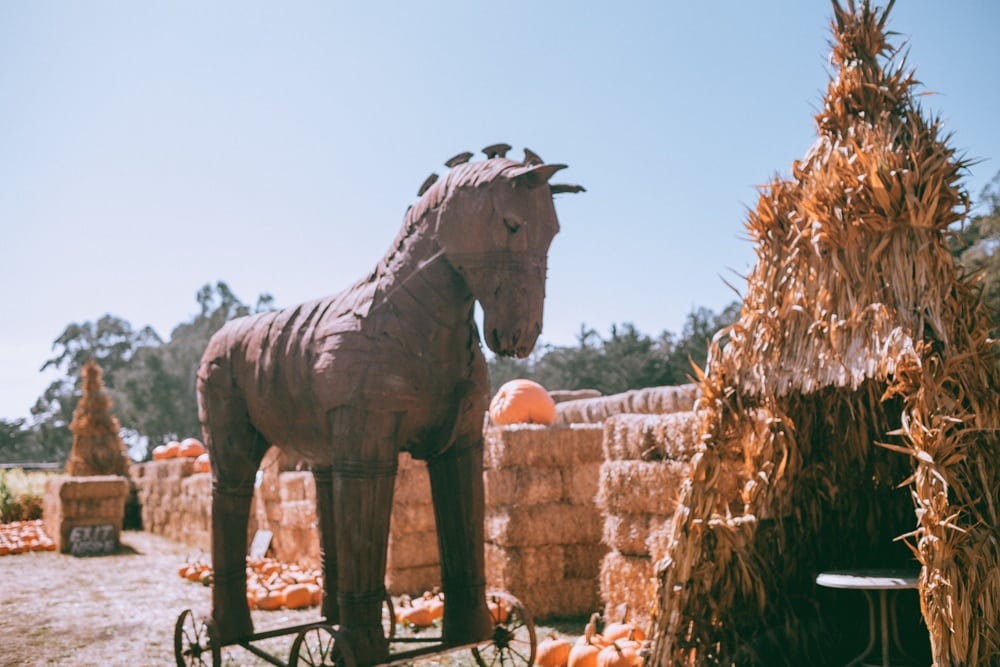 Address: 185 Verde Rd, Half Moon Bay, CA 94019
Price: $20 parking fee on weekends, $15 for hay maze, pumpkins average $10-12
Amenities: Pumpkins, hay maze, petting zoo, picnic area, haunted barn, bathrooms, playground
Established in 1932, Arata's Pumpkin Farm is the oldest pumpkin patch in Half Moon Bay. It's also home to the famous Half Moon Bay Hay Maze which is what my husband and I came to do. It's $15 per person but hands down worth the price tag. This hay maze was a lot harder than I thought, it took us close to 40 minutes to solve.
I love the Minotaur towering over your as you wander the maze, along with other fun statues and details (like a lookout tower handy for cheating if you get lost) that made this farm stand out to me as a fun day activity to really get in the fall spirit.
As I noted above, I wouldn't buy pumpkins here as I feel like they are overcharging the pumpkins a bit. Buy them at Farmer Johns instead, but head to Arata's for the petting zoo, haunted barn / haunted house, to see the "pumpkin river" and of course, the hay maze! There's also a little playground area for kids to hang out in. If you are looking to buy hay bales for your fall home decor, they sell them here!
Address: 329 Kelly Ave, Half Moon Bay, CA 94019
Price: $15 per person for sunflowers, pumpkins + produce vary
Amenities: Pumpkins, local fall produce, U-Pick sunflowers
Last stop should be to Andreotti Family Farms, a 3rd generation family-owned farm! If you time your Half Moon Bay pumpkin hunt visit correctly, you should be able to hit up Andreotti's U-Pick Sunflower patch, too! Blooming in the second half of September, these sunflowers grow easily 7-9 feet tall and they let you wander the fields to pick your own flowers! It's so much fun.
Their sunflower patch is right next door to Farmer John's on Cabrillo Highway, but they have a whole separate historical produce & pumpkin barn over at 329 Kelly Ave!! This is where you can head to find pumpkins but also tons of locally grown produce. I suggest buying vegetables for a fun home-cooked meal to make that night to close out a fabulously fun day running around Half Moon Bay.
On the way to Arata's, you'll pass Bob's Pumpkin Patch, which is a giant pumpkin patch in an open field. I've never stopped by personally but it *looked* like these pumpkins were still on the vine if you were looking for a very traditional u-pick experience. The farm is bare-bones though, just pumpkins and a small vegetable stand.
Got young kids? Lemos Farm is a popular spot for small children. They have a kid-friendly haunted house, train rides, a petting zoo and other events that are very family-friendly if you are looking for a whole day thing for your little ones. Lemos Farm is also home to the famous Goat Yoga Half Moon Bay class which I need to try out on day (like, how cute would that be?!) Another popular family-oriented pumpkin patch is Pastorino Farms on San Mateo Road.
When Is The Half Moon Bay Pumpkin Festival?
The famous annual Half Moon Bay Pumpkin Patch Festival is usually held on the second the last weekend of October (though in 2020 it is canceled for pandemic reasons.) The huge Half Moon Bay art & pumpkin festival draws in tons of people from all over the state for fall fun.
There's pie-eating contests, costume contests, face paint, food vendors, artisan booths, a marathon, music acts, even a pumpkin weigh-off to determine who has the biggest pumpkin of the year. It's a whole weekend long shabang!
What Should I Wear To A Half Moon Bay Pumpkin Patch?
Usually, since Half Moon Bay is on the coast, it's foggy and chilly here. BUT, just like in San Francisco, September and October bring hot days and tons of sunshine. This means it'll most likely be in the 70s or even hotter during your pumpkin patch visit.
I usually always wear layers so I snap some fun fall-themed photos in that cute scarf or jacket, but can easily shed it when I eventually get way to hot out in the sunshine. I recommend you do something similar!

What Are Fun Things To Do In Half Moon Bay After I Pick Pumpkins?
Well, if you hit up the hay maze, Farmer John's pumpkins, pick flowers AND stop to pick up local produce you'll probably be really tired. But if you still have steam, there are a lot of fun things to do in Half Moon Bay and I have a whole blog post city guide detailing everything. These are my highlights for post-pumpkin fun:
Park at Redondo Beach & stroll along the paved coastline path near the Ritz Carlton for sweeping views of the ocean.
Or, if it's hot out, head to Poplar Beach for a picnic.
Wander downtown to look at all the cute shops along main street. Make sure to stop by the sandwich shop at the bottom San Benito House hotel for a lunch, and the apothecary across the street!
Craving happy hour? Head to Sacrilege Brewery or Half Moon Bay Brewing Company for craft beer.
I hope this helps you find the best pumpkin patch in Half Moon Bay for you and your group! I always have a blast getting my Fall on here in Half Moon Bay and it makes the perfect way to kick off the fall season. If you have any tips to add, leave a comment below. Got questions? Comment or DM me on Instagram @thewhimsysoul and I'll be happy to help!