Heading to Farmer Johns in Half Moon Bay at the end of each September is quickly starting to be our yearly tradition. It started last year when we were shooting a fall outfit and I desperately wanted to take photos in a pumpkin farm but all the pumpkin "patches" in San Francisco Bay Area are just lots, not fields or patches or anything like I was picturing.
Then I remembered that Half Moon Bay is the World Pumpkin Capital (for real!) so I picked a pumpkin patch at random from the handful of pumpkin farms down there and we totally lucked out on Farmer Johns.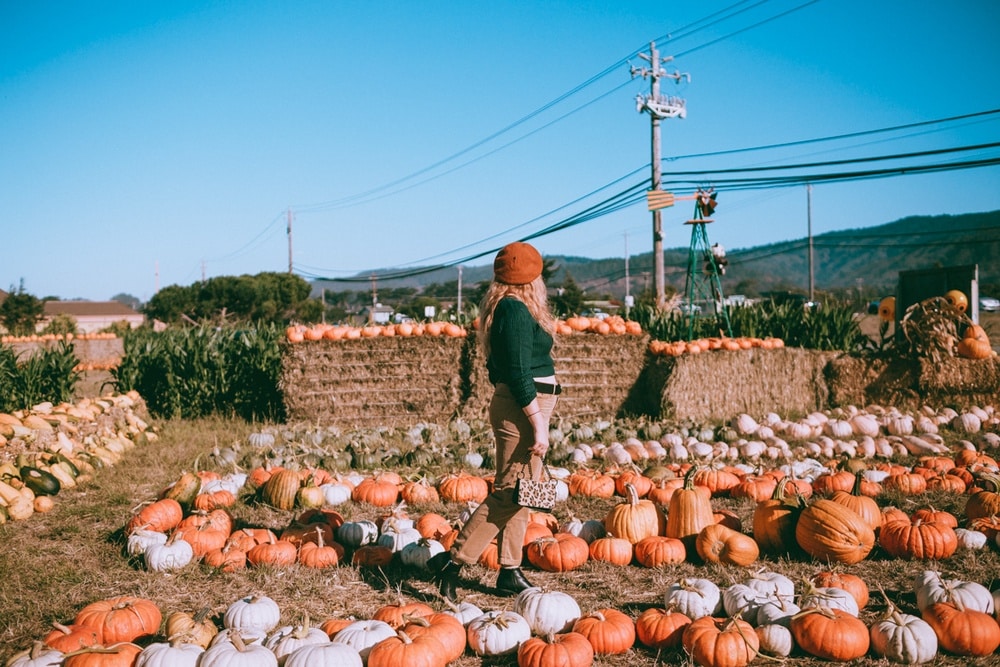 For starters, Farmer John himself is always there when we visit (usually his wife is too) and he is like, the nicest human ever. He's really knowledgeable and passionate about pumpkins, his excitement oozes out into you. It's impossible to leave his pumpkin patch without feeling extremely giddy about your pumpkin haul.
They didn't mind me taking tons of photos prancing around in a jacket that I was totally seating in since it was 75 degrees that day. Sometimes, places give you strange looks or start freaking out when you whip out a DSLR instead of an iPhone to snap photos. Instead, he gave us a tour and helped me pick the best pie pumpkin to bring home so I could turn it into a few loaves of bread.
Plus, prices are fair here. We stopped at Arata's this year for their hay maze and we picked up a single pumpkin there but they charged us $12 and I felt ripped off. Usually, we can pick up 5-6 different sized pumpkins at Farmer Johns for around $30-40 each fall.
But what really makes Farmer John's Half Moon Bay pumpkins stand out are the vast array of pumpkins. There are ones of every single color here I swear. Red, blush, orange, white, green, black, pastel green, yellow – everything! Expect maybe purple, I haven't seen one of those yet.
Growing up in Wisconsin I only knew about the classic orange pumpkins. I'm not sure if the different varieties can't grow there or if farmers just never grew them but I was shocked to encounter all these chic colorful pumpkins after moving to California.
Now, I love getting a whole array of colors for my little pumpkin shrine in the corner of our apartment. And Farmer John's is our favorite place to go! It makes a great day date from the city that is now our yearly fall tradition to kick off the season. This year after we filled our trunk with pumpkins, we stopped next door to Andreotti's to do their U-Pick sunflowers and made a whole day out of the trip to Half Moon Bay.
Anyways, if you're looking for the best pumpkin patch in Half Moon Bay, we love Farmer John's! I think you'll enjoy the day trip over as well. Just check the weather first, it's usually foggy in this part of the state but come September it can be HOT!
I am always tempted to bundle up in cute scarves and jeans and jackets (you know, fall vibes!) but so far, I've always had to shed those layers half way through the pumpkin selecting process.
Got any questions? Leave a comment below or DM me on Instagram @thewhimsysoul and I'll be happy to help!