*cue Big Little Lies intro music*
The Big Sur Bixby Bridge is an iconic California Highway 1 stop. Whenever we road trip down to Big Sur we ALWAYS swing by to soak in the views of this beauty and take photos. But as you can imagine – everyone else likes to visit, too. Over the years we've learned some hacks for navigating this IG-worthy bridge smoothly. Keep reading for all my tips for visiting Bixby Creek Bridge in Big Sur!
6 Tips For Visiting Bixby Bridge (Big Sur's Famous Coastal Bridge!)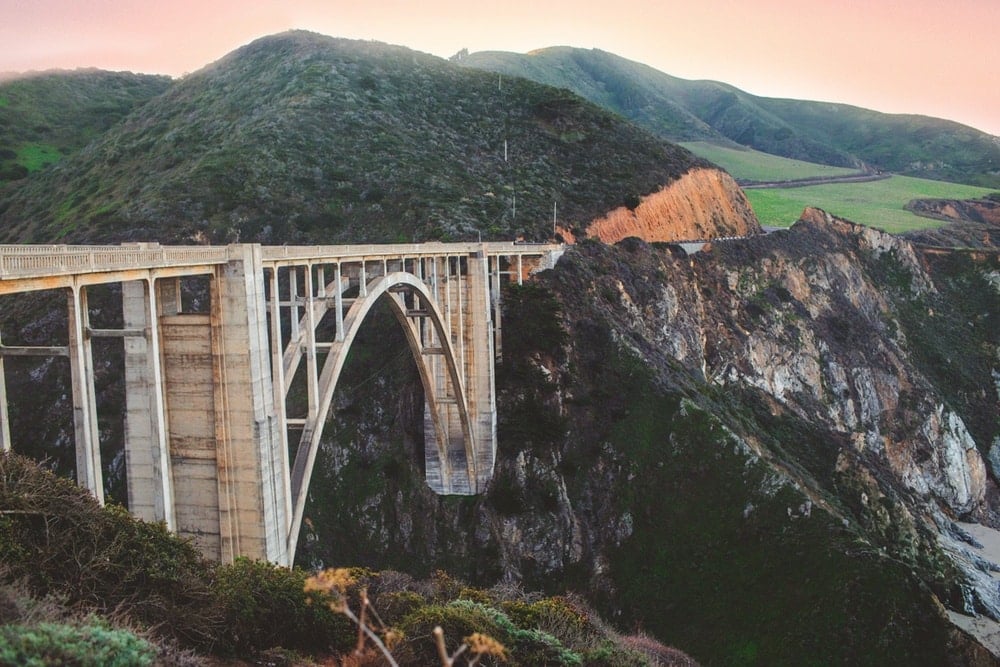 I LOVE this bridge. The arch is so unique and it sits on the edge of the highway with simply the most beautiful view of the Pacific Ocean and the coastal land stretching beyond. I live in San Francisco (North) so for me, the Bixby Creek Bridge also kinda marks the entrance for Big Sur, so it's like one big beautiful WELCOME to the area.
Wait – Bixby Bridge Was On Big Little Lies, Right?
Yes – it was featured in the intro of Big Little Lies, though I don't think the characters ever actually ventured down to Big Sur (they stuck around Monterey Bay if I remember correctly.)
The Bixby Bridge was built in 1919 and finished in 1932. It's the longest concrete arch span bridge on the California State Highway System, there's nothing else like it. The bridge was vital for connecting Big Sur to Monterey County, so it was pretty famous before Big Little Lies but the TV show made it even more of a coveted travel point.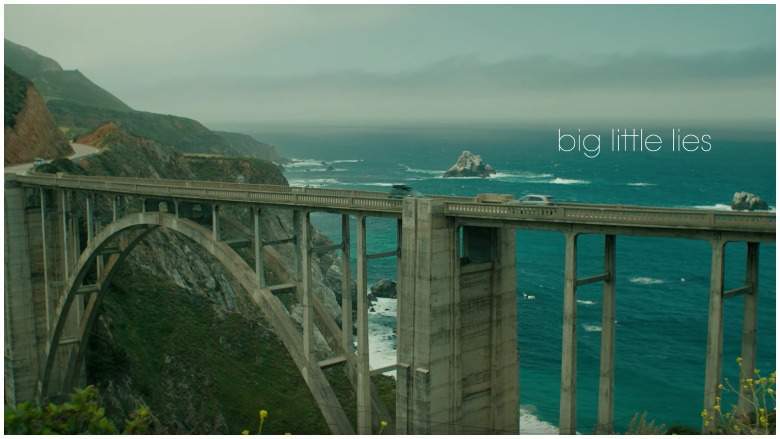 Bixby Bridge Directions
Location: Pop Bixby Bridge into your Google Maps, it'll take you there
Parking: There is a small lot on the North-West side. Park there. If it's full, you're out of luck. don't illegally park on the highway, it's dangerous for everyone.
Fee: It's free
You must stay on the North Side of the bridge. Do not walk across it, this is an active highway with cars. But you can view it on the West Side or the East Side of the bridge/road. They're both really pretty. The East Side faces the ocean, so the bridge will be silhouetted by the water, which is utterly stunning at sunset. The west side gives you that classic view with rolling mountains behind the arch.
7 Tips For Visiting Bixby Bridge on California Highway 1
Wear Sturdy Shoes – Trails Are Dicey
This bridge wasn't made to be a lookout point. It sits on the edge of the highway on a steep mountain hundreds of feet in the air. Over the years visitors have formed some well-worn trails around the bridge to act as viewpoints.
But they're steep and dangerous, especially if you are wearing heels or sandals. I always recommend wearing hiking boots when visiting Bixby Bridge as this landscape is really dicey. Always practice safety, take it slow and remember: your life isn't worth a photograph. Turn back if you feel unsafe and take photos from higher up on the trail or from the safety of the parking lot. Your photos will be just as cool and you'll still be alive to post it.
Come At Sunset For Best Golden Hour Views
This California bridge is cool no matter what time you visit, but I personally think it's the most beautiful at sunset / golden hour. If you're in the parking lot facing East towards the bridge, it'll be illuminated with warm light perfect for photos. If you're on the East side facing West and time it right, you'll be rewarded with a colorful sunset behind a silhouette of the bridge.
Of course, sunsets are a popular time of day for people to visit the bridge because it is so dang pretty. You'll risk not having a place to park and people photobombing your view or photo spot. Just something to keep in mind!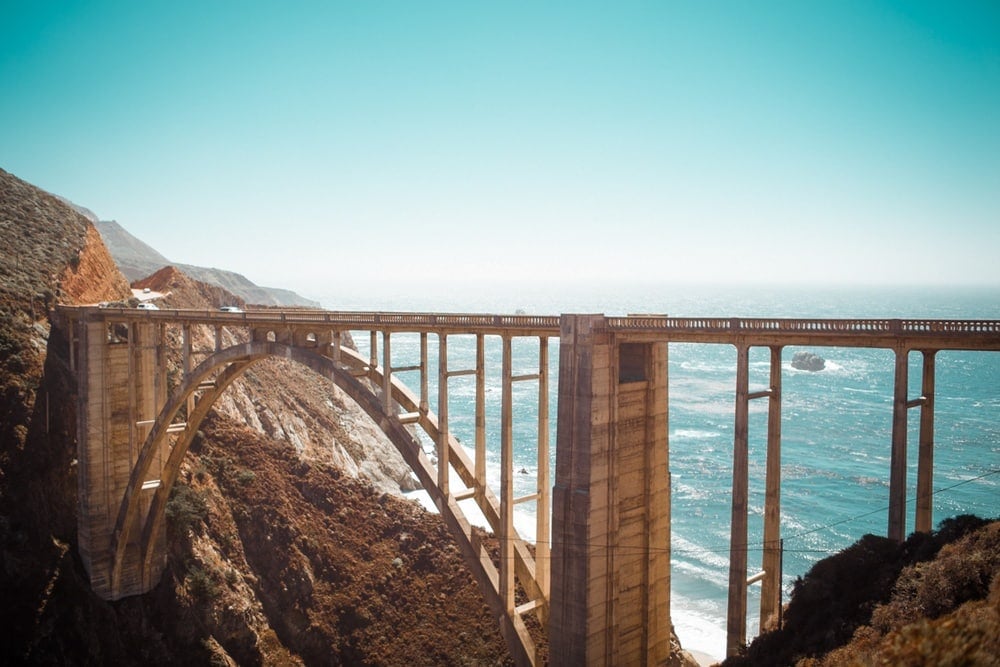 Go At Sunrise For No People
It's rare for visitors to wake up at 5am to drive out to the bridge and watch the sunrise. We stopped by recently after a sunrise trip to Calla Lily Valley down the road and arrived to the bridge at 7:30am (an hour after sunrise) and were happy to find it still 100% empty.
If you want to make sure nobody else is around – whether it's for anxiety, easy parking or larger photoshoots, you need to come at sunrise. The light will be behind the mountains for the first hour, so light will be soft and great for photos. The ocean will probably be pink/purple for sunrise.
Weekends Are Crowded – Aim For A Weekday
Like anywhere in California, weekends are crowded and the Bixby Bridge is no different. The first time I visited the bridge years ago was when we stayed at the Hyatt Highland Inn for the weekend. We visited on a Saturday afternoon in the summer and HOLY MOLY I low-key had to fight other cars for a parking spot.
It was a like a zoo and totally overwhelming. People were crawling everywhere. The next time was on a weekday evening in the fall. It was still crowded since it was a nice day, but much less so. We were able to find a parking spot right away and walk to the East Side to enjoy the view away from people.
This most recent time I stopped by at sunrise in the winter, as noted above. No people, it was perfect. If you are visiting Big Sur and are trying to see the bridge, I highly recommend you make plans to visit on a WEEKDAY NOT A WEEKEND.
Don't Wear A Hat – It May Blow Away!
It's always been so dang windy when I visit here! Once I almost lost my hat to the wind so do yourself a favor and don't wear a hat here. On, and bring a hair tie to pull that luscious mane back baby boo.
Trying to stand out in photos? The landscape here is dusty brown, green and blue. I always like to wear oranges, reds or whites to really pop in the photos.
What To Wear

No Bathrooms or Trash Cans Here – Pack Out Your Trash
PLEASE don't use Mother Nature as your bathroom or trash can. There aren't restrooms at this bridge or garbage cans. Keep your trash in your car and wait until you get to your hotel or campsite to dispose of it properly.
And, there are no bathrooms. We always fill up on gas in Carmel and I use a bathroom there. Locals have reported finding toilet paper and feces around Bixby Bridge from tourists who somehow managed to do their business without falling off the side of this cliff. Please don't be that a$$hole person.
Go Hiking Old Coast Road
If you're up for a unique Bixby Bridge hike, park your car at the bridge lot and go for a trek on the Old Coast Road. The trailhead starts at the bridge and takes you up into the mountains, through Bixby Creek and past tons of stunning viewpoints. This 10-mile trail ends at the Big Sur River near Andrew Molera State Park.
This road/trail is also a popular offroading spot, so watch for cars if you are hiking it. Or, bring your 4WD and exploring it that way!
More Fun Things to Do Near Bixby Bridge + Big Sur
Garrapata State Park + Beach: 4 easy trails here in the park perfect for all levels.
McWay Falls at Julia Pfeiffer Burns State Park: The famous waterfall in Big Sur
Point Sur Lighthouse Tour: Only on Wednesday + Saturdays
Pfeiffer Beach + Keyhole Rock: Best viewed at golden hour to catch the sun peaking through the rock. Also a popular place to hang out on the beach all day.
Explore Carmel: Head North out of Big Sur to the charming fairytale town of Carmel. There's wine tasting, restaurants, a historic Mission, 17-mile drive and more!
Where To Stay In Big Sur
I love to go camping in Big Sur – most of the sites have Redwood trees on the property so you can wake up UNDER these stunning ancient trees. How cool is that? My favorite Big Sur campgrounds are:
If camping isn't your thing there are some pretty bangin' resorts around Big Sur. Here's the top properties:
Pacifica Coast Highway 1 Road Trip – Next Stop
Heading South? After Big Sur, you'll find yourself on the Central Coast in San Luis Obispo County! Make sure to see Morro Bay (they have a huge haystack rock like up in Oregon on Cannon Beach!)
I personally adore the Pismo Beach area. There's tons of great seafood restaurants here and of course, the famous Pismo Dunes which low-key look like something you'd find in Dubai, not California. Paso Robles is also around SLO, so set aside time to go wine tasting if you make it down this far.
I hope this helps you plan a fun and easy trip to the famous Bixby Bridge!! This Pacific Coast Highway bridge is a must-stop but is best enjoyed when there's fewer people. If you have any tips to add, drop a comment below so everyone can see.
Got questions? Leave a comment or DM me on Instagram @thewhimsysoul and I'll try and help! Happy adventures.