We kept pinching ourselves. "This isn't real, this is a postcard." Last week, I found myself sailing the Aitutaki Lagoon with a local crew playing tropical covers of pop songs on ukeleles. The sky was blue, the lagoon's water was turquoise. The passing palm trees on the tiny islands and the white sand beaches… to say it was amazing is an understatement.
I spent a week in the Cook Islands on a girls trip! Left my husband at home to reunite with old friends who now live on the other side of the country from me. Before we left, we kept hearing whispers about the neighboring island of Aitutaki, about it's fun day cruises, the blue waters, the uniqueness.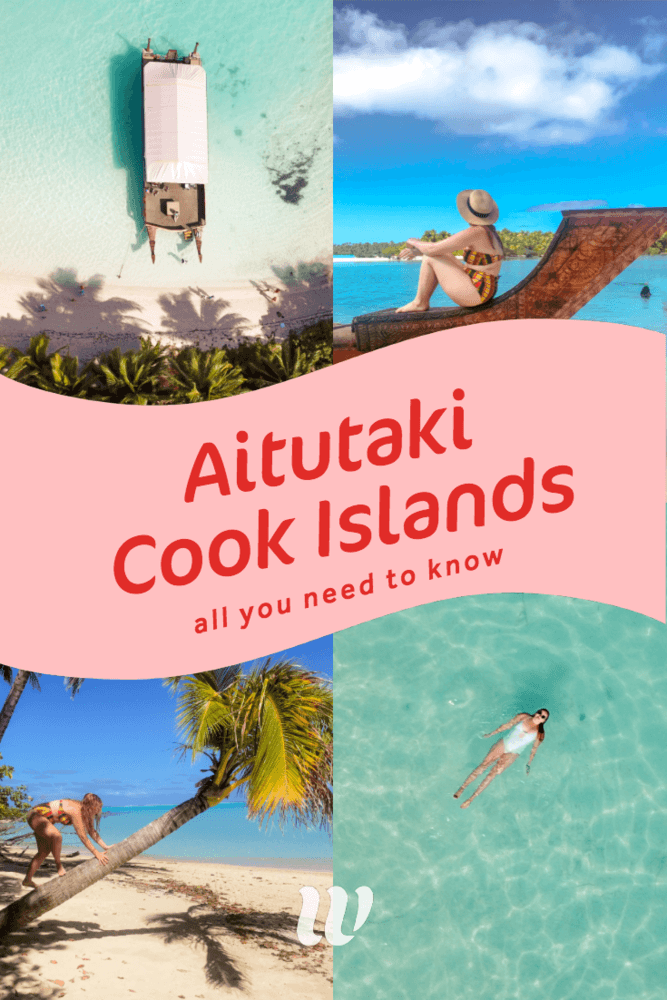 After my sunset sail in Nicaragua, I totally fell in love with boat trips on vacation. It's such a fun, special way to experience a place! So, we booked the Vaka Cruise and when the morning came for our trip out, I was extremely giddy.
Getting To Aitutaki
How to get to Aitutaki you ask? Don't worry about this! When you book a Vaka Cruise Aitutaki package, they take care of flights, airport transportation and of course, the actual tour! This tour includes lunch, snacks, water, towels, snorkel gear, live music and also alcohol for sale. They make it really easy to visit Aitutaki!
Seriously – It's a quick 45-minute flight on Air Rarotonga, probably the most simple airport experience I have ever had. No scanners, which was lucky because I packed along a waterbottle and big thing of sunscreen for the day on the water. It's easy to pop over for a one day trip, though, If return to the Cook Islands, I would want to do more than a day trip to Aitutaki.
We kept sailing past these stunning waterfront hotels and resorts and I could totally see myself lounging out in front of one of these villas in the blue lagoon waters for a few days with nothing to do but read and drink cocktails!
>> Spending a few nights on Aitutaki? You can skip the flights to Rarotonga and just book the sail itself, which is cheaper!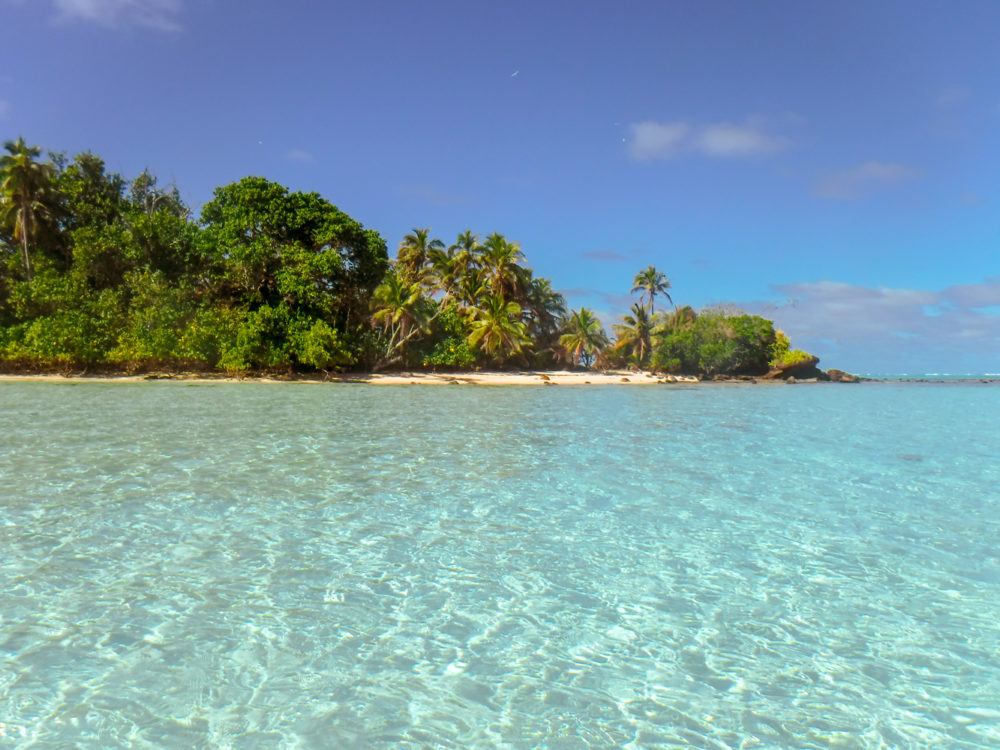 Vaka Cruises Aitutaki Day Tour Reviews
So, we got off the plane and we all boarded a bus for a quick tour of the main island before we boarded the boat for a day tour cruise sailing Aitutaki. Our tour guide was friendly, had those classic corny tour guide jokes, but had interesting history facts so it evened out.
There are a handful of stunning islands and this tour takes you to three of them!
Then, time for the sail! But first, you splash through some of the water to climb the ladder to a boat straight of Moana, where we found a table with coconuts ready for drinking. With that great Aitutaki weather, sunshine and feet up: I was in paradise.
I can't remember the name of the first island, but the second one brought us to the shores of Survivor Island – that's right, the very same island that Season 13 of Survivor was filmed on!
My friends are HUGE fans of the show. In fact, that's why we came to the Cook Islands in the first place. So, as you can imagine, they were super stoked to explore and spent a lot of time trying to figure out things like where to immunity idol would be hidden or which tiny island was exile island. I personally loved the time hanging out the sidelines swimming in that warm, blue water!
What I Wore

After that, we went snorkeling for about an hour with giant fish before lunch. I made the mistake of wearing this swimsuit, which was super helpful for avoiding tan lines but kept falling off every time I dove underwater when snorkelling so I suggest you get yourself a sturdy swimsuit, anything from this brand will be perfect!
Lunch was fantastic, and I was really surprised about that. Most of the time of tours like this, you get really crappy food but not here! Grilled fish steaks, fresh fruit, salads and so much more. Paired with a cold beer — I was in heaven!
The last island we docked on was One Foot Island. This was the largest of the islands and the most popular, as there were lots of other boats docked there as well. One Foot Island is famous for its post office and is one of the best islands to visit to check off a bucket list item.
We all bought postcards and stamps to send home. Still haven't' received mine so I'm not entirely sure if they really mail them, but it's only been about a week so we'll see!
They also sell passport stamps! You can't get this stamp anywhere else. It's really just a stamp but it's a fun token of pride thing for frequent travelers like me. After we got our stamps and mailed our postcards, we went swimming for about an hour before it was time to board the boat again and sail back to the starting point.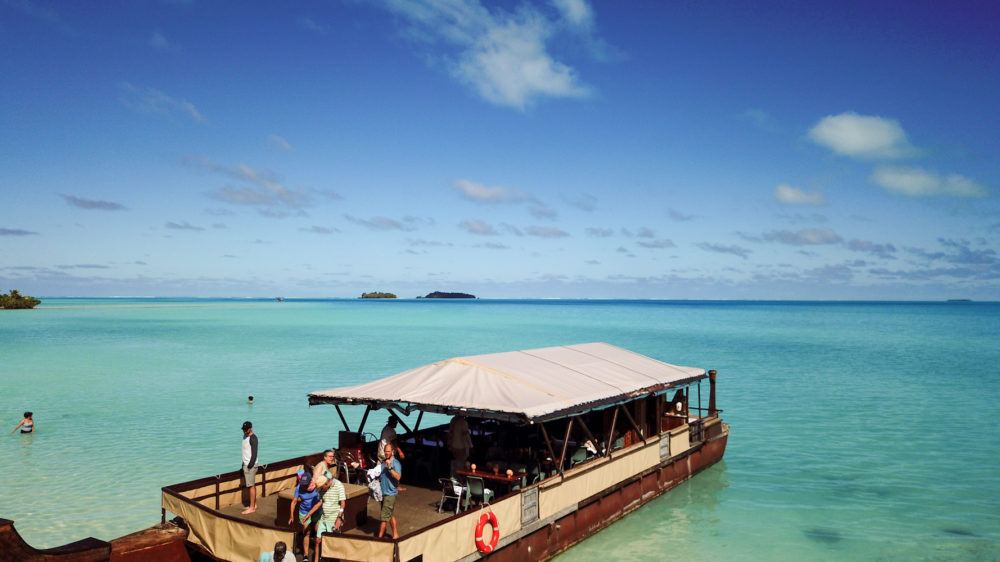 I think there are a few Aitutaki day tours but Vaka Cruises is the way to go. Of course, there are a few things I didn't like about this tour – but that's normal! Nothing can ever be perfect
The tour guide was really nice but spent too much time doing saying corny jokes or little "shows" while sailing. I would have much preferred to have that time chatting with my friends or just kicking my feet up in the sunshine with a beer and watching the islands move by.
They ran out of water by the end of the trip, which was actually a big issue for me because we had spent the past 6+ hours out in the sunshine and I was really dehydrated. So, learn from my mistake and hoard your water early!
They didn't prep visitors with information about reef-safe sunscreen and didn't provide reef-safe sunscreen either. Considering this tour consisted of swimming in coral reefs all day long, and sunscreen ingredients is rapidly killing off reefs, I think the tour has a responsibility to step up and make sure it's not bringing visitor that unknowingly do harm. If you're visiting the Cook Islands, PLEASE only wear coral-friendly sunscreens!
The cruise wasn't long enough… but that's just because I had so much fun! Could have easily spent another day out on that water.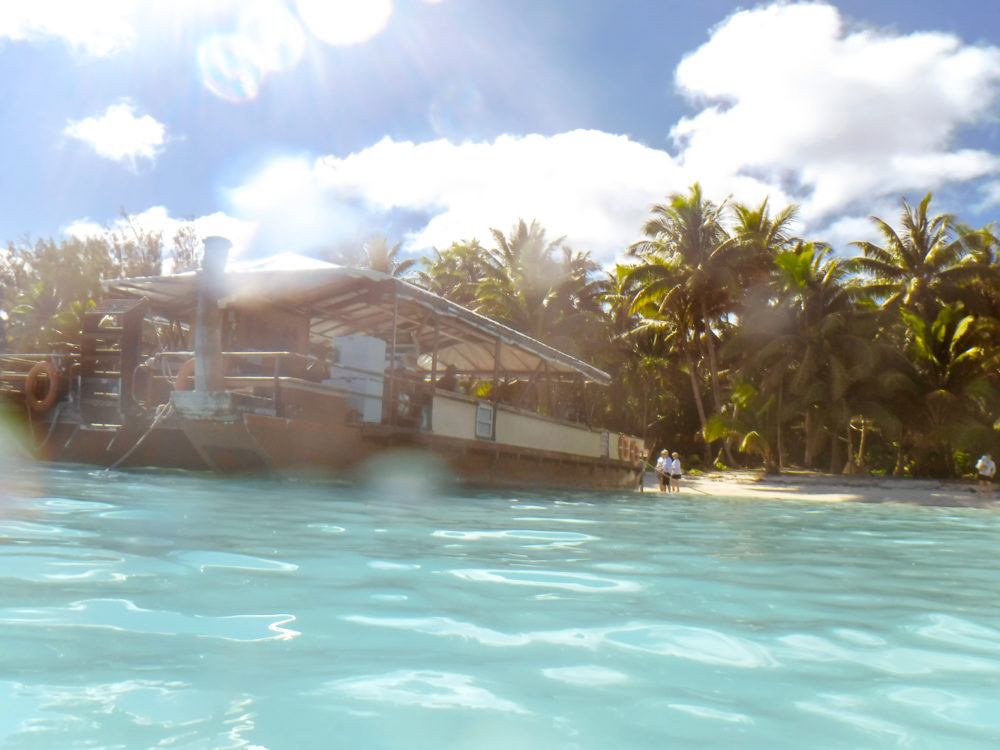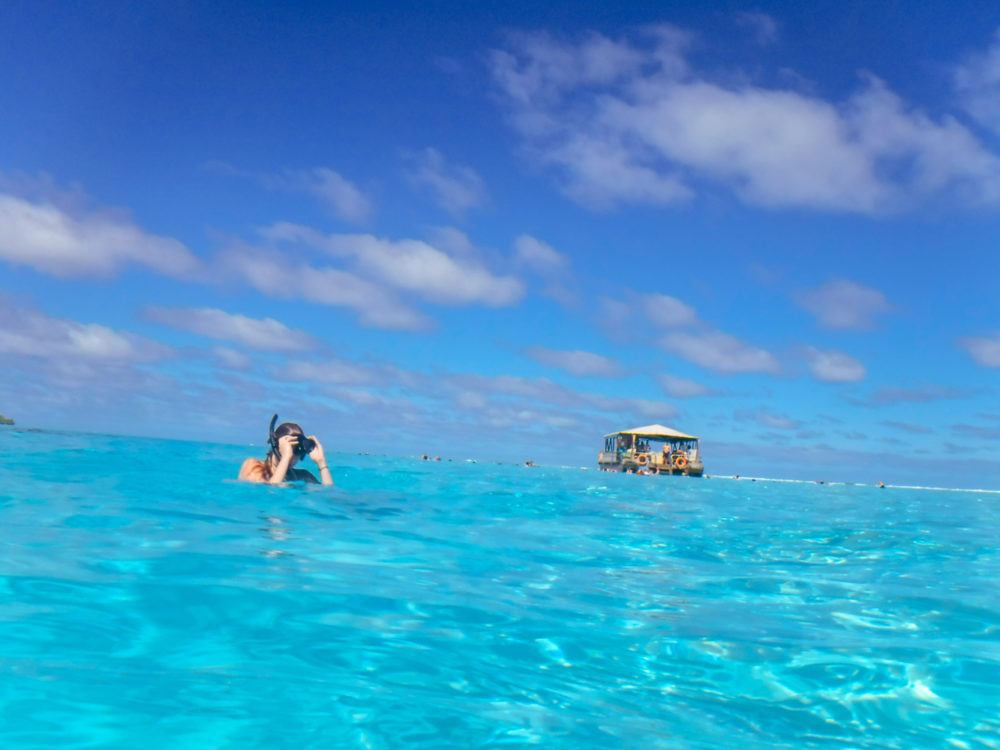 Cons aside, I think you'll love this day tour sail around Aitutaki Cook Islands. It makes the perfect one day tour from Rarotonga and helps break up your trip with something different.
Got any questions our comments about this tour or things to do in Rarotonga? Leave a comment below! Or, DM me on Instagram @thewhimsysoul and I'll be happy to help!
Pin this for later!