Cotton candy sunsets, snorkeling next to leopard sharks, iced lattes, colorful murals, insanely good beer & overall chill vibes — San Deigo is one of those cities that I can't stop thinking about whenever I leave it.
If I didn't love living in San Francisco so much, I would probably move us to San Diego. In the meantime, I visit the city once a year to snorkel my heart out and soak up sunshine when it's foggy up in The Bay.
My San Diego travel guide is accumulative from over 5 years of visits so you can plan THE BEST trip to this chill city. I'm sharing all my favorite things to do, best beaches, cool hotels, top restaurants and more must-know travel tips.
Then at the end I suggest a San Diego weekend getaway itinerary and also a longer itinerary to help you plan!
Insanely Cool Things To Do In San Diego + Weekend Getaway Itinerary
I often feel that San Diego is overlooked for Los Angeles (they are just a couple hours drive from eachother after all) but maybe it's better that way.
San Diego is by no means a hidden gem, but it has a certain level of laid-back vibes that I love so I am secretly happy LA is more popular.
But, just like LA, San Diego is pretty big with tons of neighborhoods that are very different from the next. It's hard to get bored here and that's why I keep coming back.
Most recently we went down for a week to celebrate my 30th birthday (so much good food, swimming in the ocean and hiking to ring it in properly!)
When Is The Best Time To Visit San Diego?
I think the biggest mistake San Diego tourists make is thinking "Oh, it's Southern California so it must be warm and sunny year-round!" Nope, nope nope. Just like San Francisco has a foggy season, San Diego County also has one.
If you're coming for sunshine in May or June, you'll probably be disappointed to find a thick marine layer of fog hanging out all day.
Here's the rhyme to remember: May Grey, June Gloom.
The sunniest and hottest time of year is usually the end of July – October. I always go in August or September when it's foggy AF up in Northern California Bay Area and I just desperately need to soak up some vitamin D.
But I'm also ok with heat. My husband Robin melts like Olaf if you leave him outside too long. If that's you, I would suggest end of October or April months to visit. It'll still be warm but less intense.
The winter months will be in the 50's and 60's, so bring a sweater and plan on not doing too much swimming without a wetsuit.
Top Unique Things To Do In San Diego
Now onto all my favorite things to do in San Diego!
1. Snorkel La Jolla Cove
My friends joke that it's surprising I'm not a Pieces since I LOVE to swim and snorkel. La Jolla Cove is probably the coolest place to swim in San Deigo.
The cove is sheltered from massive waves, so it's not too hard to actually get out in the water. Once you're out there you'll be swimming over fish and reefs.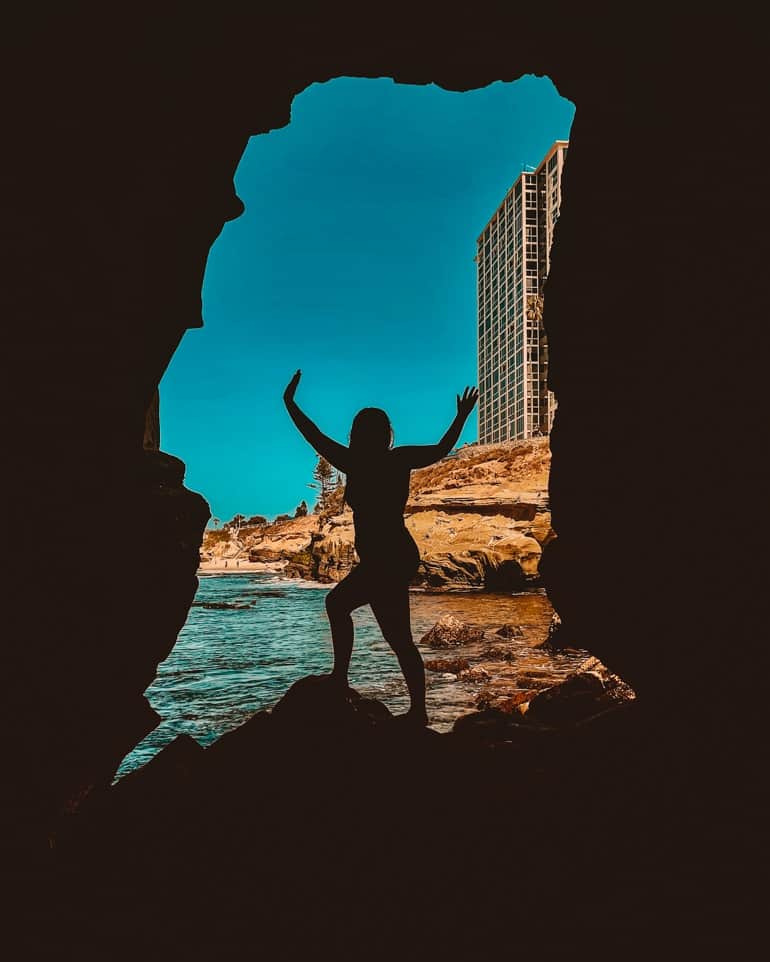 Or perhaps, right next to a sea lion. They hang out at La Jolla Cove and are always barking at each other and swimming around the people. Just remember to give them a healthy distance and you'll be fine.
I love the area so much I'm working on a separate La Jolla travel guide so I'll link that here when it's done.
Pro Tip:
Rent or buy your snorkel gear at the
La Jolla Outpost
just up the road. The staff is SO friendly and rates are affordable.
2. Explore Sea Caves At Children's Pool
Children's Pool is another cove in La Jolla, but this one has calmer waters on average (and not as good snorkeling in my opinion.) But it's worth a visit for the sea cave!!
Come at low tide and scramble your way in between a narrow pass to pop out in a tall sea cave.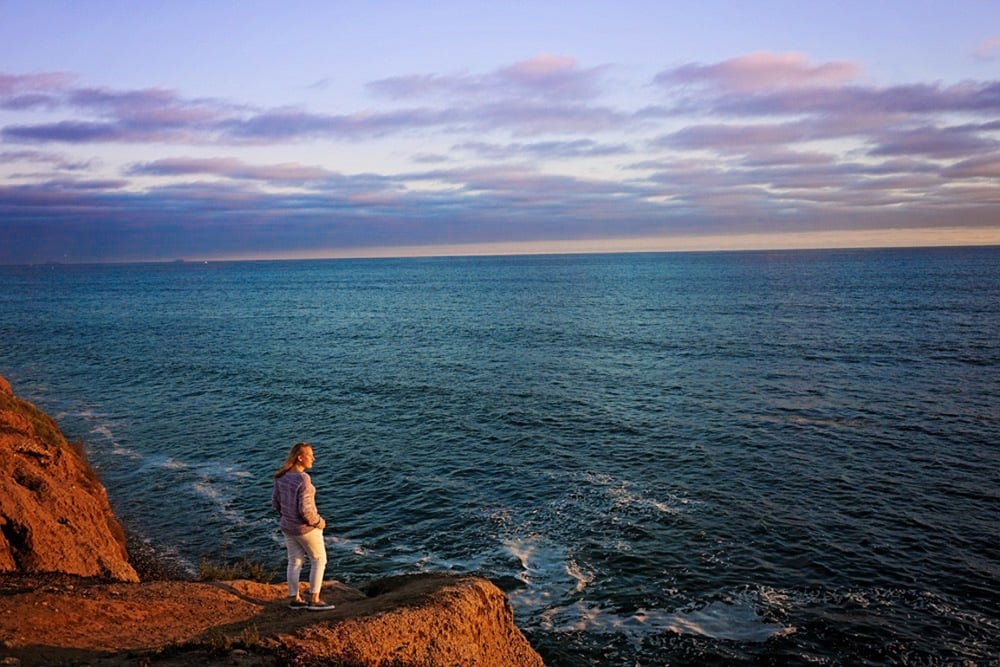 3. Sunset Cliffs Natural Park
As you can surmise from the name. Sunset Cliffs is a bangin' spot to come watch a sunset! It features insane cliffs on a rugged coastline, front row views of the ocean, and stairs that lead down to the water. Make sure to stick around long enough to see a Green Flash!
Down in this part of the state, a Green Flash happens the exact moment the sun sinks behind the horizon. It's so iconic a beer was even named after it!
4. Explore North Park
North Park is probably my favorite neighborhood to wander around in! It's full of local boutiques, tasty restaurants, breweries and murals. My favorite spots are:
Pigment: IG-worthy plant & home store that has a big pink mural on the back!
Artelexia: A cute Mexican shop with tons of home decor, gifts and other goodies. It also has a good mural on the outside and inside.
Modern Times Brewery: Tasty beer in a cool taproom full of hanging lamp shades!
The Taco Stand: A hole-in-the-wall taco shop with authentic tacos. I recommend the Al Pastor and Carne Asada!
Communal Coffee: home of the famous "coffee and flowers" mural with actually good coffee. And good flowers!
North Park Beer Company: A classic taproom with tons of craft beer in wickedly cool cans.
Verbatim Books: San Diego's largest independent bookstore with super fun decor and a ton of secondhand books for purchase.
5. Chicano Park
In the heart of Barrio Logan, San Diego's oldest Mexican-American neighborhood, is Chicano Park.
This area used to be a flourishing neighborhood but in the 1960's the state decided to build the 1-5 right through it, demolishing tons of homes in the process.
The space was re-claimed about 50 years later and turned into a wonderful public art park. Chicano Park has over 80 murals and is now a National Historic Landmark. It's really cool!
6. Cabrillo National Monument Lighthouse + Tidal Pools
If you're looking for easy hiking that ends at tide pools and includes a really cool historic lighthouse, head to Cabrillo National Monument. It's way on the end of the Point Loma Peninsula and overlooks the San Diego Bay. It was cloudy when we visited but I know it has insane views on a clear day.
There's an easy hiking loop that takes you around the peninsula and is mostly paved. It starts at the Old Point Loma Lighthouse, which was built in 1854 and is now open for tours, and winds down to the tide pools. If you come at low tide you can peep into the pools and hunt for wildlife!
There's actually another lighthouse in the park! The Ballast Point Station Lighthouse is managed by the Coast Gaurd and thus isn't open to the public but you can spot it from the cliffs above.
San Diego is a big naval base town and we even spotted a submarine cruising the Bay during our visit here (it was really cool, I've never seen on in real life before!)
Want more military things? Visit the USS Midway Museum in the San Diego Harbor + Fleet Science Center
7. Hike Torrey Pines State Natural Reserve
Torrey Pines State Reserve is INSANELY beautiful! I've been to San Diego plenty of times before actually coming to this park and I'm really bummed I was sleeping on this spot. It a coastal park with over 2,000 acres
You can spot paragliders launching from the Torrey Pines Gliderport, people swimming in the waves below and even spot La Jolla if it's clear enough.
We did the Red Butte, Yucca Point and Razor Point Trail Loop which is about 1.6 miles. It was a hot summer day out and that was the perfect hike for us, but there are other long trails if you want something meatier.
Just get yourself out there, it's such a cool park.
8. La Jolla Tide Pools
If you don't want to do to Point Loma to find tide pools, thankfully there are tons of tide pools right in La Jolla! Make sure to come at low tide and you'll be able to spot tons of sealife.
The best months to view the tide pools here is actually fall and winter when the tide tends to get very low, but even if you are visiting in the summer it's still fun to spot by then! We saw little crabs and tons of mussels.
9. Whale Watching Cruise
Depending on when you take your San Diego trip, you may time it for whale migration season! Mid-December through April is typically when San Diego whale watching season starts.
If you're really lucky you can spot them from the coastline but the best way to ensure front row views is taking a whale-watching cruise.
We did one while we were visiting Oceanside a couple years ago (slightly North of San Diego) and even though we didn't see whales on that trip, I loved the cruise aspect.
Sailing is something I always try to seek out when on beach vacations, it's relaxing and a fun way to see the city from a different point of view. And if you're lucky, you can spot a whale!
10. Craft Brewery Crawl
There are over 150 breweries. inSan Diego! That's insane! As former Wisconsinites, my husband and I love love love beer. Especially on a hot day, cool off with a locally made hazy IPA is my jam!
We obviously have not been able to go to all 150 breweries but these are my highlights:
Ballast Point
Half Door Brewing (try the peanut butter stout!)
Modern Times
AleSmith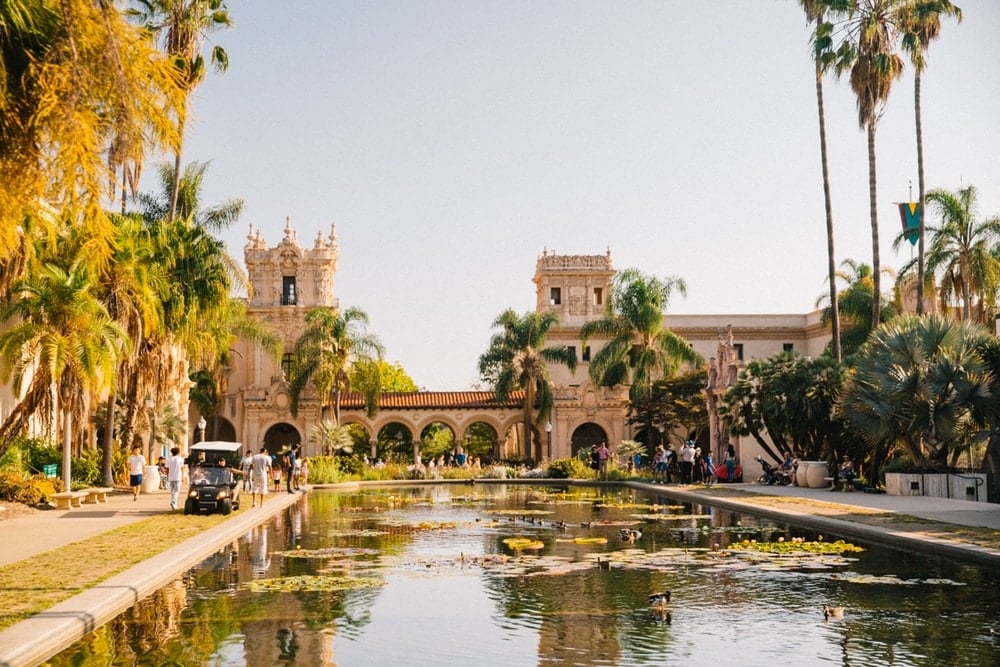 11. Balboa Park
Balboa Park could probably have a blog post of its own, it's massive! Not as quite big as Golden Gate Park, but it packs SO MANY THINGS. Half the cool things to do in the city and top San Diego museums are located in Balboa Park. Highlights include:
The San Diego Zoo: World famous! If you can plan ahead it's best to buy your tickets online so you can skip the long line at the ticket booth and just go in. (Don't confuse with the San Diego Zoo Safari Park, they're different things!)
Cactus Garden With Secret Cats: This small cactus garden is home to a bunch of cats!! The Old Cactus Garden is located in a quite corner of the park. Water bowls are left out for the cats and they live there full time!
San Diego Natural History Museum: One of the oldest History Museums in the United States. They constantly change out the special exhibits, too!
San Diego Museum of Art: They have a huge collection of art from all over the world but specialize in Spanish art.
Botanical Garden: Leftover from the 1915 Panama-California Exposition, this dome botanical garden is super unique and the backdrop of a LOT of San Diego photos.
Japanese Friendship Garden: It's 12 acres!!! And so so pretty.
There is SO much more packed into this park!! I've been many times and still haven't been able to se
My favorite time to visit Balboa Park is in the evenings around Golden Hour. The light here is so hazy beautiful and warm that time of day, making it extra pretty to explore and take photos. The actual temperature will be cooler and there will be fewer people, too!
Most of the museums closes at 4pm or 5pm, though, so I would suggest heading to the park around 1 or 2pm to squeeze in museum visits and then explore the outside things afterward until the sunsets.
12. Old Town San Diego State Historic Park
Old Town San Diego is definitely a bit of a tourist spot, but it's worth a couple of hours of wandering around.
It's the oldest neighborhood in San Diego and one of the oldest European settlements in California, though to me it feels like I stepped into Mexico (so many corners reminded me of Nogales, a Mexican town I visited for a day while in Arizona a while back.)
Old Town of historical sights like The Mormon Battalion Historic Site and Whaley House, along with tons of restaurants and cute shops like an old-timey General store.
I recommend stopping by one afternoon for a couple of hours to explore and shop. The parking lots can get full quickly but there is plenty of street parking nearby!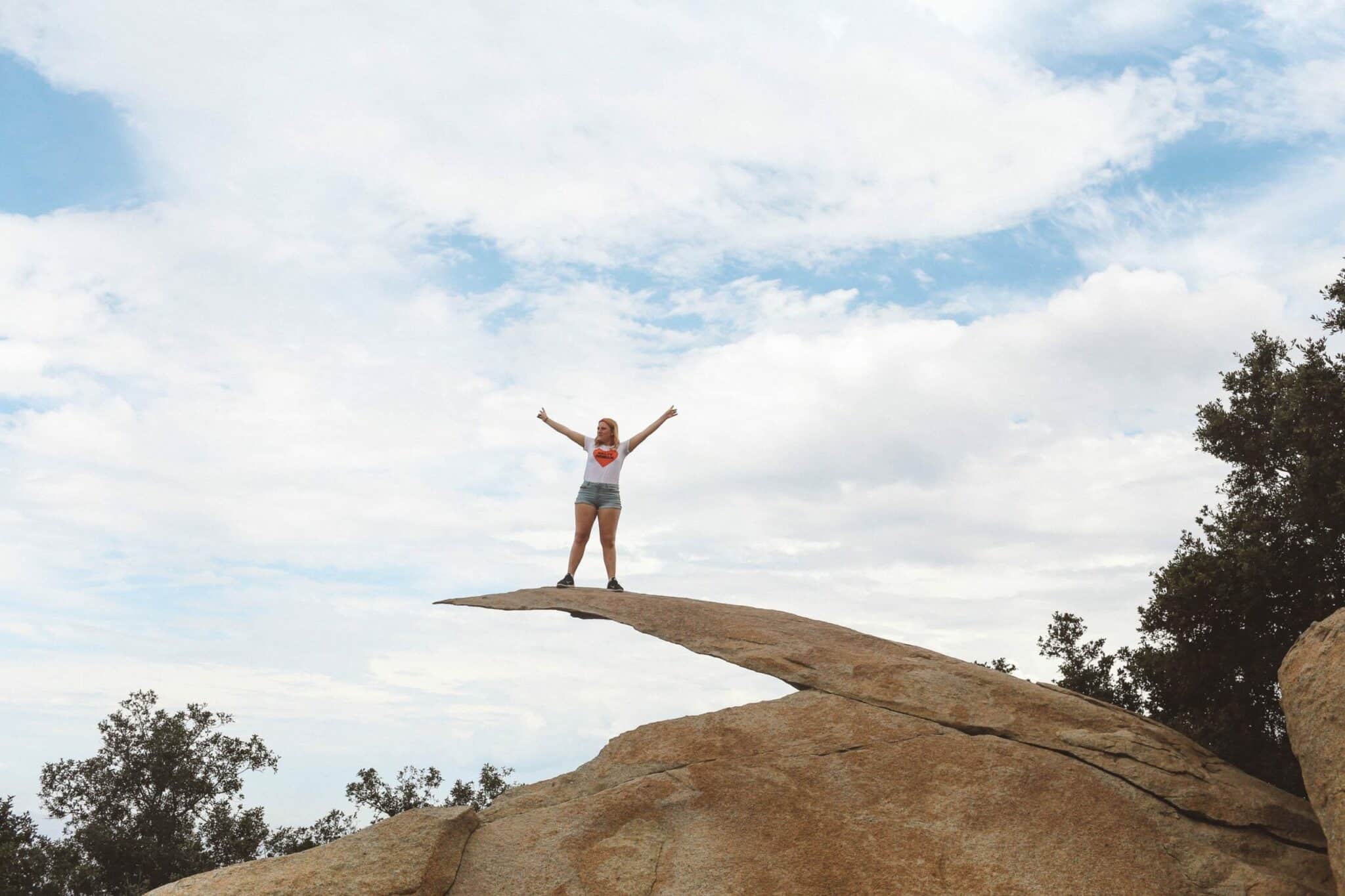 13. Hike Potato Chip Rock
One of those weird things to do in San Diego — hiking to a rock shaped like a potato chip!! You'll need a car to get to the trailhead, and I recommend starting in the morning or in the winter to avoid the heat, as it's not the easiest hike in the world.
But standing on top of Potato Chip Rock is so dang fun, and the view is amazing. Read all my hiking tips for the rock here!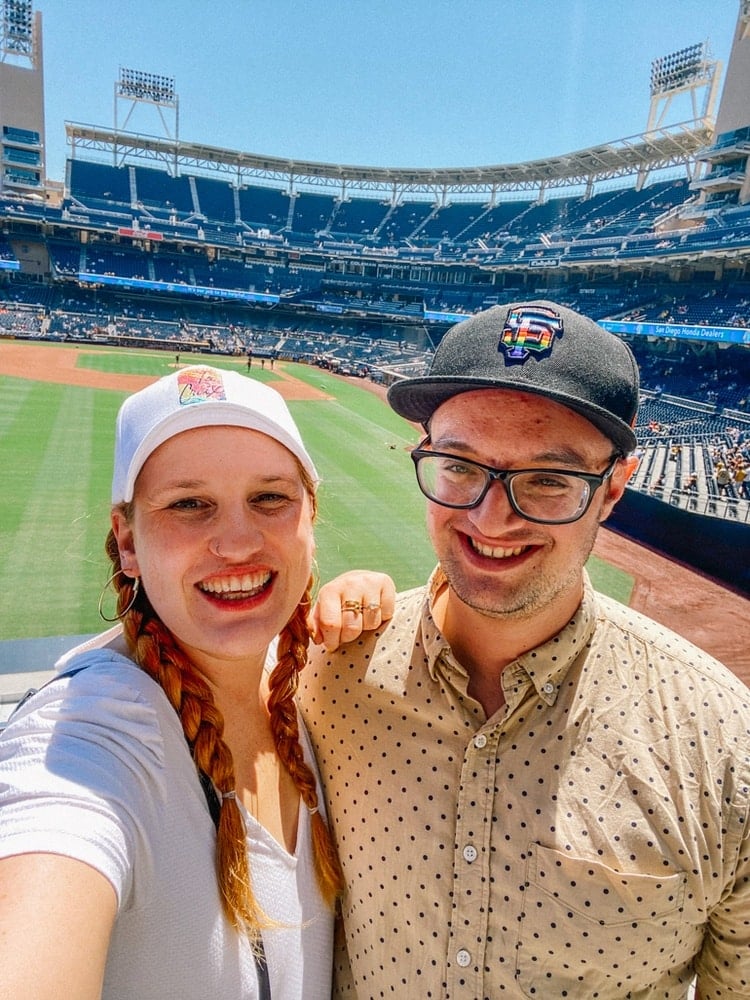 14. Padres Baseball Game Petco Park
This was unexpectedly one of my favorite places to visit in San Diego! My husband is a huge baseball fan and has the goal of visiting every baseball stadium in the United States. Since Petco Park (where the Padres play) is right in Downtown San Diego, we decided to go to a game.
This stadium is AWESOME. It's very open and has plenty of viewing spots other than your seat to watch the game.
We set up shop at the Ballast Point Brewery beer garden for half the game for a different point of view of the field. We had so much fun!
15. Channel The Bootleg Era At The Cave Store
Hidden in the bottom of the Cave Store in La Jolla is a little door that takes you down a narrow bootleggers tunnel with 145 steps ending at a sea cave.
Tours are all self-guided so you can take your time squeezing down the tunnel or gazing at the ocean view nice you're down there.
The tunnel has a bit of a sad history. It was built by hand by two Chinese workers circa 1906 whose names were never recorded, so we know their identity.
The tunnel was used in the 1920s to smuggle alcohol and opium from boats into the city. It was also open in the day for tourists to come visit, though back then they had no electric lights to guide them through the dark tunnel, instead only had a rope to cling to.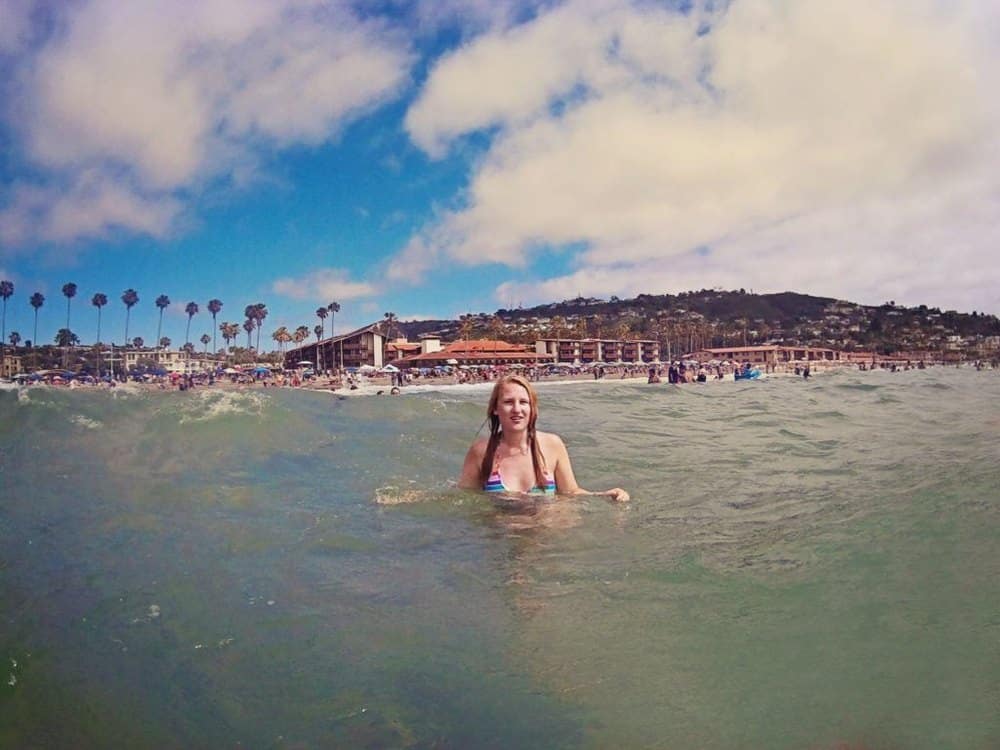 16. Vibe At La Jolla Shores
Ok you can probably figure out by now that I love La Jolla, it's undoubtedly my favorite part of San Diego. And the cove is SO cool, but La Jolla Shores may actually be cuter. The cove is well, a cove, so the beach is small and usually under high tide.
La Jolla Shores Park is what you think of as a classic SoCal beach – long, tons of sand to spread out, lift guard towers and the whole shebang. This beach is fantastic for swimming and if you are lucky, you. can even spot leopard sharks in August or September!!
You can also go kayaking from the beach and do a guided tour around the sea caves. Scribbs Pier is here, too, which is such a dreamy spot to take sunset photos. But perhaps what I love most about La Jolla Shores are all the cute shops and restaurants down there. Highlights include: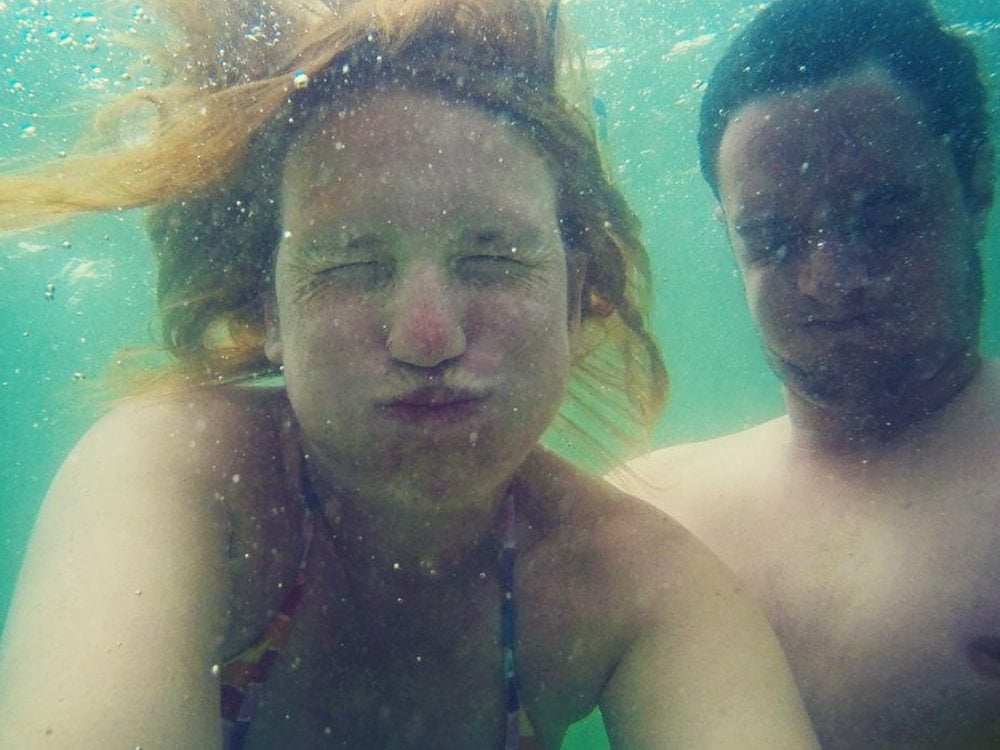 17. Wander Seaport Village
Seaport Village is a huge waterfront shopping and dining complex. But it's like, a super cute California version of an outdoor mall.
It's right downtown and had great views o the bay for a sunset dinner. There's also frequently live music and other events to attend. It's a vibe.
18. Frolic In The Carlsbad Flower Field
If you are visiting San Diego in March-May and are up for a mini day trip out of the city, I highly recommend you pop up to Carlsbad to visit the famous Carlsbad Flower Fields! This insanely large and beautiful flower farm opens up for visitors every spring.
They have flowers of every color so it's like a giant rainbow. You can wander the flowers, take tons of photos and live out your cottagecore dreams. It's one of my favorite flower fields in California!
A note about Seaworld San Diego: we don't support the establishment due to animal cruelty issues in the past and would urge you to skip it.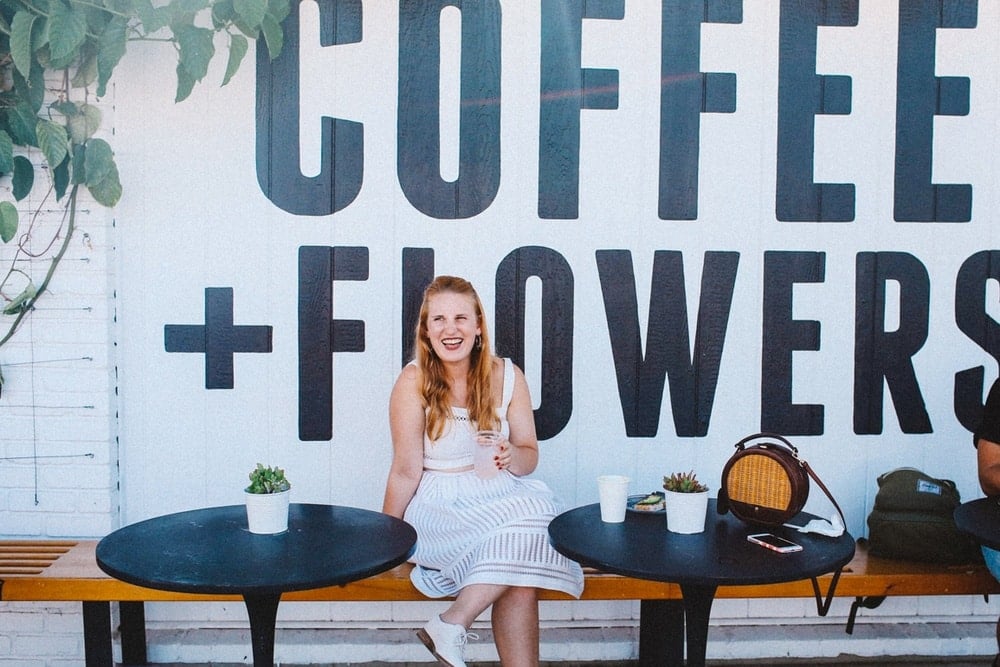 My Favorite San Diego Restaurants
Yes, San Diego has bangin' Mexican food and every local will tell you the small corner taco shop near their home is the best in the city. Come ready to eat a lot of tacos and burritos, but there are another amazing cuisine here, too!
Just like with any major city it's impossible for lil ole me to visit and taste test all the restaurants, bars or cafes.
If your favorite foodie gem isn't on the list below, please leave a comment at the end of this blog post so everyone can see it! All the spots below are places I've visited and loved, so I think you will as well.
Modern Times Coffee
THIS PLACE IS SO COOL! Modern Times coffee is decorated with the most random, wacky decor (a dinosaur, Ronald McDonald, etc) and serves up some bangin' coffee drinks. I recommend the angostura cold brew.
Madison
This cocktail bar is SO dang cute and they make a bangin' drink, too. Madison serves up craft cocktails on a beautiful patio so head here on a nice day.
Morning Glory Breakfast
Located in Little Italy, Morning Glory is one of those Instagram famous San Diego attractions. And for good reason – everything about this restaurant just screams "put me on Instagram!" but in the best way possible.
They are famous for their Souffle pancakes, which are divine and what I recommend you order when visiting. They don't take reservations so you have to get there early (like, when they open) to get a table without standing in line for hours
The Taco Stand
Located in North Park near Balboa Park, this little hole-in-the-wall taco shop is authentic, tasty and affordable. I recommend the carne asada or al pastor!
Half Door Brewery
One of the best activities in San Diego is beer hopping! As mentioned above, there are so many breweries (over 150 in San Diego) and I think Half Door in the Gaslamp Quarter needs to be on your list. The brewery itself is super unique. It's built into an old house that has been decorated with tons of industrial chic meets library vibes.
They serve food and I'm still dreaming about that fried goat cheese… all their beer is great but their chocolate peanut butter stout is something truly special.
Raised By Wolves
EKKK this is one of the most fun things to do in San Diego for couples or friends. Raised By Wolves is a new speakeasy in La Jolla. The outside is a high-end bottleshop and to enter the bar, you spin on a revolving fireplace. Inside is a perfectly dark and moody bar with what I am convinced is the best cocktail menu in the entire city. You can't go wrong with anything.
Noble Experiment
Another speakeasy! Noble Experiment is located in the Gaslamp, in case you can't make it out to La Jolla. It's hidden behind a door next to the Neighborhood Bar and is super swanky on the inside.
George's At the Cove
George's always has good food and a good view in La Jolla! I always come here at least once during any San Diego trip to sit on the rooftop, soak up a warm breeze, eat a tasty burger and look at the waves.
Communal Coffee
Communal Coffee is one of those San Diego places with good coffee AND a good wall (Coffee and Flowers). I love to come here for a morning iced coffee and people watch from one of their outdoor seats.
Holy Matcha
Holy Matcha is another top Instagram-famous place to visit in San Diego. I think every city guide San Diego has includes this spot, it really blew up circa 2017. I love the wallpaper and decor, but of course, the iced matchas are fun! The Matcha Lemonade really hits the spot on a hot day.
The Crack Shack
Gah, I LOVE this place! The Crack Shack in Little Italy is all open air and serves up the tastiest chicken dishes around. Fried chicken, quesadillas, salads, sandwiches – they have it all and it's all so tasty. It's also decently priced and they serve beer here so it has almost a beer garden feel. Aka very chill and relaxed. I love coming here for dinner.
El Camino
When dining at El Camino you simply must ask to be seated in their back patio. It's directly under the flight path of airplanes landing at the nearby airport and it's so fun to have them fly overhead as you sip on a margarita. I know it sounds a bit strange, but trust me! The drinks and food here are also to die for.
Oscars
Oscars is a San Diego classic Mexican spot with a few locations around town. I still often think about that breakfast burrito I had at their PB location on my first trip to San Deigo… SO GOOD. And so affordable, with burritos coming in under $6 a pop.
Better Buzz
I wish we had Better Buzz up in San Francisco! This super cute coffee shop has AMAZING horchata lattes and tasty breakfast sandwiches. The inside is really cute and modern and perfect for photos, too. There's a few locations around town.
Madi
Located in Normal Heights, Madi serves brunch from 8am-2pm! The decor is super cute, and the food was even better. It gets super busy, so be sure to make a reservation ASAP.
We snagged a a super early time the day before, but it was nice to be there before the huge crowds.
We had the Blackberry + Goat Cheese Pancakes and Chilaquiles Verdes. Both were very good, and really filled us up for the day!
Cafe Madeline
Cafe Madeline is like a Parisian street cafe transported to San Diego. With two locations – one in North Park and one in South Park – the French restaurant and cafe's menu features breakfast dishes, quiche, savory and sweet crepes, sandwiches, salads and paninis.
We got the best of both worlds with the Spinach, Mushroom and Goat Cheese Quiche and Nutella + Banana Crepe. Next time, we'll definitely try a savory crepe!
Lovesong Coffee + Market
This light and bright coffee shop is located right around the corner from Verbatim Books in North Park. Along with the "Usual Suspects" (i.e. latte, drip etc.), Lovesong Coffee + Market has a big menu of specialty drinks made with homemade syrups and fresh ingredients.
The Bees Knees (with oat milk) was a perfect balance of sweet of honey, vanilla and the earthiness of cinnamon, but the savory smoked salt was the real kicker!
Hermosa Surf
Hermosa Surf is a surf shop in La Jolla specifically the Bird Rock area with delicious matcha and smoothies. Whether you surf or not, you'll love this cute little shop!
Wayfarer Bread & Pastry
Also located in Bird Rock, Wayfarer is a must stop for pastry lovers like myself! Beware the line is long, but well worth the wait. We planned on getting a couple croissants and left with almost a dozen items to try.
Our favorite was the Potato Creamed Spinach Tile, but the plain croissant was out of this world good!
Things To Do In San Diego For Free
Trying to plan a trip to San Diego without breaking the bank? Our first (of many) weekend getaways in San Diego was back in 2016 when Robin and I still were broke AF. While writing the first version of my San Diego travel guide, most of my suggestions were actually free for there are options for you!
!You'll have to skimp a little on the foodie scene if you have a strict budget, but there are actually a lot of free things to do in San Diego if you know where to look.
Balboa Park is undoubtedly the attraction in San Diego and most of it is totally free!
Walk the boardwalk and pier at Pacific Beach
Swim at La Jolla Cove or La Jolla Shores
Wander North Park looking at shops and murals
Explore Old Town San Diego (many cute old buildings and fun shops to look at!)
Soak up art at Chicano Park
Watch a sunset at Sunset Cliffs park
Hike potato chip rock as there's no entry fee!
As I noted above, summers can get really humid so if you are trying to make this a super budget trip and do a lot of outdoor activities, keep in mind the weather. You may want to do a fall or spring trip just so you aren't melting.

Best Hotels In San Diego For A Unique Getaway
I have a love affair with finding cool hotels to vibe at and thankfully there are some really cool gems here. When planning a weekend trip to San Diego.
It's important to first ask yourself what type of vacation you're looking for. Are you hoping to wake up and be steps from the beach? Are you hoping to channel your inner foodie and spend your whole trip eating? Are you coming for an event or baseball game?
San Diego is HUGE and sprawling. Downtown has a very different vibe than La Jolla, but both are really fun spots to anchor yourself. These are my top 4 hotels to stay at when visiting:
The Pines / La Jolla Cove & Suites
Location: La Jolla Cove
Book now
Robin and I stayed here on my 30th birthday trip and we fell in love with The Pines. Rooms are large and modern with private patios It's literally across the road from La Jolla Cove, with many rooms overlooking the cove itself. I love to snorkel so I found myself in the water at least 3-4 times a day here. There's parking on site and it's a step away from all the best La Jolla eats.
It's a little confusing right now since when we visited (September 2021) the hotel is ongoing a remodel and rebrand. We stayed on the new side which is called The Pines.
The old side is La Jolla Cove suites but be warned, not all the rooms have A/C so I recommend booking on the new side. Right now the rooftop hasn't been complete, but I expect it to be an insanely cool lounge space overlooking the ocean. But since it wasn't complete, Robin and I actually got to hang up there all alone each night, it felt very private and luxurious.
Hotel Indigo Gaslamp
Location: Gaslamp Quarter
Book now
This hotel is right downtown in the Gaslamp and a block away from Petco Park (some rooms even have a view of the field, it's awesome!) We stayed here a few days when we had tickets to the Padres.
Even if you aren't going to a game, you'll love Hotel Indigo. It's cute, pet-friendly, has parking and is a few blocks away from some of the best Gaslamp bars, restaurants and breweries. Read my full review on this hotel here!
The Pearl Hotel
Location: Point Loma Penisula
Book now
This new Point Loma hotel is contemporary, chic and made for Instagram. The Pearl hotel is small, only about 23 rooms, but laid back and connected to a top-rated cocktail bar.
Room rates and parking rates tend to be cheaper at The Pearl if you're looking for a San Diego trip on a budget without compromising style.
Hotel Del Coronado
Location: La Jolla Cove
Book now
Dating back to 1888, Hotel Del Coronado is iconic on so many levels. It's played host to celebrities and presidents, been the backdrop to films and it's even haunted. Allegedly.
Now it's a National Historic Landmark and the swankiest hotel in San Diego.
There's something about the cabanas and exterior of Hotel del Coronado that makes it look like it was plucked from the East Coast. I still have yet to stay here but it's on my bucket list!
Note: there are a handful of hotels in San Diego Mission Bay And Belmont Park, but I think that area doesn't offer much local culture so I would opt for somewhere else.
A Look At My Favorites San Diego Beaches
All beaches are free to visit! These are my top spots to check out during your trip.
La Jolla Shores: We love this beach because the waves were easy to play in, there's plenty of restrooms and a cute shopping/eating strip right off the sand. It's my favorite beach to go swimming in, especially in September when you can hunt for leopard sharks!
La Jolla Cove: Every one of my San Diego vacations is around the cove. This spot has fantastic snorkeling and swimming, along with a sea cave and a front-row view of the sea lions.
Children's Pool: Nearby by La Jolla Cove is Children's Pool. The water is much calmer over and the beach doesn't get totally swallowed by the high tide as it can at other spots, so it's safe for kids and the whole family to swim at. San Diego kids and visitors love coming here! This is one of the most famous beaches in San Diego. Come here to surf, swim, play volleyball, layout or kick it in one of the beachfront bars. This is probably what you picture when you think of a SoCal beach and it can be a big day party!
Mission Beach: If you keep walking down the boardwalk on Pacific Beach, you'll end up in Mission Beach. Since it's further down, it tends to have fewer crowds! It's just North of Ocean Beach and next door to the amusement park if you're looking for more things to do in San Diego with kids.
Coronado Island: Americana meets classic vibes. Head to Hotel del Coronado's beach for a great backdrop of the historic hotel and warm sand. It's also fun driving back and seeing the San Diego skyline spread out before you!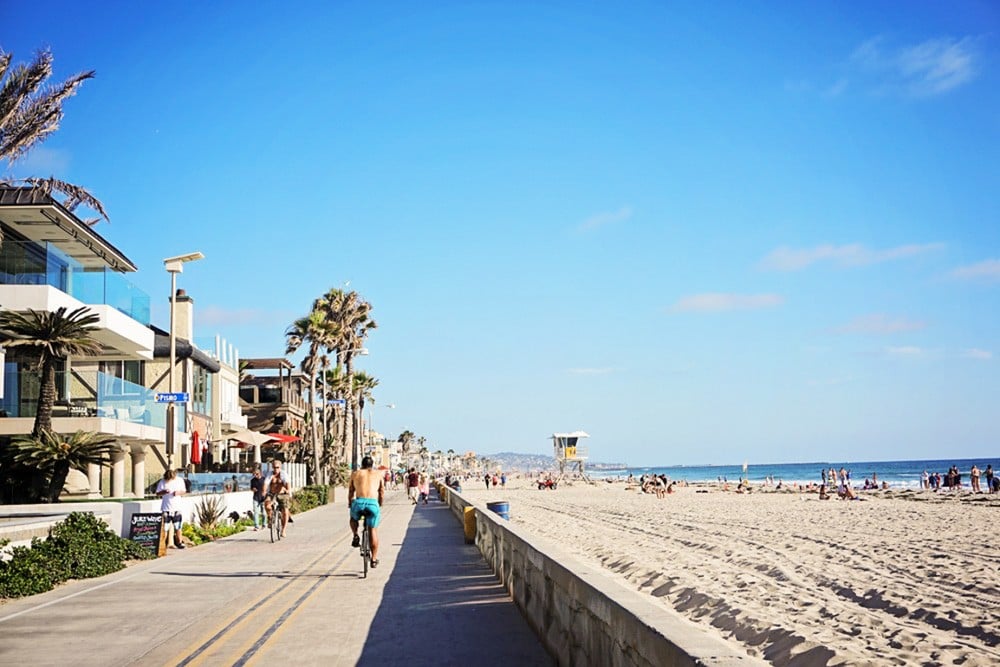 Do I Need A Car In San Diego?
You actually don't need a car in San Diego, though it can help if you are planning on doing hiking around the city or small day trips up to Carlsbad, etc. On our last trip, we drove down so we had our car, but we found ourselves taking Lyfts about half the time.
Yes, the best attractions in San Diego are all spread out around the city but sometimes the parking fees and/or time it took to find a parking spot outweigh the cost of rideshare. Plus, parking fees at hotels range from $15-$50 a night (yikes!)
San Diego International Airport is literally right downtown so if you are flying in you don't need to rent a car to start exploring.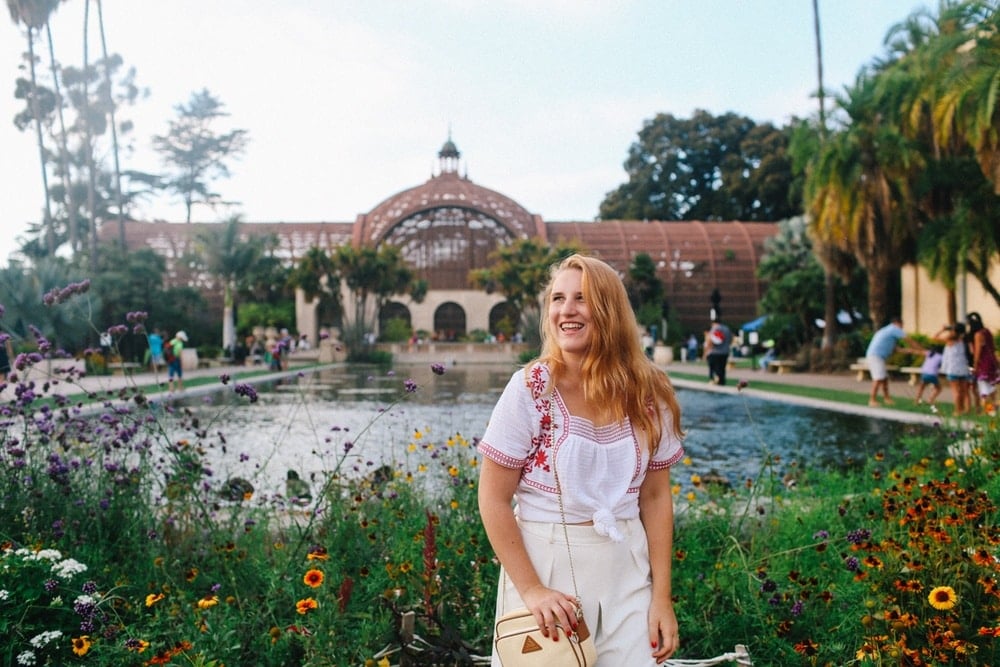 Suggested San Diego Getaway Itinerary (1, 3 or 5 days)
As promised, these are my recommended San Diego itineraries for 1, 3 or 5 days to maximize time and sights.
Weekend In San Diego Itinerary / 3 Days in San Diego Guide
Whether you want a romantic weekend in San Diego or a fun girls trip, three days is definitely enough to squeeze in the highlights. Here's how I would structure that time:
Day 1: check-into the hotel. Explore your hotel neighborhood by foot for 30-60 minutes. Catch the sunset at Sunset Cliffs. Have drinks at Noble Experiment or Raised by Wolves. Grab Dinner at The Crack Shack and if you want a late-night beer, head around the corner to Ballast Point.
Day 2: Breakfast at Modern Times. Explore Balboa Park for 1-2 hours the morning then head back to your hotel to get ready for a beach day at La Jolla Cove and La Jolla Shores! Have dinner at The Shore Rider and stay for sunset on the beach.
Day 3: Breakfast at Morning Glory (get there at opening time!) or Better Buzz. Walk the Pacific Beach boardwalk before you pack up and head home!
San Diego Itinerary 5 Days
I suggest visiting San Diego a little longer than 3 days just to really soak up all the good stuff. There's this air of chill in San Diego and things do tend to move slower, so having more time is best.
Day 1: Check into your hotel and explore your hotel neighborhood by foot for 30-60 minutes. Head to Pacific Beach and walk down the boardwalk, exploring shops and dipping your toes in the sand as you go. Stop by Oscars for a late lunch if you need it! Catch the sunset at Sunset Cliffs and then head to a speakeasy. Dinner at El Camino.
Day 2: Breakfast at Better Buzz in La Jolla and then go on a morning hike at Torrey Pines. Spend the afternoon at La Jolla shores swimming, kayaking and snorkeling up at the Cove. Don't forget to check out the cave store! Grab happy hour drinks at Raised By Wolves and then back to La Jolla Shores to see the sunset at Scribbs Pier or from the beach. Dinner at Shore Rider.
Day 3: Breakfast at Communal Coffee and then wander North Park, making sure to stop by murals, shops and breweries if you want. Lunch at The Taco Stand and then spend the afternoon in Balboa Park. Take it easy that night with dinner at The Crack Shack and beer at Ballast Point.
Day 4: Breakfast at Modern Times cafe. Head to Cabrillo Point Monument for a morning hike, historic lighthouse and a visit to the tide pools. Explore Old Town San Diego. Either spend the afternoon on a whale-watching cruise or head to Coronado Island for swimming! Dinner at Half Door.
Day 5

: Breakfast at Morning Glory and a walk on the waterfront. Pack up and head home!
KARA – I Only Have One Day, Help!
The perfect one day San Diego really depends on what you are looking for. I'm not a big museum person, but I'm sure someone reading this would be over the moon to spend all day at the art and Natural History Museums.
That being said, here's my recommendation for a day trip to San Diego itinerary: If you can't tell I think the top places to visit San Diego are around La Jolla, especially if you only have one day. That's where you'll be able to soak up all the beachy water vibes, which is unique to San Diego.
If you have one day, I would head to La Jolla Cove to go snorkeling, do some tide pooling at low tide, the cave store and hanging out around La Jolla Shores. And then Raised By Wolves for happy hour. That's basically what I did on my 30th birthday and it was the best day!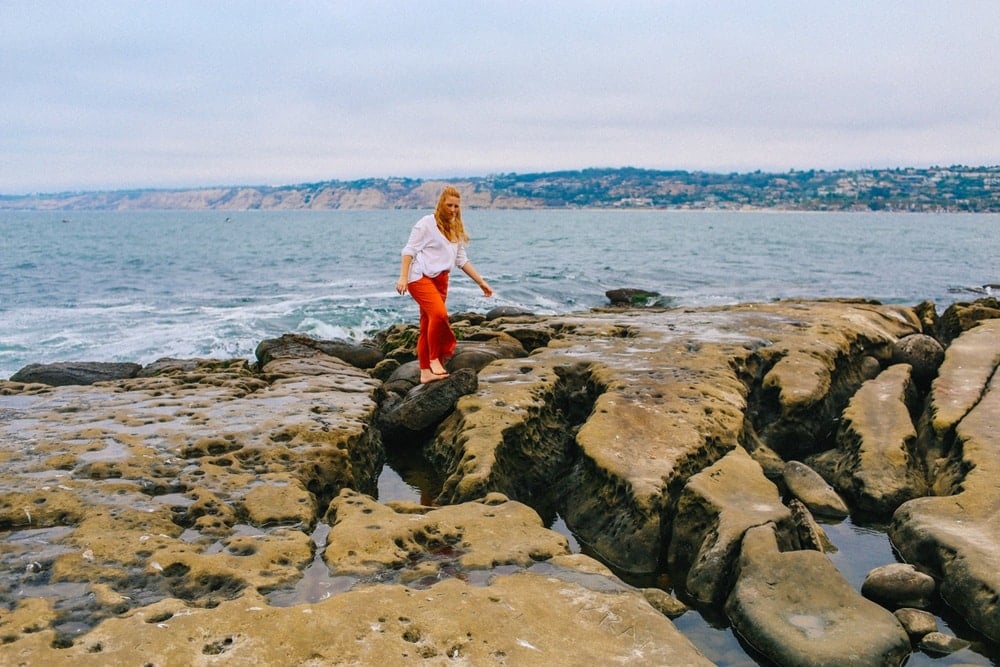 I hope this helps you figure out what to do in San Diego. This area is one of my favorite places in the whole world. If you're favorite San Diego things to do didn't make the list, please comment below so everyone can see and plan an even better trip! When in doubt, you can also check the San Diego tourism authority website to see if anything fun is happening in town.
I can't stop taking trips to San Diego and as with all my travel guides, I'll keep this updated in the future as I discover cool new things with you!I can't stay away from this city.
More California Travel Guides You'll Love