This is what I wore to Oktoberfest in Munich. (Pictured above) This German beer festival was the start of our 3-week European honeymoon, so I didn't want to take up limited suitcase space with a lederhosen and dirndl costumes.
And I had hardcore FOMO for that choice.
Can you wear normal clothes to Oktoberfest? Of course, you don't need to dress up for Oktoberfest, but boy it's a lot of fun to do so. When else can you run around in goofy traditional Bavarian Oktoberfest costumes and day drink for 8 hours straight while singing Sweet Caroline at the top of your lungs?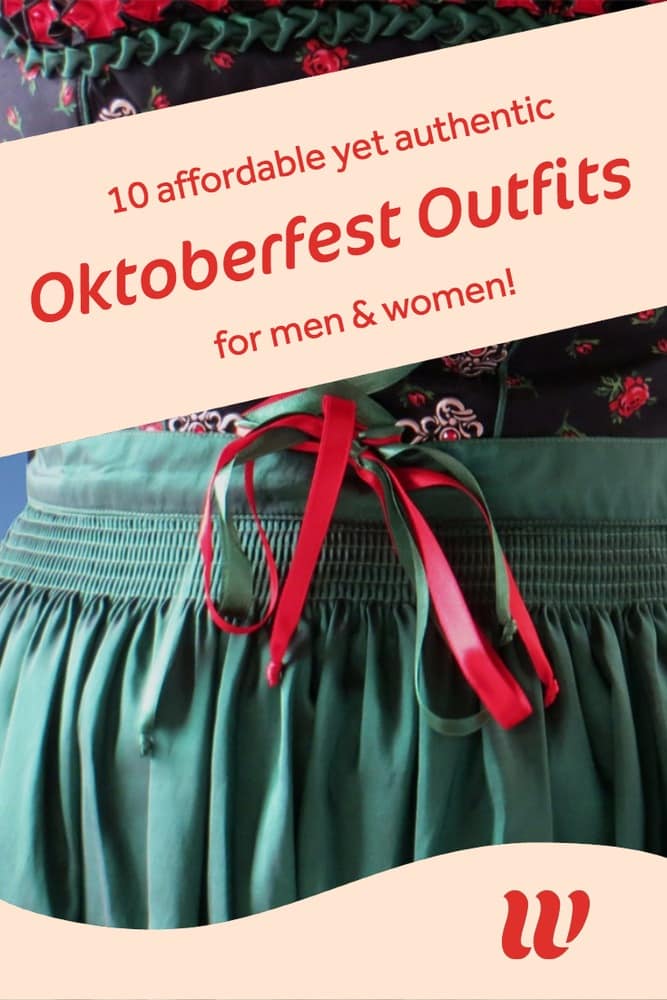 What To Wear To Oktoberfest /
Oktoberfest Outfit Guide
When I went, I scrambled together a last minute Oktoberfest outfit from normal clothes I had packed, but I really wish I brought a German outfit for my husband and myself. I remember going to a couple of shops in Munich to buy one but found they were well over 200 euros each, so no thank you!
That's why I recommend you buy your Oktoberfest outfit online BEFORE you head over to the festival. Amazon has tons of cute and affordable outfits for both men and women, along with hats, shoes and accessories. Don't spend a ton of money – use this guide to find yourself affordable Oktoberfest outfits!! Save your money for more beer.
>> Heading to Munich? I have a whole guide full of tips to help you navigate the festival, from the best tents to how to properly tip!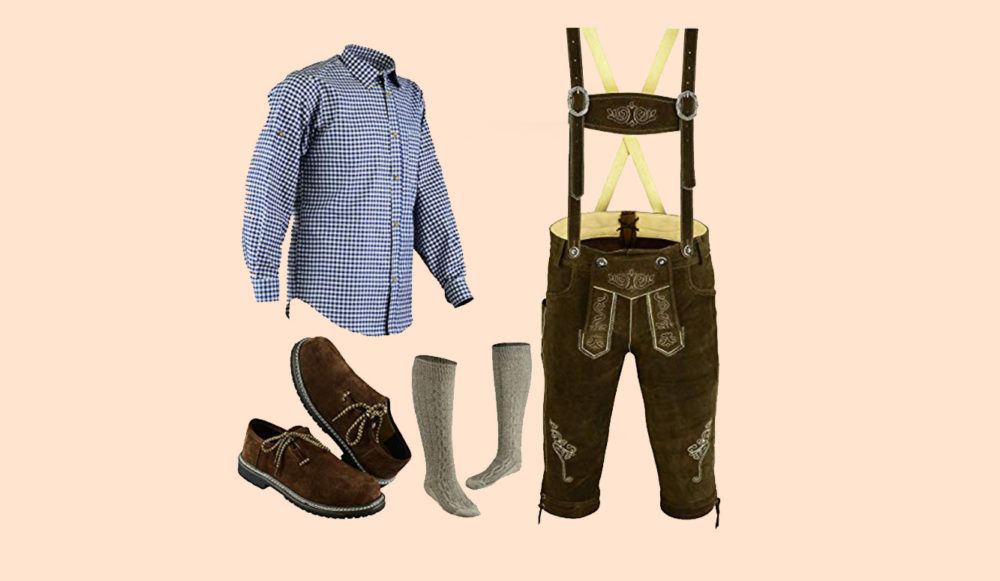 Lederhosen Outfit Ideas
The Oktoberfest lederhosen is the traditional men's wear and *pretty* goofy looking in my opinion, but I would have loved to see my husband dressed up with those suspenders! (Cute!!) A lederhosen get-up usually consists of a button-up shirt, traditional style shorts with suspenders, a hat and brown shoes paired with knee-high socks.

Men's Bavarian Lederhosen (Brown): $84
Men's Bavarian Lederhosen (Grey): $99
Full Lederhosen Outfit: $150
Bavarian Hat: $11
Traditional Style Socks: $15
Traditional Shoes: $69 (though you can just wear any brown dress shoe TBH!)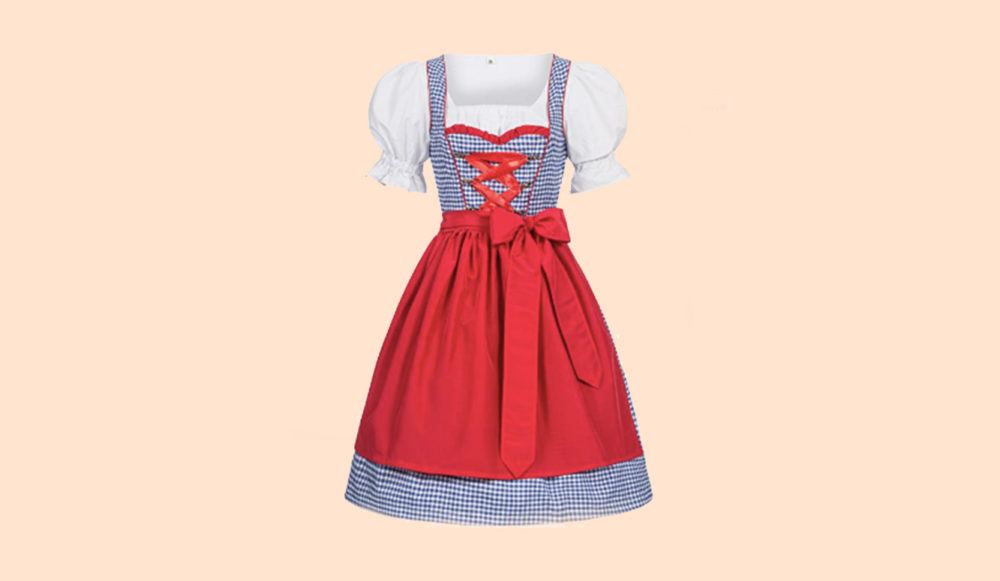 Dirndls Outfit Ideas
Dirndls are what the women wear, also known as a wiesn outfit. You can find modest ones or go full-blown cleavage like the classic pin-up style "Oktoberfest girl". They are dresses with an apron that ties. If you tie the bow on the right, it means you're taken. Bow on the left is single & ready to mingle. Bow on the back means you're a waitress and a bow on the front means you're a virgin (hello boys!)

Dirndls are way cheaper than lederhosen, fyi! You can usually find one for under $50 on Amazon.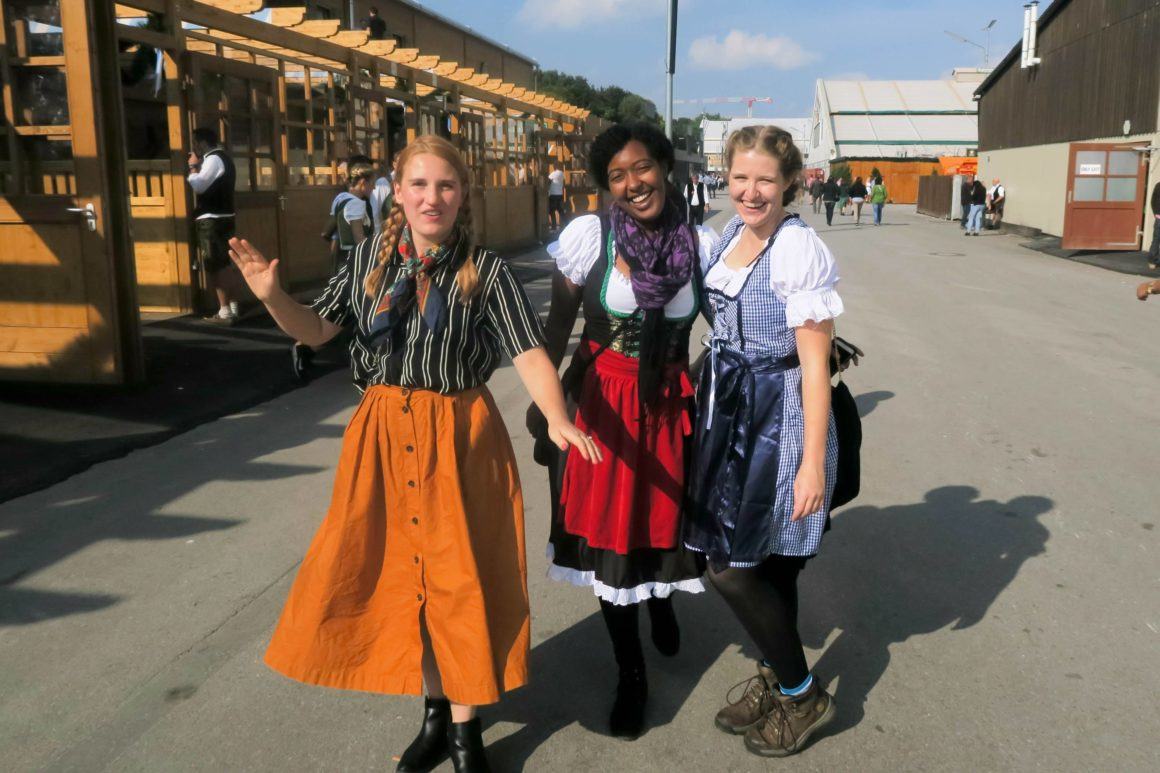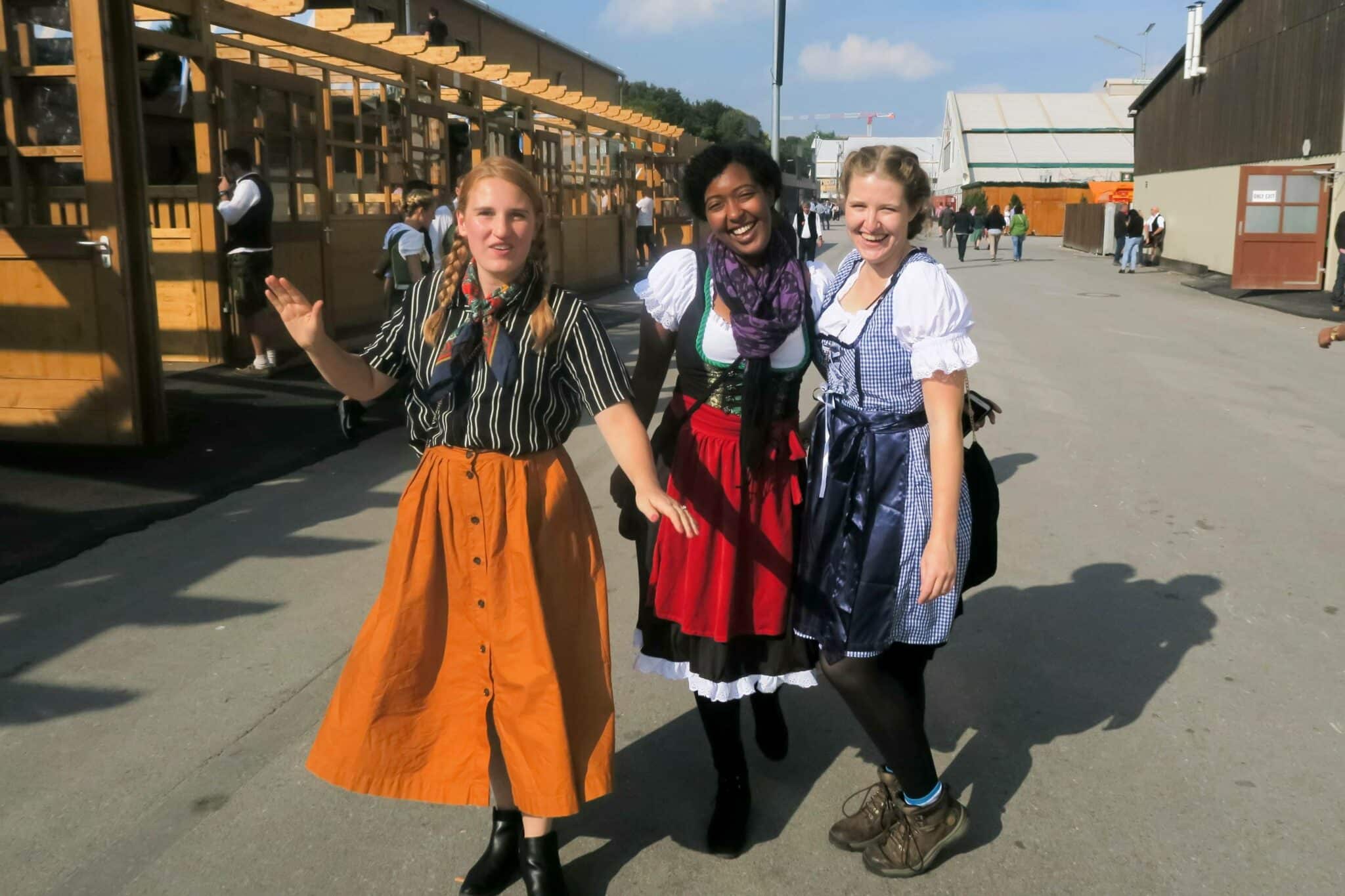 When we went, we attended both a day and a night. I liked the daytime better as it was less crowded and since we didn't have table reservations, it was much easier to grab a beer. Nights are crazy. All the tents are packed with people in dirndls and lederhosen, all standing on tables and getting really wasted.
On top of a fun outfit, here are other things you should pack/bring with you during your festival days so ensure a fun and safe time!
Euros: As mentioned earlier, do bring your credit card just in case, but you'll be dealing in cash all day. You'll want at least 100 Euros per-person.
Flat shoes: I would recommend wearing flats so you can easily dance on benches and walk around after 5 huge beers. I love Rothy's as you can wash them after, which will come in hady because your shoes will probably get beer all over them.
Small purse: You cannot enter with a backpack so don't try to bring one. They have security here and they will turn you away. Think of Oktoberfest as a concert – small purse only! (This is a great anti-theft purse that I took with me all over Europe!)
Deck of cards: Everyone around the world knows how to play card games. Make new friends or keep your group occupied with cards!
Sunscreen: This pale gal really wished she wore or brought sunscreen. I left the outdoor Biergartens sunburnt!!
Sunglasses: Again, the outdoor Biergarten can be sunny!
Hand sanitizer: This entire festival is like one big bar. Bring the hand sanitizer. The Oktoberfest bathrooms are pretty nice, but you'll also want to sanitize after.
External phone charger: You'll be there all freaking day. Make sure to bring extra power for yourself!
I hope this helps you find fun Oktoberfest clothing for your festival, be in Germany or here in the United States. I hear Leavenworth, Washington has a really fun festival each fall that I want to go to. It's this cute Bavarian town in the Cascased, we went there for Christmas last year but want to go back again!
Got Oktoberfest 2019 questions or anything to add about outfits or the festival? Leave a comment below! Or, DM me on Instagram @thewhimsysoul and I'll be happy to help!
Other Posts You May Like
Oktoberfest tips & beginners guide to this famous festival!
How to get to the Neuschwanstein Castle – step by step guide from Munich!
One week in Ireland road trip itinerary
First time in London? Here's all the best things to do/see/eat!
The Isle of Skye is Pure Magic & I Want To Go Back To See These Things
The 4 best travel purses that are CUTE and prevent pick pockets!