For years I've trekked down the Pacific Coast Highway and I always spotted blooming pink flowers on the bluffs of Montara Beach. But it wasn't until this spring that I finally stopped to visit them in person!
In this post I'll be sharing the best month to see the pink flowers and exactly how to find the famous lookout point.
How To Find Pink Flowers At Montara State Beach
Fee: None
Parking: Yes, 2 lots
Accessible: No – light hiking involved
Where Is Montara Beach California?
Montara State Beach is San Mateo County about 20 minutes South of San Francisco and 8 miles North of Half Moon Bay.
Montara State Beach Weather
This portion of the coastline usually sees a lot of fogs, especially in the mornings and evenings. The morning we visited there was a light marine layer hugging Montara Mountain which I found really beautiful but it rolled in stronger by the time we left. I've been to Devils Slide before (up the coast a few miles) and the fog can so so thick you literally can't see 10 feet in front of you.
Wear layers when visiting since it can be cold. It can also be windy, so bring a hair tie! During the spring when the pink flowers are blooming, it's a toss-up on fog. You may luck out on a clear day so it's all about timing! Make sure to also wear sturdy hiking boots or sandals with grip when visiting the flowers, as the trial is a bit steep.
Shop My White Outfit

How To Find Pink Flowers At Montara State Beach
On this morning, I woke up at 4:30am to get ready and whip up some breakfast sandwiches for myself and my husband. He is absolutely NOT a morning person (I am). On the drive down from San Francisco, he napped the whole way.
But watching the pastel sunrise over the ocean and pink flowers, the fog hanging in the air… it was magic. And totally with the early wake-up call. But, if mornings aren't your thing, you can always go in the afternoon or for sunset.
1. Park At Montara State Beach Parking Lot
There are 2 parking lots at Montara Beach, and an additional unofficial one that is sometimes blocked off (but I've totally have parked there before.) Input "Montara Beach" into your Google Maps force-pin the Southernmost lot.
There's a few different beach access points but the easiest way to get to the pink flowers is the park at the Southern lot and take the stairs to the right to access the beach. You could park at the Martini Creek Parking Lot (North) if needed and just walk down the beach.
2. Take Concrete Stairs To Beach
From the South lot, take the concrete stairs to the left and you'll pop out on the beach. From here turn left / South and walk all the way to the end of the beach.
3. Hike Up The Bluff Trail
It's hard to see from far away, but there is a well-worn trail that leads you from the beach up to the top of the bluff. It's best to wear sturdy shoes and have free hands for this one. It's narrow but pretty easy to hike up – we went at sunrise and my sleepy husband was able to make it up just fine.
4. Be Careful of Dropoffs
This trail has no railings and at points has sharp drop-offs to the ocean below. Practice caution!! Do not bring kids or dogs just to be safe.
5. Follow Trail To Top of Bluff To Find Flowers
Keep walking up the short trail to the top of the bluff. You'll be able to see the pink flowers. Walk towards them on the trail and you'll find a second small footpath that leads you to the top of the flower patch so you can overlook the flowers and the beach below.
6. Don't Step On The Pink Flowers
There's plenty of worn footrails and paths to stick to when viewing the pink flowers (which are called Sea Fig flowers, by the way!) As with any of California's Flower Fields, stepping on flowers is a big no-no as they'll die and may not grow back next year.
It's easy to get great photos and enjoy the view without stepping directly onto the flower patch.
7. Keep Hiking For Montara Reef Viewpoint
This coastal bluff trail keeps going a bit and will lead you along rugged coastlines and eventually to another lookout point that faces the ocean and the rocks below. Don't leave without checking it out. It makes for a nice Montara State Beach hike.
8. Be Polite To Neighbors
As with most California State Parks, there are houses that smush right to the edge of the park. The flowers, coastal bluff trails and viewpoints are on PUBLIC land and you have a right to be there. But, it's still always good practice to be polite, keep your voice down if you're visiting early in the morning and obviously, don't jump fences to trespass property.
Pro tip: bring a compostable trash bag with you to pick up trash on your hike back to the car. There are 2 large trash cans in the parking lot. Leave the beach better than you found it to pay it forward to keep the coastal mountain habitat happy and clean for future visits.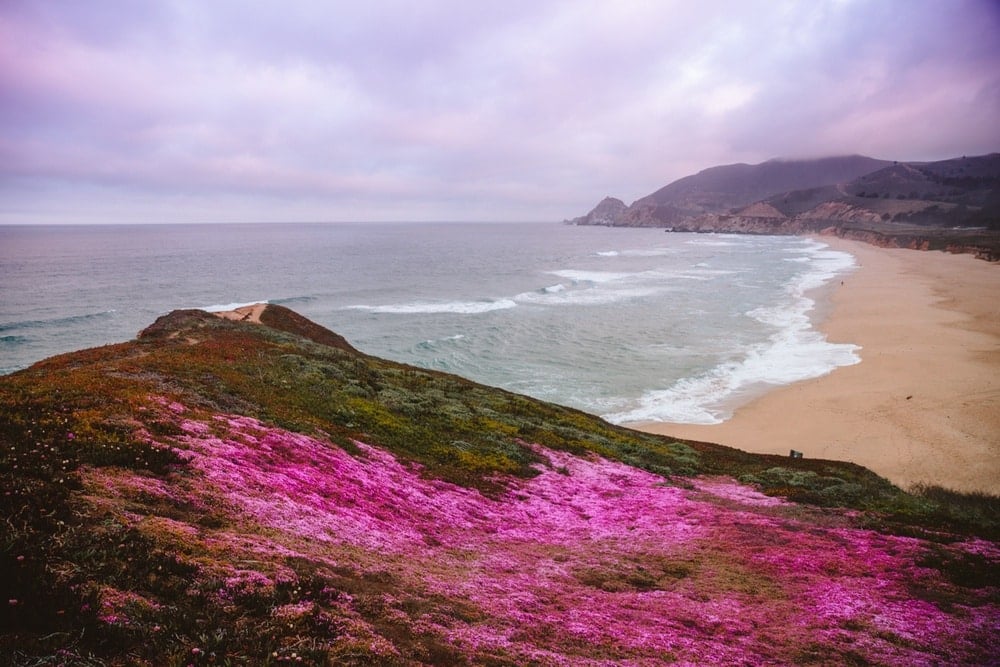 When Do Pink Flowers Bloom At State Beach Montara CA?
The Sea Fig and Seaside Daisies (aka Magic Carpet) bloom period does vary year to year based on rainfall but are usually blooming around May-June. I always keep an eye out on Instagram under the Geotag and see if recent photos have been posted with the flowers in them.
Montara state beach flowers extend past the magic carpet. Come August and there will be beautiful white and purple Agapanthus flowers all over the bluffs!
Are Dogs Allowed?
I *think* dogs are allowed at Montara State Beach. I've seen them there before, but I am not a dog owner so you may want to verify.
Can you go swimming?
As with any beach in Northern California, Montara State Beach swimming is at your own risk. This is a popular surfers beach and I can imagine it is a nice place to go swimming as well, but it's important to be careful of riptides and currents.
Instead, you can consider trying to find tidepools if you still want to interact with water in a safer way.
What are some cool Montara State Beach Hotels?
If you aren't coming from home in the Bay Area, I recommend you book a hotel near Half Moon Bay. There's the Ritz for a beautiful coastal hotel, or Oceano Hotel which is more affordable yet still near the water.
Other Favorite Nearby Hwy 1 Road Stops You'll Love
Pacifica Mori Point Trail: My go-to spot for sunset hikes on warm clear days.
Gray Whale Cove State Beach: famous for being a spot whales swim unusually close to shore during migration.
McNee Ranch State Park: Tons of mountain trails and a waterfall to hike to.
Half Moon Bay: Stunning coastside state parks, more wildflowers, a U-Pick sunflower field and come fall, tons of pumpkins! There's also Half Moon Bay State Beach which is another popular surfing spot.
Pigeon Point Light Station at Pescadero: One of my favorite lighthouses on the coast! The town of Pescadero is adorable and totally worth a stop for coffee and a stroll as well.
Año Nuevo State Park: Sea elephants LOVE to hang out here!
Davenport: South of Half Moon Bay and North of Santa Cruz. Home to the famous Shark Fin Cove (looks like a shark fin!) and U-pick strawberries!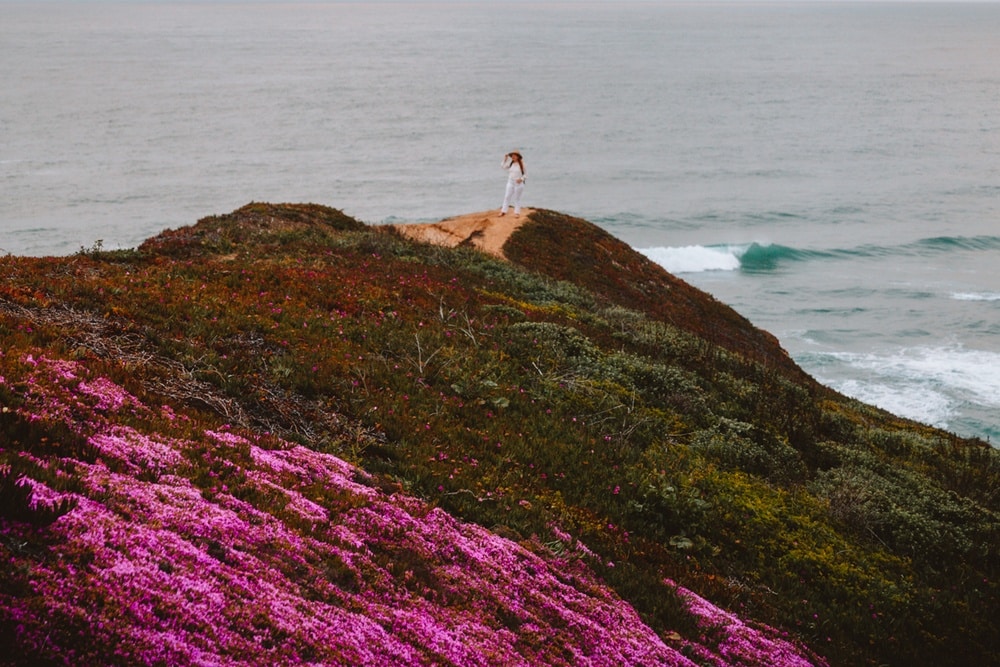 I hope this helps you plan a magical visit to the pink flowers at Montara State Beach! They're so cool to see in person, especially on a clear morning when all you can hear are the sounds of the wave and birds.