I think I lived in swimsuits while in Maui! For the first time ever, I spent a whole week not feeling self-aware what so ever in a swimsuit. I think that's mostly because I swear the entire island of Maui lives in swimsuits, there's a general no Fs given mentality that makes it easy to also not give any Fs. But it was also because I packed really great swimsuits.
Ones that I felt confident and comfortable in! Just because "swimsuit season" is here doesn't mean you HAVE to wear a tiny bikini to go to the beach. I personally love one piece swimsuits and the occasional two-piece, but you better believe it's most likely it high waisted. I just feel more comfortable in those types of pieces. Again – you don't HAVE to wear a tiny bikini to have a good relationship with your body! Do what works for you.
With that in mind, these are all the swimsuits I wore in Maui (all 6 of them!)
Floral Bikini
I posted this swimsuit the first day into our trip to Maui and got SO many DMs about it that I ended writing a blog post around it. This was one of the swimsuits I got from Shein that I ended up keeping because I loved the floral pattern. It ended up also being my favorite swimsuit of the trip as well!

Periwinkle Onepiece
I got this Flagpole swimsuit last year. It was a splurge but MAN the quality level is REAL you guys. This swimsuit fits me so well and is so well structured. Plus, I adore this shade of periwinkle blue. This exact color combo is sold out everywhere (can't seem to find it!) but I've linked this style in other colors below!

Red Onepiece
This swimsuit screamed Baywatch to me which I loved! It's a bit simple when you look at it from the front, but I adore the side slits with all sass, which still holding it all in. It's a fun one piece with a twist!

Light Blue Scallop Two Piece
This is the other swimsuit I got in my Shein haul but this one was a bit tight on me. I did have to keep it (since you can't return swimsuits apparently) so I turned it into a top for our drive down the Road to Hana. I am actually wearing the bottoms under this skirt, which proved to be very helpful as it was raining a lot on our drive and at one point, it was basically like I went swimming. Ha! I loved wearing this swimsuit as a top paired with a skirt. Functional and cute!

Confetti Bikini
I wore this Summersalt bikini on our last day in Maui for just bumming around the resort. It sits higher on my waist and it's really comfy! Summersalt is one of my favorite swimsuit companies.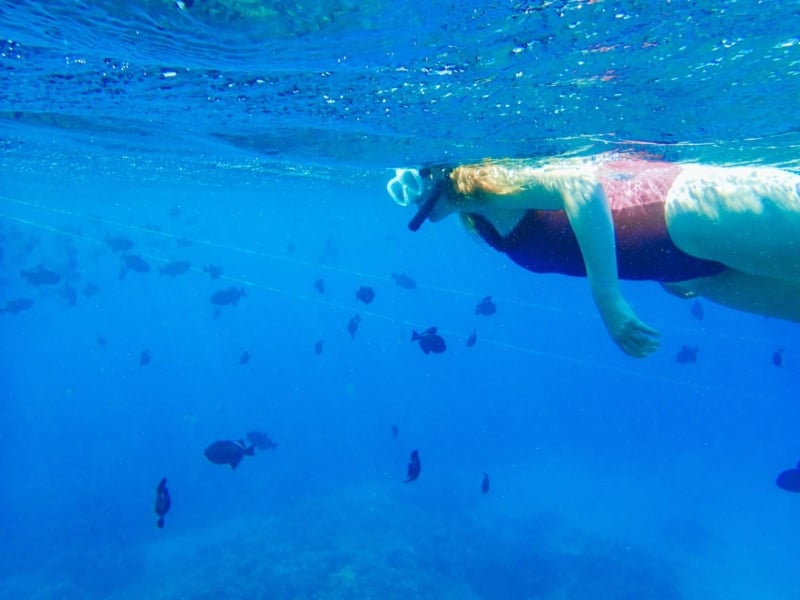 Confetti Onepiece
Lastly, this is one of my go-to swimsuits that I wear all the time! It's another Summersalt one in the confetti style, but in a sidestroke one piece instead of a bikini. It held up SO well while snorkeling (no nip slips underwater!) and looks cute to boot!

Hope this helps you find your next favorite swimsuit! Can't wait to see you girl flaunting your stuff at the beach!