If you're on the hunt for the best anti-theft bags that are cute and functional, Arden Cove is going to be your best friend. I've been using Arden Cove bags for about 5 years now and have taken them all across the world – from European road trips to New York City foodie adventures to sailing trips around tiny pacific islands.
I've never found a travel purse that can compare to Arden Cove. If you want to stop reading now and just buy it already, go for it. But, in this post, I'm detailing all the pros (with a couple of cons) to these bags in my honest Arden Cove review! Let's get to it.
About Arden Cove Founders
Arden Cove is a small AAPI own business based out of San Francisco, my home! It was founded in 2016 by two sisters, Karin and Carmen who I've actually met. Back during their early days, they reached out to me on Instagram and invited me to coffee, which ended in them gifting me one of their large crossbody bags.
I'm always so honored when I get to meet the folks hustling behind small brands doing awesome things. And let me be clear here: they are super passionate about making the best dang travel purses and backpacks on the market, and have thought of everything. Plus, they're like really sweet people.
Arden Cove Review: Deep Dive Into My Large Crossbody Purse
This coffee shop meeting was early 2017 and I used it a bit on trips around California but I didn't get to thoroughly put it to the test until my honeymoon later that year. My husband and I rented a car and did a huge road trip around Ireland and Scotland, ending in England. My trusty white Arden Cove purse was there every step of the way, though I have since bought a new one in black (more on that later). First, let's look at the bag specs.
They Don't Look Like Anti Theft Travel Purses
Why do anti-theft bags always look so dang ugly or frumpy? I love how Arden Cove bags look like normal fashion purses, not like something your aunt bought in the 1980's to ward off Rome's pickpockets. I've always been a big believer in blending in to locals while traveling and trying not to stand out. A purse that looks like an anti theft purse screams to thieves "I have stuff worth stealing on me" and in my opinion, makes you more of a target.
But a cute bag that looks like it's part of your outfit helps you blend into the local culture and helps you not be as much of a target. Plus, they look cute with all my outfits and in photos!
The Purse Can Fit Tons Of Stuff
I've put entire jackets in this bag before, that's how much stuff it can hold yet at the same time it's super sleek and not bulky at all (maybe there's a little bit of Hermionie Granger purse magic happening here?) Regardless, a major selling point of their large purse is it can fit everything you need on a day out.
Small water bottles, wallets, sunglasses, makeup, hand sanitizer, chapstick, your phone, and external charger and then still have room for trinkets. It's awesome.
Interior Card Holders & Pockets With RIFD Features
I'm a wallet person, but the purses do come with holders for your credit cards and bills, along with RFID blocking material to prevent digital credit card thefts. There's also a large interior pocket to hold passports (or lately – face masks!) or your phone. You really can never have too many pockets.
The Bag Comes With Detachable Two Strap Options
One really cool thing about shopping from a small brand is they actually listen to customer reviews and feedback. My first Arden Cove purse, the white one, had a faux leather strap and chain strap combo. A lot of customers wanted a full leather strap and a few years later, they launched that option as well.
When I got my second bag, I bought the one with the full leather option and after using both of them, I definitely think the change was a good choice. The chain occasionally got stuck on my hair but the leather doesn't! This is a full crossbody so that's an important detail to nail and they did.
Oh, and the straps are detachable in case you wanted to wrap it around something like a pole or your table at lunch to give that extra layer of security against snatch and grabs!
The Purses Are Water Resistant
Probably one of the features I love the most is the water-resistant outer shell! A lot of anti-theft purses focus solely on the anti-theft part but forget that when you're traveling, you'll get all sorts of weather. This was especially handy when we explored parts of the United States, like New Orleans which gets random huge downpours in the spring, or Portland which gets a lot of rain.
It's not waterproof but on more than on occasion my clothes were soaked through but the inside of my Arden cove bag was perfectly dry.
Slash Proof Materials
Speaking of the materials, the inner lining is made of slash proof materials so even if someone tries to cut open your bag, they won't easily be able to. This has never happened to me or anyone I know, but I am told that's a common way to steal belongings since things will drop out the bottom while the owner doesn't realize it.
For an extra measure of security, I do keep my super valuable things in the interior zipper wall pocket so it's harder to reach in and grab or slash through if that somehow happened.
Locking Zippers
Another anti-theft measure that I use all the time in busy cities is the locking zippers. You can lock both zippers with clips that make it harder to quickly unzip and reach into your bag. This locking main compartment feature is really handy on trains or in crowded areas. I'm constantly using these for peace of mind on my travel bags.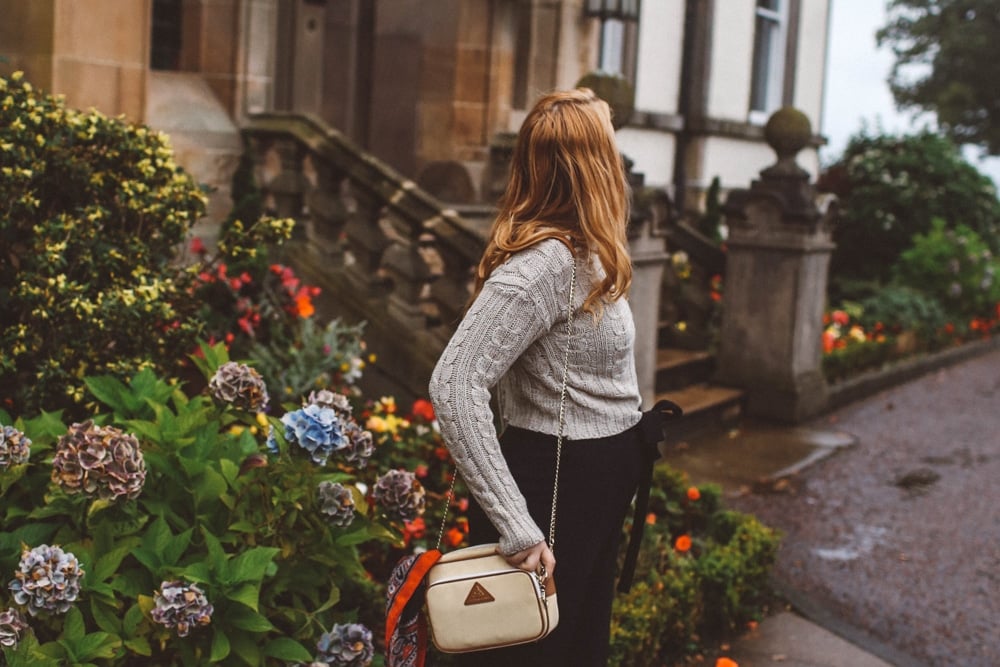 The Light Fabric Does Get Dirty
My first Arden Cove crossbody was white, and while I loved the look of it, it got stained pretty quickly, even with the help of the little feet at the base of the bag to keep it off the ground. That is absolutely largely due to me – I've always been that perfect that spills things everywhere and gets mysterious stains on my pants. So, after about a year, my white purse just look a little grungy.
This was largely why I decided to buy a new bag in all black so I would never have to worry about stains or discoloration again. The bags come in a lot of options; black, white, maroon, blue and grey. I think White is the only one to be wary of when purchasing.
Pros And Cons Of Arden Cove Purses
Pros
Water-resistant
Large compartment to fit many things
Detachable vegan leather strap
Splashproof
Locking zippers
RFID Blocking pockets
8 Card and bill slots/pockets
Super cute!
Supports a small AAPI business!
Cons
Light fabrics stain
High End Price Point($170+ for a purse)
Really – the price point is the main con here as they aren't cheap. But as you can probably tell by now, I'm a mega fan and think these bags are worth every penny. Plus, they last forever so you can use this for years to come, maybe even decades.
Plus, it's always good to support small local businesses when you can!
Where To Buy Arden Cove Bags
They're available on Amazon and also directly on the site. If you are unsure of the right purse size or color, order from Amazon so you easily swap it out if needed (plus, fast Prime shipping baby!)
Alrighty, I hope this helped you when deciding if Arden Cove bags are worth it!I think they are the best anti-theft crossbody on the market. So much cuter than the Travelon Anti Theft Cross Body purse or the Pacsafe anti-theft travel bags.
I haven't yet been able to try their backpacks or shoulder bags, so if you own one I would love to hear your thoughts in the comments below. And, if you have any questions, drop a comment or dm me on Instagram @thewhimsysoul and I'll try to help out!