It's the witching hour! Fall has come and so has the iconic comeback of our favorite spooky movie, Hocus Pocus.
With some magic and stirs of the cauldron, we have created modern Hocus Pocus outfits you will LOVE. We freshened up the Sanderson sister outfits and makeup to fit today's aesthetic.
We'll be honest, it's not the easiest thing turning Hocus Pocus clothes into something you can wear on the daily, but we searched for the best and cutest pieces that you can wear all fall! Plus, we put together Hocus Pocus Disney bound attire, so you can subtly dress up at Disney Land!
(Speaking of fall, check out these 18 ways to get in the mood for Autumn!)
Ultimate Guide to Sanderson Sister Style for 2022
In case you forgot, Hocus Pocus 2 drops on Disney+ on September 30th, 2022. We've been waiting decades for a sequel and right now we don't know too much about the plot, but we can expect the return of the iconic Sanderson Sisters trio.
Each of the sisters has their own sense of style and preferred accessories (some go for timeless brooms, others, vintage vacuums). Here's how we interpreted their lewks for modern-day street style.
Let's start with the leader of the Hocus Pocus characters.
Winifred Sanderson Style
It's easy to get a Winifred Sanderson costume at any Spirit Halloween, but you can only wear it one day a year. We modified her iconic witch wardrobe so you can live the Hocus Pocus life long past October 31st.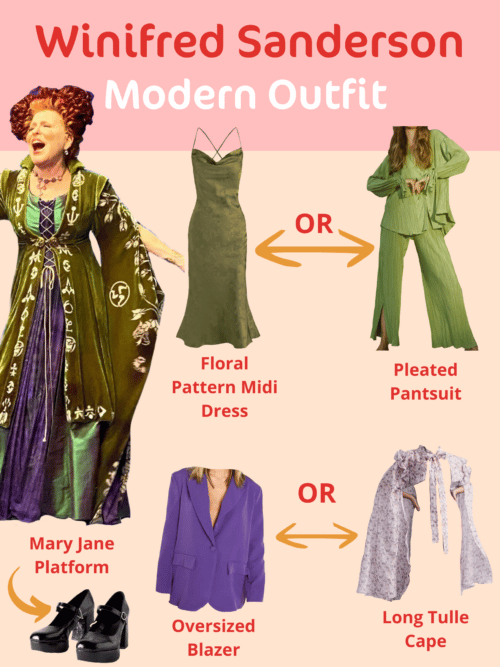 Winifred's Modern Outfit
We took Winifred's iconic Hocus Pocus clothes and leveled them up. To start, we flipped her long, spooky dress for your choice of a modern Floral Pattern Midi Dress in olive green or an epic pleated pantsuit with bell sleeves to mimick her witchy robes.
To bring back more of her witch style, we subbed her fabulous robe with an elevated tulle cape in a soft purple. It helps bring in more of the Hocus Pocus witch vibes without overdoing it. If you want to be more subtle about your love for the Sanderson sisters, you can swap the cape for a purple oversized blazer.
To wrap the look up, we put some pep in the step with a black Mary Jane Platform which hints at the 90's, when the movie first came out.
Shop Winnie's Streetwear Outfit

These Hocus Pocus clothes will make you feel like a Hocus Pocus witch without feeling like you're wearing a Halloween costume!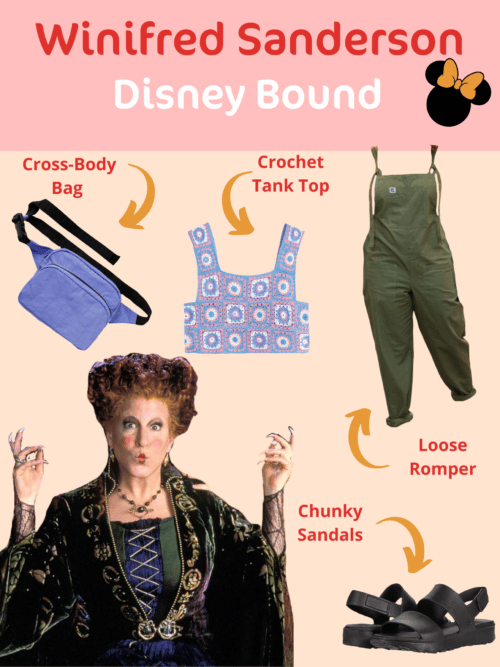 Winifred Sanderson DisneyBound
We took all of the Hocus Pocus Winifred Sanderson had to offer to give you a unique and simple look as you wander around the Disney parks!
Starting with the main event, we replaced Winifred's dress and robe with a simple, loose Lucy & Yak jumpsuit in a dark olive color. It's super comfy and loose to ensure you have the best time at the Magic Kingdom!
Add this multi-colored Crochet Tank Top underneath for some added texture. Next, we found a muted Winnie purple cross-body bag to carry all your essentials through the park.
Lastly, the shoes were swapped for a strapped, chunky sandal. This way, your feet won't get sore as you wander through Disney World.
Shop Winnie's Disney Bound Outfit


Winifred Modern Makeup
Whether you're Disney-bound or going out for the day, this makeup look inspired by Winifred works for any occasion.
We made sure the Sister's makeup looks were subtle and spicy to fit the modern times. Starting with the lips, we found the perfect Merit Beauty soft red-orange lipstick.
To match the rosiness of Winifred's cheeks, we opted for Rare Beauty's liquid blush in a dewy, muted peach. Then we started on the eyes, where we chose a subtle eye shadow trio and a white eyeliner for the water line.
We elevated the look for the everyday adult and each item can be added to your makeup collection for different looks!
Shop Winnie's Makeup

Once you get your hands on these outfits and iconic makeup looks, you'll want to take as many photos as possible! Check out 70+ Fall Instagram Captions SO GENIUS You'll Want To Use Them All
Sarah Sanderson Style
Now let's move on to my favorite Sanderson sister –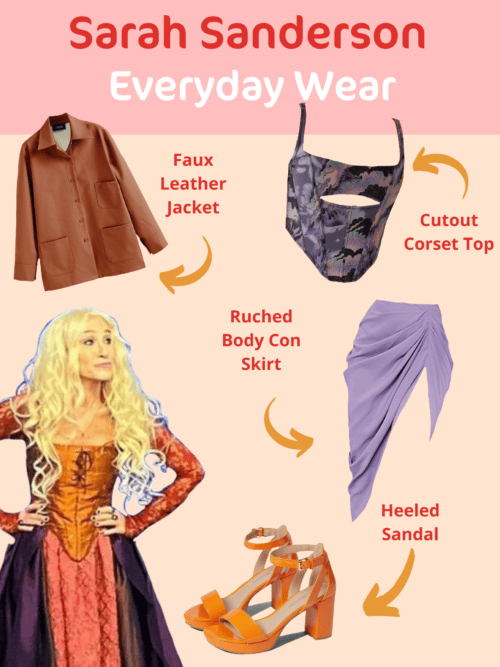 Sarah's Modern Outfit
What does Sarah Sanderson wear in Hocus Pocus? The most amazing corset top and long skirt! She arguably had the best sense of style. Sarah Jessica Parker is a stunner in her witch costume for this movie and we found some great modern pieces to enhance her Hocus Pocus dress for 2022.
We went a little "influencer vibe" for this look because Sarah Sanderson would be the ultimate Hocus Pocus insta baddie in today's age. We took the primary colors of orange and purple from the Sarah Sanderson outfit to inspire us and found some sleek attire for a night out.
We picked a ruched body con skirt in a light purple with a sexy slit. Rouched body-con anything looks amazing on all bodies, from petite to plus size, so you'll want to keep this one in your closet!
Then we matched it with a cutout corset top with an epic dragon design. Layer it with a copper brown faux leather jacket to bring the outfit full circle and make it fall weather friendly.
Last, we added a stunning, heeled sandal in a bright orange. It's the updated version of the Hocus Pocus Sarah outfit we all love and now you can be a witch at the club!
Shop Sarah's Modern Outfit

Now time to tone it down to be disneybound.

Sarah Sanderson DisneyBound
The Disney Bound Sarah Sanderson is not as crazy as her modern-day wear, but she's still an influencer. We simplified the Hocus Pocus costumes so you can fully enjoy the parks.
Starting with the star of the outfit, we found some great slip-on vans with all of the Hocus Pocus Sarah Sanderson colors and an epic wavy daze design. For the price, these shoes are SO worth it!
Moving up, we swapped the Sanderson costume for some high-waisted wide jeans in orange paired with a racerback tank in deep purple. Don't forget to add this insanely cute drawstring backpack that matches the shoes perfectly.
Simple, cute, and will keep you cool!
Shop Sarah's Disney Bound Outfit


Sarah Modern Makeup
Sarah's makeup look is great for a night out on the town! She has a bold red lip and there was no way we'd forget about it, so we chose a deep red lipstick from bare minerals and paired it with a sultry eye look.
Pick up a black eyeliner pencil, a neutral eyeshadow palette, and some falsies to pull the whole look together!
It's close to the original makeup style and would also work for a Sarah Sanderson costume!
Don't forget about Sarah's silky, blonde hair. Use the new Hally Hocus Pocus Bewitching Shine Set so your hair shimmers under the moonlight! This is a trendy new collab drop that Sarah would totally have her hands all over if she were alive today.
Shop Sarah's Makeup

Okay, let's get to the last of the Sanderson sisters.
Mary Sanderson Style
The Mary Sanderson costume is iconic witch attire, but it might be a lot to wear to work. So we added some magic and created a modern Hocus Pocus costume that you can rock any day.

Mary's Modern Day Outfit
How do you dress like Mary in Hocus Pocus? By taking her long dress with a corset and replacing it with a blossom floral mini dress in a deep orange! The bell sleeves give that witchy, quirky flare that Mary is known for.
Our beloved Hocus Pocus Mary Sanderson has some intense hair, so we subbed her Sanderson wig for a stone headband with rough-cut purple crystals. Or, you can opt for this lavender headscarf.
To bring the outfit all together, we paired her headband with a super cute purple croc handbag and added the final touch with knee-high platform boots! This look is uncomplicated and still gives you the Hocus Pocus witch aesthetic for the Halloween season.
Shop Mary's Modern Outfit


Mary Sanderson Disneybound
Ready to be a disneybound Hocus Pocus icon? This outfit is so stylish and super comfy! We took the Hocus Pocus costume and swapped it for an easy shirt and shorts so you can enjoy the Star Wars section in the Walt Disney theme parks!
With an orange, puffy sleeve shirt tucked into green plaid shorts, we reimagined Mary's costume to fit your Disney Hocus Pocus needs. Then we added some accessories that the Disney villains are sure to adore.
Taking the iconic Mary hairstyle, we transformed it into a sleek, black straw hat with an accent orange band to match the shirt. We also added a chunky purple belt to match the witch costume-sinched look!
Finishing up, we found a pair of black mini booties so you can keep up with your group in line. This outfit is another winner for every size!
Shop Mary's DisneyBound


Mary Sanderson Makeup
Mary is the Hocus Pocus Sanderson sister with the most toned-down look, so she didn't need much adjustment to her makeup. We started with a bold, red lipstick from Bare Minerals and paired it with a soft balm blush from Merit.
We grabbed a glam eye shadow palette and some black eyeliner for the eyes. Finally, we chose some eyebrow grooming pomade to seal in those thick brows!
Shop Mary's Makeup

Shop all these items today and get ready to have the best Hocus Pocus Sanderson sister look wherever you go!
I suggest you choose your favorite sister and wear her look throughout the fall season in difference ways, even if it's a little nod with a the color green or a smokey eye.
And if you're feeling extra, pick up one of the Sanderson sisters costumes for a Hocus Pocus Halloween! You can find Hocus Pocus Halloween costumes on amazon and if you've got a date, they can wear the Hocus Pocus Billy Butcherson costume to match.
If you're asking yourself, how do I dress like Billy Butcherson with a modern twist? I can't help you there – that man is a mess.
And, if you're heading to Disney this fall, team up with your friends for a matching Sanderson sisters cosplay costume collab! And, don't forget to use our Disney drinking guide to find all the best spots to drink in the park.
What are the list of your favorite 90s kids movie? Let me know in the comments below and maybe I'll modernize their outfits next!