Burrow is a newish kid on the furniture block who is probably most well known for their supreme couches, but they also make amazing mid-century modern and contemporary inspired furniture.
They have coffee tables, side tables, bed frames, dressers, shelves and even outdoor dining sets (and, they just launched indoor dining sets!) When decorating our Whimsy Homes cabin, we went all out on Burrow items to make sure all the rooms felt luxurious and cohesive.
After putting together tons of Burrow's items, I wanted to give you a run down on the brand, what to expect and my favorite pieces!!
Burrow Quality Is Unmatched
There's two things I really want to stress from this post, the first being that Burrow's quality is amazing. The Burrow sofas are all made with durable frames, stain and scratch-resistant olefin fiber and comfortable three-layer foam cushions.
Our Burrow Range 6 Seat Sectional couch looks amazing in our cabin's living room! This new couch has all the best mid-century modern vibes.
And, that same attention to detail carried over to their furniture pieces. The Chorus Bed Frames are made of hardwood so they are super sturdy and the frames use slats that are anchored at the corner so nothing shifts or shakes.
These are seriously the most solid, sturdy beds I've ever slept in. I'm obsessed. Same with their dressers – they have soft close drawers that are *chef kiss* just perfect.
Burrow Assembly Process Is Very Easy
The second point I want to stress is how dang easy it is to assemble Burrow furniture pieces. They make it super easy by labeling ends "A" and "B" so you know which end clicks into what.
They also have detailed instructions with diagrams and labeled boxes so it takes very little time to assemble. I know we have all been burned by furniture companies that provide instructions that look like a dang caveman drew them. Burrow isn't like that.
Everything comes with detailed instructions with actual full sentences and drawings to help you understand exactly how to put the piece together. Once we got the hang of how Burrow works, we were able to speed through the items really quickly.
A lot of "A" goes into "B" and bing bang boom, nightstands were built.
The only downside is some of the things, like the dressers and bed frames, are heavy so you will probably need a friend or partner to help you put things together (just keep that in mind if you live alone!)
Burrow Furniture Review: Pros & Cons Of Each Piece In Our Cabin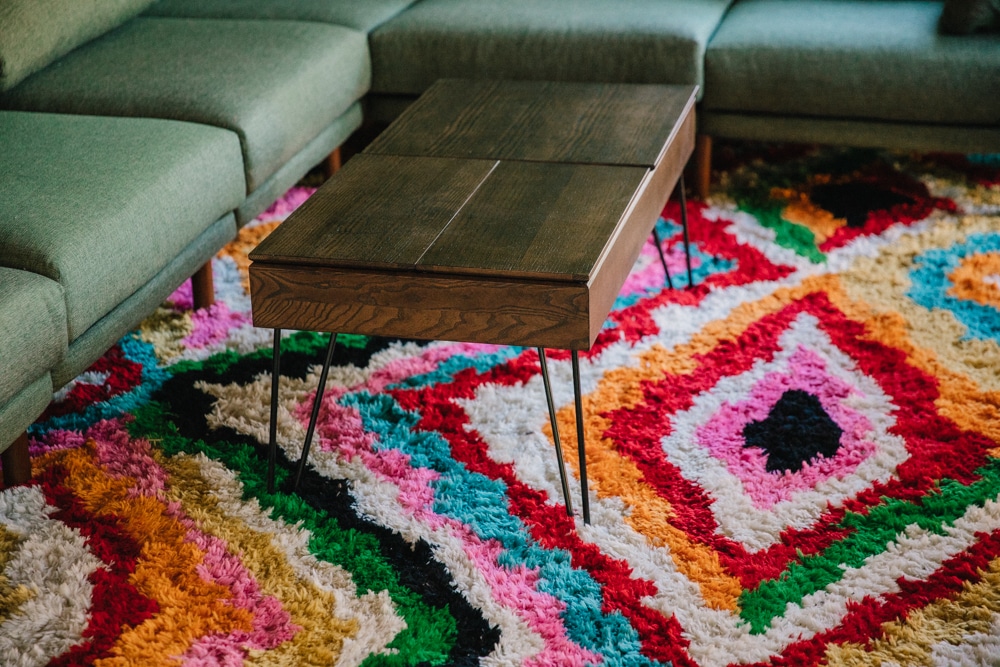 Burrow Customer Service Review
Whenever I'm shopping for something that's a bit of an investment (like stocking my cabin with 14+ pieces of Burrow furniture) I'm always a little nervous. What happens if the packages arrive damaged or don't arrive at all? What happens if I get really confused on how to put them together?
Thankfully, Burrow customer support is amazing. One of the nightstands we ordered came with a small, but very important part missing. I sent the team photos and an email, and within 72 hours a replacement nightstand was in the mail. Easy peasy.
We never needed help putting dressers or coffee tables together, but I'm sure if we struggled they would have been insanely helpful. They don't let their customers feel alone.
Note: I found that Burrow does have a busy season with customer service reply time, usually a few weeks after a major sale when there's just more customer volume. Replies may take a little longer but I promise they will reply and sort you out!!
Frequently Searched Questions About Burrow
Where Is Burrow Furniture Made?
Burrow is HQ'd in the United States and has warehouses and manufacturing in North Carolina, Vietnam, Poland, and India.
Are There Any Burrow Assembly Problems?
As I mentioned above, it's insanely easy to understand how to put these furniture pieces together. That being said, most of the items are a team lift and assemble situation since the pieces can get heavy (they are real hardwood after all!)
So, as long as you have a friend to help you assemble Burrow dressers, couches, etc, you'll be fine.
How Long Does Burrow Furniture Last?
I would be very surprised if the dressers, bed frames, credenza, nightstands, etc didn't last at least 10-20 years. Probably more. These babies are SOLID.
For the sofas, an average sofa fabric lasts 7-15 years depending on wear so how long your Burrow sofa is really going to depend on your lifestyle but expect it to last for at least 7 years (but probably more – most of their fabrics are made to be durable and have high rub counts!)
Is Burrow Furniture Comfortable?
Very! Both our Burrow couches are comfy but also supportive. Our old cabin couch that was left here by the previous owners was so plush I got lost in it cushions a lot. I always had to stack 2-3 throw pillows behind me to sit upright. Thankfully, our Range sectional is not like that.
PS – if you are shopping a new sofa from Burrow don't forget to snap one of their
sleep kits
!
Is Burrow Good Furniture?
YES! From their love seats to side tables to coffee tables, everything at Burrow is made from quality, durable materials (including hardwood!) that will last years and years and years.
My Personal Favorite Burrow Furniture Pieces
OK, this was hard to narrow down since I truly believe everything Burrow puts out is really good quality and timeless. That being said, I think the piece I'm most excited about is the bed frames.
Bed frames are HARD to do right! I've spent years hunting for a bed frame for my apartment that is sturdy, doesn't squeak, had a headboard that actually stays on and can support heavy weight limits.
I've failed so many times until finding Burrow. Since our cabin is a vacation rental, I really wanted to make sure we had "hotel" worthy beds for guests and it goes beyond a good mattress (though, we got one of those, too). Geeking out over the Chorus Bed Frame is how I know I really am in my 30's. It's just too good!
The other furniture item that made my 30 something self go "ohhhhhh that's NICE" are the Prospect Dressers. These babies are super sleek and have – wait for it – soft close drawers which I never knew I needed in my life until now.
They also have a modular design so you can get 3 drawers, 6 drawers – up to 15! It looks great in the bedrooms but could totally rock in a home office, too.
We didn't get the Nomad Sofa but I hear through the grapevine that the Burrow Nomad sofa is also very popular! That model has a few more fabric options if you are looking for something specific for your new apartment or house. I think they have the best couch for the money and the best matching furniture that will last for years and years and years.
I hope this helps you feel confident in shopping Burrow furniture! I'm kinda sad we only have Burrow in our cabin – I now want to swap everything in our apartment to them, too! I'm a fan girl for life, which is great since I think these pieces could last a lifetime.
If you've shopped from Burrow and got a new couch or dresser, etc, drop a comment below with your thoughts! And if you have questions, comment and I'll try and get back to ya.