Does charcoal mouthwash work? After my disastrous trial with activated charcoal teeth whitener powder, I've been steering clear of charcoal oral care products.
For the longest time, I've been in the boat that charcoal is having a "moment" and trending, but it can't last forever (because it doesn't actually work that well.) And then I got a bottle of charcoal mouthwash in my Grove Collaborative* box and, since it was already in my house, I decided to give charcoal another chance.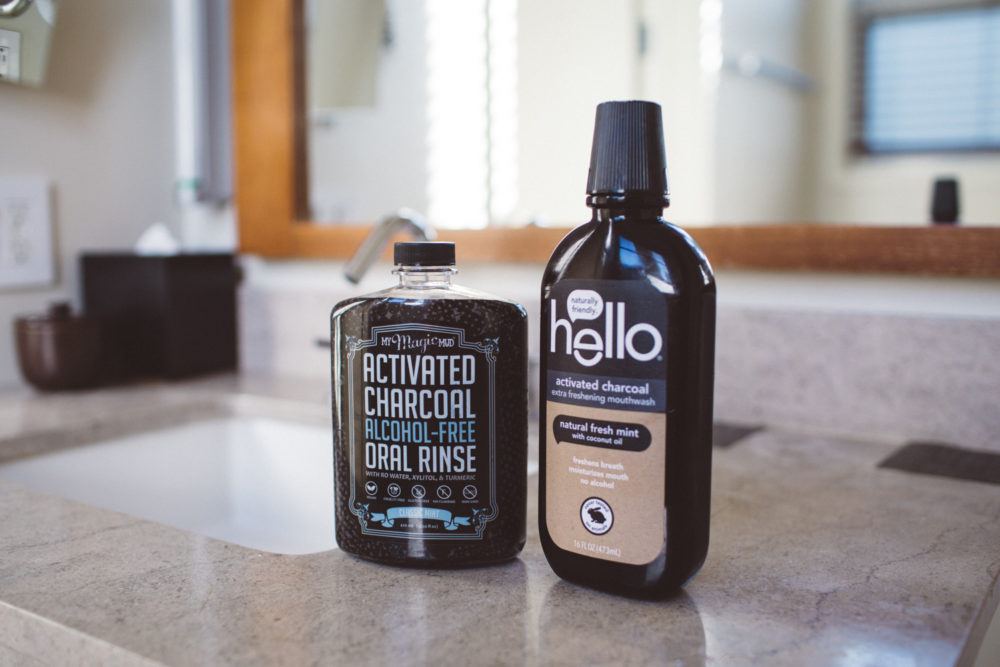 I tried out the Hello Charcoal Mouthwash, one of the top charcoal mouthwash brands out there. Afterward, I also picked up a bottle of the My Magic Mud Charcoal Mouthwash to compare. I've been using both for a few days and feel confident to finally review them!
In this post, I'll be sharing how charcoal mouthwash works (compared to traditional mouthwash), if it does actually work as well and of course, which of the two brands I think does a better job in general. Keep on reading!
How Does Charcoal Mouthwash Work?
Traditional mouthwash has alcohol in it, which kills bacteria. Some of them also have other ingredients like baking soda which helps to eliminate bad breath. But how does charcoal mouthwash actually work?
Apparently activated charcoal has an adhesive quality and people think it binds to everything it touches, such as teet stains, tartar and bacteria. Charcoal has pores, which is why it's so light! Charcoal draws out and absorbs chemicals into those pores, replacing the need for alcohol in a natural way.
Charcoal mouthwash benefits are mainly that fact that you are using a natural product vs. one filled with alcohol and sulfates. Both the brands I picked up also have other benefits, like being vegan, non-GMO, not tested on animals and so on.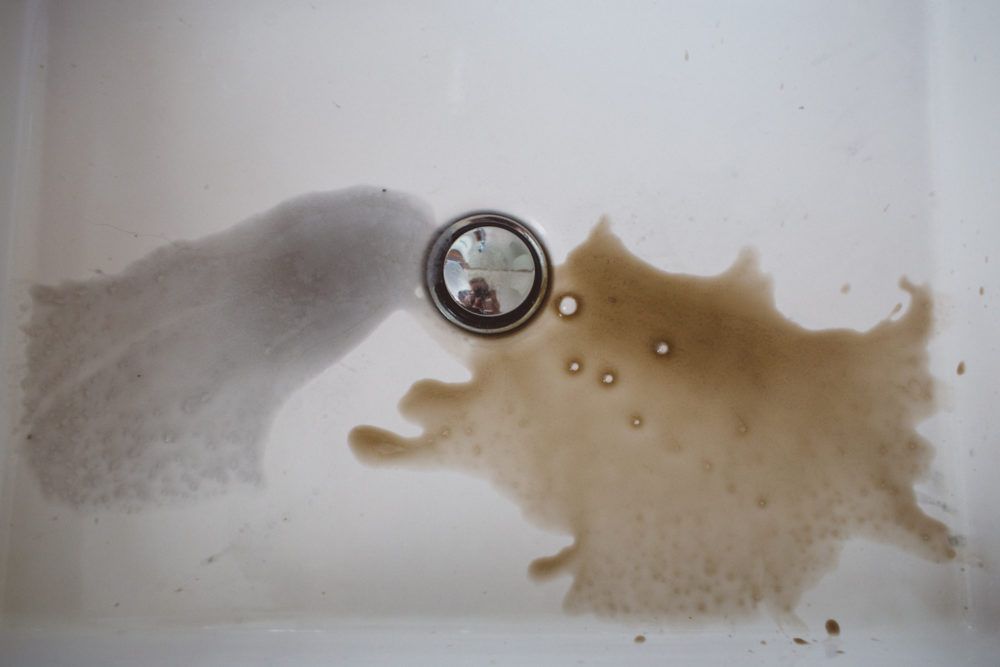 Is Charcoal Mouthwash Safe?
Dentist do warn that the abrasiveness of charcoal can damage the enamel of your teeth, but I think that warning should only be heeded if you use activated charcoal toothpaste because you are brushing your teeth vs just rinsing. I'm sure they could argue that the force of rinsing can be abrasive. Just keep that in mind!
Some activated charcoal mouthwash reviews I have found online so complain that the products made their gums hurt, so if you start using natural mouthwash and it starts hurting your mouth, stop right away. And of course, chat with your dentist so they can recommend based on your individual teeth health!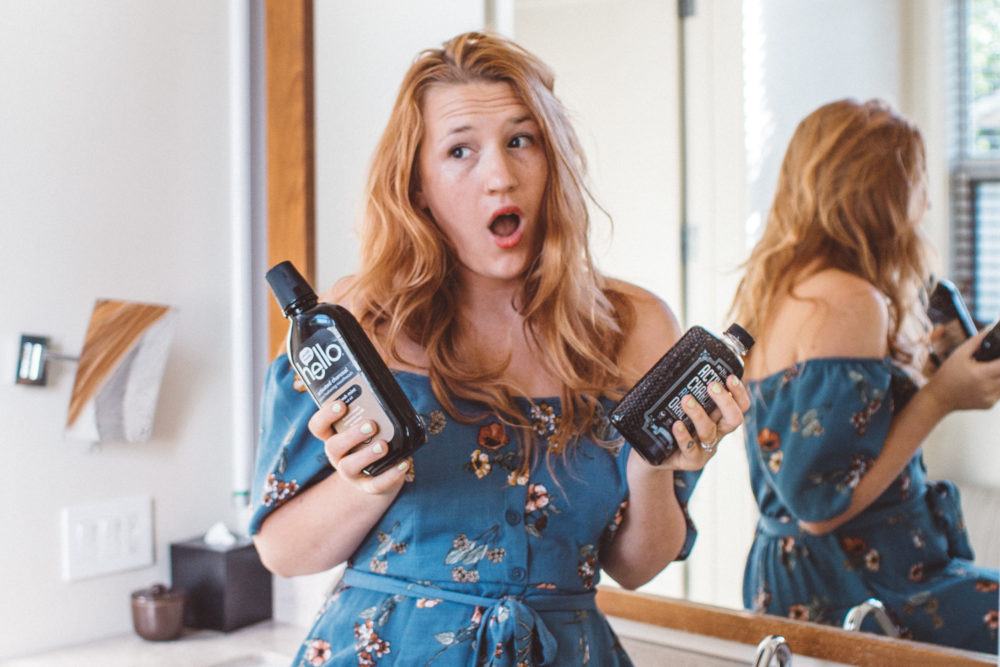 Hello Activated Charcoal Mouthwash Review
Price: $5.99
This is the bottle that came in my Grove box and the one I was the most "eh" about trying because I just wasn't convinced it would work. I was really surprised when I tested this out for the first time. It's black but doesn't stain my teeth as activated charcoal powder did.
It tastes good, too (a strong mint taste!) The mouthwash burns every so slightly, which I actually like because it makes me feel like it's working. The burn is much milder than traditional mouthwash, but, if you are looking for sensitive mouthwash, you may not like that burning.
Ingredients: purified water, vegetable glycerin (soothes and moisturizes), polysorbate 80 (emulsifier), flavor (yum), xylitol (sweetener), erythritol (sweetener), poloxamer 407 (emulsifier), charcoal powder (freshens breath), coconut oil (soothes and moisturizes), sodium benzoate (maintains stability) and tea tree oil (freshens breath)
Attributes: fluoride free, leaping bunny certified, vegan, gluten-free, cruelty-free, no alcohol, dyes, artificial sweeteners/flavors, and SLS/sulfates.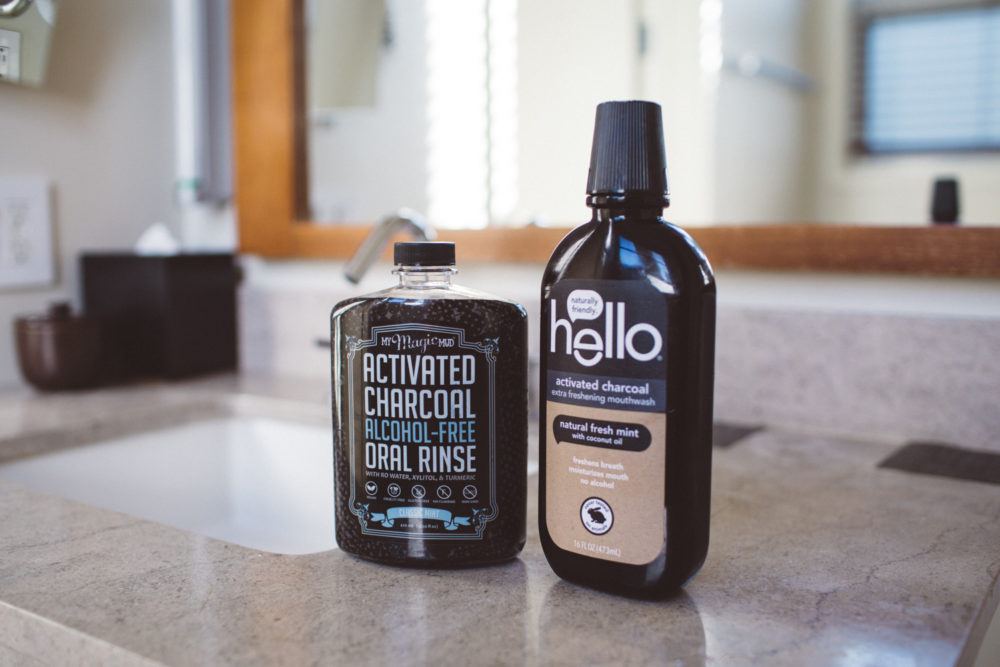 My Magic Mud Charcoal Mouthwash Review
Price: $8.99
After some hunting online, I concluded that the main two charcoal mouthwash brands are Hello and My Magic Mud. There are a couple of others but they are hard to find in-store and online, so I skipped them. (Attention oral care companies, there's a big market opportunity here!)
The first thing I noticed about My Magic Mud is that the mouthwash is brown instead of black. I guess that's why the product is called "mud"? I personally didn't like the look of spitting out brown. It somehow felt dirtier than black, but that's a personal preference.
This mouthwash didn't burn at all, so bonus points for those with sensitive teeth. I liked the taste of Hello better than My Magic Mud, as I found Magic Mud milder in the minty taste.
Ingredients: 35% concentration of xylitol, reverse osmosis water, turmeric, and aloe vera, to soothe the mouth & gums, brighten your smile, and protect against cavity-causing bacteria.
Attributes: cruelty-free, gluten-free, vegan, no fluoride. Also, the formula is patent pending.

Which Is The Best Charcoal Mouthwash?
I judged each mouthwash on:
price point
ease of shopping
color
taste
ingredients
awards
feeling like it worked
I liked the Hello charcoal mouthwash much better. I liked the subtle burn, the strong mint taste and the color better. It's also easier to find and buy, as its widely available on Amazon, Target and more places. I asked my husband to test them and he agrees.
He said "Hello makes you feel like your mouth is getting cleaner"
That's not the say that My Magic Mud is bad. I thought they made a good product and I'll be using the rest of the bottle for sure. I use a lot of mouthwash, especially when traveling (the BEST thing to do on a long plane ride is using mouthwash!)
Have you used charcoal mouthwash? Which one did you like better? Leave a comment below with your thoughts!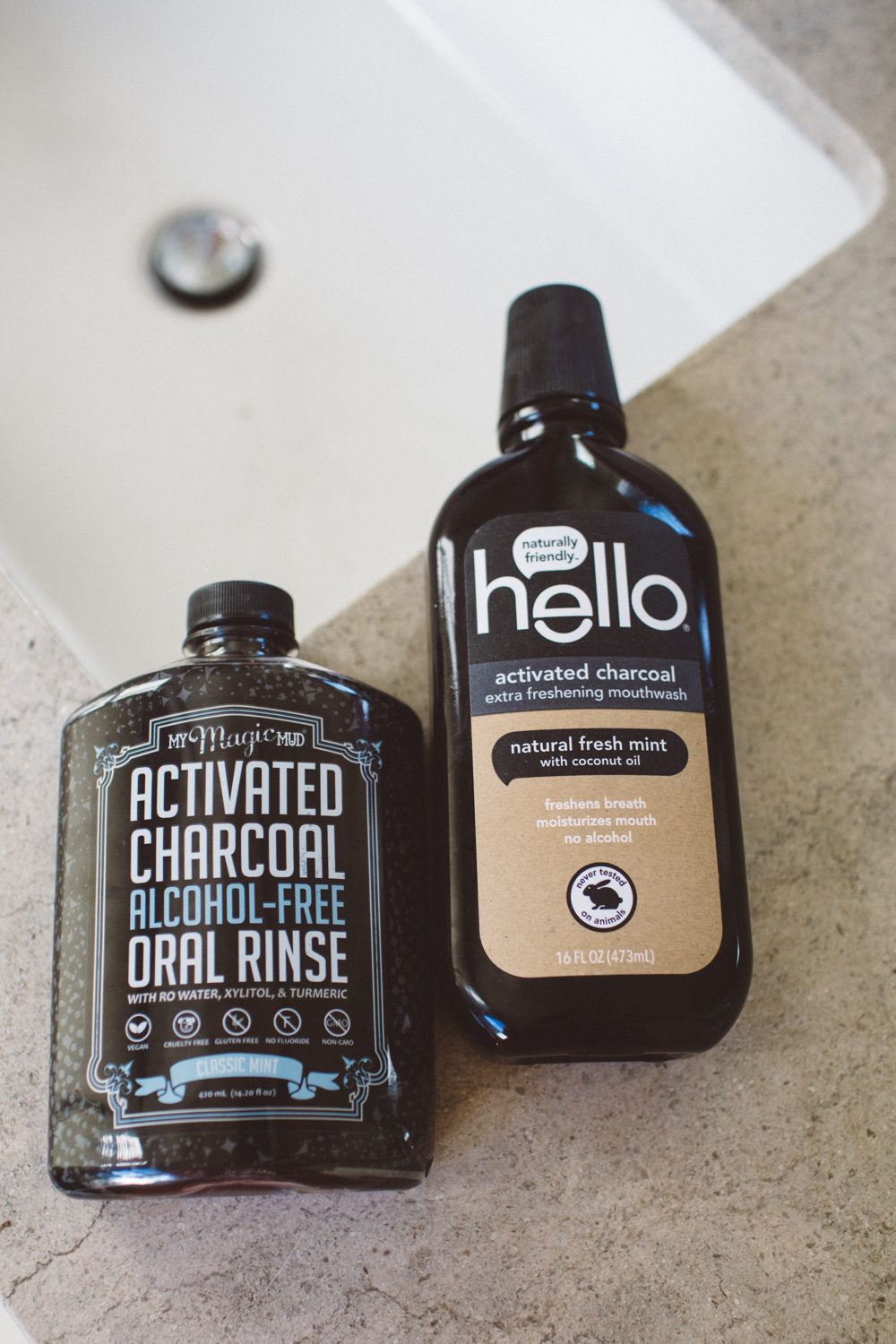 Video Transcript
(for my hard of hearing readers!)
Kara:
Charcoal mouthwash. Is this a hoax? Is it actually real? Is it just a trending gimmick? I'm here to find out.
Kara:
Hey. All right, so we're in my bathroom today for a change of scenery because I am doing a mouthwash review. Not just any mouthwash, charcoal mouthwash. So does this stuff actually work? Is it just a trending gimmick? I'm here to find out. I'm going to be sharing my thoughts on these two brands. So I've been testing both of these brands out for a few days and I feel confident that I have picked the winner. So I want to go over each one with you a little bit before I tell you which one I think is worth your money.
Kara:
I tried out the charcoal teeth whitening activated powder. Goodness, it's a mouthful. I tried that stuff out about a year and a half ago, and spoil alert, I really hated it. If I can figure it out, I'm going to link the video up here for you to watch, but I'll definitely put it down in the caption. Long story short, I thought that it was complete rubbish. It kind of stained my teeth black, which is not what it's supposed to do. And I found that when you spit it out, it makes everything black. So I got it all over the shirt I was wearing and all over my bathroom and I just didn't think it worked very well.
Kara:
So I wasn't very impressed by that whole trend that hit the internet about a year ago and then I started seeing these pop up. Knowing that I really hated the teeth whitening powder, I wasn't sure if I was going to even like this. But I figured it is time, I'm going to give charcoal oral care another chance. So there are these two brands. I have done a little bit of research and I can't find a large selection of charcoal mouthwash. There are other brands, so it's not just these two on the market, but other brands were a little harder to find or they were way more expensive.
Kara:
So I went with the two that were the easiest to find and buy online right now. So, I believe both are available at Target, also on Amazon. You can get, at least, Hello at a lot of different marketplaces like Grove, and Thrive Market, and stuff like that. So this one's a little bit easier to find than this one. This one is $5.99 and I think this one is $8.99, so they're pretty similar in price points. This is a little bit more expensive, but there you go. So for you today, I have Hello Activated Charcoal, Extra Freshening Mouthwash. This is in the mint flavor and it says right on the front that they use coconut oil and I later learned that they don't use alcohol. The other one doesn't either and they instead use coconut oil. This bottle is so trending right now.
Kara:
These guys have a lot of certifications. They have the Leaping Bunny certification and they're vegan and I think they're non GMO and they have a lot of things like that. And then I have My Magic Mud over here, which is very similar. Also doesn't use alcohol in their formula. They say that their formula's patent pending. This one says nothing about coconut oil, but I'm sure they use their own thing to make it work. I'm not good at science.
Kara:
All right. So overall, how does charcoal mouthwash work compared to traditional mouthwash? So I had to look this one up. The main difference is that charcoal is a porous natural element and people, scientists who are much smarter than me, believe that it absorbs toxins and impurities really great into it's pores. It's kind of like a little natural sponge. So that's the idea of putting it into mouthwash, is that the charcoal naturally kind of absorbs all the impurities and takes it away when you spit it out.
Kara:
And I guess for that one, coconut oil kind of replaces alcohol. I'm honestly not sure how that works, but that's how that's different from the traditional mouthwashes. So it's really great for people who are looking for a natural alternative because some of those mouthwashes can just be packed with so many chemicals. And I know a lot of people don't like the way that mouthwash burns. And if you have chronic diseases, or anything, or just there's a lot of reasons that you want a natural product. Weird, you don't want to put chemicals into your body. How shocking.
Kara:
All right, we're going to start with the Hello. Put that up here. Again, this one is easier to find. You can find it at Target and Amazon really easily. It's just like $6.00, so here we go. As you can see, that is black. Sorry for showing my sink, but it does leave your sink black, but it washes away for the most part. You see my teeth are a little yellow because I need to go to a dentist and get a cleaning, but they're not black, which is great because the first time I used the charcoal teeth whitening powder a year ago, totally stained my teeth black. It took a really long time to get that black to go away. So I was really worried that I would do a swig of this mouthwash, but nope. It is black in color, but it does not stain your teeth black. Also, a point for the low price point.
Kara:
This is the mint flavor, has a very strong minty flavor. I like it a lot. It's not too overpowering. It also has a slight burn to it, which I enjoy. So it's not like a full fledge mouthwash burn. It does burn as you're swishing it around just a little bit and I actually really like that because it feels like it's working. I feel like it's killing off that bad bacteria and stuff like that. So I really appreciate that it does that.
Kara:
On the flip side, I know some people are probably hoping to find a mouthwash that doesn't burn. So in that case, you'd probably not like that. So same as the other one, this has no alcohol, no dyes, no artificial sweeteners, no sulfates. No brainer, that's what the label says. I would say the downside is it does get my sink still a little dirty. Since using it, I've had to wash my sink out every day. So I guess that's still the downside, is the charcoal doesn't stain your teeth, but it will stain your sink.
Kara:
And next up is My Magic Mud. So I don't have a fun little glass to chug from this one. So I'll just …. It has a very distinct, different tastes. It still tastes minty, but after having the Hello one right afterwards, you can tell that the mint is not nearly as strong with the My Magic Mud. Doesn't taste bad though. It's just different. The most noticeable difference between these is that this is brown and I guess that's why it's called My Magic Mud, but it is a brown color while this is a black color and I personally like the black color better. Just something about the brown just makes it feel like you're swishing around dirt or something, but that's just the color. It has nothing to do with the actual product. Just know that this is brown. This one also doesn't burn at all. So if you have super sensitive teeth you might want to try using My Magic Mud instead. Again, I prefer it to have that slight burn, but that one, no burn whatsoever. So a point for no burn.
Kara:
So do they work? I have been using them for a few days and I do think they work. I think it's definitely a fair alternative to standard, traditional, bright blue mouthwash and I'm definitely going to be using charcoal mouthwash in the foreseeable future. I do think it's a great alternative. That being said, I still have yet to consult a dentist. I've asked my friend who's a dental hygienist and when she lets me know her professional opinion about charcoal mouthwash, I will update my blog post with her thoughts. But as a consumer without real professional expertise in this, I feel like it works, I feel like it gets rid of my bad breath, I feel like it's working.
Kara:
So the winner is, if you haven't figured it out, I prefer the Hello Mouthwash. This one. It has a bigger bottle for a smaller price. I enjoy the taste better. I like the color better and I do enjoy that little burn better. It makes me feel like it's working better. The pros for this is that if you have really sensitive teeth, this doesn't burn, so I think that's a good alternative, but it's a higher price for a smaller bottle. I don't like the taste as much. Color kind of throws me off, but color is just aesthetics really. It's also a little harder to shop for. This is just easier, it's available at more places. So if you're thinking of trying charcoal mouthwash, I recommend the Hello Activated Charcoal Mouthwash right here. Again, you can find it at Target or Amazon. Again, I linked them both below for you. I've also linked the My Magic Mud too in case you want to try it out.
Kara:
I also know that Hello has different flavors, so if you don't want one of charcoal, I think they have some standard mouthwashes that are natural based as well. So that is it. That is my charcoal mouthwash review. I hope you found it informative. Definitely try it out if you are interested in finding a natural alternative to harsh mouthwashes. If you have tried either of these brands before and you have thoughts about them, leave a comment below. I'm curious to hear if you like Hello best as well. If you have a different brand that you think should have been reviewed, definitely tag them below. I'm always looking for new brands and if I overlooked a really great one, I definitely want to know. That's about it. Make sure to subscribe to my channel. Follow me on Instagram. You know the drill. All right, have a good day guys.
* Pst – Grove is a partner of Whimsy Soul and we got our Grove box with the Hello mouthwash for free, but this is NOT a sponsored post! I bought the second mouthwash with my own monies because I wanted to write this review!