I finally hit my limit. My husband, Robin, and I have been married for over 4 years and my wedding dress has spent those years shoved in the corner of my closet and then shoved under my bed and then back in the closet, and every time I do our semi-annual deep cleans I gripe about having to find a space to put my dress.
See, we live in a tiny apartment in San Francisco, where every inch of storage space is valuable, and finally, I broke. I needed to reclaim the space my old wedding dress was taking up. I mean – just look at the skirt! It's huge! So puffy! Something had to be done…
I immediately threw up a question box on Instagram Stories to ask my lovely community what they did with their old wedding dresses (i LOVE to crowdsource ideas from like-minded folks!)
First, I Did Some Soul Searching
While waiting for answers, I sat on the bed, my puffy wedding dress in front of me and had a heart-to-heart with myself. To be fair, I originally had the dress vacuumed sealed in a bag, and at some point that leaked. I could just reseal it to compress the space it took up… but then I would still be lugging it around for the rest of my life.
Then I checked my Stories and saw that almost everyone says their old wedding gowns are also sitting in a box somewhere in their house. A few suggested selling the dress or donating it, others suggested holding onto it for various purposes. But perhaps there's more creative things to do with your wedding dress?
Then one of my someone suggested I contact Sarah of Grey Woven, a Washington State weave artist. Sarah had turned their wedding dresses into a wallhanging. I immediately knew this was IT. This was the how I wanted to repurpose my wedding dress.
PS: this someone was one of the gals behind the @kittyliving_vanlife account. I had met them and their adventure cats in Yosemite just a couple of weeks prior. Serendipitous meeting!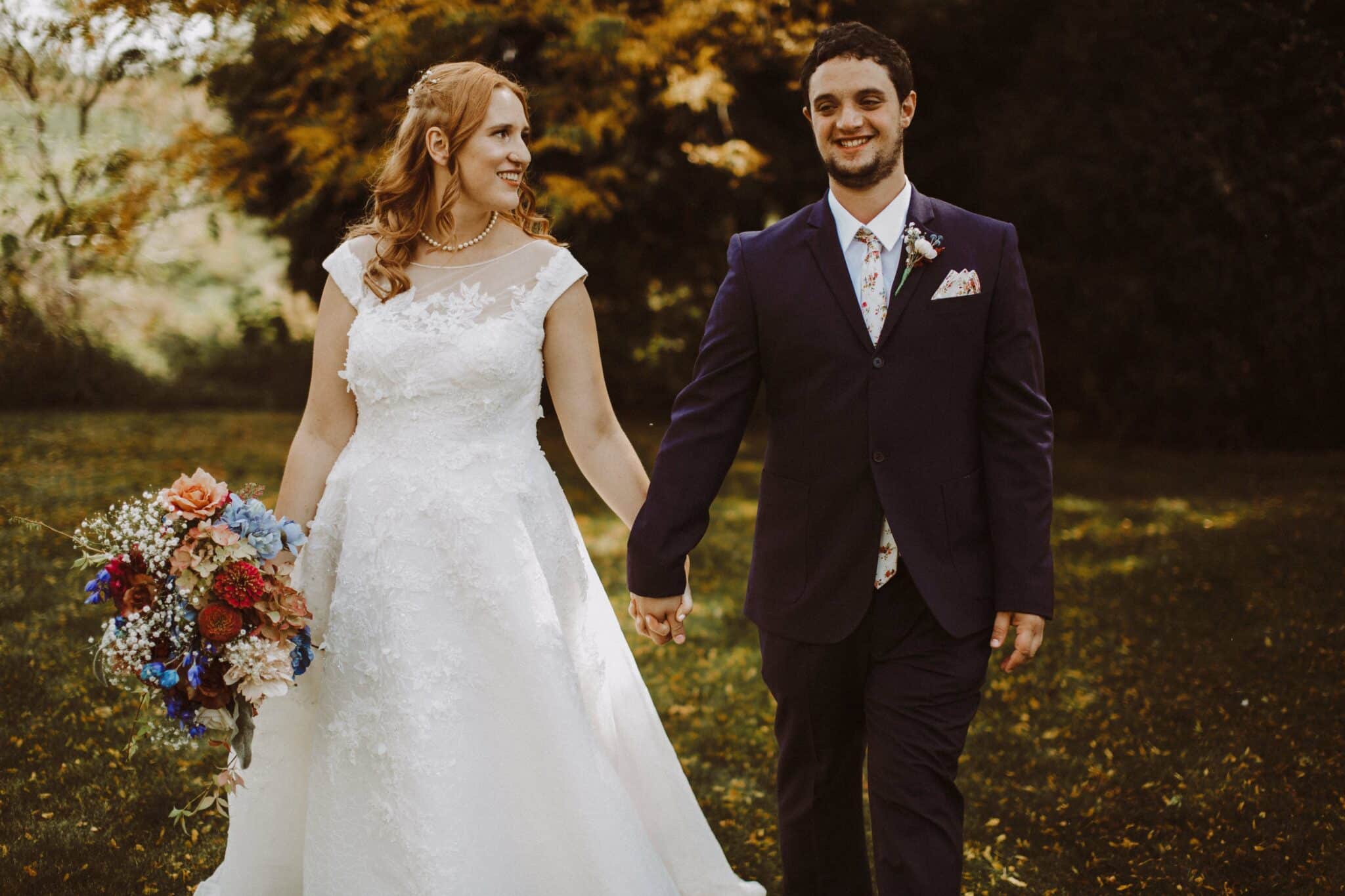 Why I Decided Donating Or Keeping Wasn't The Right Fit
Before I dive into how Sarah turned my dress into a wall hanging and answering all your questions from Instagram (like how much creative control I had), I wanted to chat through my thought process on why keeping it or donating it wasn't right for me. Wedding gowns are highly personal items and figuring out what to do with your gown is hard, especially if that may be ripping it apart for a piece of art or donating it. I hope by outlining my decision-making process, you can figure out how to make your wedding dress work for you.
First, I did think about donating it (hey, always looking for a tax write-off!) I found some organizations (list shared at the bottom!) but almost every single charity had a time requirement. (No dresses older than 5 years.) We got married over 4 years ago. I wasn't sure if they meant when the dress was created, or when It was worn, but either way, I felt a huge time crunch I wasn't prepared to deal with right in the middle of the holidays.
Secondly, my dress had tons of stains on it. We got married in the backyard of my childhood home on 16 acres of Wisconsin woods. It was an all outdoor wedding, the dance floor was grass and the night ended next to a bonfire. I did change into a second dress on my wedding day for the evening portion (something easier to dance it) but regardless, my main wedding dress fabric took on a lot of that dirt and stains.
My lovely mother did dry clean it after the wedding but it still wasn't in the best of shape when you look closely at it. I was pretty sure these organizations wouldn't have accepted my dress anyways.
Why I Decided Not To Keep Wedding Dress
Some followers suggested I keep my wedding dress, maybe to wear at a vow renewal or to gift to a future daughter for her wedding. Here's the thing: I got married at 26. If we got vows renewed ever, I'm pretty dang sure I would not be able to fit into a piece of clothing my 26-year-old body fit. Bodies change and age!
Secondly, I felt that holding onto a dress for future children wasn't a good fit. First, I needed to reclaim this storage space, and holding onto it defeated the purpose. But mostly, Robin and I currently don't have kids nor any plans to have kids anytime soon (or maybe ever).
I also never want to assume the gender identity of a future child and honestly, I wouldn't assume my child would want to wear an old stained $500 David Bridal dress at their wedding. If I were them, I would want to pick out my own wedding dress. So keeping it for one possible future event didn't make sense to me. What did make sense to me was turning my dress into a custom piece of art that anyone in our home could enjoy for years to come.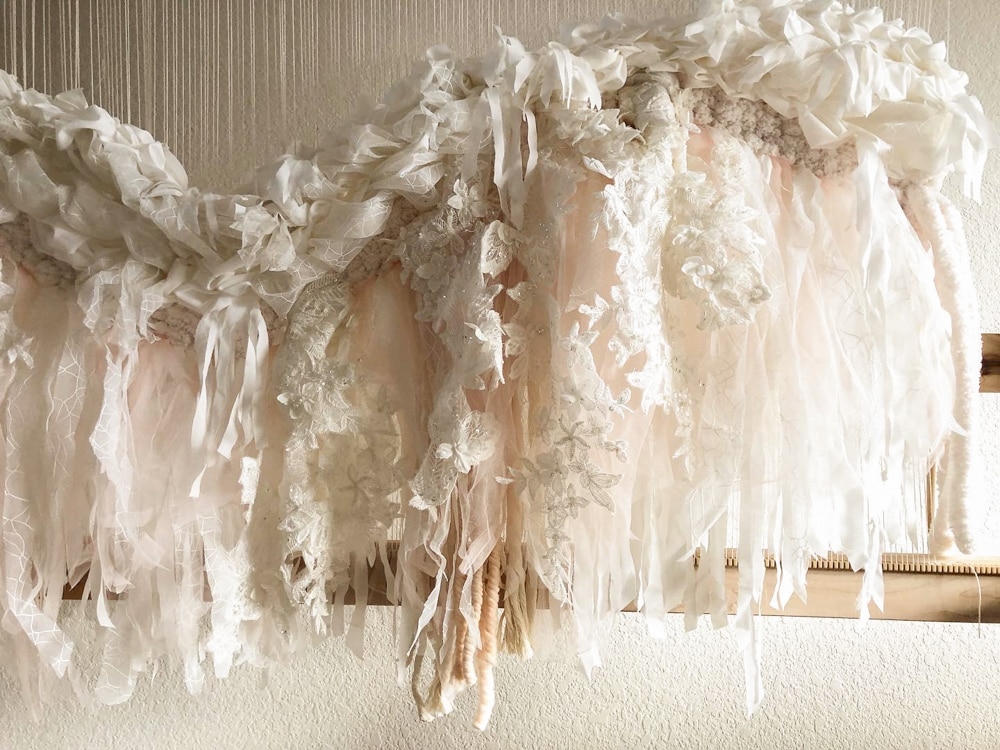 How I Repurposed My Wedding Dress Into A Custom Woven Hanging
Ok, now all the details on how I worked with Sarah of Grey Woven to turn my dress into a beautiful custom wall hanging that is currently now over my bed! It was all a very straightforward process. I reached out to Sarah over Instagram. We chatted a bit about price and size, and then I shipped my dress off to her.
Well, first, I took a lot of photos of myself wearing the dress one last time, just to remember it by. And then i shipped it off to Washington. While it was en route, I made a Pinterest board of inspiration images to send along to Sarah, along with the general creative direction I wanted the piece to go in.
While redecorating our kitchen last year, I found a local San Francisco artist to make a wall hanging and learned from that process that it's best to let the artist-run wild doing their own thing, but it's still important to give them some basic guidance.

Mood Boards Help Artists Get To Know Your Style
For me, I knew I wanted this hanging to be able to work in any future room. So that meant sticking to whites and creams for the colors. My personal decor style is eclectic and boho, so I asked for tons of textures in the hanging, something that feels a little wild. I also made sure to point out the lace on my gown, which was my favorite part of the dress, to begin with, and asked for that to be highlighted.
Then, Sarah took over creative control. She kept me updated on the process via photos and Instagram Stories but I totally trusted her to do her thing. She reached out on a couple of instances when she wanted my input – like, what type of rod I preferred (I picked a natural branch she found from the beach). But the process was pretty hands-off which I loved and needed during the busy holiday season.
She worked fast, I think everything was done in under a month, then she packaged the hanging up and sent it back. Easy peasy!! I knew from photos what it looked like, but it's even more beautiful in person. So many textures going on, we love it!! The wall hanging dress made our bed finally feel complete.
Questions About Turning Wedding Dress Into A Wall Hanging
I got a LOT of questions about the process of turning an old wedding dress into something like a wall hanging, which requires a lot of destruction of the dress. These are your questions from Instagram:
Did you use the whole dress or keep parts (for a cocktail dress, etc?)
Sarah used almost all the material in my dress for the hanging. I didn't keep any bits aside to turn into another dress, for all the reasons I mentioned about (reclaiming space, the dress was dirty in spots, sizing, etc.)
I'm sure if you are asking Sarah or another artist to turn your dress into a hanging, you could request to keep a certain amount of material to repurpose into another thing. But I personally think it's best to let the artist have it all so they can pick and choose the best pieces for your wall hanging.
How much input did you have on the final design?
As I chatted about above, I gave Sarah mood board inspo and we chatted about the look and feel of the piece, but otherwise I let Sarah have most of the creative control. She did keep me posted with process photos and I know if at any point I hate the direction, I could have said something.
There was a point where she put in a row of more pinkish tulle and asked me what I thought of that added in. I decided it was a little too pink and asked for it to be taken out, and it was a "no hard feelings" sort of exchange. Basically, I never felt pressured to go along with something because I didn't want to offend the artist. The key to commissioning work is a balance of trust and no-guilt communication. I hired Sarah for HER vision and talent, not mine.
How much did it cost?
My wedding dress hanging is large, about 4 feet wide by 2.5 feet. This ended up being around $800, which included all the materials needed (yarns, branch, etc) along with shipping costs and of course, artist labor. Considering how expensive wedding gowns are to begin with, and the fact I know this would be a family heirloom, I had no problem investing that money in a quality piece.
If you haven't yet gotten married and think you may want to turn your wedding dress into a hanging, try to approach the cost of the commission as part of the dress cost. If your dress is $1000, instead think of it as a $1800 dress and include it into your wedding planning budget that way.
How fast was the process?
Very fast! She started working on it as soon as I sent it in and I got my hanging back in about a month!
Can you do the same things with bridesmaids' dresses?
I'm sure you can! If you wanted to also include a garter or veil or something, just bring that up in the initial conversations. I went with an all-white hanging, but I could also envision a hanging made with colored fabrics from a bridesmaid dress or the groom's tie or something. A hanging that has all your wedding day colors could also be very cool! These were my colors:
Do you think you'll regret cutting it up?
Nope! I took a lot of time to weigh all my options, as I outlined above. And we hired a super talented wedding photographer so I already have preserved the memory of my wedding dress in all her glory on my wedding day. I felt like the spirit my wedding dress was buried and dying being stuffed under my bed. Now it has a new life and is something we see every day, not just when we do our deep cleans.
Ok, so maybe you got the end of this and decided you just want to donate your dress after all. Here is a shortlist of places that will accept used wedding gowns. Please vet them and their mission for yourself.
Where To Donate Wedding Gowns
Any local thrift store (not Goodwill please!)
I love my wall hanging, but I was curious: what are other keepsakes made from wedding dresses? You can also repurpose wedding dress into a cocktail dress, but I also found ideas on Pinterest that include a wedding dress bear (like a stuffed teddy.) Buttons made with lace, Christmas tree ornaments, throw pillows and table clothes. You can also find one of those companies that repurpose wedding dresses into a shadow box for you to hang.
But a woven wall hanging is still my favorite way to repurpose an old wedding dress.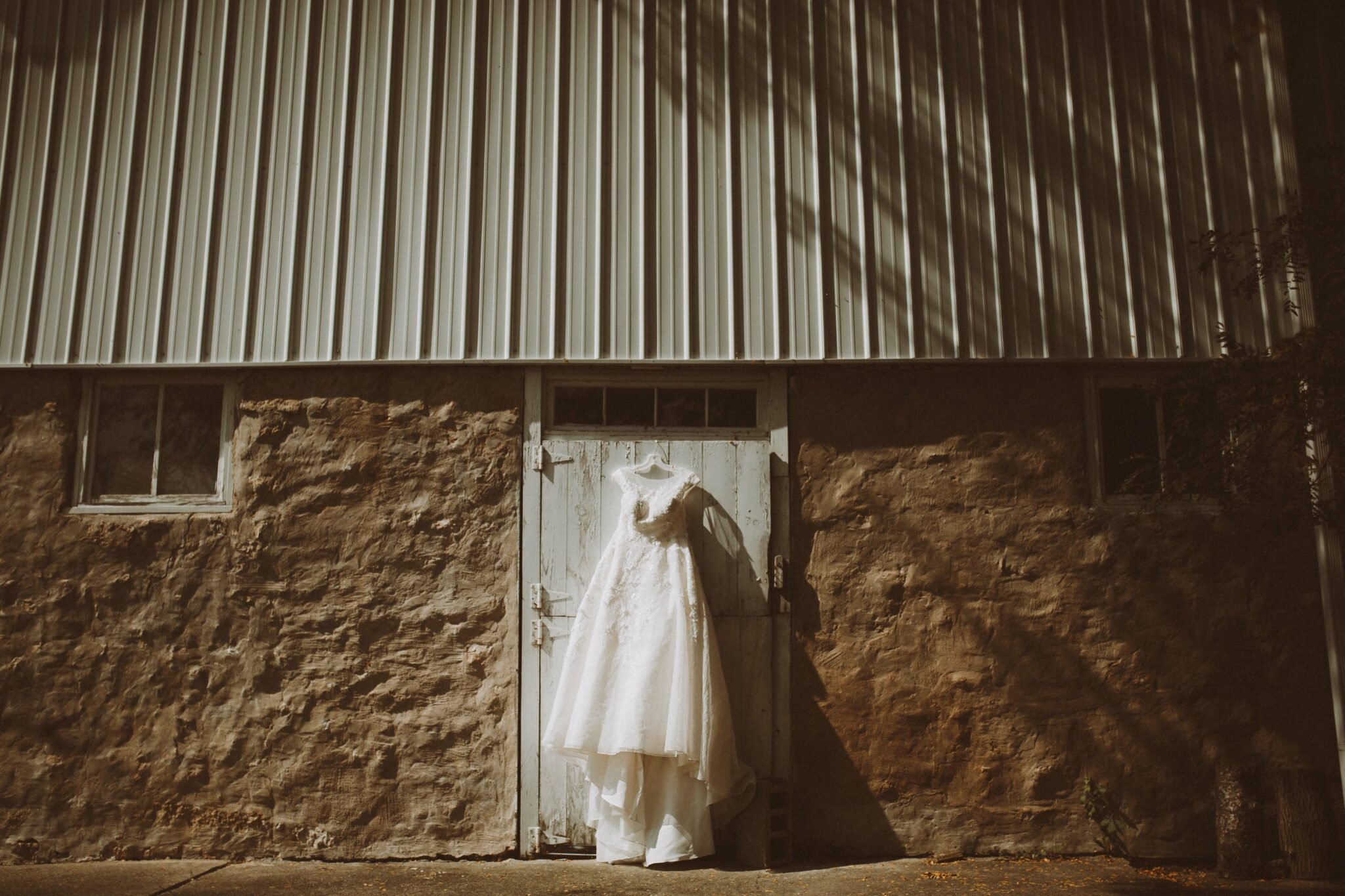 Flower girl dresses can be easily held onto for family christening gowns (they're so tiny, they hardly take up any space). A ring bearer pillow makes sense to donate, and a rehearsal dinner dress can usually be worn outside a wedding setting. But your wedding dress deserves something special.
I can't wait to style my wedding dress hanging in a future living room or another bedroom. This is going to stick with us for the rest of our lives and is such a fun way to reuse a wedding dress, compared to donating or hiding in a closet forever.
If you have questions about turning your wedding dress into a woven hanging, drop a comment below or DM me on Instagram @thewhimsysoul and I'll try and help!