We rolled up to The Coachman Hotel just a little bit before 10pm – it was a long drive out of San Francisco so by the time we made it to the lobby to check-in, we both were ready for a nightcap. About 15 minutes later we were heading to our room, craft beer in hand from the lobby bar, and ready for a South Lake Tahoe weekend adventure.
If you're heading to Tahoe, whether it's the summer or winter, let me show you all the reasons you'll love making The Coachman Hotel your home base.
My Coachman Hotel Lake Tahoe Review
I just can't stay away from Lake Tahoe and go at least once a year. I don't ski but I love to kayak and hike, so Lake Tahoe in the summertime is usually my favorite time to visit but there's something so cozy and magical about visiting the lake in the fall or winter.
This time around, my friend Justina and I were set on hunting down the best fall foliage in Hope Valley and Tahoe. From previous lake visits, I knew that South Lake around Camp Richardson and Hope Valley (about 30 miles South of the lake) has banger fall leaves if you can time the dates right.
When traveling, I usually spend the days out exploring but come evening and nightfall, I love hanging around my hotel. That's why we both knew booking the Coachman Tahoe would be #majorkey for this weekend trip. The property is beautiful (think modern cabin aesthetic vibes) and they give guests free s'mores to make around the firepits each evening.
Usually, the lobby of a hotel isn't the place I want to hang out. Instead, I seek the outdoor seating area, pool or even my room. But the lobby at the Coachman is a serious vibe in itself. The lobby doubles as a coffee bar in the morning and drink bar at night. There's always good tunes playing and tons of spaces to sprawl out and enjoy a latte, or find a cozy corner to read or work.
Outside the lobby are the firepits, pool and hot tub. Oh, and the hotel is pet friendly, so I got to make TONS of doggie friends during our stay
We stayed in a Premium King room and LOVED our private balcony, so i would recommend trying to book one of those rooms if you can. It was just me and a friend, but the hotel does also offer a 3-room suite that can sleep up to 11 people if you're coming with a group but don't want to stay in an Airbnb or cabin.
Coachman Hotel Amenities
Free wifi
Malin + Goetz products
Heated toilet seats
Free parking
Friendly staff (seriously, SO friendly!)
Fire pits
Nightly happy hour
Nightly s'mores for guests (weather pending)
Coffee & drink bar in the lobby
Gift shop
Dog Friendly
Walking distance to Heavenly Village
Smart TVs in-room to stream
Balcony available in some rooms
Pool
Hot tub
Single king rooms and doubles available
Suites available with fireplace
The property doesn't have a private beach access but it is super close to the lake so it's easy to drive or walk over to the water. You can also buy discounted passes to Lakeside Beach from the front desk.
The hotel is super centrally located – just a 5 minute walk to Heavenly Mountain Resort and Stateline, which happens to sell my favorite pizza on South Lake (Base Camp!)Justina and I walked over there for an early dinner after hunting down fall foliage (like, seriously early, we were seated before 5pm!) and filled out little hearts with pizza.
Then, we went back to The Coachman to grab drinks and roast marshmallows at the firepits. before curling up in bed and finishing the second season of Babysitters Club. Did I mention the TVs have streaming capabilities? YASS. What a perfect girls trip weekend to South Lake Tahoe.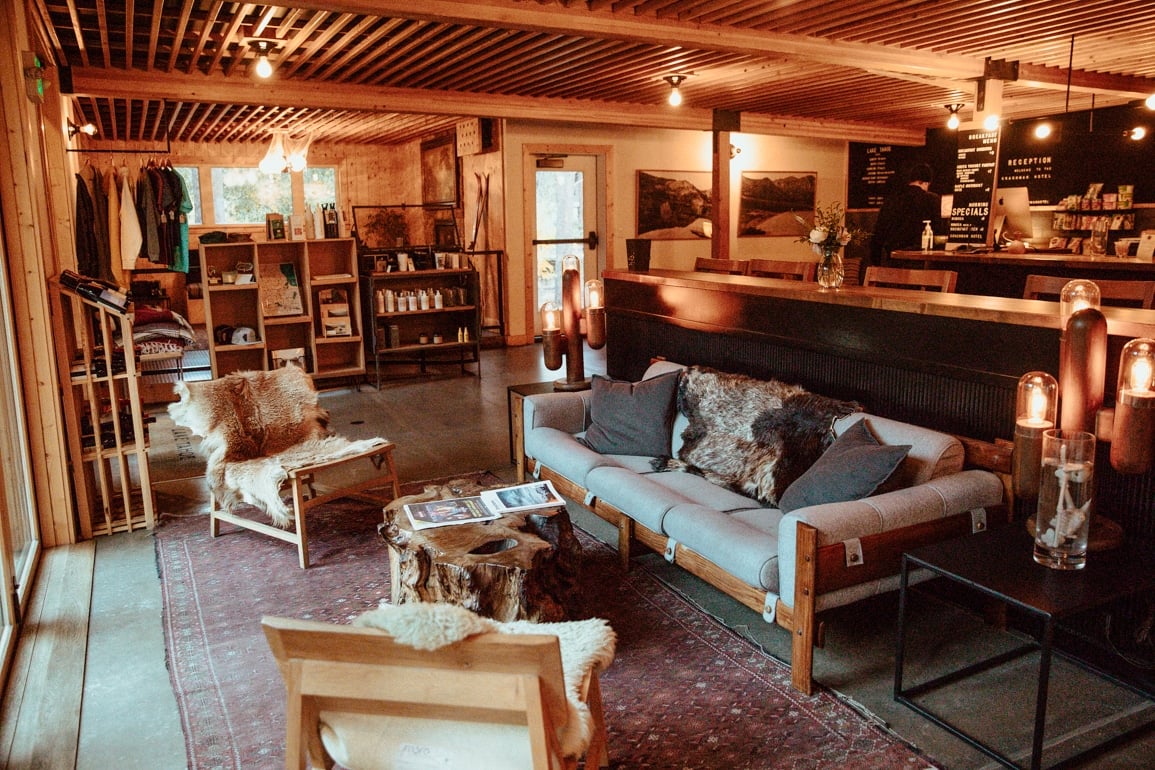 I just can't stay away from this lake, so I know I'll be back soon and booking myself another stay at the Coachman. If you're on the hunt for the best South Lake Tahoe hotel, this is it.
Happy adventures.
More United States Travel Posts & Hotel Reviews You'll Love