To say I love fall is an understatement. I'm a basic fall betch who breaks out the sweaters and PSL the second September first rolls around.
And, every year I go hunting around California for the best fall leaves. I live in San Francisco and as you probably know, October is actually our summertime.
It's hot, sunny and trees are still green. So instead, I grab my gingham jackets and head out across the state to find the best California fall colors. And I'm finally sharing my favorite spots with you.
>> Got a question about fall leaves that you need answered quickly? DM me on Instagram @thewhimsysoul and I'll be happy to help! I only accept DMs from followers, so hit the follow button before sending.
When Is Fall In California 2023?
Fall foliage in California is a bit tricky to nail down. The maples and black oaks change is super fleeting and the window to catch peak leaf-peeping can be really short, under a week in some areas. I've been hunting down cool fall foliage California spots for the past 8 years and I'm not always successful.
The key is being flexible, so if you hear that a foliage window is starting or dying, you can quickly tailor your travel plans to catch the colors. That being said, October – December are the fall months in California, with the peak in October for catching the best fall leaves.
So, to answer your question: when does fall start in California? It varies by location but plan for Mid-October but be flexible. A great way to plan as leaves change color is to search for a color guide for the area you're visiting!
18+ Best Spots To Find California Fall Colors
1. Sacramento
Wahh, didn't think I would be kicking this list off with Sacramento did you? Well, it isn't called the City of Trees for nothing. Sac actually gets really bangin' fall leaves, especially around the 40's and 50's (neighborhoods in the city.)
Since the area gets to hot in the summer and that lingers in the fall, Sacramento's fall foliage season doesn't kick off until late October or even November. So, its' a great spot to hit up as a last hurrah for the season, or as a back-up if you can't find leaves in other places.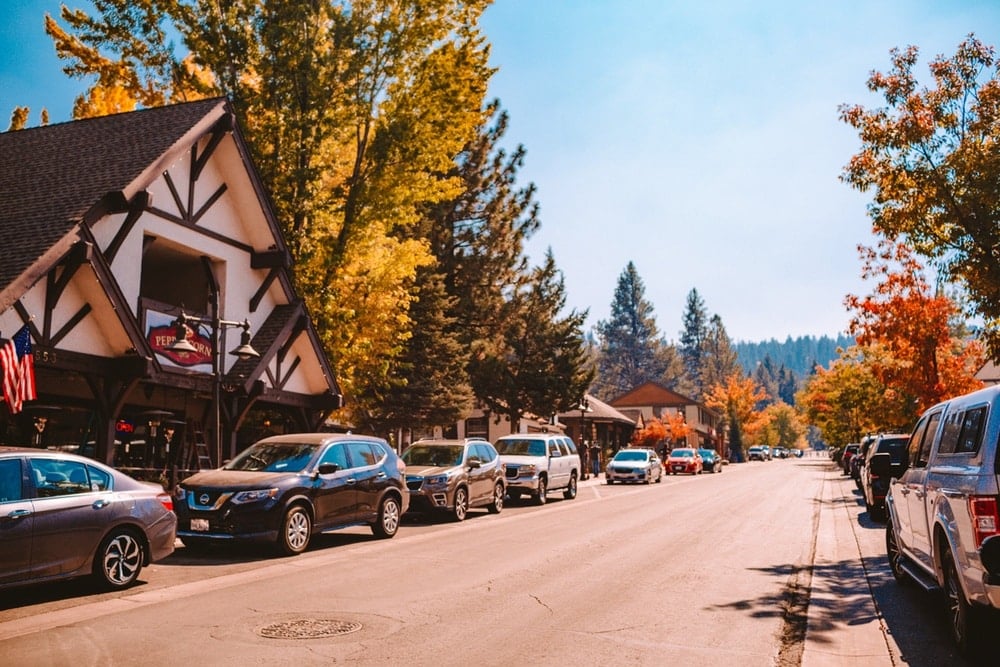 2. Big Bear Lake
I went to Big Bear Lake last year and was thrilled over all the fall leaves! Pretty much every street is lined with pops of red, orange and yellow.
Big Bear Lake has a vibe close to Lake Tahoe, but it's far less crowded. Autumn is actually the low season, between Summer and Winter (it's a lake and ski town.) So it's easy to find cabins to rent and explore trails without people blocking your photos!
3. Yosemite National Park
Yosemite National Park in the fall is utterly stunning. After Labor Day weekend the hoards of tourists clear out so you may be treated to a near-empty park. And there's nothing like seeing endless rows of orange trees under El Captian.
Peak season is in October, but I went at the end of November once and still found some trees with colorful leaves clinging to them! Last autumn, I ran around Yosemite with my bestie and we saw amazing fall leaves in the valley. The valley gets cool in the mornings so we got this awesome layer of fog that looked moody and beautiful.
Pro-top:
Book a stay at
Evergreen Lodge
near Yosemite. They have beautiful yellow trees on property for even more fall photos!
4. Bass Lake
Outside the Oakhurst entrance to Yosemite is Bass Lake, which is another fantastic spot to catch fall colors! It's usually a summer spot but you simply must rent a kayak at Miller's Landing and take a brisk autumn paddle around the lake.
There's nothing like seeing fall foliage from the vantage point of a lake! While October is the peak month, if you come in November you can still catch colors. And, if you are lucky, it may snow in the mountains!
Then, you can also take a day trip to Mariposa Grove and see it covered in snow to really get you prepped for the holiday season.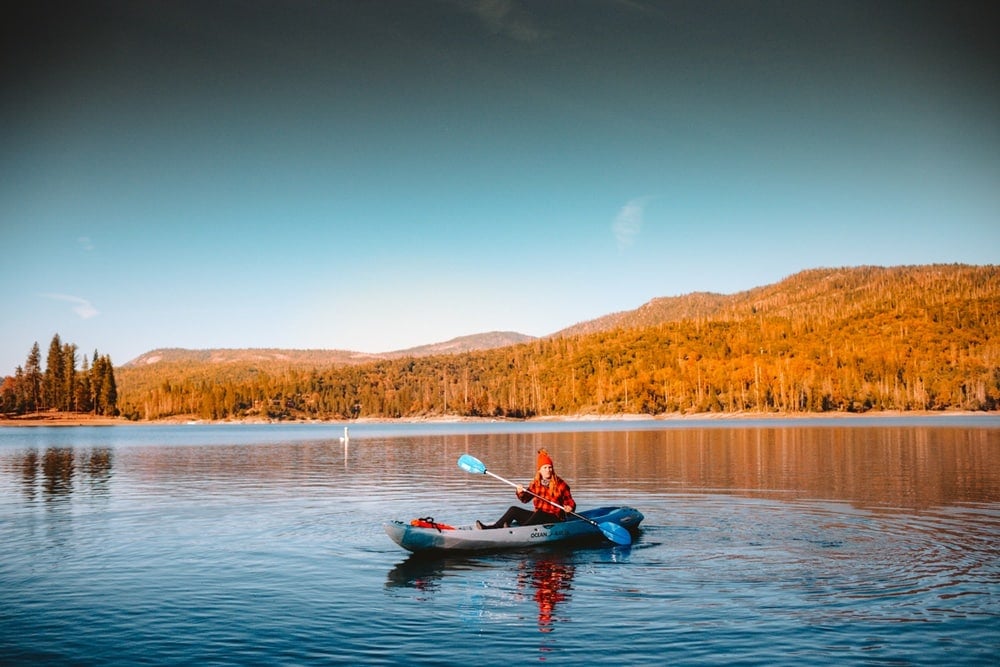 5. Downtown Napa Valley
Wine country gets some great fall foliage!! Downtown Napa in November will treat you to tons of yellow and orange trees. It's such a fun time to walk around and wine taste (never too hot!)
There's also Napa Valley State Park if you're in the mood for hiking trails.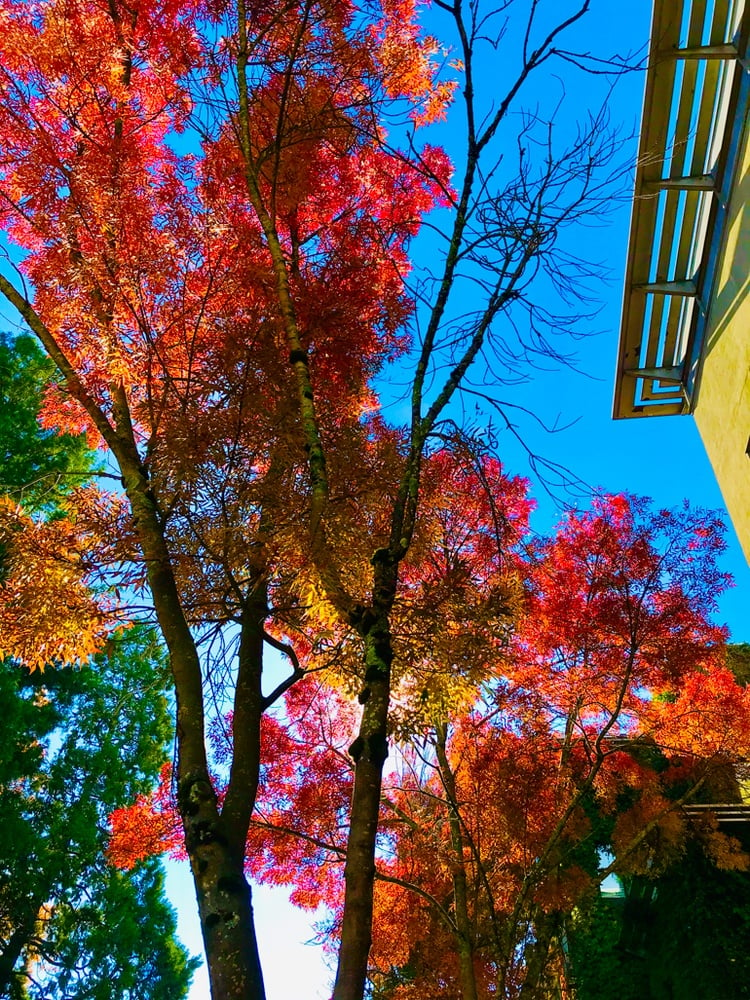 6. Healdsburg
Napa is nice, but my favorite spot to wine taste in California is Healdsburg over in Sonoma County. Autumn is actually my favorite time to go drive up to go wine tasting. Bay Area fall colors aren't really a thing, but Healdsburg is a short drive away and holy cow, I swear almost every vineyard turns orange and red.
The downtown Healdsburg square also had a lot of maples and oaks that turn bright colors.
I love to always set aside a morning to grab coffee at Flying Goat and then stroll around looking at the trees. Bonus points of the cat at the bookshop is out for pets!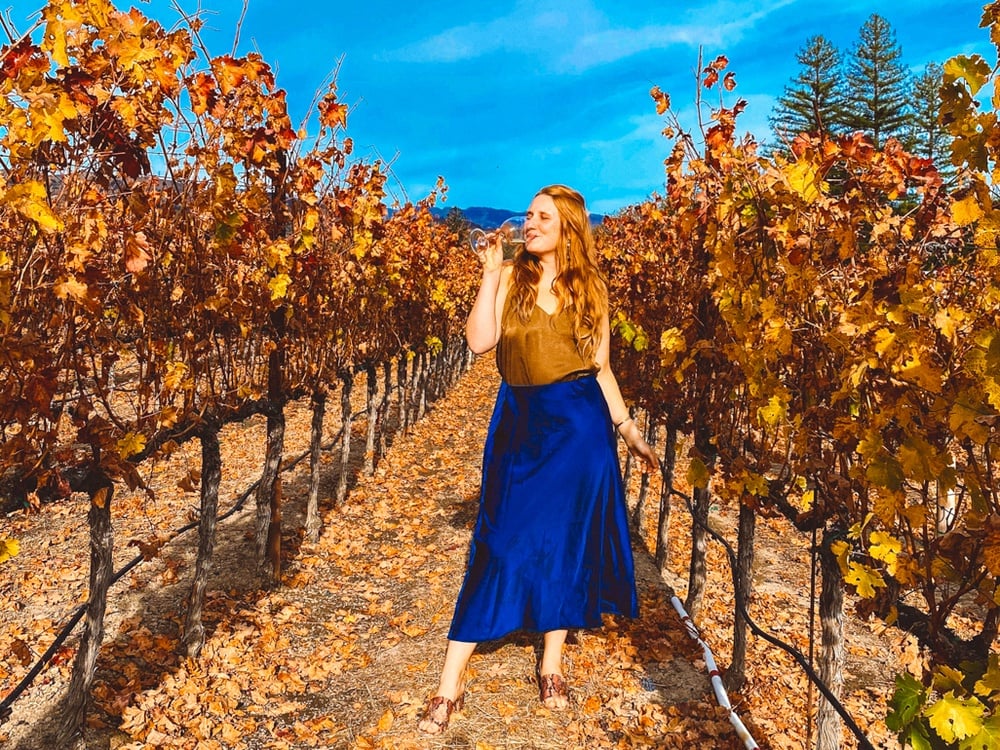 7. June Lake Loop
This is hands down one of my favorite autumn places to take pretty fall pictures. June Lake is tucked up near Mono Lake and Mammoth Lakes but is someone always overlooked. And I kind of like it that way, the last time I went it felt like we had the whole town to ourselves.
It's the best place to find golden leaves next to rushing waterfalls or dotting the mountain side. I always like to go kayaking on Silver Lake (next door to June Lake) and then a hike to get up close and personal with the trees. Honestly, all the Eastern Sierra spots around June Lake are good.
You can find more trees poppin off in Mammoth Lake State Recreation Area if you have an extra day or to spare.
8. Rock Creek Lake
This Mono County spot is one of the highest drive-to lakes in the Sierras and thus you can sweeping views of the mountains among golden leaves. Because it's such a high elevation, you do have to carefully watch weather reports in case an early winter storm rolls through and blows all the leaves off.
If you're an avid hiker, consider Lower Rock Creek Canyon Trail for sweeping views of fall foliage.
Convict Lake and Fallen Leaf Lake are two another lakes nearby Mono County lake that is known for fall foliage! I haven't been yet but I hear they're great.
9. Bishop Creek Canyon
Bishop fall colors are famous. Located over in Inyo County, you can find some of the best waterfalls, mountain resorts and alpine lakes in the whole state. North Lake Campground is a great option to stay with access to hiking trails like North Lake Road with some of the best leaf peeping.
If you love hiking, Bishop is the place to visit!
10. Lake Tahoe
Lake Tahoe is always a classic for fall foliage. I find the leaves here tend to pop the 2-3 week in October. The Hyatt on North Lake Tahoe has orange trees right on the shores of the lake and outside your hotel room, so that's always a great spot to book.
South Lake Tahoe is near hiking trails and has a better beer scene. You really can't go wrong here! And, fall is the off season. Summer in Tahoe and Winter in Tahoe are both the high tourist seasons, but October will be more chill and calm.
11. Truckee
Just north of Lake Tahoe is the adorable mountain town of Truckee. Many of the Gold Rush buildings are still standing, so this town really makes you feel like you stepped back in time. And, it has tons of fall foliage! You can find golden trees all throughout downtown.
But I love to go hiking here, especially around Angela, Flora, and Azalea Lakes Loop because you can get this awesome view of Donner Lake from above.
If hiking isn't your thing, you can still soak up the Donner Lake leaves by taking a walk around the lake, or finding an empty dock and soaking it all in.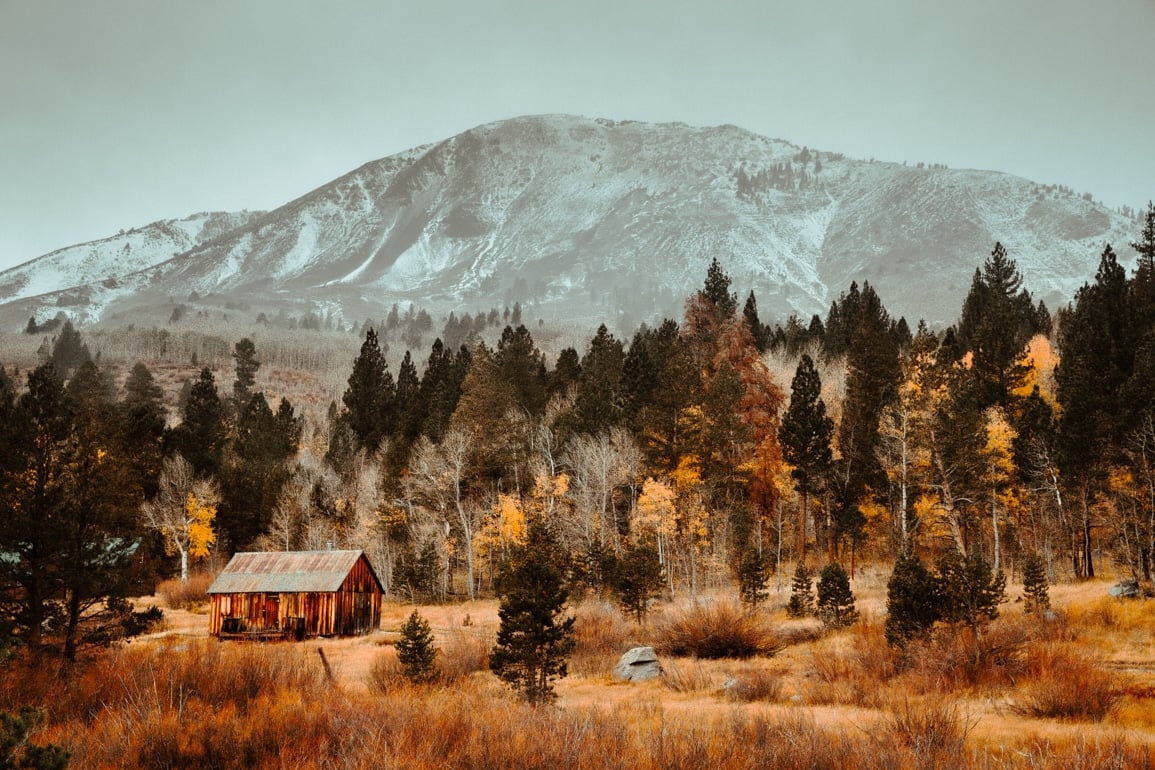 12. Hope Valley
Just about 30 minutes from South Lake Tahoe, Hope Valley is one of those places photographers over to flock to with their telephoto zoom lens to take photos. It's a stunning area. The first time I visited was on the way back to the city from a trip soaking in hot springs.
It was pouring rain and all of a sudden, we turned a corner and every single tree lining the road was bright yellow and red. It was amazing. Last year I went back to and made a huge guide for all the best places to find fall colors in Lake Tahoe and Hope Valley to help you out!
We stayed at the Desolation Yurts last year (formerly Wylder Hotel) and it was stunning.
13. Quincy
Quincy is maybe the best place to see fall colors that's totally underrated. It's a cute town about 1.5 hours North of Lake Tahoe and while the season for foliage is short here, there's nothing like those old buildings and red maples.
My favorite hotel up here is Greenhorn Ranch, where you can go horseback riding around the fall leaves during your stay!
14. Sonora
Ugg, Sonora is so dang cute!! I was just up in Sonora camping at Pinecrest Lake and hunting down swimming holes and I learned they get amazing fall colors.
There's an especially famous church on top of a hill overlooking the city that has a large maple in front that turns bright red in early October. I'll be heading back this fall to see it!
15. Redding & Lassen National Park
I have been able to catch patches of stunning leaves around Redding, Burney Falls and Lassen National Park.
These patches aren't as large as in Hope Valley but fall is a great time to visit this area since it gets so dang hot in the summer. Lassen closes early for the winter season, so go in the first half of October.
16. Lake Sabrina
Located south-west of Bishop, Lake Sabrina is situated at a fairly high elevation of 9,128 and framed by mountains of the Eastern Sierra Nevada mountain range. The trees along these mountainsides change into vibrant hues of yellow and orange during the fall, and it's a beautiful sight in contrast to the mountains and blue lake.
17. Julian
Just an hour from San Diego, this small mountain town is a hidden gem for fall foliage in Southern California, and apple pie. I haven't visited yet, but if its claim to fame is fall and apple pie, how can I not add it to this list? If you're looking for a quiet getaway in a charming small town, Julian is it!
18. Calaveras County
I'm a little biased since I've spent all year working on renovating my cabin in Arnold, but it's a cute spot for a fall getaway!
There aren't as many yellow aspens as Hope Valley, but it's a super cool county that does get fall colors, but also has a Giant Sequoia park, alpine lakes, skiing in the winter and tons of wine tasting!
And, in autumn, there's a roadside apple store called the Red Apple that has cider, donuts and apples for visitors! If you keep following the mountain pass through Calaveras, you'll end up in Hope Valley (or vice versa) so it's a fun stop on your road trip.
Where Can I Find Southern California Colors?
Big Bear Lake, Lake Arrowhead, Julian and Oak Glen area is the only place I know of in the San Diego County and Los Angeles County area that have good fall leaves.
Fall in Southern California isn't as robust as in Northern California or out of state, but you can still find some leaves! They'll just take more hunting and probably a drive into the mountains.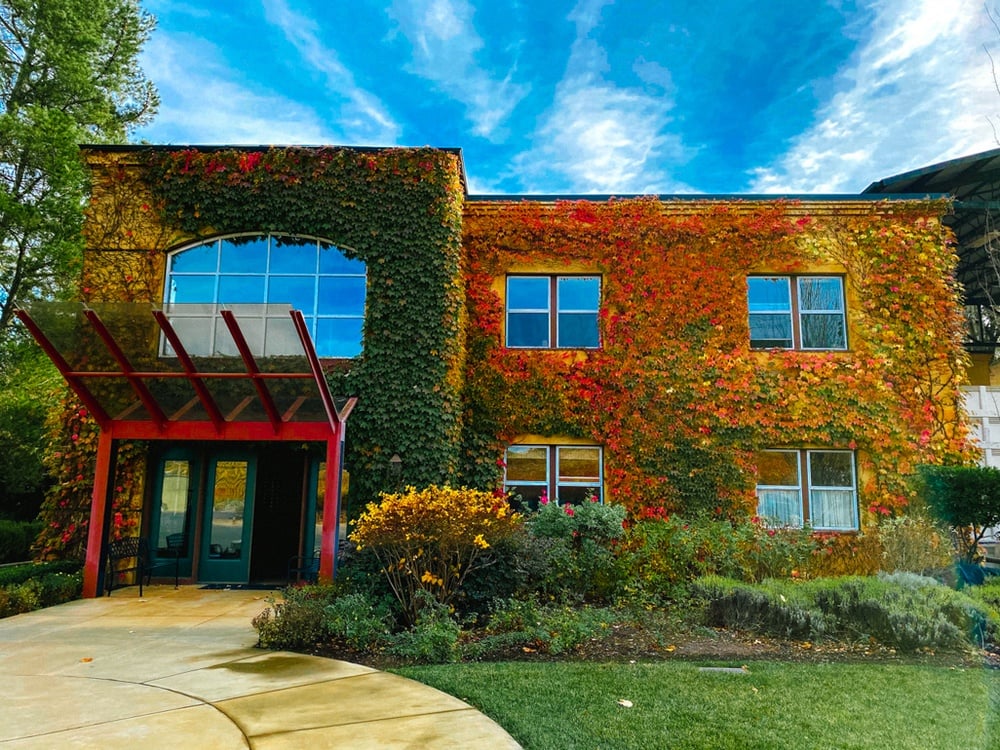 What Is The Weather Like In Fall in California?
Again, this varies on where you are heading but I find it's never insanely cold. In many places it's actually hot and I can't wear my chunky fall sweaters in comfort.
But some of the mountain places can get really chilly in the evenings, some will even see an early snowfall if it's a really wet year. So, pack those cute fall outfits and layers!
Need fall outfit ideas? Here's what to wear apple picking and also cute pumpkin patch outfits!
California in fall is just amazing. It's different than Vermont or Colorado but once you see those Mono County fall colors in person, or sip wine next to orange vineyards, you just can't know how dang beautiful this state is come October.
Did your favorite location to spot fall leaves in California not make the list? Drop a comment below so we can all see! Got questions? Comment or DM me (Kara) on Instagram @thewhimsysoul and I'll try and help ya out.