I finally got to check a winter trip to South Lake Tahoe off my California bucket list! Six of us piled into a car and drove from San Francisco to Tahoe for a weekend of snowboarding Heavenly Mountain Resort, drinking craft beer and exploring the city of South Lake Tahoe.
We wanted to do our Tahoe vacation right, so we rented a cabin (with a hot tub!) to use as a home base during our trip. There are SO many Lake Tahoe vacation rentals out there – from small condos to large mansions, the choice can be hard, especially if you haven't been to town yet. So, I did the research FOR you!
These are the 9 best South Lake Tahoe Cabins to rent for a winter trip to the lake.
When I say there are a lot of vacation rentals in South Lake Tahoe, I mean it! Airbnb alone has hundreds of vacation homes in the area. When you are visiting the lake either in the summer or winter, having a nice South Lake Tahoe cabin rental is an important part of making your trip great!
Pro Tip: Book your cabin rental in South Lake Tahoe as EARLY as you can to get the best cabin at the best price! The good ones book out fast.
For example, we stayed at a cabin that had a hot tub (yay!) and was in walking distance to the lake, but also had a broken oven and a wonky heating system that left the living room freezing and the bedrooms 90 degrees. (Don't worry, I didn't put that cabin on this list!) We booked our cabin last minute, so we didn't have many options.
If you want to rent a cabin in South Lake Tahoe, it's important to book it as early as you can so you don't get stuck with overpriced average cabin rentals.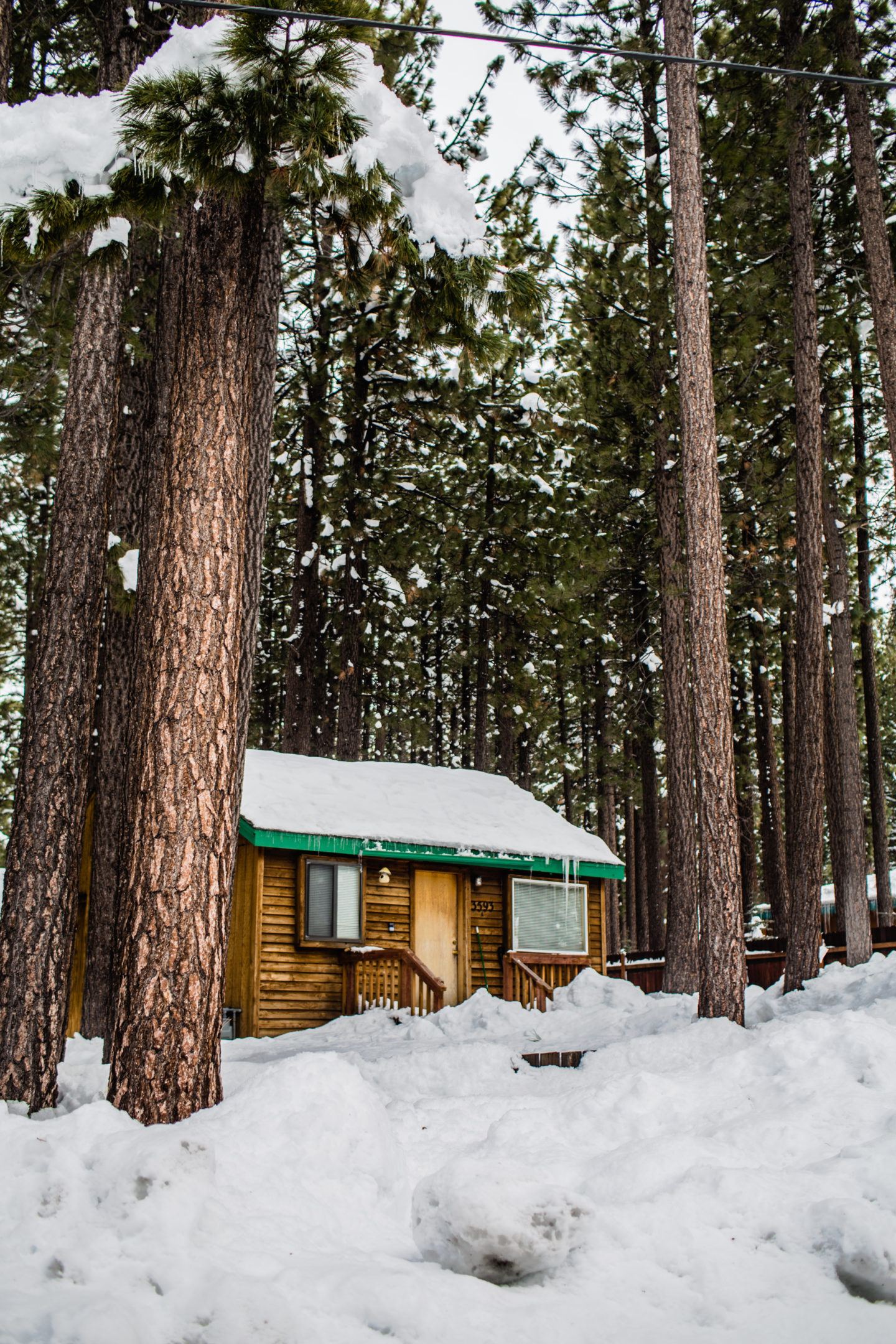 ---
Priorities To Look For When Booking Your Cabin
---
Spoiler alert: It's HARD to find Lake Tahoe lakeview rentals period, but especially ones that aren't crazy expensive. Don't make good views a priority when booking your South Lake Tahoe cabins.
Walkable: A cabin way out in Tahoe Keys or the countryside sounds romantic but is just going to be a huge pain in the butt. El Dorado County mountain roads take a LONG time to drive due to snow. On our way into Tahoe, we were just 17 miles away from our cabin, but those 17 miles took over 1.5 hours to drive. After a long day on the ski hill or out exploring, the last thing you want to do is take an hour to drive into town for dinner. Plus, most of the fun things to do in South Lake Tahoe are all in town within walking distance.
Number of Bedrooms: Don't focus on the number of beds but rather the number of bedrooms in the house. Some rentals sleeps 12+ people, but cramp 2-3 beds in a room or count the couch as a bed (no privacy!) Make sure you have enough bedrooms for all your guests so they can have a private space. Everyone will appreciate that!
Number of Bathrooms: Same concept! Make sure there is enough bathrooms for your party size. Summers are HOT, everyone will want daily showers to cool off. And during the winter, everyone will want to shower after a day snowboarding.
Cleaning Fee: There are some Airbnbs that have crazy low per night rates (ie $10) but then slap on a $300 cleaning fee. Make sure to note the cleaning fee when booking your South Lake Tahoe cabin!
Amenities: Tahoe cabin rentals vary so much. Some are old, dingy houses that someone put the bare minimum effort into. Some are beautifully decorated A-frame cabins with a hot tub, fireplace and amenities you'll want for your vacation (ie: stocked with coffee for the morning.)
Must Love Dogs: Dogs love the Sierra Nevada Mountains! (So many trails and things to explore!) If you want to bring your dog, check which South Lake Tahoe rentals are pet friendly!
9 Best South Lake Tahoe Cabins to Rent
Now for the good stuff! I scoured listings to find the cutest, best South Lake Tahoe cabins on Airbnb to rent for a fun weekend in the lake! Use THIS LINK for $40 off your Airbnb cabin rental!!!
(All babin images from Airbnb.com.)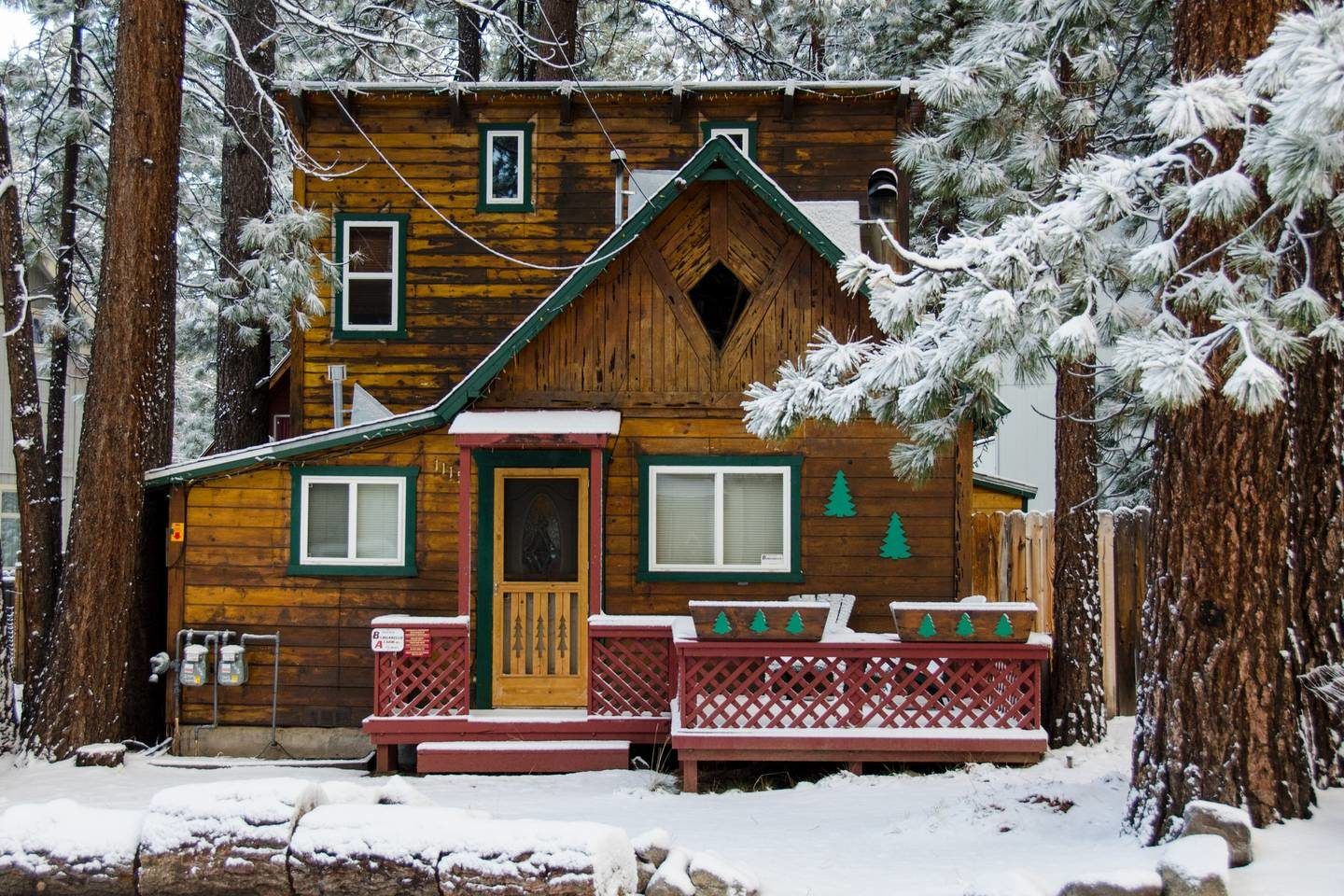 This is one of the classic cabin rentals in South Lake Tahoe – this whole place just screams "mountain cabin!" This cabin is in a prime location, being just a few blocks from the lake and in walking distance to many restaurants.
Price: $189/night
Guests: Up to 8
Standout Feature: Cute mountain cabin decor.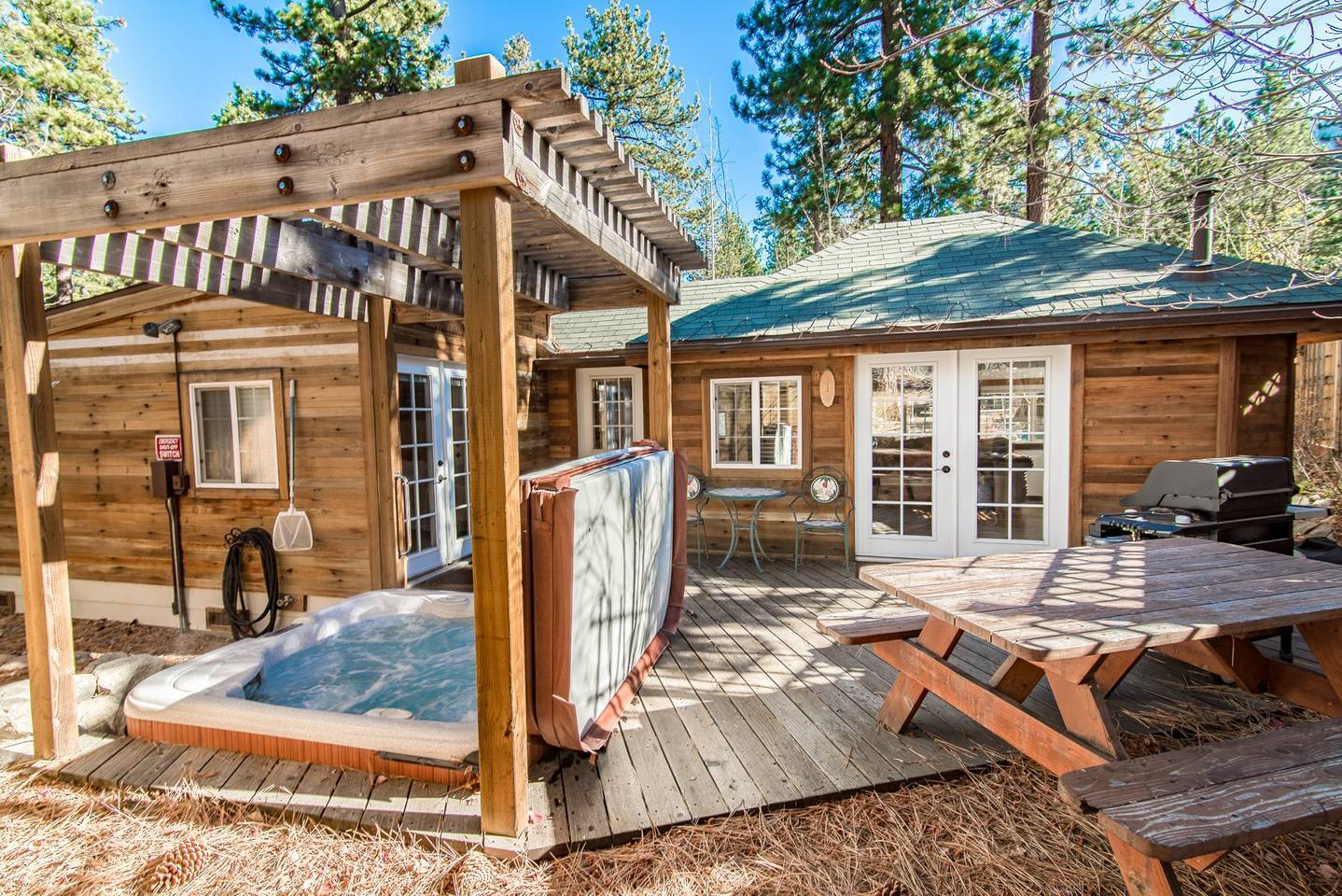 Just looking at the photos of this cabin's hot tub makes me want to drive up to Lake Tahoe to sip a beer in this baby. The kitchen is quaint and while there is only one bedroom, it's prime location makes it a winner. (It's just a block off Pioneer Trail and a few blocks from the lake!)This is one of the cutest cabins for rent in South Lake Tahoe.
Price: $96/night
Guests: Up to 4
Standout: The hot tub & backyard.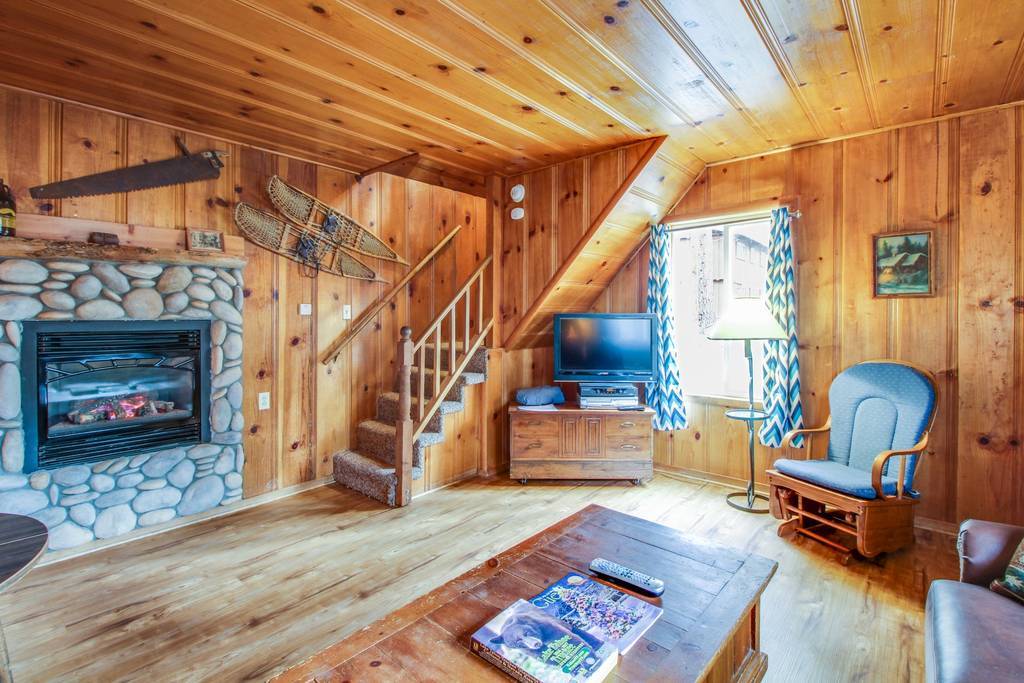 It's hard to find a nice cabin rental in South Lake Tahoe that also allows dogs. This rustic Airbnb cabin is pet-friendly! It also comes with a shared backyard with a hot tub.
Price: $131/night
Guests: Up to 4
Standout: Allows dogs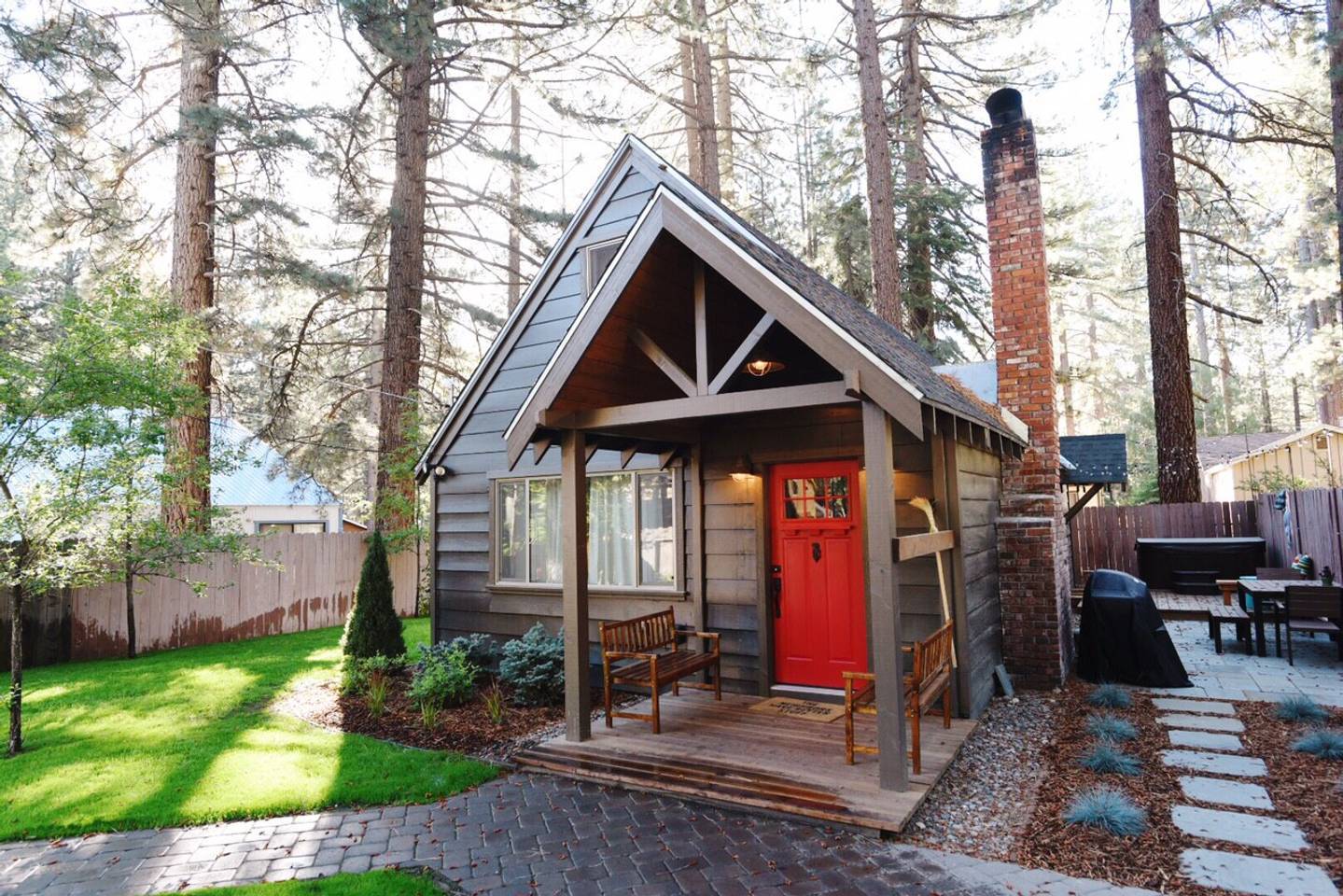 A small cabin that feels more like a summer cabin than a rustic lodge with pops of color, trendy decor and a large back patio complete with string lights over the hot tub. If you plan on spending a lot of time outside, this is the cabin in South Lake Tahoe for YOU!
Price: $155/night
Guests: Up to 4
Standout: Trendy back patio with strings lights + hot tub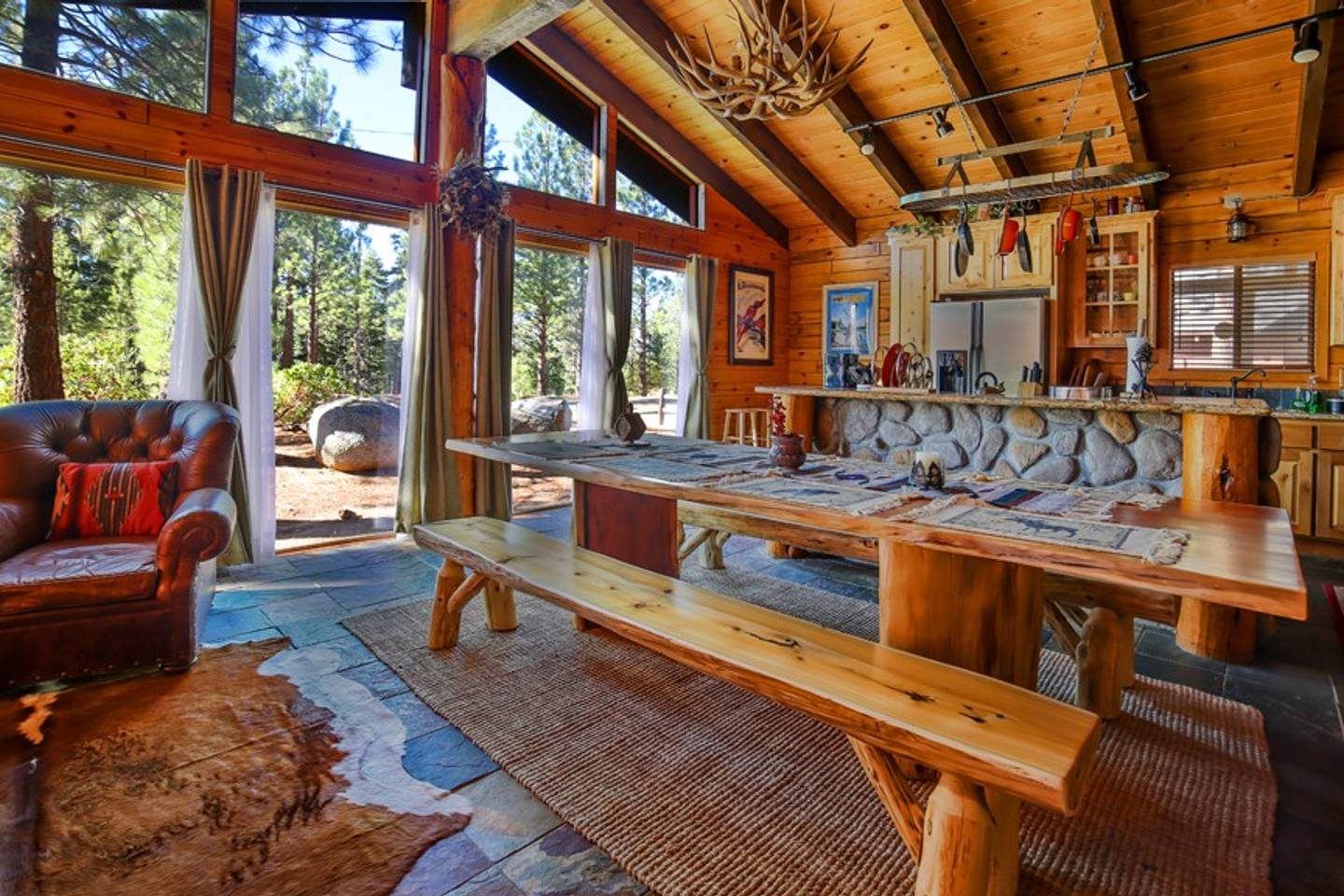 Classic mountain chalet lodge meets bright & airy vibes in this South Lake Tahoe vacation rental. It's a bit far from town and closer to the Taylor Creek Visitor Center vs. South Lake Tahoe, but you will be rewarded with towering tall pines and mountain magic. Plus, it holds 8 people!
Price: $112/night
Guests: Up to 8
Standout: Stunning property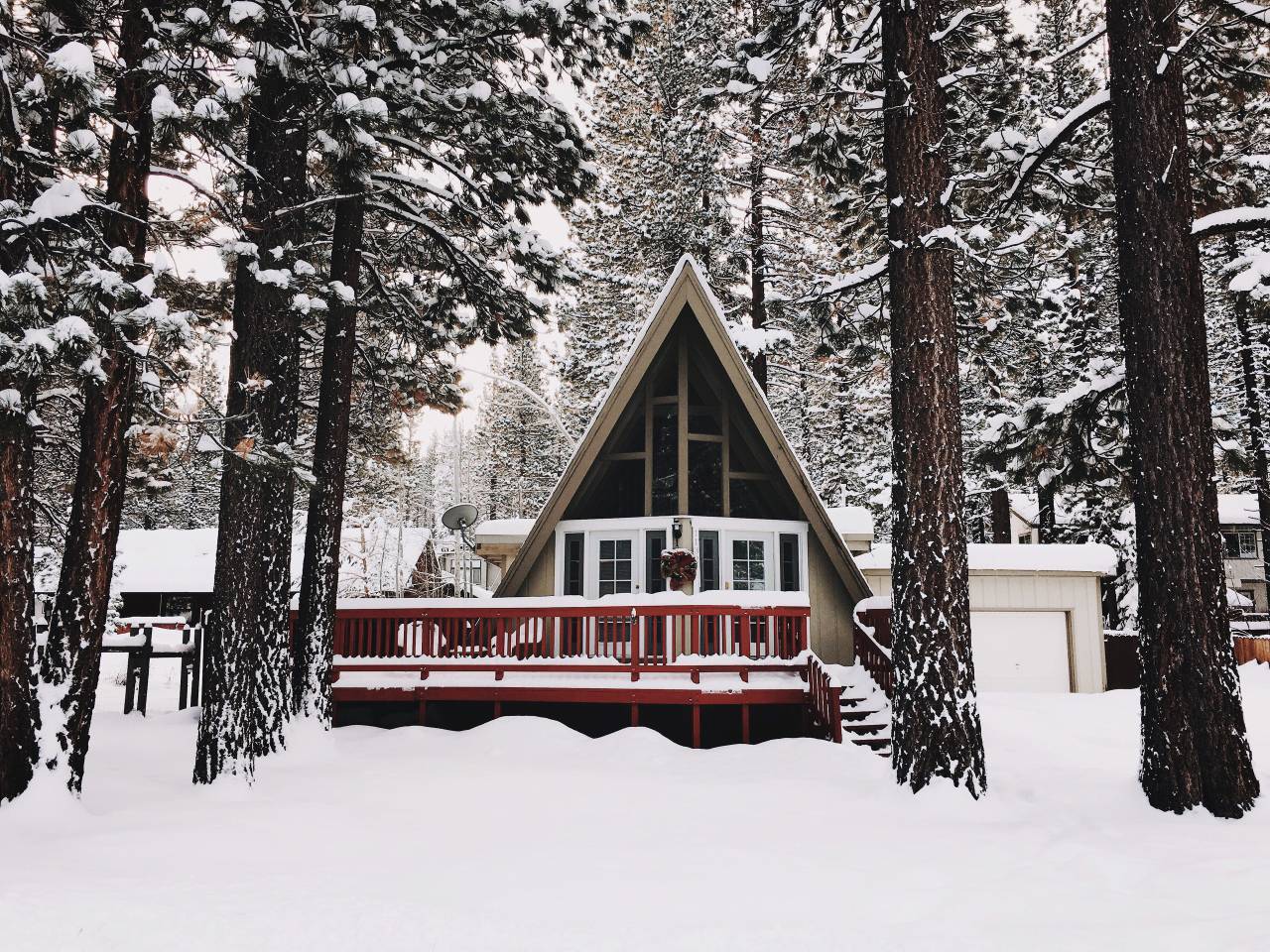 Probably one of the cutest A-frame South Lake Tahoe Cabins for rent! The inside is a bit bare but full of all that charm an A-frame cabin brings (ie: cool triangle ceilings!) It has a classic old school wood-burning fireplace to add some charm, a 7 person hot tub and is just 10 minutes away from Stateline and Heavenly Mountain Resort.
Price: $207
Guests: Up to 6
Standout: A-frame cabin shape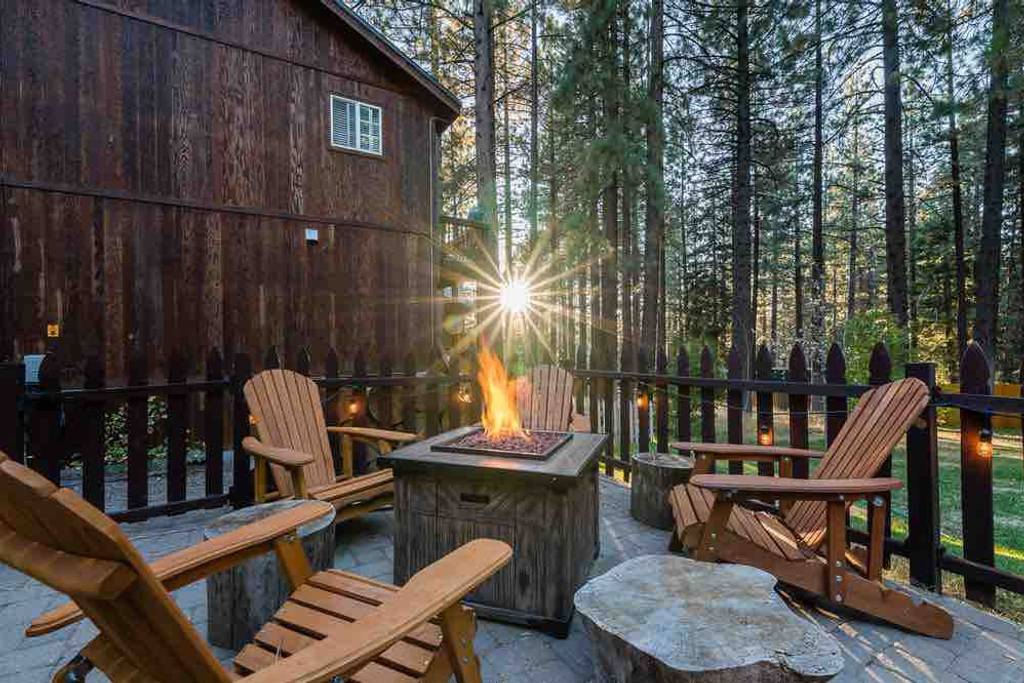 Look for South Lake Tahoe cabin rentals near Heavenly? This is the best one on Airbnb near the resort! It has a modern lodge feel, but what really makes this cabin unique is the outdoor firepit in the back yard! After a long day on the slopes, come back to roast marshmallows by the fire.
Price: $300/night
Guests: Up to 6
Standout: Backyard firepit + near Heavenly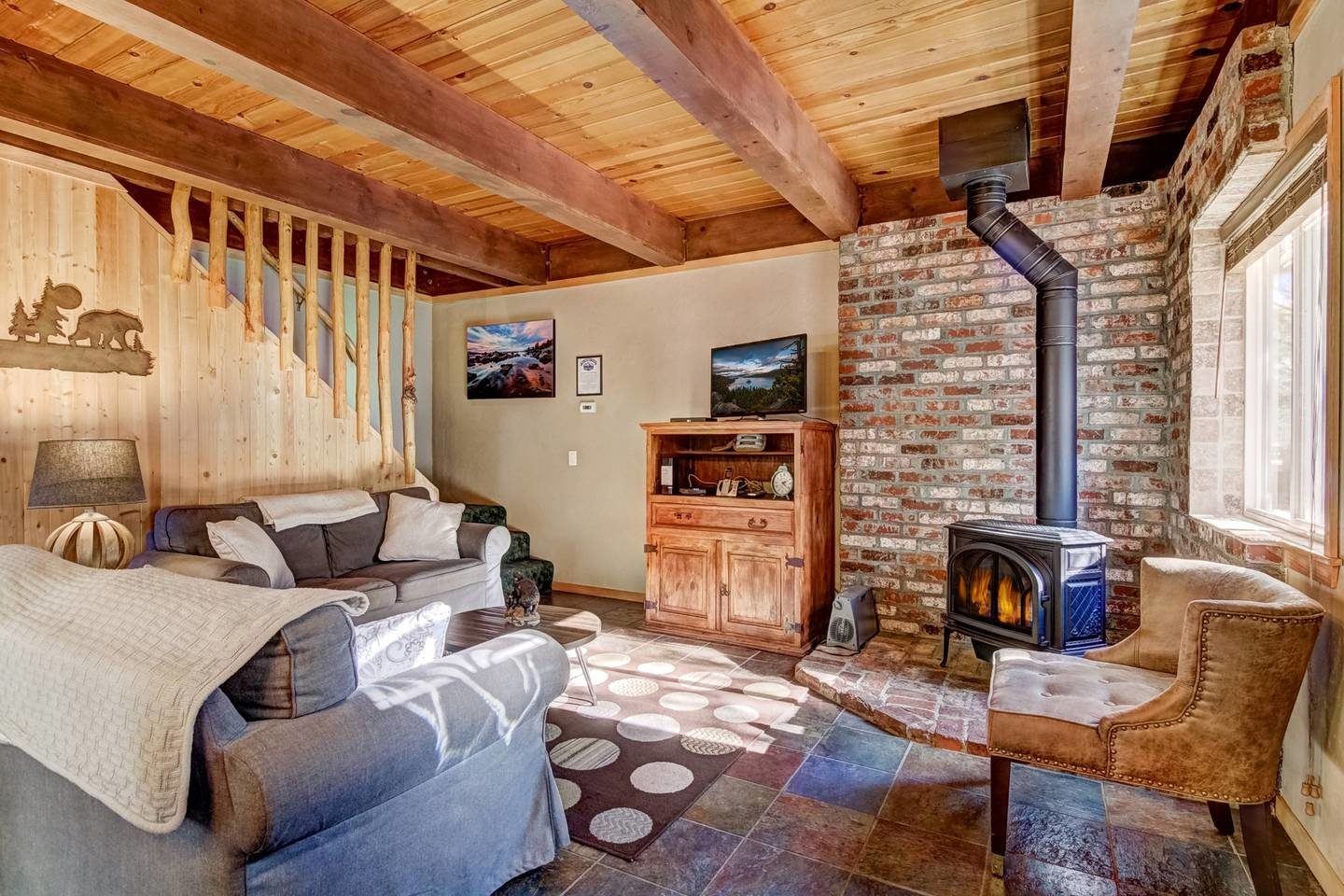 south Lake Tahoe vacation rentals don't always come with a nice kitchen, but this beautiful chalet loft has a fully equipped kitchen (heyo!) There's also a large loft space upstairs that can be used as a movie room, plus a great private hot tub outside.
Price: $10 (with a $130+ cleaning fee)
Guests: Up to 8
Standout: Low price + full kitchen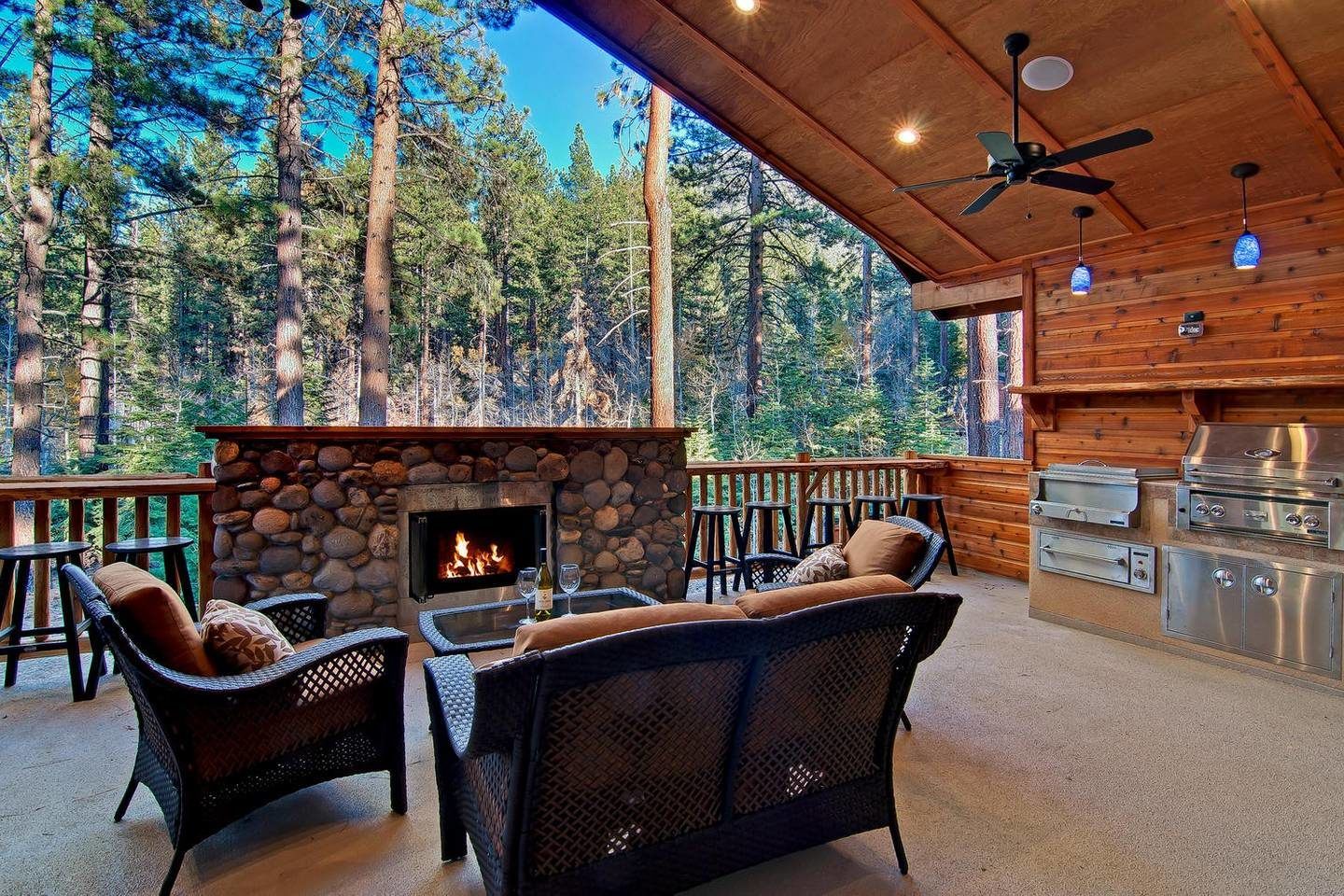 Do you have 2 grand to splurge on baller South Lake Tahoe cabins? Perhaps you're looking for a Lake Tahoe rental that sleeps 25 million people? (Side note: how do you know that many people?) This mega-mansion, complete with an indoor pool, movie room and sauna, is the ultimate in Tahoe South vacation rentals. Ok, so it only sleeps 16, not 25 million, which makes it the perfect house for a large family trip to Tahoe, or even a wedding party. Ball out!
Price: $2000/night
Guests: 16+
Standout: Huge mansion, indoor pool, movie theater, sauna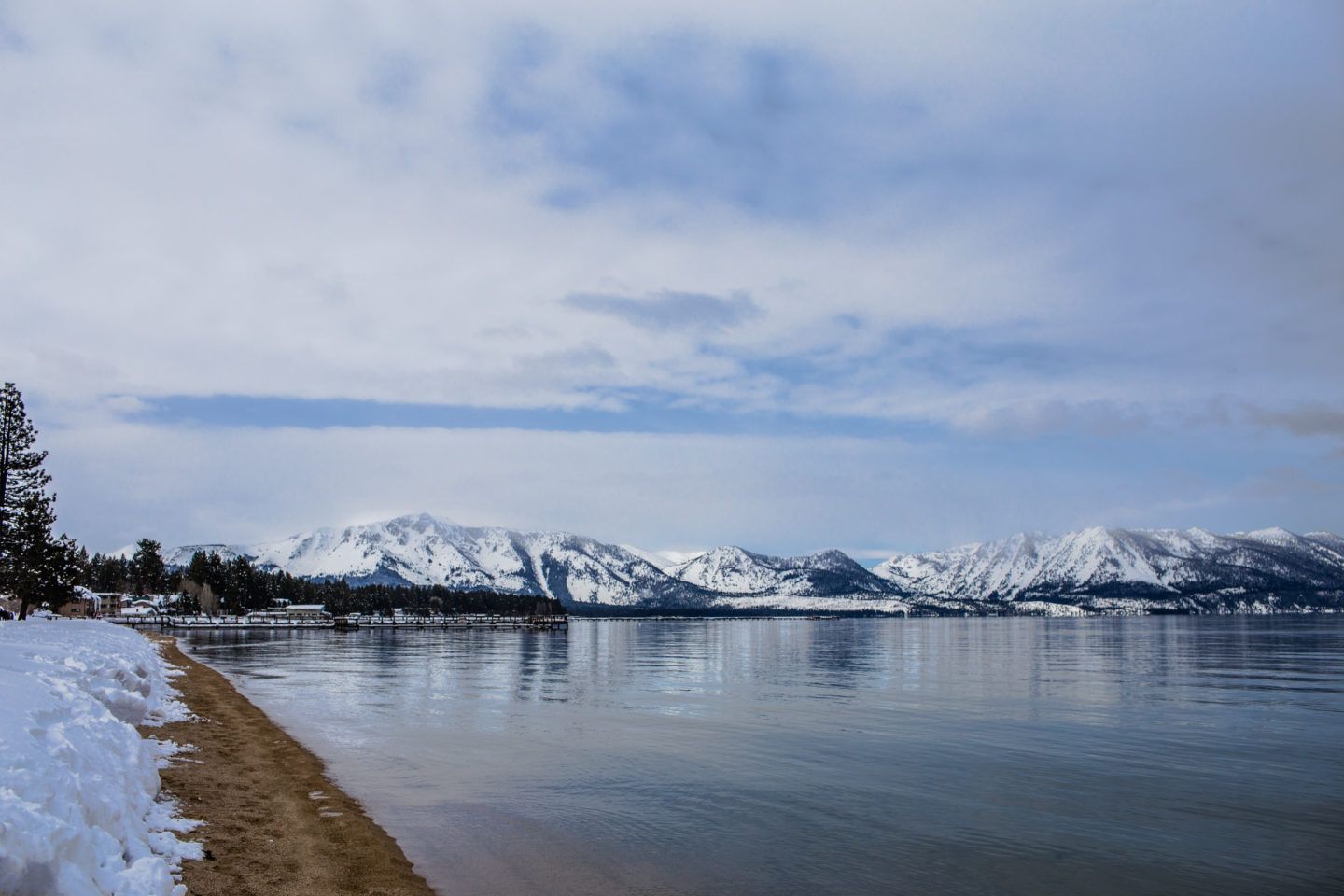 Don't forget to use THIS LINK for $40 off your Airbnb cabin rental!!!
I love traveling the United States and Lake Tahoe, CA is one of my favorite places to visit, no matter the time of year! If you have any questions about South Lake Tahoe cabins or visiting the area, leave a comment below or DM me on Instagram @thewhimsysoul and I'll be happy to help! It's so much fun to rent a house in South Lake Tahoe for a weekend (or longer!) Have fun.