Whenever the fog is hanging low outside my window I always low-key wish my apartment was actually a moody black library full of comfy couches, a roaring fireplace and pieces of parchment on a desk.
I love my pink locker and my colorful studio apartment, so I'll just have to wait for a future home when I can go crazy on a room. Until then, I have a few favorite dark academia outfits I've curated over the years to quince that vibe when I'm craving it.
If you're looking to build yourself a dark academia fashion capsule wardrobe or maybe just add a few pieces t your wardrobe or home for the fall season, this is for you. I've rounded up all the best places to shop the dark academia aesthetic outfits style online so you can soothe your spooky little soul.
What Is Dark Academia Fashion & Aesthetic?
It's a bit gothic preppy, slightly witchy, a Hogwarts castley, a little Shakespearan, all wrapped up in a subculture called Dark Academia. If you've ever been inside the Trinity of College Books Of Kells, picture yourself standing in that room dressed in a long plaid skirt, black button-down sweater, vintage boots and holding a stack of books. That's dark academia.
The "dark" refers both to a penchant for the unusual along with dark color tones and usually, cozy texture. The academic part focused on literature, higher education and academic aesthetics. The term was coined around 2015 on Tumblr but it's been around for ages but really taking off in recent years, especially with social media posts on Pinterest and TikTok.
And I'm here for it – there's something about Dark Acaemdia homes and outfits that are surprising and comforting at the same time.
Top 13 Dark Academia Clothing Stores & Home Brands 2021
The cool thing about this trend is you can find amazing pieces at major fashion brands if you know where to look, along with curating pieces from smaller businesses with a more niched collection, or thrift shops. That makes the aesthetic easier to obtain for anyone, anywhere. Here are my favorite places to searh for dark academia clothing, home decor and accessories.
I see Shein having sales on dark academia pieces all the time. Please don't purchase from this company – they're extremely unethical and the clothes aren't made well. It's not worth the affordable price tag. Learn more about why I avoid Shien clothing in this post.
Dark Academia Tops & Coats
Button up shirts with lace collars, Carmel trench coats, knit sweaters, sweater vests… the dark academia fashion aesthetic is all about layering and the first step to that is picking out fantastic tops and coats to layer together. These are my favorites of the season.
Shop my favorites

Dark Academia Bottoms
Pants, shorts and skirts that hint at the 1940's and 1930's are what you're looking for here. More tweed, plaid, houndstooth you can find the better! You can also opt for more solid patterns in dark green, Burgandy, blacks and browns. I love reaching for plaid mini skirts, dark colored wide leg pants and other outfit ideas similar in nature.
Shop my favorites

Dark Academia Dresses
A good dark dress is KEY for a capsule wardrobe here. Usually, my dark academia outfits for summer revolved around a lightweight dress. In the fall and winter, that dress gets paired with sweaters, tights, boots and longer coats to layer up.
Shop my favorites

Dark Academia Accessories
All good dark academia fashion looks are pulled together by the perfect accessories. Of course, some of the staples are leather bookbags and black mary janes, but this is also a chance to add more whimsical flair to your outfit.
Remember how, according to the dark aesthetic wiki page, that Dark Academia is heavily rooted in the love for the unusual? I find accessories the most fun way to incorporate unusual elements to any outfit. I look for unique jewelry, funky patterns and interesting textures.
Shop my favorites

Dark Academia Home Decor
I will be decorating a future library with all of these things. The key to a hauntingly beautiful home (or a room) of course is a lot of dark paint. It's hard to make an all white room, or a pink room let's say, dark academia style. But you can lean on the wallpaper, large bookshelves and plush rugs to help you out here.
If you're stuck, envision the potions classroom from Harry Potter, or maybe something from Nocturn Alley. Remove all the super creepy things like eyes in a jar and add in more books, and you got a dark academic aesthetic.
Shop my favorites

More Ways To Channel The Dark Acamedia Aesthetic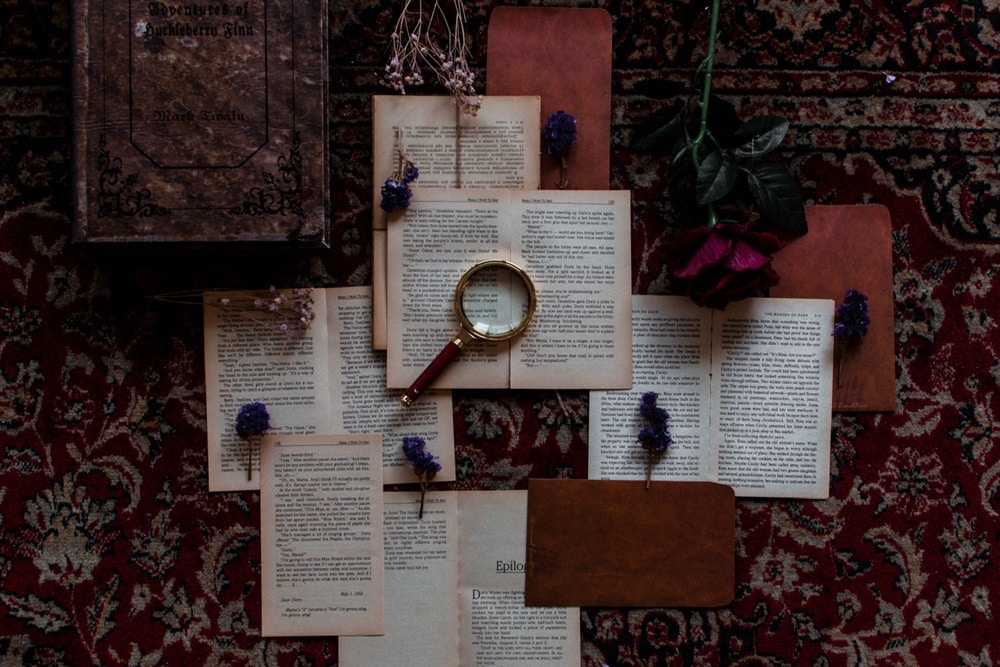 Dark Academia Movies To Stream On Netflix & Online
There's so many more movies and tv shows than what's on this list (it's hard to keep up with all the new stuff launching on hulu, HBO, Netflix, etc!) But these are some favorites of mine to start with. Put on a candle and get ~dark~.
The Riot Club
Harry Potter
Dead Poets Society
Series of Unfortunate Events
The Mysterious Benedict Society
The Theory Of Everything
The Goldfinch
Hugo
Anything Jane Austen
Kill Your Darlings
Murdoch Mysteries
Enola Holmes
Miss Peregrine's Home for Peculiar Children

Dark Academia Books To Read
Whether you're looking for a New York Times best seller for your book club, or something more obscure and new to read on a rainy day, tackle this list.
The Secret History by Donna Tartt
If We Were Villains by M.L. Rio
The Atlas Six by Olive Blake
Vengeful by V. E. Schwab
Ninth House by Leigh Bardugo
Bunny by Mona Awad
These Violent Delights by Micah Nemerever
Dark Academia vs Light Academia
At the core, Light Academia is the sister of Dark Academia but it's more positive and less intense than dark academia style. When it comes to fashion, light academia outfits are super similar in cuts and era inspiration but steer lighter (so swap that black sweater for a white one.) It isn't as morbid (so no skull earrings here.)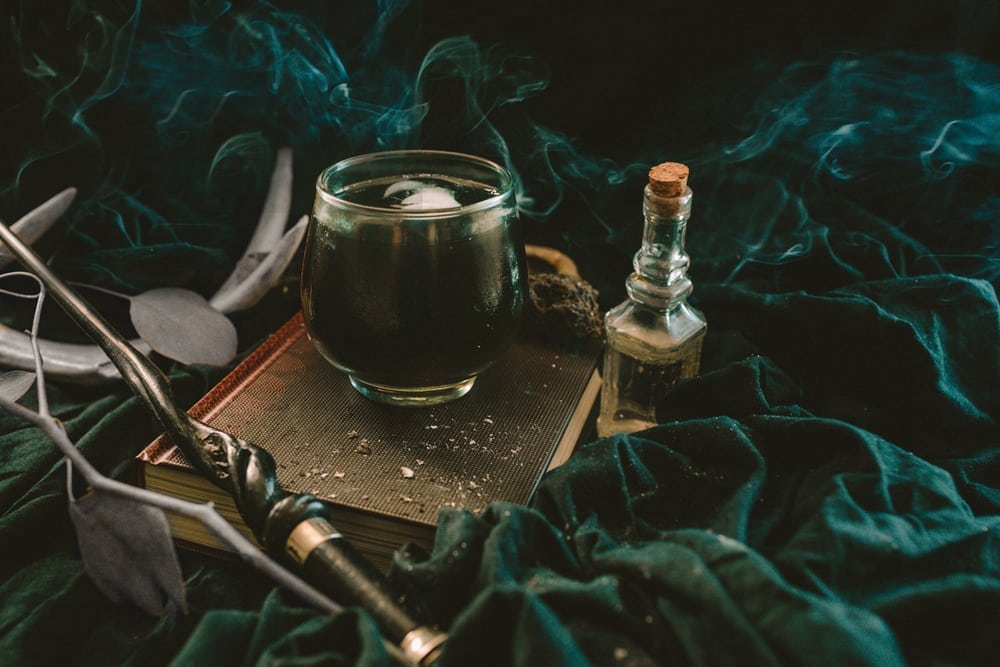 I hope this helps you figure out where to buy Dark Academia outfits for your spooky soul! If you have a favorite brand that didn't make the list, feel free to drop it below so everyone can see! And check the comments from the community to find more ideas to soothe your Dark Academia lifestyle.
Looking for a dark cocktail? Try our Death Eater's Smoke cocktail (a Harry Potter-inspired mezcal drink!)