When He-Who-Must-Not-Be-Named calls, Death Eaters suddenly Apparate in clouds of black smoke…
The first of our Harry Potter cocktail series, this Death Eaters Smoke Cocktail is a lot like a dark, smokey margarita perfect for cold months and your October Harry Potter marathon. Keep reading for the recipe!
Death Eater's Smoke Cocktail Recipe: A Dark Harry Potter Cocktail For Halloween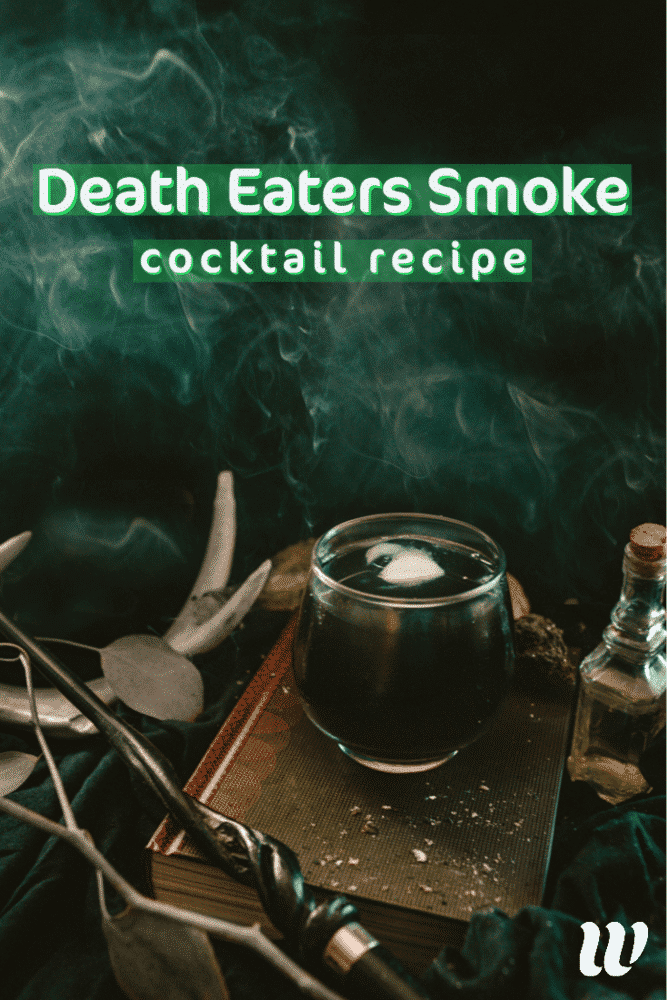 >> Got a question about this cocktail that you need answered quickly? DM me on Instagram @thewhimsysoul and I'll be happy to help!
I'm SO excited for our new series all about Harry Potter Inspired Cocktails! These recipes will embody everything we all love about the magic of Wizarding World. I'll be sharing 2 a month until the New Year and they are GOOD, trust me!
I wanted to kick this off with a drink that felt perfect for Halloween. Did you know that you can add Activated Charcoal to drinks and it'll turn it black? Activated Charcoal doesn't have any flavor so it's a fun, new that craft cocktail bartenders have been playing with lately (you know, pre-pandemic.)
We found a jar of Activated Charcoal at our local community market for $10. You can also find it at Whole Foods and Amazon. Charcoal can be messy so that's why I opted for capsules that are easy to pull apart directly into the drink.
This Death Eaters Cocktail uses Mezcal, which is a smokey alcohol that reminded us of the smoke from Death Eaters when they Apparate. It also uses Korean Roasted Barley Tea which I found at Trader Joe's. This tea is really interesting – I don't think I'd like to drink it on its own but it's delightful in this cocktail as it supports the smokey flavors.
This cocktail is basically a twist on a margarita and it's super quick to make. We also used a Mezcal that we found at Trader Joe's but the Mezcal brand matters less in this drink. The only special thing you need to buy is the tea. Here's the recipe: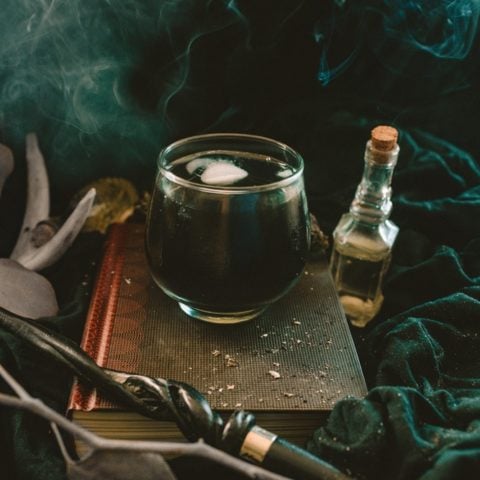 Death Eater's Smoke Recipe: A Dark Harry Potter Inspired Cocktail
Death Eater's Smoke: a Death Eater inspired cocktail that's black & smokey to match the characters in Harry Potter. This cocktail uses Mezcal and a roasted tea to bring the flavors to life.
Ingredients
2.5 shots Mezcal
1.5 shots Trader Joes Korean Roasted Barley Tea
1 shot Triple Sec
1 full fresh lime juice
1 Activated Charcoal capsule
.5 shot simple syrup
Ice cubs
Instructions
How To Make Simple Syrup
First, make the simple syrup. We always make a big batch and keep some in our fridge for cocktails.
Mix sugar with water in a stovetop pan
Heat until the sugar dissolved then turn the heat down low and simmer for 5 minutes.
Remove & let cool before using in the cocktail

Death Eater's Smoke Cocktail Recipe
If you don't have a batch on hand, make a batch of homemade simple syrup.
Mix everything together in a cocktail shaker.
Shake well and serve in a glass over 1-3 ice cubes.
Enjoy!
Optional: if you like drinks with a kick, you can rim your glass with our homemade chili salt recipe.
Notes
Activated Charcoal is a supplement so read the daily dosage & other safety information on the packaging to make sure it's safe for you and any medications you are taking. It should be, but always good to check!
Recommended Products
As an Amazon Associate and member of other affiliate programs, I earn from qualifying purchases.

Whether you're having a big at-home virtual Halloween party or just marathoning the movies for the 100th time alongside a pumpkin spiced candle, I know you'll love this Death Eater cocktail. I think it represents the Death Eater smoke effect perfectly. Just don't go turning evil on me, ok?

And, stay tuned for 5 more Harry Potter cocktails coming soon to the blog! If you don't want to miss them, sign up for my weekly newsletter with your email address and I'll send you the next recipe right to your inbox!

Check out some of my other cocktail recipes + blog posts while you're here!