The first time I visited Downtown Napa, my sandal broke. Like, straight in two pieces and our plans to wander around the city were completely cut short.
That was 5 years ago and thankfully I live in San Francisco where I'm lucky enough to visit wine country whenever I want (the Bay Area is just about an hour South of Napa Valley!)California wine country is HUGE and Downtown Napa is basically the gateway to the whole valley. It makes for a fun weekend trip.
I'm not a downtown Napa local, but the next best thing so finally, 5 years later, I'm sharing my Downtown Napa wine tasting + city guide for you! Keep on reading to find out…
Where to drink, eat, stay and play in Downtown Napa (Aka Your Ultimate City Guide)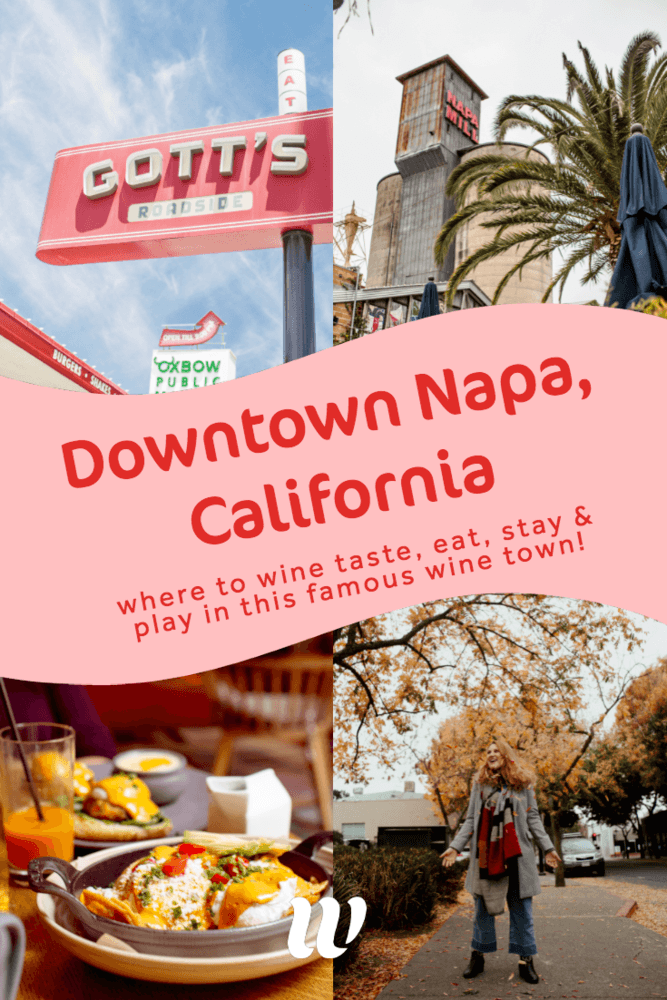 >> Got a question about Downtown Napa that you need answered quickly? DM me on Instagram @thewhimsysoul and I'll be happy to help!
Is Downtown Napa fun? YES! Of course! I think a lot of visitors come & skip over Downtown Napa in favor of vineyards further up in the valley but they are totally missing out on all the great restaurants, charm and tasting rooms in the city.
We've swung by Downtown Napa for lunch as part of a large Napa Valley trip in the past, we've stayed at local resorts and popped into town for dinner, too. But we really fell in love with the city of Napa on our most recent weekend trip when we spent two days just in Downtown Napa soaking up all the sunshine and visiting all the tasting rooms.
My favorite thing about Downtown Napa is how close everything is! You can easily park your car at the hotel and do your whole weekend on foot. During our most recent visit, California was hit with a TON of rain but it didn't matter because we could literally hop from one tasting room to the next in like, 30 seconds. Keep on reading to find my recommendations on the best wine tasting rooms, where to eat, the best hotels to lodge at and more travel tips!
Downtown Napa Hotels (Where To Stay in Downtown Napa)
First thing you're probably wondering when picking out a hotel: Is downtown Napa walkable? YES! That's why I recommend staying directly in Downtown Napa vs at a Silverado Trail resort miles outside of the city.
Of all the Downtown Napa Valley hotels, the Andaz is the best choice. It's a luxury boutique hotel located right downtown so it's easy to explore the city. I adore their rooms – there's a fireplace AND a huge bathtub perfect for a late-night or morning soak.
Plus, they give you some free snacks in the room and a free glass of wine at check-in. We also really loved Farmer's Table, the restaurant downstairs. It's chic and cozy and packs a really tasty breakfast menu. I recommend ordering a juice and the chilaquiles.
We LOVE booking Airbnbs when traveling, especially when we are traveling with a large group or plan on staying at that location for more than a couple of days. There are a lot of cute and affordable Airbnbs in the city of Napa that you can rent. Make sure to use THIS LINK to get $40 off your first booking!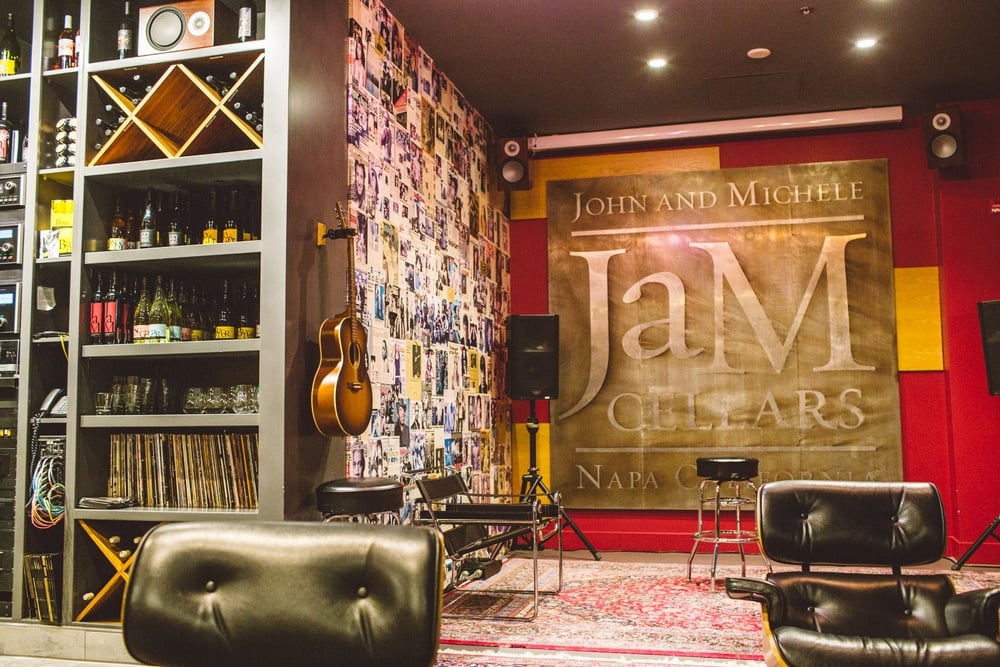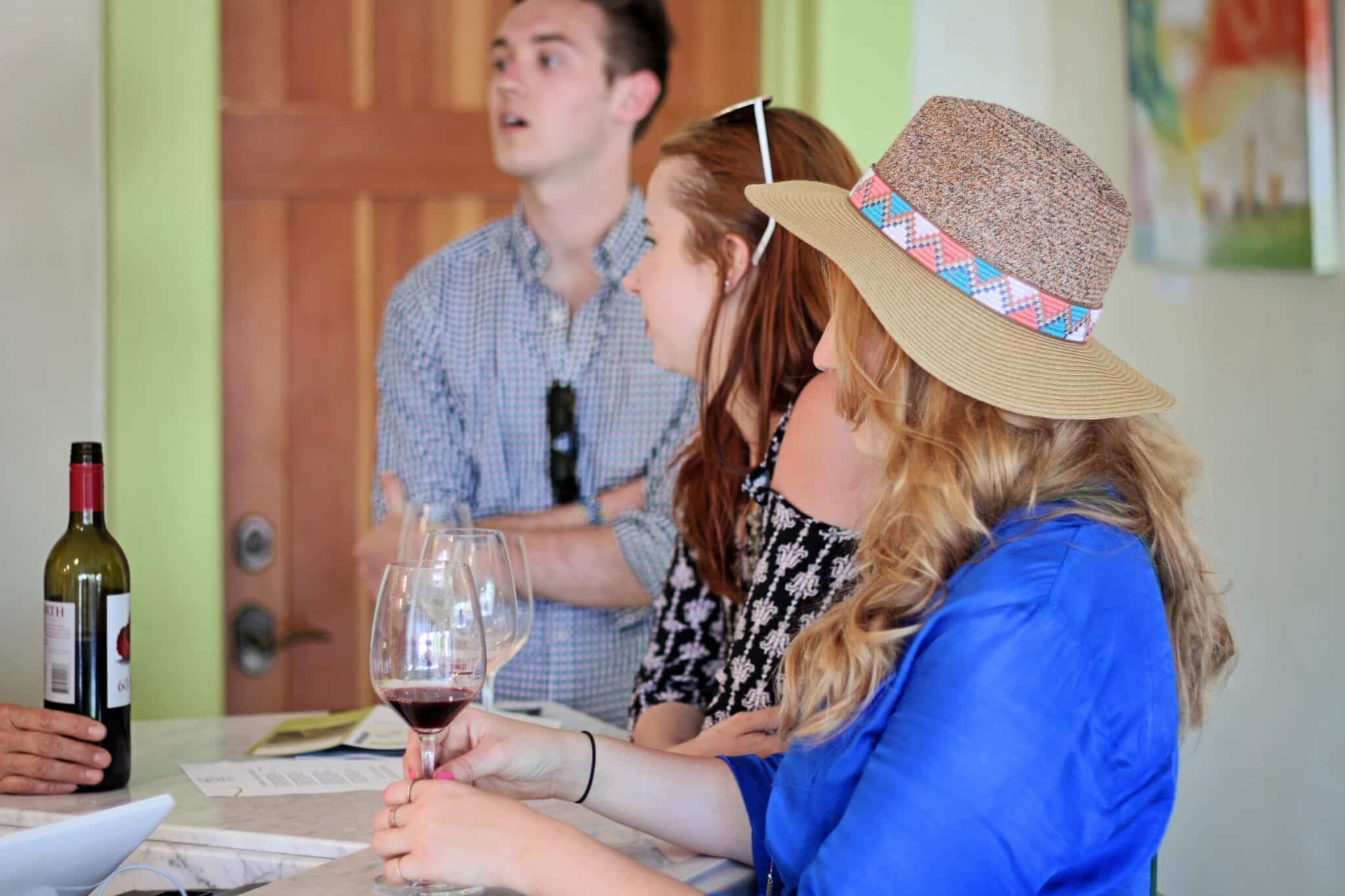 Where To Go Downtown Napa Wine Tasting
There are MANY wineries near Downtown Napa. For this city guide, we tried to visit as many downtown Napa tasting rooms as humanly possible for this city guide to learn which ones are the best places to go Downtown Napa Valley wine tasting!
I love red wines (Pinots are my favorites) but the Napa Valley region is really known for their Cabernet Sauvignon. Even if you don't like drinking reds, make sure to challenge yourself to try some Napa Valley cabs, it's the thing to do here!
My favorite Downtown Napa Valley wineries:
Vintage Sweet Shoppe
OMG you have to stop at Vintage Sweet Shoppe for a chocolate and wine pairing tasting! We walked into the store and immediately were overcome with the smell of baked goods and chocolate. We opted to do the four wines with chocolate tasting and were blown away by the quality of the chocolates and the thoughtful pairing. I recommend you start your Downtown Napa wine tasting tour here.
JaM Cellars
The tasting room at JaM Cellars looks more like a recording studio versus a traditional wine tasting room, and I love it. They give generous pours here, so JaM makes a great stop as a happy hour right before dinner. I recommend doing the Napa Tasting option!
Mark Herold Wines
This was one of the very first tasting rooms I ever visited way back in 2015. We had some friends visiting from the Midwest so we took them to Napa Valley and spent a lot of time wandering Downtown Napa. The staff at Mark Herold are super nice and if you don't know a lot about wine, they'll help you learn!
Vintners Collective
Located in a 1875 saloon building, Vintners Collective offers a platform to boutique Napa Valley producers to show off their wines. The flights change frequently and sometimes they have up to 25 small labels on hand to pour and share.
Bounty Hunter Wine Bar
Ok, not a winery but Bounty Hunter is a famous (and well-loved) wine bar in Downtown Napa. Come here for happy hour or a late-night drink, you can't miss it (it glows a bit thanks to all the neon signs out front!) Or, head here for lunch and try the Beer Canned Chicken.
Stone Brewery
Sometimes you just need a break from wine, and luckily Stone Brewery has an incredibly cool taproom right on the river. We walked by an outdoor area with a fire pit that wasn't in use (it was raining, remember) but the top level of the building was buzzing with life. It's decorated in this fun copper industrial way and there are a few large garage doors that open on nice days. Order a flight or a pint of the Viking Space Probe (so good!)
PRO TIP:
Buy a
Downtown Napa wine tasting card
to sip at wineries for 1/2 price! We used this and it was a game-changer, basically pays for itself with just one tasting.
The Best Downtown Napa Restaurants (According To A Local)
There are so many great Downtown Napa valley restaurants, it can be hard to choose which ones to eat at, especially on a short weekend trip. We haven't been able to eat at every single one, but I asked a couple of local gals to give me the local's scope on the best places to eat in Downtown Napa to help me flush out this list.
You can visit Downtown Napa and not swing by the Oxbow Public Market. This market has so many food options and has grown to sort of be the hub of all the activity during the day. It's located near the Downtown Napa riverfront right across the bridge and has a large parking lot which makes it easy to park if you are coming in with a car!
There's everything in here: small wine bar, Hog Island Oysters, a beer taproom, markets, souvenir shops, a pizzeria. If you're craving it, it's probably here at the Oxbow. You can eat inside or outside on the back patio. I personally love grabbing some fresh oysters and taking them outside in the sunshine to enjoy.
We LOVE Gott's and it's totally a wine country cult staple restaurant. They serve a lot of types (Everything from salad to seafood) but they are known for making the burgers in the whole valley. By 3pm on any given weekend, there will be a huge line with people hoping to fuel up with a hearty burger after wine tasting all day.
My favorite thing to order here is their Kimichi Burger and Garlic Fries. If it's a hot summer day out, make sure to grab an ice cream cone on your way out!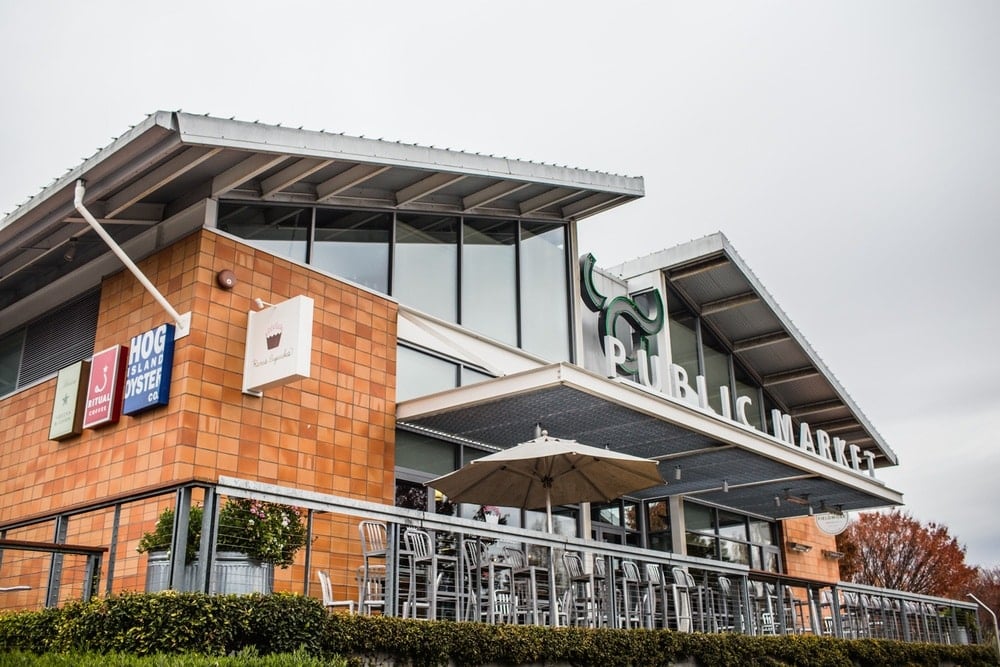 If you're craving fresh Thai, Mango On Main serves up tasty Bangkok style cuisine (but with a modern twist of course!) While everything on the menu is great, I recommend coming at lunch and ordering a noodle dish, aka the perfect thing to weigh you down in between wine tasting!
Holy moly, I don't think I've ever seen a taco so big!! Located inside Oxbow, C Casa makes what is probably the best tacos in the entire valley. I recommend you try a carnitas taco (there's just one per order but it's like they came up with a way to put 3 tacos into one, it was that large.) Also try the beef and chicken enchiladas, which were perfect for us to fuel up on in between tastings.
Miminashi is a Japanese Izakaya-style restaurant that is quickly making a name for itself in the Downtown Napa community. You can dine a la carte, but I recommend opting for the 5-course menu (which changes daily) to end your wine country trip with a bang!
Compline is a top local favorite spot to dine and drink at. It's a wine bar, restaurant and wine shop all rolled into one and thus has an amazing selection of wines to choose from. Sit outside on the patio for dinner (make sure to make reservations ahead of time!) and order the pork belly for a great dinner. Or, come for happy hour as Compline has a great snack menu (like duck fat fries!)
Probably my favorite thing to dine on after a long day traveling is a pizza and pasta. After a long day of rain and wine, we were craving some carbs so we popped over to Oenortri for dinner. In short, this place is AWESOME! And it's really popular, so make sure to do a reservation to ensure you can get a table.
We sat at the chef's table and watched the kitchen buzzing and the pizzas cooking in their wood fire oven (which made the whole place smell amazing, by the way.) Everything on the menu is great but I recommend you order pasta dishes. The noodles are made inhouse and they are pretty authentic to traditional Italian style.
What's Downtown Napa Nightlife Like?
Downtown Napa nightlife does get a bit sleepy, especially on weeknights, but all of wine country gets that way once it gets dark. Most nights there's live music at Blue Note if you want to seek out some last night jazz. But don't expect the downtown area to be bumping with rowdy bars until 2am (which is a good thing!!)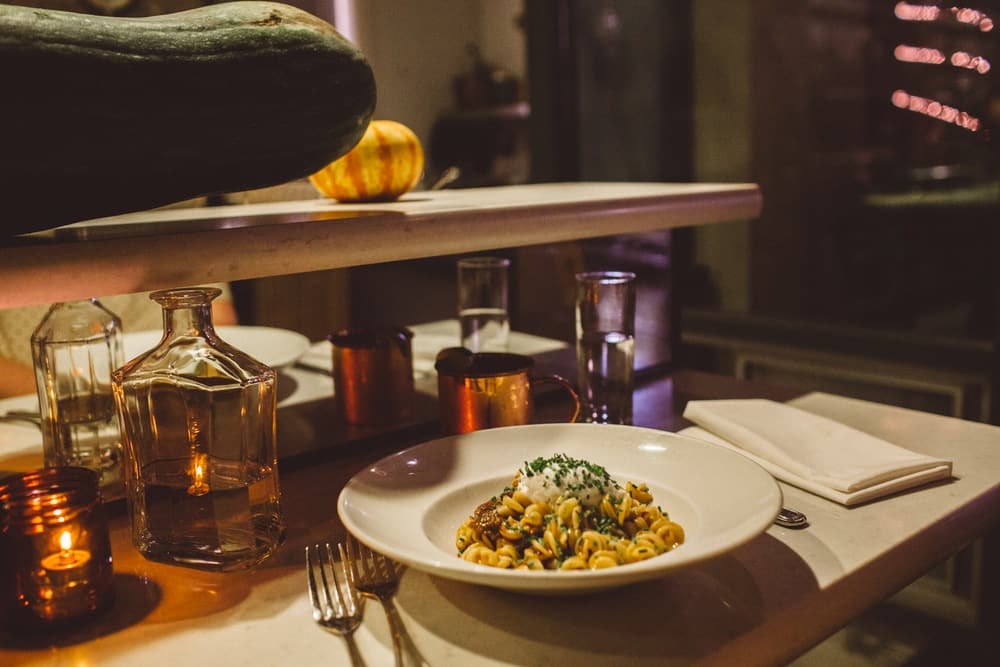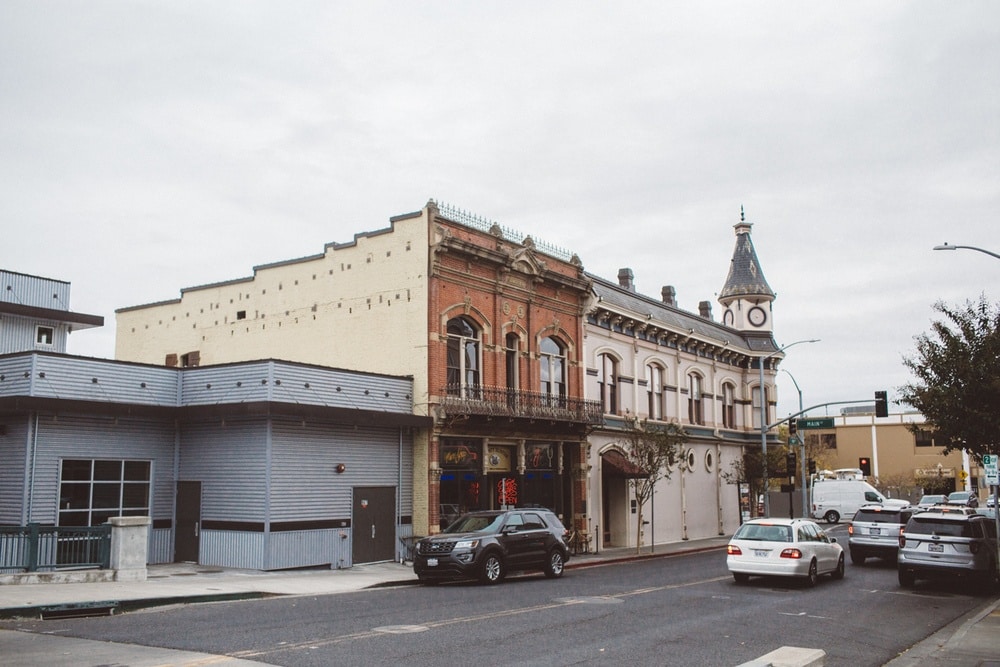 Fun Things To Do in Napa Valley (That's Not Wine Tasting Rooms)
Looking for what to do in Napa Valley that's not just wine tasting? The city of Napa has a lot of fun activities …
If you want to switch up the normal winery visit format, try the train! They do Napa wine tours around the valley, but from a train vs a packed shuttle bus. The train station is in Downtown Napa and where they pick up/drop off.
We took a ride on the Napa Valley Wine Train a couple of years ago and had a blast. It's a fun thing to do if you aren't familiar with the valley or the winemaking process, as the tour guide does a great job at giving guests the 101 on all things Napa. Read more about the train in this post!
If you need a break from wine, hit the river! Napa is right along a river which makes for the perfect spot to go kayaking The Napa River History Tour has rentals available and are focused on making sure people with all levels of experiences have a fun time kayaking the river.
If you're an early riser, you may spot a colorful hot air balloon gliding over the vineyards on your trip to Napa Valley. Well, why not ride one yourself? There's a few tour companies that offer hot air balloon rides over wine country. It's the perfect romantic way to kick off a fantastic trip to Downtown Napa!
Shopping
Downtown Napa is packed with cute local boutiques and shops! Whether you're looking for jewelry, local olive oil or souvenirs, you can probably find something fun here. I recommend popping into shops in between a tasting room crawl.
I LOVE public art and Downtown Napa has a great rotating art project called Napa Art Walk. You can visit this site to learn more about where each art piece is located and more about the artists! It's totally free and always open to view.
Strolling Downtown Napa
Wine tasting in downtown napa valley is easy because the city is so walkable But even if you aren't visiting these Napa wine tasting rooms, the city is still so pretty to walk around (maybe around to all that free public art?)
From the riverfront to downtown to Oxbow Public Market, strap on comfy shoes and take a stroll. PS: My favorite time of year to visit wine country is November when the foliage is POPPING! You'll be treated to so many pretty leaves!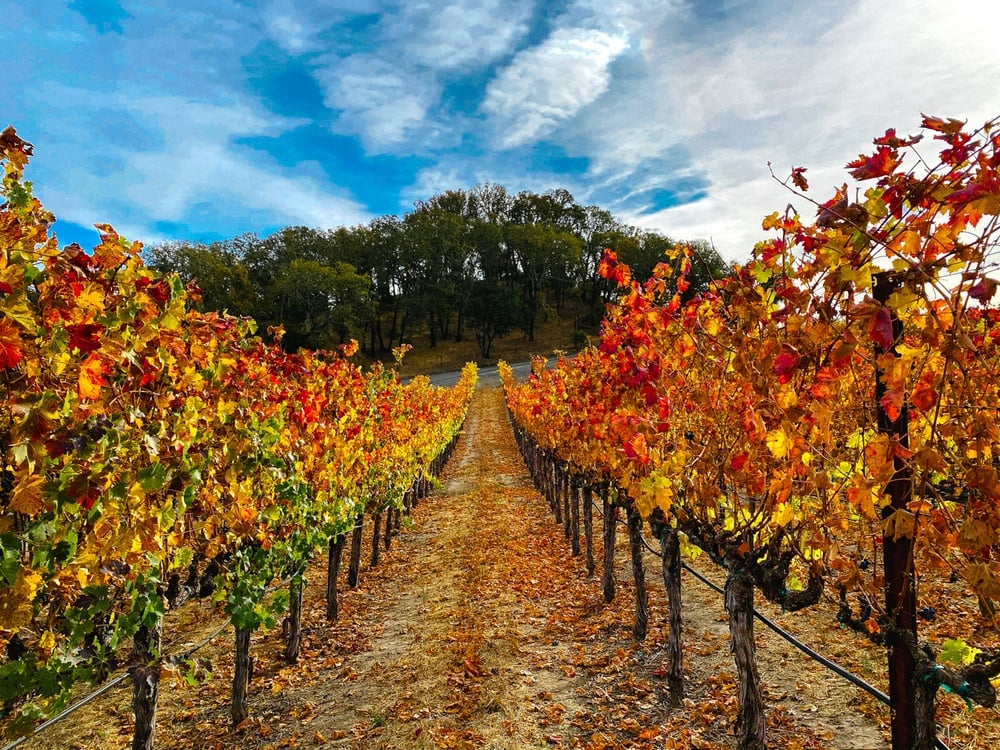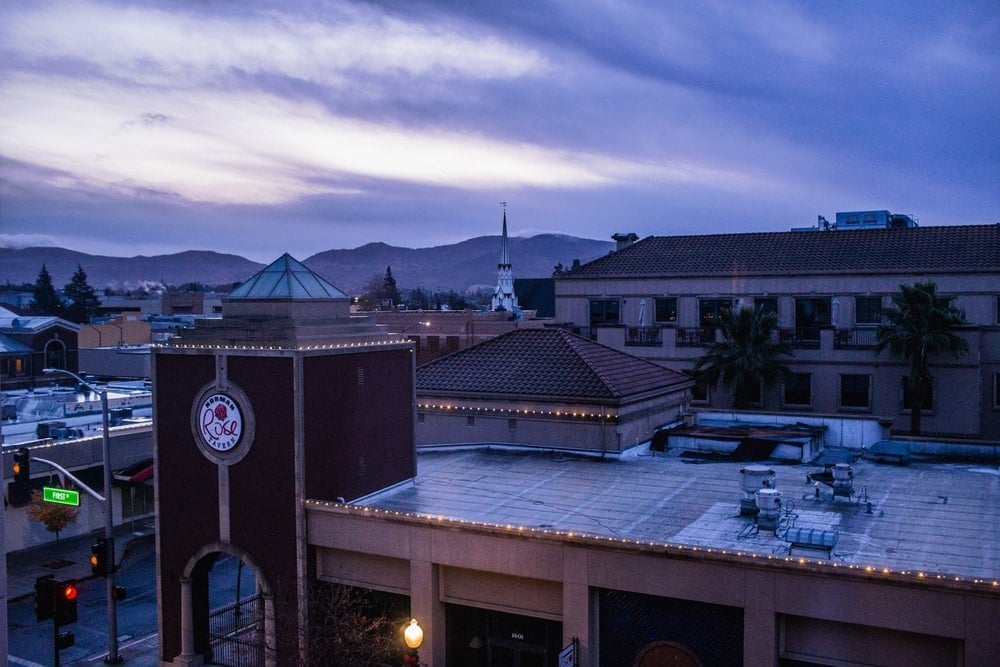 I hope this helps you plan an awesome trip to downtown Napa CA! If you have any more tips to add about Downtown Napa wine tastings, eats or other tips, leave a comment below! If you have questions, drop a comment or DM me on Instagram @thewhimsysoul and I'll help you out.
Other posts you may like to read: