Somehow, quietly, without me realizing it a couple of weeks ago, Whimsy Soul turned 7.
But let's rewind here. It was February 2015. Robin and I were fresh to San Francisco, utterly broke after moving across the country and super lonely. We left everyone we knew to move to a city I have never been to, with no job or apartment lined up. It was one of those things you can only do when you are young with that fierce stubbornness that everything will work out.
I remember sitting on our futon mattress on the floor of our apartment since we didn't yet have a bed frame. I don't think we had a couch yet at this point either? Defiantly not a TV, we couldn't afford on until halfway through the year. I was sitting on our futon mattress deciding if spending $14 on a domain name and hosting for Whimsy Soul would be worth it. We needed every penny after all.
Well, you guys know how it ended up. Best $14 invested ever! What wasn't a good investment? The time I spent making Whimsy Soul's first logo, which was an owl. Why an owl? What does that have to do with anything? I DON'T KNOW, I don't know what 2015 Kara was thinking but thankfully within a few months I ditched the owl and then a few years ago the blog got an even better makeover.
I remember one of the very first photoshoots I did for the blog was all about a pair of blue heels. Robin was a sweetheart and actually laid down on the sidewalk outside so he could take photos of my heels for Instagram. Guys, the bar was set really low back in the OG days of Instagram.
Still, I hustled and spent every evening after work and every weekend making content, chatting with you guys, writing but mostly, figuring out what exactly I wanted to even do with the blog. What did I want to say? What could my impact me on the world, where could being creative even take me?
Of course, I had wild, crazy dreams that my lil ole blog would amount to something but I truly never would have believed that 7 years later, I would be writing this post reflecting on how Whimsy Soul not only survived the years, but it's my full time job. And Robin's full-time job. And we have a small team of kick-ass women we get to work with each day.
I would have never believed Whimsy Soul would be featured in major publications like Business Insider, or we would get to work with brands like Starbucks or get flown across the globe on media trips to places like Germany or Portugal.
And it's all because of YOU.
Thank YOU For Being Part Of The Whimsy Soul Community
I truly believe the Whimsy Soul community is one of the best groups of folks out there. I love chatting with you each day but more importantly, I constantly feel like I learn just as much from you guys as you learn from me. You guys have steered me to secret cafes or hiking trails I never would have found, to cool products and brands, to awesome podcast recommendations and a hundred other things.
Again – thank YOU for being here and supporting Whimsy Soul. I have super big dreams of where to take this brand and I think I'm only now realizing that those dreams are actually possible. That with determination, hard work and amazing folks like you by my side, anything is possible.
Like, really scary things, too. Robin and I have been secretly working on a scary yet total dream project for like, 3 years now and it probably won't come to fruition for a while longer. I know, I know – we all hate that influencer who is like "shhh I'm working on top-secret things can't share right now!" but here is something I can share.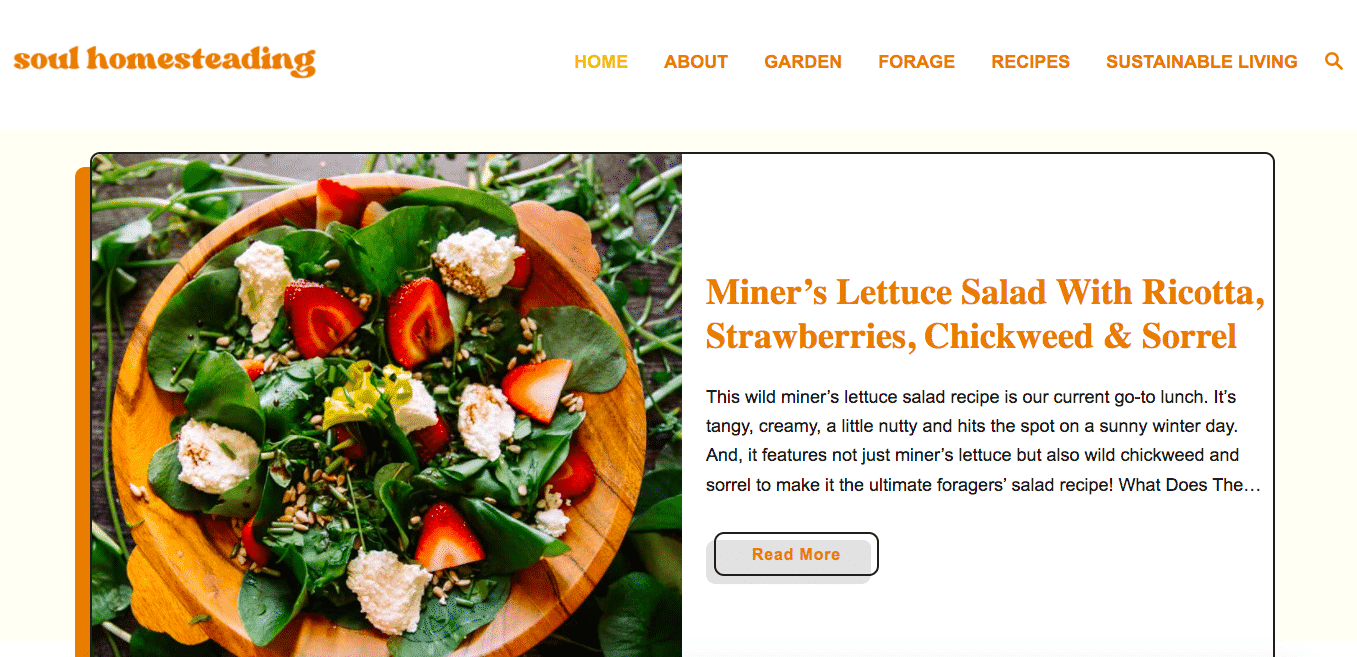 We Started A Second Blog!
We started a second blog! Soul Homesteading is all about re-wilding your life. Robin is taking the content lead here and he's been having so much fun documenting all his tasty recipes, apartment gardening, foraging and urban homesteading hobbies. It's a brand new baby blog, so if any of those topics sound interesting to you, I would love if you followed Soul Homesteading on Instagram and/or TikTok!
Like, we literally just started this last month and I've been holding off on sharing the news since I'm worried it's not ready for the world yet, but when are we ever ready for anything, really? Soul Homesteading is so young still, I totally expect it to change and morph just like Whimsy Soul. Not to rip off The Bachelor, but Robin and I are both really excited for that journey.
We're Also Hiring!
And, for our second big update: we're hiring again! Last year we hired on 4 amazing Whimsy Writers and now we're not only looking for more voices to add to the blog, but we're hiring some other roles, too. Check out our job page here if you or someone you know are interested in working with us.
Year 7 is gonna be a good one, I can tell.