One of my favorite parts about living in San Francisco is the proximity to Napa Valley. I'm lucky enough to go wine tasting in this world-famous wine region every couple of months. Four year's worth of winery visits have all been leading up to this one blog post: a guide to the best Silverado Trail wineries!
Keep on reading for the ultimate list of the best Silverado Trail wine tasting experiences, along with my recommendations for where to eat, my favorite area hotels, other fun things to do on your weekend to the valley and some important tips for wine tasting that will come in handy. Consider your planning done for you.
>> Got a question about the Silverado Trail that you need answered quickly? DM me on Instagram @thewhimsysoul and I'll be happy to help!
Silverado Trail is probably the most famous road in Napa Valley. Built in 1852, this 29-mile road connects Napa and Calistoga, basically the South and North end of Napa Valley. It's an incredibly scenic road that houses some of the top wineries in Napa, along with endless rolling hills of vineyards, mountain views and so much more.
In short: it's everything you pictured Napa valley wine tasting to be & thus makes a great bucket list destination to visit.
*If I have a little star next to the name of the winery, that means I have been here personally. All other recommendations were made to me by my other friends who have visited themselves. This is a 100% local's guide to the best wine tasting in Napa along the Silverado Trail!
7 Best Silverado Trail Wineries
Pro tip: it's hard to visit more than 3 tasting rooms in a day. This is mostly due to the fact you are drinking wine and more than 3 usually leaves people drunk. Wine tasting in Napa Valley isn't a quick activity, it's one you do to unwind. So, I recommend you visit the ones that catch your eye on this list. Make sure they either have the ambiance you are looking for or specific wine varietals you like, then pick 3 to visit. Alright, let's go!
Location:
4240 Silverado Trail,
Appointment
: Reserve online
here
Price:
Starting at $48
Attributes:
I could have sworn I was in Persia or ancient Rome during our visit to Darioush. The display of magnetic pillars out front are utterly unique to Napa Valley. We arrived a tad early and were handed a glass of Viognier while we wandered the tasting room and waited for our tour.
We did their olive oil pairing and tasting which was equally informative as it was tasty (the best of both worlds!) On this tour, you walk the grounds while learning about the history of olive oil, then you learn how to properly taste olive oil over small bites and wine. I personally adored their Pinot Noir here, while my husband's favorite was their cabernet sauvignon.
Not too many wineries in Napa Valley also offer olive oil tastings, so this makes a unique visit and a good way to break up a long weekend of wine-only visits! Plus, I left knowing so much about olive oil, I dare say I'm a bit of an oil snob now (in a good way!) I now know how to identify high quality vs low-quality olive oils at home. Learning a new skill on vacation = a win in my book!
>> Looking for FREE wine tasting? Consider purchasing THIS wine pass to get discounted or free tastings!
Location: 4089 Silverado Trail
Appointment: Takes walk-ins (under 8 people)
Price: Starting at $25
Attributes: Known for this iconic black stallion horse statue out front, this tasting room offers the old school style of a standing bar tasting along with a picnic area. Come here for a picnic lunch wine tasting experience to fuel up while enjoying the vineyards. Not every winery in the area has a picnic spot, which makes Black Stallion stand out among the rest.
Location
: 5766 Silverado Trail
Appointment
: Takes walk-ins (reserve online
here
)
Price
: Starting at $45
Attributes
: Not to be confused with Stags' Leap Winery, Stag's Leap Wine Cellars is one of the OG wineries in Napa Valley. Their tasting room is right up against acres of vineyards that trail off into the Stags Leap Mountains (hence the name of the region!) They have a gorgeous patio that commands attention to the view, along with huge windows in their indoor tasting bar so you can still gaze out on the vines.
We did their Fire & Water Tour And Tasting which I highly recommend! It's at 10:30am daily (though reservations are required for this tour.) It makes the perfect way to start the trip. We walked in and were immediately handed a cool glass of sauvignon blanc and lounged on the patio before our tour started. Then, a walk around the wine cave (the best and biggest one I've visited in the valley so far) before a seated food pairing.
This isn't your average food pairing, either. Our bites were things like Mimolette cheese with pistachio bark and milk chocolate beet torte with beet mascarpone. Chef Travis Westrope delivers a unique menu you can't find anywhere else in the valley. If you're a foodie and wine lover (probably are because you're heading to Napa Valley!) this is a must-do tasting.
Naming History: Why is there a Stags' Leap Winery AND a Stag's Leap Wine Cellars? They were both built around the same time and since they are both in the Stags Leap district, they both named their wineries similar names. There was a whole lawsuit back in the day and a judge decided to move the apostrophe from one winery to "avoid confusion" and still allow name rights reserved to each winery with a form of 'Stags Leap; in the title. I still think it's confusing but also that it's a funny story! Just keep in mind, when you visit Stag's Leap Wine Cellars, triple check you're visiting the correct Stag's Leap!
Location:
8445 Silverado Trail
Appointment
: Appointments (reserve online
here
)
Price
: Starting at $28
Attributes
: Come to Mumm Napa for sparkling wines (aka champagne!) Sparkling Wine is made in a very different way than standard wine, plus it has an interesting history. If you have never done a sparkling winery tour before, I think Mumm does an excellent job at bringing guests through the process of sparkling winemaking in a fun yet informative way (and yes, you get to drink wine on the tour!
I suggest coming here for a winery tour and then grabbing a tasting flight or an extra glass on their patio. The grounds feel a lot like California farmhouse chic – think lots of trees and rustic chic corners. You may even spot their winery cat dodging between hedges.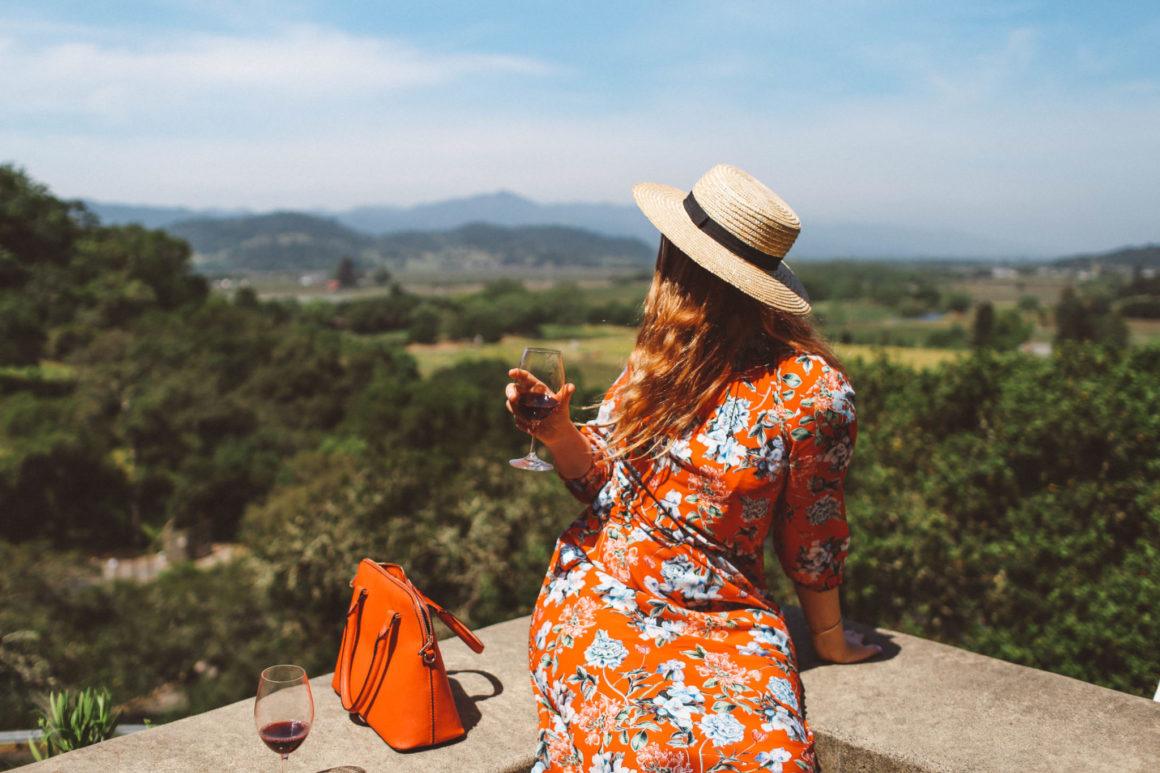 Location
: 1000 Lodi Ln, St Helena
Appointment
: Reserve online
here
Price
: Starting at $50
Attributes
: This is the Disney winery! No official affiliation, but Disney's daughter founded the winery and the halls are basically a mini art museum paying homage to Walt Disney and that vintage era. If you love Disney, come here. On top of the artwork, I thought the view from the patio here is fantastic (it sits on a hillside and overlooks the valley!)
Location
: 1000 Lodi Ln, St Helena
Appointment
: Reserve online
here
Price
: Starting at $40
Attributes
: We haven't visited personally, but have been told again and again how well Duckorn Winery makes Merlot wines. Apparently, they are one of the best Merlot winemakers in the valley!
I think Duckhorn would make a nice shorter stop where you split a flight between you and a friend so you can try the Merlots for yourself. Make this your last stop of the day before heading to your resort and spa, or add it on as a 4th stop.
Location
: 4060 Silverado Trail N
Appointment
: Reserve online
here
Price
: Starting at $60
Attributes
: Perhaps saving the best for last on this list, Davis Estates is one of those wine tasting experiences I think about again and again. The tasting room sits on a hillside with rows of vineyards out front. It's one of those places that makes you go "ooohh" when you drive past.
My husband and I did their Historic Tour & Tasting and happened to be the only ones in the group, so it was incredibly intimate (a bonus of going wine tasting in the middle of the week, accidental private tours happen frequently!) This tour consisted of walking all over the grounds and into the wine cave before a seated food and wine pairing in their library right next to the patio. I found the food pairings to be more like an actual meal here, unlike many others that are small bites. I still dream about that soup we had…
Also, the view is so dang stunning from the Davis Estates patio – we could see Sterling Vineyards and Castello di Amorosa (the castle winery), that's how high the view is! If you're coming north to Calistoga, make sure to reserve a tasting here, you won't regret it.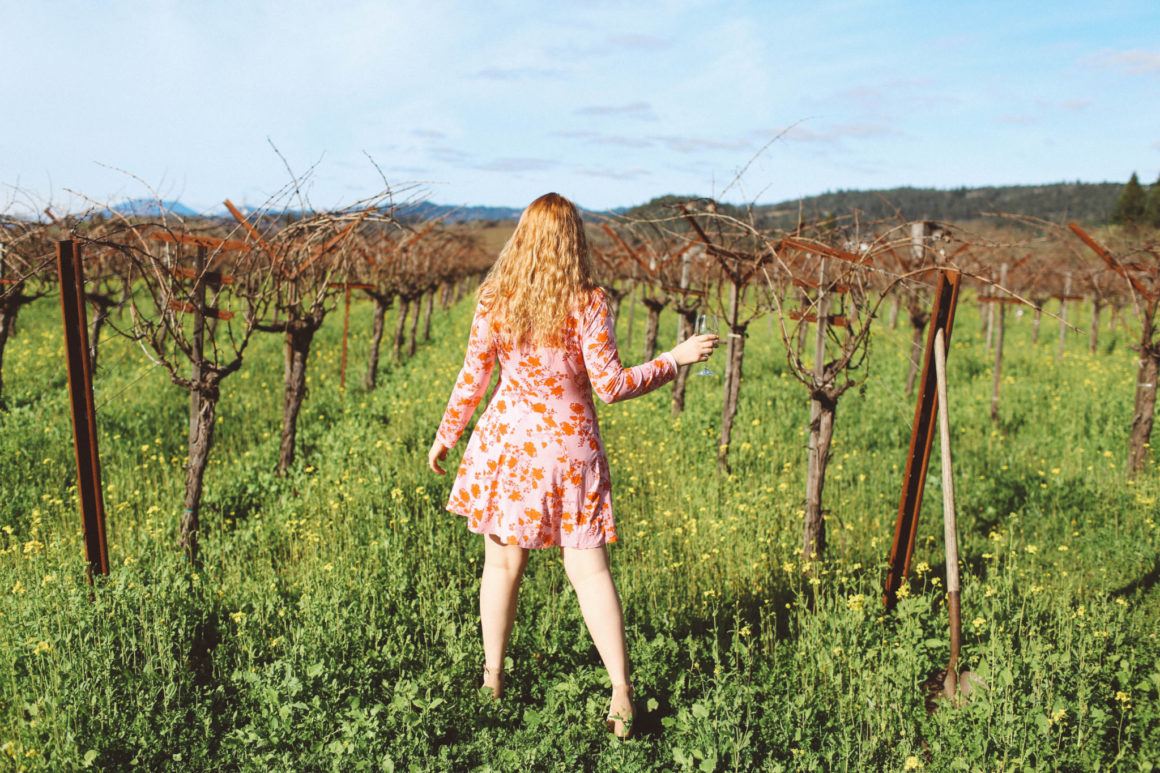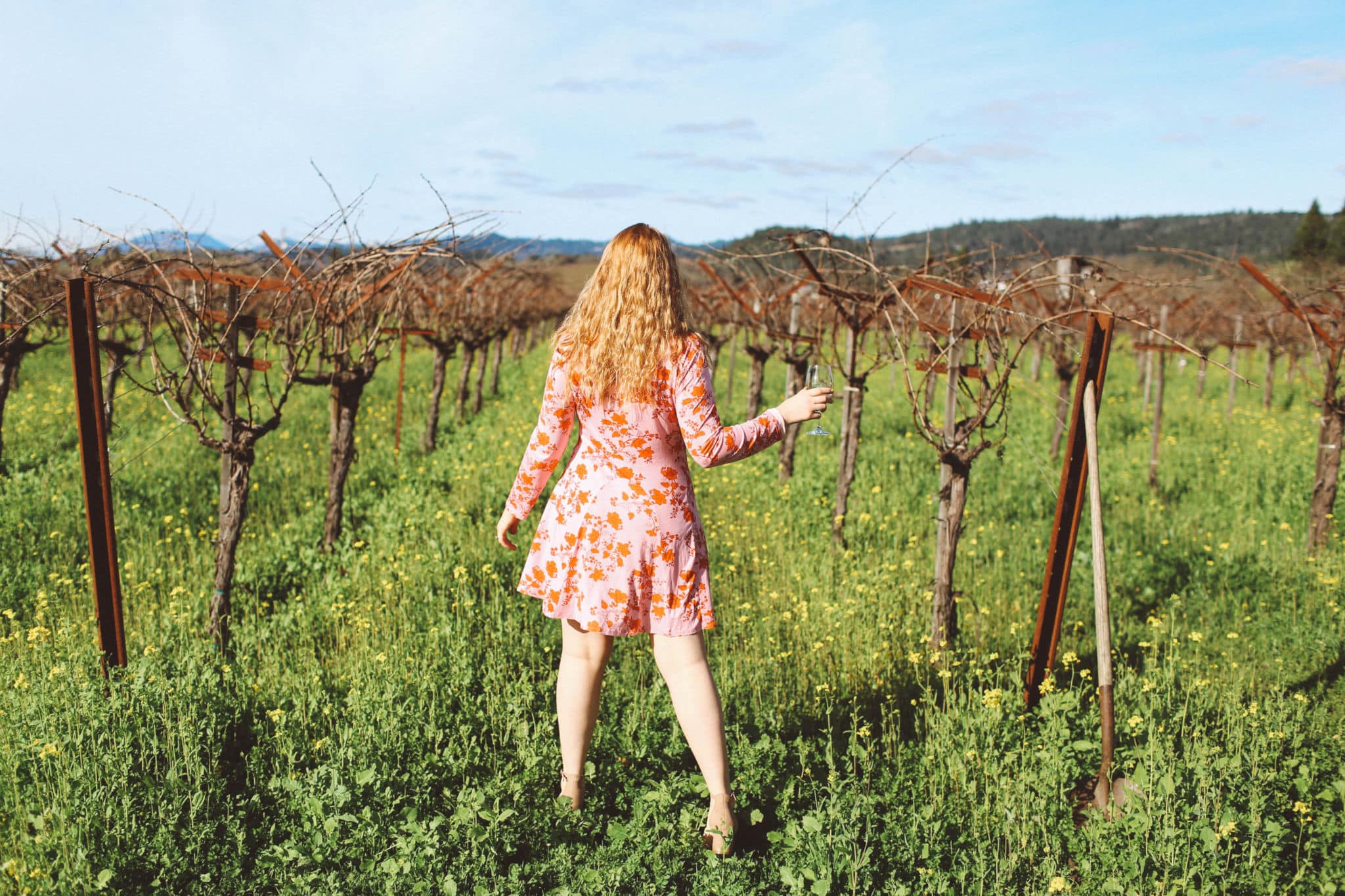 Other Silverado Trail Wineries
These are on my list to still visit! I haven't visited personally and don't know anyone who has to ask about a first-hand account, but I did want to list them in case you were interested in visiting one of these tasting rooms.
Top Hotels Near Silverado Trail
Unless you live in San Francisco and can easily pop back down to your home, you'll probably want to spend the night in Napa Valley. There are so many fantastic hotels here and I personally love coming off of a day wine tasting and parking myself by the pool until dinner time. Here are my favorite hotels near the Silverado Trail (personally stayed at each one before!)
Location
: Calistoga
Price
: $390-900/night (
book best deal here
)
Attributes
: A sprawling luxury hotel on the outskirts of Calistoga literally right on the Silverado Trail. Guests rooms are on the form of individual bungalows for maximum space and privacy. They have an onsite spa with mineral waters and an Olympic size swimming pool. Read my full review
here
.
Location: Calistoga
Price: ~$395 /night (book here)
Attributes: I would move into one of these bungalows if I could! They're spacious and the decor is chic with a hint of whimsy (just my style.) They're just a few blocks from downtown Calistoga so you can walk pretty much anywhere in town. There are three bungalows available, so they are a good option for large groups to travel together while still finding privacy. Read my full review here.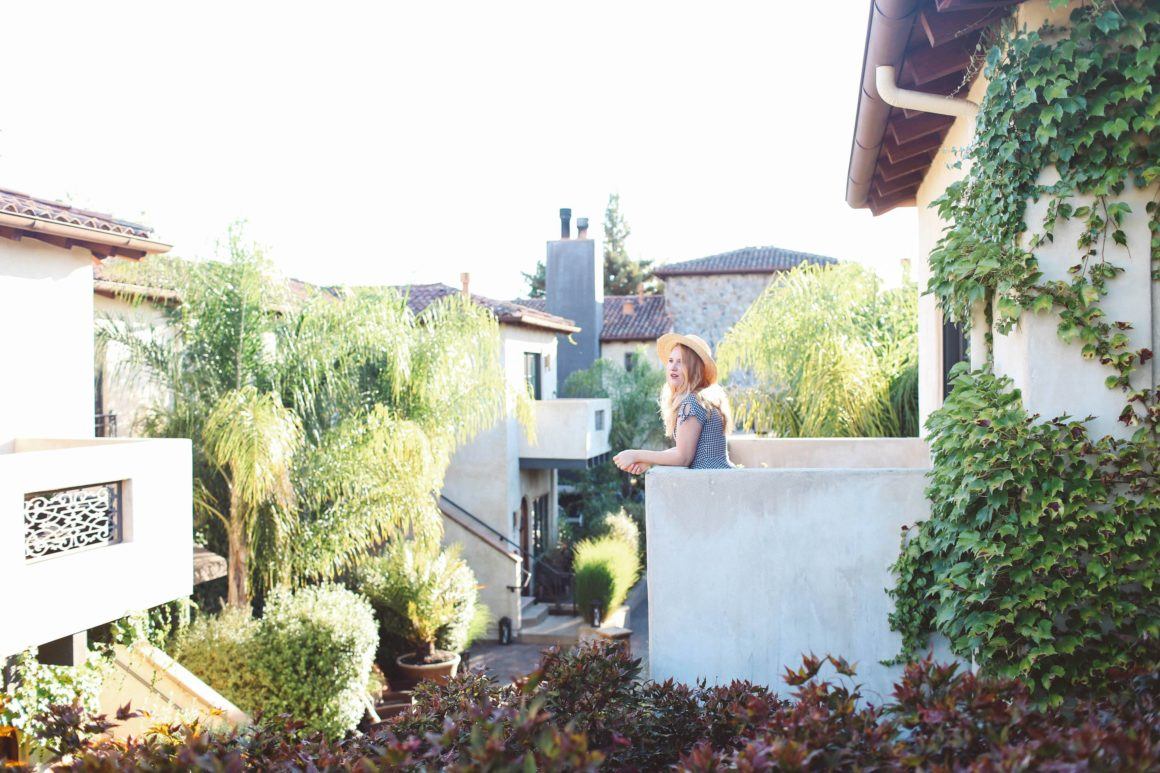 *North Block Hotel
Location: Yountville
Price: $300-$500 (book best deal here)
Attributes: This hotel feels a bit like you walked into a Tuscon village. It's not a sprawling resort, but you also don't feel like you just steps away from some of Yountville's best (which you are!) I checked in early here one day and spent the whole afternoon by their pool soaking up the sunshine before grabbing dinner their onsite restaurant with a friend. Read my full review here.
Location: Varies
Price: Varies
Attributes: Going wine tasting with a group? Renting a whole house is usually the best option. We love renting Airbnbs when we travel with groups of friends, especially because the split between groups, it's usually cheaper than a hotel! Luckily, there are some really fantastic Airbnbs near the Silverado Trail. Find the full list here.
PS – use THIS LINK to get $40 off your Airbnb stay!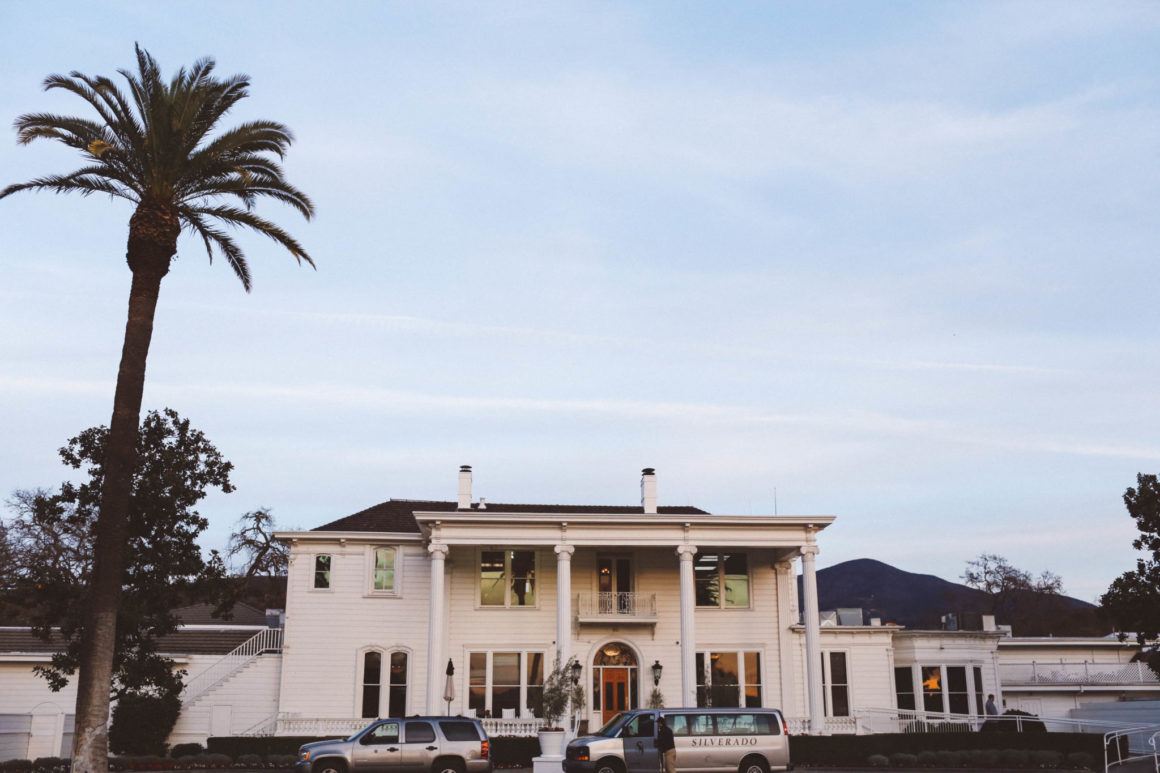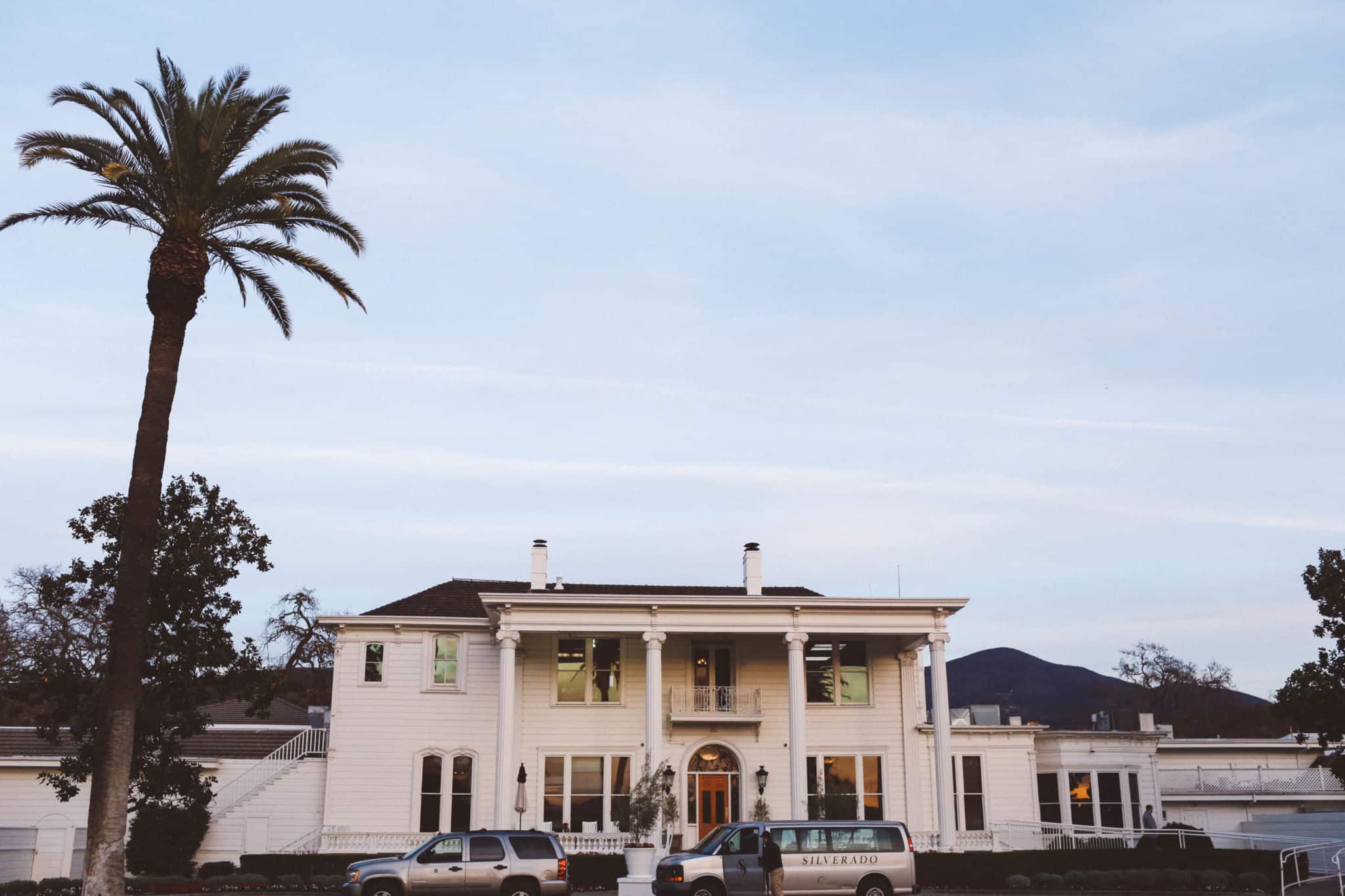 My husband and I spent a night here a couple of winters ago but I wasn't very impressed by our stay. I did want to call them out because I wouldn't want my readers to have the same trouble we did. There were a handful of issues, but the biggest one was that the heat in our room was totally broken.
It was winter and 50 degrees outside but our room was even colder. Despite multiple calls to the front desk and even an in-person visit, nobody came to fix the heater for hours. We ended up having to build a fire in the room's fireplace to stay warm (literally, matches and all.) I personally think you can find resorts in the area that are similar prices but offer way better service. Just my two sense and warning if you are thinking of booking here.
>>> More
Find other Napa Valley Silverado Trail hotels here
Looking for doing Napa on a budget? Read this post for tips
Consider visiting the valley during winter aka off-season for discounted hotel prices
Where To Eat Near The Silverado Trail
Oxbow Market: The famous indoor market in Napa. Find anything from oysters, beer, pizza, cheese and more here.
Gotts Roadside: Next door to Oxbow is the local burger restaurant! They make gourmet burgers that are out of this world. Try their Kimichi Burger for an entirely new take on this American classic.
Oakville Grocery: The best band for your buck in the whole valley. I love their sandwchies (breakfast and lunch varieties!) plus you can also pick up some cheeses and other snacks here.
Long Meadow Ranch: Probably one of my favorite places to eat in the whole valley. LMR's restaurant is Famrhose Meets Napa Chic and I've never had a bad meal. With outdoor and indoor seating, plus monthly special events, there's always a party happening over here. Pro tip: use Yelp to check-in and earn yourself a free appetizer!
What To Pack & Wear Wine Tasting
The winters are cold but the summers are hot. Check the weather before you go, but no matter what season I go wine tasting in, I always make sure to pack and wear certain things. Some staples are:
flat shoes as standing all day in heels while drinking wine is never a good idea
a dress I can spill wine on and not be totally upset
a tide pen for said possible wine spills
a straw hat, because #theycuteashell
sunglasses
A cross-body purse so I can be hands-free to hold wine

General Wine Tasting Tips – Know Before You Go!
Napa Valley is pretty large. There's no way you can visit all the towns in one day or even one weekend. It encompasses:
Napa
Oakville
St. Helena
Yountville
Rutherford
Calistoga
I suggest picking a town or two and sticking to them. Or, picking a trail like Silverado and sticking just to that road. Come back again to explore other areas! Here's more tips…
No More Than 3 Tastings A Day: You'll be too drunk to do four, I promise. Consider breaking up wine tastings with spa visits, hikes or bike rides.
Bring Lots Of Water & Snacks: Make sure to bring a LOT of water and keep it in your car to drink between tastings (stay hydrated and sober!) I also suggest bringing a loaf of bread, nuts and some cheese. You'll be surprised by how quickly you get tipsy wine tasting.
Don't Speed: There are always cops patrolling wine country and you don't want to get a DUI AND a speeding ticket. On that note, make sure you have a designated driver.
Watch For Bikers: Silverado trail biking is really popular (we did it once and I was terrified that I would be hit by a car.) Make sure to give them room, go around turns slowly and be safe!
Ask Questions: Ask your sommelier tons of questions. They'll be happy to answer anything you're itching to know and this will help you learn a lot about wine tasting.
Being Polite Can Get You More Wine: Seriously. The nicer you are, the higher the chance that your Sommelier will pour you extra tastings on the house.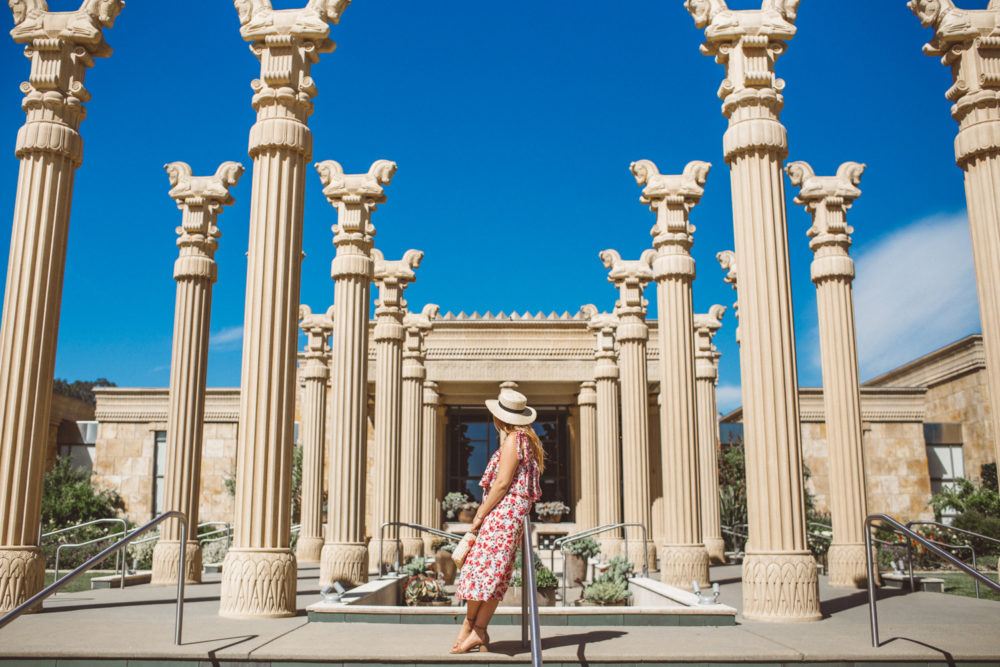 I hope this helps you pick which wineries to visit in napa's Silverado Trail. This napa wine trail is world-famous and makes an extremely fun (and relaxing!) weekend. If you have any tips to add, reviews or questions, leave a comment below! You can also DM me questions on Instagram @thewhimsysoul.
Other Posts You May Like
72 Hour Guide to Calistoga
The Best Napa Valley Wineries + Hotels On A Budget
Romantic Napa Wineries for Valentine's Day
Review of the Napa Valley Wine Train (Is it Worth It?)
Ultimate San Francisco Travel Guide
What To Pack & Wear In San Francisco At Each Season