If you follow me on Instagram you know that my newest hobby is kayaking in Sausalito.
One positive thing that has come from the shit show that is 2020 was a lot of time for self-reflection and one of my activities was really digging deep into what makes me happy. And one of my "buckets" is outdoor time but specifically, kayaking. Every time I got on a trip and get to paddle, it's usually my favorite memory.
I talked myself out of impulse buying a $1600 foldable kayak and instead found a local place to rent kayaks. I've been getting so many questions from you guys so in this post I'll be sharing more about my kayaking experience, answering common questions and giving tips for paddling!
Where I Go Kayaking In The San Francisco Bay Area
I have a membership at SeaTreak in Sausalito. They're incredibly nice, have SUP & kayak rentals by the hours, the memberships are affordable ($65 per month) and it's always been quick to get on the water. They do have lessons for people that want to learn skills and they allow kids on the water, too.
SeaTrek offers full moon paddle tours that I'm eager to try and do a lot of other fun group paddles like a book club and trips to Angel Island. Definitely am happy I picked this company to start getting back into kayaking and highly recommend you check them out if you want to try your hand at kayaking in the Bay Area.
Is It Safe To Kayak In San Francisco Bay Waters?
It's not advisable to go kayaking in San Francisco bay waters unless you are an advanced kayaker or with a group. That's because the waters can be super choppy and there are a LOT of boats in these open waters, including fast-moving sailboats, cruise ships and other large AF cargo ships. I even once saw a whale out there while on a cruise, I don't want that when I'm in a kayak!
It sounds super romantic to kayak under the Golden Gate Bridge, but I personally wouldn't do that unless I'm with an experienced guide who knows the waters and boat lanes better. I love kayaking in Sausalito instead.
The water is calm in Richardson Bay and is very similar to kayaking on a lake. There's also a lot of wildlife over there and I always get to see sea lions and birds. Kayaking in Sausalito means you get all those stunning city views without the boats, rough waters, wind and whale danger.
Follower Questions About Kayaking
I asked ya on Instagram what specific questions you had for me about kayaking in general + kayaking in the Bay Area. Leggo!
What's the weight limit? A single kayak can usually hold up to 350 pounds, though weight will vary based on the model.
Can my dog join me? Yes! SeaTreak allows you to take your small with you. I'm not sure the exact weight limit but anything under 15-20 pounds (and well trained, of course) should be fine for you to sit in your lap area as you paddle.
Is it kid-friendly? Yup! Everyone, including adults, have to watch a safety video and wear a lifejacket while paddling. Richardson Bay is pretty chill and safe for children to get out on the water in a tandem kayak.
How wet will you get? This totally depends on how skilled you are at paddling and how rough of waters you go in. Usually, just my feet and calves area will get soaked, and some droplets will spray on my upper body. But the other day I was paddling near larger boats and the wake of one was HUGE. I got totally soaked chest down.
Is it expensive to rent a kayak? Nope! At SeaTrek it's $25 an hour. You can also bulk buy your hours for $15 an hour. If you think you are going to be going on a long (2.5-3 hours) paddle or want to come more than once in a month, just get the monthly membership which starts at $65 a month.
What do I wear while kayaking? Scroll below – I list out my current favorite kayaking gear and outfits!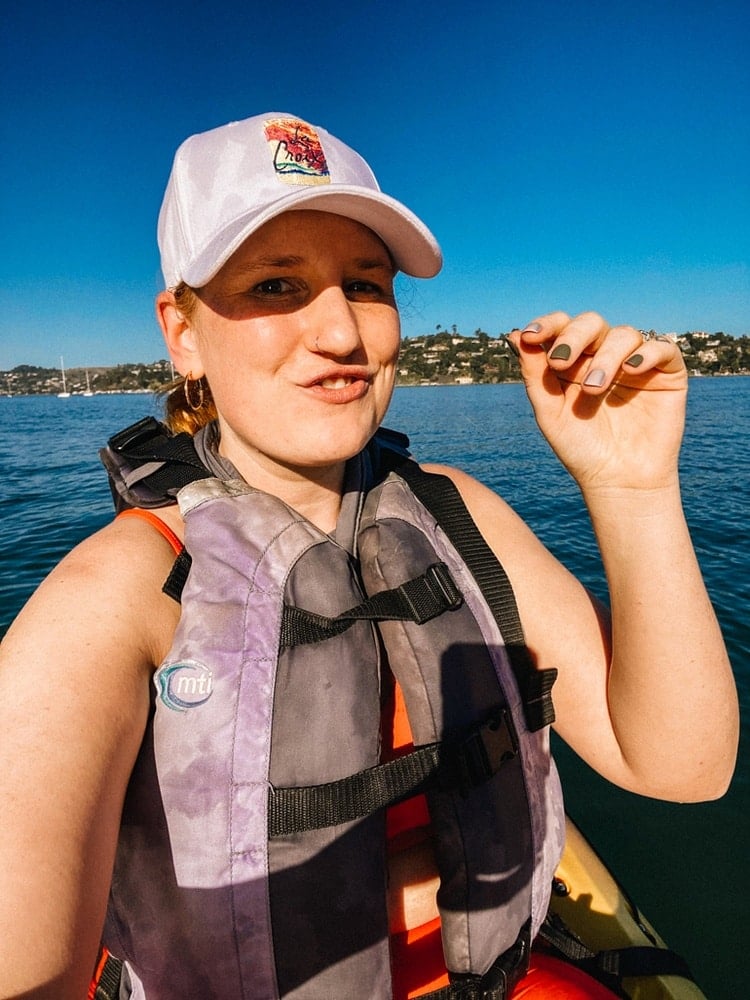 My Favorite Kayaking Gear & Outfits
This is what I wear and bring when I go kayaking in Northern California! I wear more or fewer layers depending on the destination. (For instance, while up in Oakhurst / Bass Lake, it was winter so I also wore warm boots, a sweater and beanie.)
What about shoes? I go kayaking barefoot most days! I did wear a pair of old tennis shoes on my first paddle out, but they were soaked thoroughly and took DAYS to dry out. And I find I don't really need them. The weather is mild-warm in Sausalito so even though the Bay Waters are cold, I'm never uncomfortable barefoot.
Other Kayaking San Francisco Bay Area Spots To Check Out
I haven't paddled at these locations yet but some of them are on my California travel bucket list.
McCovey Cove in San Francisco: There aren't a lot of Bay Area kayak launch sites/tour companies I could find that are close enough to my apartment to frequent. This was the other popular one I found which is located near AT&T Park in San Francisco. It's hard to park over here so opted against it, but if you want to paddle near the Bay Bridge, this spot is for you.
Tomales Bay / Point Reyes National Seashore: Aka Ireland in California. Here, Blue Waters Kayaking offers bioluminescence kayak tours!! That's when organisms in the water GLOW. Magical. Totally on my bucket list.
Monterey Bay: Elkhorn Slough / Moss Landing is a popular spot to go kayaking in the Monterey / Carmel area.
Mendocino: I did a guided sea paddle here a while back and it was really fun, we got to go through some sea caves! I would only attempt this with a guided tour, though, as the waters can be rough here.
Russian River / Guerneville: Usually people opt to day drink on a float but the Russian River is also a popular place to go kayaking. Make a whole weekend trip out of it (stay at the Boon Hotel, kayak, then wine tasting!)
Half Moon Bay: You can kayak around the Half Moon Bay harbor and over to Maverick's Beach (a famous surfer's beach).
Santa Cruz Wharf: Santa Cruz has tons of inlets and more mild bay waters. You can rent kayaks directly on the wharf or at other local shops in town.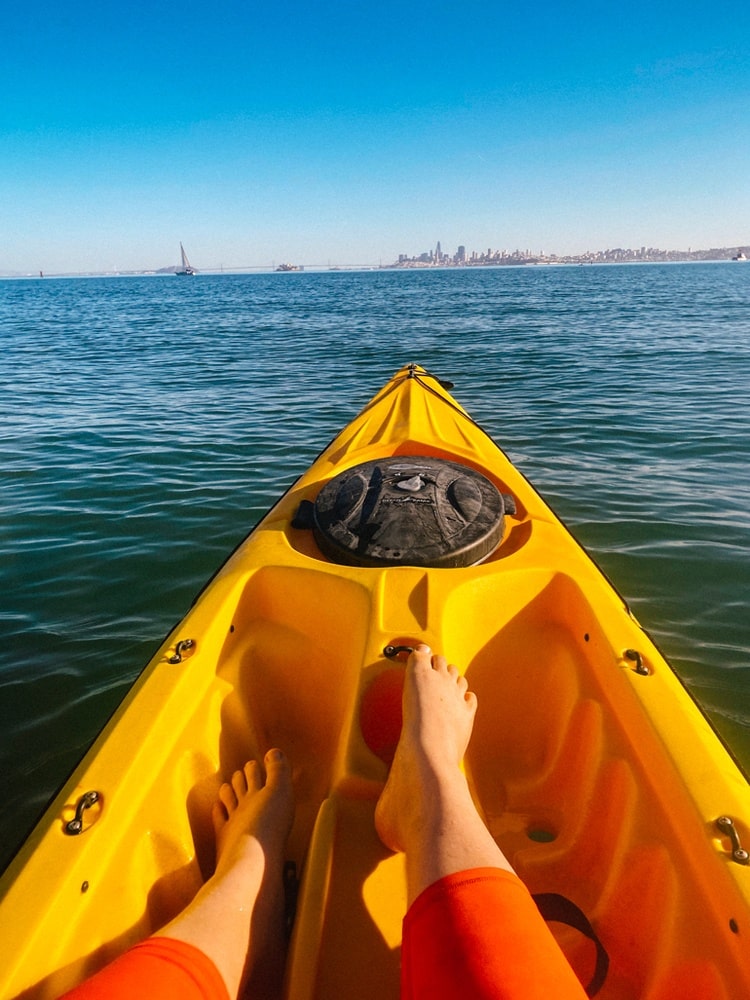 I hope this inspires you to get out on the water and go kayaking, wheter it's in San Francisco or somewhere near your home! Other than just being really fun for me, I've been loving the upper body and shoulder workout. Hunched over the computer on the couch all day = chronic shoulder pain for me. Kayaking helps that a lot.
Got questions? Drop a comment below or DM me on Instagram @thewhimsysoul and I'll be happy to help.