I love Wisconsin. My husband and I grew up in the Madison, WI area but moved to San Francisco in 2014. Wisconsin is a highly underrated state and I love telling people about why they need to put the Dairy State on their bucket list! There are so many great cities to visit in Wisconsin, but Eau Claire is one of the best.
This is my Eau Claire Tavel guide to help you have a perfect trip: all the best things to do in Eau Claire, the best hotels, the most unique restaurants, our favorite breweries, top hiking trails and more.
(Eau claire pronunciation is like "oohh" "Claire")
My aunt and uncle live in the countryside outside of Eau Claire city limits, so while I grew up going to Eau Claire a few times year, I have never actually been into downtown. (We always stayed at their place during visits.) It was so fun visiting this Chippewa Valley because we saw the city through the eyes of a tourist, even though we were familiar with the area. After traveling all over the world as travel bloggers, we were finally visiting and writing about our home state. Yippie!!
*A star means we did this thing, stayed here, ate here, etc. Basically, it means we put our personal stamp of approval on it!
Got any questions? DM me on Instagram @thewhimsysoul and I'll be happy to help!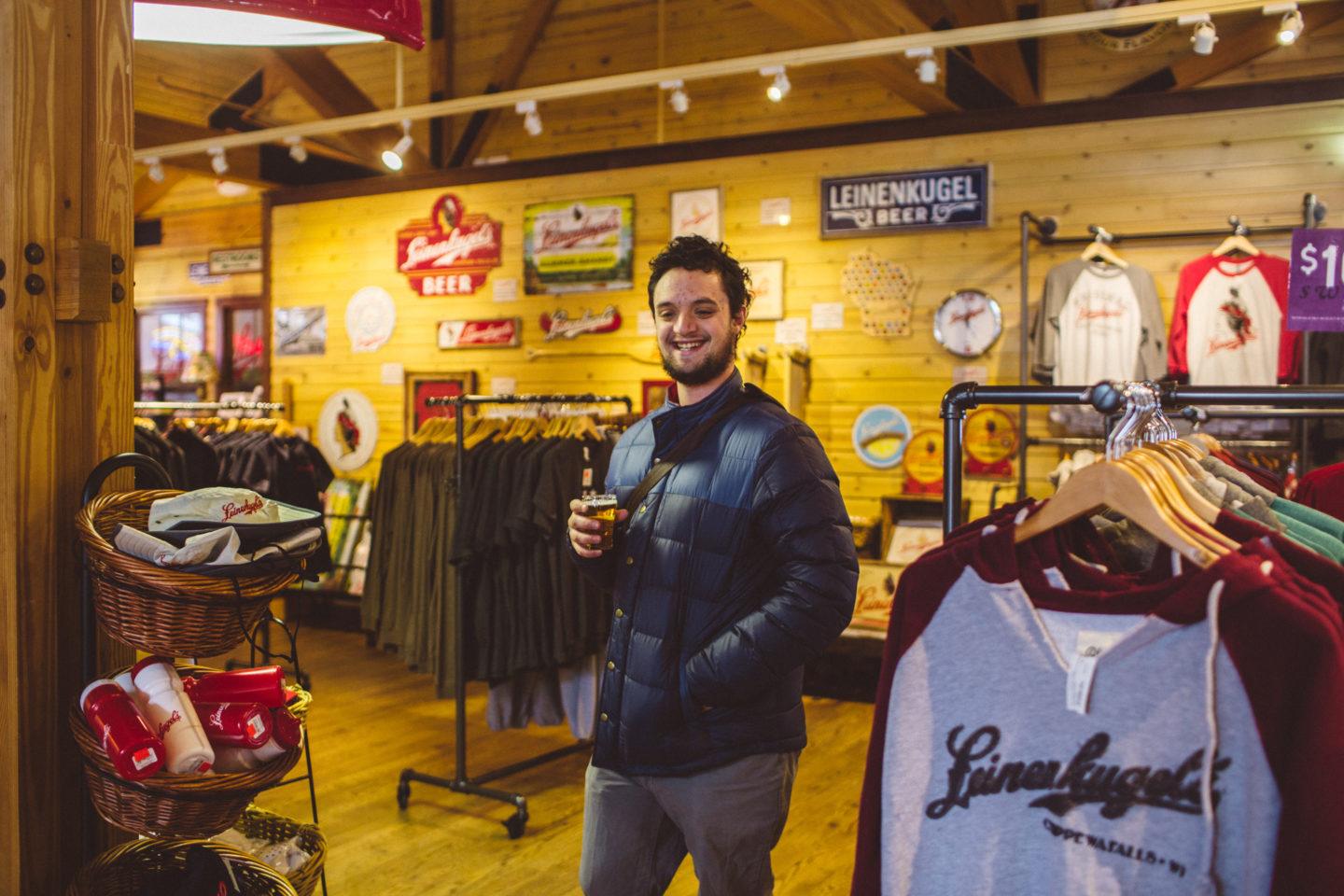 ISN'T WISCONSIN, LIKE, BORING?
Lolololol – no. What I realized after moving to California is that most Americans outside of the upper Midwest know very little about Wisconsin.
"Is it all cows?"
"Doesn't it snow there year-round?"
"Isn't Wisconsin like, Boring?"
Here's my quick elevator pitch on why you should visit Wisconsin in general. While some areas are flat and yes, there are a lot of dairy farms, Wisconsin has countless rolling hills and interesting natural gems to explore. Some of the state is in the "driftless area" aka, where the giant glaciers that flatten out North America stopped. They didn't flatten out many areas and they also melted here, meaning they brought along a ton of rocks and elements that turned Wisconsin into a natural playground, not like, the endless flat fields of Iowa (Sorry Iowa.)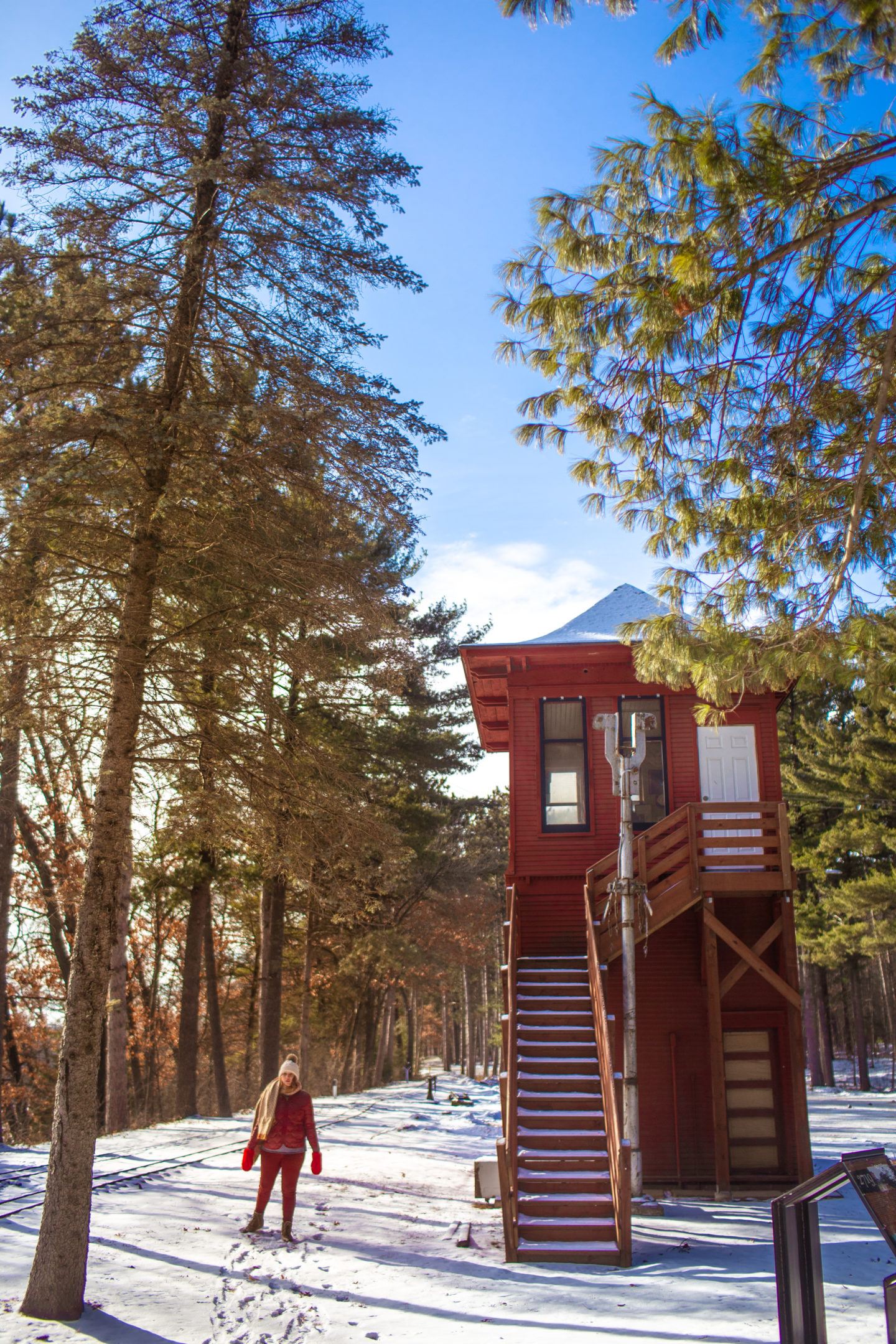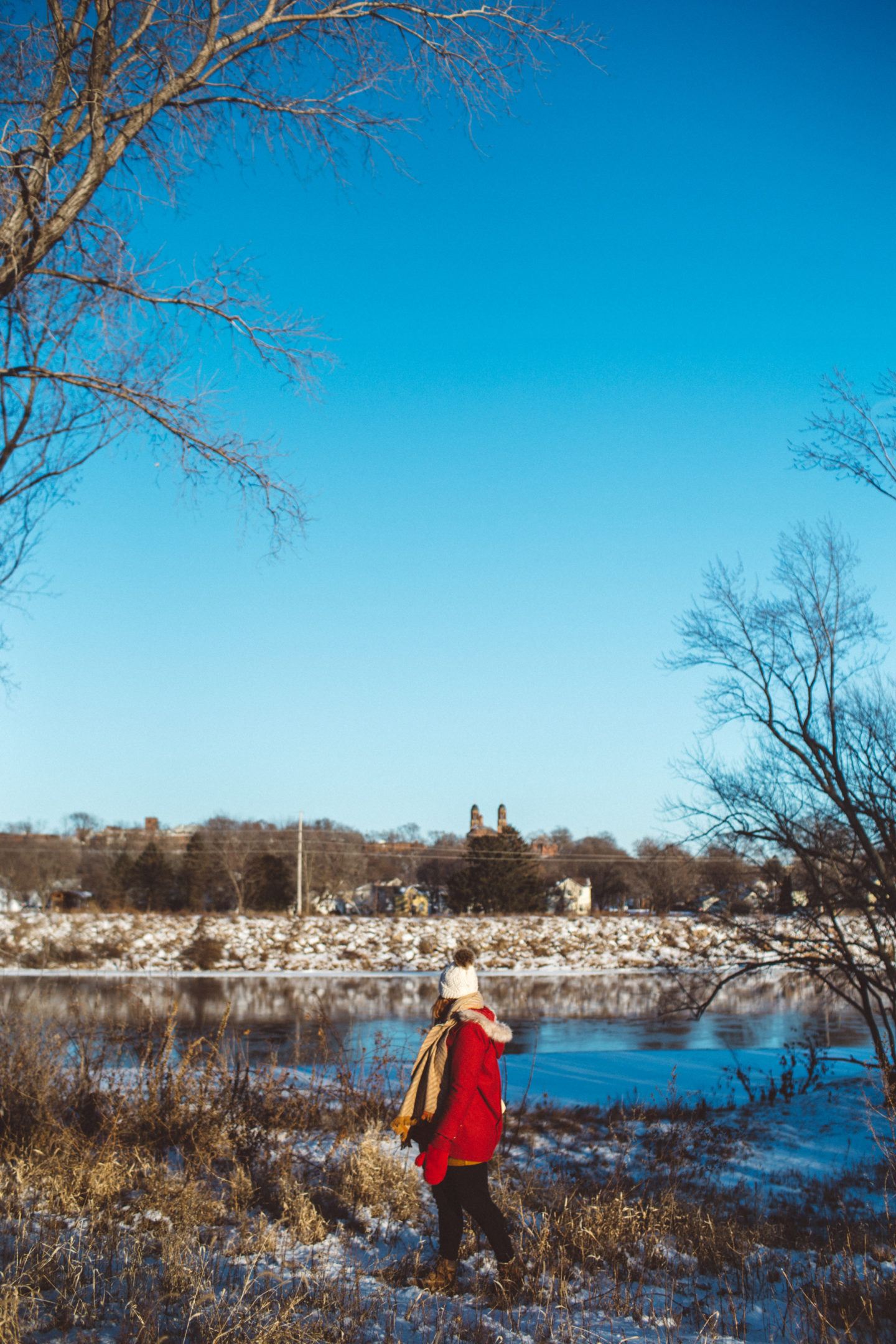 Wisconsin borders two Great Lakes, so some areas have that "seaside town" feel and there are over 66 state parks, so plenty of outdoor recreation. If you're like "Hold up Kara, I HATE nature" that's cool – Wisconsin has SO MANY craft breweries and wineries. Even smaller towns like Eau Claire are introducing new trendy restaurants all the time. There's historical museums and tons of Norwegian and German heritage. Oh, and we have a decent size Amish population, too.
Why should you visit Eau Claire specifically? It's kinda the best of all the Wisconsin worlds. The city is large enough that it's "happening" aka you can catch a concert, have a farm-to-table dinner and sip carefully crafted cocktails at bars. It's also on the smaller size compared to Madison or Milwaukee, meaning nature is a big focus here. Go hiking or boating. Grab a Kubb set and play lawn games all day (with a cold Summer Shandy in hand, of course!) Eau Claire is about 1.5 hours from Minneapolis, making it easy and affordable to fly into.
Ok, now that I've convinced you to visit, here's everything else you need to know to plan your trip…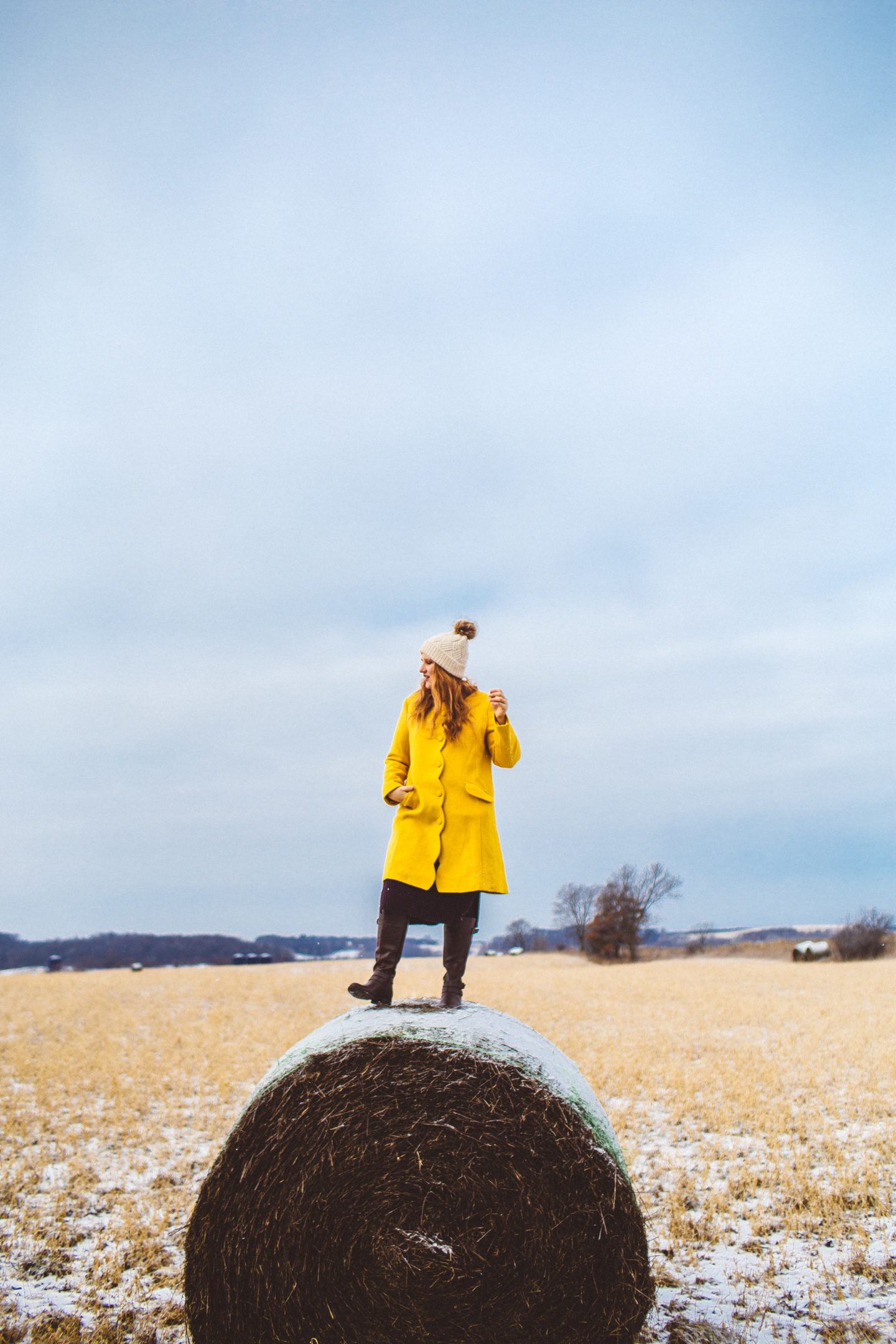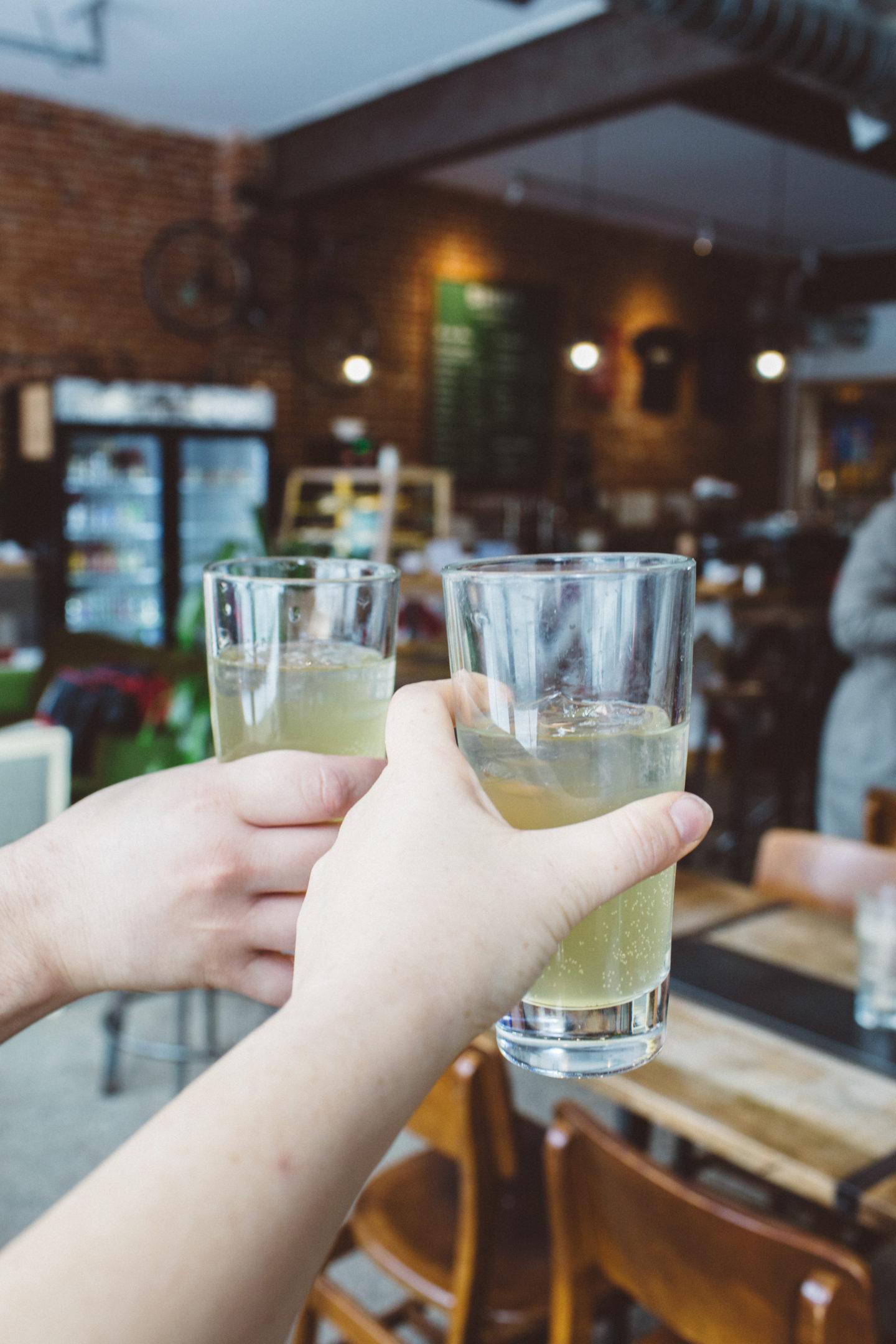 BEST EAU CLAIRE WI HOTELS
First things first you'll need to book a place to stay!
We stayed here and fell in love with this indie chic boutique hotel. The Oxbow Hotel Eau Claire hits all the buckets you want in a hotel. The decor is on point, there's a record player in each room for that touch of hipster fun, a game room, upscale beauty products in the rooms (none of that crappy hotel shampoo here!) and it's attached to The Lakely, one of the best restaurants in Eau Claire. You can read my full Oxbow Hotel feature here for lots of photos and more info, or book a stay at the Oxbow here.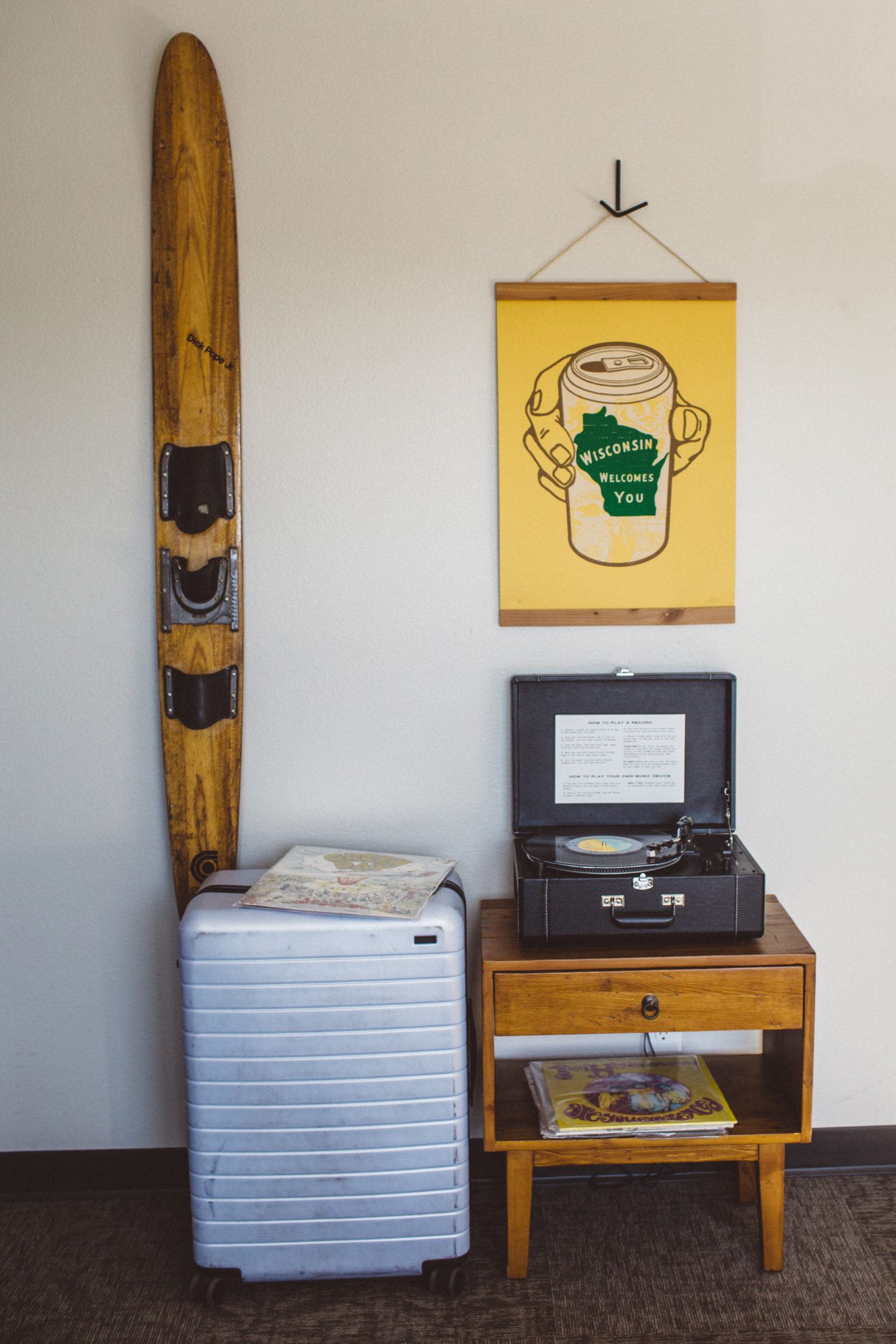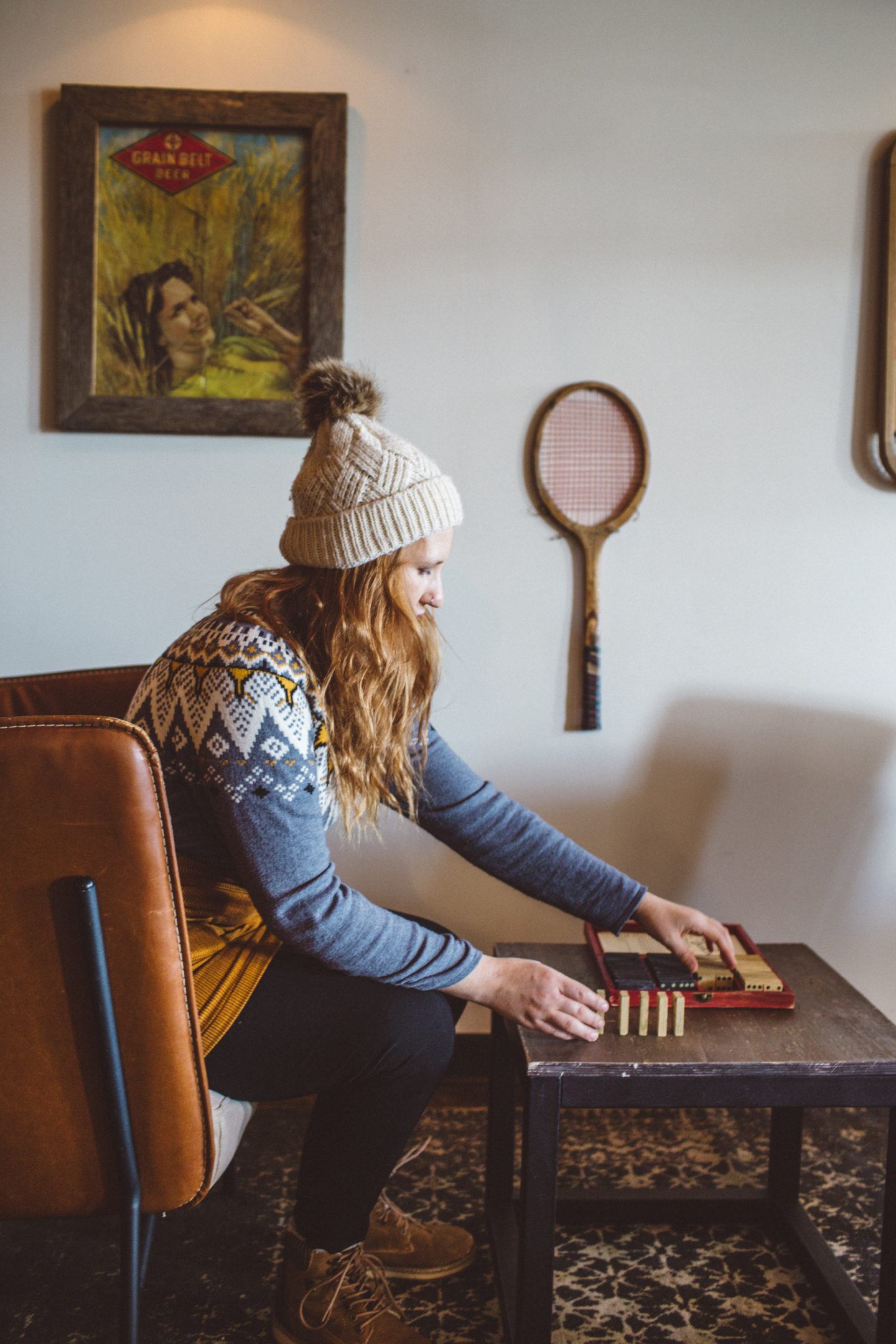 This is the other downtown Eau Claire hotel. We didn't stay here, but we did eat breakfast at their restaurant one day and I loved the trendy decor. It's part of the Hilton family, so if you are keen on earning Hilton rewards, this would be a good option for you.
Cozy Wisconsin cabin in the woods, anyone? We love using Airbnb when traveling, especially with a larger group or when we are staying more than a few nights somewhere. It's nice to have extra space and a kitchen! Whether you are visiting in the summer or the winter, cabin life is a THING here in Wisconsin. This tiny off the grid cabin looks amazing and this cabin rental has lake views!
PST – use THIS LINK for $40 off your first stay on Airbnb!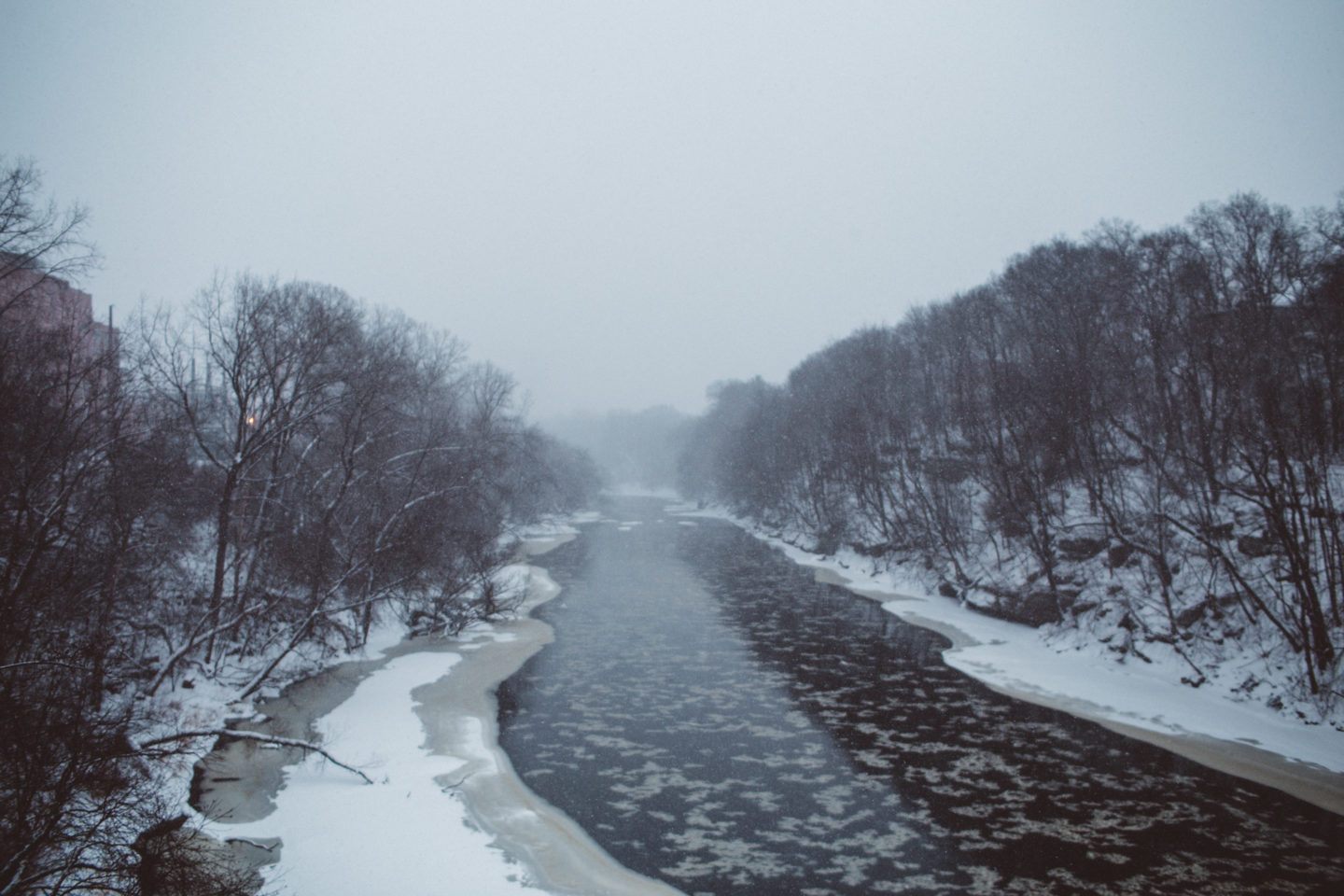 TOP THINGS TO DO IN EAU CLAIRE
Snowshoe
In the winter, try your hand (or feet?!) at snowshoeing! You can rent snowshoes at for $3 a pair here at Beaver Creek Reserve.
*Eau Claire Brewery Hopping
Wisconsin is known for beer (and cheese and cows, but mostly beer!) so an Eau Claire brewery tour is a must. Start at the Lazy Monk Brewery, a brewery that has tons of classic Bavarian and European charm to it. Note, it's cash-only. Then, walk a block down to visit the Brewing Projekt, which hands-down has some of the most unique beers I have ever tasted. You'll find tons of Milkshake IPAs to sample (like a Pina Colada IPA!) Their tasting room is more bare-bones, but the beer Is truly original. If you still have steam, head to K-Point on the south side of the town.
Jacob Leinenkugel Brewing Company is in Chippewa Falls about 30 minutes drive from Eau Claire. They don't take reservations so you should plan on arriving earlier than later in the day to make sure you can catch a tour. They launch about every 15 minutes, the first one starting at 10:30am. You'll get a walking tour of the historic brewery and learn everything you could want to know about beer and the story of this Wisconsin-favorite beer company. Afterward, you can either have five 7oz pours or two pints (for free!) We opted for the 5 flight so we could sample more beers. It's a fun way to spend a few hours!
Wine Tasting
Wisconsin is starting to get into the wine business! Wineries are closed in the winter but will be open for tasting and visits in the summer. Learn more here.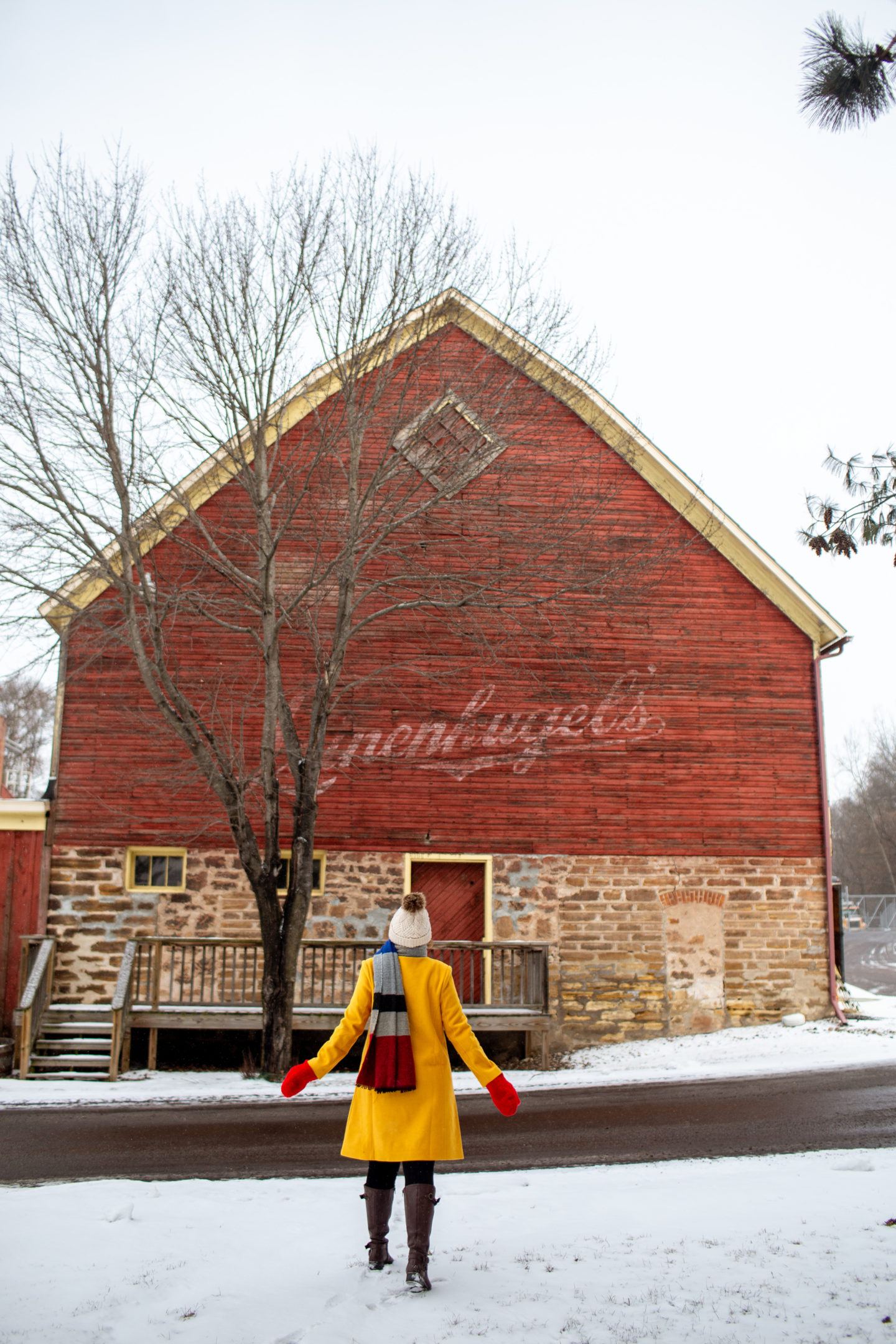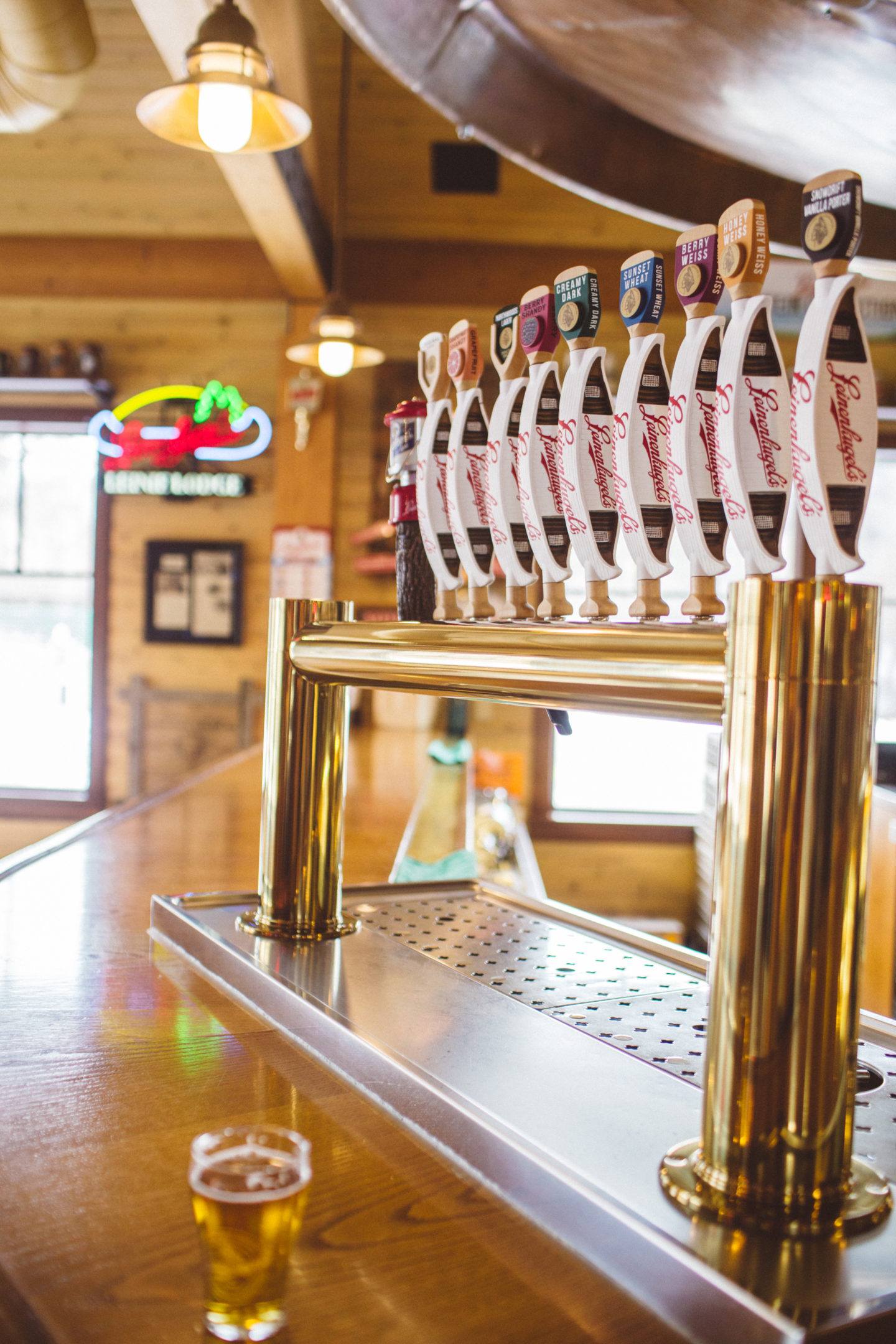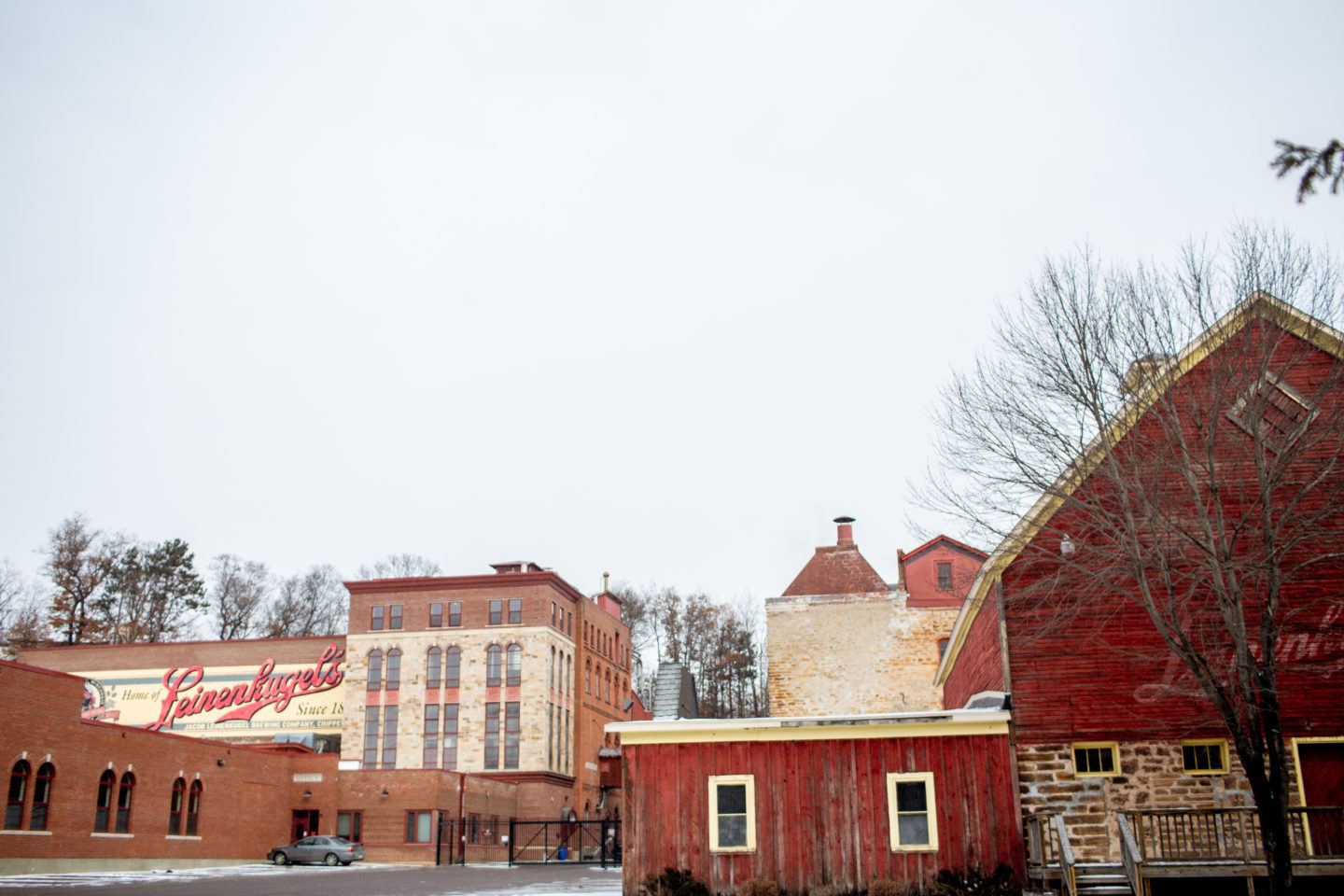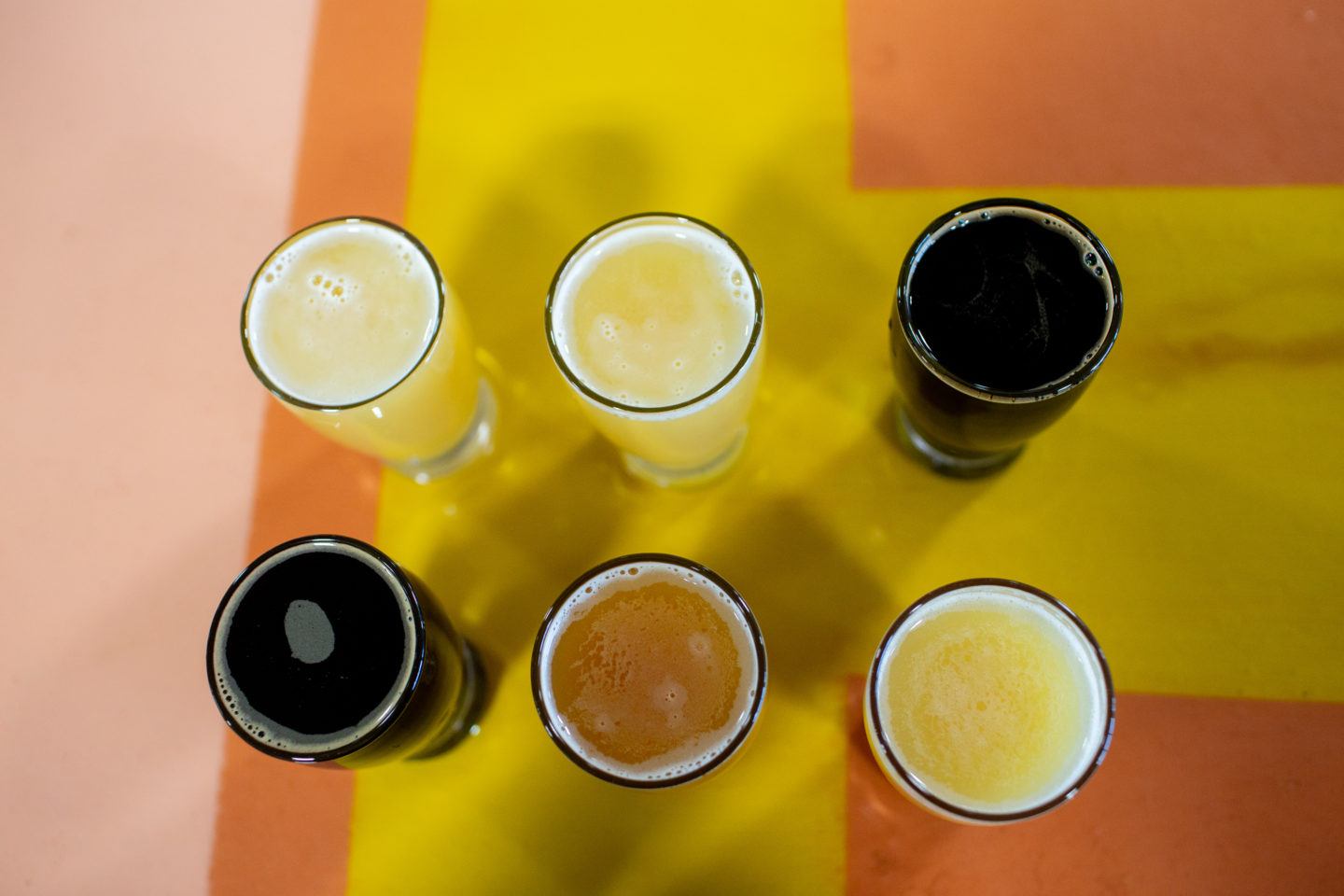 Lake Days
As I mentioned, Wisconsin comes to life in the summer. During the warm months, Eau Claire things to do heavily center around rivers and lakes. Grab a tub and float down Beaver Creek with a beer. Go boating on Lake Wasta. Fish in the mornings or canoe out in the afternoon. Swim and tan on the shores of Half Moon Lake with a cold Summer Shandy from Leine's. The water is where the locals will be at!
Come winter, you can go ice fishing on lakes! I remember driving our car out onto the lake to go ice fishing with my dad (don't do this unless you see locals with their cars out on the ice as the ice may be too thin!! Maybe just don't do this at all?) But you if you see a car out on a frozen lake, that's why.
*Hiking
There are SO many great trials and parks to explore in the Eau Claire area. As mentioned above, Carson's Park has trails you can hike. There is also Mount Simon – head right up to the top of the rock for a great lookout point in the city! Nearby there is Hoffman Hills State Recreation Area for a larger recreation area and a classic Wisconsin Observation tower. Make sure to pack water – even in the winter! – and also wear sunscreen on your hike. In the summer, you'll want to wear bug spray. If you are looking for fun Eau Claire things to do, hitting up the trails is a good one! We spent a lot of time during our visit hiking the trails.
Camping
During the warm months, camping in Wisconsin is the best way to spend a couple of days. I loved heading to one of the many state parks, pitch a tent, hit up the lake during the day, wander the trails in the afternoon and roasting marshmallows over the fire at night. You can learn more about the best places to camp in the Eau Claire areas here.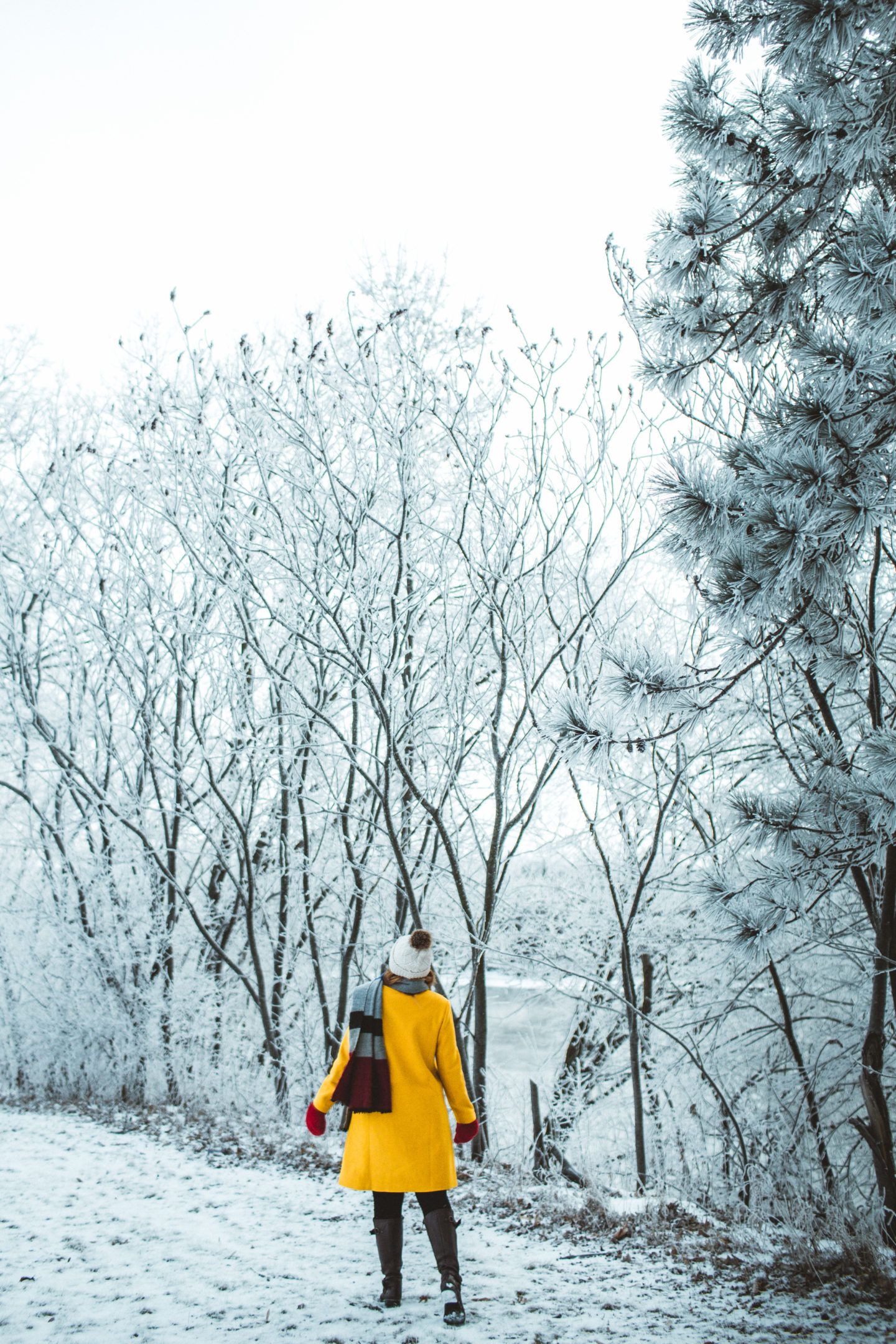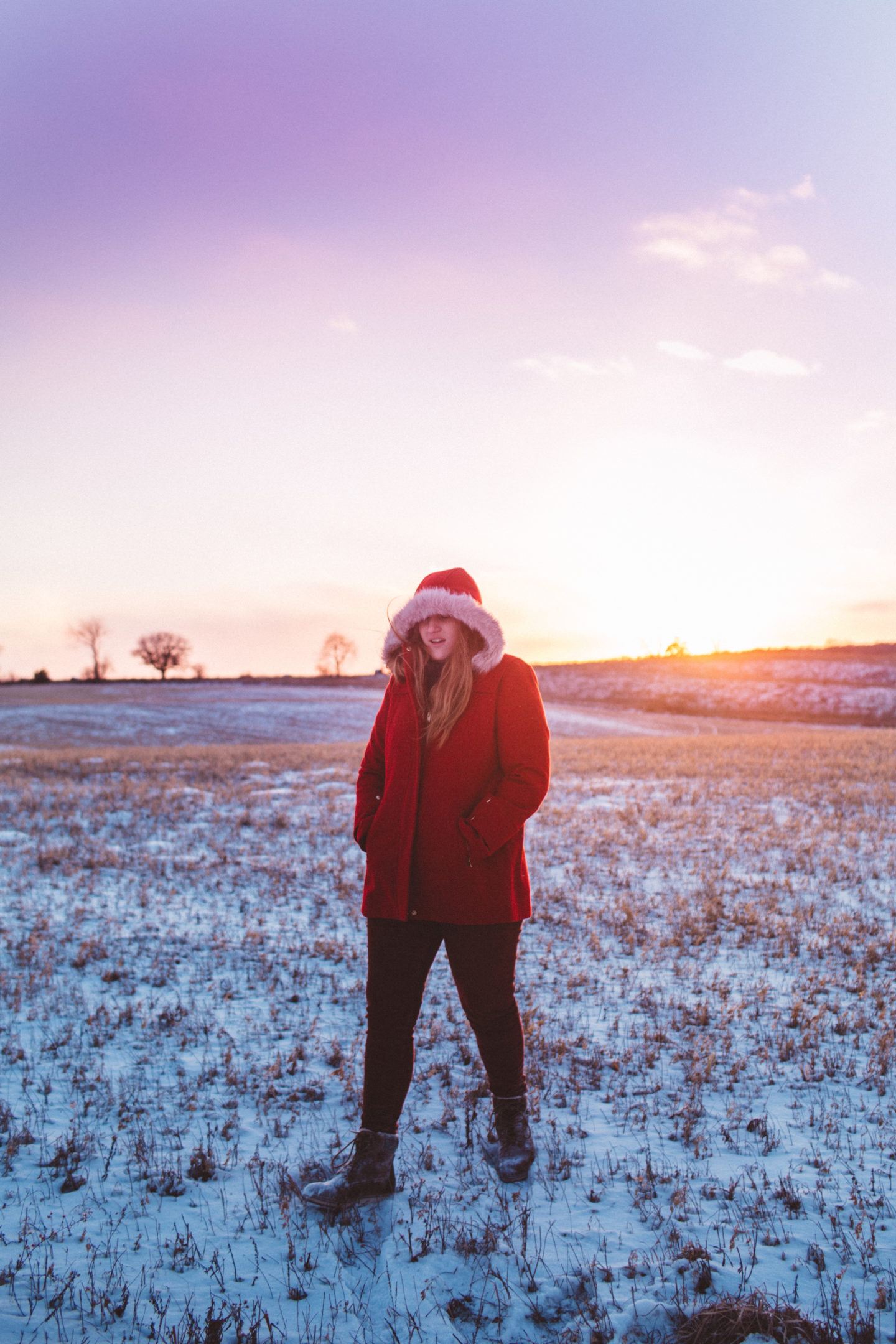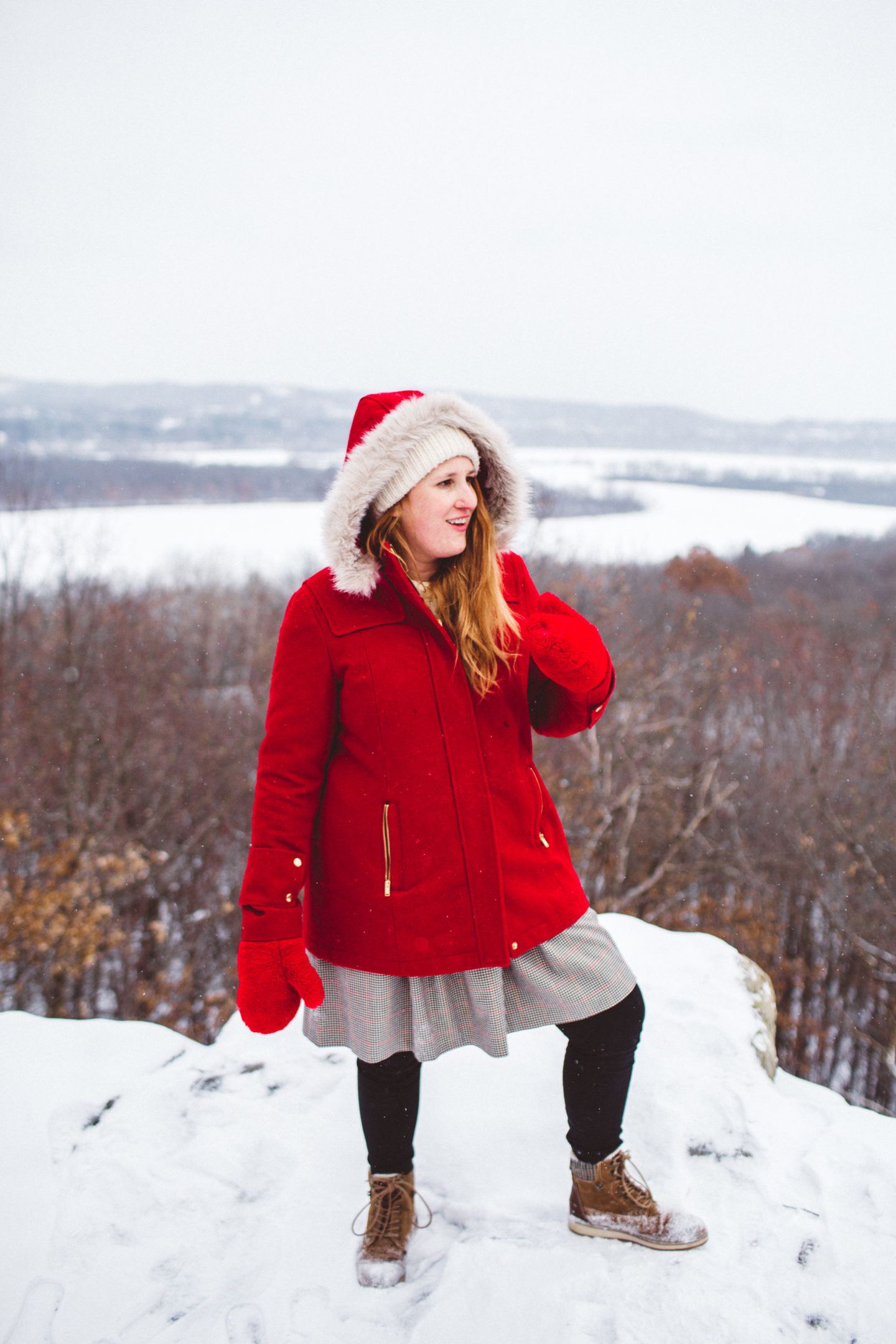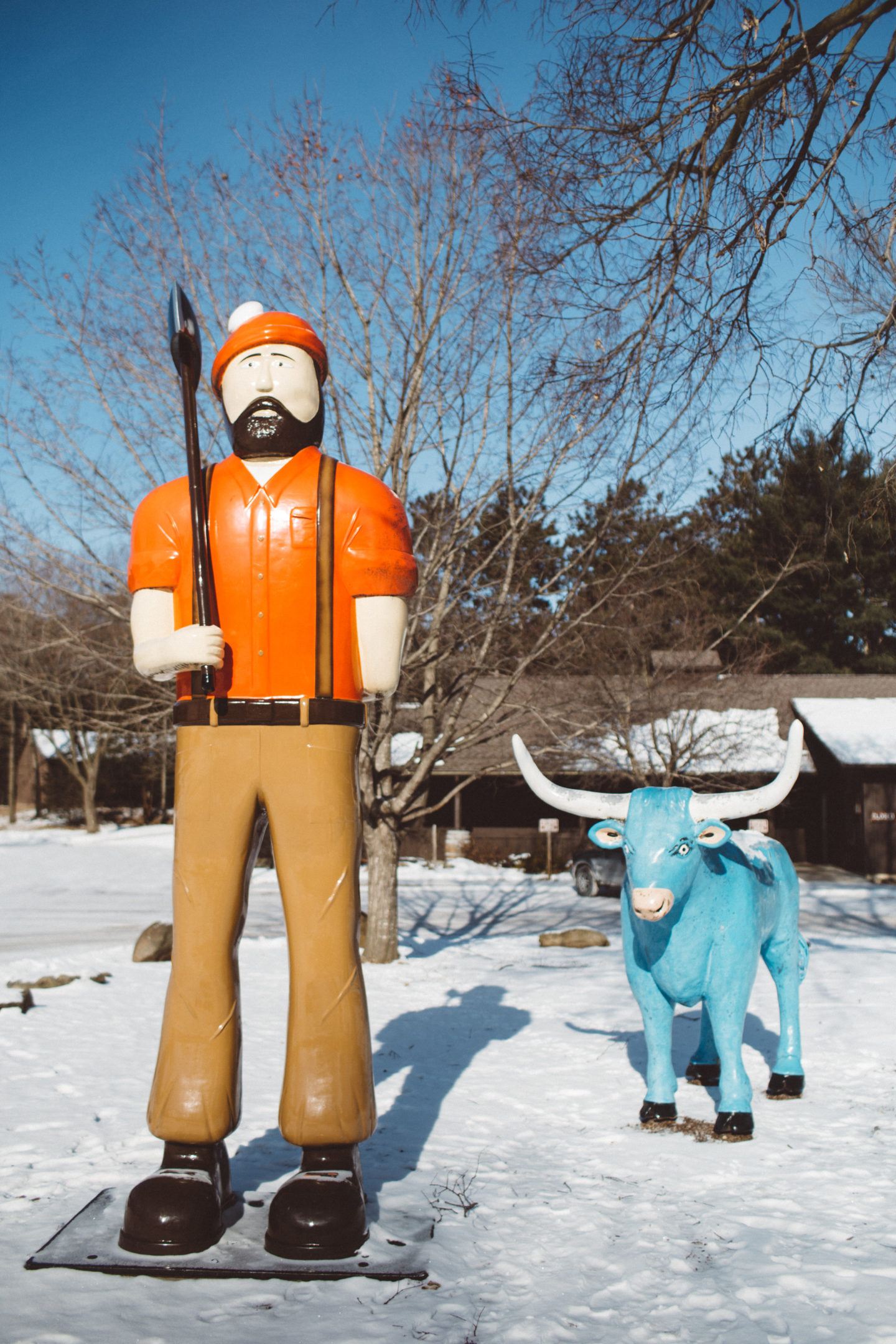 *Carson Park
Situated on a little island in Half Moon Lake, Carson Park is a hub for Eau Claire events. There's a baseball stadium for summer games under the stars. There's an old train station tower and a small train for the kids (or kids at heart) to ride, open during the summer season. In the winter, the lake freezes over and it's a popular place to snowshoe, cross country ski and take the dogs on walks. Half Moon Beach is THE place to hang on a hot July day. Oh, and there's a big old Paul Bunyan and Babe statue in the middle just waiting for an IG photo (plus the Paul Bunyan Logging camp next door!)
*Local Shopping
Shopping in Eau Claire WI has come a long way. Downtown you'll find tons of cute shops like Tangled Up In Hue for local artisan goods. There's Blue Boxer Arts for yarn and knitting supplies, Antique Emporium is a HUGE antique store and Revival Records offers a fun, trendy shop to tuck into.
The Pablo Center in Eau Claire WI is new and has totally transformed the area. The center frequently hosts concerts and plays. We saw the Blind Boys of Alabama there and had a fantastic time at the show! If you are catching a concert in Eau Claire, I suggest spending a night at the Oxbow Hotel a few blocks down. It's chic and trendy – plus, the front desk gal gave us the inside scoop that usually the Oxbow is the hotel of choice for talent, meaning you may spot them IRL at the hotel after the show!)
*Play Kubb
WTF is Kubb? I asked that too when I first learned about it. Kubb is an old "Viking" lawn game that was BroEaut to Eau Claire around 2007 and has since taken the city by storm. There are even leagues for it now! It's a simple but incredibly fun lawn game that included tossing and hitting blocks. You can play it year round, but will probably spot most locals knocking down each other's Kubbs during a nice summer day vs. in the winter. You can fix pitching areas (to play Kubb)) at the Brewing Projekt, Complexx and The Lakely.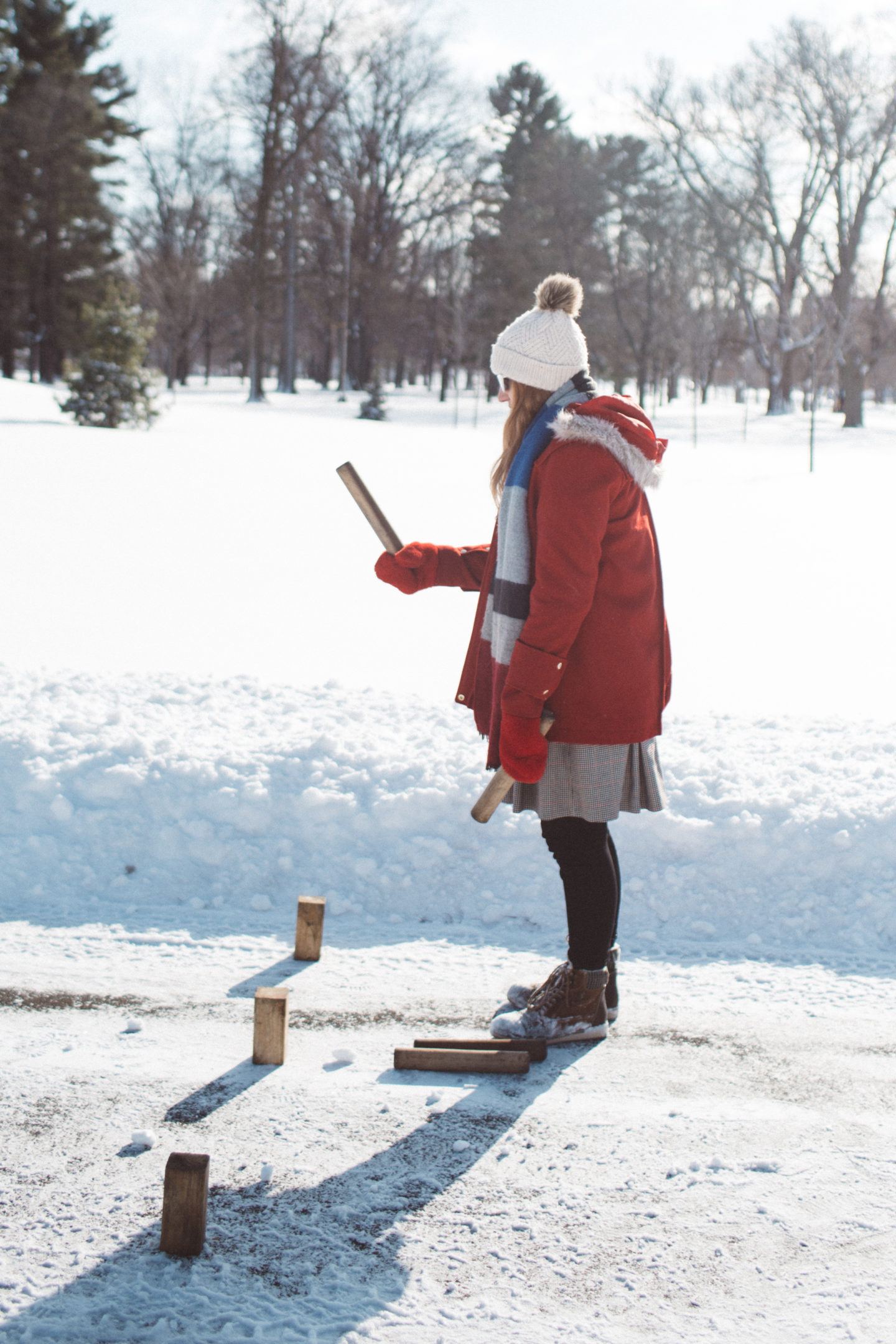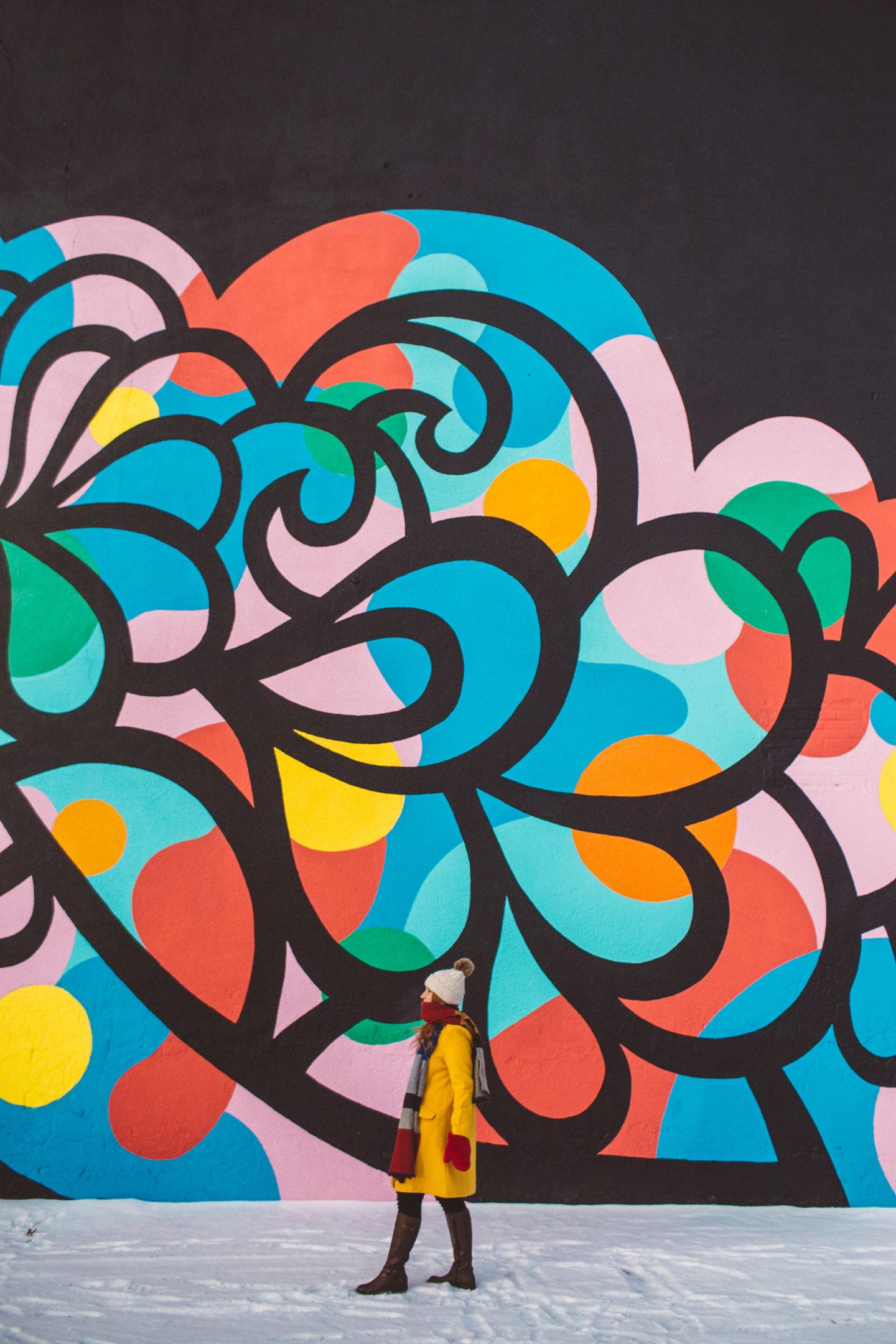 EAU CLAIRE WI RESTAURANTS
Despite being a smaller Wisconsin town, you can find everything from Asian, Creole comfort food, fries to Italian in Eau Claire. These are the best places to eat!
Pro-tip: Not all restaurants will be open on Sunday or Mondays. Make sure check ahead of time so you don't find yourself in a pickle!
*Mona Lisas: Upscale Italian fare is what this reactant on Water Street is all about. I recommend reservations on weekend nights. It's funky yet cozy inside, with lots of wine bottles used for decor and brick-lined walls. They have a large wine menu and tons of pastas and pizzas. I recommend the Baked Feta for an appetizer and the Pork Sugo (chocolate pasta!!) for a truly unique dinner. They aren't open on Sunday or Monday.
*Stella Blues: Looking for comfort Cajun food? Stella Blues is open on Mondays and they have a great selection of Creole and Cajun cuisine. My husband loved his Po-Boy sandwich and I thought the Shrimp and Grits was just the perfect thing on a cold night.
*The Goat House Cafe: A popular cafe for college students, this spot is nice for a cup of hot chocolate or a quick lunch. I loved my tomato soup!
*The Lakely: Entertainment in Eau Claire WI comes in many forms, and one thing to do is a night at The Lakely for drinks, dinner and live music. I I recommend opting for the 6-course Chefs menu so you'll be delighted and surprised at what dish comes next. Make reservations, as it's a popular spot for dinner and they book tables up fast. If you're looking for romantic things to do in Eau Claire WI, this is it!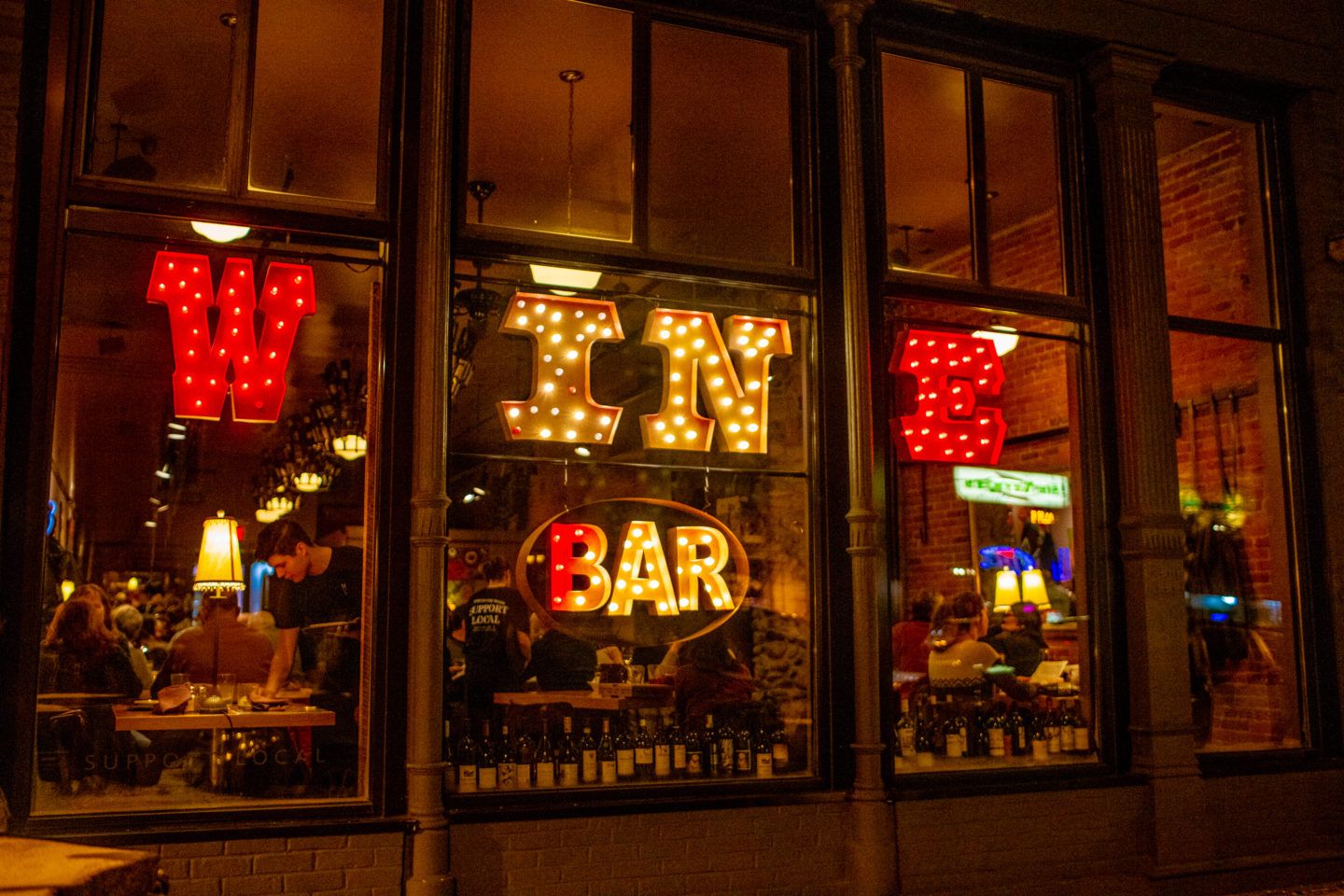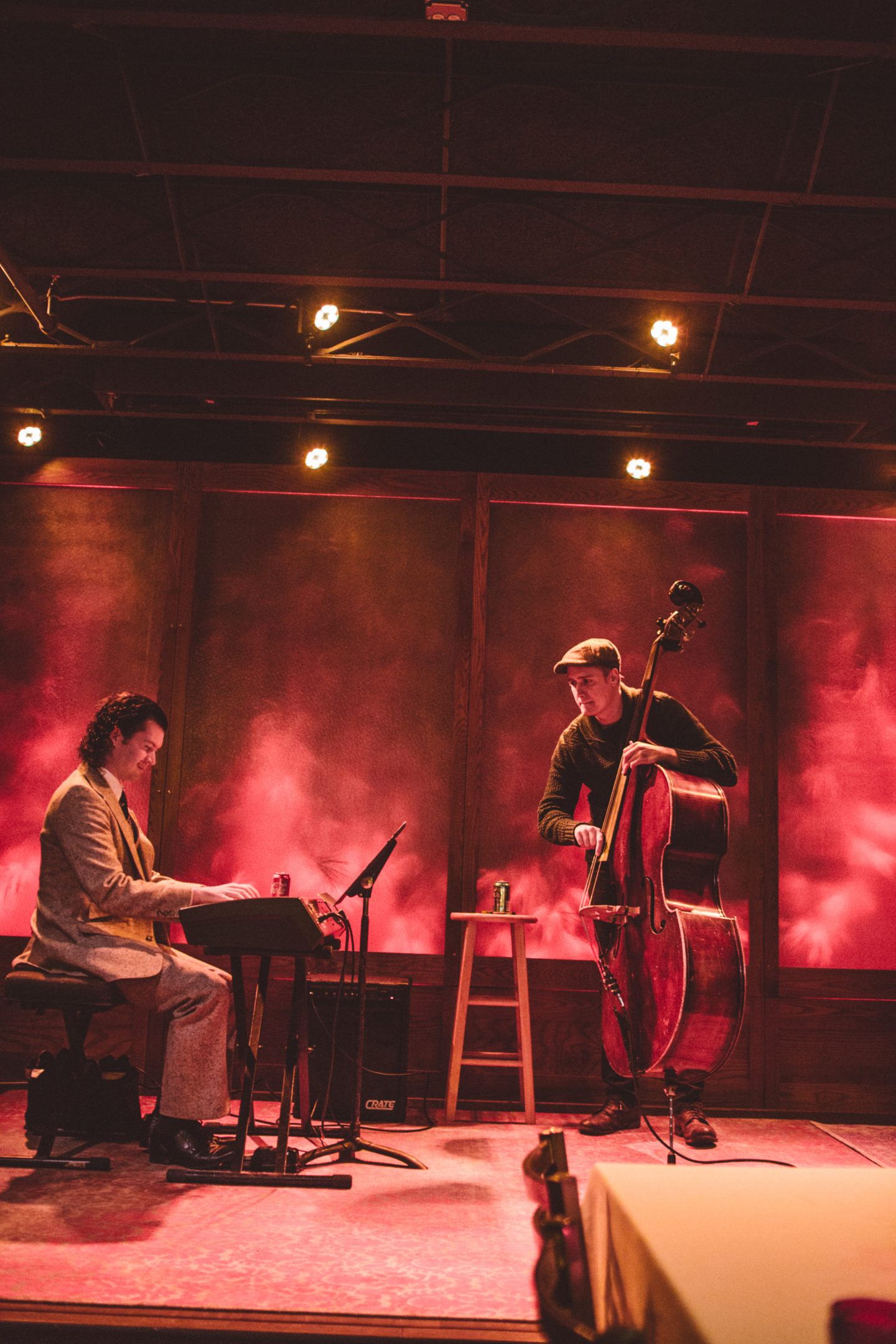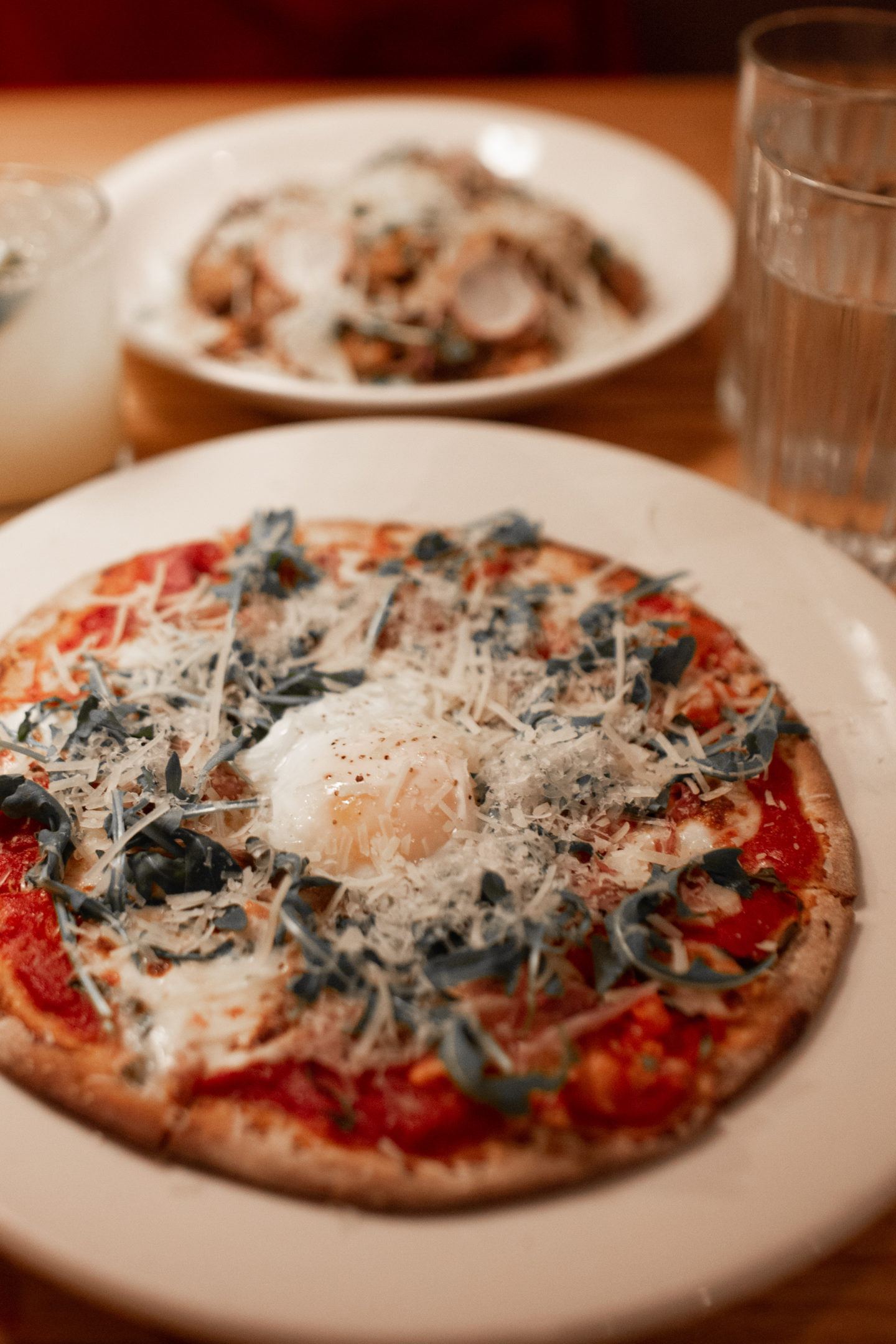 *Acoustic Cafe: A large cafe that sometimes has live music. They have a smaller menu that's mainly focused around Hoagies. I loved the beer cheese soup here!
*The Informalist: A brunch that could easily compete with the San Francisco brunch hot spots. The decor inside is trendy (think blue tile and copper light fixtures!) I recommend either the Smoke Trout Bagel ( a local-style twist on the salmon lox) or the Feta and Tomato Stuffed Waffle. YES, it is as amazing as it sounds! I also really enjoyed my latte here. We didn't need a reservation but check during busier seasons before you go.
*Egg Roll Plus: Looking for an affordable yet tasty lunch in Eau Claire? Head here! T's bare-bones interior but the food is fantastic. We both order the Pho and it was the perfect thing on a cold winter day. You can leave without trying one of their Egg Rolls, probably the best in the Northern Wisconsin area!
Ramone's Ice Cream: Closed in the winter, so we didn't get to try it, but my entire family raved about this place. If you visit in the summer, make sure to grab a cone here!
*The Shift: A bike repair shop and coffee shop all rolled into one. The interior is trendy (think wood, succulents, etc) and it looked to be a popular spot for writers and laptop work. They have kombucha on tap here and lots of pastries, along with local coffee.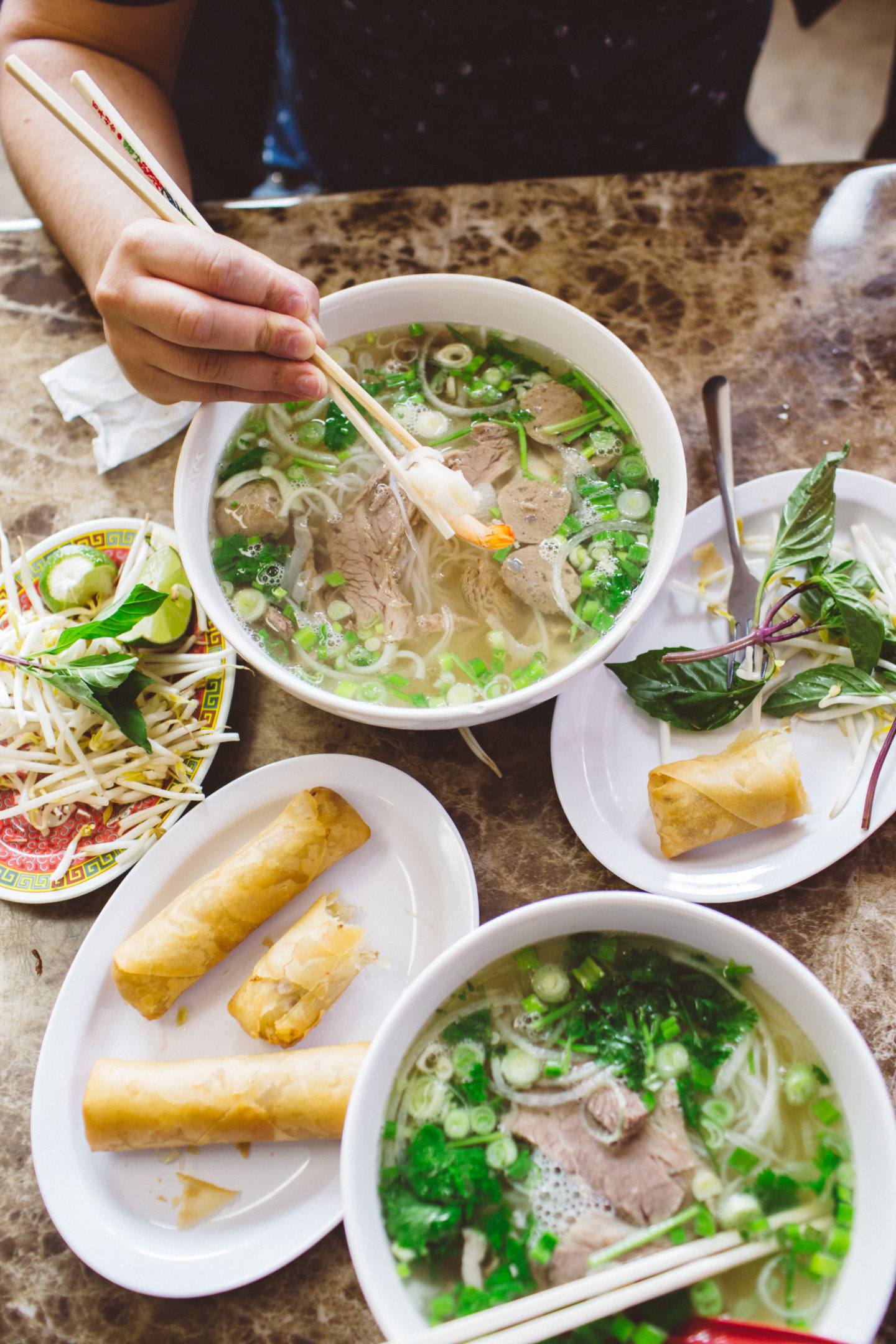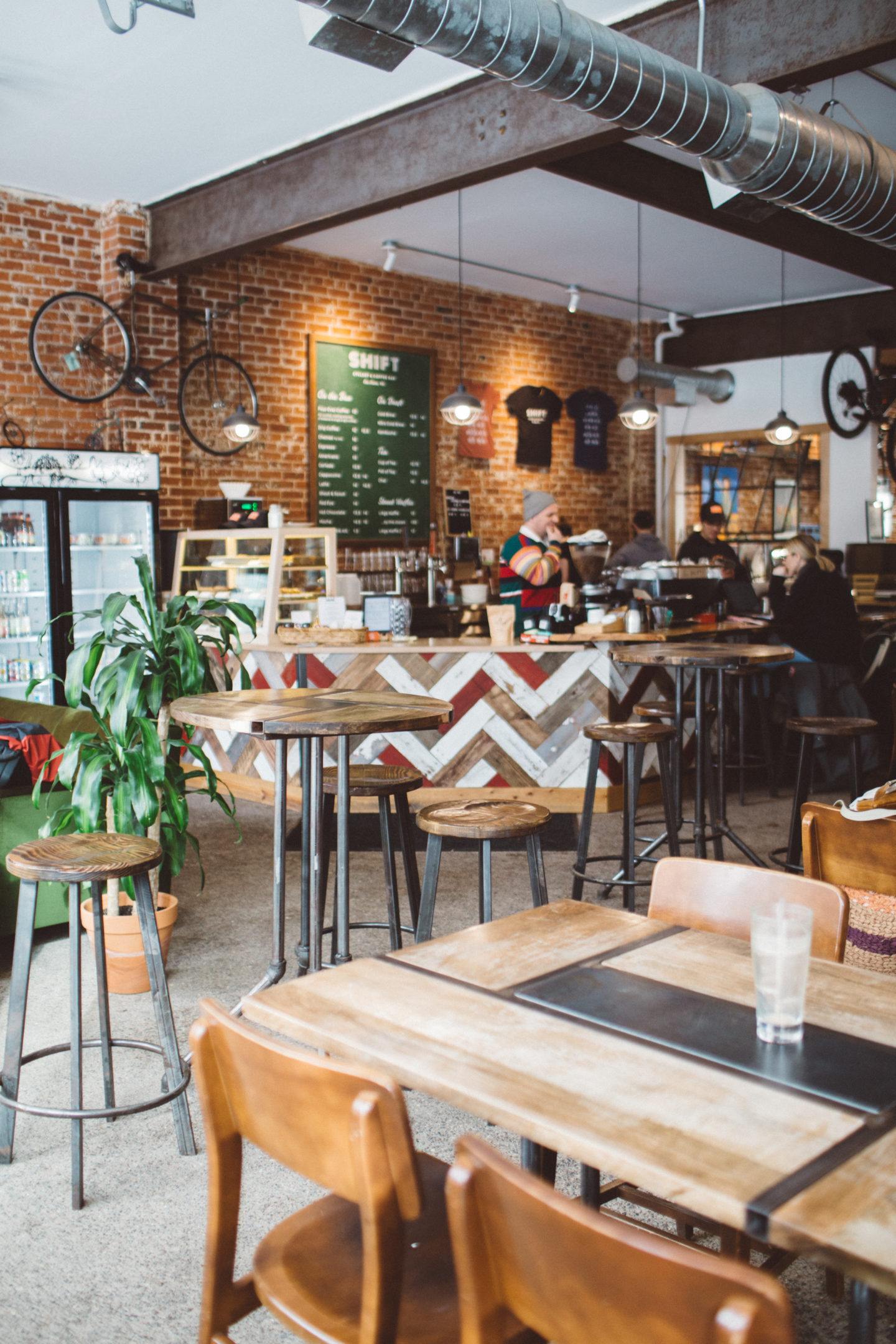 *Growler Guys: Here is where you'll find close to 50 different craft beers on tap. Don't drink? They also have about 7 kombuchas on tap, some of which are infused with CBD oil. We loved sampling beers and kombucha in this sunny tap room.
*The French Press: Three words: oatmeal bacon pancakes. BACON INSIDE OF PANCAKES, ya'll!! This cafe looks non-descript on the outside but is warm and cozy on the inside, complete with a fireplace to heat up your toes in the winter. Their menu is pretty large and affordable.
*The Nucleus: These guys are known for crepes! I recommend the Strawberry Nutella crepe! Warning – they are HUGE! My husband and I easily shared a crepe. They aren't opened on Mondays and they close in the mid-afternoon, so check hours before you go.
*The Classic Garage: This diner looked like it was plucked right out of the 1950's! It's that classic 15950 diner decor complete with an old blue car parked in the middle. During the spring-fall, people will bring their own vintage cars to the diner and park them outside so REALLY give you that throwback feel. I recommend trying the Blue Cheese Burger, fried cheese curds and a chocolate malt. YUM!!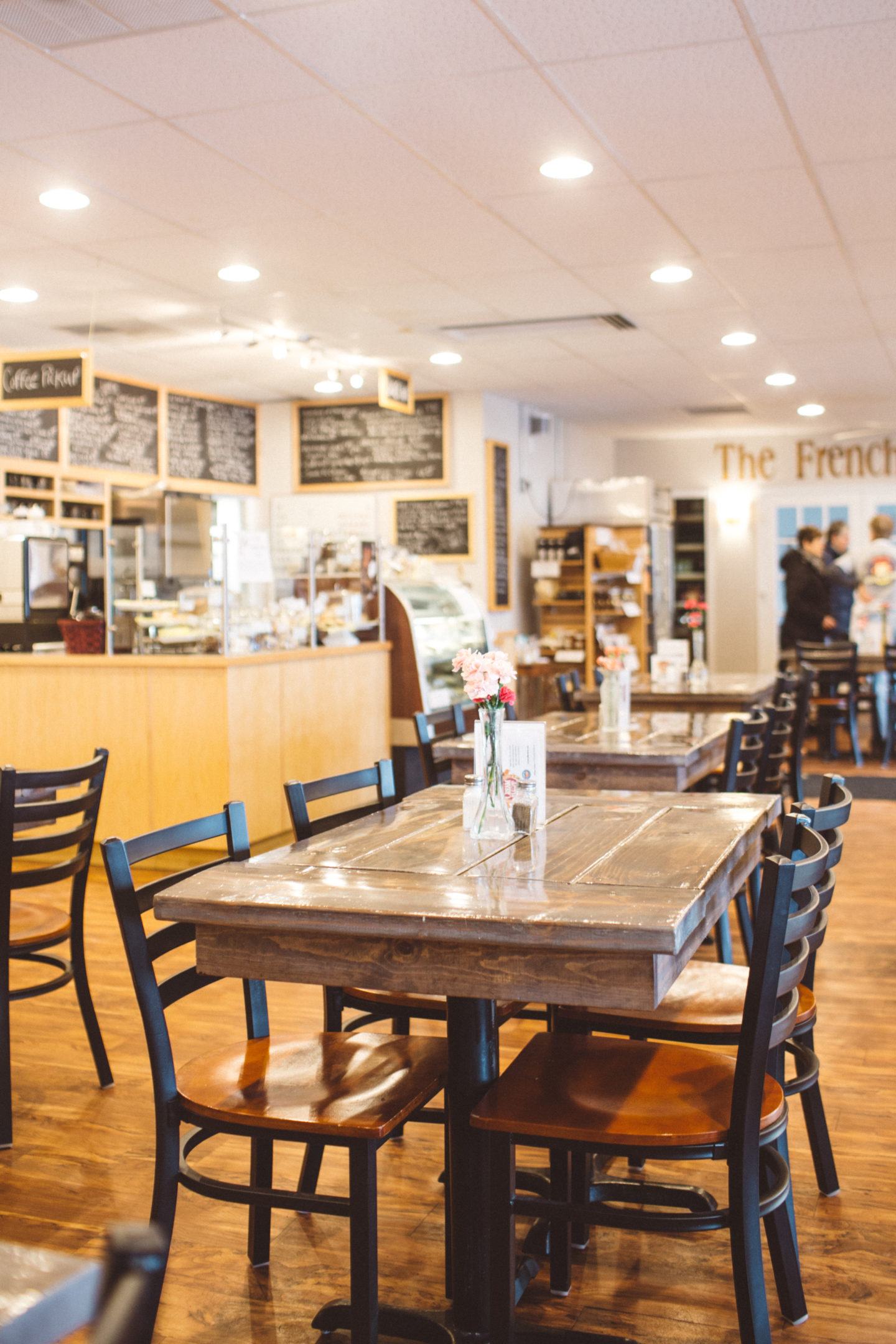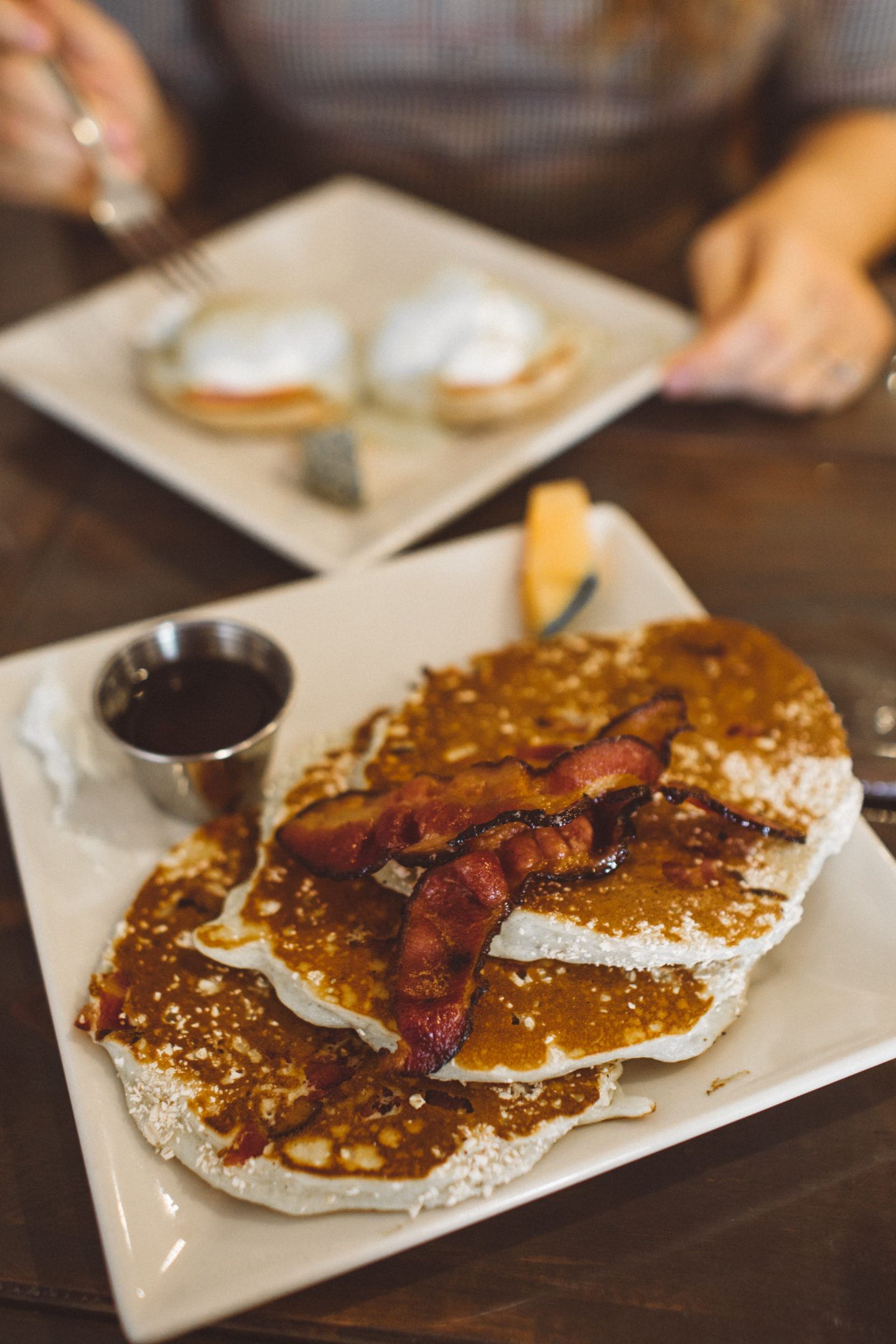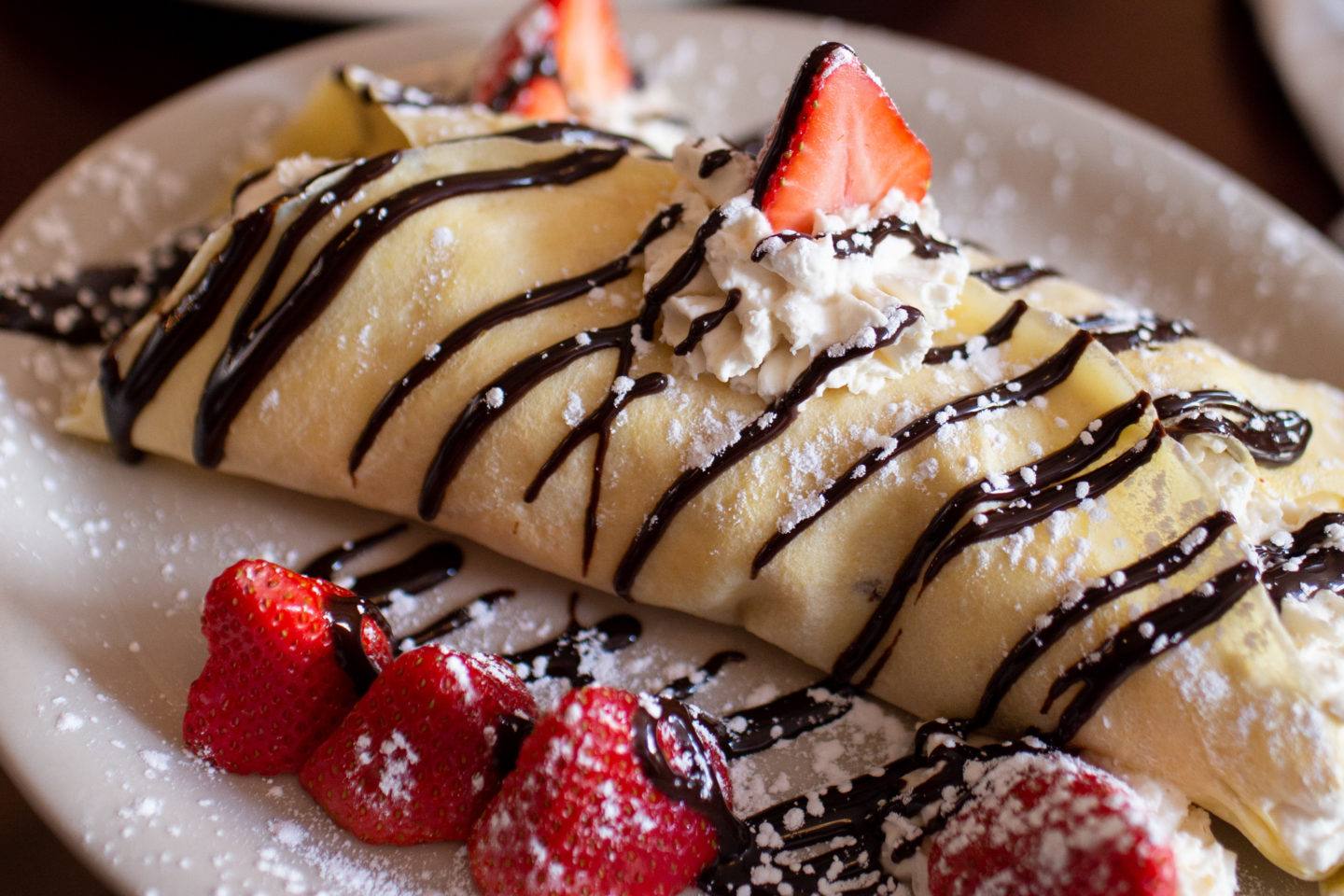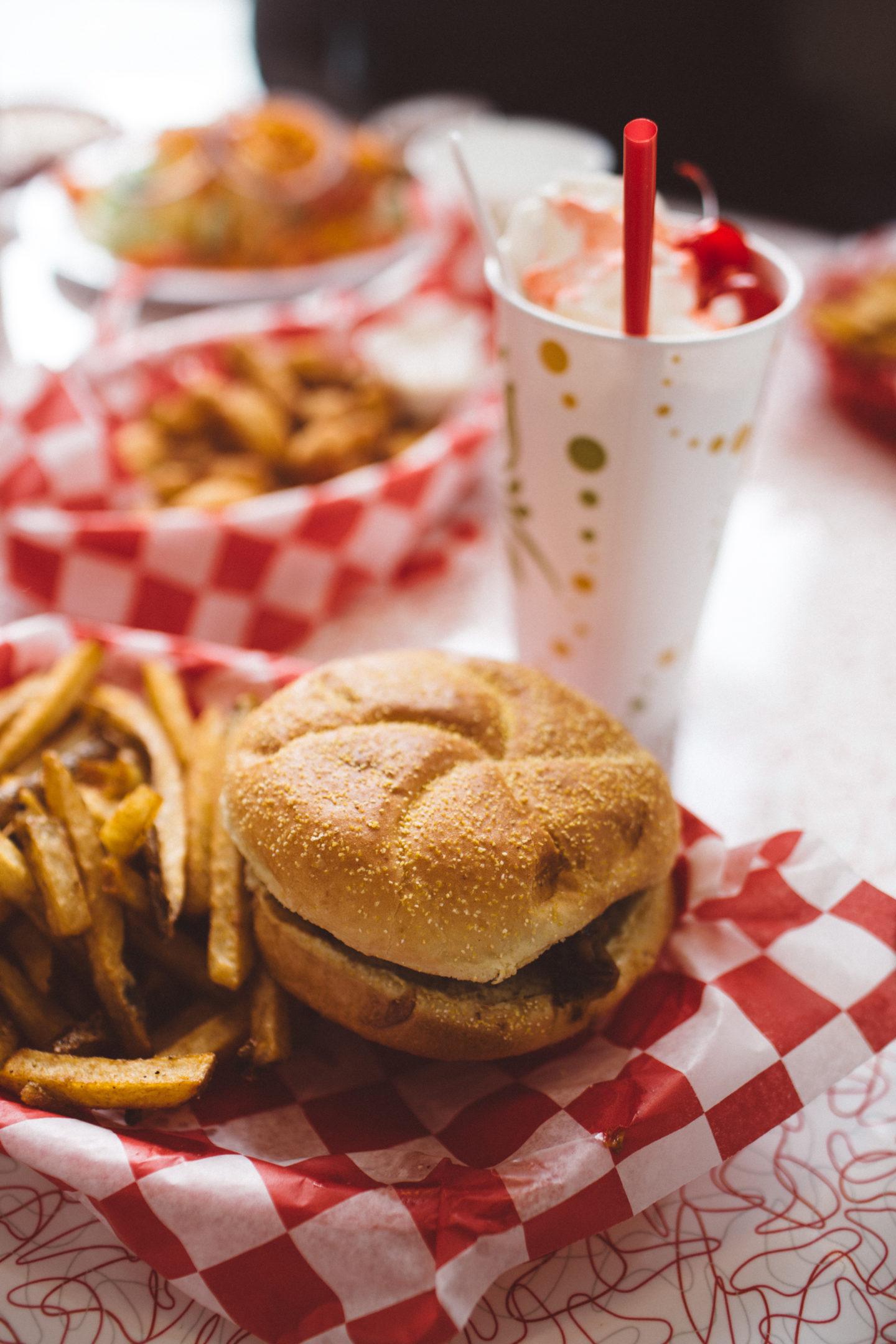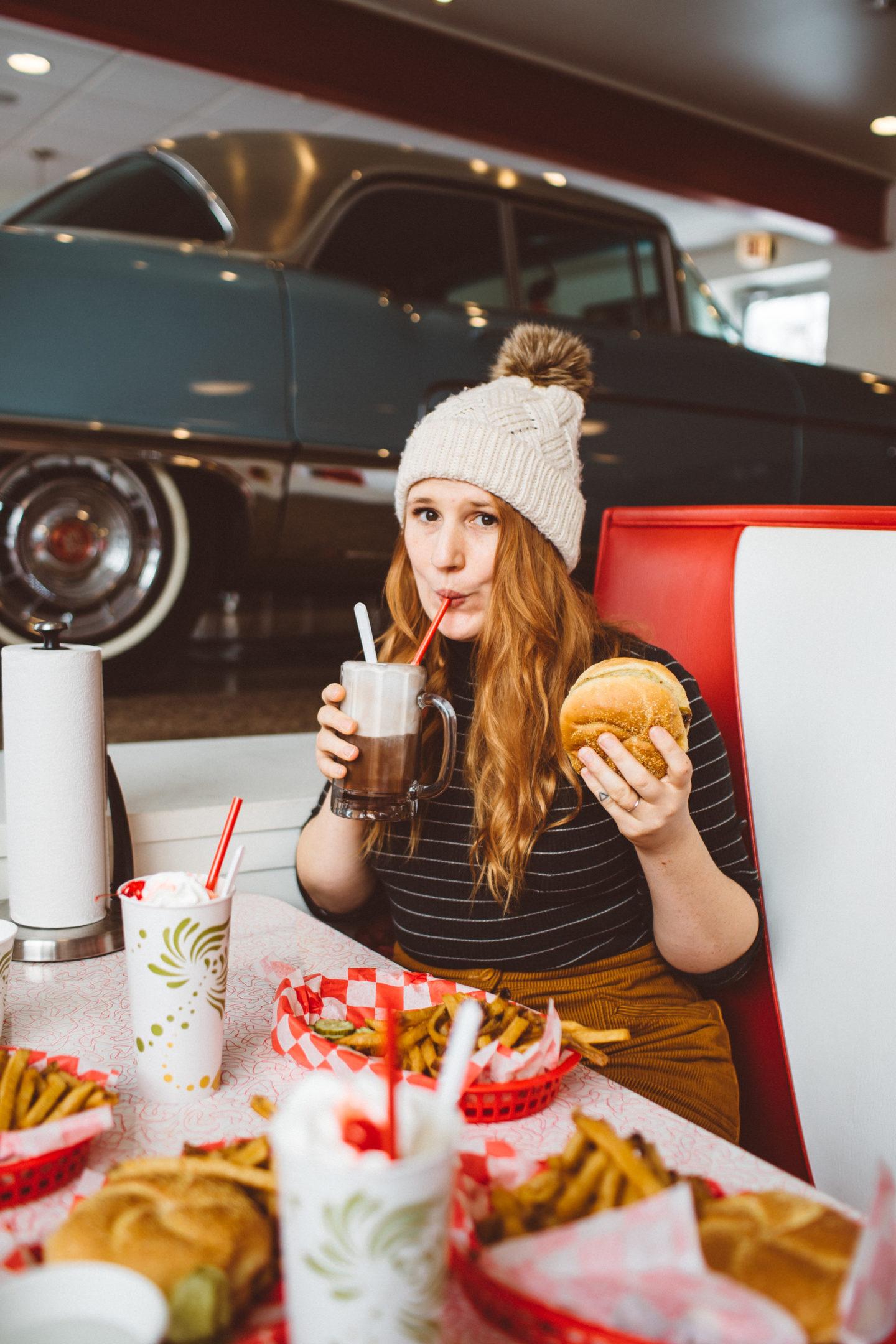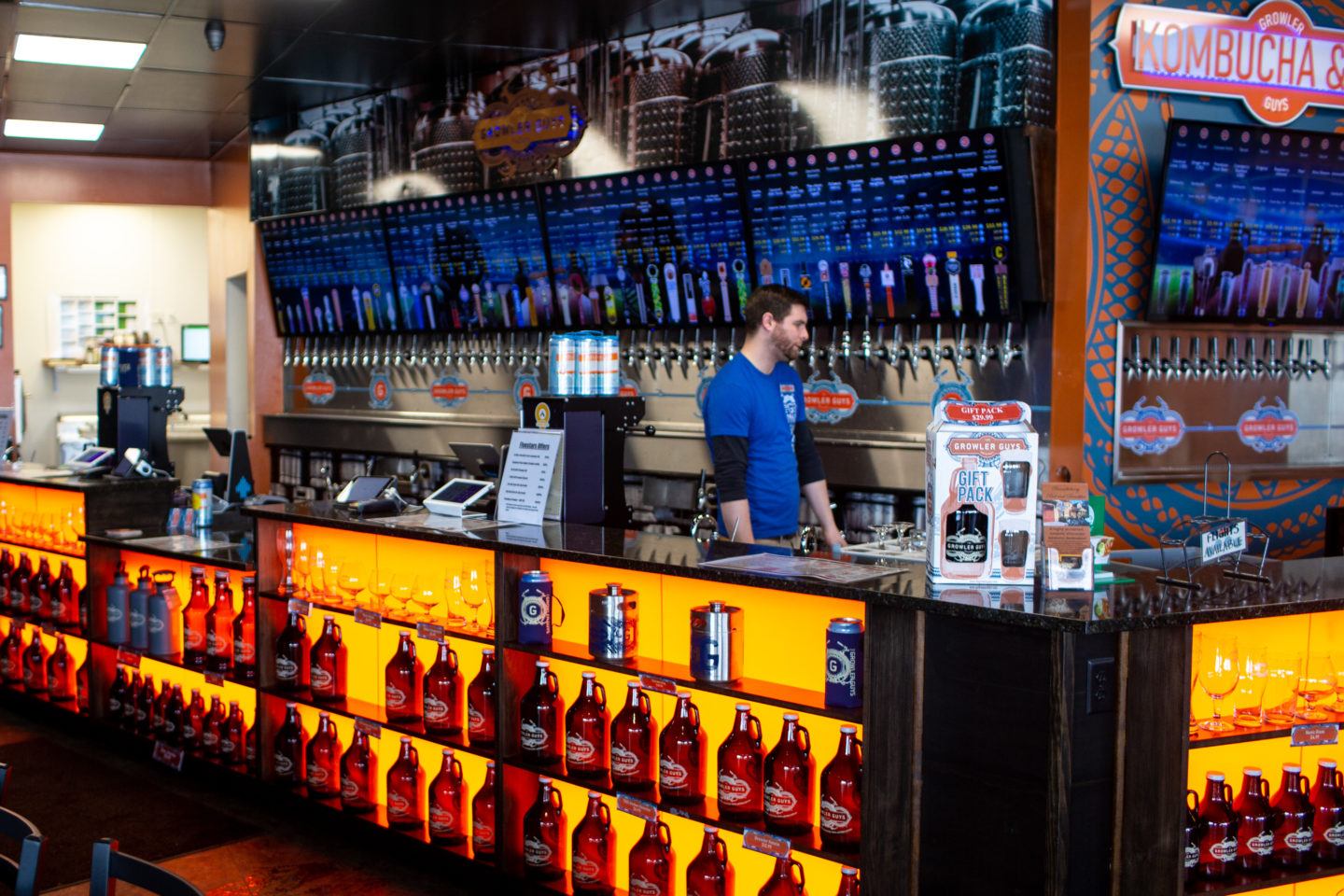 *Houligans: Friday Fish Fris are a THING in Wisconsin. Houligans has an old super club feel and offers a classic Friday Friday Fry special with mashed potatoes and greens. Attending a fish fry is a must when visiting Wisconsin!
Regional cuisine to try
Friday Fish Fry
cheese curds (fresh or fried, my favorite is fresh)
Spotted Cow beer
A Summer Shandy from Leinies
An Old Fashioned (cocktails)
A brat.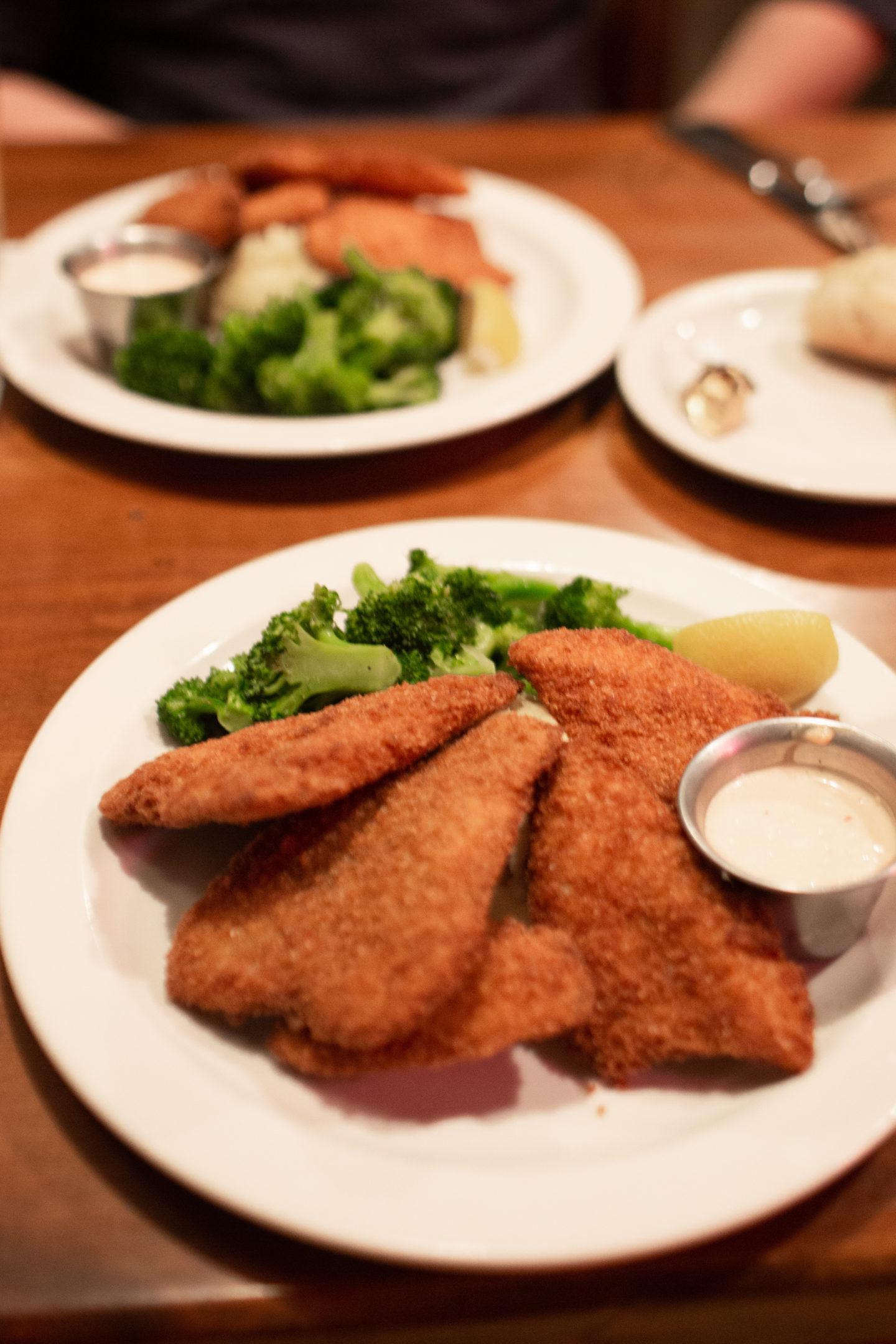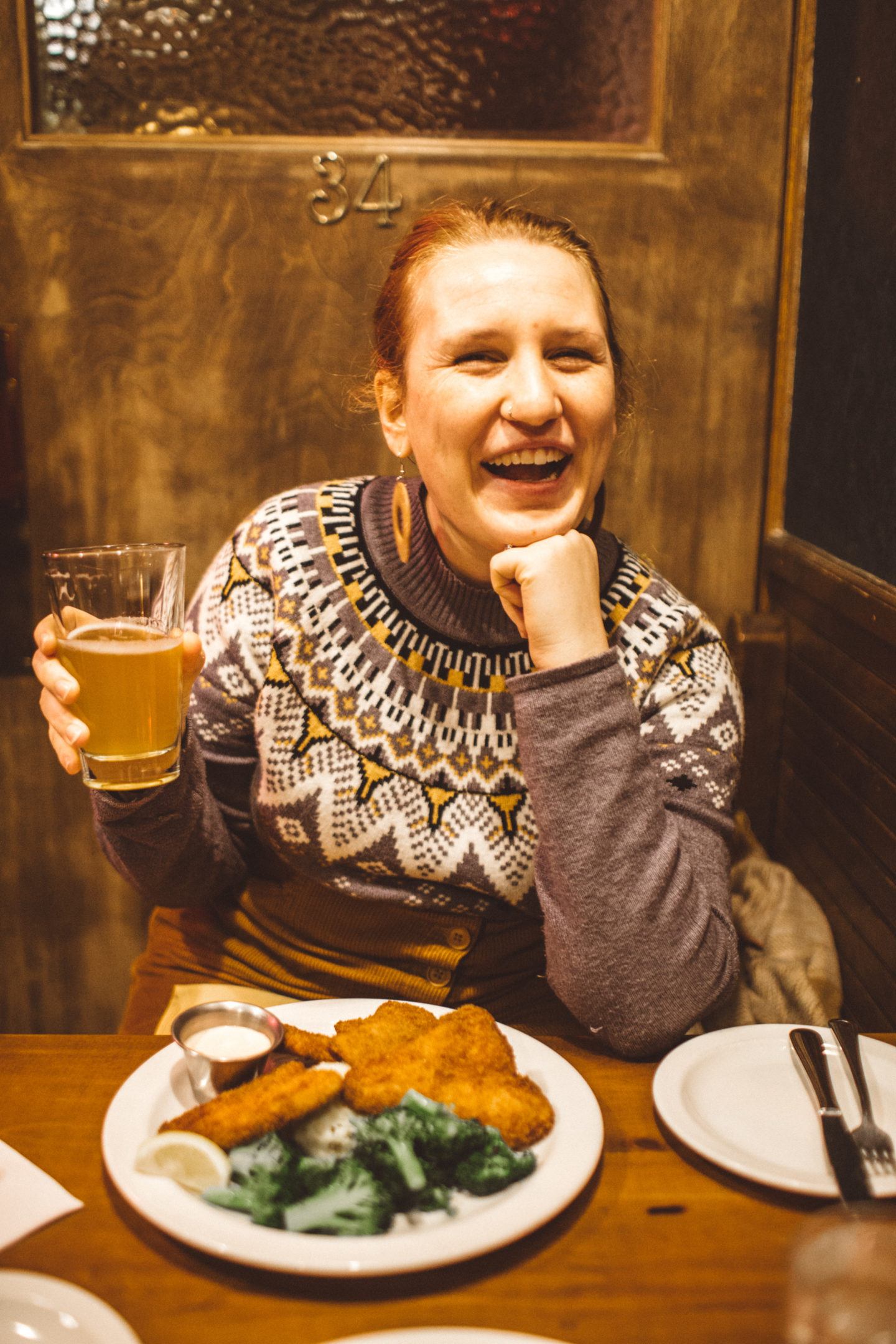 HOW TO GET TO EAU CLAIRE
Eau Claire is about 1.5 hours drive from Minneapolis and about a 3-hour drive from Madison, Wisconsin. We flew into the Minneapolis airport and rented a car for an easy drive down. It's probably closer to 5 Horus away from Milwaukee.
We usually use Expedia to find the most affordable car rental. Find an Eau Claire car rental HERE!
If you choose to fly into Milwaukee or even Chicago, I recommend spending a couple of nights in Madison to break up the driving, but also because Madison is really really fun! (This is the area I grew up in!) You can find my post on 10 things to do in Madison here.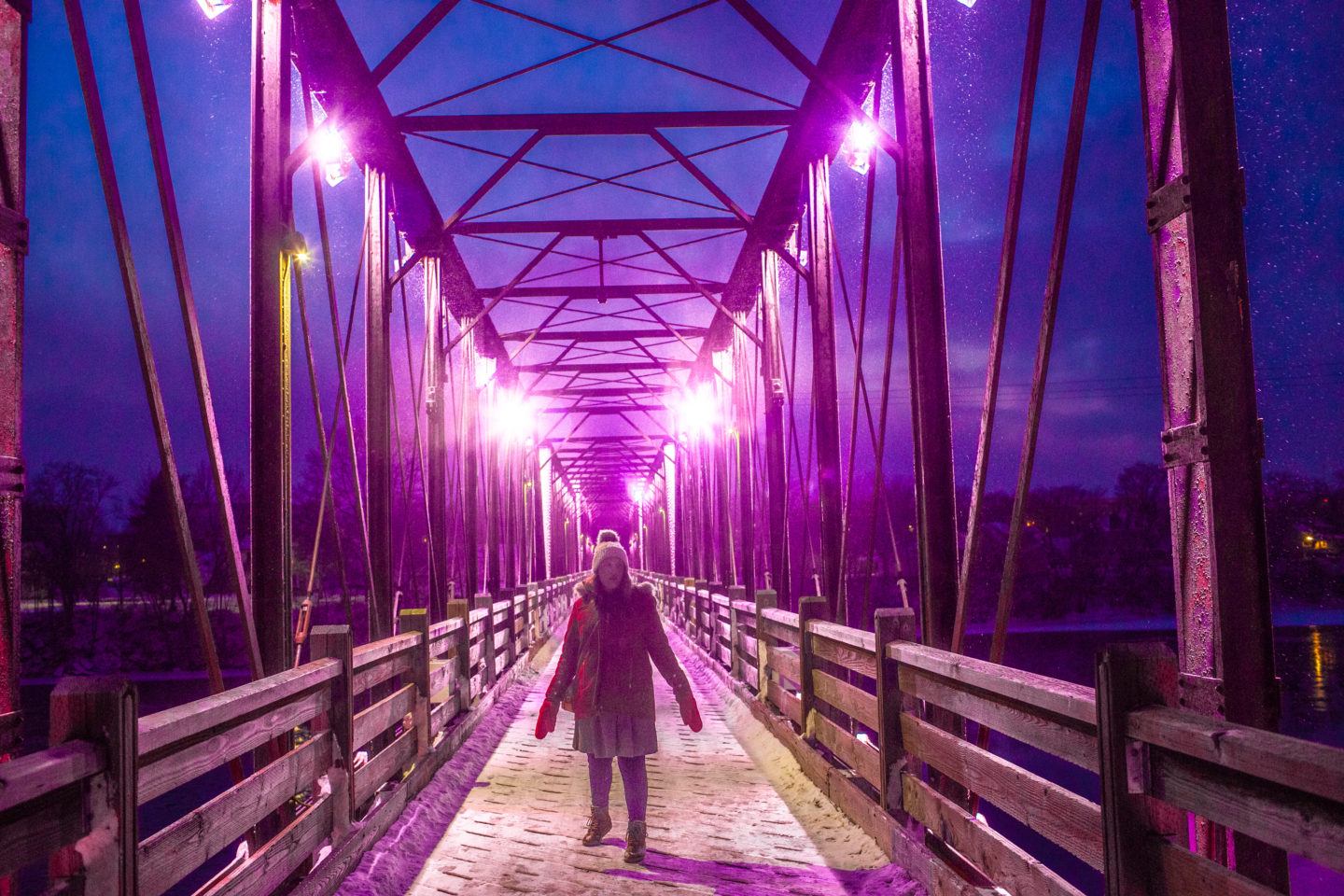 WHAT TO PACK FOR EAU CLAIRE
What you need to pack for a trip to Eau Claire depends on what season you visit. On our last day in Eau Claire the temp was forecasted for -43 (with windchill). In the summer, it can get over 105 with humidity. You truly get every sort of temperature and season in Wisconsin, which is one reason I love this state so much.

WARMER MONTHS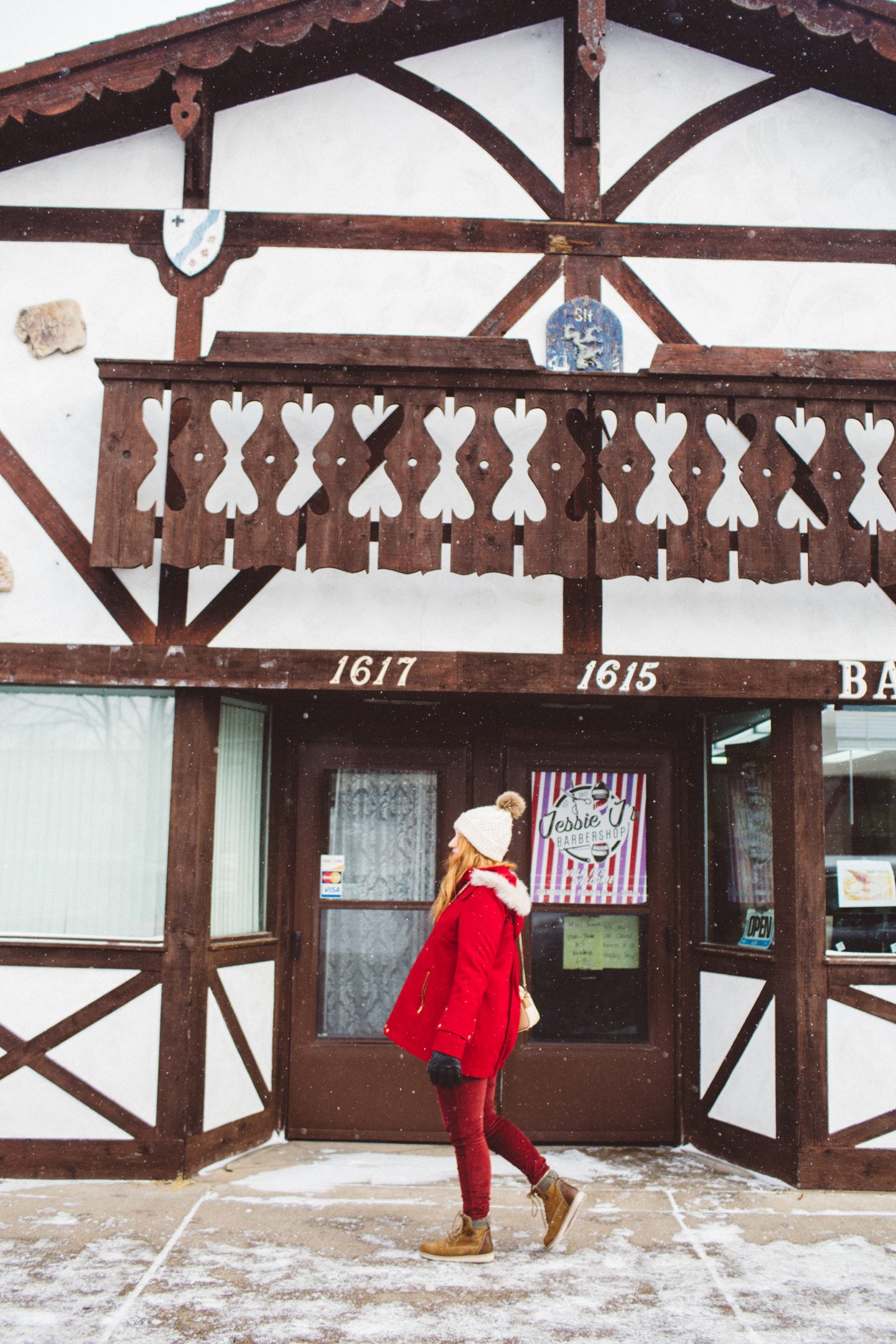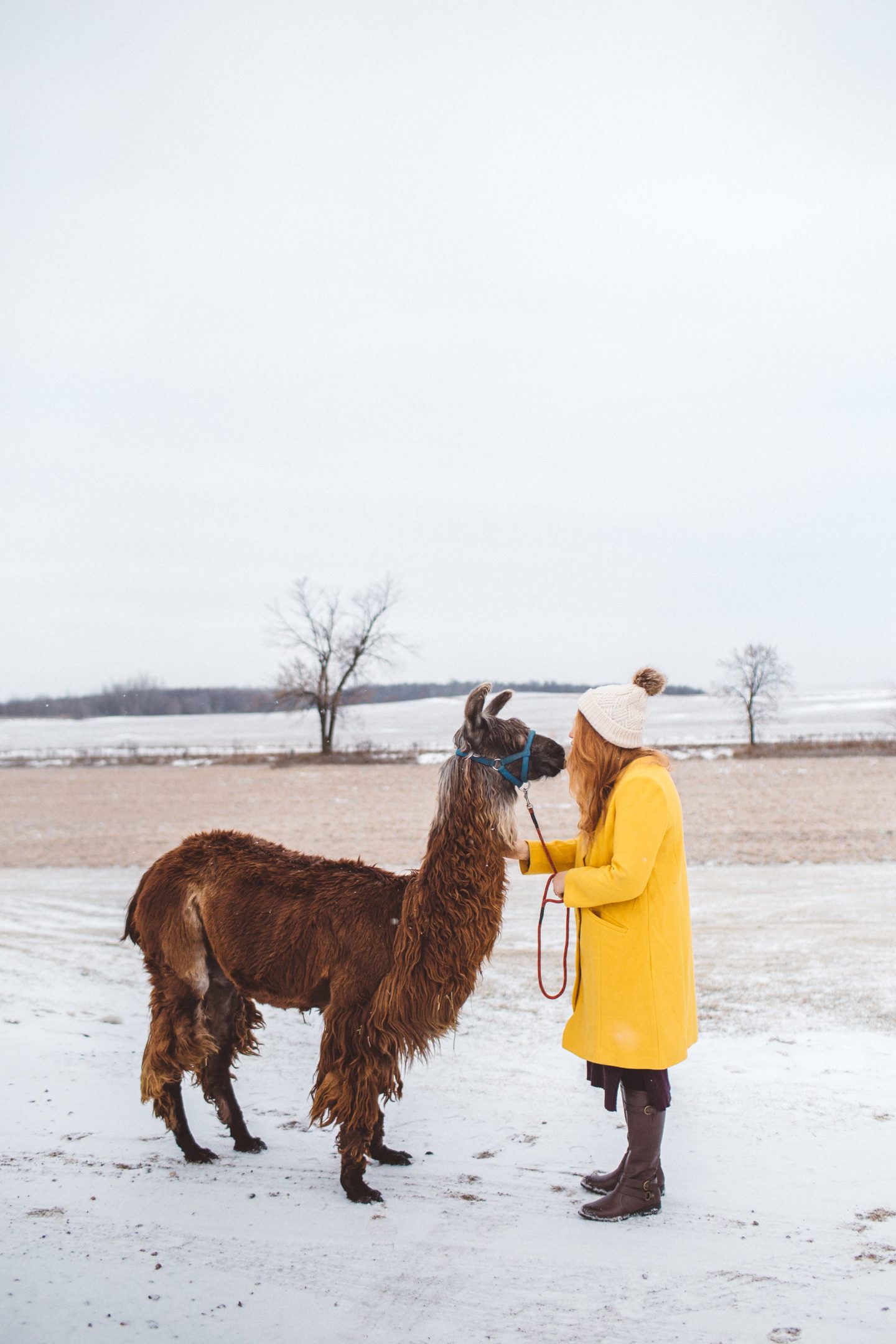 COLDER MONTHS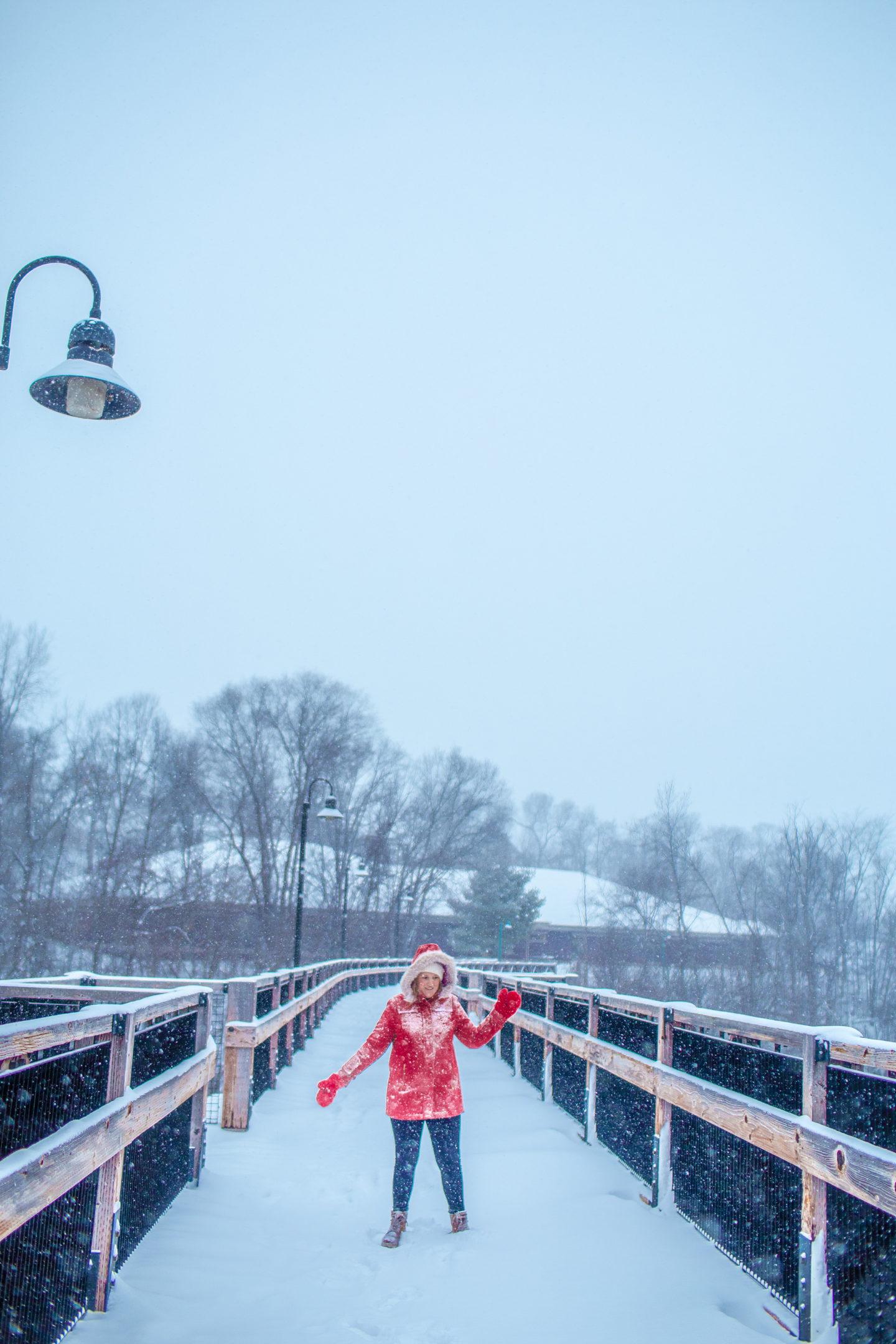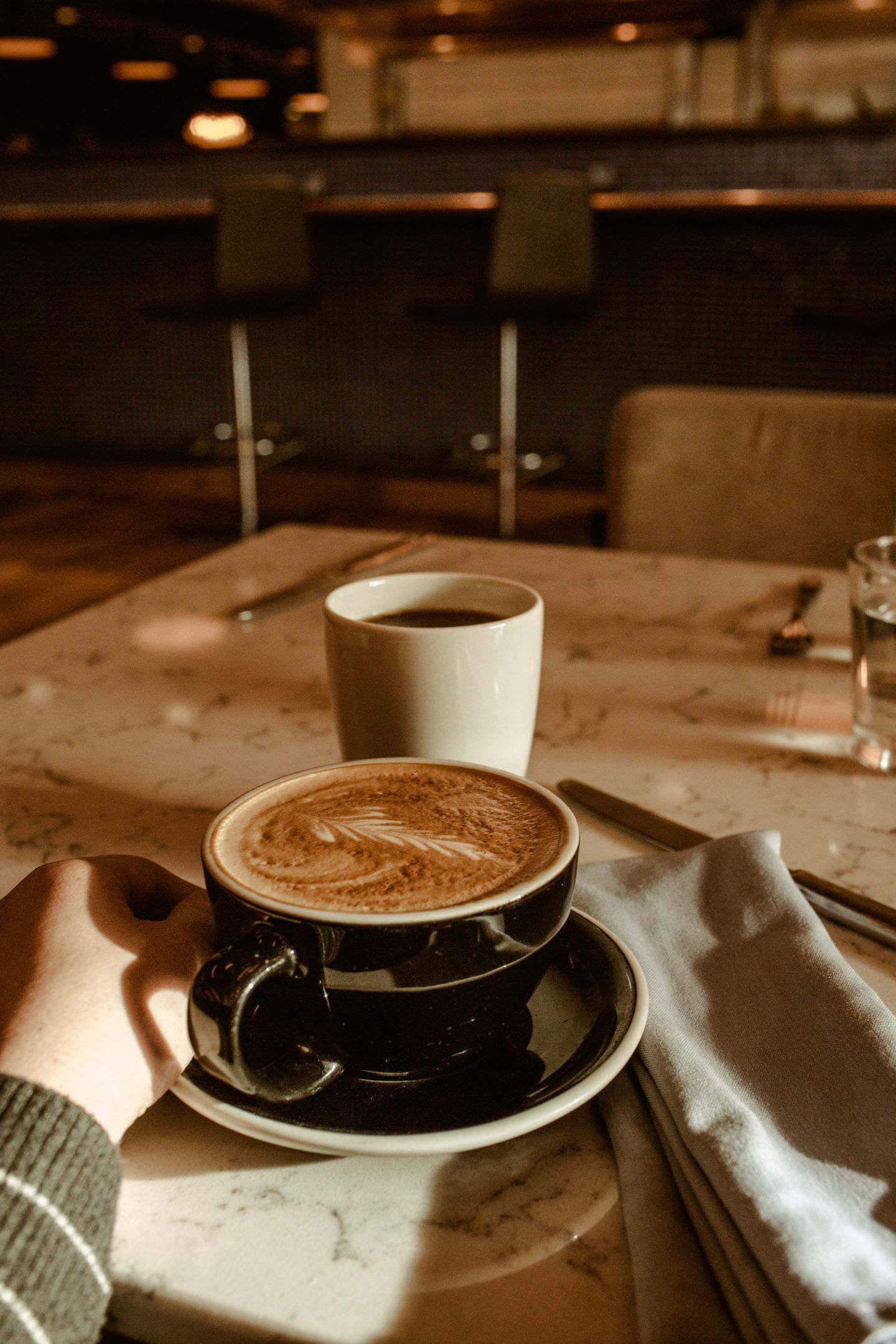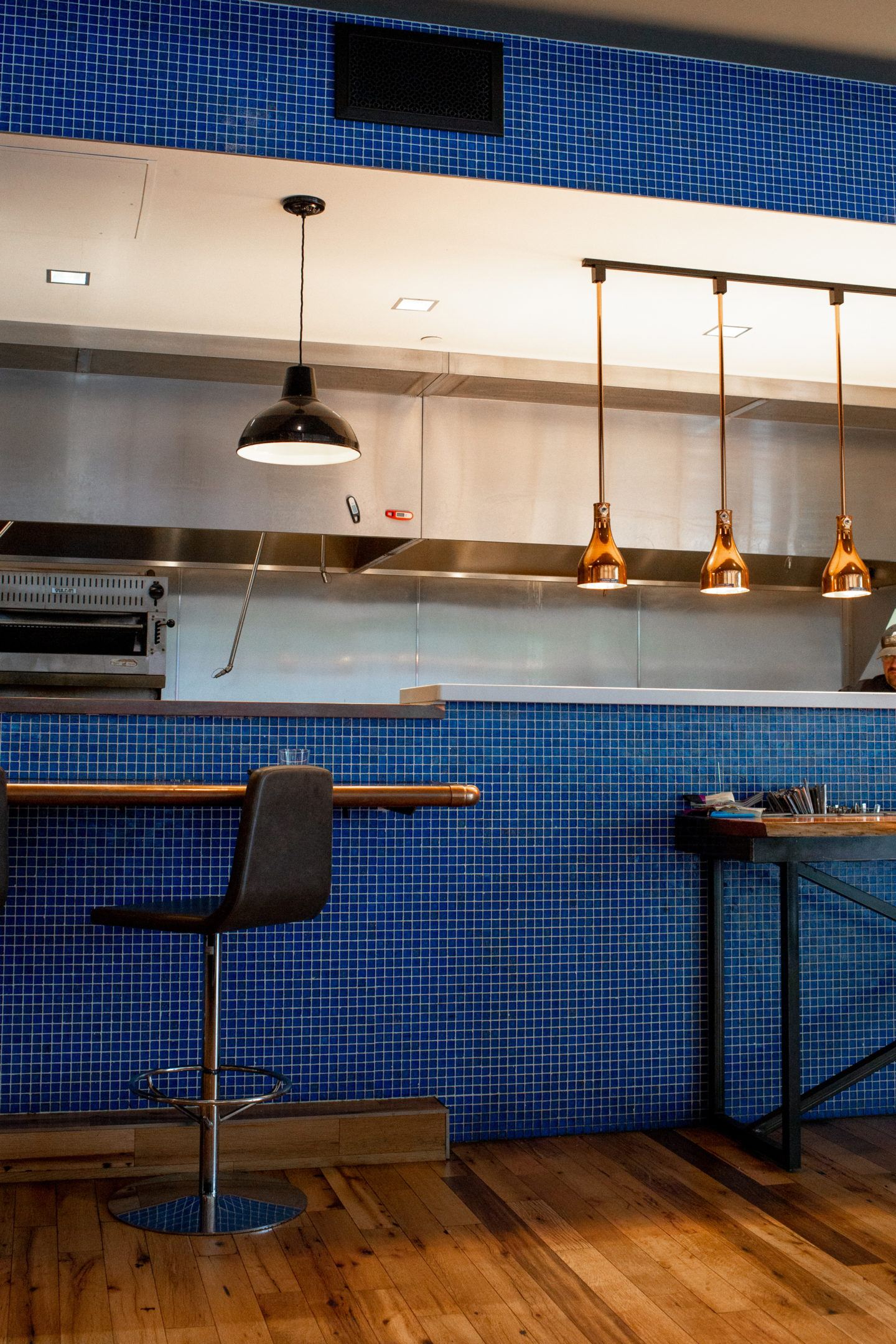 I hope this helps you plan a trip to Eau Claire, Wisconsin! I love my home state and that community so much and can't wait for the rest of the nation to catch on that it's a special place, too. If you have anything to add, please leave a comment below so others can benefit from your knowledge! IF you have any questions, leave a comment or DM me on Instagram @thewhimsysoul and I'll be happy to help!
Other Posts You May Like
Our road trip from Wisconsin to California
10 Things To Do In Madison, WI
Ultimate Boulder, Colorado Travel Guide
11 Road Trip Hacks To Know
WISCONSIN PLAYLIST