Autumn is around the corner and since I'm a basic B, I love going ALL IN on all things autumn. I have a whole box of Halloween sweaters and fall outfits that I pull out on September 1st each year and a stash of pumpkin candles that are burning nonstop until Thanksgiving.
If you also love autumn, these are all my top fall activities to do alone, with your partner, friends or the whole family to get in the mood for autumn.
Fun Fall Activities & Bucket List Things To Do To Get In The Mood For Autumn
I had to put on my Kiel James Patrick fall sweater to write this post. Sets the vibe, you know? Fall is kinda of a whole aesthetic.
1. Apple Picking
Head to an orchard and gather a bushel of fresh apples, perfect for pies and cider! Apple picking season is usually August – September, depending on your location and is one of my most favorite fun activities to go to kick off fall.
I love to put on one of these cute apple-picking outfits and finding a local apple orchard that lets me pick apples right from the tree. If you happen to live in California, these are my favorite Apple Hill orchards to visit! Some of them also sell pies, donuts and caramel apples.
2. Gilmore Girls Marathon
One of my favorite fall things to do is do a Gilmore Girls marathon. There's something about the town of Stars Hollow and that theme song that makes me all giddy for apple cider and crunchy leaves.
I love having a "wind down" show that I watch before bed and Gilmore Girls is my bedtime show for September-November usually!
PS – I have a whole post on how to dress like the Gilmore Girls if you want more inspo.
3. Sample The Starbucks Fall Menu
Around August 24th every year, Starbucks drops their fall menu. This year (2023) they launched two new drinks! The iced apple crisp oat milk shaken espresso and an iced pumpkin cream chai tea latte! The apple crisp drink is so dang tasty.
Every August… and September… and October, I always have to march my ghost sweatered self over to Starbucks to grab a Pumpkin Spice Latte.
I also make a PSL at home, but I can never have enough!
4. Make A Fall Charcuterie Board For Wine Night
Red wine pairs so well with Halloween movies and cheese boards. Last year I made a fall-themed charcuterie board featuring a skeleton and it was so much fun!! Such a hit with the girls, I'll be making it again this year.
5. Stock Up On Fall Candles
Another major must fall activity is to swing by a local boutique (or shop online) for fall candles. My favorite is this October candle, but Target also has a lot of good, affordable ones!
6. Do A Ghost Photoshoot
One of the most unique things to do in fall that I love is a ghost photoshoot! This trend emerged from TikTok a few years ago and I of course had to do a photoshoot with my friends!
Grab an old sheet, sunglasses and a camera, then head to somewhere spooky for tons of fun and memories. Use one of my Halloween caption ideas for your spooky post to Instagram.
7. Ghost Painting Challenge
Speaking of TikTok, this autumn another fall fun activity emerging is finding an old painting at a thrift store and painting little ghosts in the frame.
8. Go Leaf Peeping
Take a scenic drive or hike to admire the vibrant fall foliage. It's hands down the best outdoor activities for fall! I always plan a trip with my friends to go hunting for all foliage in California.
Sometimes I travel, too! Last year I went to find all the best Utah foliage spots and loved seeing the mountains covered in orange, yellow and red. You'll have to check foliage reports to find when it's peak season for your location, but it's worth the planning!
PST if you're looking for free things to do in fall, leaves are free to look at!
9. Spend An Afternoon Pumpkin Carving
Get creative with pumpkin carving to make spooky or whimsical designs. As a kid, my favorite things to do in Fall was pick out a pumpkin and bake the seeds! Always fun fall activities for the family.
10. Visit A Pumpkin Patch
One of my favorite fall activities even now as an adult is driving down to a Half Moon Bay pumpkin patch to wander rows and rows of pumpkins to take home.
Here in California they have green, white, pink, black and of course, orange pumpkins so it's fun to grab a few in every color.
11. Go On Hayrides
I love to try and find a pumpkin patch that offers these! Enjoy a traditional hayride through picturesque countryside – it's always fun!
12. See Central Park In Autumn
New York City has some amazing fall foliage but Central Park has the best! Wander over in the morning, grab a coffee to go at a coffee truck and wander the park covered in red, orange and yellow!
13. Take A New England Autumn Fall Road Trip
New England is the daddy of fall foliage! I haven't been yet, but it's high on my autumn bucket list to spend a couple of weeks visiting Salem, Vermont and New Hampshire!
If you live on the East Coast, i'll be easier to plan a last minute trip. Otherwise, make sure to give yourself a few months to book and plan!
14. Do A Corn Maze Adventure
Test your navigational skills in a challenging corn maze. Kids love this! My parents took me to a corn maze every October and I got really, really good at them. It's a life long skill.
15. Attend Spooky Fall Festivals
There's plenty of local fall festivals featuring food, music, and seasonal crafts. But, you can also plan a whole trip around a famous Halloween spooky town and festival somewhere in the world!
16. Visit Halloweentown
Yes, Halloweentown is a REAL place! It's located in St. Helens about 30 minutes outside of Portland. It has the giant pumpkin and everything.
It's best to visit during a weekday to avoid the crowds, but some Saturdays they have Halloween costume contests and events to it'll be fun if you can only go on a weekend.
17. Wine Stomps
Harvest season for wine country is all about picking grapes and making wine! Some wineries in Sonoma, Napa and Calaveras County in California have wine stops. The latter, Calaveras County, has a huge wine stop contest where people travel from all over the world to compete!
I have a cabin in Calaveras County that you can rent out when you visit, just saying!! *wink wink*
18. Go On All Nature Walks
Explore hiking trails and parks to soak in the beauty of autumn landscapes. I like to do these on weekend mornings with a cup of Starbucks in my hands.
19. Have A Halloween Party
Parties are always fun things to do in October! They don't have to be ragers if that's not your scene. Something I've seen lately is themed parties.
Everyone has to dress on theme – like, a character from Twilight, or their favorite famous Red Head. It's a fun spin on Halloween parties!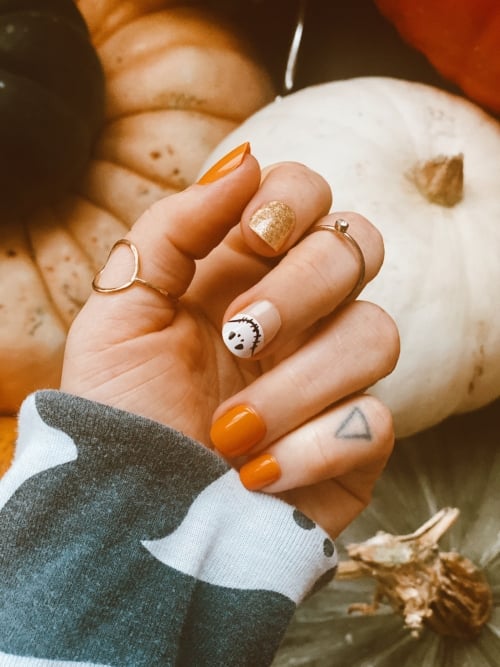 20. Give Yourself Halloween Nails
Impress Nails has amazing press-on nail patterns for spooky season!
21. Visit A Farmers Market
Discover seasonal produce, artisanal products, and fall-themed treats. Markets will usually close down in winter so this is your last chance to go.
22. Host A Bonfire Night
Gather around a cozy bonfire fire pit with friends, roasting marshmallows and sharing ghost stories! I loved these growing up in Wisconsin!
23. Attend A Haunted House Tour
Experience spooky thrills by visiting a haunted house or haunted attraction. These aren't my thing ( I get too scared!) but I have friends who love hitting these up every weekend.
24. Do A Fall Cider Tasting
Sample various types of apple cider, including traditional and spiced versions. Most cider houses with have a couple of taps featuring fun autumn flavors.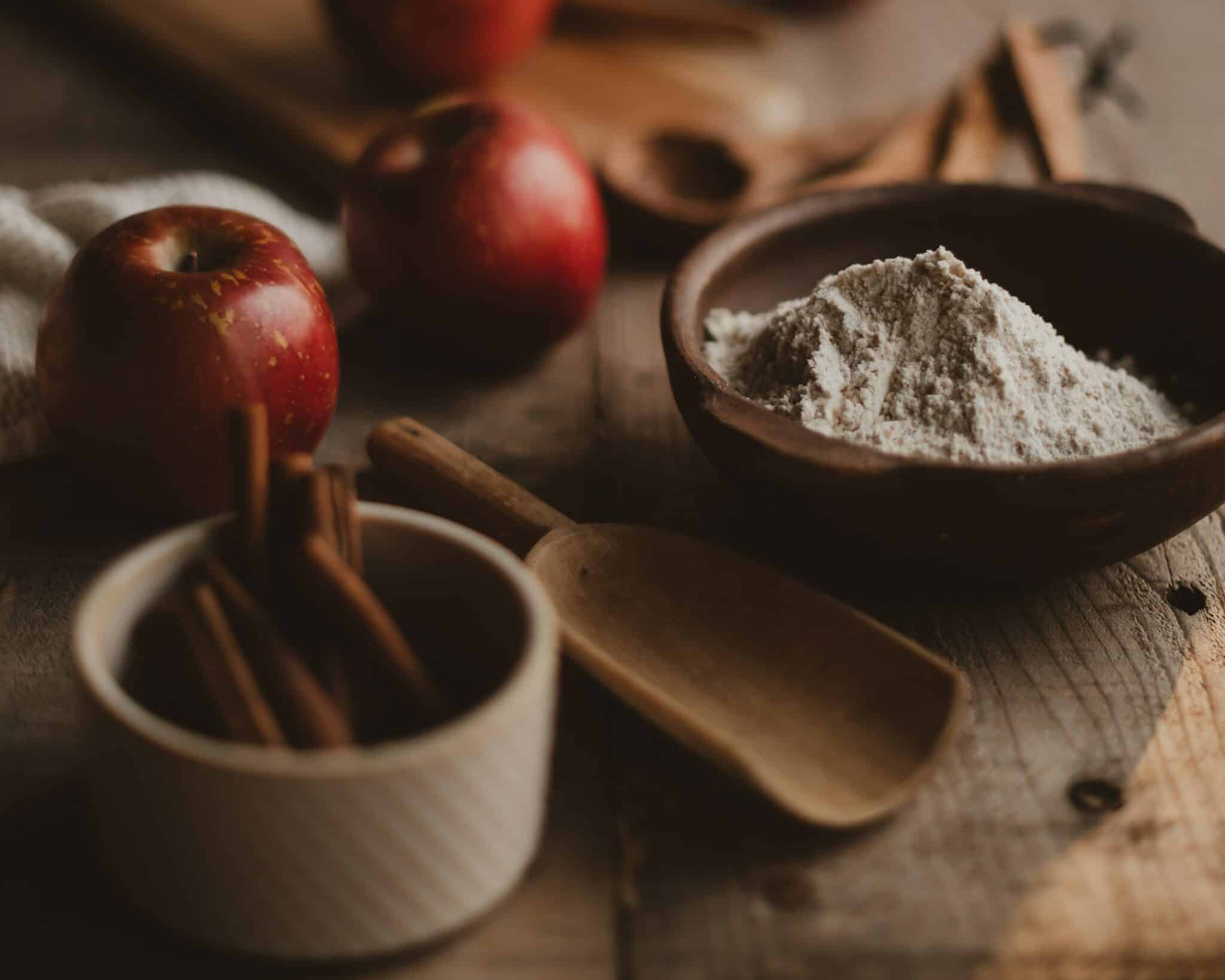 25. Fall-Themed Baking
Bake apple pies, pumpkin bread, and other autumn treats. My fall bucket list always involves homemade apple pie.
Fall baking is also witchy by default – our witchy writer did a great info guide on the history of baking you should read!
26. Do Outdoor Photography
Capture the essence of fall with outdoor photography sessions. Bonus points for sunrise wake up calls, they are always worth it!
27. Take A Scenic Train Ride
Take a leisurely train ride through scenic landscapes painted with fall colors. Amtrak goes through many fall locations, there's a train in Utah near the Homestead Crater that does fall tours and the Royal Gorge Route Railroad in Colorado that wanderings through the Rockies to soak up foliage!
28. Celebrate The Fall Equinox Celebration
Welcome the new season with rituals, ceremonies, or gatherings. This is a time of harvest, reflection and preparing for a season of rest (aka winter).
I love partaking in autumn equinox celebrations!
29. Visit All The Twilight Locations
One of my favorite fall trips I ever took was to Forks, Washington to visit all the Twilight book locations in real life!!
La Push Beach, the Cullen House, even the Italian restaurant -it's all there in the Olympic Penisula!
30. Do DIY Fall Crafts
Get creative with DIY projects like wreaths, centerpieces, and garlands. Christmas isn't the only time to do DIY holiday decorations!
31. Go On Autumn Geocaching
Embark on a treasure hunt using GPS coordinates to find hidden caches. It's basically a scavenger hunt in real life and I'm obsessed with it.
There are literally hundreds of caches hidden around every city in the world – you probably walk by them all the time!
32. Visit a Winery
Enjoy wine tastings amid breathtaking fall vineyard views. I adore sipping on Sonoma Pinot Noir while soaking in the changing leaves with wine. The vines in Healdsburg always turn this time of year, too!
Plus, autumn is harvest season for wineries so they might have special wines on hand to sample! And, holiday sales.
Some wineries are also child friendly but check policies first.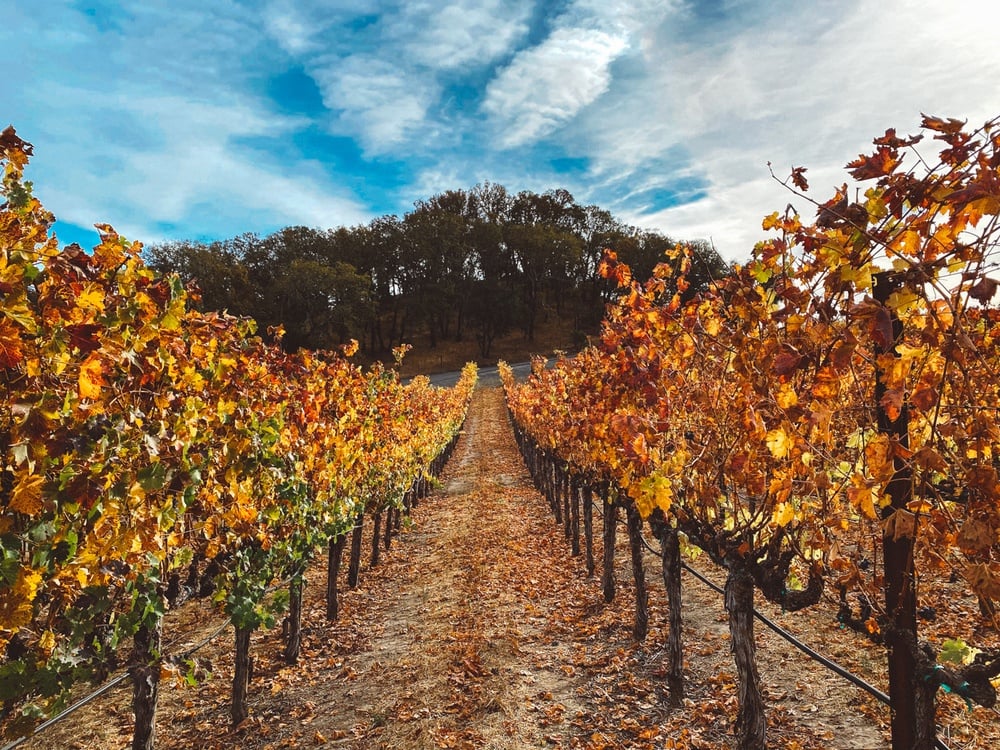 33. Raking Leaves
Turn a chore into fun by jumping into piles of freshly raked leaves.
34. Go Fall Camping (Or Glamping!)
Before the winter snow hits, go on one last camping hurrah. Or, if you aren't up for bare bones, do glamping.
Last October I went glamping in Hope Valley's famous fall colors here in the Sierra Nevadas and it was an epic trip.
35. Star Gazing
Enjoy crisp fall nights by observing constellations and meteor showers. Nothing beats the time spent outside before winter hits.
36. Scarecrow Making
Design and create your own scarecrow to adorn your yard. This was always such a fun fall activity when I was a kid. I propped him up against our fence by the road.
37. Fall-Themed Movie Marathon
Have a movie night featuring classic and contemporary fall films. I have a big list of all the best Halloween movies and tv shows to watch!
PS – I get ideas for Halloween costumes from here. Did a girls group costume around Hocus Pocus a few years back!
38. Volunteer for Harvesting
Join local farmers in harvesting crops for a hands-on experience.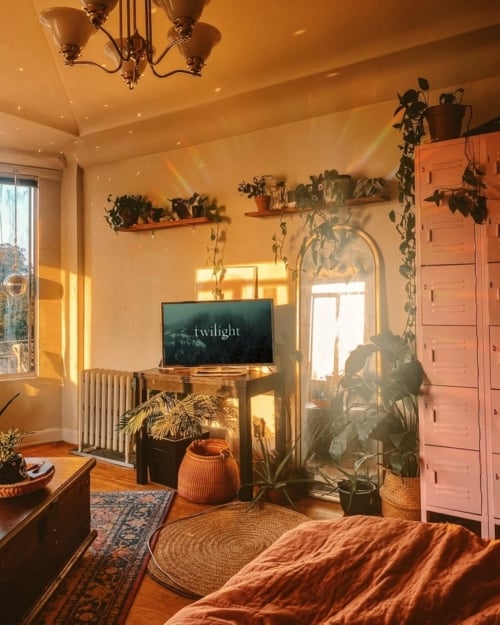 39. Visit a Sunflower Field
Here in California, sunflower season is usually in the summer but there are some coastal farms that have sunflowers in September!
It's a fun way to kick off the harvest season. Wander through sunflower fields for a burst of yellow color in the fall landscape.
40. Do Crisp Air Outdoor Yoga
Practice yoga in natural settings surrounded by autumn's tranquility. Practice self care and time honoring your body.
41. Embark On Ghost Tours
Participate in guided ghost tours to explore local history and haunted sites. Many towns offer them and tickets are usually not a lot of money.
Recently I did a historic ghost tour on a trip to Bend, Oregon and LOVED it!
42. Make A Spooky Cocktail
Black flame candle cocktail, anyone? Perfect for movie nights or Halloween Parties
43. Do Some Nature Journaling
Document the changing landscapes and your thoughts in a fall-themed journal.
44. Do A Harvest Moon Celebration
Organize a gathering during the full moon closest to the autumnal equinox.
45. Harry Potter Marathon
Just like Gilmore Girls, Harry Potter is always a fun series to rewatch during October! I even did a Forbbiden Forest photoshoot a few years ago hehe.
46. Hot Air Balloon Ride
Soar above the trees to enjoy panoramic views of fall scenery. EPIC bucket list idea that's super romantic, too!
47. Visit a Botanical Garden
Explore themed gardens showcasing fall flora and fauna.
48. Apple Bobbing
Have a lively competition of apple bobbing at a fall get-together.
49. Fall Book Reading
Cozy up with a warm beverage and a good book in autumn ambiance. Here's of list of favorite fall books to read!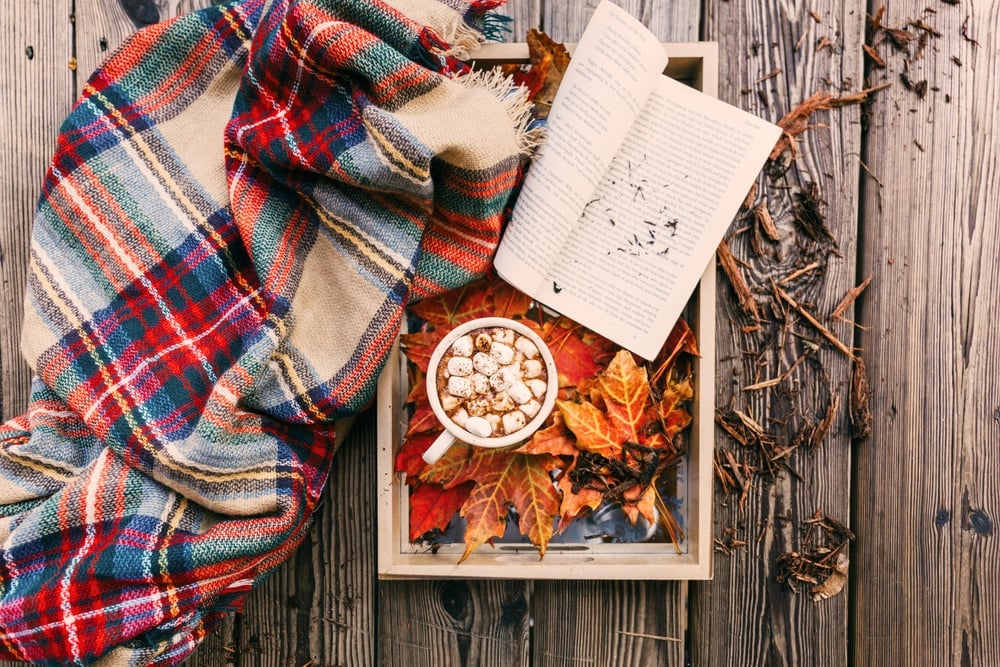 50. Outdoor Painting
Set up an easel outdoors to paint the fall scenery on canvas.
51. Fall-Themed Photo Shoot
Arrange a photoshoot with friends or family in picturesque fall settings. Sunrise or Sunset is best for lighting here.
52. Outdoor Concerts
Attend outdoor concerts featuring live music against the backdrop of fall foliage. If you're looking for fall activities near California, San Francisco always has the Hardly Strictly festival each year!
53. Preserve Leaves
Press and preserve colorful leaves as decorative keepsakes.
54. Explore Historical Sites
Visit historical landmarks and learn about their history.. which may really just be a bunch of ghost stories. Historical landmarks are always haunted, I swear.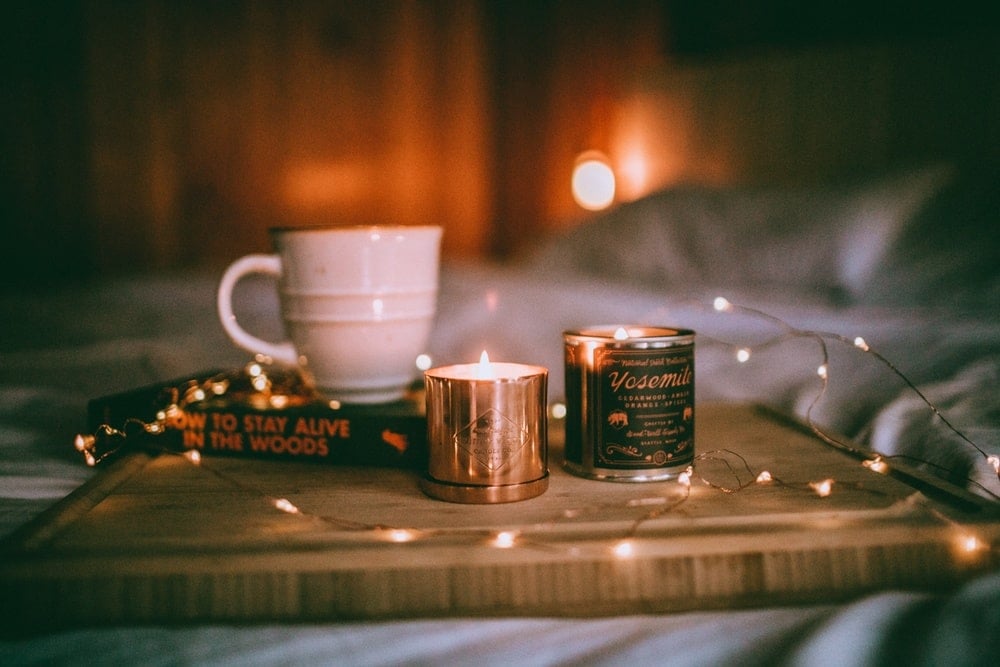 55. DIY Scented Candles
If buying pumpking candles aren't your thing, try making craft homemade candles with warm and comforting fall scents.
56. Fall Picnic
Pack a picnic basket with seasonal goodies and enjoy a meal outdoors. Get in the mood with tons of picnic aesthetics.
57. Foliage Canoeing or Kayaking
Rent a kayak and take a crisp autumn paddle along waterways surrounded by vibrant fall colors. This is one of my favorite Autumn activities to do.
58. Visit a Lighthouse
Explore lighthouses against the backdrop of autumn seascapes – lighthouses around the Great Lake will be popping off with foliage.
Or, if you are on the coast, like I am, autumn is awesome for visiting lighthouses since it's not as foggy as summer.
59. DIY Fall Potpourri
Create fragrant potpourri using dried leaves, spices, and citrus for a seasonal aroma.
I hope this helps you plan a great autumn celebration!