I'm so excited to be sharing all my favorite things to do in Madison Wisconsin with you! It's my hometown, after all! Well, almost hometown, I grew up about 20 minutes outside the city but as a bored teenager in the Midwest, I spent almost every weekend growing up running around Madtown.
Yes, I'm super biased, but I think Madison is a super underrated gem of a city, especially in the summertime. We have lakes for water activities, museums, art, gardens, urban hiking trails, tons of festivals and all the cheese and beer your little heart desires. In this guide, I'm sharing all the fun things to do in Madison WI, plus a city guide to help you plan the best trip possible to the cheese state!
>> Got a question about the Madison that you need answered quickly? DM me on Instagram @thewhimsysoul and I'll be happy to help!
After not being able to visit for a few years thanks to the panny, Robin and I headed back to Wisconsin last summer to spend a week in Madison playing tourist.
I grew up right outside of the city but my husband Robin hails from the East Side of Madison. Both our families are still there so we find ourselves in Wisconsin all the time even though we now live in San Francisco. I'm honestly not sure why it took me so long to write thing guide for you guys.
What Is The Best Time Of Year To Visit Madison Wisconsin?
I'm going to be honest with you: if you are not used to harsh winters, you probably don't want to visit Madison WI in the winter months. It's a whole different kind of cold here and I know my friends out here in California would NOT be happy. But if you can tough it out, you'll be rewarded with fewer crowds at tourist attractions and some really unique Madison winter activities (like ice fishing!)
But, I really think Madison shines in the summer. Yes there are mosquitoes and it gets humid, but Wisconsin folks go hard during the summer to make up for the cold. Madison has tons of lakes for swimming, boating and water activities.
Almost every restaurant has outdoor patios and some of my personal favorite gems, like sunset beers at the terrace, can only happen in the warm months. I would suggest visiting madison June-October for the best weather and activity selection.
Note: this guide heavily leans towards what to do in Madison in warmer months, but does include some winter activities and day trip ideas!
Weekend in Madison WI: Cool Things To Do In Madison This Weekend
Ok, now on to all my favorite things to do in Madison! After my list, I share my recommended hotels, what to pack, day trip ideas and more tips for visiting!
1. Olbrich Botanical Gardens
Olbrich isn't your average botanical garden. For starters, it's one of the few Madison attractions that's equally fun to visit year round as it's open in the summer AND winter. I remember doing field trips to Olbrich as a kid in the dead of winter and walking into the Bolz Conservatory. The heat, the beautiful tropical plants, the humidity, the floral smells…all of it felt like we were whisked away to a warm island.
In the summer, you can also wander their 16+ acres of gardens, which features an authentic Thai Pavilion tucked in the back. This was gift to the University of Wisconsin-Madison from the Thai Government and there are only 4 other original Thai pavilions in the world outside of Thailand, and Madison is one of them. It's a super unique attraction that you literally can't find in many places in the world.
2. Explore The Wisconsin State Capitol Building
Exploring the Capitol is one of the best free things to do in Madison. Yes, it's totally free to enter and visitors are allowed to walk around the building, which honestly always surprises me as the building houses both chambers of the Wisconsin legislature along with the Wisconsin Supreme Court and the Office of the Governor.
Inside, find towering marble columns, beautiful mosaics, badger statues, and this distinct smell you usually just find in old libraries. As a kid, I would run to Rotunda, lay down on the cool marble floor and look up at the granite dome. On a hot day, we would pop inside to cool off in its A/C, and in college, I could pick a bench in one of the Capitol's gardens to have lunch.
BUT, the coolest thing to do in Madison at the Capitol is to visit the Observatory Deck / Lantern Balcony! Yes, you can walk around on the deck that wraps the dome!! Take the elevator to the 4th floor and then walk up another flight of stairs to the 5th floor. Here you will find an attendant who will guide you to yet another staircase, this one spiral, that will take you outside to the deck.
It features stunning views of the whole city and really helps you see how downtown Madison is on an isthmus (aka a little piece of land between two bodies of water.) After, you can sometimes climb yet another stairway to get to a higher level but it's not always open to visitors.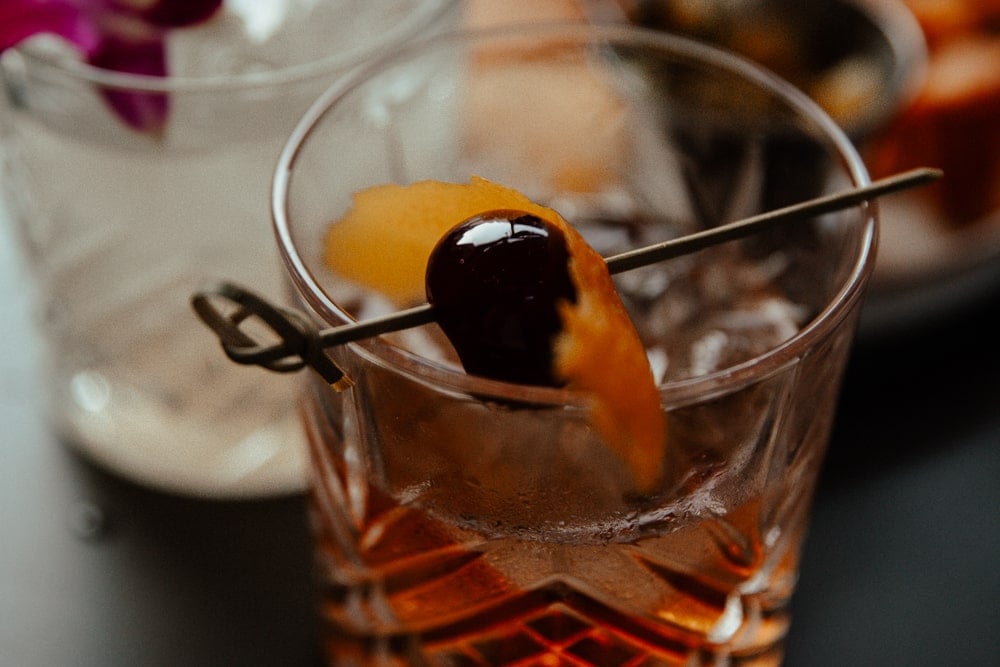 3. Sip Wisconsin Old Fashioned Cocktail
A Wisconsin Old Fashion is like, THE cocktail to try at least once while visiting Madison. This Old Fashioned is made with brandy, soda and usually cherries and/or an orange peel. Everyone's Grandpa makes these and when you go to any bar – from a fancy cocktail bar to a small town pub, you'll find a killer Wisconsin Old Fashioned on the menu
4. Bike The Lake Loop
One of those unique things to do in Madison that not every visitor opts for is biking around Lake Monona! It's a 13 mile paved lakefront bike trail that takes you past the Monona Terrace Community Center, Olbrich Gardens, beaches, gardens, beautiful houses and more gems.
Once you get across the lake (halfway on the loop) you'll be treated to stunning views of the downtown Madison skyline.I recommend renting a bike from Machinery Row Bicycles and budgeting time for an ice cream stop somewhere in there.
5. Nibble Your Way Through The Dane County Farmers Market
Whenever I'm home in the summer, I always drag a family member out of bed early to hit up the Farmer's Market. From April – to November on Saturday morning, vendors line the Capitol Square so you can start at one corner and slowly meander your way around in a loop.
Find tons of local veggies and fruit, but also vendors selling honey sticks, pastries, bread and of course, cheese curds! You can usually always find a few booths selling arts, jewelry or clothing, too. I recommend you come hungry so you can make a picnic breakfast, then sit on the Capitol lawn to eat.
After, you can wander into nearby buildings like the Wisconsin Veterans Museum, Madison Geology Museum, or down State Street. But if you haven't had a chance to check out the Capitol Building yet, now is a great time to explore it!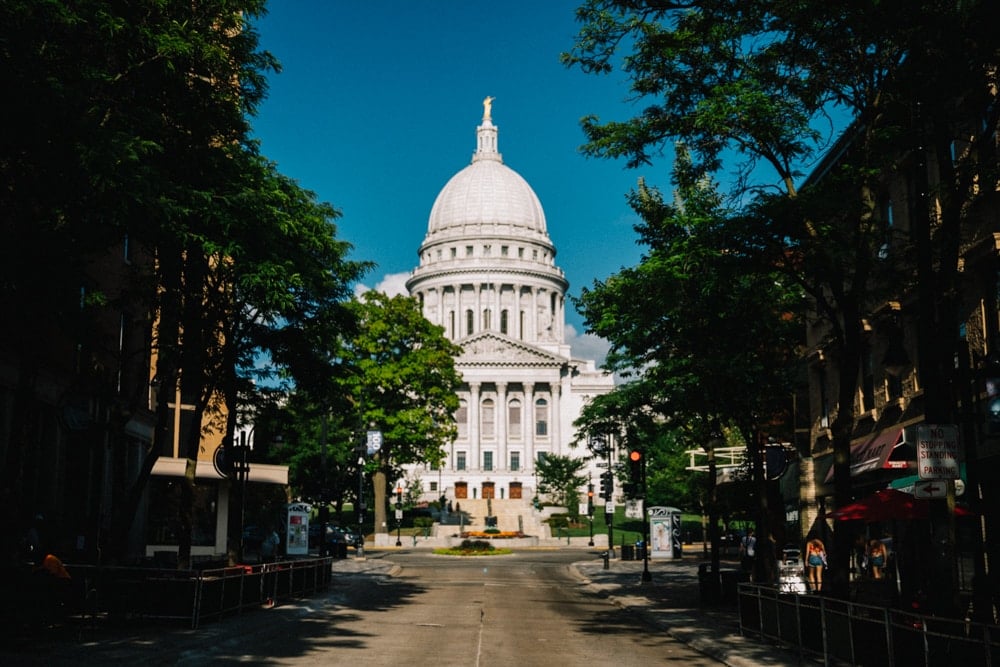 6. Stroll State Street
Madison's State Street is iconic, I even have a poster of it in my apartment in San Francisco! State Street is a Pedestrian Mall in the heart of the city and starts at Bascom Mall and ends at the Capitol, with tons of restaurants, stores and other cool places to pop into.
This is where you can really soak up a lot of Madison culture and people watch. In the school year, you'll find a lot of college kids down here but in the summer I find more families and folks of all ages are out enjoying the nice weather. Personally, as a teen and in college, my friends and I would come here every weekend to walk around, have lunch and go shopping.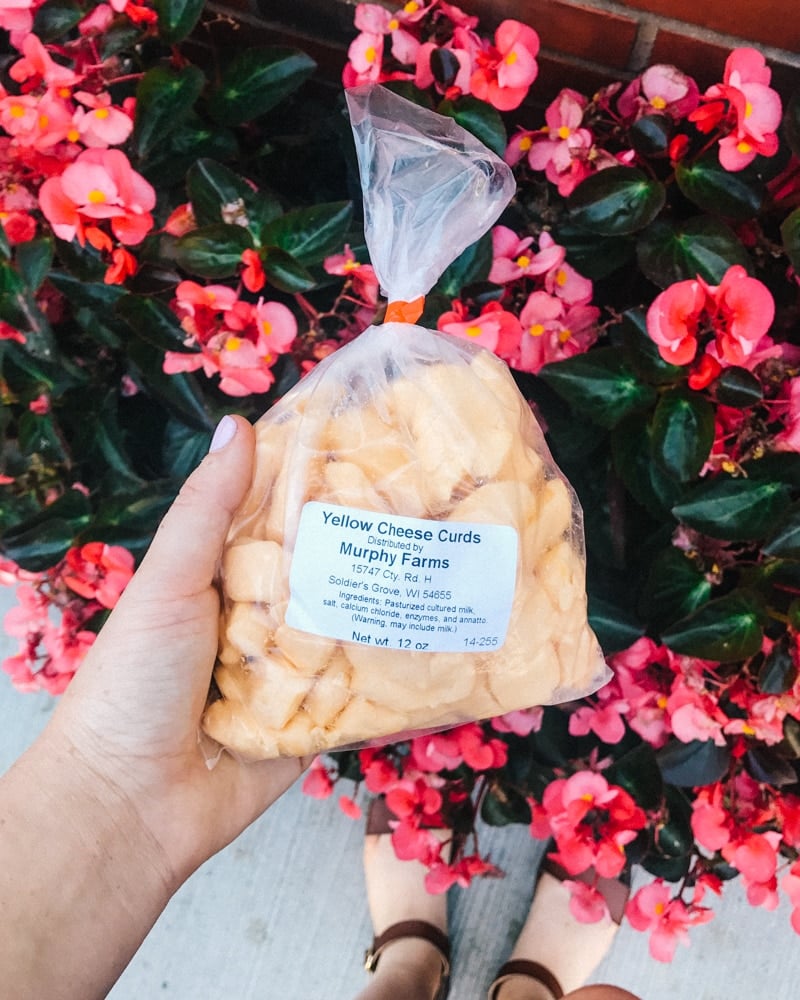 7. Eat Squeaky Cheese Curds
I think it's illegal to come to Wisconsin and not try a fresh cheese curd. This food is a local favorite! You can eat fried cheese curds, sure, but the local favorites are fresh squeaky cheese curds. Squeakier the better!! You can find fresh cheese curds at the Farmer's Market and almost every grocery store or corner market.
8. Kayak Lake Monona
Madison is unique because it's a capital city with 5 lakes, two of which made the city on an isthmus. The lakes are Lake Monona, Lake Waubesa, Lake Wingra, Lake Kegonsa and Lake Mendota. (Yes, we had to memorize that in school.) You can do kayaking on any of the lakes but Lake Monona is my favorite lake to paddle because you get killer views of Downtown Madison from here!
You can rent a kayak at Olbrich but I prefer to rent at Brittingham Boats since they are closer to downtown. Rent in the late afternoon to paddle past Monona Terrace at Golden Hour. This building was designed by Frank Lloyd Wright so it's super pretty. After your paddle, you can easily roll right into happy hour.
Pro-tip:
Swap Lake Monona for a
paddle down Sugar River
right outside Madison! We did this with my dad last time I visited home and had so much fun! 9. Beers On Lake Monona
10. Dine At Garver Feed Mill
The Garver Feed Mill is a historic mill-turned hub for local artisans and businesses. It's full of restaurants, bars, shops and even yoga and wellness classes. They have indoor and outdoor seating so you can visit year-round. This is such a fun spot to have lunch or dinner at one day! It's a newer of Madison attractions and so dang cool.
11. Wisconsin Historical Museum
There are a lot of museums in Madison, so if you have to pick one, I would suggest the Wisconsin Historical Museum. It features a huge collection of artifacts from the state's heritage and many exhibits featuring Native Nations, the immigrant experience, frontier life, agriculture and so much.
You'll get a crash course on what Wisconsin is all about. Spoiler alert: so much more than cheese, corn and cows!
12. Madison Museum of Contemporary Art
The Contemporary Art Museum is located right on State Street so it's super easy to visit on the day you're exploring the Farmer's Market. MMoCA is free, and constantly changing our exhibits, but you can expect to artwork by big names like Frida Kahlo, on top of upcoming Midwest artists.
Plus, I really love their rainbow streamer installation in the lobby. It makes for great photos. If you're looking for things to do in Madison WI for adults, MMoCA has plenty of adult-oriented events and programs. Learn more here.
13. Beers At Memorial Union Terrace
My favorite downtown Madison activity on a hot summer day is hitting up the University of Madison's Memorial Union Terrace for a beer. Second to shopping the Farmer's Market, I always hit up the terrace at least once for sunset beers on Lake Mendota.
The UW Madison Union Terrace is famous for its back patio and colorful chairs. In the summer they serve up beers, hot dogs and other nibbles, and usually, always have a live music act on weekends. Head here for sunset, grab a pitcher of Spotted Cow and enjoy the vibe.
14. Swim In Madison Lake
On a hot summer day, I loved grabbing my friends and heading to a lake beach to soak up the sunshine and swim in the cool water. Come join the locals and head to the beach!
Madison has 5 different lakes and 22 public beaches, so it's not easy to find water, though in recent years not every beach is open to swimming in due to algae. Water is monitored daily in the summer and reported on this website, so check before you go.
15. Henry Vilas Zoo
The Henry Vilas Zoo is a super cute zoo and totally free. They have big cats, a reptile house, a primate house, polar bears and even a very famous badger. It's a great place to take kids if you are looking for free things to do in Madison with kids.
I loved coming here as a child. I once even saw a buffalo give birth, which was equally cool and gross. The zoo is right next door to Lake Wingra if you wanted to add on a kayak or lake stroll after your zoo visit!
16. Wander Willy Street & Atwood
Williamson Street, aka Willy Street, is another long street with a similar vibe to State Street in my opinion but more residential. You'll find restaurants, quirky clothing stores, vintage shops, co-ops and bars mixed in with houses. Some of my favorite eats are on Willy Street or Atwood Street, like Mint Mark, Monty's Blue Plate and Nook.
17. Brewery Hopping
Beer is a whole micro-culture here in Wisconsin. Beer is almost a religion. At the very least, you must try a Spotted Cow beer by New Glarus Brewing Company (can't be legally sold outside the state) but I urge you to do a little self-guided brewery hopping tour. Here are some of my favorite Madison breweries to visit and drink at:
Al Asylum
Funk Factory
Delta Beer Lab
Alt Brew
18. Madison Children's Museum
This Madison museum is SO dang cool! I went here all the time as a child and even interned here in college. I usually don't hype up children's musuems in travel guides and yes I am biased, but this one is super special. My favorite partis their rooftop garden, complete with chickens and a view of the Capitol Square.
If you're traveling with kids, you simply must take them to the Madison Children Museum. You will love it as much as they will, I promise.
19. Brunch At Marigold's Kitchen
Right off Capitol Square is Marigold's Kitchen, one of the best brunch spots in town. This gem underwent a makeover in 2021 so it has an extra good aesthetic. Of course, the food is still just as tasty. Menu highlights are their Huevos Rancheros, breakfast burritos, and Guajillo Braised Chicken sandwiches.
20. Dane County Fair
The Dane County Fair is a whole little world you can easily get sucked into. Rides, animal shows, artisan booths, carnival games, live music and tons of tasty food. If you're visiting Madison in July, head to the Alliant Energy Center to soak up the County Fair.
Find the Best Madison Festivals list here for more events that may be going down while you're visiting!
21. Wisconsin Supper Club
Supper Clubs are a very midwest thing, particularly a thing you'll find all over Wisconsin. They started circa 1940's in Milwaukee and are a classic multi-course dining experience without the price tag. Think: white linen tablecloths and napkins, tiny candles on the table, dark wood interiors and a bar full of locals.
Traditional supper clubs will always have a Fish Fry Friday, and probably also a Saturday prime rib special. No matter what, expect potatoes, giant steaks, soup & salad and a large bread basket. If you haven't tried a Wisconsin Old Fashioned yet, now is your chance. To me, a supper club is very nostalgic as we went to them all the time growing up.
Best Supper Clubs In Madison:
Tornado Steak House
Smokey's
Toby's Supper Club
Kavanaugh's Esquire Club
The Harvey House

22. Fish Fry Friday
While we're chatting about supper clubs, you simply must also do a Fish Fry Friday somewhere. They're a staple in local cuisine and culture. Wisconsin immigrants were mostly German, Norweigan and Polish Catholics. During Lent, red meat was swapped for fish on Fridays and thus the roots of the Fish Fry Friday was born.
Now, it's a whole thing. Many restaurants, not just supper clubs, will have their own twist on a Friday Fish Fry. Expect beer-battered and fried cod, perch, bluegill, walleye, and sometimes catfish. A traditional meal comes with tartar sauce, french fries, potato salad and bread rolls. You aren't a true local until you've gone to a supper club to drink an old-fashioned, and a went to a Friday Fish Fry.
23. Wisconsin Geology Museum
The Madison geology museum is another fun museum to check out if you love museums, or if you need an indoor activity either to escape the heat or winter cold. They have dinosaur skeletons, mineral and fossil collections, and tons of exhibits on how glaciers impacted the geography of Wisconsin.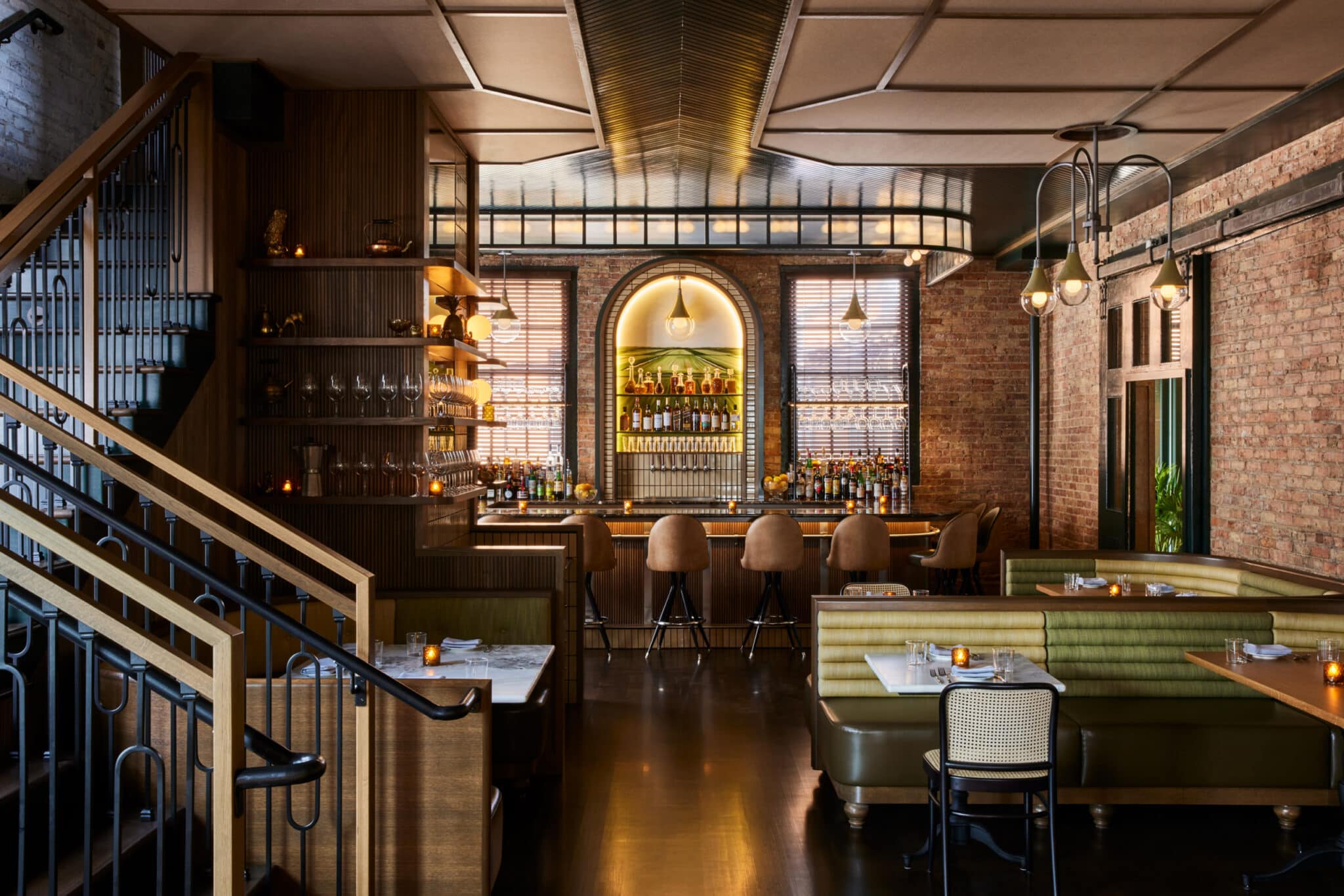 24. The Harvey House
Hidden behind Madison's Historic Train Depot is The Harvey House, a supper club/cocktail bar with perfect aesthetics and elevated dishes. It's inspired by the golden era of train travel and every detail – from the title at the bar counter to the cocktails that are new twists on old classics – is perfect.
25. Badger Football Game at Camp Randall Stadium
At the end of the day, Madison is a college town and the University has a huge influence on the culture here. If you like football and are visiting Madison in the fall, head to Camp Randall to catch a Badger's football game. Don't forget to wear red and get ready to Jump Around, like, a lot.
26. Breakfast At Mickies Dairy Bar
Speaking of Camp Randall, across the street is Mickies Dairy Bar, a truly iconic brunch and breakfast spot in Madison. It's a cash-only, huge plates of pancake, line-out-the-door type of place. It was built in 1946 and has been the go-to breakfast spot before badger games (and for really hungover students.)
If you're looking for a cheap breakfast in Madison that's also really good and will fill you up, Mickies is the spot. This past visit home I went with my mother and I couldn't finish my plate of food, the portions are so big!
27. Try A Cone Of Babcock Ice Cream
Babcock has been producing dairy for the University of Madison since 1951. The plant is right downtown next to campus and you can find Babcock ice cream sold all over town. They make classic flavors but my favorite is Blue Moon that is this berry ice cream that I used to go crazy for as a kid. It really hits the spot on a hot summer day, trust me.
You can find it served in most ice cream shops, but the Daily Scoop in the UW Terrace serves Babock Ice Cream, so grab a cone while you're visiting for happy hour.
28. Hike The UW Arboretum
The UW Arboretum features over 1200 acres of prairies, trails, wetlands and forests, all right in Madison. I came here all the time when I lived in Wisconsin. In the spring and summer, the whole area smells floral with all the wildflowers. In the winter, the prairies are covered in snow and it's super serene.
No matter what season, it makes for a great place to do an urban hike to spot tons of wildlife like deer or birds. They even have classes and guided tours if that's of interest.
29. Try Culver's Frozen Custard
If you live in the Midwest, you probably see Culver's all over the place. Did you know the first location was launched in Sauk City (about 30 minutes outside of Madison?) It's truly a Wisconsin staple and you can't find them outside the midwest. Whenever we're home, we swing by a Culver's for a scope of the flavor of the day, and maybe a butterburger.
30. Get Your Baseball On At A Mallard's Game
Madison's Minor League team are the Mallards and attending their games are the perfect way to spend an evening in Wisconsin. Their stadium is at Warner Park on the North Side of Madison. It's small but that's ideal, you can get up close no matter where you sit.
I recommend coming for an evening game so it's not as hot. Leave room for popcorn and hot dogs!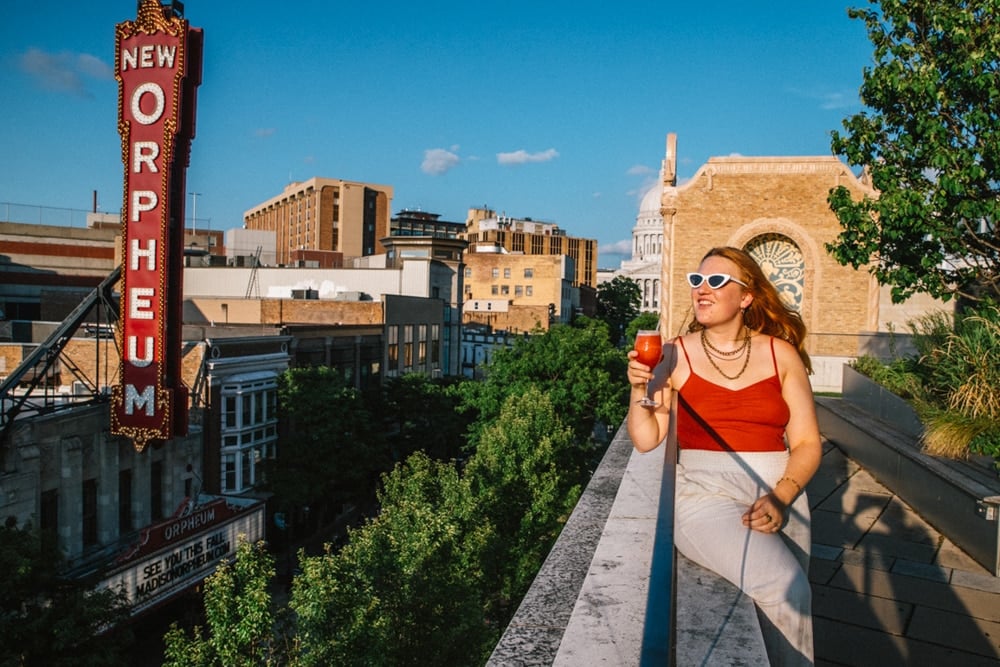 31. Sip A Cocktail On Top Of The MMoCA
This past summer, my sister and law and I headed to Fresco, a restaurant and bar that sits on top of the Madison Museum of Contemporary Art for happy hour. From this rooftop, you can get a stunning view of the Capitol, The Orpheum Theater sign and downtown Madison. It's SUCH a fun spot for visitors as a last hurrah night in town.
Note: Frescos closed down in 2021 but a new restaurant or bar will replace the venue space. Stay tuned!
32. Walk Trails At The Aldo Leopold Nature Center
Right outside of Madison in Monona is the Aldo Leopold Nature Center. This is another totally free reserve with trails through wetlands, forests and prairies. The land houses so many different ecosystems in one spot, it's truly special. The main building also has a ton of informational exhibits about Wisconsin native plants and animals, I always learn something new when I come here.
33. Allen Centennial Gardens
Right downtown Madison on campus are the Allen Centennial Gardens. They're outside a beautiful historic house and are totally free to visit. Obviously, there isn't much here in the winter so come in spring and summer! If you're looking for a quite place to eat a picnic lunch during your visit, this is a great spot as they have shaded tables.
34. Eat A Slice Of Ian's Pizza
One of the very Madison things to do is have a slice of Ian's Pizza. Specifically, the Mac & Cheese pizza, but they have all sorts of toppings you can try. Yes, this is the favorite pizza by the slice spot for college kids (especially drunk college kids) but it's also affordable and like, really good pizza. They even have vegan options!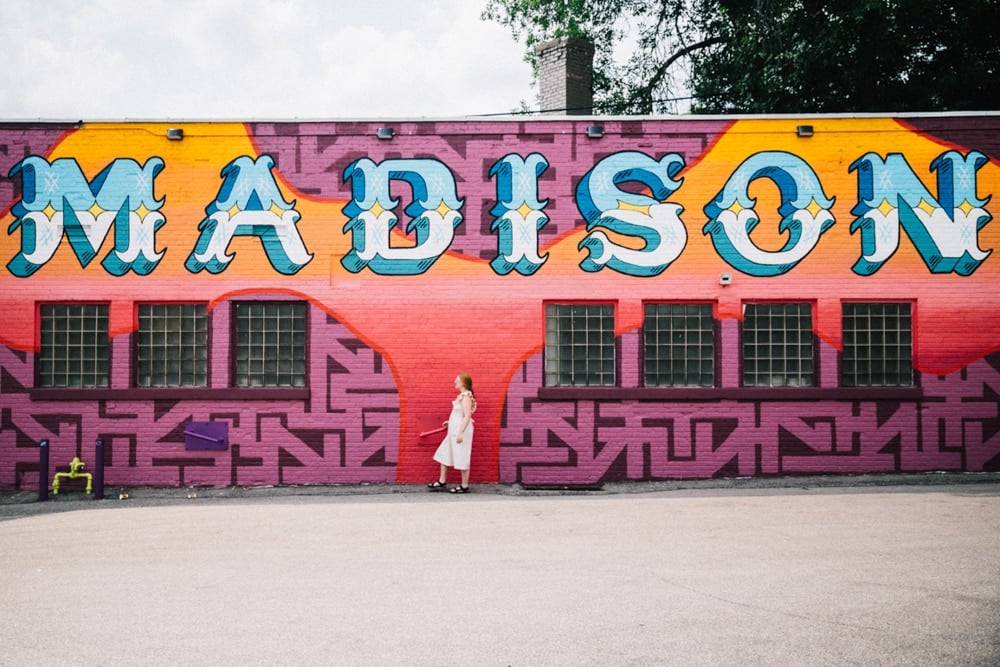 35. Go Mural Hunting
As an art lover, and someone always on the hunt for a good photo op for Instagram, Iove finding local murals. And Madison has a lot of really cool murals! Grab your camera and a cute outfit, and go!
These are the top 4 spots to find Madison murals:
Hilldale Mall
Hermina Street / Madison Mural Alley
Monroe Street
East Washington
Pst: heading to Chicago anytime soon? Use our handy
Chicago Mural Guide
to find the best street art there, too!
Best Winter Weekend Getaway Madison WI Activities
YES, it'll be cold and NO, I personally don't try to come back to Madison in the dead of winter unless I have to because I'm spoiled with mild winters here in California. BUT, that being said, there are some really neat winter activities that you can only do in Madison. The list of city of Madison events in the winter is always changing but these are the top things: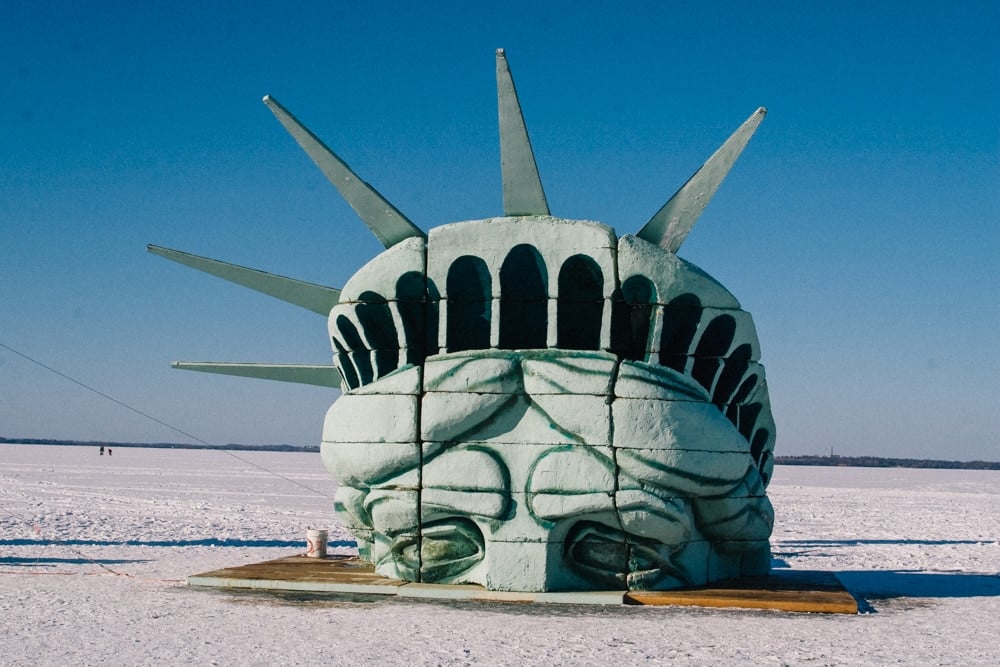 1. The Statue of Liberty on Lake Mendota
Every winter, an inflatable replica of The Statue of Liberty is installed on the frozen Lake Mendota. Well, her head and torch at least. This was started back in the 70's as a college prank but was quickly turned into a tradition.
Because the lakes are sturdy enough to walk on in the winter, visitors can easily walk out and take photos next to the famous Wisconsin The Statue of Liberty. It's usually only up for a few days a year around the winter carnival so if you're planning a winter trip to Madison, bookmark those days so you can see the statue!
2. Christmas Lights at Olin Park
One of the best tourist attractions in the winter are the holiday lights at Olin Park! The Fantasy in Lights display is usually put up mid-November and goes through the New Year. It's the biggest light display in Madison and truly magical at night.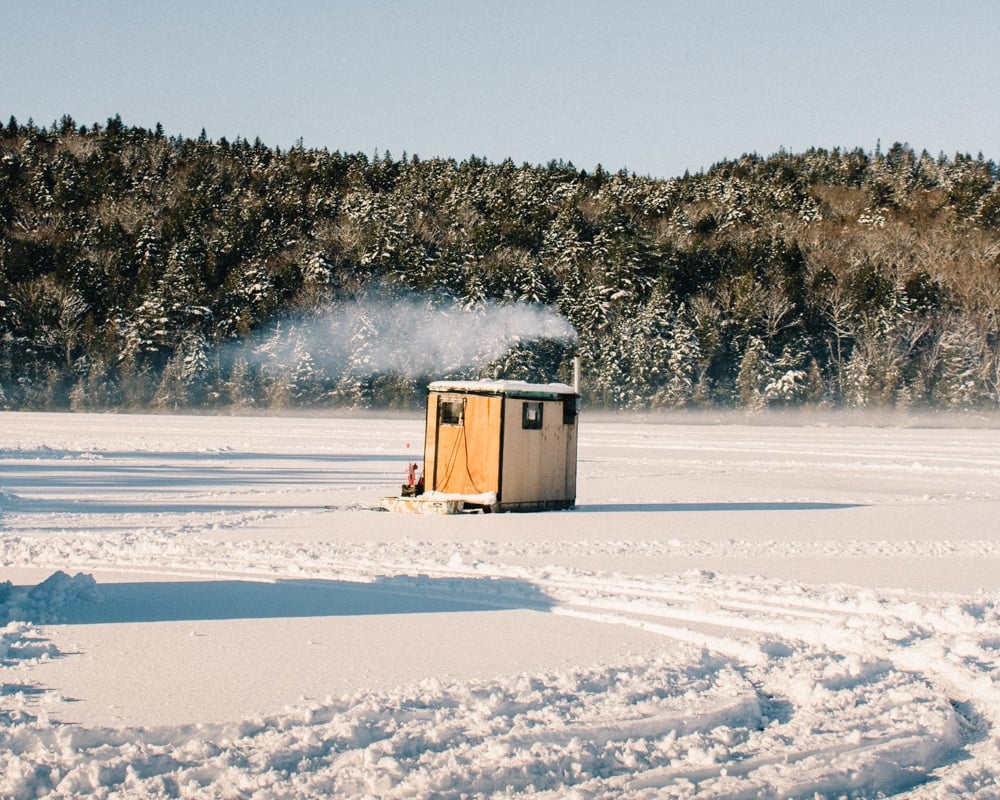 3. Ice Skate Tenney Park
For $6 an hour, you can rent ice skates at Tenney Park and skate around the frozen lake! Tenney Park features a small lagoon off lake Mendota with cute bridges, trees and makes for a whimsical skating lake in the winter. After, hit the concessions for a cup of hot cocoa to warm up!
4. Ice Fishing
One of the crazy things to do in Madison Wi is to go ice fishing on the lake. Growing up, in the winter my dad would take us to one of the lakes, usually Lake Monona. You cut a hole in the ice and spend the afternoon fishing either outside in the elements, or in an ice fishing hut. You'll need a permit, and I recommend a case of Spotted Cow, and hopefully catch something tasty to cook up at your vacation rental later that night.
Best Madison Hotels
Robin and I always stay with family when we visited but on my last trip to Madison, I swung by a few of the popular hotels to check them out for you guys. These are my recommended hotels to book.
The Graduate Hotel Madison
The Graduate hotel family makes THE most beautiful and cool boutique hotels all around the country in college towns. The Madison Graduate Hotel is right off State Street and within walking distance to Campus, the Capitol and almost all the fun stuff you want to see. The lobby is a vibe, they're pet friendly and I kind of want to spend a night here next time we're in town, just for fun. Book here for the best deal!
Hotel Indigo Madison
One of our go-to hotel brands is Hotel Indigo. Their rooms are always large, clean and have great views. The Madison Hotel Indigo is right on East Washington, which used to be a little sleepy but now is popping off with venues, bars, restaurants and breweries. Some of the rooms face the Capitol for epic sunset views. Book here for the best deal!
Lakefront VRBO Rental
If you're coming with a larger group and want to be right on the water, book yourself this Lake Monona Lakefront House. It sleeps up to 4 and is right on the shores of the lake for sunset beers or easy kayak paddles. Book now.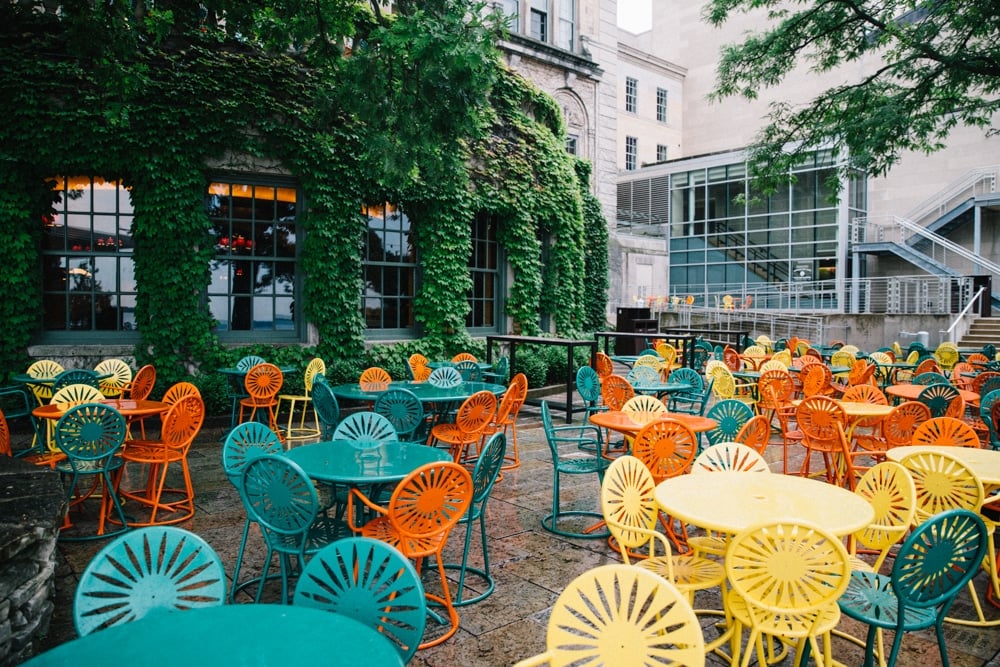 How To Get Around Madison
Here's the thing: many locals love to bike everywhere in Madison, so if that's your thing you can totally bike around town. I personally hate biking in humidity (or cold winters) so that's only something I do in the fall or spring. Madison does have a bus system you can rely on instead.
Hopefully, you picked one of the hotels near downtown so you can walk most places. Madison is small and you can absolutely easily walk around as a visitor.
But, there's always driving. That's honestly how I get around. Maybe I'm a little lazy but I find Madison things to do (and area things) will require a car to get to easily. (You know, with AC in the summer or heat in the winter. I prefer that over getting sweaty or freezing while waiting for a bus!) And I find parking to be a breeze in most areas.
What To Pack For A Madison Weekend Getaway
There are so many fun things to do this weekend in Madison WI! What you'll pack will totally vary on the time of year you visit. Remember, Madison gets really humid in the summer and we have tons of bugs, too. Winters are cold are harsh. Here are some top items you may want to pack on your Madison getaway:
Bug spray with Deet
Sunscreen
Sunglasses
Chaffing cream for tighs (trust me on this!)
Snowboots
Winter coat
Swimsuit
What Are Activities For Families To Do In Madison WI
Trying to figure out what to do in Madison Wisconsin with kids? These are the top activities to plan with them!
Day at the Madison Children's Museum (adults can plan a nice dinner downtown after!)
Explore Olbrich Garden
Wander the Arboretum
Visit the Henry Villas Zoo (don't forget the Shoe Slide!)
Beach day at a lake!
Attend a Mallard's Game
Do the Lego Challenge

Best Day Trips From Madison WI
There are so many fun things to do in Madison Wisconsin, but if you have a spare day to venture outside the city, you'll abosutely fall in love with the state. I don't know why people assume Wisconsin is all flat with corn and cows, and while there's a lot of that, you'll be surprised by the amount of unique outdoor gems here.
Thanks to the Glacier Driftless Zone, Wisconsin has a plethora of cliffs, lakes, waterfalls, caves, hills, hiking trails and rivers to explore. Here are some fun things you can do on a day trip from Madison.
Swim & Hike At Governor Dodge State Park
Governor Dodge has a special place in my heart. It's about an hour from Madison outside the town of Dodgeville. This state park has not one but two lakes, and a really cool waterfall. If you're craving a lake day and the Madison lakes aren't clean enough, head here. Teenage Kara spent almost every weekend in the summer swimming here with friends.
Explore Mount Horeb & Cave Of The Mounds
Mount Horeb is my hometown and I'm actually kind of bitter about how cool it's becoming since I moved away. Downtown Mount Horeb is oozing all those cute small-town vibes. There's local shops, a cider house, bakeries, new restaurants, a soda store and so much more.
Like trolls. Yes, trolls. Mount Horeb is the Troll Capital and we have so.many. wooden trolls all around the city. You can do a little troll scavenger hunt if you wanted.
Next door to Mount Horeb is Blue Mounds, which is home to Cave Of The Mounds. You can do a guided or self guided cave tour underground in caverns, it's really neat.
Go Wisconsin Wine Tasting
Did you know Wisconsin makes wine?! As a frequent visitor to Napa Valley, I was surprised to realize that my home state makes wine. On my last visit, my Dad and I hit up a few local wineries. If you like whites, sweet wine or fruit wines, you'll love Wisconsin Wineries. The best one to visit near Madison is Wollersheim Winery & Distillery (it's so pretty!)
Wander A Sunflower Farm
If you follow me on Instagram @thewhimsysoul you know that every spring and summer I run around California finding all the best flower fields. If you're in Madison during the spring, you can catch the beautiful tulips out on the Capitol lawn. But, if you're visiting in the summer and want to see something really cool, head out of town to a sunflower farm.
These are all my favorite Wisconsin sunflower farms. Come early to avoid the heat and don't forget your camera!!
Hike Devil's Lake
Devil's Lake is always listed as one of the top things to do in Wisconsin, and it's just an hour away from Madison! It's on Ho-chunk land and contains ancient effigy mounds (!!). The lake itself is large and you can of course go swimming, but you can also go boating, kayaking, or fishing. There's over 10,000 acres of hiking trails and it's just a really unique and cool park to spend the day at.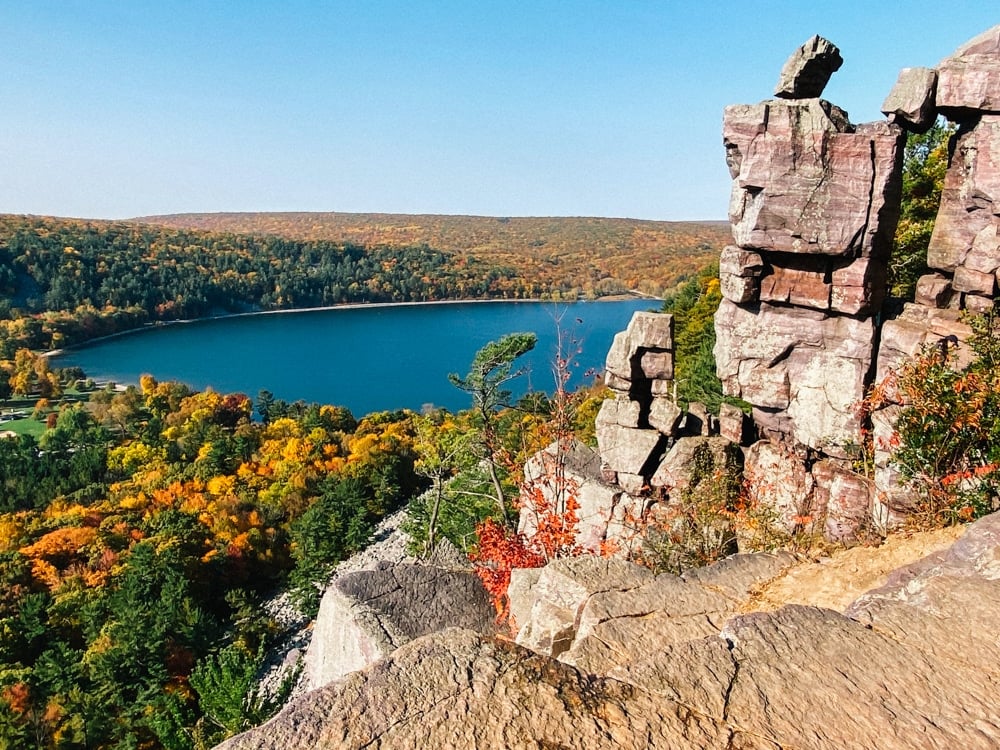 Kayak Sugar River
As I noted earlier, a super unique thing to do near Madison is spending an afternoon floating down the Sugar Fish in a kayak. You'll end at Paoli at a secret beer garden/taco shop/ outdoor live music venue that's so dang quintessential Midwest. Learn more in this post.
I hope this helps you plan the perfect weekend in Madison Wisconsin!! I love my home state and always love when people want to come to Madison.
If you have more hidden gems and tips to add, please leave a comment below so everyone can see! Got questions? Drop a comment or DM me on Instagram @thewhimsysoul and I'll try and help.