My tiny bathroom closet is stuffed to the brim with beauty products. Sorry husband – that's never going to change! What does change come summer time are the beauty products that I reach for. With hotter, longer days, my skincare and makeup require a different approach. *insert some form of blog post title here*
First, who am I and why should you take beauty advice from me? My name is Kara, I'm the gal behind Whimsy Soul (follow me on Instagram HERE.) On top of sharing daily body positive style and travel tips, I love discovering awesome beauty products to share with you. I'm not a beauty pro in the sense that I can't contour my face for shit, but I do value skincare and easy makeup. I'm always testing out beauty products behind the scenes, whether it's a face mask or an eye cream. I'm always on the hunt for products that are affordable, easy to use and actually work. Bonus points for being natural!
Keep on scrolling to find a roundup of all the beauty products that I'm actually using on a daily or weekly basis right now!
Evan Healy is a holistic skincare brand that I discovered while attending a Whole Foods brunch this Spring. I immediately fell in love with the brand's potent products, especially their hydrosol. It's water that is infused with plants and misted onto your face. It helps balance pH, calms your skin an hydrates it. Aka, the perfect thing for all seasons, but especially in the summer when AC can dry out skin!
Price: $26.50 – shop it here.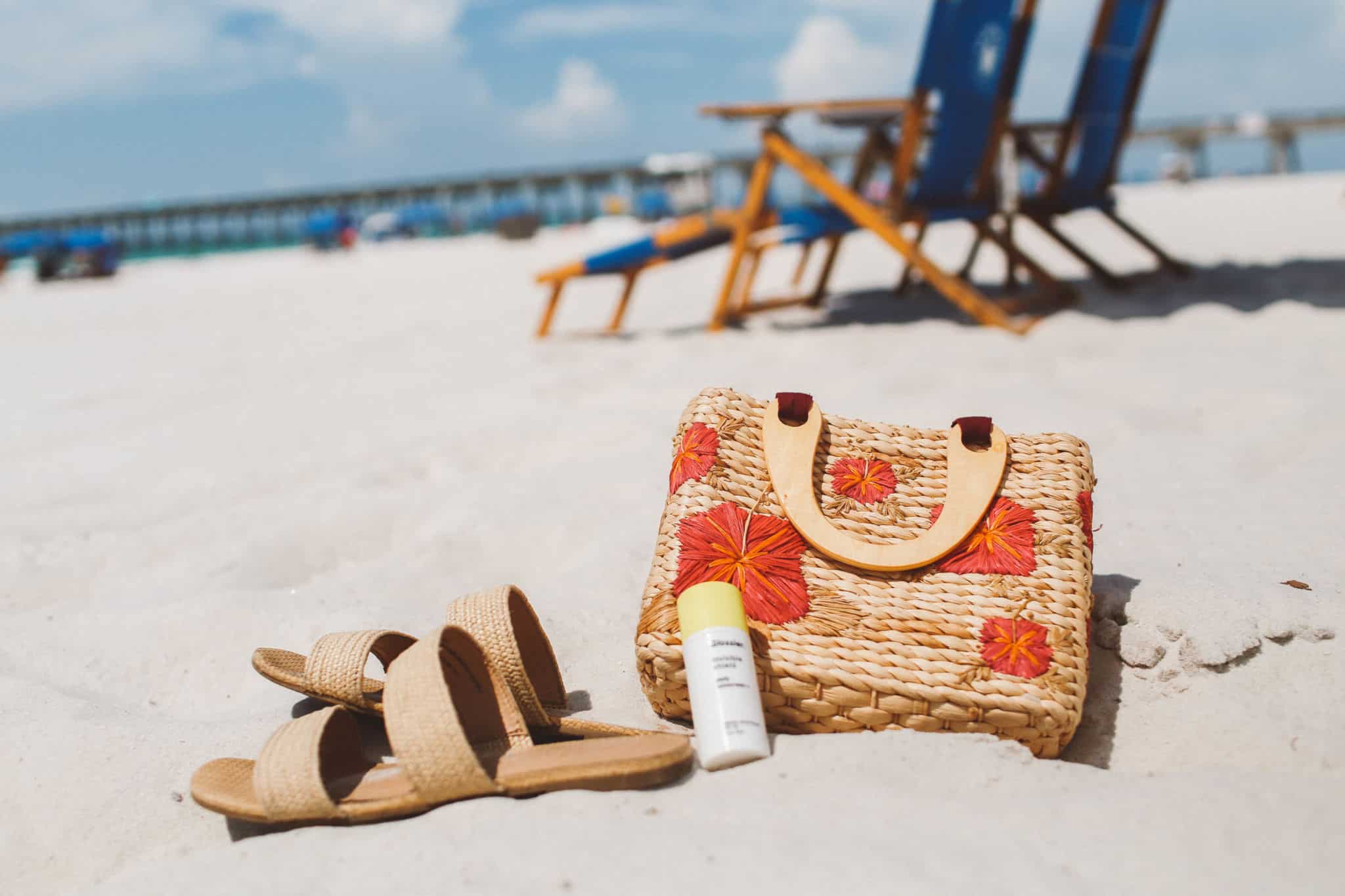 I did a big test this Spring to determine what the best sunscreen to wear daily under makeup was. I tried everything from $8 sunscreen to $40 sunscreen and settled on Glossier's Invisible Sheild. You can read more in-depth on this post about why I love it so much!
Price: $25 – shop it here.
I don't think enough women wear sunscreen on their bodies. We lather up our faces, but our whole skin needs some protection, too! I love this spray from Neutrogena. It's very affordable, which is great because my husband and I share it and we go through a lot of bottles in the summertime. It's easy to spray all over your body so you can't miss a spot and dries within a minute or so, so you don't have to walk around feeling sticky. Best part? It barely has a scent, so you don't have to smell like sunscreen all day.
Price: $8.99 – shop it here.
Obviously, aloe vera is a summertime must-have product to have on hand. While we always apply sunscreen, sometimes that sunshine gets past it and we get burnt! For example, on a recent trip to Florida, I ended that day with a HUGE sunburn on my legs. *facepalm* My favorite aloe vera is any brand that's 100% aloe. You don't want anything else added in to stretch it out. Usually, these products dry your skin out, which is the opposite of what you want when you have a sunburn. My favorite brand is Fruit of the Earth Aloe Vera because you can get a huge bottle at most drug stores or places like Target for under $4. It'll last you all summer!
Price: $3.97 – shop it here.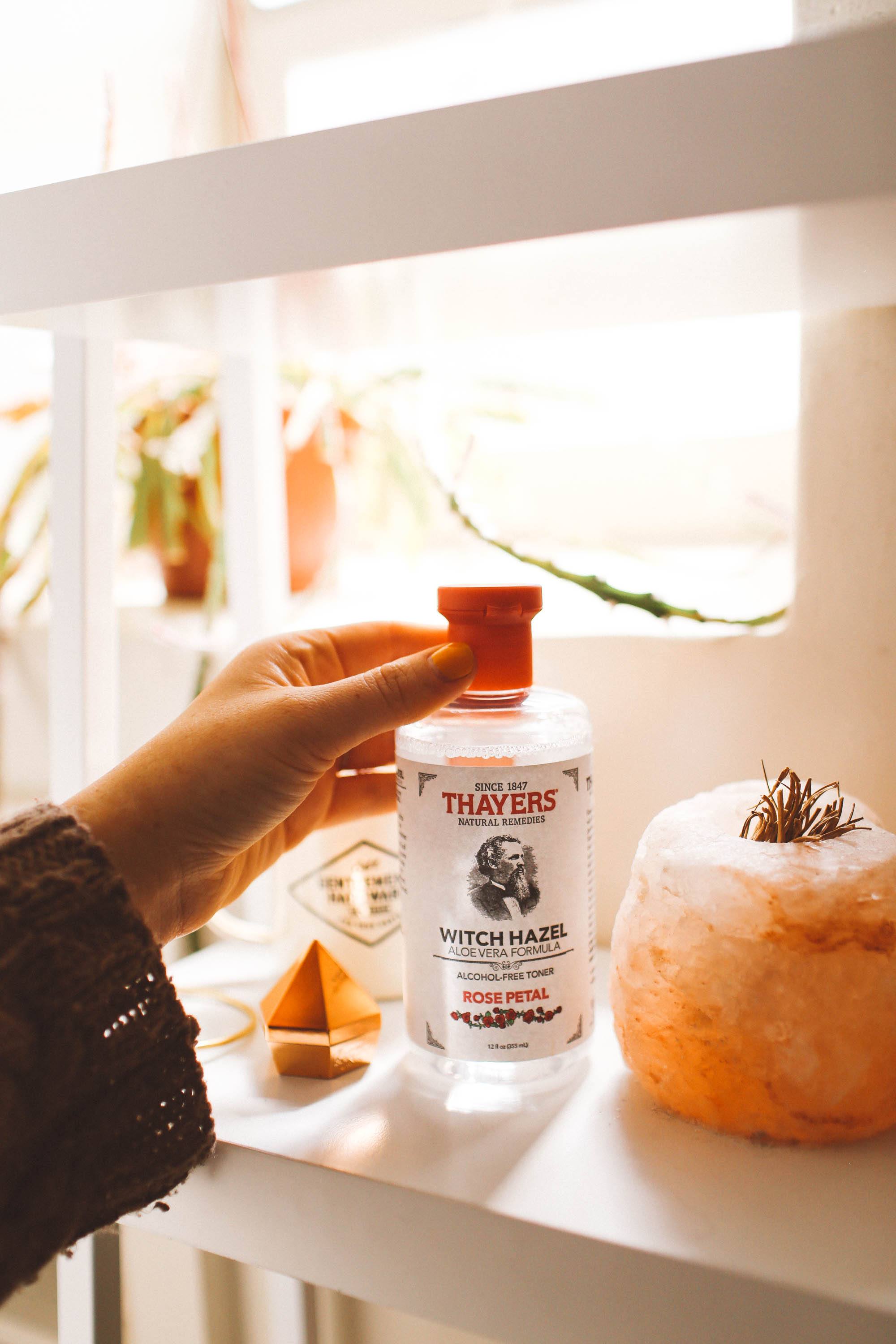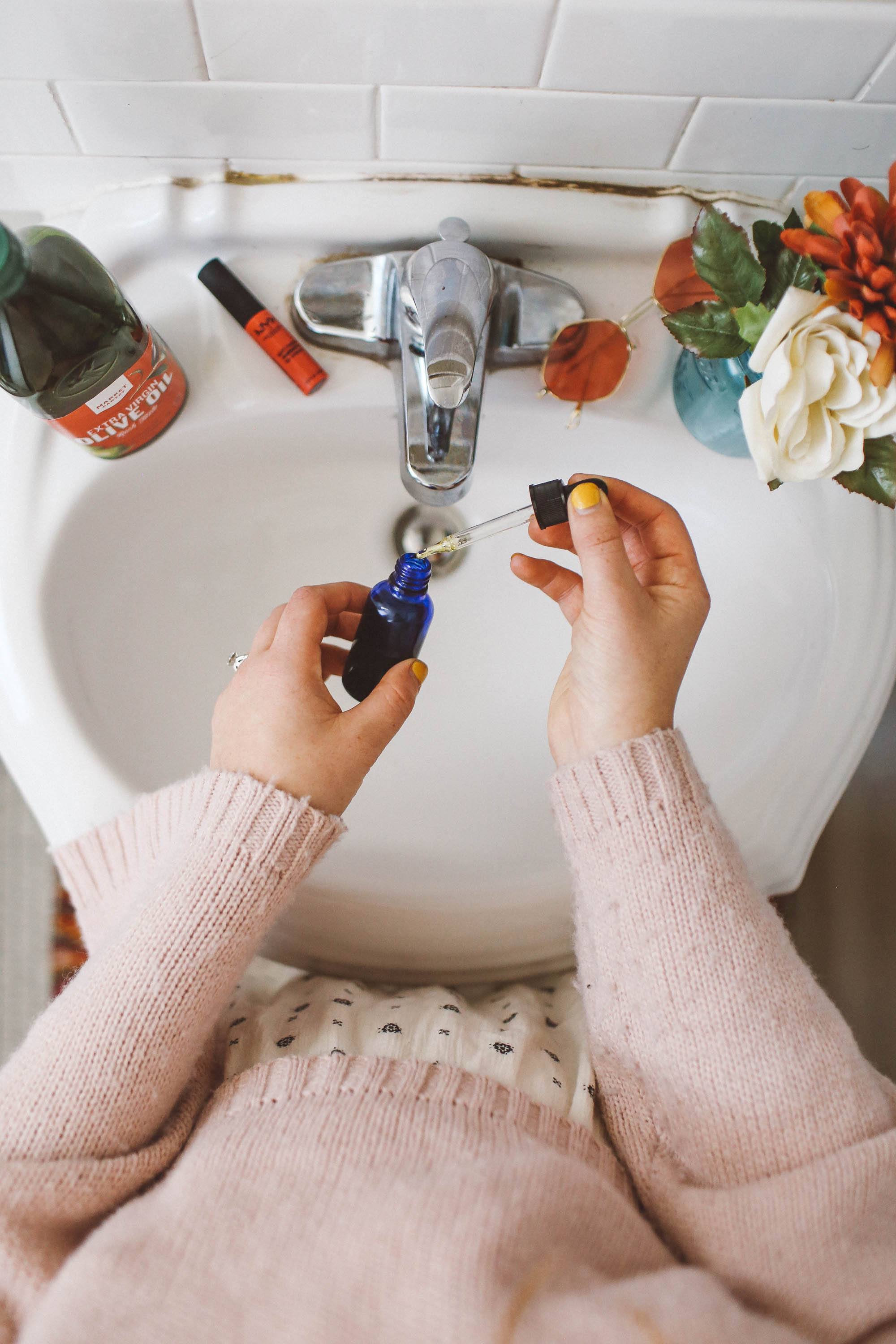 As you know, I love Thayers, a natural remedy brand. While they have products from soap to balm, my favorite of theirs is their Witch Hazel Toner. We're a little obsessed and have 3 different toners. One is rose, which we keep in the fridge. One is lavender, which I use daily and one is cucumber, which Robin uses daily. I wrote a whole big blog post right here explaining what witch hazel is, the differences between the varieties, and why I love this toner if you want to read more.
Price: $10.95 – shop it here.
I settled on Garnier's BB cream and MY daily bb cream years ago, but it's especially important to highlight in the summer season for two reasons. 1) it has SPF 15 in it, so it's extra important to wear daily to add an extra layer of protection on my face for the long summer days. 2) During the summer, I'm usually tanner and my skin tone is more even when that happens. Plus, the heat melts off elaborate faces of makeup. Becuase of that, I don't wear much coverup or foundation. Most days, it's just my BB cream, mascara and lipstick!
Price: $9.89 – shop it here.
My lips are ALWAYS dry, especially in the winter when it's cold/dry outside and in the summer when the AC sucks moisture out of the air. My go-to chapstick is Burt's Bees as it's natural and I love the scents!
Price: $8.88 for a pack of 4 – shop it here.
Summer is all about fun pops of color! A shade I've been grabbing for a lot lately is a Sephora Collection shade of red lip tint. It's lightweight but lasts all day, exactly what I'm looking in a lipstick!
Price: $12 – shop it here. 
I love these face wipes. I'm lazy at night and hate washing my face in the evening, so instead I reach for one of these face wipes to take everything off. They leave my face feeling cool and hydrated, which is extra important in the summer when my skin is more sensitive due to all the sun exposure. I travel with these babies as well and use them pretty much almost every single night!
Price: $10 for a pack of 4 – shop it here. 
As you know, this clay mask has been a huge game changer for me and Robin, my husband! It's so cheap to buy yet so easy to mix up and it lasts forever. We're still on our first jar and we've had it for over 6 months! You can read a huge post of what this clay mask is and why I like it right here.
Price: $8.30 – shop it here.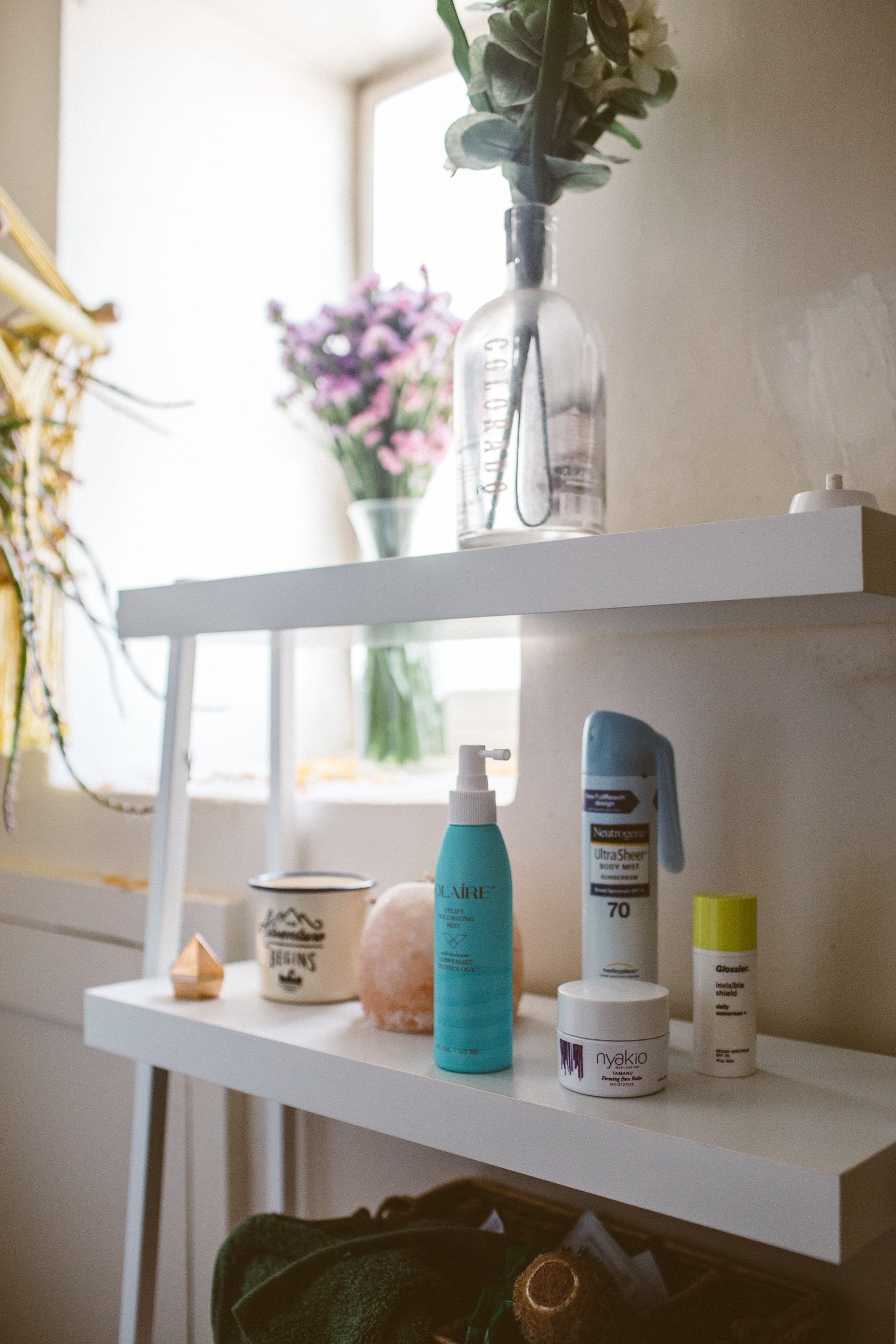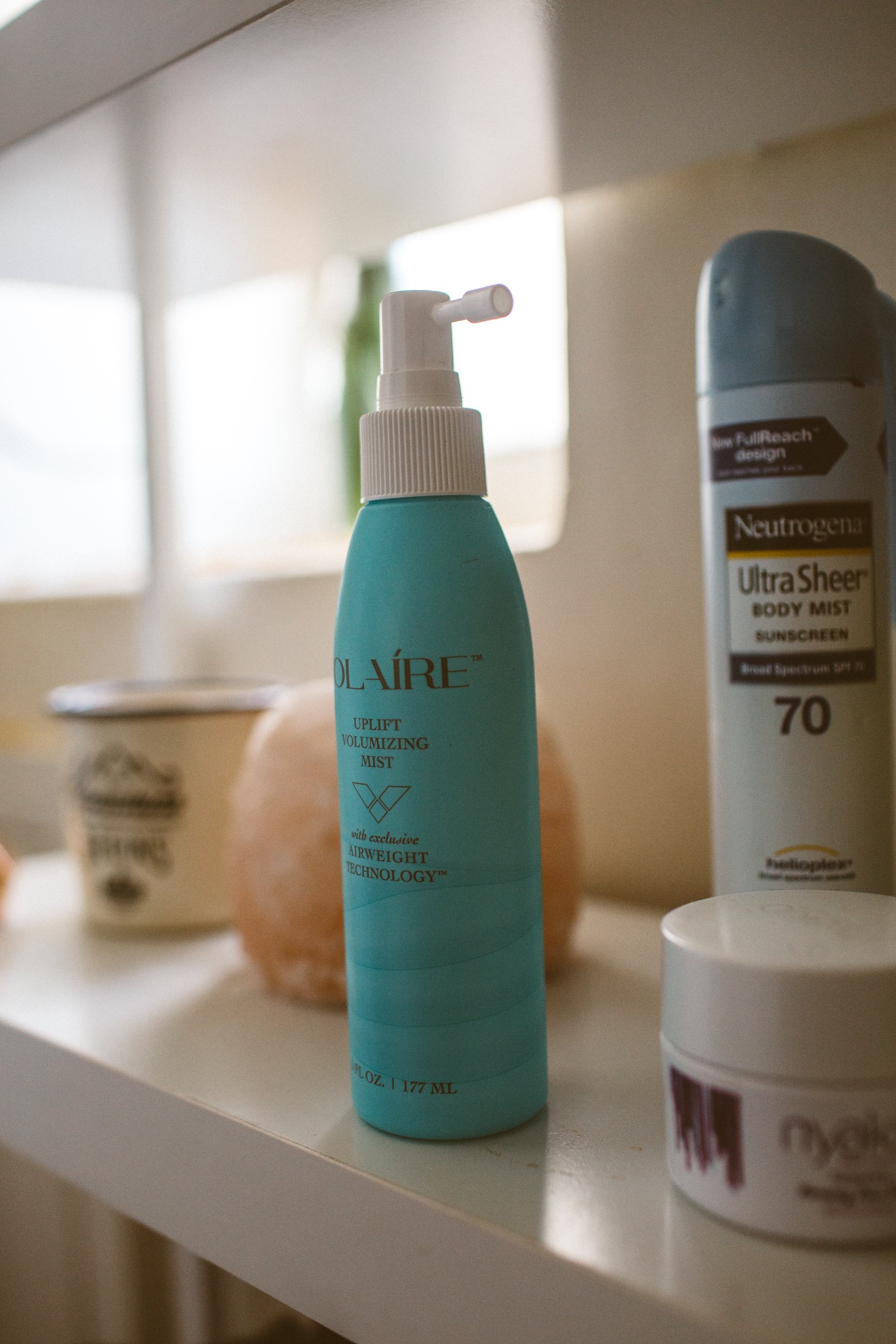 When I was told this little roll-on stick from The Better Skin Co is powerful enough to tackle even the meanest zits, I didn't believe. I feel like I went through every method of acne control as a teen and nothing worked… well, this baby is a game-changer. One day Robin and I both had zits so we both rolled Zit No More on. I woke up to my zit basically being gone and Robin's was almost gone. He now uses it daily and I use it to treat problem areas! It's a must-have beauty item to have at all times.
Price: $18 – shop it here.
Ohhh you best believe I sweat just like you. After a week in humid New Orleans and Florida, I was super happy I packed along my Dove Deodorant. I've tried a lot of brands over the years and keep coming back to Dove because it just… works. Like, really well. And it's affordable and easy to find at most drug stores.
Price: $4.89 – shop it here.
I've been on a big Biotene and natural product kick lately. I have a few different varieties of Mill Creek products and they're all great in supporting healthy hair. My favorite is their H-24 series which comes in this cute little square bottle. It's the perfect size for traveling, so I've been packing the shampoo/conditioner for every trip! Why use crappy hotel shampoo with you can wash with a Biotene-packed formula that promotes thick, healthy hair?
Price: $8.81 – shop it here.
I'm all on the collagen bandwagon and Hello Beautiful is my favorite power of the moment! I have two boxes in my closet at all times and try to drink a glass of water with Hello Beautiful at least once a day. Whenever I'm good about consistently taking collagen I notice that my hair and nails grow super fast and my skin just seems…happier.
Price: $29 – shop it here.
Summer is all about big, full hair, I'm a right? This mist works best when you spray it on wet or damp hair. You can air dry or blow dry, either way is fine. I notice a huge difference in hair bounciness when I use this mist. I'm all about easy beauty in the summer. Just a little BB cream, mascara, bouncy hair and lipstick and BOOM, ready to go.
Price: $27 – shop it here.
I hope this helps you discover new beauty products to try this summer! I truly stand by everything I featured and use everything on a regular basis. Leave a comment below if you have any questions or things to add!