Pena Palace is a pretty well known, popular destination especially for content creators to take unbelievable photos of the colorful and unique palace grounds. But what's the reality for a normal person (like me!) visiting Palacio de Pena?
First, Sintra is more than one palace. The location, just an hour by train or car from the city of Lisbon, was a popular destination for the Portuguese royal family with multiple quintas, palaces and castles in the small town.
The second misconception is the misleading photographs of Pena Palace. Don't get me wrong, it's vibrant and the views are breathtaking, but it's old and a little grimy on the exterior.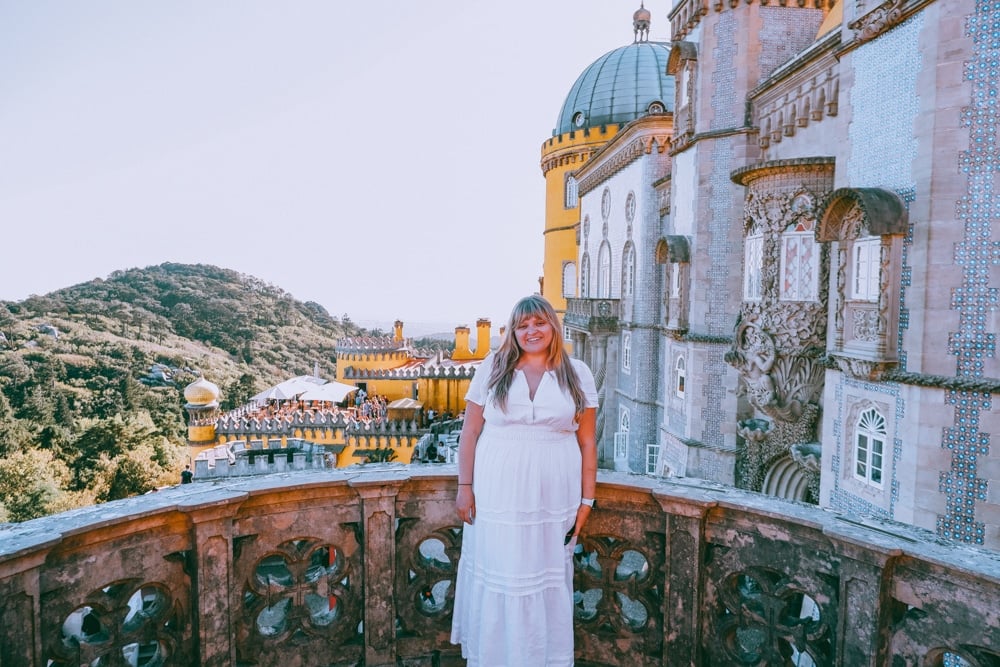 You have to remember influencers and content creators are talented folks. They know exactly what angles and lighting to take the best photos, and edit them to perfection.
Editing does help to capture what the camera can't, and the Pena Palace is worth a visit.
History of Sintra Castles
Sintra is a UNESCO Cultural Landscape. Slightly more than a typical UNESCO World Heritage Site, it recognizes sites and the land they sit on as a whole so in this case, Sintra castles and Serra de Sintra (or Sintra Mountains). Sintra was actually the first European UNESCO Cultural Landscape.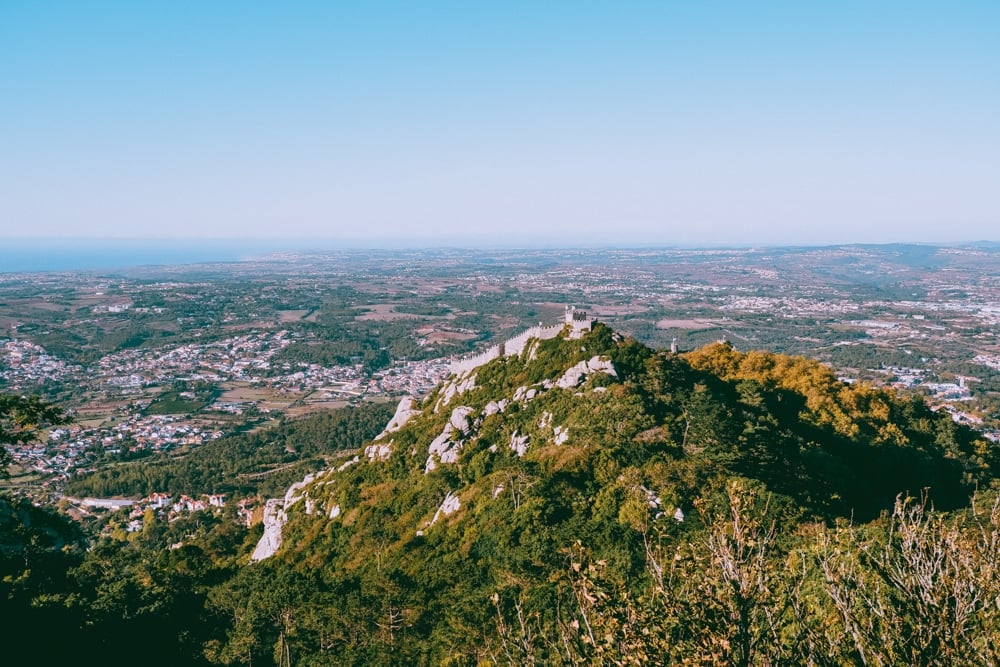 Not only that, it was the first center of European Romantic architecture in the 19th century.
King Ferdinand II (or King Fernando) of Portugal was responsible for the building of Pena Palace situated high on a peak in the Serra, and the birth of European Romantic architectural styles in Sintra.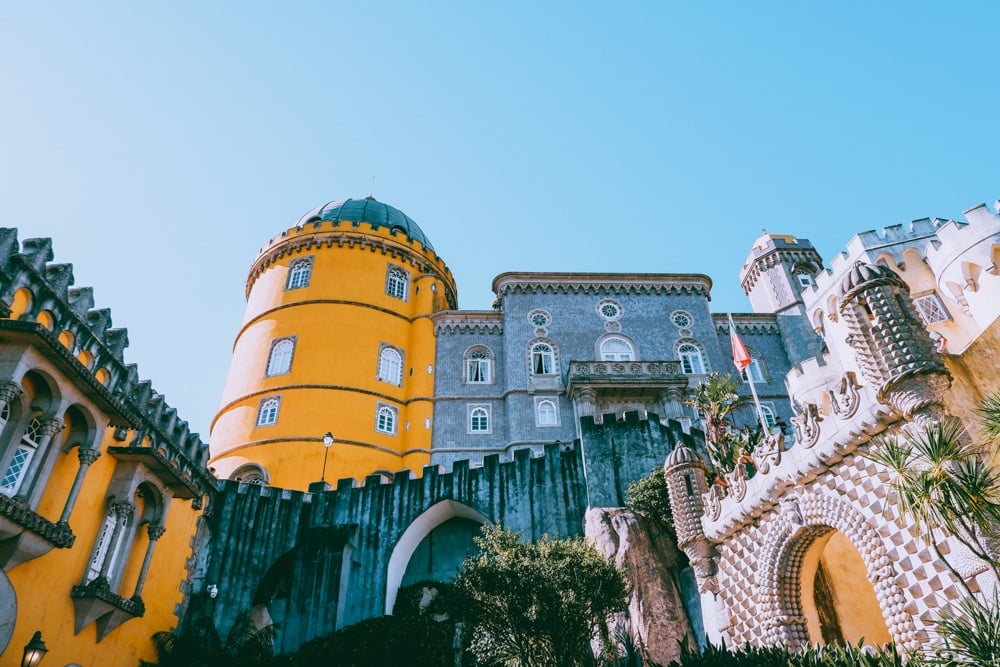 Taking elements of Gothic, Egyptian, Moorish and Renaissance architecture to bring new life to a ruined monastery. The palace was surrounded by a park with gardens of exotic trees, foundations, ponds, cottages, chapels and more.
All of which would become the Park and National Palace of Pena (or Palåcio Nacional de Pena).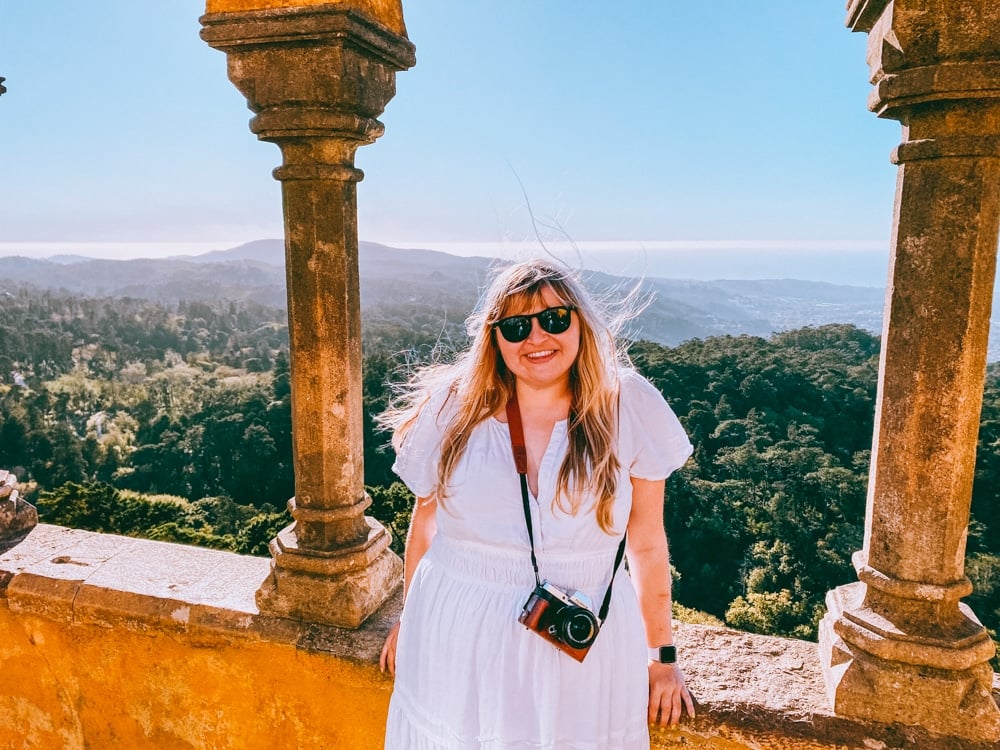 Quintas, Castles and Palaces of Sintra
Again, Sintra is much more than Pena Palace. In fact, the biggest architectural feature of Sintra is the Royal Palace (aka National Palace Sintra, Castle Sintra or Sintra National Palace) built in the 16th century.
Other points of interest when visiting Sintra are:
Quinta da Regaleira where you can find the infamous inverted tower. We visited and it was so fun exploring not only the tower, but the entirety of the grounds!
The ruins of the Castelo dos Mouros (or Moors Castle) which is a Moorish castle built to defend the region, and can be seen from Pena Park. Built in the Moorish era and similar in appearance to Castelo de Sao Jorge (or Lisbon castle).
Palacio de Monserrate (or Monserrate Palace Sintra) is known for its strikingly beautiful interior with Islamic inspired architecture (which I assume was influenced by the North African Moors). The former medieval chapel was purchased in 1863 by millionaire Sir Francis Cook and renovated to what it is today.
Another Sintra palace from the 18th century is Queluz Palace (or Palace of Queluz). Sometimes referred to as the Versailles of Portugal since it looks similar to the French royal palace. It's the famous, secluded home of Queen Maria I who struggled with poor mental health after the death of her husband, King Pedro III.
Sintra Town Hall (or Cȃmara Municipal) is just down the road from the train station in downtown Sintra. It's a beautifully extravagant building built in the first half of the 20th century.
Another testament to Sintra's eclectic and various architectural styles is Igreja de Santa Maria (or Church of Saint Mary). A National Monument that features Gothic architecture.
How to Get To Sintra from Lisbon
The easiest way to get to Sintra from Lisbon is by public transport. First, you take a train to Sintra then a bus up the mountainside to Pena Palace Park entrance. You can read more about it in my Lisbon Travel Guide, but the Lisbon Card includes this trip to Sintra!
Of course, you can always find your own way via rental car or scooter (see tip #5!), but the train and bus is the most common way people travel for day trips to Sintra.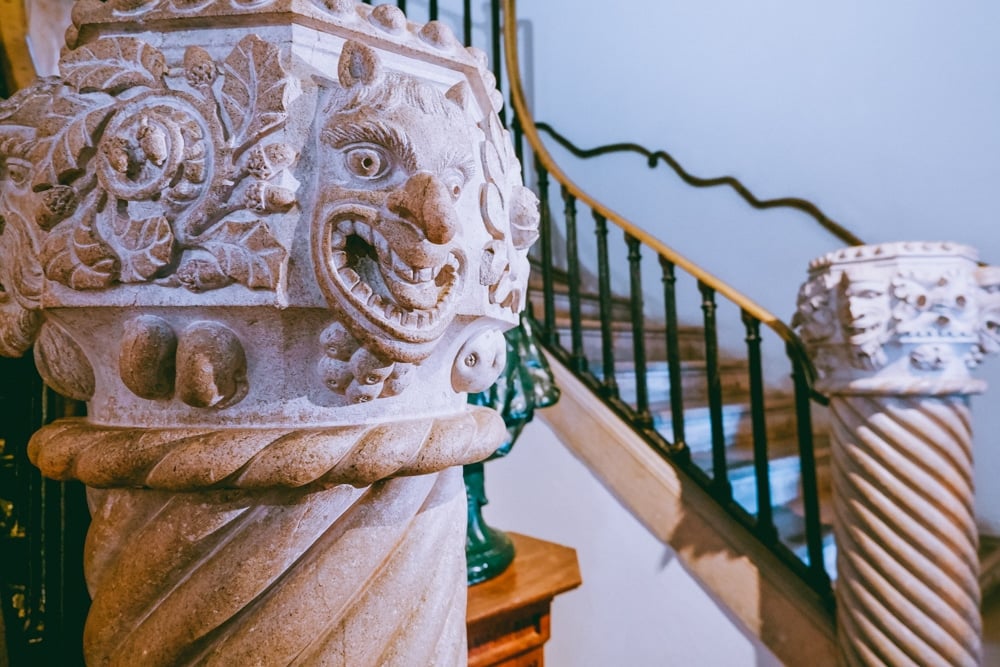 5 Tips for Visiting the Pena Palace Sintra
Visiting Sintra was the final leg of my two weeks in Portugal. As many do, we took a day trip from Lisbon (see more in tip #2!) to visit Pena Palace, but prior to that we were in Madeira Portugal, hiking and swimming all day.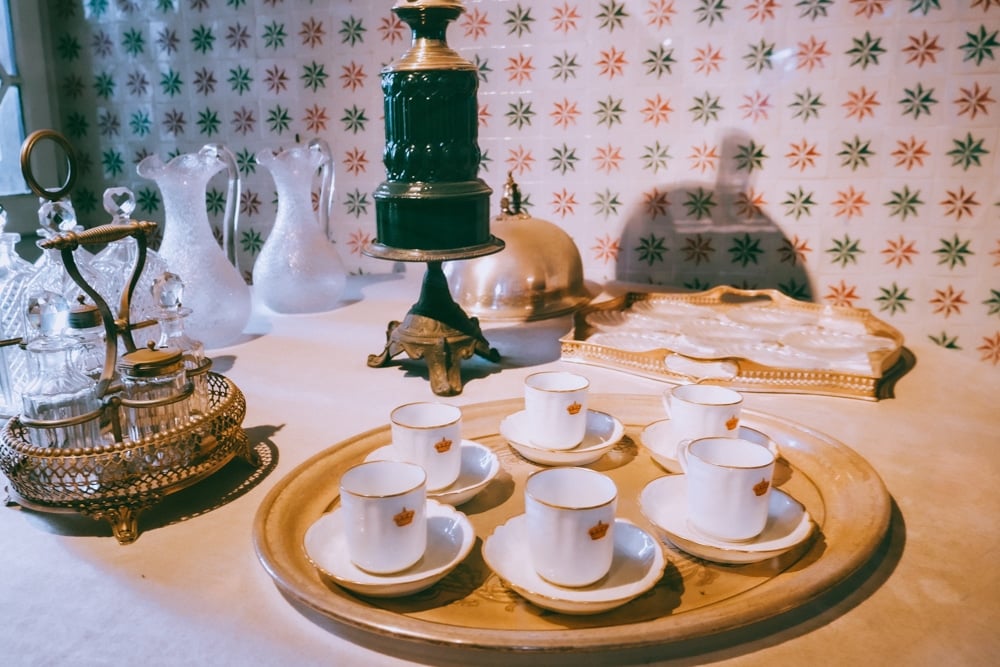 So we were exhausted and I did limited research on visiting Pena Palace. These 5 tips are a combination of what we got right, and what I wish we did differently.
1. Buy Tickets Ahead Of Time & Choose Time Slot Wisely
There's a couple ways to see Pena Palace. You can go the self-guided route (like us!), or book a guided tour – these are booked by private companies and usually don't include the ticket, so either way be sure to purchase park tickets ahead of time.
Not only do you get a 5% discount on the entrance fee, but you'll get your choice of time slots (every 30 minutes).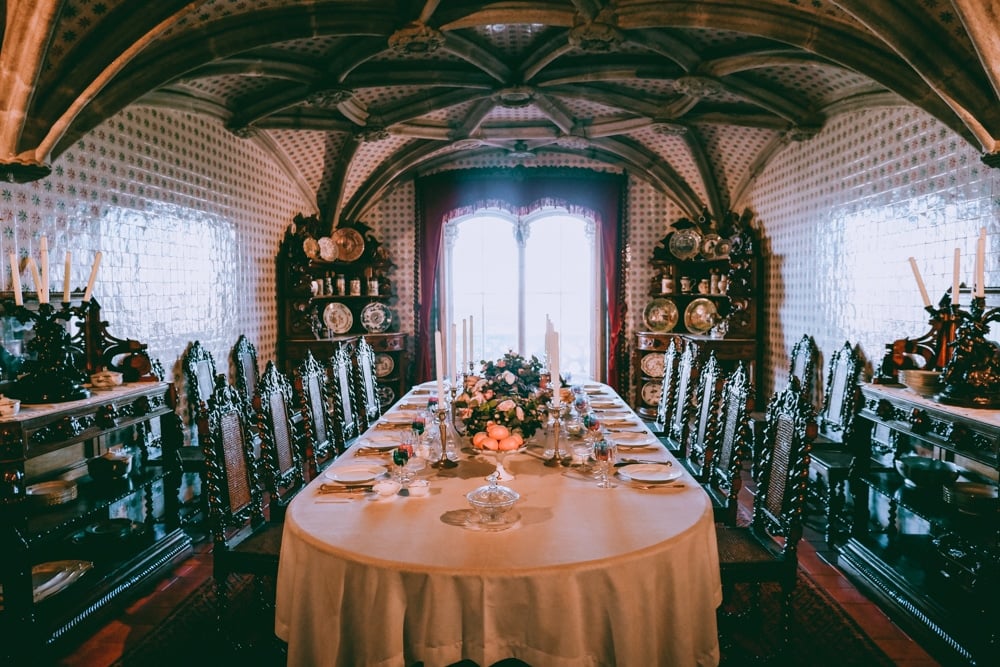 We bought our tickets upon arrival and had to wait (after an hour or so commute) for our time slot. It's important to note, your time slot is not for entry to the park itself, rather entry to the palace.
Once you enter, there's a bit of a hike up to the Palace itself. The signs say it takes about 30 minutes to get to the top, but it only took us about 15 minutes. It was a steep walk, and a bit of a workout.
You can also purchase an additional ticket for a bus to take you to the top and back down when you purchase your ticket. I recommend arriving at least an hour before your time slot because if you miss your time slot, you won't be refunded!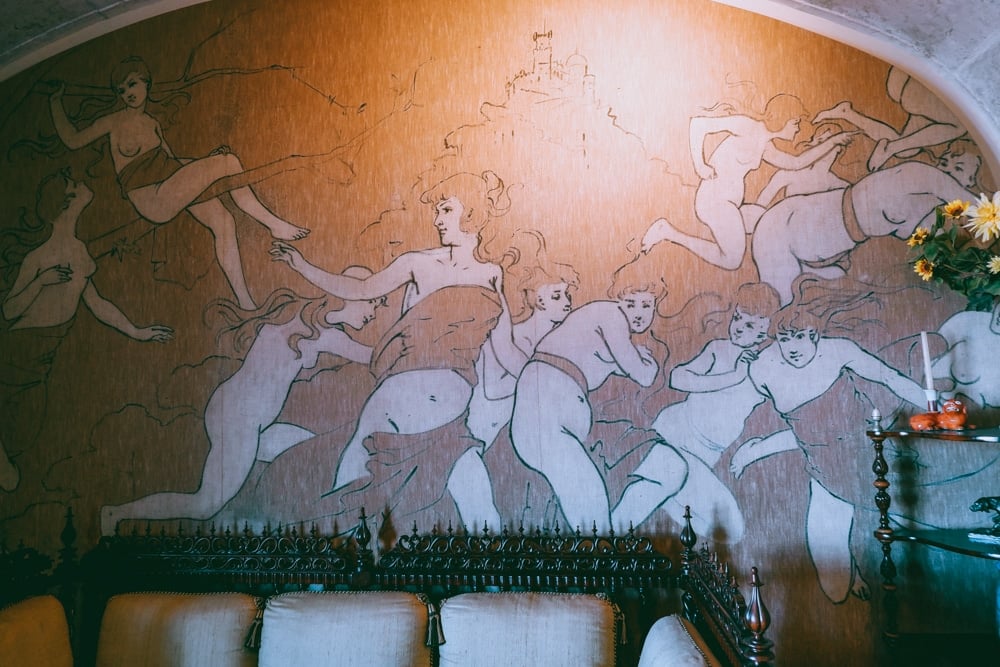 Once you're outside the palace, you're going to have to find the line for your time slot. This part was a bit of a mess (for us at least).
We were standing in the 3:30 p.m. line for about 20 minutes when we needed to be in the 4 p.m. line, so just make sure you're in the right line.
With all of that, it's important to choose your time slot carefully. Consider your trip to Sintra and the time it'll take to get up to the Palace beforehand.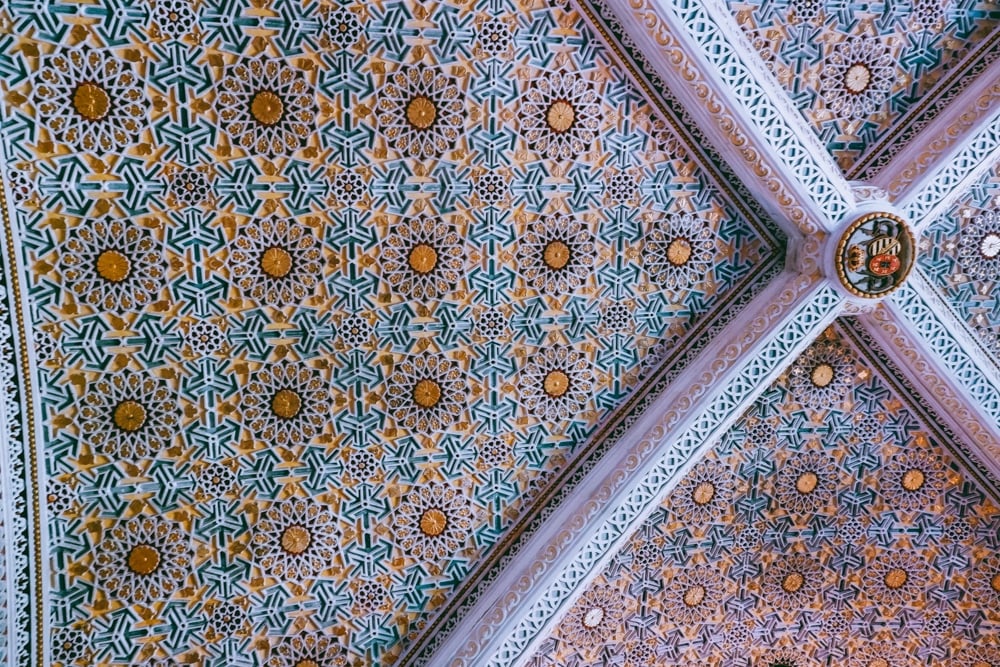 2. Extend Your Time To Explore More of Sintra
Day trips to Sintra are common. Many consider Sintra to be a day trip destination from Lisbon with Pena Palace being the primary attraction.
But like I mentioned earlier, there's so much more to Sintra. Plus you're only a short drive away from some of the best beaches in Portugal including the fishing village of Cascais.
I wish we had allotted more than one day and visited more of the tourist attractions. So plan accordingly, do your research and plan to spend as much time as you can spare in Sintra.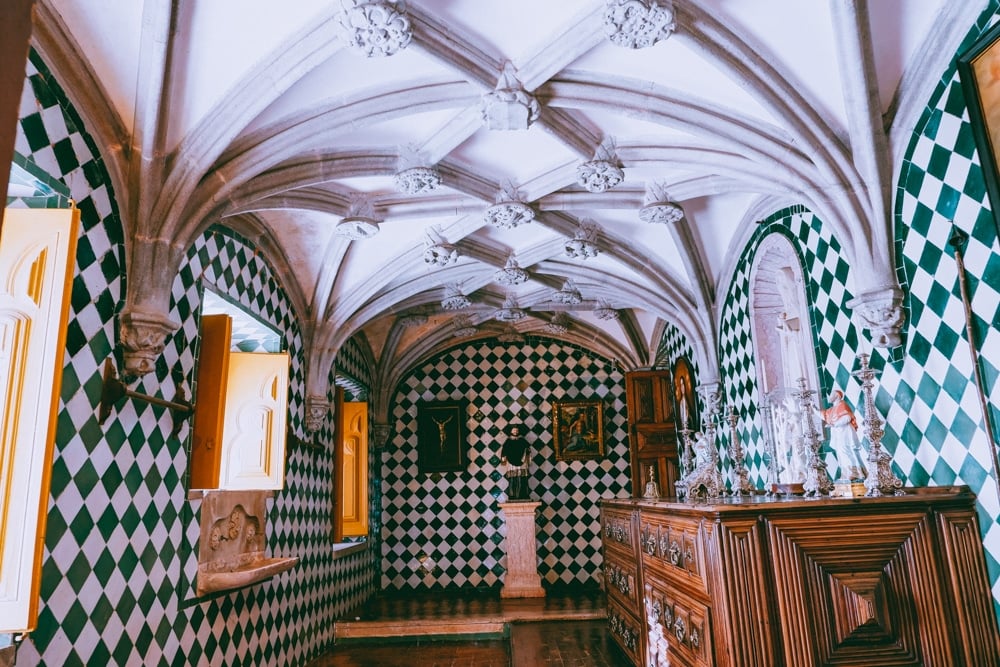 We arrived in Sintra around noon and were able to fit in the Quinta da Regaleira and Pena Palace before heading out before dark. The inverted castle was so fun, and I loved driving through the winding roads with beautiful hilltop views along the way!
3. Dress Comfortably & What to Wear For The Best Photos
Probably the best tip for visiting Sintra (and really anywhere) is to wear comfy shoes. You will be doing lots of walking, standing and waiting. Evening if you get right at closing or opening hours, there will be some waiting.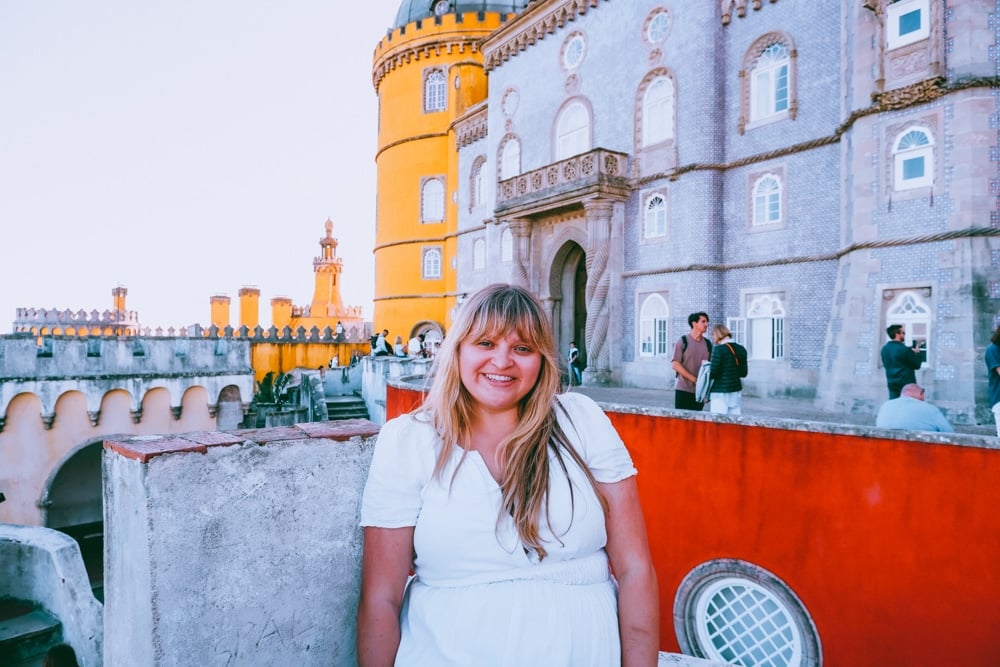 Also, the weather is slightly cooler than Lisbon so don't make the same mistake I did and bring a jacket. I wore white to stand out against the colorful facade of Pena Palace, and I think it turned out pretty well!
4. Mentally Prepare For Crowds
Pena Palace is very popular. No matter what time you visit, there will be lots of people. The park website says afternoon is usually the least crowded (at the time of publication).
I think being amongst the first to visit in the morning isn't a bad idea. For context, upon arrival, we were directed to walk through the interior of the castle museum before being free to explore the exterior.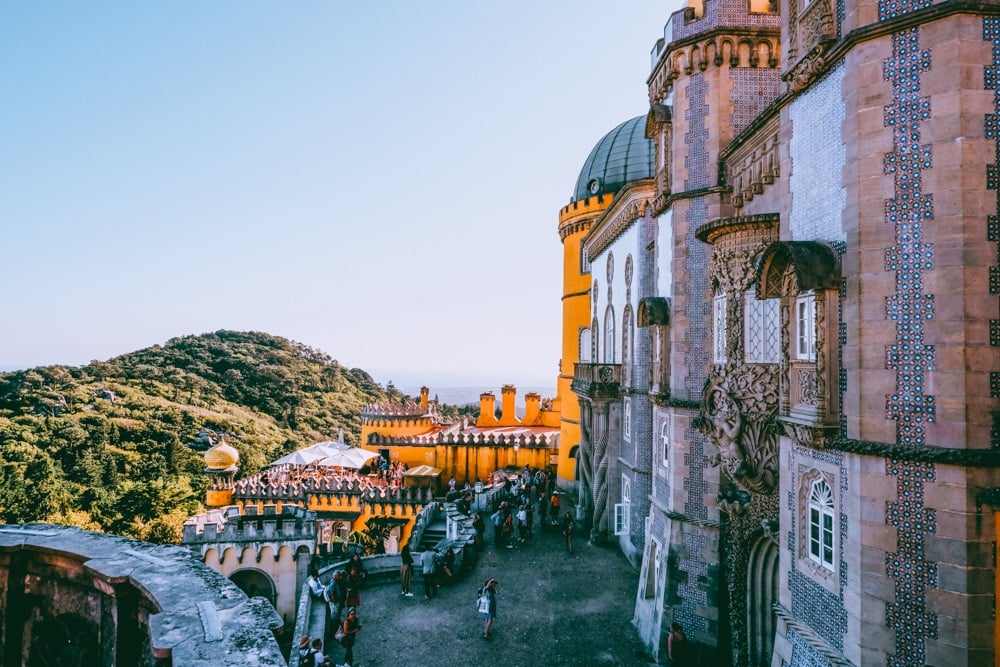 However, if your goal is to take the best photos ever of the exterior, you should be able to take photos before checking out the inside.
We went a couple of hours before close, and were able to get some good photos as the crowds started to disperse for closing. Either way, it's definitely worth setting your expectations that there will be people in the background of some if not all of your photos.
5. Consider Alternate Transportation
I'm biased, but I think renting a scooter to explore a new place is one of the best ways to do it. We rented a scooter to visit the outskirts of Porto, and it was so fun so we decided to do it again to visit Sintra!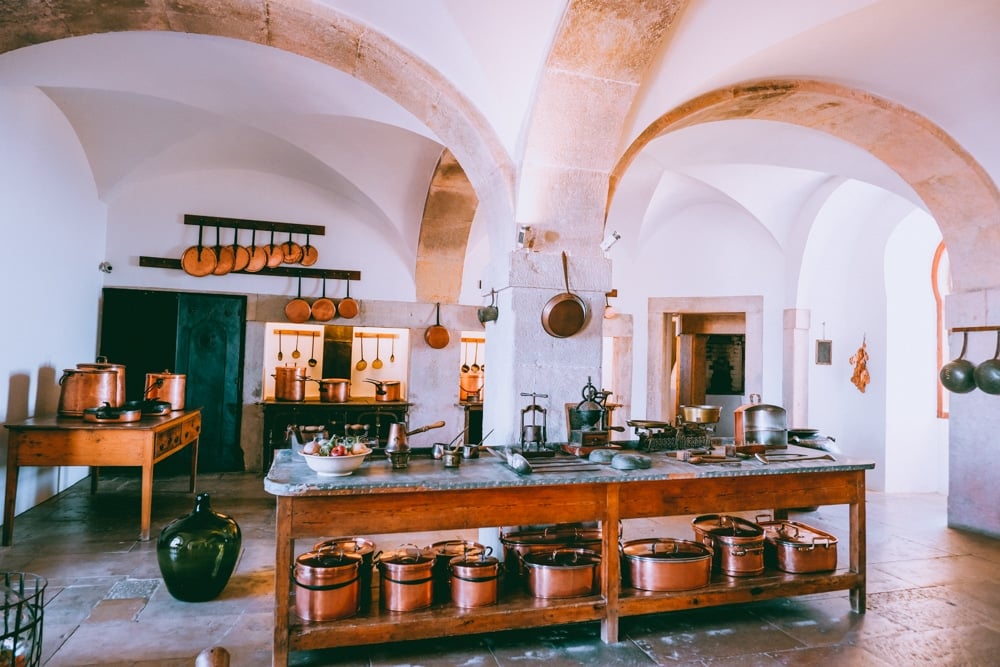 You get to see unobstructed, 360 degree views as you soar down roads you probably wouldn't visit otherwise. We rented a scooter from Scooteria in Lisbon. The owner was very nice and the prices were reasonable so I highly recommend considering them!
It was nice for Sintra because we were able to park stealthily (& legally I think/hope- we didn't get a ticket at least) really close to the attractions.
And skip the wait for the bus after leaving the park. There was a HUGE line when we left Pena Palace waiting for the bus, and it was nice to stroll past and get out of there.
If you rent a scooter, definitely bring a jacket. We left Lisbon where it was really hot, and foolishly thought we'd be fine without them to save space… but failed to research Sintra's cooler weather. We were absolutely freezing, and I get cold just thinking about it.
And that's it! My top travel tips for visiting Sintra. If you have any questions or if there's something I missed, let us know in the comments below!