Robin and I just came back from a whirlwind trip to Los Angeles and I FINALLY got to stay at a Palihotel! After stumbling upon the Palithotel Seattle while researching cool spots for my Seattle guide, I was SWOONING over the green interiors that low-key looks like a hipster Sylthern Commonroom.
Each property is different but equally as chic, and while the Palihotel Westwood Village (where we stayed in Los Angeles) wasn't decored with those Harry Potter vibes, it was bright, airy & still super cool on the inside. In this post, I'm sharing photos & my honest unhosted Palihotel Westwood Review for you!
Palihotel Westwood Village Review: Peek Inside This Los Angeles Boutique Hotel
>> Got a question about Palihotel that you need answered quickly? DM me on Instagram @thewhimsysoul and I'll be happy to help!
About Palihotel Westwood Village – Quick Glance
Location
: 1044 Tiverton Avenue, Los Angeles, CA
Type:
Boutique Hotel
Good For
: Couples, Business
Book best rate here!
This hotel is built in a 1939 building right in the heart of Westwood Village, but on a quiet one-way street so there's not a lot of through traffic keep you up at night. The decor on the inside is perfect. It's modern but hints at the past. There's a good size lobby with tons of seating plus more seating on a private courtyard AND out front.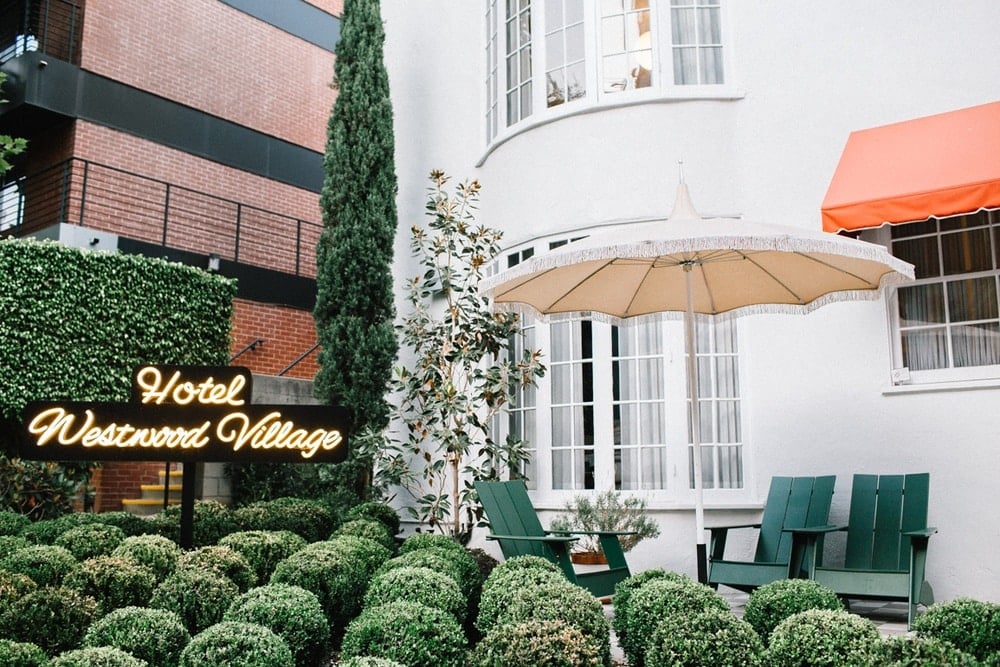 Our Palihotel Westwood Village Review
Last week Robin and I helped his cousin move down to Los Angeles to start grad school at UCLA. Since we were driving from San Francisco & didn't want to be driving all over the city after 6 hours in the car, we wanted a hotel close to her apartment. Let me tell you, it was a bit of a struggle during a pandemic since many properties are closed or only booking half capacity.
Her apartment is near Culver City and I was so bummed to see that the Culver City Palihotel wasn't available (turns out at the time of writing this that location was still closed) BUT BUT BUT – the Westwood Village one had 2 rooms left!
I snapped that last-minute discounted room up & I was so happy we stayed here. Robin and I loved all the outdoor seating space to slowly wake up in fresh air with coffee and bagels from a nearby shop.
Sometimes you find hotels on Instagram and they disappoint in real life but I'm happy to say that's not the case here. First off, the staff here are super friendly. They answered all my questions about where to park and even walked me through how to work the espresso machine since sleepy un-caffeinated 7am Kara can't follow directions well – ha!
And of course, the decor was on-point and you know how much I am a sucker for good decor in hotels! The rooms were clean, the beds were so dang comfy and I loved the little touches (like hand sanitizer) in each room. Here's the full list of amenities as listed on their site.
Palihotel Westwood Village Hotel Amenities
All-day Nespresso coffee and espresso
24-hour concierge services
Free wifi
Pet-friendly for your dog children!
Private patio access
SMEG fridges
Palisociety bath amenities and plush robes
Curated neighborhood guide
Pali Vibes playlist
Local, preferred partnerships for fitness, health, food and entertainment
Walking distance to UCLA
Frequently Asked Questions About The Westwood Hotel
What Is The Palihotel Westwood Check-in time? 3pm
What Is the Palihotel Westwood parking situation? Usually, they have valet but in 2020 that's paused. Instead, you will have to self-park. There were tons of free street parking that we used (got a spot right in front of the hotel!) but there's also an overnight garage just around the corner.
How Big Are The Rooms? They're not massive but not cramped either. We found them the perfect size for two adults! There's no views out of most of the rooms but that's ok, the inside makes up for it!
What is Palihotel's COVID Policy? It's great! Temperature checks before they give you keys, masks worn at all times in the lobby and constant cleaning of common areas. We didn't feel unsafe once.
Are there other Palihotels in Los Angeles? Yes! Los Angeles has the most Palisociety properties. There's:
Are There More Palihotels In The United States? Yes! There's Palihotel Seattle that I mentioned earlier, Palihotel San Francisco and Palihotel Miami – with more coming soon. So, keep an eye out for them as you start to travel again.
What Are The Best Restaurants Westwood Village? Saffron Rose is a must-stop ice cream shop a short walk from the hotel! For dinner, I suggest you drive over to PLATFORM in Culver City, a new gathering of restaurants that's so dang cute. It makes a great date spot, especially the rooftop restaurant Margot (head here for happy hour at the very least!)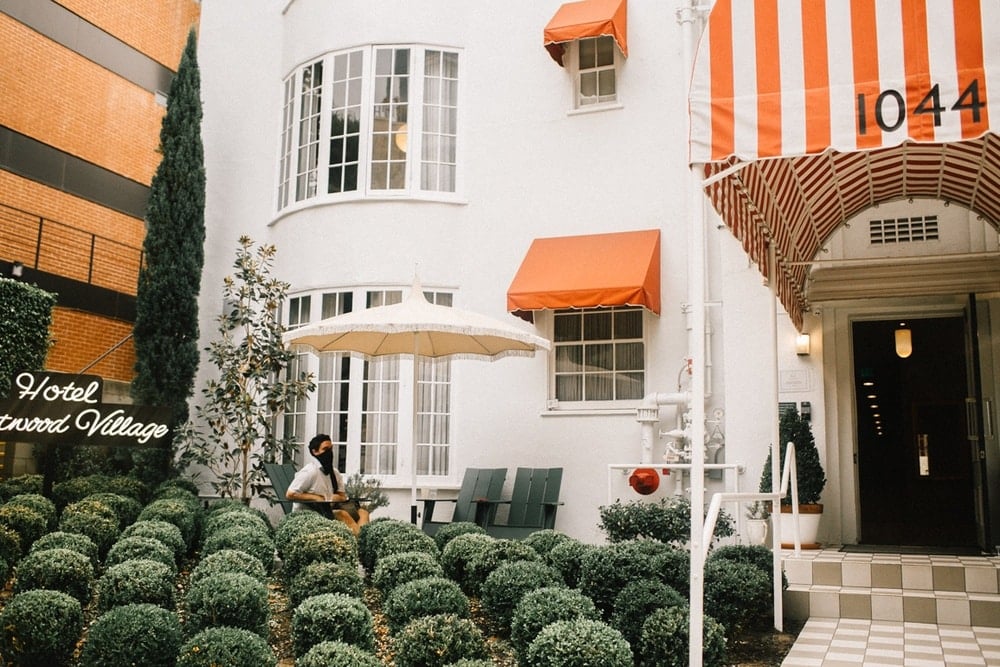 I hope this helps you decided with the Palihotel Westwood Village is for you (I think it will be!) While you're here, check out my features on past hotels to get ideas for other future trips.
If you have any questions, drop a comment below or DM me on Instagram @thewhimsysoul and I'll be happy to help! Happy adventuring.