I saw photos of the Fern Canyon trail on Instagram. It looked like something you'd find in a real-life Forbidden Forest, something magical and other-worldly. I've never seen so many ferns in one place.
On our camping trip along Highway 1, we made sure to set aside an after to explore Prairie Creek Redwoods State Park Fern Canyon. We walked away with tons of useful tips to share!
In this post, I'll be sharing my top 8 Essential Tips for Hiking the Fern Canyon Trail, along with photos, a map and some other fun things to do in the area!
>> Got a question about Fern Canyon you need answered asap? DM me on Instagram @thewhimsysoul and I'll be happy to help!
Trial length: 1.1 miles
Attributes: Walls of ferns, a waterfall and a stream you have to wade in
Fee: $8
Difficulty: Easy
>> Quick note, there are several hikes with the same name. This is NOT a guide to hiking the Fern Canyon trail Mendocino, the Fern Canyon Trail Griffith Park (LA) or the Fern Canyon Trail Palm Springs Or the Fern Canyon Trail Boulder. Jesus, there are a lot of fern canyon trails, eh?
This guide is for Fern Canyon hike in Prairie Creek Redwoods State Park on the Lost Coast in California.
The Lost Coast's name says it all: it's an area of Northern California that is relatively untouched. Lots of Redwood trees, small towns without any cell service, rugged coastlines and in general, a lot of nature. I think it should be on everyone's bucket list, but many tourists never make it up this far.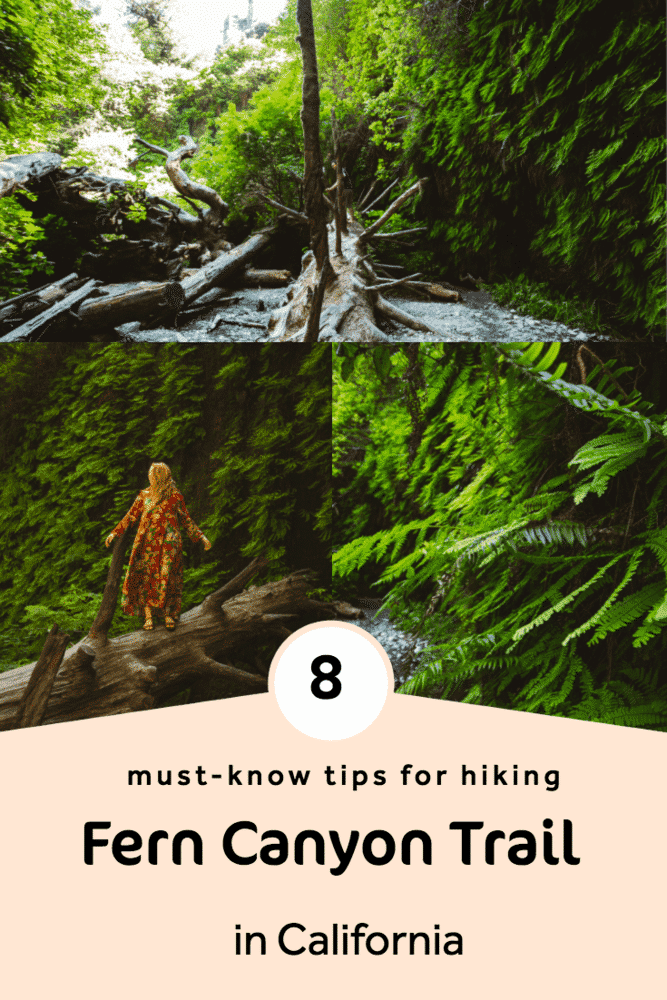 Fern Canyon Directions
Getting to Fern Canyon is a major pain in the butt! I won't sugar coat that. There's the long ~4.5-mile hike from the visitor's center, or you drive to the trailhead, which is what most people do.
It's a pain, because it takes about 45-60 minutes to drive down a narrow, bumpy road with tons of blind turns. We saw a tow truck rescue a car that crashed on this road. Also, parts of the road are flooded. (More on that later)
Just know, it's a haul to get to, so set aside a full afternoon to explore.
How to get to Fern Canyon:
Get onto Hwy 101
Turn onto Davison Road (on your right side if you are coming from the North, left if you are coming from the South
Drive this for about 25 minutes and then you'll come across the pay station
Keep driving. This is where the road get's bumpy!
Once you find a parking lot where you can't drive any further, you found the trailhead!
Here's a map:
8 Essential Tips for Hiking the Fern Canyon Trail
Fern Canyon is a bit different of a hike than normal. This is because there are challenges to get to the trailhead, and also because the loop trail itself is very unique!
Keep reading for all my must-know tips!
Stop at the visitor's center
I don't always feel the need to top at visitors centers, but you'll want to for this hike so you can pick up a map (you won't have cell service to navigate) and get important updates from rangers. Sometimes there's been dangerous wildlife sightings or weather issues you'll want to know about.
The Prairie Creek Redwoods State Park visitor center is on Newton B. Drury Scenic Pkwy. You can't miss it, it's on the corner of a really big field. If the small lot is full, just park on the side.
This is also a good place to use the restroom before heading to the trailhead!
Watch out for Elk!
We went during the "off-season" for elk and didn't see any, but this area has a LOT of wild elk herd. If you are visiting in mating season or birthing season, be prepared to encounter elk. They are dangerous, so do NOT approach them.
You'll see lots of signs reminding you to drive slowly. This is no joke, Elk can fuck up your car, so be watchful. This is especailly important if you plan on driving around dusk hours or in the dark! (Looking at you, nature photographers!)
There's an Elk Paddock on the way into Fern Canyon where you can safely pull off and watch elk from a distance. Make sure to bring your zoom lens!
Bring Cash!
The fee to enter is $8, cash only. They do not take credit cards and the nearest ATM is at least a 45-minute drive away (visitor center does not have an atm.)
If you have a National Park Pass, you can use it here to enter for free.
Honk At Blind Turns
Just like on the Road the Hana, there are many points in the raod to Fern Canyon that are only wide enough for one car while on a curve (a blind turn.) When you are turning thse, it's good practice to honk so other cars know you are coming and won't hit you!
Same thing applies for hills and pretty much any time you are taking up the whole road and can't see oncoming traffic. It may be annoying but better safe than with a wrecked car!
4WD Helps. No Trailers!
We have a Ford Transit campervan and it made it to the trailhead, but just barely. The road after the pay station is extremely rugged and hazardous. They don't allow trailers down.
What do I mean by rugged? The standard large potholes and cracks, but also parts of the road were washed out completely. We had to drive through water to get to the trailhead! Smaller cars probably wouldn't have been able to make it.
I was actually pretty annoyed by it – it's in the paid area, so I know the state is getting money, they should be able to fix the road!) Also, they don't tell you this at the gate, so you may want to ask about the condition of the road before you drive in just in case your car can't make it!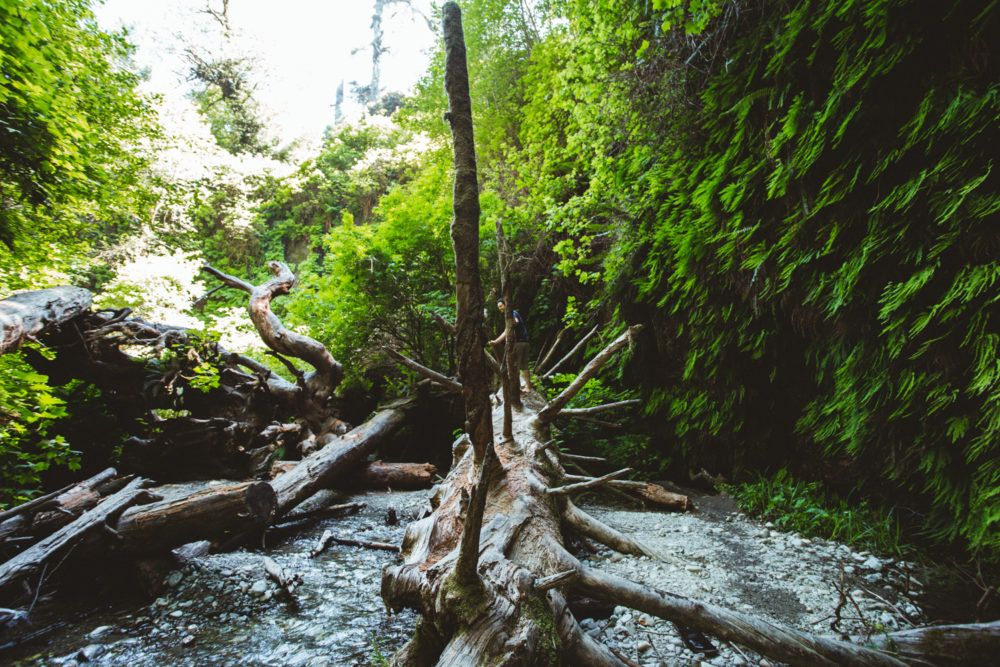 Wear sandals or rain boots
The fern valley trail takes you into the canyon and along the riverbed! That's right, to walk this 1.1 mile you are basically walking in a river the entire time. It's really fun and part of what makes this trail so unique!
With the fern canyon Redwoods and fern walls towering above you, it's magical splashing through a stream and under large fallen logs to hike this trail.
When you get to the riverbed, you'll see a wooden sign that points upstairs for a long loop hike. We started walking up that until we realized the fun hike is along the river floor (there is no sign for that) We turned around and walked back down.
We visited during a coastal heatwave, so we wore sandals and no layers. BUT, normally it's chillier over here, as we mentioned above, and the water in the creek is COLD! You'll probably want to bring rainboots so you can keep your toes warm while wading.
Also, you WILL have to walk through water on this trail, there's no way to avoid it. I watched a man carry his girlfriend through some areas where the river took up the whole path so she could cross (very cute, but don't expect your travel partners to do that for you!)
Early winter mornings for best sunbeams
Is Fern Canyon Jurassic park? The movie wasn't filmed here, but it sure looks like it was, especially early in the morning or in the late afternoon during Golden Hours when magical sunbeams shine onto the forest floor.
If you are on the hunt for that perfect photo, come at sunrise so you'll have the trail to yourself and will be there for all those sunbeams. The best time to photograph the Redwoods is actually in the winter when there typically is less fog compared to the summer.
Fern Canyon weather and seasons (and all of the coastlines, actually) is the opposite of what you normally expect. As I chat about in my packing guide for San Francisco, summers on the Northern California coast are COLD and FOGGY. But the winters are sunny and can see warmer days. Confusing, eh?
>>> Are dogs allowed in Fern Canyon? No, there are not (bummer, right?)
Pack Snacks + Water
There aren't any visitor center gift shops or cafes out here. I didn't even see water pumps. Make sure you pack in all the water and snacks you need!
I saw some families eating a picnic lunch on the tables next to the parking lot, so that's an option as well!
I think the Fern Canyon California Redwood trees are beautiful here, of course, but you can see them in their full glory at other parts of the park. Come to the canyon for ferns!!
Fern Canyon Camping & Lodging
Looking to spend the night near Fern Canyon and/or Prairie Creek Redwoods State Park? Consider one of these lodging options!
Price: $35/night
Gold Beach campground is right on the beach and a couple of minutes drive from the trailhead for Fern Canyon. I loved the idea of spending a night there, but we ran out of cash. It didn't seem like it was worth it to drive 1.5-2 hours round trip just to get it, so we moved on and found a free spot that night. If you are visiting in the summer, make reservations in advance.
Price: $35/night
A nice little campground right by the visitor center. Makes a great place for a home base to explore the rest of the state park! Great option if you have a large rig or a smaller car that can't make the drive to Gold Beach. If you are visiting in the summer, make reservations in advance.
Price: $131
Built in 1914, this hotel overlooks the Klamath River in Redwood National Park. It's on the North end of the park near the drive-through tree. Looks cute!
Price: $326
A beautiful, large country house that's perfect for large groups! This is on the South end of the park.
Other Fun Things To Do Near Fern Canyon Trail
After or before your hike, check out one of these fun things to do!
Klamath Drive Through Tree
Driving through a giant redwood tree is was on my bucket list and we crossed it off! The Klamath tree isn't as famous as the Chandelier Tree further south, but it's just as good. Plus calmer and only $5 compared to $10! A must stop for any Northern California road trip!
Gold Beach
A very pretty beach near the trailhead to Fern Canyon. Take a walk on the shore or have a picnic!
Visitor Center Hikes
There are some great, easy hikes that you can take starting at the visitor center! See Redwood "cathedrals" and "octopuses" without taking a hard hike.
Trinidad
The cutest little town on the coast, about 30 minutes drive out of the park. Find some restaurants and shops here, along with a beautiful pier and overlook into the water. Do yourself a favor and swing by Trinidad, better yet, dine here or explore more!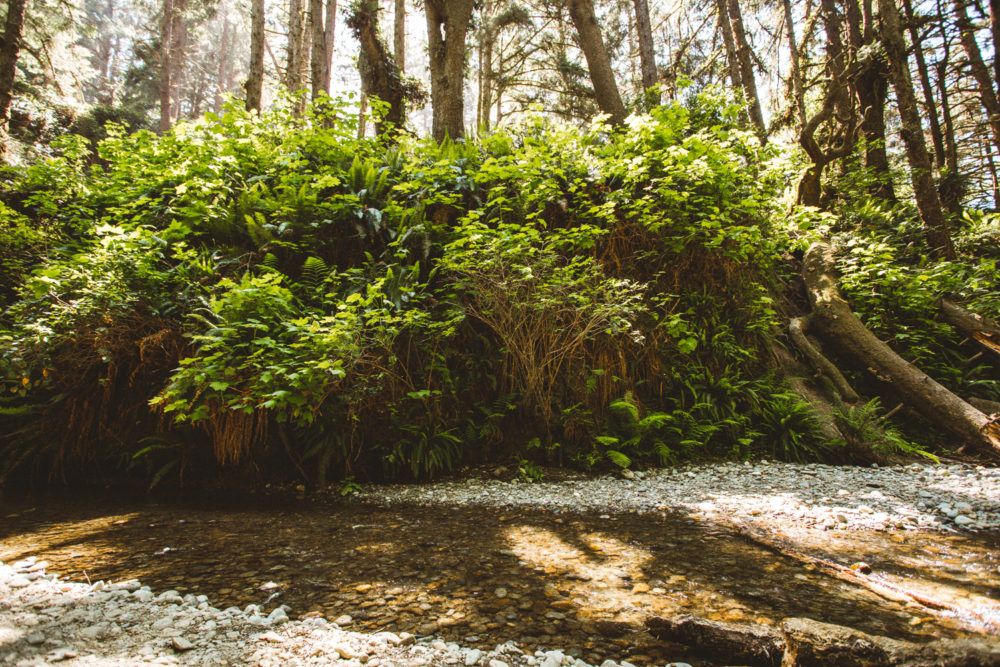 I hope this helps you plan a fun trip to Fern Canyon Prairie Creek Redwoods State Park ! We loved our visit and would go back again in a heartbeat (maybe with a truck next time.)
If you have anything to add, leave a comment below so everyone can see! Got questions? Comment or DM me on Instagram @thewhimsysoul and I'll be happy to help!
Other Posts You May Like
How To Find FREE Camping Sites (Save $$)
Umpqua Hot Springs in Oregon
48 Hours in Mendocino Travel Guide
What Nobody Tells You ABout Van Camping (Good + Bad)
Tips for Visiting Mossbrea Falls