Thinking about joining the van life movement? Read this first.
On a whim, my husband and I decided to rent a camper van and take it on a 9-day road trip through Northern California and Oregon. We learned a LOT about what it takes to go van camping here in the United States and while it looked like a perfect trip on Instagram, it wasn't always so in real life. Here's what nobody tells you about van camping – the good, the bad, the funny, the awkward.
We rented our campervan from Outdoorsy. They're basically like the Airbnb of van rentals. No need to do your own van build, you can easily find one that fits your needs here (unless of course, you want to camp in a van full time, then you'll really need your own set up for cost reasons.) We rented this van and it was the best camping van for our trip. Though, if we did this again I think I'd want a taller one for a variety of reasons that I'll share later.
>> Got any questions about van camping? Leave a comment below or DM me on Instagram @thewhimsysoul and I'll be happy to help!
We started in San Francisco, where we live, and headed up North into Oregon before looping around to Hwy 1 for that iconic bit of road. Here's the spots we visited:
Mount Shasta
Bend
Diamond Lake
Umpqua Hot Springs + Tokeete Falls
Crescent City
Trinidad + Eureka (Humboldt County
Avenue of The Giants
Bodega Bay
Here's what nobody tells you about van camping
We drove a LOT, just over 1700 miles, but we listened to the Harry Potter audiobooks along the way and had a grand ole time. Most of the time. What you don't see on #vanlife from all those camper vans Instagram accounts is all the behind the scenes, and BOY are there a lot of behind the scenes to go van camping. Here's what you aren't seeing on Instagram.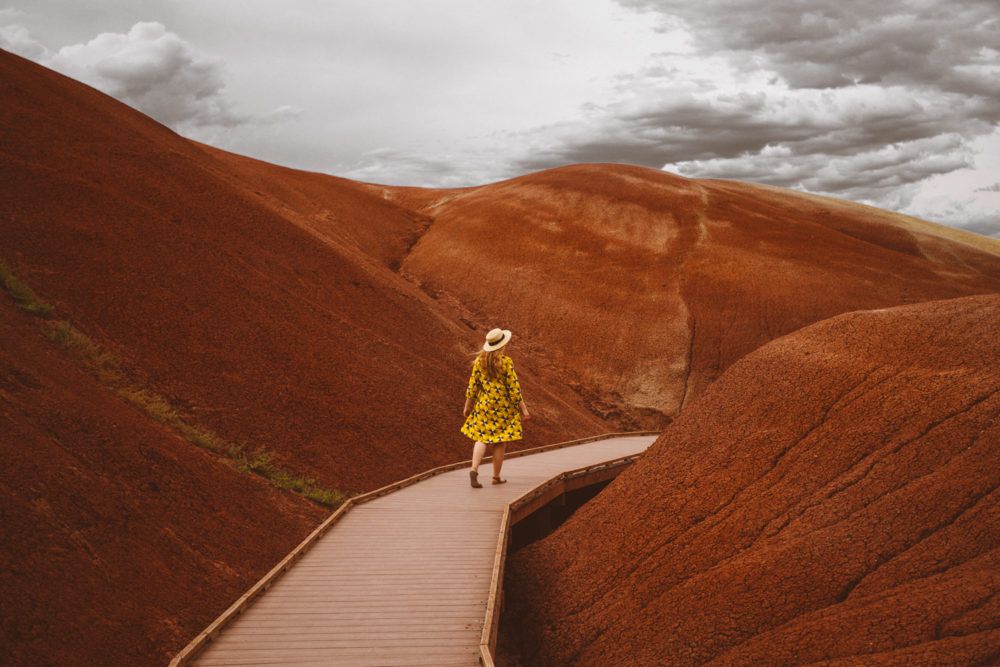 It Can Be Hard To Find Overnight Parking
Since we were spending so much on our rental, we were set on finding as many free camping sites as possible. In the end, we were only able to find free campsites 5 of the 9 nights of our trip, the other 4 nights we had to pay out of pocket for campsites which ranged from $20-35. (Not exactly cheap when you are spending so much on gas, van camping equipment, food, etc already!) We camped in state parks, but there are KOA locations pretty much everywhere as well if that's your thing.
We used all those van life parking apps to help us find stealth camping spots to spend the night. The best is iOverlander as it has the most options, and Campendium is pretty good as well. We had a good streak of luck during the first half of the trip but by the time we got to Hwy 1 / the coast, it got really tough. People on the apps kept reporting that beloved free camping sites kept getting "no overnight parking signs" installed, or trashed.
You can camp for free on BLM (Bureau of Land Management) and USFS (United States Forest Service) public land. On our first night, we parked below Mount Shasta on a quiet turnout and fell asleep under the peak. The next day, we were camping overnight by a creek outside of the Painted Hills. All for free!
I'll be writing a whole blog post guide with tips for overnight camping in a van for free soon, and will link it here when it's ready, but at a quick glance, these are the steps for finding a good free spot.
Park on public land (BLM or USFS only, not National Parks) and/or make sure the land is not private.
Make sure there are no "No overnight parking" signs or any other signage that suggests you can't camp or park there.
Make sure your vehicle is off the road enough that it's safe (ie someone can't easily hit you in the dark.)
If you are parking in store parking lots, make sure it's a lot that allows it, not all of them do! Look for signs and talk to a manager if possible.
It sounds easy, but it's not. It's especially hard to park overnight for free when you are in a campervan because you have to spread out to use it. For example, our kitchen area was in the back of the van, so we have to cook outside. When we changed clothes, we had to do that standing up outside of the van.
It would have been a lot easier to park for free if we were in a taller campervan or an RV, one where we didn't have to open up the doors and do things outside of the car. This is why we were forced to pay for sites more than we'd like, because we needed a safe space to cook, hang out, eat, etc. I wasn't keen on staying in busy truck stops, empty store parking lots or narrow turnouts.
Parking for campervans is tricky, but not impossible. Just know it'll take a good portion of time each evening to find a good and safe site to park in!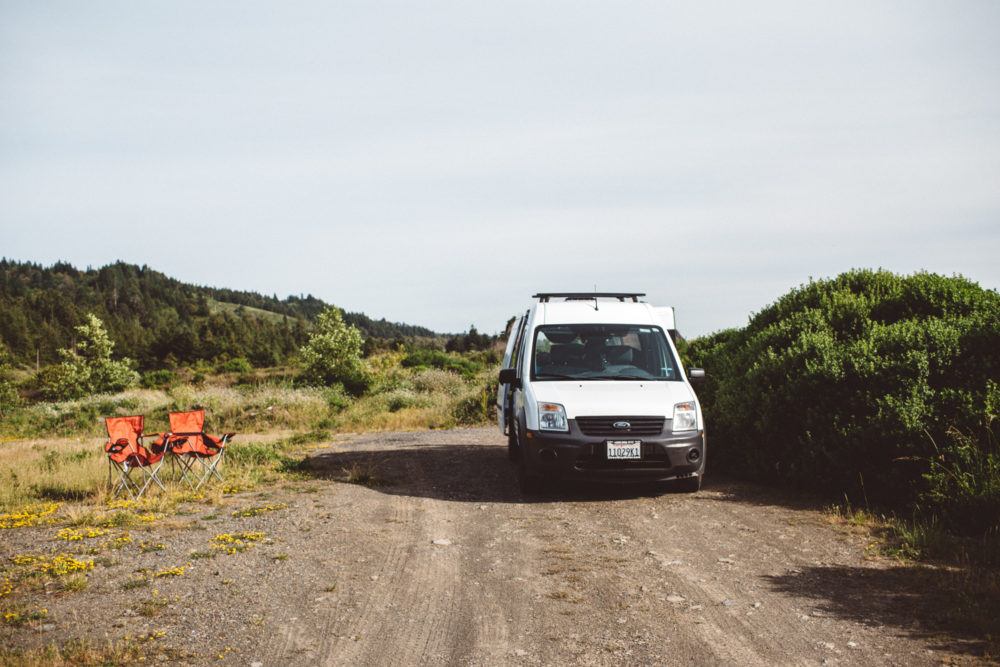 You Get A New View Every Day and That Really Is Amazing
As you can guess, the major plus side of a travel van is how it moves with you. Camping in a van means you fall asleep and wake up wherever you park it. If you're itching to do a sunrise hike, just park as close to the trailhead as possible and roll right out in the morning.
Our favorite free campervan site spot was a private turnout on the Oregon Coast a bit south of Port Orford. We parked our van camping rental around 6, spread out, had some beers and were treated to a stunning pink sunset over the ocean. We got to watch the world turn from bright to dusk and then see the stars come out. Would have totally missed this if we were staying in a hotel!
We met some people on this trip who are living in their vans for extended periods of time and they liked to take things slower, maybe pick a spot and stay there for a few days at a time. That's fine, too! But I can fully confirm that this aspect of van camping really is the best part.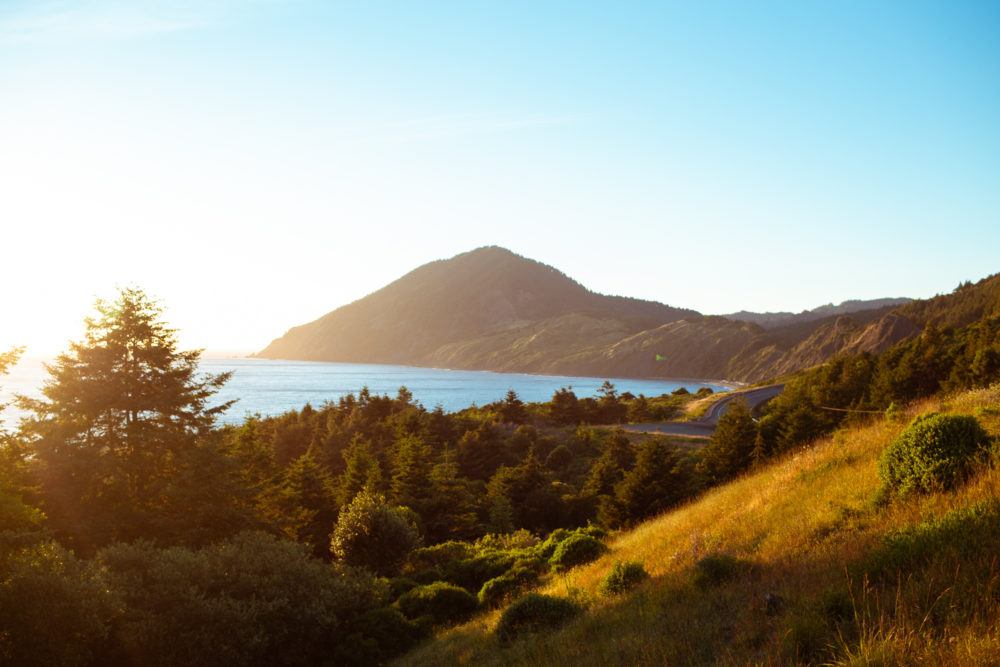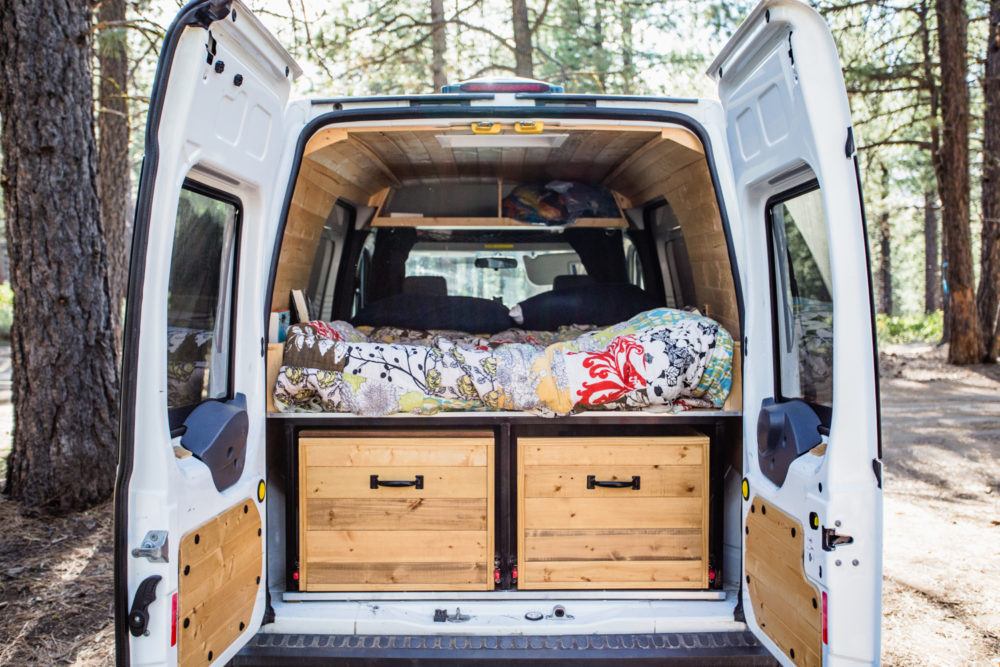 You're Constantly Packing & Cleaning
On our honeymoon a few years ago, we road tripped around the UK and spent just 1-2 nights at each spot. It was SUCH a hassle to unpack and pack every day. I loved the moving and driving part, though. When we decided to rent our campervan, I thought "hey, this is perfect! I won't have to unpack every day, woohoo!"
I was SO wrong! See, it takes about 15 seconds to get the van messy. You're in a van after all! We found ourselves constantly rearranging things and tidying. At night, we had to pull a lot of things out to cook, and then we had to rearrange them to sleep. We also were tight on storage space, mostly due to the fact that we had a few extra bags than normal as we brought our laptops, cameras, etc (travel blogger problems!)
I think it would be a bit easier to keep things clean if we had an RV or a larger camper van conversion, one that we could stand up in and contain things inside. If you are traveling with kids or are worried about organizing, consider renting or building something larger.
Van camping is a constant cycle of rearranging & cleaning.
Each night our sheets would get full of dust and leaves that stuck to our socks or pants, and needed to be brushed out in the morning. We used a lot of wet wipes to keep our kitchen area clean and we had to wash our dishes 3 times a day after meals. You get the point. You can't just throw your stuff in the back and expect to not have to pack or rearrange again until your trip is done.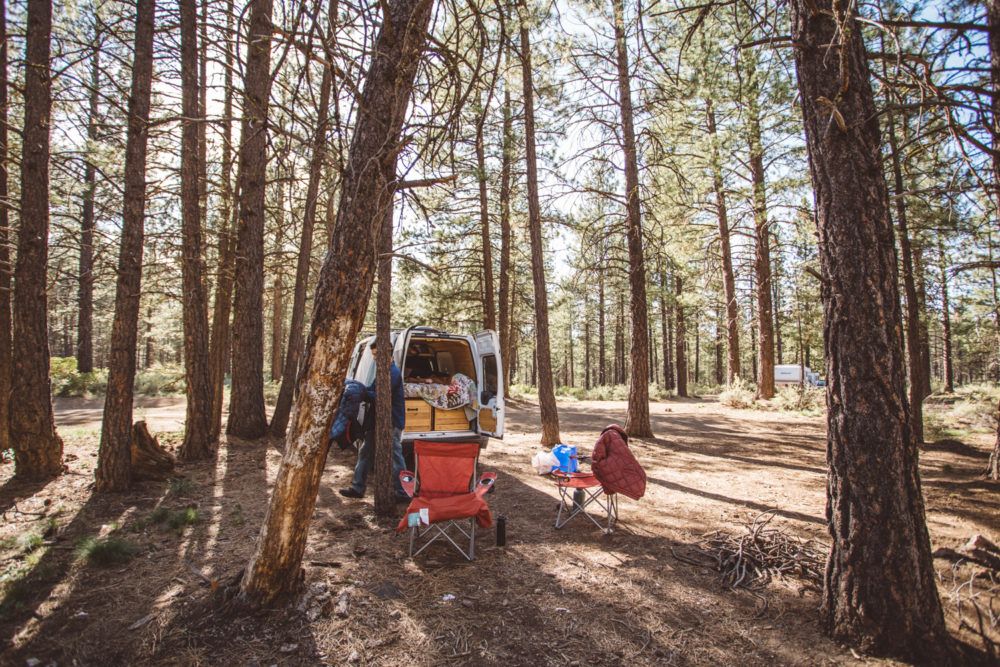 People LOVE Van Builds
Seriously, they LOVE them. There's something so magical and enticing about the idea of living out of a van. Our van was especially pretty (just look at the wood interior!) We got questions about our van almost every single day. There were people who owned vans themselves or were in the middle of builds, mother's taking photos of the van for their handy sons looking to do van camping conversions, couples writing down the name of the company we rented from so they could do a trip, too.
I was a bit worried that people would be annoyed with our van. We cooked a lot of lunches in state or city park parking lots and I was concerned people would be annoyed. I think there is a certain stigma that can circle van living – you know what I mean – but instead of hate, there was a lot of love and interest. Be prepared to answer a lot of questions!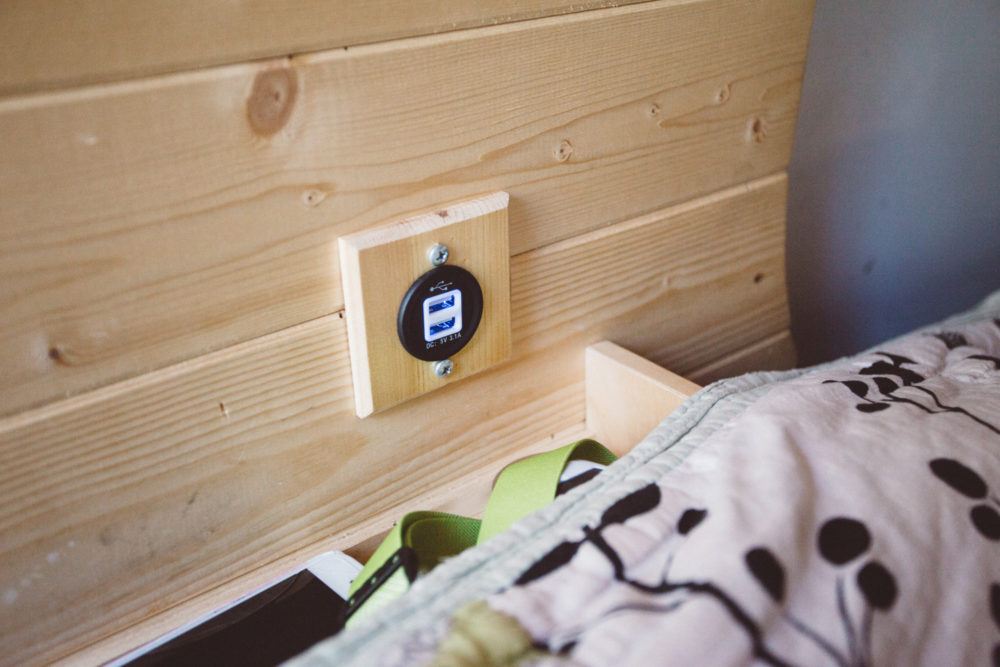 Charging Devices Can Be Hard
I know I know I know – the point of van life is to be an off grid camper, right? Eh, kinda. You're going to need one of those apps I talked about to find free spots each night, at the very least. But also, let's be real: it's 2019, you're going to have phones and probably cameras or laptops that will need to stay charged.
We lucked out. Our van was built with this nifty battery pack that charged while we drove and had enough power to charge all sorts of devices. There are outlets for USB cords AND traditional prong ones. We never had a problem charging anything (this battery was the main reason I chose this particular van because I knew we'd have a lot to constantly charge!)
That being said, don't expect most campervan rentals to have a set up like this. If you are looking for van camping ideas for your own build, I highly suggest making a system like this. I can't tell you how it works (so so bad at car things) but it was a godsend. Otherwise, you'll be forced to either charge everything in the front cigarette lighter area with special plugs that can be pricey (and just plain annoying to use) or you'll have to find outlets in coffee shops or campsite bathrooms.
Some vans or RVs are equipped with solar panels to help charge generators if you want to investigate that instead. The only downside is if you are parked in a shady spot or are traveling through rainy weather, you may not be able to get enough power.
Cooking Is Actually Fun (Minus Washing Dishes)
Maybe I think that because my husband and I really love cooking but I found making meals each day to be easy and really enjoyable. Since we had just a cooler, a small cube for dry food and a two -burner propane stove from Coleman, we did have to be strategic about the recipes we picked out. We're the kind of people who normally cook homemade tacos (shells from scratch ya'll!) or handmade empanadas and tomato soup from fresh ingredients on a Monday night. We couldn't do that on this trip, obviously.
Our favorite meal was a Spanish Rice mix and sausage. (Pre-cooked sausage is key!) All this meal needed was one pot since we tossed the sausage in with the rice mix. So tasty, especially on chilly evenings! We also found cheeseburgers easy to make, as you can find pre-cooked patties in pretty much any grocery store and all you need to do is grill them up. We didn't need a camper hook up like RVs since everything was done on our propane stove.
We made a night of it each evening. We pulled our camping chairs out, poured a beer from a local brewery we stopped at earlier, put on our Harry Potter audiobook and cooked outside together. Our cooler was heavy duty and we only needed to refill ice every 2-3 days. It kept all our perishables very cold, so that's how we got around not having a refrigerator.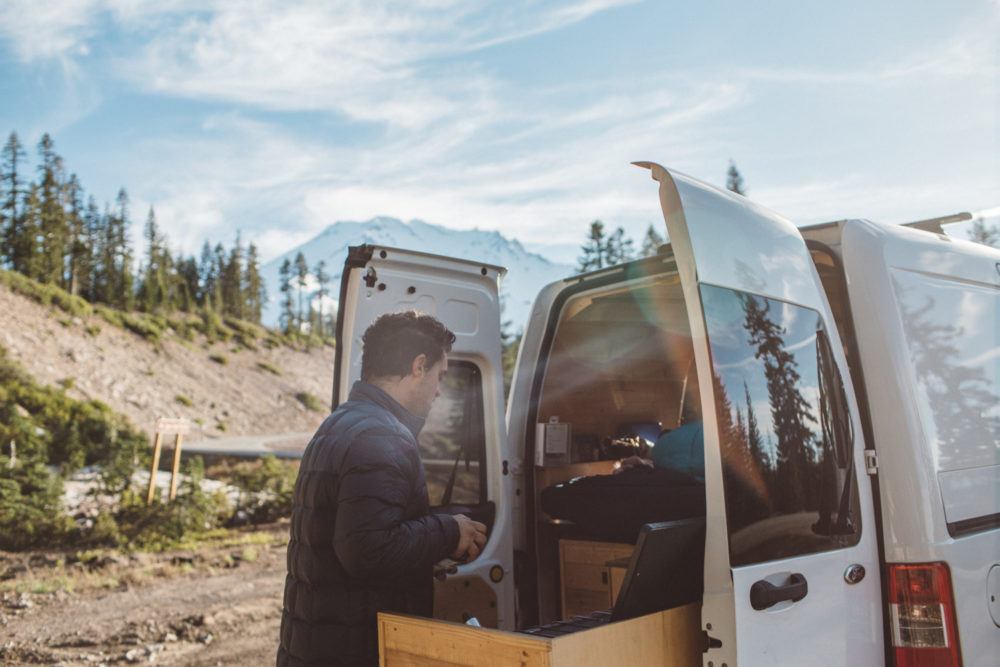 Your Whole Life Is In That Van (It Can Get Stolen!)
Your whole life is in that van, which makes it so wonderful in so many aspects but the reality is, your whole dang life is in that van! If anything happens to that van, you're stuck until it gets fixed. If that van gets broken into, you're not looking at a stolen backpack or dash change, you could be facing literally all your belongings stolen.
I think this was the pain point I was most anxious about. After living in San Francisco, we've had our personal car broken into 3 times so I know how real this problem can be. Since we brought along all of our devices on this trip (two laptops, a DSLR, a vlogging camera, a drone, an ipad and a bag full of chargers and extra batteries, not to mention our two phones.) I was extremely worried whenever we parked it that it would be broken into.
We got good at hiding our valuables, but there were times we were on long hikes and that would have been plenty of time for anyone to break in and steal. Basically, keep this in mind if you are choosing to go on a campervan trip or live out of one full time. Take your valuables with you in major cities. When possible, have one person stay with the van while the other one shops (we did each time we went grocery shopping.) Just be careful!
If you are living out of our van full time, I'm not sure how this would work, but I recommend trying to build a little safe or a locked cupboard. Anything that could make it hard to open if someone were to break into your van. I would personally have peace of mind if our rental came with something like that!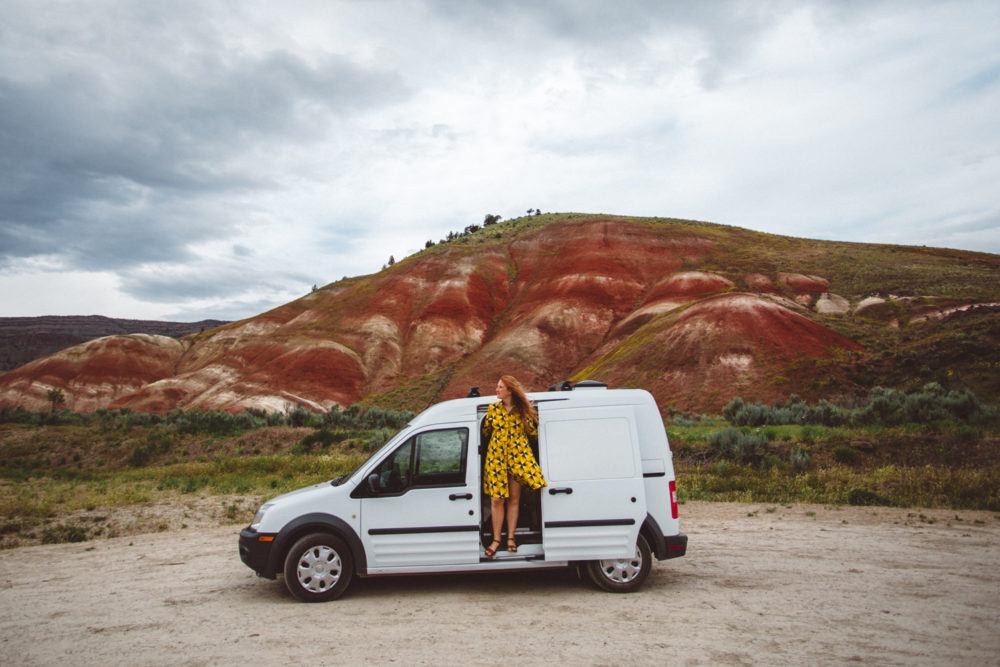 Showering Isn't Hard
The main questions I got from followers on Instagram was: how do you shower?! I was worried about this as well. It's not like our van had a built-in shower we could use whenever we want!
Turns out, finding showers isn't that hard. Almost every formal campsite has showers. If you are spending the night as a paid guest, you can use them. Or, you can pay $2-5 (depending on the site) to use the showers. We found State Parks to be the cleanest and cheapest, and they're everywhere here on the West Coast.
If you're itching to get clean, just keep an eye out for a state park campground, pull up, pay a few bucks for a shower and then get clean!
If there aren't any campsites nearby, we know of people who have resorted to truck stops or community pools. Pilot Travel Centers have showers, though they run $15 a person which is outrageous in my opinion. Only do these if you are in a jam! Community pools sometimes let you buy a shower use as well. Just chat to the front desk person to ask!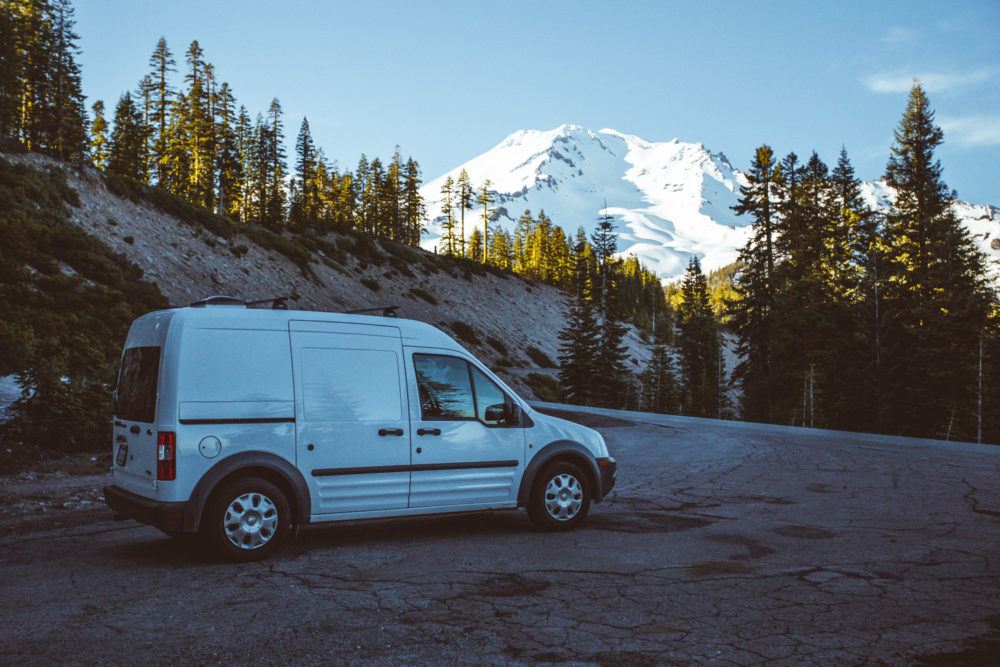 There's A Huge Van Community Out There
Everyone on Instagram says there's a whole little community around van living but I didn't think much about it until we went. Almost everywhere we traveled, we fund it really easy to make new friends with fellow RVers and van campers. I never thought about how each evening, there are people trying to find the best camping in the United States, pulling over on turnouts or random roads, chatting up campsite neighbors and making friends, if only for an evening.
Other van and RV owners love to look at your setup (and vice versa, I loved checking out how other people did their builds!) They're extremely friendly and will probably know all the best things to do in the area and the best free camping sites. We never felt lonely on our trip. It's like we tapped into this magical, loving community of travelers for 9 days.
I hope this helps you decide if van camping is for you! There are certainly tons of pros and cons. If you think you want to live in a van full time, I highly recommend you rent a van first and do a trial run. I'm sure you'll run across all these things I talked about and maybe even more which will help you decide if it's actually for you or not!
If you are looking to rent, check out Outdoorsy. They have TONS of campervans, minivan camping builds, RVs, even tows, you can rent. We rented this van, which is available in San Francisco, but I'm sure you can find a chic campervan near your city easily.
Got any questions about van camping? Leave a comment below or DM me on Instagram @thewhimsysoul and I'll be happy to help! Stay adventurous friends!
Other Posts You May Like
Roadtrip Hacks You Need To Know To Save Money
Mt. Hood to Oregon Coast Travel Guide
Mammoth Lakes Hot Springs – Where to Find Them!
Inside the Ventana Campground in Big Sur (it's $80 a night!!)
Everything To Do With 48 Hours in Mendocino